Day 4 (May 28, 2017 – Salt Lake City, Utah: "Regrettable Reversal"
It was about 4:35am when I awoke. Like the last couple of days, I spent a good chunk of the morning getting cleaned up and caught up on blogging. Once everyone got up at around 6:30am, we then eventually went downstairs for brekkie shortly after 7am, and it wouldn't be until about 8am when Tahia and I were waiting for Julie in the car.
The original plan for today was to go all the way to Stewart Falls, and then backtrack towards Bridal Veil Falls, and finally do Battle Creek Falls before returning to Salt Lake City. But as we were waiting for Julie (who didn't show up until about 8:20am), I looked at the trip research and saw that Stewart Falls might be a bit much to start off with as it was said to be on the order of 3.5 miles though I saw another one saying it was more like 4 miles. I knew that with the pace we'd be going, this hike was going to take around 3 hours or so.
So right then and there, I decided that perhaps we should do things in reverse. That is, start with the shorter Battle Creek Falls hike, which was more like 1.2 miles round trip, and then do Stewart Falls at the end where I would then have the option of going solo.
And so the last minute chance in plans was set, and as we left the Hyatt House, we promptly headed south on the I-15 towards the Pleasant Grove Blvd exit, and then eventually went through a residential area on E 200 S Street before reaching the dead-end at the Battle Creek Trailhead at 9am. It was a very large but rocky car park area, and we were probably amongst the first 12 cars already parked here though it definitely seemed like this lot could accommodate more than that.
It was a cloudless morning as we got ready for the hike. But I had a feeling that with the mountains facing west, that we were probably going to look against the sun towards the falls. Anyways, the view looking back towards Utah Lake against the blue skies was pretty nice, which I took advantage of while Julie and Tahia were getting ready. That said, my left ankle felt bruised and was in a little pain as the hiking boots pressed against the bone there. I figured that yesterday's hard hiking must not have done me any favors to that end.
And as we made our uphill hike (avoiding Kiwanis Park and instead taking the Battle Creek Trail that went uphill to the right), there was still sufficient shade to make at least the beginning part of this hike not too bad since it was shaping up to be a pretty hot day. Regardless, the hike into the canyon along Battle Creek was pretty nice as we were looking towards some interesting cliffs flanking us as well as some snowy mountains in the distance.
But what was strange about the hike was that we were following the path of Battle Creek. However, there was no water in the creek itself. Julie and I knew that something was up because the theme of this trip had been that this area had a heavy snow year.
Well the mystery ended up being solved at 9:35am when we walked past some kind dam or diversion where the water from Battle Creek spilled into some kind of drain. There was indeed plenty of water in Battle Creek upstream from this contraption as there was an attractive small cascade spilling into a plunge pool, which then proceeded to drop into the drain. Immediately beyond this drain structure, Battle Creek was bone dry.
We wondered if the water was supposed to be diverted to the suburbs further downstream. But regardless, now the strange silence was filled by the rushing waters of Battle Creek as it should have been to begin with. But at that point the trail then promptly climbed a bit more eventually crossing over a footbridge where the trail then continued its climb in a bit more of a steeper incline over loose shale.
After going past a small hole in the cliff that could be construed as a "cave", we then reached a part where there was a black rubber mat. Just as it started, there was a spur trail going down to the right, and Julie and Tahia immediately went down that path as we knew that that must have been the way to the base of Battle Creek Falls, which we could glimpse and hear.
Meanwhile, I continued going up the rubber-matted path, which promptly took me to the top of the Battle Creek Falls while also affording me an interesting profile view looking down at the falls. From the top of the falls, I could get a pretty neat view back towards Utah Lake past the V-shaped contour of the canyon we were in. The trail kept going uphill and there was a girl heading further upstream while there was another guy who looked like he was headed back to the trailhead.
Anyways, after a few minutes of checking this spot out, I then rejoined Julie and Tahia down at the base of the falls. There were already a couple of other people headed down to the falls just as I was making my move, and once we were at the falls, I could see straight away that my hunch was correct in that we were battling the sun looking at the Battle Creek Falls and its attractive vertical drop.
So given the circumstances, we tried to use the trees right above the falls to at least help block out the sun. It was indeed pretty much dead on behind the falls, which was the absolute worst place for the sun to be in looking at the waterfall. It made me wish in hindsight that we did this waterfall at the end of the day instead of the start of the day, and thus I was already regretting my decision to switch up the priorities at the last minute.
Steadily, there were even more people showing up at the Battle Creek Falls attesting to this place's popularity. And this was despite today being a Sunday, where we would have thought that most locals would be getting ready to dress in their Sunday best and show up to a service or something.
Regardless, we quickly had our fill of the Battle Creek Falls, and proceeded to go back up to the main trail and then back down towards the parking lot. We made one brief pause at the "cave" before quickly resuming the downhill hike just as we had passed by several families and couples making their way up.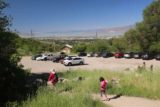 By 10:35am, we were back at the car, where there was definitely more cars parked at the trailhead than when we had gotten started. Things were heating up already in the day as it was quite warm inside the car already. So we promptly got into the car and headed further south towards the Hwy 198 leading into Provo Canyon as we were headed towards Bridal Veil Falls, which was one waterfall that I had always looked forward to seeing ever since I had been made aware of it back in 2004 on a trip to Yellowstone where we flew into Salt Lake City, but didn't have the time to pursue.
The drive was pretty smooth going though we had to go through some extensive residential neighborhoods within the Pleasant Grove suburb. But eventually, we'd get onto the Hwy 198 towards Provo Canyon, and it didn't take long before we took the first available exit leading towards Bridal Veil Park. That essentially took us on a smaller road alongside the rushing Provo River, and after getting through some construction zone with private property signs, we then found parking at a nearby lot at 11am where we saw a pedestrian footbridge traversing the river and leading to a paved walk and bike path paralleling the Provo River.
We went ahead and took the footbridge and then paved walkway, which was already quite busy with people. After a couple of minutes, we then found ourselves right at the base of the skirted slope beneath of pair of plunges of the impressive Bridal Veil Falls. However, the view of the falls from this close left a lot to be desired. Plus, we were looking directly against the sun so the lighting was quite terrible.
As I looked back across the Provo River, I could see that there was a sign and one guy walking towards it. I presumed that that was either at the level of the highway or it must have been a separate pullout or viewing area or something. So I kept a mental note to be on the lookout for it to improve the view of Bridal Veil Falls though we'd have to go up there later in the day when the lighting wouldn't be as bad.
Thus, it didn't take long before we had our fill of the falls under this condition, and we were back at the car at 11:20am. Julie and I weren't feeling like taking the steep trail leading higher up towards the upper drops of Bridal Veil Falls, and thus at this point, it was early enough in the day that we headed back towards Provo and Orem to have a lunch.
But before that, as we were leaving the Bridal Veil Falls area, we stopped by the so-called Upper Falls Picnic Area. It turned out that there was a partial view of some cascade high up on the cliffs, but it looked too small to be anything significant. Otherwise, I couldn't see anything obvious that would have been the Upper Falls though at first I thought it might have provided a view of the upper drop of Bridal Veil Falls. Either way, we resumed our drive at 11:30am.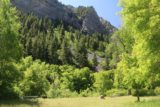 Julie found a Chipotle in Orem, and thus we backtracked on Hwy 198 and then eventually reaching some mall that was quite dead. There was a busy Starbucks drive through, but we just settled in on the Chipotle there at 11:55am, and once again, we had our lunch, which was as quick and as clean as you could ask for for a fast food chain.
Aside from the backseat driving from Julie, which really annoyed me at the time, the food calmed all of us down, and by 12:30pm, we were back in the car and ready to head back into Provo Canyon.
The drive back was pretty uneventful as we'd now be at the scenic view area for the Bridal Veil Falls at 12:45pm. And as predicted, the view from up here was way better than down below. Plus, the sun was higher in the sky so although the lighting wasn't optimal, it was attractive enough to take some pictures and videos just in case we wouldn't be stopping here again.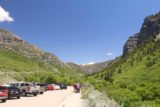 Twenty minutes later, we had our fill of the falls under the current conditions but I was thinking that after doing Stewart Falls, we ought to come back here when the falls would benefit from afternoon light.
The drive out to Stewart Falls pretty much involved continuing on Hwy 198 past a tunnel and then making a left turn onto the Alpine Grove Loop or something like that. The road steeply climbed alongside some rushing cascade by the road. There were lots of cars that we were following up the road, and we could see that there was a Sundance Resort, which was very full.
We could have stopped here and tried to hike up to the Stewart Falls from there after paying for lift tickets, but instead, we kept driving the mountain eventually reaching the Aspen Grove Resort. We weren't sure if we were supposed to park at the resort to start the hike, but as we kept driving, we'd eventually see a kiosk where some cars were already lined up to apparently pay to get into the reserve.
When it was our turn to pull up, we got confirmation that the trailhead parking for Stewart Falls was just on the left past this kiosk. But we also learned that they accepted the National Parks pass here even though this was National Forest land. That made me wonder whether our National Parks Pass could have worked back at home at say Angeles National Forest or something. It was definitely something we should look into to confirm (as we could very well have double paid for the Forest Service Pass when the NP Pass already covered them!).
Anyways, this saved us $6, and by 1:25pm, we were at the crowded Mt Timpanogos Trailhead, where we were very lucky to score a parking spot at a corner between the amphitheater and restroom facility. At this point, Julie and Tahia weren't feeling like hiking (which I expected), so I went ahead and got geared up and then promptly went on the hike towards Stewart Falls.
My left ankle was still hurting, but I eventually masked out the pain as I was out on the hike following a caravan of hikers while simultaneously passing or waiting for people to pass in the opposite direction as they were heading back on the trail. This attested to the popularity of the Stewart Falls Trail, and it made me wonder whether Julie and Tahia could have done this trail despite the 2 miles out to get there (and 2 miles back).
The trail was narrow, which made passing a little tricky in spots. It also alternated between exposed-to-the-sun and under some partial shade. So I was busy flipping my hat back and putting it back on depending on the conditions. There were also pockets where the vegetation opened up and afforded nice views towards the neighboring mountains.
Eventually, the trail apexed where there were some bent vegetation leaning to the left. I suspected that they must have been toppled over from an avalanche or something because I couldn't imagine there'd be anything else causing this to happen. Plus, there was a mountain to my right in addition to the attractive mountains looking in a forward direction.
At this point, the trail then descended past more forested groves before it reached an opening where I finally started to see the impressive Stewart Falls as well as some neighboring cascade spilling from a snow patch above right into a snow patch below. As someone said in passing, "Now we can see the light at the end of the tunnel."
And so after getting my fill of this spot, I then resumed the downhill hike along the ledged yet rocky trail eventually bringing me closer to the Stewart Falls. Eventually, the trail reached a rocky outcrop where several people were gathered to check out the view of the falls, which as expected was somewhat against the sun. Still, from this vantage point, I was able to get satisfactory pictures, but I was wishing that we had done this hike first thing in the morning since it was facing west and would have benefitted from the morning light.
The view from here induced butterflies as I could see the hordes of people by the creek down below. I could also see that there was a narrow trail continuing the descent down to where they were. And so after having my fill of this spot, I went ahead and descended down to the creek level.
Once I got there at 2:35pm, sure enough, the lighting was terrible as expected as the falls was shrouded in the cloudy mist made photographing and videoing the falls pretty lousy.
Still, the spray from the falls felt pretty cool and refreshing, and I spent the better part of the next 15 minutes or so just soaking in the ambience while also contending with the sun to at least show that I was here. I also noticed that there was the Sundance Trail that led up to this spot, and so that made me believe that it was probably the shorter and more gradual (less up-and-down) hike from the Sundance Resort further downslope.
Now that I could see how reasonably doable this hike was (unlike the harder hikes from yesterday), I kept thinking that Julie and Tahia could have totally done this hike, which I would probably give a 3 or 3.5 had the lighting been better.
Anyways, it was getting late in the afternoon so it was time to get back up the trail, which I promptly did as I was now on a mission to rejoin Julie and Tahia so we could get back to SLC at a reasonable hour, especially since Julie had made dinner reservations for one last splurge before going home tomorrow.
The hike back was pretty uneventful as I was pretty much catching up with people who had passed me at one point or another due to me taking pictures. The initial part of the return was pretty much all uphill, but once I got up to the avalanche zone, I knew that it was pretty much downhill the rest of the way. So I took advantage of my momentum and trail ran all the way back on the latter part of the return hike.
Eventually at 3:40pm, I returned to the car where Julie and Tahia were already outside the car probably on a restroom break. After taking one quick stop to photo the cirque facing the Mt Timpanogos Trailhead Parking area, we then promptly drove back down towards Provo Canyon, where we'd then follow the high speed of traffic back towards the Bridal Veil Falls area.
By 4pm, we were back at the scenic viewpoint for Bridal Veil Falls, where sure enough, the place was packed with cars (both sides' parking spaces were now being used), and that was because the afternoon lighting was perfect. So we gladly took our photos and videos while also observing how there were many more people at the base of Bridal Veil Falls down below as well as in the middle where it was clear where the trail led up to that spot.
Again, I was wondering if I'd regret not doing the hike to get up to that point, but with it being late in the day, I figured that the views from here already made this easily the best waterfall seen on our Salt Lake City Trip, and it was probably deserving of a 4 in our minds.
By 4:30pm, we were back in the car and resumed our drive back to the Hyatt House. The drive back along the I-15 was pretty uneventful except for a traffic jam that was brief but was due to a pretty bad accident where apparently someone was lying on the ground and there were lots of people around him. I suspected that it might have been a motorcycle accident.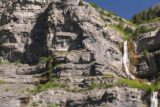 At 5:20pm, we were back at the Hyatt House, where we promptly changed our clothes and then returned to the car at 5:50pm so we could get to the Hotel Monaco and splurge at this place called Bambara for our last night's dinner.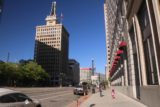 After some confusion about where we should be parking, we wound up parking in the structure adjacent to the Hotel Monaco at 6pm. We'd find out when it was too late that we were supposed to have done valet parking to get the parking validation, we just chalked up the anticipated parking fee as part of the dinner cost. I knew that 2 hours meant it would cost $6, which wasn't too bad in the grand scheme of things.
Anyways, the dinner consisted of Julie's filet mignon, Tahia's beef tongue ravioli, and my duck breast. Our mains were all creatively prepared and all had different and pleasing flavors. We also had a flourless chocolate cake with vanilla bean ice cream, but that dessert was more like brownies and wasn't impressive after our mains were so good.
And so our dinner splurge was over (costing us about $150 with tax and tip), and we were then back at the Hyatt House by 7:45pm after filling up gas at a sketchy part of Salt Lake City. It was pretty clear that the southwest part of the city was where the tent cities were as they were loitering around the perimeter of Pioneer Park as well as the neighborhoods further to the west and south.
I guess even in clean cities like Salt Lake City, every city seems to have its seedier parts. I guess it just goes to show you that when you have a system of winners and losers, such things are pretty unavoidable as it's inherent in the system itself. Julie tried to impart to Tahia why she should appreciate what she has because fortune could easily turn south and before you know it, you could be out on the streets.
Anyways, back at the Hyatt House, Tahia finally got her time in the swimming pool. Since the temps had gotten up to about 81F today, I expected the pool to be warm. And even though the waters were indeed warm, it was also starting to get chilly where the parts of the body weren't in the water.
There was some kind of party going on at the time, but Tahia didn't care. She just wanted to be in the pool with me so she could jump, do flips, and forget how to float on her back. As long as she was spending energy, we knew she'd sleep well tonight.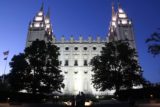 After our time in the pool, we rinsed off, and then I made a solo city run at Temple Square at 9:15pm just as the skies were in twilight. It was my last go at checking out Salt Lake City's most famous landmark under lights, and it was finally time to use the tripod that hadn't seen use throughout this trip until now.
I managed to find street parking right across the street from Temple Square, and then I spent the next half-hour composing a myriad of photos of the main temple at Temple Square's east side. That was where I also managed to get photos of the temple with the rising crescent moon hovering over one of the three facing towers.
I also managed to take advantage of the fountains there where the temple was reflected in the waters against the twilight skies.
I was surprised at how many people were out and about this late in the evening, but then again, perhaps that shouldn't have been surprising considering this was the long weekend in Memorial Day Weekend, but perhaps this was something that the locals could take advantage of, especially when the weather was as gorgeous as it was today.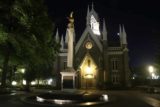 So I pretty much took what photos I could and soak in the ambience of Temple Square until the twilight lighting was gone.
At 10:10pm, I was back at the Hyatt House again. And after spending a few more minutes getting changed and cleaned up, it was time to sleep for one more night in Salt Lake City and the Beehive State.