Day 5 (May 29, 2017 – Los Angeles, California: "An Aborted Adventure and Adventures on the I-15"
It was 4:45am when I awoke. I was groggy and not looking forward to the long drive, especially on the stretch of the I-15 past Las Vegas. Even though I was mentally prepared for the worst, I had that deep dread that I would be instantly reminded of why doing road trips on holiday weekends would be a bad idea.
While I had every intention of getting out of Salt Lake City by 6am, it wouldn't be until 7:50am when we were finally leaving. I guess when you have lots of stuff to bring (especially kitchen-related things), it took longer than expected. So with the delayed start, we also took advantage of having one last included breakfast at the Hyatt House, which included the omelette of the day, which was some kind of Caprese Omelette (the best-tasting one of the four brekkies we've had there).
They also had French Toast for the first time since Friday morning, but now that I knew they had nutella spread, putting the two together was a pretty guilty pleasure.
The drive along the I-15 south went pretty smoothly. Aside from some moderate traffic (by Salt Lake City's standards, which was orders of magnitude less than the best day in Los Angeles), the drive went smoothly. The scary thing was that there were lots of cops on the road ready to nab speeding motorists. We even saw one happen in front of us where a truck with a trailer was pulled over. I guess with today being Memorial Day itself, the cops were definitely working overtime to earn the state some revenue I guess.
As we continued further south of Provo, the I-15 then became the conventional two-lane highway in each direction (four lanes total). For the most part, people have been following the road rules by keeping right except to pass. So while that made for a pretty stress-free drive, it was also a double-edged sword in that it was easy to speed and be caught by one of the myriad of cops that were out in force.
We managed to make a rest stop at Flying J's in Scipio (it was very crowded there) at 9:25am as well as a gas stop at Cedar City at 11:15am. It was getting warmer the further south we were going and it was starting to get into the high 80s at Cedar City.
As we got towards the exit 27 at Toquerville, I decided that we ought to try to make a two-hour out-and-back detour to Toquerville Falls. So after taking the correct exit and driving east towards Toquerville, we then turned left onto Spring Drive within town, and followed the residential road until the pavement ended.
Right before the pavement ended, there was a large green sign saying Toquerville Falls had an extremely rough road while recommending only 4wd vehicles to continue. Since we were in a Ford Escape, we were ok with the high clearance, but after beating up the shocks and arms of the Honda CRV on the Four Corners trip, Julie was discouraging me from taking the risk of getting stranded on this road.
Still, I had to see for myself what the road conditions were like. But it didn't take long before I found out just how rough the road was. There were rocks jutting up from the surface all over the place, and I knew that it was like driving over sharp speed bumps one after another hitting at least one wheel or more at any given time. Indeed, we barely went a fraction of a mile on the bone-jarring road, and it was enough to convince me to turn back. It was a shame because part of me thought we could endure the last 5 miles or so on this road while taking it slow, but I guess Toquerville Falls will have to happen another time when we weren't so time constrained and vehicle-constrained.
So at 11:55pm, I turned around, and then we promptly continued back on the I-15 towards St George where we made a brief lunch stop at Chipotle at 12:25pm. There were already lots of vehicles on the I-15 around the St George area, but the drive remained pretty smooth for the most part.
Fifteen minutes later, we were back on the I-15 south and we promptly left Utah then drove into Arizona through the familiar canyon strip stretch along the Colorado River, and then into Nevada past Mesquite. The road was definitely busier to the extent that it made more sense to keep right even when the left lane was crowded (and we were going faster than them).
By about 1:20pm, we made one more gas stop in North Las Vegas, which was a pretty seedy part of town. We just so happened to fill up gas at the same Chevron that we were at along Lake Mead Blvd earlier on the trip. Julie didn't feel safe here and there was one dude who was looking around waiting to clean someone's windows. Well, we made our fill up without incident, and then we proceeded to move through Las Vegas without too much incident until we finally hit traffic just as we were about to leave Sin City at around 1:45pm.
At this point, the GPS
which had situational awareness kept telling us that minutes were being added to the route due to delays. Before we knew it, we wound wind up with like 138 minutes of delay and it even got as high as 166 minutes of delay from the orignal arrival time.
I guess that was indicative of how bad traffic was between Las Vegas and Los Angeles, and it was basically the realization of my worst fears about this drive.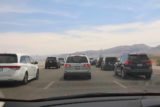 By about 2:20pm, we only made it to Jean, which was the next town on the way to State Line. And it wouldn't be until about 3:20pm when we finally made it to Primm. By this time, lots of people were driving along the shoulders to try to get an edge on other people frustratingly sitting still in traffic. Pretty much the only positive that came out of this was that I was able to get good sports talk about the NBA Finals from the Las Vegas-based sports stations.
Tahia was also taking her afternoon siesta at this time so at least the boredom from the traffic wasn't going to affect her as much (I hoped).
The traffic was pretty much stop and inch from Las Vegas all the way to State Line. I guess the main reason why was because the I-15 went from three lanes to two lanes. I guess in California, their lack of infrastructure spending really showed. Well, at least the traffic went from stop and inch to sluggish. And by 4:45pm, we finaly made it to Baker as both Tahia and Julie needed to make a restroom break.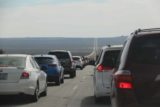 In hindsight, we probably should have taken our toilet break in Cima because at Baker, not only was there a long line to get into the restrooms, but then by 5pm when we got back in the car, the traffic to get out of Baker and move along the I-15 was once again stop and inch forward.
It wouldn't be until about 8:10pm when we finally arrived at my parents' place, where Mom had already made us a welcome home dinner, which helped us save lots of time and money from needing to self cook or even eat out again. So it turned out that we had spent nearly 7 hours on the road between Las Vegas and Los Angeles. But it only took 6 hours on the road (we gained one hour by leaving Utah) to get from Salt Lake City to Las Vegas, which was like two-thirds the overall distance compared to LA to LV, which only comprised one-third the overall distance.
By 9:30pm, we finally made it home, where our work wasn't done. We still had to empty out the rental car of our belongings, and then we had to drop off the car at the Avis so Julie could just return the keys the next morning without me needing to take time off work or be charged an additional day for returning the car after work. It wouldn't be until about 11:30pm when I finally went to bed, but with a 4:30am wake-up as part of my usual routine to get back to work, this Memorial Day was hardly restful.
Indeed, this was precisely the reason why road trips on holiday weekends were a terrible idea. Yet it seemed like with Tahia's school schedules and my added responsibilities at work, it was no longer our call to control trip timing like we used to. So you take the good with the bad, but with all the good times we've had on this SLC trip, I'm sure this bad day would fade into memory and the good stuff would rise to the forefront of when we look back on this long weekend…