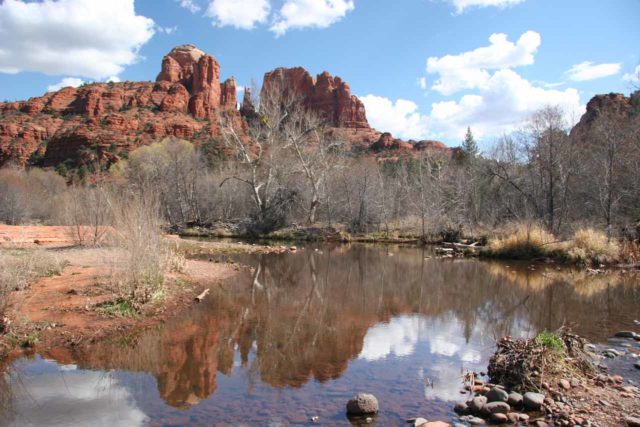 12-March 2009 to 15-March 2009:
This small extended weekend trip to Sedona was something Julie and I had always wanted to do ever since our Grand Circle trip back in 2001. We simply didn't have enough time to fit Sedona in back then. But now, it's been almost eight years later since we were in this part of Northern Arizona. Unfortunately, this trip seemed like it wasn't meant to be because there was predicted bad weather (funny how the forecast gets worse
after
you make the booking the week prior) and Julie wasn't feeling well…
Day 1: ANGRY SKIES
It took Julie and I a while to get packed up and ready to go. Complicating matters was that Julie wasn't feeling well as she appeared to be suffering from some kind of infection. But with all the bookings made, we knew cancelling now would mean we'd surrender a good chunk of money. Nonetheless, it seemed like we were already on the wrong foot so-to-speak as we left home at 9:10am.
But as we went looking around for some medicine and vitamins to help out Julie's condition, we were unsuccessful finding any local spots that carried organic vitamins (apparently that'd help the situation somewhat) so we ended up driving to Long Beach (in the opposite direction we wanted to go). And before all was said and done, it wasn't until 9:40am when we were finally going in the right direction! Exacerbating this were fears of getting stuck in traffic trying to get out of Los Angeles.
Fortunately for us, our fears were unfounded as we managed to get onto the I-15 without much delay. And by 11am, we were in Barstow where we had an early lunch at In 'N Out along with the much needed restroom break. By 11:30am, we were back on the road.
So far, the weather for much of today was bright sunny skies with a few scattered clouds here and there. Heck, the Arizona-California border actually felt a bit hot. We figured this was probably the end of this year's rainy season as far as So. Cal. is concerned. I don't know what it is, but it just seems that winter has now been reduced to just the month of February.
The I-40 heading east of Barstow had a few more cars than I remembered eight years ago, but it was still somewhat less congested and chaotic than say what you might expect on the I-15 and the I-5.
But by around 3:30pm, we were well east of Kingman and we could see that we were entering some ominous looking storm clouds up ahead. I figured this was where the weather that the weather forecast for Northern Arizona had talked about so none of this was a surprise. I just hoped it wasn't going to be a real bad storm for this weekend.
As we entered the darkness, the raindrops started coming down along with sporadic flashes of lightning. It was something I would've expected to see during the summer monsoons, but this was early March!
As we headed further east, the rain started to turn into snow. Apparently, the I-40 was climbing as it was getting closer to Flagstaff. Immediately, I was reminded of the freak snow storm Julie and I were caught on just east of San Diego in February of last year. Fortunately for us, the snow wasn't sticking on the road so far. But seeing the raindrops turn into a combo of angled snowflakes and bouncing hail stones was unnerving considering I'm not exactly experienced with driving in snow (except for that incident last year).
This also made me recollect a pair of stories by different friends who had actually survived their vehicles flipping over in separate incidents in Utah due to black ice. So with this weather, I was cognizant of the black ice danger and I made sure I slowed down so we wouldn't suffer a similar fate.
Eventually at around 4pm, we finally made it to the I-17 turnoff and soon thereafter, we got off the freeway and onto the Hwy 89A. There were already lots of other people headed to Sedona in front of us so we were caught behind them in the long train of cars. I guess no one likes to properly use the passing lanes and pullouts here. But with the wet pavement and intensifying rain, I didn't mind the slow down all that much.
By 5pm, we finally got to Sedona. The town actually felt more like a suburb as it was quite developed. I was surprised at the pair of roundabouts in town. Plus, the sight of big trucks and SUVs using them was something I wasn't used to since I had always associated roundabouts with Europe or Australia where big tanks weren't as prevalent there.
The town was surrounded by impressive red rocks and cliffs that were reminiscent of something you might see in Zion National Park or Capitol Reef National Park. But the dark storm clouds and pouring rain kind of muted their colors and obscured the vistas. We hoped this weather wouldn't remain the case for the remainder of this weekend.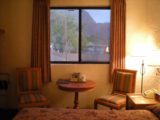 After getting settled in at the fairly conveniently located Super 8 Motel, we decided to try out Sedona's proclaimed best restaurant called Elote. It was supposedly high class Mexican food so we figured we'd give it a shot. And even though the food was rather pricey (especially for Mexican fare), it was indeed actually quite good. Even though it hurt the wallet, I did welcome the break from the long driving and this artistic take on southwestern food. Now only if we could find a place in Sedona that specializes in Navajo Tacos or Fry Bread.
With our stomachs full (we probably could've saved money by sharing our main course), we headed back to our accommodation. Now our thoughts turned to concerns about the weather as well as Julie's health. Not even an impatient driver frivolously honking at us at one of the roundabouts took our minds off the uncertainty of whether this trip would work out or not.
But our minds we unsettled as Julie complained of headaches and even a little bit of the chills.
Day 2: BEST WATERFALL WE'VE SEEN THIS YEAR
I actually had an uneasy sleep and woke up at around 5am. We weren't supposed to get up this early, but I couldn't shake the thought of having another weekend trip mistake due to bad weather. We had already suffered that fate a couple of years ago on the Big Island of Hawai'i.
Today, the original plan was to spend the day hiking to various arches in the Sedona area since the forecast was something like 30% chance of rain today and 10% chance of rain tomorrow. I figured we'd need the better weather to do Grand Falls since it's more remote and I had feared the danger of getting caught in the middle of nowhere in a snowstorm.
But when I noticed the daylight breaking through the morning darkness, I saw a beautiful morning. So that got me to change my mind and decide to do Grand Falls today and the arch hiking tomorrow. Besides, today would involve more driving and less hiking and perhaps give Julie another day to recover from her illness before exerting herself.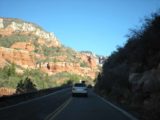 So after our continental breakfast, we headed off at 8:20am, which was later than we were used to. But last night, I had looked at our TOPO! map
and saw that Grand Falls actually faces west so it was more of an afternoon waterfall.
That meant we had to kill some time this morning and that was when we decided to check out the meteor crater – another thing we had never seen before that we had always wanted to do. It was nice that this was not in our original plans for this trip, but what the heck? We're here already so why not?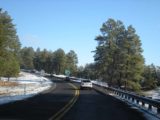 And in what was becoming all too familiar on the Hwy 89A, we followed a train of cars as we meandered through Oak Creek Canyon along the two-lane highway on our way back towards the I-17 then the I-40. Like in Maui's Hana Highway, there seems to be a dearth of people using pullouts to let faster traffic pass by.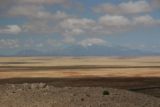 The beautiful morning revealed the snow-capped San Fransisco Peaks as well as snow flanking the highway. Still cognizant of black ice, I didn't mind following people ahead of me providing an indication of whether we'd face this invisible threat up ahead or not.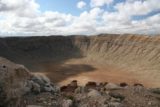 After making it uneventfully to the I-17 and then driving for a while on the I-40 through flat expanses of nothingness, we eventually got to the well-signed turnoff for the Meteor Crater and then to its car park at around 9:45am. On the approach, we could see that the crater rim was actually elevated from the rest of the plateau. That was something you don't really appreciate when they show you aerial photographs of this massive crater.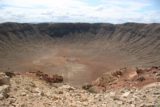 Anyways, we bought our admission tickets and made it just in time for their 10am short movie about meteors. Immediately thereafter, we did a guided walk around the southern portion of the rim towards a rock called the Photo Rock, where you can have your photo taken by the guide.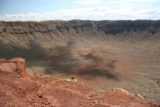 Sprinkled within the 1/2-mile hike each way were stops where our guide, Eduardo, would explain something about the area (and sprinkle a few latino jokes here and there to keep up awake).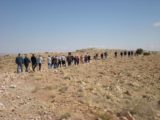 The crater itself was massive as expected since we had seen the aerial photos before on TV as well as in the literature. It was some 3 miles in circumference and about 4000 ft in diameter. There was no way we could capture the whole thing in one shot without a fisheye lens so I figured any photographs from the rim wouldn't do this crater justice.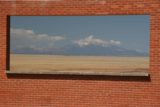 It had been a pretty fun and informative tour. Ever since I had seen a photo of this place in one of those Time Life Books when I was a kid (that I now realized must have been an aerial photo), I had always wondered about coming here.
Now that it has happened, we had our fill of this place and now it was time to head back to the car park and get going.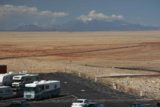 By 11:30am, we left the crater and headed to Grand Falls. What was worrisome was that the clear blue skies from this morning was quickly giving way to looming storm clouds. So that hastened us to try to get to the falls before being overrun by the storm.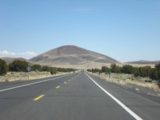 Knowing that this waterfall wasn't that well-signed, we had our GPS and laptop combination working. And so far, it had got us all the way to the Leupp Road as it meandered amongst some interesting calderas; clearly evidence that this area once had volcanism and perhaps the reason why one of the well-respected geologists mistakenly thought the Meteor Crater was volcanic (as opposed to extraterrestrial) in origin.
As we zoomed past a sign indicating that we were entering the Navajo Tribal Land, we noticed on our GPS-laptop combo (after a fairly lengthy drive on the Leupp Road) that we had gone the wrong way. Apparently, we missed a turn somewhere!
So we backtracked and tried to follow my pre-trip markings on the laptop. That ended up taking us to some sketchy unpaved road that eventually led to someone's farm. Apparently, the Indian Road 70 was cut off and our map was out of date for this part.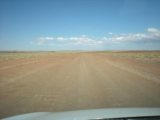 Fortunately, I had recalled some trip report saying something to the effect that we had to look out for the Grand Falls Bible Church sign. So when we backtracked back to the pavement and headed east again, we managed to find this sign just across from the Navajo Tribal Lands boundary sign. The adjacent unassuming turnoff then put us on a pretty wide and smooth (by unpaved roads standards) path that eventually led us right to the Little Colorado River.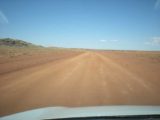 The scenery seemed a bit desolate as if there was nothing out here. The numerous unsigned forks and spurs from this road conspired to get us lost out here. And this wasn't a place I'd want to be lost since everything looks the same in all directions.
At the Little Colorado River, apparently this road normally crosses that river. But there was a bulldozer with a guy in it stationed next to the stream's banks, and we knew that we must've missed a turn somewhere. Besides, there was a sign that said "High Water" and it was obvious that the stream inundated the road up ahead.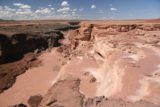 So we backtracked and looked carefully for a turnoff around the neighborhood that our pre-trip Topo markings indicated. And eventually found a rough unpaved path that led to the picnic area. There was already a car parked here and there were gazeebos nearby so we knew we were at the right place. The time was just after 1pm and so far the storm clouds hadn't overcome us. In fact, there was still plenty of blue skies above us.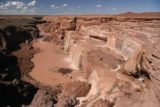 As we exited the car, right off the bat, we could hear the loud sound of water crashing. This was clearly a good sign since we had seen trip reports in the past saying this waterfall tended to be on the disappointing side. So I guess the recent snow accumulations in the past couple of months (especially in February where we capitalized on some local waterfalling in Southern California) pumped up the Little Colorado River into the spectacle before us.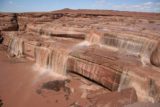 So we spent the next several minutes trying to photograph the wide and muddy falls from all sorts of angles. There were only a couple of cars and hardly any people around save a pair of young Navajo adolescent girls and a guy who we noticed actually hiked to the backside of one of the falls directly below us. He actually paved the way for us to get to the bottom of the falls ourselves since we weren't very sure how to get to the bottom in the first place.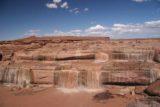 It was a good thing he showed us the way because the cliffs were awfully steep where we were standing.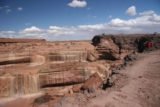 With the early afternoon sun striking right down on the waterfall, the lighting seemed to be about just right. I guess we made a good call killing time at the Meteor Crater before coming here.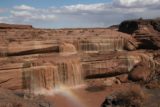 When we got more direct angles of Grand Falls, we even started to see faint rainbows appearing out of the milk chocolate mist.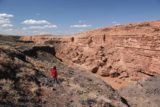 Eventually, I found the steep and somewhat rough scrambling path down and made it to the bottom of the canyon, which was situated a bit further downstream from the falls itself. Even though path was a bit rough in spots, it was certainly doable without much difficultly with patience and good decision-making.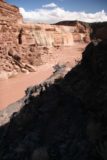 Julie followed behind after a handful of more people started to show up and make the scramble down as well. TThere were some spots where we had to really pay attention to keep going the easiest route or else backtrack to avoid a dropoff.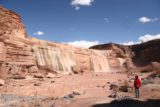 The falls had a different character at the bottom. Here, you could see the Little Colorado River flowing widely with its milk chocolate color. The falls itself was segmented into three wide sections though if it weren't for the water moving, the falls blended in with the color of the adjacent cliffs. Mist was spraying hard from the furthest south tier, and it was there that the ground was very saturated with water and mud.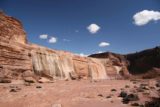 I took a few steps to try to get closer to that part of the falls, but my boots were getting way too bogged down with mud. So I turned back.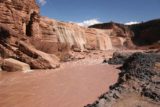 On the way back to the car, we got to experience all the overlooks of the waterfall once again. Indeed, leaving this place was hard as being distracted taking photos was real easy to do.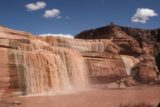 We noticed that a few more people showed up to experience the waterfall. There were only a handful of people total as this place definitely was a bit off the tourist radar (either that or we happened to time our visit during a time of low visitation).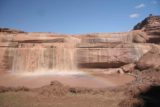 But most of the other visitors we noticed were Native American, which convinced me that this was typically a locals waterfall. Or at least, it was a case where locals were cognizant of this waterfall's existence, but it was not so with out-of-towners.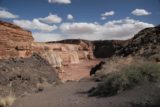 By about 2:30pm, we were back at the car. That was when I finally had my Subway sandwich, which we had bought nearly three hours ago at the Meteor Crater. Yeah, I know I took a chance with food poisoning…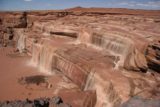 It's amazing what a nice waterfall can do to you, because Julie seemed to be in good spirits at this time. So for the moment, her mind was off her health.
Now, it was time to head back to Sedona.
I felt it was kind of strange that tonight would be the second night we'd be spending in Sedona and we still hadn't done any sightseeing there.
As we headed back to paved roads, we had to take our time because there were big pick-up trucks kicking up dust as they moved slowly up ahead of us. That gave us time to mull over our experiences today and evaluate where this waterfall stood in our mental library of the best waterfalls in the US.
When Julie said that this was the best waterfall we had seen this year, I paused and thought about that statement. And, well, most of our Thailand waterfalls took place in December, and our 2009 waterfalls consisted of mostly Southern California local ones. So, that meant that Julie was right.
Besides, when we compared this one to our memory of Lower Calf Creek Falls, we thought this one was better. So that meant we were going to change our Top 10 American Waterfalls List.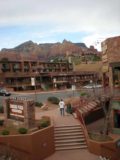 It wasn't until around 4:20pm when we returned to Sedona. By this time, it was cloudy and threatening rain. But there was still some sun painting the red rocks with color when its rays did break through the clouds.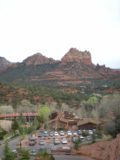 It still wasn't terribly busy in town this Friday the 13th so we managed to find parking in the charming part of town and walk around. It was a rather inauspicious way to sightsee Sedona, but it did allow us some time to catch the flavor of this town and the surrounding red rocks so reminiscent of Zion National Park.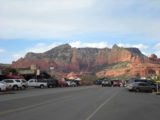 Since the afternoon was still somewhat young, we managed to finally secure a Red Rocks Pass, which seemed like our Adventure Pass. And this pass applied to parked cars in National Forest areas. We managed to pick one up at the Basha's Supermarket.
After a 5:30pm dinner at the Picazzo's Pizza (a bit overpriced for pizza if you ask me), we were back at our familiar motel at 6:15pm. Later in the evening, the rain did eventually come, but it clearly had more bark than bite as it seemed to only leave a few sprinkles.
Day 3: LUKEWARM
When we finished our continental breakfast and left our motel just before 8am, Julie was still feeling uncomfortable from her ailment. She was already not in the mood for hiking and today was supposed to be the hiking day to try to get intimate with the red rock wilderness of Sedona.
It was a pretty chilly morning and the skies were partly cloudy. It was a little cloudier than the beautiful morning yesterday, but it was perfect hiking weather.
Realizing that we probably wouldn't be able to see Fay Canyon, Devil's Bridge, and Vultee Arch along with Red Rock Crossing all in one day, we decided to forsake Fay Canyon.
So first up was to take the Dry Creek Road on the western side of downtown Sedona and head towards Devil's Bridge.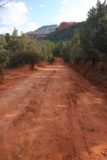 With our little Toyota Matrix, I thought today's excursions wouldn't be a big deal. But as soon as we left the paved road and got onto the really rough and rutted Dry Creek Road, I had to change plans on the fly immediately!
The whole time we were driving on the road (worrying about damaging the undercarriage of the car), Julie urged that I turn back. But I knew that it wasn't far (less than two miles) to get to Devil's Bridge Trailhead so I trudged on driving oh so slowly trying my best to ensure we wouldn't pop any tires or get stranded out here.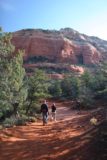 Obviously, we'd be the first ones on whatever trail we were doing as we were alone. And with the way this road was going, we might be the only ones in the day. We even saw what looked like a coyote crossing the road up ahead.
Eventually by 8:15am, we were at the trailhead.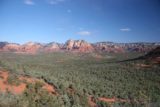 It was at this time that I decided to scrap continuing on to Vultee Arch after doing this hike. It was still another 3 miles or so to get there. And we knew getting the Toyota Matrix to endure more of this road was just asking for it. I'd bet this kind of road would be pretty tame stuff for a gas-guzzling SUV though.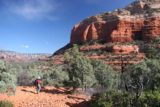 The trail was pretty straight forward to follow as the walking path was quite wide. The cool morning was quickly warming up. And after just a few minutes of walking on the trail, we were overtaken by another pair of hikers. So at least there went the theory that we might be the only ones on this trail.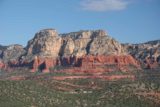 As the trail slowly climbed, we got pretty attractive views of the cliffs in the distance behind us. Upon closer inspection of those cliffs, we noticed some road and buildings at their base. Pretty unsightly if you ask me (even if the buildings tried to match the color of the rocks), and probably indicative of what we were perceiving to be the overdevelopment of Sedona.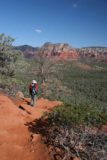 At around the 3/4-mile point, the trail forked. The left fork had some sign next to it mentioning something about rehabilitation site. I wasn't sure if it was referring to the trail or the area between the forks in the trails. In any case, we took the right fork which quickly went up some steep red rock steps.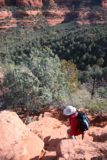 Once we climbed above the steps, we were perched on some opening where we could get glorious views of the red rock panorama we had seen behind us earlier on in the hike. This view could've easily been a destination in and of itself, but we pried ourselves free of this overlook and continued further to the Devil's Bridge.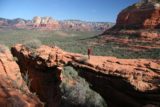 And within minutes, we were looking down at the moderately-sized span of the natural bridge. But what made this natural span stand out was that there was a nice panorama just beyond the arch. So we were busy trying to take that cool postcard shot of the bridge and the panorama beyond.
I even managed to take a photo of Julie standing on the span of the bridge though there was a bit of hesitation regarding this maneuver since the middle of bridge looked like there's a fracture in the rock.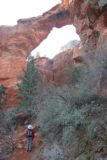 We were joined a few moments later by that couple that had passed us by earlier. The guy had no problems making it all the way to the end of the natural bridge and even creeping out to its edge to see what lies below (while giving his significant other butterflies in the process).
That was our cue to leave this couple alone and check out the bottom of the bridge. And down here, you could get that proof-this-was-a-natural-span shot by getting sky through its opening. But aside from that, this viewpoint was attractive though it had nothing on the top-down view, which was unusual for a natural arch since usually the bottom up views are better in general.
At 9:50am, we were back at the car. During the hike back, we saw at least six or seven different groups of people going the other way. Obviously, this was a more popular excursion that we had thought. There was also the obnoxious sound of low flying helicopters giving their paying customers aerial views of the area. Those choppers clearly disturbed the peace of this environment and once again indicative of our perception that somethng just seemed off kilter about this place.
At the car park, we noticed another half-dozen cars. What was surprising was that half of them were 2wd passenger vehicles! So maybe our fears from this morning's drive was unfounded?
Nonetheless, I made good on my plan to forsake Vultee Arch (which relieved Julie). We also speculated that the crappy condition of the road might be intentional to encourage the local tours with their jeeps and hummers. Money talks, right? And Sedona seemed to embody this philosophy.
And so the next hour or so was spent autotouring the area. We got a few more panoramas of the cliffs near some luxury resort called Enchantment I think. I thought it shouldn't have belonged here, but then again, money talks.
With lunch time around the corner, we had a little bit of time to kill. So we started making our way over to the Red Rock Loop where there's supposed to be the famous Red Rock Crossing where Oak Creek cuts before the iconic Cathedral Rock.
As we drove back to the Hwy 89A, I asked Julie what she thought of Sedona so far.
"Lukewarm," she said.
I agreed with her assessment because something just seemed off kilter about this place. In fact, we couldn't help but wonder whether this place would've been better off if it wasn't so developed as it was. That stirred up some further discussion about the differences between a National Park and National Forest.
Like in Africa, where we could sense that the protected areas felt like a whole other world compared to the farms and cultivated lands otherwise, Sedona just seemed like an overdeveloped version of Zion National Park. And it was too bad because the red rock scenery here really seemed like there was a good thing going here.
Even driving along Hwy 89A towards the Red Rock Loop, we could see all these homes and housing developments making this place look like a suburb that's out of place in a place that nature should've been allowed to thrive. I joked to Julie that this is probably the influence of Republicans (this is John McCain's state after all) running things where it's all about money no matter what the consequences are. And it showed.
When we got to the Red Rock Crossing entrance, there was a gate entrance fee of $8. Apparently, they didn't take our Red Rocks Pass, which was a bummer. In fact, it seemed like our Red Rocks Pass was a waste of money because the only reason why we bought the pass was for the Red Rock Crossing.
Anyways, we opted to come back here later and not enter now since the lighting wasn't optimal. Somehow this move seemed to annoy the gatekeeper.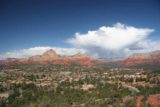 So we headed back to downtown Sedona. Once back in town, we took a detour to a place called Airport Mesa. There, we managed to go to an Observation Point and get a 360 degree view of Sedona. It was quite a nice overlook and we could actually appreciate the extent of development in the area as well as the scattering of storm clouds encroaching on the area.
By 12:20pm, we were back in the car and continued back into town for lunch. Our place of choice this time was this real busy joint called the Wildflower Bread. Unfortunately, we were given a sour taste in our mouths when we were waiting for a parking spot and some dude in a pick-up truck decided yell something to the effect of "f*cking Californians" as they passed by.
Even though the Sedona locals seemed to be very friendly, I was wondering if the visitors were not as friendly and patient. Anyways, it wasn't worth getting pissed off about, but it didn't help our perception of a place (i.e. Sedona) that we thought was lukewarm to begin with.
The bread place was very busy and it took a while for our sandwich to come out. Our portobello mushroom sandwich was very good. The chicken pesto sandwich was also pretty good, but the chibata bread for that sandwich was a bit tough.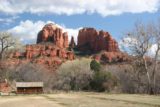 At a little before 1:30pm, we were satisfied with our lunch and went back in the car.
We decided to return to the Red Rock Crossing in search of that iconic photograph of the Cathedral Rocks and Oak Creek. After all, it was going to be now or never because we were leaving for LA tomorrow morning. With the clouds somewhat scattered and threatening to mess up the lighting, we were committed for better or for worse.
At 1:50pm, we paid the hefty admission price and proceeded to embark on our search for that photograph.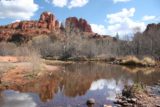 It turned out that with Oak Creek running pretty high right now, it wasn't easy to get that iconic shot without either crossing the knee-high fast-running creek or at least getting wet. It also seemed like this place wasn't even worth the $8 admission fee since good views seemed rather hard to come by.
It took a bit of searching (including some off-trail scrambling) just to find a somewhat decent shot with the Cathedral Rock reflected in Oak Creek.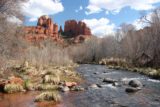 It took even longer to find a more unobstructed view with a running Oak Creek crossing before the iconic red rocks themselves.
We did manage to get our desired shots, but we were sure the views might have been better on the other side of the creek. The problem was that the creek was running fast and we weren't in the mood for that. Besides, the potential of drenching the camera again wasn't desirable.
By 2:55pm, we were back at the car, but not before taking one last parting shot at the lawn area near the car park.
At 3:10pm, we were back at the Super 8 to call it a day. Even though it was an early end to today's activities, Julie looked like she could've used the rest since she was still not feeling well.
By dinner time, the clouds finally delivered their rain, but it didn't seem like much. Meanwhile, we had ourselves our final dinner in Sedona at a place called Red Rock BBQ. It exceeded our expectations and was perhaps a good choice for good old fashioned American western food.
Day 4: GRAND CANYON DETOUR
We left the Super 8 Motel at 5:35am. We wanted to leave early because we wanted to arrive home at a reasonable hour. We knew the drive back to LA from here was arduously long (at least 8 hours or so). But since we were already in the vicinity, we wanted to make a brief detour to see the Grand Canyon's South Rim, which we hadn't visited since August or September of 2000.
The morning drive started off in darkness, but I felt that we probably should've left another hour earlier because the daylight was already starting to pierce through the darkness.
The concerns for driving so early were black ice and elk. So we took our time driving. We clearly didn't want a repeat of our kangaroo or deer incident.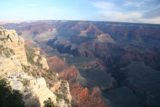 At 7:30am, we made it to the Grand Canyon's southern entrance. It looked like the vehicle fee was increased to $25 now. Even though it seemed steep, I figured the National Park system needed more revenue so I personally didn't mind this fee increase.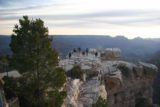 About five minutes later, we were at Mather Point to take in the soft morning light against the awesome panorama of the Grand Canyon.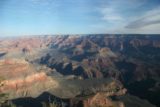 The scene was just as awesome as it was over eight years ago. However, now we have a better understanding of lighting and photography, and it wasn't quite as crowded as it was back then.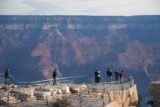 Julie was interested in some signage indicating plans for the park to implement light rail. It seemed forward-thinking and I personally couldn't wait to see this happen.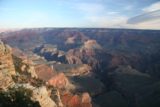 Later while waiting for Julie to use the facilities, I spent some time conversing with a guy from Phoenix who was walking his two dogs along the Rim Trail. He seemed to have a tremendous interest in super human endurance feats like someone going from Rim-to-Rim-to-Rim in just under 7 hours! There were also a bunch of other endurance tests that were undertaken by people he apparently knew or volunteered for, but it just seemed way beyond anything I could fathom.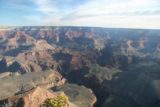 "Not in this life," I told him concerning any thoughts I had of following in their footsteps.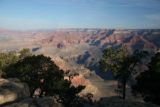 After 8am, we continued to Yavapai Point to take in some more panoramas and then we continued onwards to the Grand Canyon Village. The far west rim to Hermit's Rest was still shuttles only so we wouldn't be able to do that given our dearth of time today.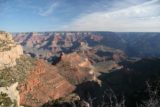 As we walked around the Grand Canyon Village and the rim viewpoints from there, we tried to look for that steakhouse with a view that we ate last time we were here some eight years ago. It turned out that we didn't find it and either our memory failed us or things changed so much that it closed its doors and was replaced by something else.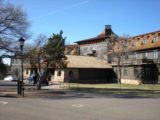 At around 9:20am, we left the Grand Canyon. But not before passing by groups of cars parked off the side of the road creating little traffic jams.
And what were they looking at?
Elk!
It was as if they were starting elk jams in much the same way bears created bear jams in Yellowstone National Park.
The rest of the drive home was tiring and uneventful. We eventually made it to my parents' place at 4:30pm. Fortunately, everyone (except grandma) was there so we took this opportunity for a dinner at a Taiwan-Japanese Noodle House chatting amongst ourselves about our trip and economics among other things.
All in all, it was a fun, spontaneous trip. You can never have too many of these, I reckon – even if we thought of Sedona as lukewarm…
Visitor Comments:
Got something you'd like to share or say to keep the conversation going? Feel free to leave a comment below...
No users have replied to the content on this page