Day 1: ANGRY SKIES
It took Julie and I a while to get packed up and ready to go. Complicating matters was that Julie wasn't feeling well as she appeared to be suffering from some kind of infection. But with all the bookings made, we knew cancelling now would mean we'd surrender a good chunk of money. Nonetheless, it seemed like we were already on the wrong foot so-to-speak as we left home at 9:10am.
But as we went looking around for some medicine and vitamins to help out Julie's condition, we were unsuccessful finding any local spots that carried organic vitamins (apparently that'd help the situation somewhat) so we ended up driving to Long Beach (in the opposite direction we wanted to go). And before all was said and done, it wasn't until 9:40am when we were finally going in the right direction! Exacerbating this were fears of getting stuck in traffic trying to get out of Los Angeles.
Fortunately for us, our fears were unfounded as we managed to get onto the I-15 without much delay. And by 11am, we were in Barstow where we had an early lunch at In 'N Out along with the much needed restroom break. By 11:30am, we were back on the road.
So far, the weather for much of today was bright sunny skies with a few scattered clouds here and there. Heck, the Arizona-California border actually felt a bit hot. We figured this was probably the end of this year's rainy season as far as So. Cal. is concerned. I don't know what it is, but it just seems that winter has now been reduced to just the month of February.
The I-40 heading east of Barstow had a few more cars than I remembered eight years ago, but it was still somewhat less congested and chaotic than say what you might expect on the I-15 and the I-5.
But by around 3:30pm, we were well east of Kingman and we could see that we were entering some ominous looking storm clouds up ahead. I figured this was where the weather that the weather forecast for Northern Arizona had talked about so none of this was a surprise. I just hoped it wasn't going to be a real bad storm for this weekend.
As we entered the darkness, the raindrops started coming down along with sporadic flashes of lightning. It was something I would've expected to see during the summer monsoons, but this was early March!
As we headed further east, the rain started to turn into snow. Apparently, the I-40 was climbing as it was getting closer to Flagstaff. Immediately, I was reminded of the freak snow storm Julie and I were caught on just east of San Diego in February of last year. Fortunately for us, the snow wasn't sticking on the road so far. But seeing the raindrops turn into a combo of angled snowflakes and bouncing hail stones was unnerving considering I'm not exactly experienced with driving in snow (except for that incident last year).
This also made me recollect a pair of stories by different friends who had actually survived their vehicles flipping over in separate incidents in Utah due to black ice. So with this weather, I was cognizant of the black ice danger and I made sure I slowed down so we wouldn't suffer a similar fate.
Eventually at around 4pm, we finally made it to the I-17 turnoff and soon thereafter, we got off the freeway and onto the Hwy 89A. There were already lots of other people headed to Sedona in front of us so we were caught behind them in the long train of cars. I guess no one likes to properly use the passing lanes and pullouts here. But with the wet pavement and intensifying rain, I didn't mind the slow down all that much.
By 5pm, we finally got to Sedona. The town actually felt more like a suburb as it was quite developed. I was surprised at the pair of roundabouts in town. Plus, the sight of big trucks and SUVs using them was something I wasn't used to since I had always associated roundabouts with Europe or Australia where big tanks weren't as prevalent there.
The town was surrounded by impressive red rocks and cliffs that were reminiscent of something you might see in Zion National Park or Capitol Reef National Park. But the dark storm clouds and pouring rain kind of muted their colors and obscured the vistas. We hoped this weather wouldn't remain the case for the remainder of this weekend.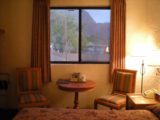 After getting settled in at the fairly conveniently located Super 8 Motel, we decided to try out Sedona's proclaimed best restaurant called Elote. It was supposedly high class Mexican food so we figured we'd give it a shot. And even though the food was rather pricey (especially for Mexican fare), it was indeed actually quite good. Even though it hurt the wallet, I did welcome the break from the long driving and this artistic take on southwestern food. Now only if we could find a place in Sedona that specializes in Navajo Tacos or Fry Bread.
With our stomachs full (we probably could've saved money by sharing our main course), we headed back to our accommodation. Now our thoughts turned to concerns about the weather as well as Julie's health. Not even an impatient driver frivolously honking at us at one of the roundabouts took our minds off the uncertainty of whether this trip would work out or not.
But our minds we unsettled as Julie complained of headaches and even a little bit of the chills.