Day 2: BEST WATERFALL WE'VE SEEN THIS YEAR
I actually had an uneasy sleep and woke up at around 5am. We weren't supposed to get up this early, but I couldn't shake the thought of having another weekend trip mistake due to bad weather. We had already suffered that fate a couple of years ago on the Big Island of Hawai'i.
Today, the original plan was to spend the day hiking to various arches in the Sedona area since the forecast was something like 30% chance of rain today and 10% chance of rain tomorrow. I figured we'd need the better weather to do Grand Falls since it's more remote and I had feared the danger of getting caught in the middle of nowhere in a snowstorm.
But when I noticed the daylight breaking through the morning darkness, I saw a beautiful morning. So that got me to change my mind and decide to do Grand Falls today and the arch hiking tomorrow. Besides, today would involve more driving and less hiking and perhaps give Julie another day to recover from her illness before exerting herself.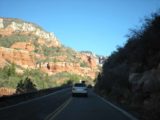 So after our continental breakfast, we headed off at 8:20am, which was later than we were used to. But last night, I had looked at our TOPO! map
and saw that Grand Falls actually faces west so it was more of an afternoon waterfall.
That meant we had to kill some time this morning and that was when we decided to check out the meteor crater – another thing we had never seen before that we had always wanted to do. It was nice that this was not in our original plans for this trip, but what the heck? We're here already so why not?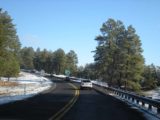 And in what was becoming all too familiar on the Hwy 89A, we followed a train of cars as we meandered through Oak Creek Canyon along the two-lane highway on our way back towards the I-17 then the I-40. Like in Maui's Hana Highway, there seems to be a dearth of people using pullouts to let faster traffic pass by.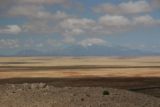 The beautiful morning revealed the snow-capped San Fransisco Peaks as well as snow flanking the highway. Still cognizant of black ice, I didn't mind following people ahead of me providing an indication of whether we'd face this invisible threat up ahead or not.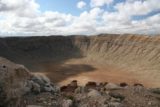 After making it uneventfully to the I-17 and then driving for a while on the I-40 through flat expanses of nothingness, we eventually got to the well-signed turnoff for the Meteor Crater and then to its car park at around 9:45am. On the approach, we could see that the crater rim was actually elevated from the rest of the plateau. That was something you don't really appreciate when they show you aerial photographs of this massive crater.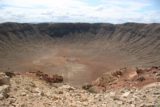 Anyways, we bought our admission tickets and made it just in time for their 10am short movie about meteors. Immediately thereafter, we did a guided walk around the southern portion of the rim towards a rock called the Photo Rock, where you can have your photo taken by the guide.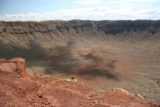 Sprinkled within the 1/2-mile hike each way were stops where our guide, Eduardo, would explain something about the area (and sprinkle a few latino jokes here and there to keep up awake).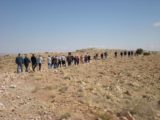 The crater itself was massive as expected since we had seen the aerial photos before on TV as well as in the literature. It was some 3 miles in circumference and about 4000 ft in diameter. There was no way we could capture the whole thing in one shot without a fisheye lens so I figured any photographs from the rim wouldn't do this crater justice.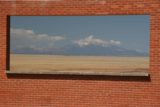 It had been a pretty fun and informative tour. Ever since I had seen a photo of this place in one of those Time Life Books when I was a kid (that I now realized must have been an aerial photo), I had always wondered about coming here.
Now that it has happened, we had our fill of this place and now it was time to head back to the car park and get going.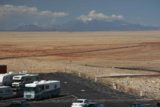 By 11:30am, we left the crater and headed to Grand Falls. What was worrisome was that the clear blue skies from this morning was quickly giving way to looming storm clouds. So that hastened us to try to get to the falls before being overrun by the storm.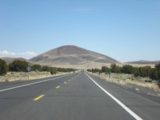 Knowing that this waterfall wasn't that well-signed, we had our GPS and laptop combination working. And so far, it had got us all the way to the Leupp Road as it meandered amongst some interesting calderas; clearly evidence that this area once had volcanism and perhaps the reason why one of the well-respected geologists mistakenly thought the Meteor Crater was volcanic (as opposed to extraterrestrial) in origin.
As we zoomed past a sign indicating that we were entering the Navajo Tribal Land, we noticed on our GPS-laptop combo (after a fairly lengthy drive on the Leupp Road) that we had gone the wrong way. Apparently, we missed a turn somewhere!
So we backtracked and tried to follow my pre-trip markings on the laptop. That ended up taking us to some sketchy unpaved road that eventually led to someone's farm. Apparently, the Indian Road 70 was cut off and our map was out of date for this part.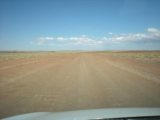 Fortunately, I had recalled some trip report saying something to the effect that we had to look out for the Grand Falls Bible Church sign. So when we backtracked back to the pavement and headed east again, we managed to find this sign just across from the Navajo Tribal Lands boundary sign. The adjacent unassuming turnoff then put us on a pretty wide and smooth (by unpaved roads standards) path that eventually led us right to the Little Colorado River.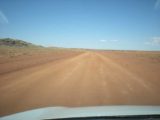 The scenery seemed a bit desolate as if there was nothing out here. The numerous unsigned forks and spurs from this road conspired to get us lost out here. And this wasn't a place I'd want to be lost since everything looks the same in all directions.
At the Little Colorado River, apparently this road normally crosses that river. But there was a bulldozer with a guy in it stationed next to the stream's banks, and we knew that we must've missed a turn somewhere. Besides, there was a sign that said "High Water" and it was obvious that the stream inundated the road up ahead.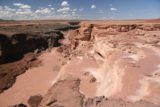 So we backtracked and looked carefully for a turnoff around the neighborhood that our pre-trip Topo markings indicated. And eventually found a rough unpaved path that led to the picnic area. There was already a car parked here and there were gazeebos nearby so we knew we were at the right place. The time was just after 1pm and so far the storm clouds hadn't overcome us. In fact, there was still plenty of blue skies above us.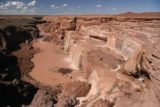 As we exited the car, right off the bat, we could hear the loud sound of water crashing. This was clearly a good sign since we had seen trip reports in the past saying this waterfall tended to be on the disappointing side. So I guess the recent snow accumulations in the past couple of months (especially in February where we capitalized on some local waterfalling in Southern California) pumped up the Little Colorado River into the spectacle before us.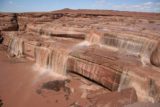 So we spent the next several minutes trying to photograph the wide and muddy falls from all sorts of angles. There were only a couple of cars and hardly any people around save a pair of young Navajo adolescent girls and a guy who we noticed actually hiked to the backside of one of the falls directly below us. He actually paved the way for us to get to the bottom of the falls ourselves since we weren't very sure how to get to the bottom in the first place.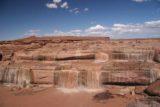 It was a good thing he showed us the way because the cliffs were awfully steep where we were standing.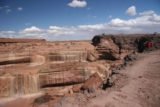 With the early afternoon sun striking right down on the waterfall, the lighting seemed to be about just right. I guess we made a good call killing time at the Meteor Crater before coming here.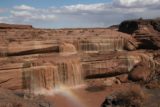 When we got more direct angles of Grand Falls, we even started to see faint rainbows appearing out of the milk chocolate mist.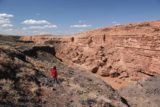 Eventually, I found the steep and somewhat rough scrambling path down and made it to the bottom of the canyon, which was situated a bit further downstream from the falls itself. Even though path was a bit rough in spots, it was certainly doable without much difficultly with patience and good decision-making.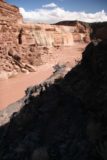 Julie followed behind after a handful of more people started to show up and make the scramble down as well. TThere were some spots where we had to really pay attention to keep going the easiest route or else backtrack to avoid a dropoff.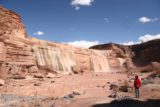 The falls had a different character at the bottom. Here, you could see the Little Colorado River flowing widely with its milk chocolate color. The falls itself was segmented into three wide sections though if it weren't for the water moving, the falls blended in with the color of the adjacent cliffs. Mist was spraying hard from the furthest south tier, and it was there that the ground was very saturated with water and mud.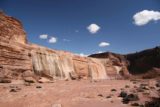 I took a few steps to try to get closer to that part of the falls, but my boots were getting way too bogged down with mud. So I turned back.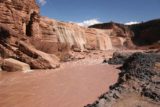 On the way back to the car, we got to experience all the overlooks of the waterfall once again. Indeed, leaving this place was hard as being distracted taking photos was real easy to do.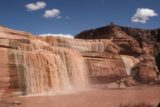 We noticed that a few more people showed up to experience the waterfall. There were only a handful of people total as this place definitely was a bit off the tourist radar (either that or we happened to time our visit during a time of low visitation).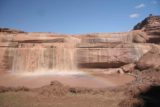 But most of the other visitors we noticed were Native American, which convinced me that this was typically a locals waterfall. Or at least, it was a case where locals were cognizant of this waterfall's existence, but it was not so with out-of-towners.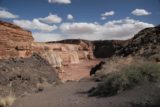 By about 2:30pm, we were back at the car. That was when I finally had my Subway sandwich, which we had bought nearly three hours ago at the Meteor Crater. Yeah, I know I took a chance with food poisoning…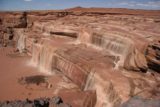 It's amazing what a nice waterfall can do to you, because Julie seemed to be in good spirits at this time. So for the moment, her mind was off her health.
Now, it was time to head back to Sedona.
I felt it was kind of strange that tonight would be the second night we'd be spending in Sedona and we still hadn't done any sightseeing there.
As we headed back to paved roads, we had to take our time because there were big pick-up trucks kicking up dust as they moved slowly up ahead of us. That gave us time to mull over our experiences today and evaluate where this waterfall stood in our mental library of the best waterfalls in the US.
When Julie said that this was the best waterfall we had seen this year, I paused and thought about that statement. And, well, most of our Thailand waterfalls took place in December, and our 2009 waterfalls consisted of mostly Southern California local ones. So, that meant that Julie was right.
Besides, when we compared this one to our memory of Lower Calf Creek Falls, we thought this one was better. So that meant we were going to change our Top 10 American Waterfalls List.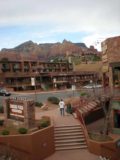 It wasn't until around 4:20pm when we returned to Sedona. By this time, it was cloudy and threatening rain. But there was still some sun painting the red rocks with color when its rays did break through the clouds.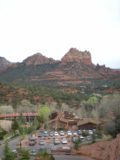 It still wasn't terribly busy in town this Friday the 13th so we managed to find parking in the charming part of town and walk around. It was a rather inauspicious way to sightsee Sedona, but it did allow us some time to catch the flavor of this town and the surrounding red rocks so reminiscent of Zion National Park.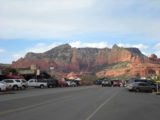 Since the afternoon was still somewhat young, we managed to finally secure a Red Rocks Pass, which seemed like our Adventure Pass. And this pass applied to parked cars in National Forest areas. We managed to pick one up at the Basha's Supermarket.
After a 5:30pm dinner at the Picazzo's Pizza (a bit overpriced for pizza if you ask me), we were back at our familiar motel at 6:15pm. Later in the evening, the rain did eventually come, but it clearly had more bark than bite as it seemed to only leave a few sprinkles.