Day 3: LUKEWARM
When we finished our continental breakfast and left our motel just before 8am, Julie was still feeling uncomfortable from her ailment. She was already not in the mood for hiking and today was supposed to be the hiking day to try to get intimate with the red rock wilderness of Sedona.
It was a pretty chilly morning and the skies were partly cloudy. It was a little cloudier than the beautiful morning yesterday, but it was perfect hiking weather.
Realizing that we probably wouldn't be able to see Fay Canyon, Devil's Bridge, and Vultee Arch along with Red Rock Crossing all in one day, we decided to forsake Fay Canyon.
So first up was to take the Dry Creek Road on the western side of downtown Sedona and head towards Devil's Bridge.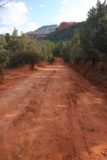 With our little Toyota Matrix, I thought today's excursions wouldn't be a big deal. But as soon as we left the paved road and got onto the really rough and rutted Dry Creek Road, I had to change plans on the fly immediately!
The whole time we were driving on the road (worrying about damaging the undercarriage of the car), Julie urged that I turn back. But I knew that it wasn't far (less than two miles) to get to Devil's Bridge Trailhead so I trudged on driving oh so slowly trying my best to ensure we wouldn't pop any tires or get stranded out here.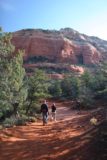 Obviously, we'd be the first ones on whatever trail we were doing as we were alone. And with the way this road was going, we might be the only ones in the day. We even saw what looked like a coyote crossing the road up ahead.
Eventually by 8:15am, we were at the trailhead.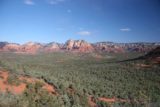 It was at this time that I decided to scrap continuing on to Vultee Arch after doing this hike. It was still another 3 miles or so to get there. And we knew getting the Toyota Matrix to endure more of this road was just asking for it. I'd bet this kind of road would be pretty tame stuff for a gas-guzzling SUV though.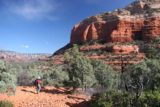 The trail was pretty straight forward to follow as the walking path was quite wide. The cool morning was quickly warming up. And after just a few minutes of walking on the trail, we were overtaken by another pair of hikers. So at least there went the theory that we might be the only ones on this trail.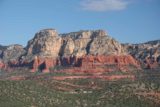 As the trail slowly climbed, we got pretty attractive views of the cliffs in the distance behind us. Upon closer inspection of those cliffs, we noticed some road and buildings at their base. Pretty unsightly if you ask me (even if the buildings tried to match the color of the rocks), and probably indicative of what we were perceiving to be the overdevelopment of Sedona.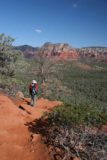 At around the 3/4-mile point, the trail forked. The left fork had some sign next to it mentioning something about rehabilitation site. I wasn't sure if it was referring to the trail or the area between the forks in the trails. In any case, we took the right fork which quickly went up some steep red rock steps.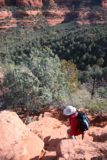 Once we climbed above the steps, we were perched on some opening where we could get glorious views of the red rock panorama we had seen behind us earlier on in the hike. This view could've easily been a destination in and of itself, but we pried ourselves free of this overlook and continued further to the Devil's Bridge.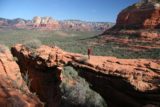 And within minutes, we were looking down at the moderately-sized span of the natural bridge. But what made this natural span stand out was that there was a nice panorama just beyond the arch. So we were busy trying to take that cool postcard shot of the bridge and the panorama beyond.
I even managed to take a photo of Julie standing on the span of the bridge though there was a bit of hesitation regarding this maneuver since the middle of bridge looked like there's a fracture in the rock.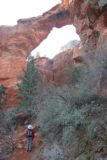 We were joined a few moments later by that couple that had passed us by earlier. The guy had no problems making it all the way to the end of the natural bridge and even creeping out to its edge to see what lies below (while giving his significant other butterflies in the process).
That was our cue to leave this couple alone and check out the bottom of the bridge. And down here, you could get that proof-this-was-a-natural-span shot by getting sky through its opening. But aside from that, this viewpoint was attractive though it had nothing on the top-down view, which was unusual for a natural arch since usually the bottom up views are better in general.
At 9:50am, we were back at the car. During the hike back, we saw at least six or seven different groups of people going the other way. Obviously, this was a more popular excursion that we had thought. There was also the obnoxious sound of low flying helicopters giving their paying customers aerial views of the area. Those choppers clearly disturbed the peace of this environment and once again indicative of our perception that somethng just seemed off kilter about this place.
At the car park, we noticed another half-dozen cars. What was surprising was that half of them were 2wd passenger vehicles! So maybe our fears from this morning's drive was unfounded?
Nonetheless, I made good on my plan to forsake Vultee Arch (which relieved Julie). We also speculated that the crappy condition of the road might be intentional to encourage the local tours with their jeeps and hummers. Money talks, right? And Sedona seemed to embody this philosophy.
And so the next hour or so was spent autotouring the area. We got a few more panoramas of the cliffs near some luxury resort called Enchantment I think. I thought it shouldn't have belonged here, but then again, money talks.
With lunch time around the corner, we had a little bit of time to kill. So we started making our way over to the Red Rock Loop where there's supposed to be the famous Red Rock Crossing where Oak Creek cuts before the iconic Cathedral Rock.
As we drove back to the Hwy 89A, I asked Julie what she thought of Sedona so far.
"Lukewarm," she said.
I agreed with her assessment because something just seemed off kilter about this place. In fact, we couldn't help but wonder whether this place would've been better off if it wasn't so developed as it was. That stirred up some further discussion about the differences between a National Park and National Forest.
Like in Africa, where we could sense that the protected areas felt like a whole other world compared to the farms and cultivated lands otherwise, Sedona just seemed like an overdeveloped version of Zion National Park. And it was too bad because the red rock scenery here really seemed like there was a good thing going here.
Even driving along Hwy 89A towards the Red Rock Loop, we could see all these homes and housing developments making this place look like a suburb that's out of place in a place that nature should've been allowed to thrive. I joked to Julie that this is probably the influence of Republicans (this is John McCain's state after all) running things where it's all about money no matter what the consequences are. And it showed.
When we got to the Red Rock Crossing entrance, there was a gate entrance fee of $8. Apparently, they didn't take our Red Rocks Pass, which was a bummer. In fact, it seemed like our Red Rocks Pass was a waste of money because the only reason why we bought the pass was for the Red Rock Crossing.
Anyways, we opted to come back here later and not enter now since the lighting wasn't optimal. Somehow this move seemed to annoy the gatekeeper.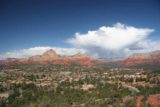 So we headed back to downtown Sedona. Once back in town, we took a detour to a place called Airport Mesa. There, we managed to go to an Observation Point and get a 360 degree view of Sedona. It was quite a nice overlook and we could actually appreciate the extent of development in the area as well as the scattering of storm clouds encroaching on the area.
By 12:20pm, we were back in the car and continued back into town for lunch. Our place of choice this time was this real busy joint called the Wildflower Bread. Unfortunately, we were given a sour taste in our mouths when we were waiting for a parking spot and some dude in a pick-up truck decided yell something to the effect of "f*cking Californians" as they passed by.
Even though the Sedona locals seemed to be very friendly, I was wondering if the visitors were not as friendly and patient. Anyways, it wasn't worth getting pissed off about, but it didn't help our perception of a place (i.e. Sedona) that we thought was lukewarm to begin with.
The bread place was very busy and it took a while for our sandwich to come out. Our portobello mushroom sandwich was very good. The chicken pesto sandwich was also pretty good, but the chibata bread for that sandwich was a bit tough.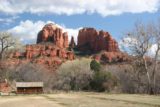 At a little before 1:30pm, we were satisfied with our lunch and went back in the car.
We decided to return to the Red Rock Crossing in search of that iconic photograph of the Cathedral Rocks and Oak Creek. After all, it was going to be now or never because we were leaving for LA tomorrow morning. With the clouds somewhat scattered and threatening to mess up the lighting, we were committed for better or for worse.
At 1:50pm, we paid the hefty admission price and proceeded to embark on our search for that photograph.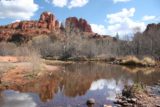 It turned out that with Oak Creek running pretty high right now, it wasn't easy to get that iconic shot without either crossing the knee-high fast-running creek or at least getting wet. It also seemed like this place wasn't even worth the $8 admission fee since good views seemed rather hard to come by.
It took a bit of searching (including some off-trail scrambling) just to find a somewhat decent shot with the Cathedral Rock reflected in Oak Creek.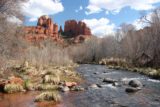 It took even longer to find a more unobstructed view with a running Oak Creek crossing before the iconic red rocks themselves.
We did manage to get our desired shots, but we were sure the views might have been better on the other side of the creek. The problem was that the creek was running fast and we weren't in the mood for that. Besides, the potential of drenching the camera again wasn't desirable.
By 2:55pm, we were back at the car, but not before taking one last parting shot at the lawn area near the car park.
At 3:10pm, we were back at the Super 8 to call it a day. Even though it was an early end to today's activities, Julie looked like she could've used the rest since she was still not feeling well.
By dinner time, the clouds finally delivered their rain, but it didn't seem like much. Meanwhile, we had ourselves our final dinner in Sedona at a place called Red Rock BBQ. It exceeded our expectations and was perhaps a good choice for good old fashioned American western food.