Day 4: GRAND CANYON DETOUR
We left the Super 8 Motel at 5:35am. We wanted to leave early because we wanted to arrive home at a reasonable hour. We knew the drive back to LA from here was arduously long (at least 8 hours or so). But since we were already in the vicinity, we wanted to make a brief detour to see the Grand Canyon's South Rim, which we hadn't visited since August or September of 2000.
The morning drive started off in darkness, but I felt that we probably should've left another hour earlier because the daylight was already starting to pierce through the darkness.
The concerns for driving so early were black ice and elk. So we took our time driving. We clearly didn't want a repeat of our kangaroo or deer incident.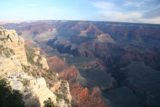 At 7:30am, we made it to the Grand Canyon's southern entrance. It looked like the vehicle fee was increased to $25 now. Even though it seemed steep, I figured the National Park system needed more revenue so I personally didn't mind this fee increase.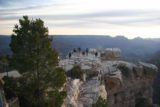 About five minutes later, we were at Mather Point to take in the soft morning light against the awesome panorama of the Grand Canyon.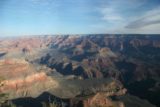 The scene was just as awesome as it was over eight years ago. However, now we have a better understanding of lighting and photography, and it wasn't quite as crowded as it was back then.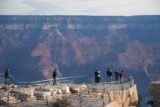 Julie was interested in some signage indicating plans for the park to implement light rail. It seemed forward-thinking and I personally couldn't wait to see this happen.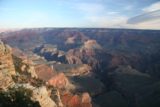 Later while waiting for Julie to use the facilities, I spent some time conversing with a guy from Phoenix who was walking his two dogs along the Rim Trail. He seemed to have a tremendous interest in super human endurance feats like someone going from Rim-to-Rim-to-Rim in just under 7 hours! There were also a bunch of other endurance tests that were undertaken by people he apparently knew or volunteered for, but it just seemed way beyond anything I could fathom.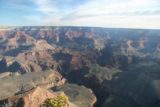 "Not in this life," I told him concerning any thoughts I had of following in their footsteps.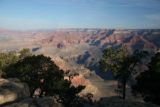 After 8am, we continued to Yavapai Point to take in some more panoramas and then we continued onwards to the Grand Canyon Village. The far west rim to Hermit's Rest was still shuttles only so we wouldn't be able to do that given our dearth of time today.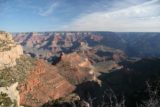 As we walked around the Grand Canyon Village and the rim viewpoints from there, we tried to look for that steakhouse with a view that we ate last time we were here some eight years ago. It turned out that we didn't find it and either our memory failed us or things changed so much that it closed its doors and was replaced by something else.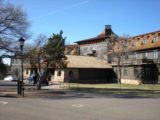 At around 9:20am, we left the Grand Canyon. But not before passing by groups of cars parked off the side of the road creating little traffic jams.
And what were they looking at?
Elk!
It was as if they were starting elk jams in much the same way bears created bear jams in Yellowstone National Park.
The rest of the drive home was tiring and uneventful. We eventually made it to my parents' place at 4:30pm. Fortunately, everyone (except grandma) was there so we took this opportunity for a dinner at a Taiwan-Japanese Noodle House chatting amongst ourselves about our trip and economics among other things.
All in all, it was a fun, spontaneous trip. You can never have too many of these, I reckon – even if we thought of Sedona as lukewarm…