Day 1: SUCCESS ON TWO FRONTS
With Julie and her mom bonding in Europe to see long lost relatives in France while sightseeing other countries, I thought this would be a great time to take mom out for her birthday back to Utah for the weekend. In a way, it had the feeling like it was Mothers Day in September.
It had been over three years since my last trip out there and it was memorable because of the deer incident. But perhaps being older and wiser, I had a different feeling about this trip. Mom was excited about doing this trip as a chance to get caught up with me and get some exercise since we hadn't done a trip like this all year long.
So we packed lightly and efficient and were soon out the door by 5:30am. Given the early morning start (5:40am), Friday traffic was light except for a minor blip in the Las Vegas area, which was to be expected since we got there around 9:50am.
Instead of taking the usual UT9 route through Zion National Park, we opted to continue north on the I-15 to Cedar City, Utah. Then, we headed inland on Highway 14 towards US89 before resuming our route. Ultimately, the goal was to get to Escalante, Utah for some extended exploration of the Grand Staircase National Monument.
The drive went by seemingly pretty fast because we had lots to talk about. I always felt that I took after mom in a lot of ways, and this mother-son talk really solidified my hunches. Nonetheless, I found her dropping knowledge in my direction to be very inspiring and educational.
I could also swear the speed limits were increased from the time I received my two traffic tickets in a single day three years ago.
Anyways, when we headed east through Red Canyon along UT12, I had this idea to perhaps make a quick stop at Mossy Cave just to see if that waterfall was flowing. We had been there back in April 2003 and the falls was trickling. Perhaps we might have better luck since the Sevier River looked like it was gushy (albeit muddy).
The patching storm clouds in the area gave us the impression that it had rained in the area this morning.
At 3pm (realizing we had to move the clock up an hour since we now entered the Mountain Time Zone), we were back at the familiar car park for the Mossy Cave. There were quite a few cars parked here already and many more people walking around the area.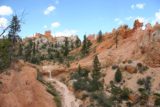 The plan was to see if the Tropic Ditch was flowing before continuing further up the short walk. And to our surprise, the ditch was not only flowing, it was rushing with milky runoff! Surely, we might finally see this waterfall flowing!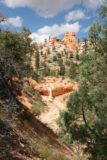 Within a few more minutes of the quick jaunt, we saw the waterfall. Sure enough, it flowed well. So we took photos of it and conquered this particular personal demon of mine.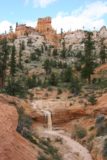 We didn't bother doing the Mossy Cave since we already had been there before and knew what that little place was all about. So we pretty much stayed a bit longer at the waterfall to try to compose photographs involving both a waterfall as well as hoodoos in the background (a very unusual combo indeed).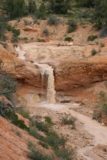 Now, all that was left was to see if we would finally see Upper Calf Creek Falls on this third attempt. And it appeared that we would have just enough daylight left in the day to try it today.
It was 4:30pm when we finally arrived in Escalante. We pre-booked a stay at the Circle D Motel because it was cheap. After seeing it in person, I knew I had made a mistake as the place was gross and the person who booked our stay misinformed me that we would have two double beds at the quoted rate. When we discovered there was only one, we inquired about it and was told the rates would be from $35/night to $50/night, which was what the cleaner and more modern Prospector Inn across the street was quoting. Oh well, we already paid and we couldn't worry about this much longer as there was still a few more good hours of daylight to do some exploring.
So mom and I headed further east on the UT12 in search of the Upper Calf Creek Falls trailhead. The first time we tried to find this waterfall, we started from the wrong trailhead. We knew we wouldn't make that mistake again.
As we tried to follow the Falcon Guide's instructions to a tee, we realized that pullouts were nonexistent between mile marks 81 and 82 as it had stated. But we did spot an unsigned road just south of mile marker 81 with a passenger car parked at the start. Could this be the one?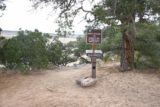 Eventually, we took the short but bumpy and muddy (from the recent rains from either yesterday or early this morning) spur road to a fair-sized car park area with a trailhead register in clear view. Just by the basic infrastructure on display here, we knew we had finally found the correct trailhead. But even with this sense of relief, I couldn't help but think that it was no wonder why we got so confused on the previous trips because the Falcon Guide's directions were wrong!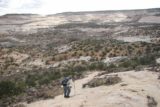 The winds gusted somewhat fiercely. We could see sand getting kicked up and moved about the comfortable afternoon air. Patching clouds moved quickly above us but there was no threat of rain.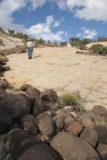 So after signing in at the trailhead register a little after 5pm, mom and I started down the slickrock slope. Although the trail seemed difficult to find at first, there was an obvious trail just below this friction pitch. We also started to notice as we descended that the Bureau of Land Management (BLM) had also moved the black volcanic boulders in a way that they essentially lined the path for easy route-finding.
And so mom and I followed the trail and the cairns in the gusy winds. The winds blessed us with cool air and comfortable hiking conditions, but it also sandblasted our eyes as the fine grains of the desert flew in the air.
We would eventually follow the trail towards a section where it seemed like it wasn't heading towards the base of Calf Creek Canyon, which dropped to our left. Mom and I talked to this couple who were on the way out and told us that the path we were on headed to the top of the waterfall. They pointed behind us then back towards the right for the path to the base of the falls. I took this to mean we had to scramble down to the canyon and go upstream to see the falls. Still, I thought it was strange when I didn't see any obvious trail or cairns as we looked behind us. Anyways, we wanted to see the falls from below so we could take better photos and we proceeded to attempt to do just that.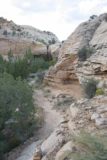 With simultaneously growing anticipation and doubt, mom and I took the apparent advice from the pair of hikers we talked to and scrambled down the slickrock and into the bushy depths of Calf Creek Canyon. There didn't seem to be a trail and right away something seemed off. But thinking Upper Calf Creek Falls was in a wide open cove, I thought we could scramble upstream in the bush to eventually get there. But after a few minutes of scratching skin with the hard and dense growth around the gurgling Calf Creek, we retreated back up the slick rock. I had this sinking feeling that this waterfall would elude us for yet a third time.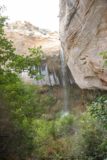 But as we scrambled up the slick rock and in the direction of the falls, we regained the trail and were relieved. Still, the day was getting darker so we hastily continued on.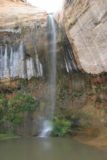 Finally, at 6pm, we could see the plunging falls moving with the gusty winds. We had finally found what we were looking for all this time!
Upper Calf Creek Falls plunged some 88ft as it went airborne over a cove before splashing onto the green algae-covered slickrock near its base. The winds would make the plunging light flow of the falls arc and dance as it blew back and forth in the shady depths of the canyon.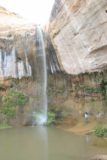 Still, we enjoyed the waterfall and basked in our accomplishment. So the two demons that haunted our waterfall hunting were finally conquered. Now, all we had to do was to get back to the car before it got dark.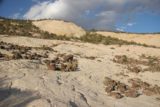 Fortunately, the way back was much easier (doesn't it always seem that way?) as we had little trouble following the cairns. On the last friction pitch back up to the car park, the BLM's work in lining up the black rocks really kept us from getting lost and missing the trailhead. And by 7:45pm, we were back in the car and headed back to Escalante for dinner.
I had my heart set on having Navajo Tacos, which I knew the Prospector Inn had, but we thought we could save it for tomorrow and go for pizza at the Escalante Outfitters since it looked open and busy. And so we chowed down on the greasy stuff while thinking about what to do tomorrow. Now that we would have a whole day ahead of us after Lower Calf Creek Falls, I wondered if we would have enough time to drive the Hole-in-the-Rock Road and do the Broken Bow Arch hike since it seemed to have a really neat shape (according to the photo in the Falcon Guide). The problem was it was some 43 miles each way on the unpaved Hole-in-the-Rock Road with a high clearance section near the end plus 4 miles return of hiking in "moderate easy" conditions. We'll play it by ear, I thought to myself.
With full stomachs, mom and I returned to the dingy Circle D Motel, showered, and shared the single double bed. Now I love my mom and all, but sharing the same bed wasn't what I had in mind when I originally booked cheap accommodations. As you can tell, I still couldn't get my mind off my poor decision to skimp on cost.
Visitor Comments:
Got something you'd like to share or say to keep the conversation going? Feel free to leave a comment below...
No users have replied to the content on this page