Day 2 part 1: LOWER CALF CREEK FALLS REDUX
Mom and I didn't make the usual pre-sunrise start, but we did get out of the motel early enough to face the sun as we headed east on UT12 towards the popular Calf Creek Recreation area. With a chocolate donut and hot chocolate in our stomachs along with a roast beef sandwich packed for lunch, we were at the trailhead at 7:45am.
So far everything was just as I remembered it five years ago. Even the folks overnighting in the campsites were reminiscent of what we observed when Julie and I last did this hike in 2001.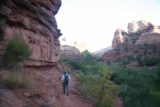 Mom and I picked up an interpretive brochure (didn't seem like it changed from before) by the trailhead register and headed off. Hiking in the cool morning shadows was a snap. The sandy trail actually wasn't as brutal as I had remembered it because the recent rains actually packed the sand and made it easier to walk. Plus, mom and I took the time to pay attention to the signs along the trail. With all the hiking we've experienced over the last few years, there was this greater sense of appreciation as to how life must have been like in Calf Creek Canyon. We also noticed things I missed before like the cliff-hugging granaries as well as the rock art of three people that mom had to point out to me in order for me to notice.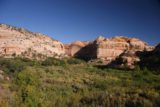 So far the hike had been smooth going. We only saw one person on the way to the falls, who happened to be a very fit elderly man who was headed back to the trailhead already.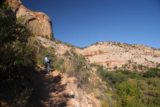 As the warm rays of the morning sun continued to rise, we could see the surrounding Navajo sandstone cliffs painted a nice soft yellow and orange color as they towered over Calf Creek Canyon.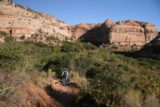 Just as I had recalled from back in 2001, the trail was still pretty long and sandy. However, given that it was early in the morning and the temperatures were much more comfortable than it was in June 2001, the hike didn't feel nearly as strenuous as before.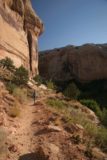 So instead of concentrating and trying to keep cool, our minds were free to notice the beautiful scenery a bit more. We even spent a bit more effort trying to find what the interpretive brochure would be referring to as we were following along throughout the hike.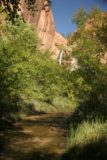 By 9:30am, mom and I saw the falls basking in the morning light already as it towered above the underlying foliage ahead of us. We quickened our pace and got to the gorgeous Lower Calf Creek Falls.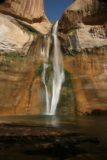 It was just as I had remembered it five years ago. And like before, we had the falls all to ourselves. So we wasted no time snacking on an apple with taking photos. At least now, I got to try capturing this beauty with the new DSLR camera I was still learning how to use. I also carried my tripod in so I spent lots of time experimenting with long exposure photographs.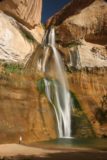 At 10am, mom and I left the waterfall and headed back to the trailhead. Like the previous time I was here, we saw hordes of people going the other way towards the falls so we knew we beat the crowd.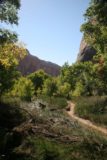 When we got back near the trailhead, we noticed a very large group of people that seemed to be on a tour. We asked where they were from and they said Germany.
Out of impulse, I told them, "Guten tag."
That got them smiling, but then I quickly followed up by saying, "That's all I know in German."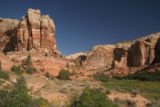 Still, that didn't stop someone from saying something in German to me. So I had to sheepishly tell her I didn't understand. And with that, we wished each other well and parted ways.
But mom and I couldn't help but wonder how it seemed like there were people around the world who knew more about America's landmarks than Americans themselves. Indeed, it seemed like there were more foreigners in the Grand Staircase than Americans. Anyways, I sometimes wonder how different the world would be if many more of us Americans could take a cue from our foreign counterparts and get out there in nature to see the world we live in.
By 11:30am, mom and I returned to the trailhead. There was still the rest of the day left as I had anticipated yesterday. So I told mom we should go to the Hole-in-the-Rock Road and see both the Devil's Garden as well as Broken Bow Arch, and that it would probably be some 10 miles of total hiking with 80+ miles of driving on unpaved road when all is said and done this day. Mom was never really one to back down from a full day's worth of strenuous exercise. In fact, she said, "We've done 22 miles in a day, 10 miles is not a big deal."
Visitor Comments:
Got something you'd like to share or say to keep the conversation going? Feel free to leave a comment below...
No users have replied to the content on this page