Day 1 (October 15, 2020 – Ouray, Colorado): "Allegiant"
It was about 3:30am when I awoke to my alarm. I was a bit anxious about not making it to Ouray before it got dark, and I was hoping that we could be out of the house by 4am.
I had woken up at around 2am earlier in the night after hearing some neighbor's dog bark, but I guess I needed more than three hours sleep to do a 13-hour drive (plus losing an hour as we'd eventually cross into the Mountain Time Zone).
By about 4:15am, I ate up my kefir breakfast, where I tried to clean out as much of the fridge as possible on this one meal.
Then, Julie finally got up at around that time so I knew that getting out of the house by even 4:30am was not realistic.
Eventually at 5:25am, the rental vehicle was fully loaded and we were finally starting to leave. The rental vehicle was a Toyota Highlander, and it was way more spacious than the Jeep Cherokee that we had driven over the Summer.
Really, we should have driven the Highlander on that Summer Road Trip and the Cherokee on this Road Trip.
Oh well, when it comes to renting vehicles, it's not like you can choose exactly which one. I guess they were all in the same mid-sized SUV class (unless we were upgraded this time around).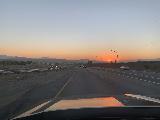 The drive out of Los Angeles in the dark was pretty smooth. It took some getting used to the cruise control on our rental car because it had some kind of radar proximity algorithm where the cruising speed would automatically reduce to maintain distance with the vehicle in front.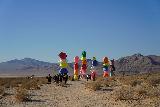 Regardless, it wasn't until around 8:30am when Julie had me go check out the Seven Magic Mountains, which was something we were meaning to check out at the end of our Summer Road Trip. But I guess showing up early in the morning on our way to Colorado was just as fine.
Indeed, if we weren't going to make it to Ouray before it got dark, then I guess it made sense to take advantage of the daylight that we did have right now to finally go see what this Seven Magic Mountains was all about.
When we pulled up to the signed parking lot, we were quite surprised at the number of vehicles that were already here. Some groups had children. Didn't they have school on this Thurday morning?
We probably spent about 25 minutes away from the car to check out these so-called Seven Magic Mountains, which was basically seven pillars of stacked painted rocks.
These colorful stacks of rocks definitely stood out against the deep blue morning skies. And there were really less than a dozen or so people at any one time here so it was pretty easy to maintain social distance.
This was apparently some kind of free art exhibit designed by a Swiss artist. According to the sign, the art installation was opened to the public in May 2016. So this explained why I never recalled ever being aware of this place since we pass by Jean so often on our way to Utah as well was Vegas.
After having our fill of the Seven Magic Mountains (now that we finally got to experience it for ourselves), we then resumed our drive after filling up at the nearby gas station at 9am.
We then resumed our all-day drive along the I-15 as we headed into Las Vegas. It turned out that Jim Rome was on here, so I enjoyed listening to him while switching a little bit to hear Colin Cowherd. The sports talk that I rarely listen to since I'm using at work at this time also got me to notice Allegiant Stadium, which was the new home of the Las Vegas Raiders (formerly Oakland/Los Angeles/Oakland Raiders).
Since both Julie and Tahia were really into the whole Divergent Series movies (and now reading the Divergent Series books), I pointed out the stadium name to Julie, who just so happened to be reading Divergent and Insurgent while I was busy driving.
Anyways, our marathon drive involved a brief stop at the Chipotle in St George, Utah, where Julie noticed that there were people eating inside the restaurant there.
We had lost an hour as we entered into Mountain Time so we actually showed up at 12:15pm instead of 11:15pm. So it wasn't as early of a lunch as we had anticipated.
Anyways, by 12:30pm, we resumed our marathon drive as we continued up the I-15 north with another brief stop in Cedar City to fill up on gas again, and then we eventually headed east on the I-70.
Knowing that this highway didn't have much development while also being quite scenic in spots, we were going at a pretty good clip as we headed east across the state of Utah.
Eventually, we got to where the scenery was almost Capitol Reef-like as we were cutting through the San Rafael Swell. Eventually, we got past Ghost Rock and some other interesting yet classical desert southwest canyon formations before we made another rest stop at the Crescent Junction Rest Stop near the Hwy 181 turnoff (which would have gone south towards Moab) at around 4:20pm.
Continuing east on the I-70, we went through more desolate stretches of interstate where we pretty much gunned it. I don't think it made up very much time, and I resigned myself to knowing that we weren't likely going to see Bear Creek Falls near Ouray before it would get dark today.
The radio stations along the I-70 East were disappointingly devoid of sports talk and a lot of political talk. I guess the propaganda engine was certainly in full effect in these parts, and it was pretty much a captive audience.
Julie did help fill some of the silence (when there was nothing on the radio and I was a little tired of hearing my own iPod songs repeating) with some revelations of how different the Divergent books were to the movie.
Obviously, the movie had to move the plot along quickly and cut to the chase given budget constraints. But it was interesting to see how invested Julie was in the book as she was surprised by what she was reading. Of course, she already knew the ending, which might have influenced how the 3rd movie bombed and they got greedy splitting it up into two movies so the 4th movie was never made and there was no theatrical conclusion.
After making a brief gas stop in Grand Junction, we then headed south on the Hwy 50, where the setting sun had illuminated some of the golden cottonwoods or aspens while painting the skies pink and then purple.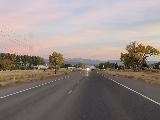 It was a nice sight to see but difficult to photograph such fleeting moments while driving at the same time.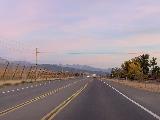 When the skies then got dark, I was following a big truck that was actually going pretty fast. I tried to keep close to him because I was well aware of the possibility of deer darting out onto the highway.
I figured that with the big rig setting the screen and plowing through any wildlife that might jump onto the highway, at least it wouldn't be our rental vehicle bearing the brunt of the damage.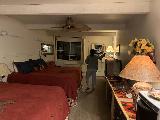 Ultimately by about 7:15pm, we finally made it to the Hot Springs Inn. And after promptly checking in, we then spent the next 45 minutes sanitizing our room. Without Tahia helping on this trip (as she had to do distance learning at my Mom's), we not only had to spray the Lysol and wipe the high-touch areas, but we also had to wave the UV wand on the fabrics, which Tahia was doing for us on our Summer Road Trip.
Anyways, by about 8pm, we were pretty much all settled into our room.
Outside, it was quite chilly already (it must have dropped into the 40s by this time) as it was also very dark so we could see lots of stars in the sky despite some of the light pollution from neighboring accommodations.
Julie then used the instapot to make hot dogs so we had ourselves a very basic dinner. She did look at the lodge's food options, but they were charging like over $30 per plate. And given that the COVID cases were surging again, we thought better to not chance it and subject ourselves to stay up later just over food.
Thus, our humble dinner was satisfying, and Julie and I pretty much spent a quiet evening together where she was busy reading the Divergent books while I was busy sorting out photos, map breadcrumbs, and doing this trip report…