Day 2 (October 16, 2020 – Crested Butte, Colorado): "From Peak To Just Past The Peak"
It was about 6am when I awoke to our alarms. We couldn't bring ourselves to wake up to Julie's 5am alarm because it was so chilly outside the sheets yet so toasty inside. I almost forgot what that felt like given how our Summers at home seemed to have been so extended that we don't really get Fall until October is over.
In any case, we took the time to get dressed, have a quick breakfast of eggs, onions, and avocados.
Immediately thereafter, I loaded up the car in the cold morning. And after all was said and done, by about 7:25am, we were finally leaving the Hot Springs Inn and headed south through the town of Ouray before going up the familiar Million Dollar Highway (the stretch of Hwy 50 south of Ouray).
By about 7:30am, we then arrived at the pullout just past a road tunnel. This pullout was for the Bear Creek Falls (not the same one as the one by Telluride), and for some reason, we didn't stop for it some three months ago when we were here in the Summer.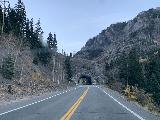 Anyways, it was such a frigid morning with some biting wind chills that my hands were going numb while taking pictures of the still-flowing waterfall. Julie just took a couple minutes to take her shots before retreating to the car to heat up. She didn't want to drop her phone over the lookout platform given how the cold tended to compromise our motor control of our fingers.
There were also some golden trees scattered about the shadowed canyon as the early morning sun still had not breached this canyon yet.
I was surprised by the number of vehicles that were out and about at this time of the morning, but it seemed like they were continuing south on the Million Dollar Highway in search of more fall colors, which seemed to be peaking this far south in the state. Strangely, none of them stopped for the Bear Creek Falls.
By about 7:55am, I finally had my fill of the Bear Creek Falls just as the morning sun started to shine on the peaks of the east-facing wall of the canyon.
We then headed back down to Ouray where we made a brief stop for the Ouray Lookout just to see some fall colors framing the scenic town of Ouray – the Switzerland of America).
After having our fill of this overlook (noticing that Box Canyon was empty), we then continued down towards Ouray with a brief detour turning towards Box Canyon just to investigate what's going on there.
Despite what the website said (that it was open from 8am to 8pm), the signs clearly stated that the hours were 9am to 5pm today.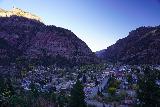 Soon thereafter, there was a gate blocking further progress where one family was already there at the gate closure. They intended to go down to some kind of lookout of part of a creek below. As much as I was curious about what was there, with COVID-19, I opted to back up and get back onto the main road.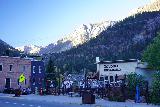 After all, I wasn't interested in waiting nearly an hour for Box Canyon considering we were there three months ago and the only thing missing from that visit was the High Bridge that spanned the canyon (we skipped that due to the number of people not wearing masks there).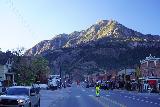 While back in Ouray, we got a donut from the same place we bought at some three years ago when we were first here (just for nostalgia sake even though it wasn't compliant).
Then, by about 8:15am, we continued to drive further north following a caravan of cars as we headed towards Montrose. With the morning sun continuing continuing to rise, it was definitely bringing out the fall colors that was hinted at yesterday as it was getting dark on our way to Ouray.
Eventually, the GPS had us turn right onto 12th street, which turned out to be some random residential street going by Columbine Middle School. Thinking of the words Columbine and Colorado got me thinking about the massacre that happened years ago, but upon Googling that with our spotty internet, that incident happened in a high school in Columbine, Colorado.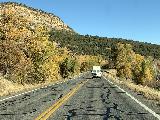 The GPS-induced detour eventually got us back north to Main Street, which then took us east towards the signed turnoff for the Black Canyon of the Gunnison National Park. This was a reserve that I had never been to before, and I figured that since we finally had the opportunity to check it out, why not do it today?
Besides, one of my co-workers used to work at this National Park, which got our boss' attention when looking through resumes.
Anyways, after waiting for a queue of about a half-dozen cars, we showed our Interagency Pass and got through into the park's south rim. By about 9:40am, we then stopped for the Pulpit Rock, which was one of the recommended lookouts in the Black Canyon of the Gunnison.
When I got out of the car and walked the short trail to the pair of lookouts, I was treated to a nice view into the deep canyon where the Gunnison River could clearly be seen. Unfortunately, I looked against the morning sun, which was made things a bit hazy. Nevertheless, it was still attractive and worth the stop.
Even though we were only one of two cars here when I got started, by the time I got back to the car at 9:55am, the handful of pullout spots were now full. I guess the lemmings effect was in full effect by this time of the morning.
Next, we drove out towards the Painted Wall pullout, which was also next to the Chasm View. After getting there at 10am, while Julie took some time to get ready so I walked back to the Chasm View to check out the viewpoint, which I had to myself for a few minutes. Again, the view towards the east (which Chasm View faced) was against the morning sun so it wasn't great, but it certainly was precipitous.
Eventually, a family showed up, and the mother of the family asked if I was hiking the whole way seeing that there was no car at the pullout there, but I explained to her that I walked backwards from the Painted Wall pullout.
So after having my fill of this viewpoint, I then rejoined Julie at the Painted Wall pullout, and we briefly walked down to this overlook, which was actually facing away from the morning sun so it had good lighting except for the interior of the chasm, which was still in shadow.
Anyways, we got back to the car at about 10:25am, and five minutes later, we took a few more shots of the Sunset View, which was also facing towards the west.
We eventually made it to the High Point parking lot and trailhead at 10:40am so we can walk the Warner Point Trail. But we didn't go very far on this walk since it was descending and Julie still wasn't totally acclimated to the high altitude.
Nevertheless, we got some views in the direction of Montrose before heading back to the car by about 11:10am.
We then drove back towards the South Rim Visitor Center, where there was the Gunnison Point, which was the last of the recommended viewpoints. At this lot, there were lots of families and lots of cars, which surprised me considering that I thought we were past the peak of the Fall Colors so it was not peak season.
There were lots of cars with families (i.e. kids). Since this was a weekday, weren't they supposed to be attending school? After all, that was one reason why we couldn't bring Tahia on this long weekend trip.
Anyways, I concluded that in this case, it must have been at the peak of the Fall Colors in this part of the state, and visitation to the National Parks seemed to have gone up since the pandemic outbreak. So perhaps this shouldn't have been surprising.
Finally at about 11:40am, we were done with Black Canyon of the Gunnison National Park, and now it was time to drive towards Crested Butte. Julie wasn't that impressed with this park as apparently we read in the trail guide that it was established due to someone who liked juniper trees so much (which grew here) that he fought to protect it.
I guess when we've seen lots of other National Parks, it's easy to get jaded by other lesser-known reserves though you wouldn't know it by how many people were here today!
Anyways during the long drive to Gunnison and then Crested Butte, I was bumming because there was no more Jim Rome sports talk so I ultimately settled on some kind of classic rock station, which was the only one with reception in these parts.
This was a pretty long drive as it went along the Gunnison River due east, and then into the town of Gunnison. From there, we then headed north towards Crested Butte.
As we approached Created Butte, we could see an impressive mountain towering over the town. So that mountain must have been Mt Crested Butte.
By about 1:30pm, we ultimately made it to the Nordic Inn, which was where we were staying for the night. When we checked in, it was a bit on the dead side, and it made me wonder if the this part of Colorado had already seen the peak of the Fall Colors.
It was also quite windy when we showed up so perhaps those winds helped to blow off most of the leaves because most of the trees around the town of Mt Crested Butte were all pretty much bare. Only maybe one or two trees around the inn still had their leaves but we could clearly see the wind blowing them off.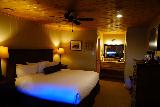 After sanitizing the accommodation and bringing our stuff up, we then went back down into Crested Butte just to scope out the town. We thought that we had some spare time to do this extracurricular activity before fitting in Judd Falls. In hindsight, that was probably not a wise thing.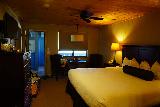 Nevertheless, there was a restaurant that was recommended by the receptionist at the Nordic Inn, which was called the Elk Avenue Prime. And that was where we were headed to just to see if we could walk in for a quick lunch or at least book for dinner in person. But the more we researched, the more we realized that this was a fine dining kind of restaurant and we had to make reservations as they were only open for dinner.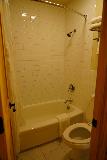 Still, Julie wanted me to drive by there, and it turned out that we couldn't find parking in the historical business district in Crested Butte at the time (it was around 2:30pm) so we decided to leave town and head back up the Gothic Road in pursuit of Judd Falls. That was a bit of a half-hour wasted detour.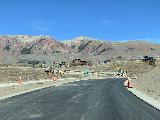 So we wouldn't have lunch on this day, and we still had to do this waterfall since that was one of the main reasons why we came here. We also found out that we had to book our dinner reservations online anyways.
Thus, just as we were passing back through Mt Crested Butte, Julie made the bookings though it seemed like they didn't accommodate outdoor seating anymore. So the only opportunity left to dine at this place was to eat indoors, and we knew that it was going to be a risk if we were eating there, but it seemed to the only establishment of note that served local fare (i.e. the elk).
Anyways, once we got past the residences beyond the accommodations of Mt Crested Butte, we then got onto the unpaved part of the Gothic Road. And the road wasn't too bad though there were some potholes that could trip us up if we weren't careful.
Eventually at about 3pm, we finally made it to the very busy Judd Falls lower parking lot. Since Julie had made 5:30pm dinner reservations, we had to get moving to ensure we'd be back in time for dinner.
So after getting geared up, we promptly walked up the rough high-clearance road which looked a bit too difficult to even consider driving up (and we had an SUV rental).
Amazingly, we saw a sedan that actually made it up here, but I wondered how much damage it sustained to get up here, but I couldn't see how it could have cleared some of the rocks and ruts.
By about 3:25pm, we finally made it to the Upper Judd Falls parking area, which only had two or three cars (including that sedan). The mostly uphill hike to this point took a bit out of us (especially Julie who was still battling the altitude just like last time three months ago), and I guess it didn't help that Crested Butte was nearly 9000ft, and we were even higher than that on this trail.
Anyways, we then proceeded to do the main trail beyond the bumpy road as we passed by a bunch of bare aspen trees devoid of its round leaves.
However, when we got to one of the trail signs beyond the end of the road, we saw a few aspen trees that still clung to its leaves. So we spent some time seizing the moment and taking pictures here until one family was catching up to us.
Not wanting to deal with hiking behind a large group like that with COVID-19 around, we had to make haste and continue on with the hike.
By this point, the hike beyond the road was initially level, but then it descended, which meant we had to do another ascent on the way back out. We also saw quite a few hikers making their way back throughout this hike so it made us feel like we were one of the last people on this trail.
By about 4pm, we eventually made it down to the Judd Falls overlook. Unfortunately, the waterfall, which consisted of two tiers, was already half in shadow. So it didn't photograph very well with the mirrorless camera (so I had to shoot in RAW just in case I might want to doctor the image to bring in the dynamic range). That said, the iPhone seemed to do a little better with the dynamic range.
The family that was behind us eventually made it to the falls while we were here, but then they left soon thereafter.
So after taking a few more shots and videos, then we finally left at 4:10pm.
Julie was complaining of headaches again as we had to climb back up to the apex of this hike.
Good thing I still had spare water for her to take some of mine when she ran out.
We then eventualy passed the family, which was moving slow because they had to carry one of the children. I could feel their burden since I had to go through that 5-6 years ago carrying Tahia everywhere.
Anyways, by about 4:45pm, we finally cruised on the downhill and made it back down to the lower parking lot for the Judd Falls. By now, we were one of maybe 3 or 4 cars left while the late afternoon sun was definitely hiding behind the imposing mountains opposite the trail.
So with that, we wasted no more time and promptly drove back towards Crested Butte so we could find parking and then walk to the Elk Avenue Prime Restaurant.
By about 5:10pm, we finally made it back to Crested Butte and walked the historical business district of town. It was still busy here though it wasn't quite as busy as it was earlier in the day.
Still, this stroll let us enjoy this charming part of town before finally getting up to the Elk Ave Prime Restaurant by our scheduled time of 5:30pm.
When we walked inside and got seated, there was maybe only three tables occupied in the restaurant, but as we were waiting for our food, there were a lot more people that showed up. So again, we definitely knew we were taking a risk here, and we certainly hoped that we wouldn't regret it.
Nevertheless, we hadn't eaten inside a restaurant since March, and so it felt nice to experience this once again. However, the dinner wasn't cheap, but I guess that probably made up for our skipped lunch.
Our dinner consisted of a small side of brussel sprouts, some kind of cauliflower gratin (which had a lot of cheese on it), an elk tenderloin with foie gras add-on, and Chilean Sea Bass.
Given how expensive this place was, we didn't have dessert and didn't have drinks either. But it was still a bit of a birthday splurge (which was the point of this trip anyways). Indeed, it was a satisfying meal though I did have that guilt of knowing that I spent over $200 when all was said and done, but everyone's struggling so I did feel compelled to tip better as a result.
So after leaving the restaurant at around 6:40pm, we then walked back to the car while enjoying the twilight lighting as the sun was well past setting at this point.
By 6:50pm, we made it back to the car, and by 7pm, we made it back up to the Nordic Inn. And thus ended this rather busy day of waterfalling and sightseeing. However, tomorrow was full of uncertainty because we don't know how far we can drive the Gothic Road and then hike to Devil's Punch Bowl.
It's probably not likely to make it all the way to Crystal Mill and back on a super long hike, but we still also have to get to Aspen at a reasonable hour so we can get the keys to the accommodation.
That was something we had trouble with the first time we were here three months ago. So that kind of added more time pressure for us to get to Aspen before their office would close considering we still had that Devil's Punchbowl hike along the way…