Day 3 (October 17, 2020 – Aspen, Colorado): "Risk Versus Reward"
It was about 5:45am when we awoke. Since it was another vagabonding day, we quickly got our stuff together and had a quick pressure-cooker egg breakfast.
Unlike yesterday in Ouray, it didn't feel as cold in our room in Crested Butte, and this probably had something to do with the way the heater was working.
However, when I loaded up the car, I actually didn't need my jacket as I was bringing stuff to the car.
So by 7:15am, we started to head out, and once again, the TPMS was on. But seeing how it turned itself off yesterday, I wasn't sweating it this time.
Anyways, we headed back up the Gothic Road (317) but this time we were headed to Schofield Park. Given what the receptionist said yesterday about how there was an avalanche field somewhere near Emerald Lake, I wasn't sure how far we would be able to make it.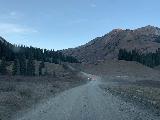 Indeed, this was the part of this long weekend trip that gave me the most anxiety because our main goal was to visit Devils Punch Bowl, but this could be as little as a 2.4-mile round-trip hike or as much as a 9-mile round-trip hike. And it all depended on how far we could take our stock Toyota Highlander.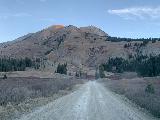 The drive was quiet as it was still somewhat dark though the morning light was increasing by the minute.
There was one car that we let pass us on the way, which had a similar build to our car except theirs had 4wd. But I figured that if they caught up to us this early in the morning, then we mind as well let them lead the way.
It turned out that beyond the Judd Falls Trailhead, the Gothic Road / Schofield Pass Road became a bit rougher with more potholes and even some narrow stretches. Most of the potholes as well as rocks I was able to avoid, but I did notice that the SUV in front of us was going slower and even stopped at one point as they probably started to engage the 4wd.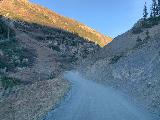 Indeed, some of the uphill stretches probably would be beneficial to use the 4wd, but I knew that with our 2wd, I would need momentum to go up the uphills and hope there wouldn't be a dip along the way to possibly cause damage to the front bumper.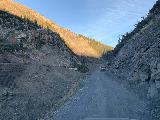 Then, shortly after a pretty scary narrow shelf part of the road (where it would be scary if a car would come up the other way), we reached a fork in the road where the SUV in front of us made a left.
I wasn't sure if we were supposed to go left or right, but upon following the SUV in front of us to the left, it didn't take long before I saw a bit of a rocky dip that I didn't like.
So I backed up out of that spot and stopped at the fork as I was looking up the trip descriptions that I had printed out before this trip.
There was one person that was coming out from the road on the left that we saw, and he stopped to tell me that we were already past the debris field that had closed this part of the road a couple of years ago. He also told me that the road on the left was going down to Emerald Lake so at that point, I knew that I was supposed to keep right to continue to Schofield.
So maybe the receptionist was acting on old information? Indeed, when I inquired with the forest service, they actually recommended that I go past Schofield Pass and keep going to the West Maroon Trailhead #1970. But this gave me hope that we can keep going though Schofield Pass just like the forest service said.
But would the road still allow me to do it? It was already a little on the rough but doable side so far to get to this point.
And so we proceeded up the road on the right, which followed another shelf that seemed like it was just recently plowed and turned into a road made from this debris field that appeared to have originally slid right down towards Emerald Lake.
I don't know how much longer this road would last, but it was smooth and we actually drove past a couple of hikers that were walking past Schofield Pass, which was an unassuming passage with a couple of signs full of stickers on them.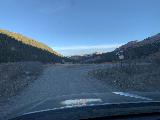 We then followed the road keeping right at the next fork where another road went off somewhere else before the road went down about three short switchbacks as the road descended. I was a little concerned about whether the 2wd would be able to make this climb if we happened to see another car coming the other way on the way back, but that was a concern we'd have to deal with later on today.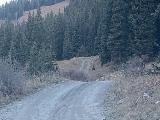 We then drove through a wide valley where we saw the West Maroon Trailhead #1970 where there were quite a few cars parked there already. If I had to bet, these people were probably already parked there overnight to do some hiking in the Maroon Bells without dealing with the red tape regarding the shuttle and parking from the Aspen side.
Regardless, we continued on with the drive as we then went past the hamlet of Schofield while also noticing what appeared to be either a coyote or a fox that went across the road.
And when we finally approached the main trailhead parking at Schofield Park, where there was a parked Honda CRV there (so the road to get here couldn't have been that bad), we then noticed some kind cross between a fox and a beaver or something.
I don't think I had ever seen this kind of animal before, and Julie quickly handed me my Canon with the telephoto on it so I can take pictures of it.
Finally at about 8:10am, we parked at the Schofield Park Trailhead right next to the Honda CRV. There were more parking spots, but there were a lot of rocks, and I just took one of the nearest spots that didn't have to deal with as many of those rocks.
It took us some time to get ready, but eventually by 8:30am, we finally started hiking. Sure enough, as the sign said, the road that we hiked on was already rocky and rough to begin with.
There was a false trail on the right on the initial descent, but we kept left to continue following the 4wd Schofield Pass Road.
By about 8:45am, we then encountered what appeared to be some kind of creek crossing. And from there, we noticed that there was an attractive side waterfall that was worth checking out. I recalled that some people from AllTrails had mistaken this for the Devil's Punch Bowl, but I knew that there was no way this could be it.
Still, we took a few moments to get closer to the falls where we noticed some interesting icicle formations in the stream as clearly it was cold enough to freeze the water here.
After having our fill of this side waterfall, I then did a little exploring to see if this ford (even though it was doable without getting wet) could be avoided.
After all, I wanted to see what was the proper trail to take under normal circumstances where this stream would have flowed a bit higher.
During the course of my explorations, I followed a fork in the road that we had passed by to get to the fork in the first place. Then, upon doing that, the road that then turned into a single-track trail eventually disappeared near some overgrown tiny cascade. However, as I headed back to rejoin Julie on the main 4wd Schofield Pass Road, I then saw that there was a makeshift bridge.
Upon looking closer at that bridge, I saw that it was doable but I wondered how much longer it would last as the logs would continue to weaken over time. Nevertheless, there was a sign that said something like Bridge to Terabithia. I wasn't sure what that meant, but at least it gave us the ability to cross the South Fork Crystal River that I knew would eventually feed the Devils Punch Bowl.
Once on the other side of the bridge at 8:55am, the foot trail was pretty easy to follow so clearly lots of people have taken this path before.
It eventually went onto a ridge, and then it made a steep descent into another smaller valley where the trail ultimately skirted around the creek crossing where the 4wd road would have crossed it.
There was still ice on that creek, but given the rather low flow of the creek at this time of year, it did look doable so I considered going back that way on the return hike.
Next, the road entered a canyon and descended steeply. The road continued to be very rocky and rough, and Julie and I kept thinking this was really more of a trail than a 4wd road!
Of course, she also interjected complaining about the way Allegiant ended to me as she felt like the unfinished movie actually told the story better than the book, but she also hated the way the main character died while the bad guys got to live.
Anyways, by about 9:45am, we finally made it to the Devils Punch Bowl, but it was a rather steep descent to even make it down here, and the road continued to be a bit rough even for us hikers.
I couldn't imagine how people would actually drive this road!
The morning sun still had not penetrated into the deep canyon so we were able to look at Devils Punch Bowl with its nice colorful plunge pools and without having to look against that sun.
And so we took some time to get our photos while I was now mulling over whether I should continue hiking down to the Crystal Mill since we were already here, and I knew that it was about 3 miles away from here.
Julie had no interest in doing that hike so at 9:55am she started to head back up the "road" to the parked car. This was just as the morning sun started to penetrate the rim of the canyon thereby making us look against the sun at the waterfall.
However, I kept descending towards the road bridge, and then beyond the bridge, the road continued its steep descent.
Good thing Julie decided to head back up since she was still complaining about headaches. This climb back up would have been real brutal on her.
The "road" skirted past some cliff walls with some ice and streaking water on them while at the same time skirting by some cascades on the South Fork Crystal River.
As the road kept descending, I kept walking past more large loose rocks and boulders, and I kept thinking to myself how you'd need some serious clearance to even attempt driving this part of the Schofield Pass Road.
Continuing with the long descent (that I knew would be a killer uphill on the way back up), I started to encounter some Autumn colors still showing up where some aspen trees still clung onto their leaves.
I also looked further down the canyon towards an area where I thought Crystal might be as well as where Marble might be as well.
Looking across the South Fork Crystal River, I couldn't help but notice that the mountaintops still had snow on them, and there even appeared to be a small glacier up there.
By about 10:40am, I ultimately descended to a signed junction that said the Lead King Basin was a mile to the right while Marble was another 6 miles. Then, by 10:55am, I finally made it to Crystal where now I started to see more people as well as vehicles. Indeed, I was pretty much all alone on the hike along the Schofield Pass Road, but now it seemed like I had re-entered "civilization".
At Crystal, it was just a hamlet with some private cabins and a single store. It was in an open clearing where I could look to the west towards a canyon or valley that I'd imagine was also in the direction of Marble.
By about 11:10am, I finally arrived at the Crystal Mill, where there was a table with a bunch of waiver forms as well as a person in uniform keeping watch over the Crystal Mill itself as quite a handful of people were checking it out from behind the roped off fencing.
Unfortunately, the mill was somewhat against the sun, and I couldn't even see the waterfall next to it from behind the rope.
But I was intending to pay the $10 anyways, and so I did that while asking about the road from Marble to Crystal.
He actually said that the road was "non-technical" and he has taken his Subaru Forrester with his girlfriend out here many times before. He also noticed people driving in street cars to Crystal though he wouldn't recommend it.
If anything, he said that the drive was "rocky" while Schofield was said to be "smooth". Both required high clearance, but he said you just had to be careful about the rocks that might scrape the undercarriage of the car.
After getting my shots from the rope and paying the $10, I then went towards a boulder where there was a steep scrambling path that descended down to the banks of the Crystal River.
On the way down, I took as many shots as I could of the mill with the waterfall and the nicely colored pool at its base.
I came to realize that perhaps early afternoon was the best time to photograph the mill, but I still seized the moment and took what shots that I could. This was especially the case when I went all the way down to the bottom, where I was pretty much all alone for a good chunk of my time here.
Indeed, after spending the money and seizing the moment, I must have had a few hundred shots of just the mill and the waterfall with some remnant Fall colors on the trees above and opposite the mill itself.
It was too bad the aspens behind the mill had already lost their leaves because it would have been even more photogenic, but I kind of knew that we had missed the peak by about a week or two.
It wasn't until around 11:50am when I started to leave the Crystal Mill. By this time, there was one woman and a couple that made it down here.
I couldn't wait another hour or two for the right lighting to shine onto the Crystal Mill since I knew that there was still a long drive to get to Aspen even after returning to the parked car back at Schofield Park.
So now was the brutal ascent along the South Fork Crystal River as I had to leave the Crystal Mill and back through Crystal before going back up the Schofield Pass "Road".
During my ascent, it still felt like I was pretty much all alone on this brutally upside-down hike, but by around 12:15pm, I actually saw a group of hikers coming down from Schofield. They were the first people that I saw throughout this part of the hike.
But roughly at 12:40pm, there was another couple coming down as well.
And then after that, there was a family with kids coming down (they're going to have a rough time coming back up if they didn't do a one-way shuttle hike), and then there was yet another group of hikers coming down as I was getting up towards the narrow parts of the canyon near Devil's Punch Bowl.
By about 1:20pm, I had finally made it back up to the Devil's Punch Bowl where there was an SUV parked there as well as a dude on a bike. I couldn't believe that someone was able to drive down here, but clearly he must have been rather experienced with this "road".
When I saw that they were chilling out by the base of Devil's Punch Bowl, I decided that I should go over there and at least enjoy some time resting at this waterfall before continuing the brutal climb back up.
So I did that by taking some shots, chatting with the guy who made the drive (saying that it was a one-way downhill drive and there was a choke point near the top), and then having some chips and avocado dip while sitting on a log for a bit.
My rest was eventually stopped by someone who wanted me to take a picture for him and his parents in front of the Devil's Punch Bowl.
And after doing that (though I didn't have my own hand sanitizer so I had to be careful about what I touched now) and taking my own shots in front of the waterfall, I then started to continue the climb back up at 1:50pm. But just as I was doing this, there was a trio of off-road ATVs that pulled up by the bridge.
Apparently, they intended to go up past the Devil's Punch Bowl but I warned them that it was an even rougher drive up above the waterfall.
As I was climbing and getting a few final shots back down at the Devil's Punch Bowl, I saw that there was a couple of jeeps making the death-defying drive down! I took this opportunity to take pictures (though I should have taken a video in hindsight) showing how even these souped-up jeeps needed all of their clearance!
A couple from the trio of ATVs down by the bridge before the Devil's Punch Bowl also walked up perhaps to scout out the conditions of the road. It was quite interesting to watch, and I guess I can see what's possible here, but in my mind, this is really more of a hiking trail than a 4wd road. But I guess in this state, driving such roads is as much the Colorado experience and thus I guess I could understand the shock of people that I talked with upon realizing that I walked to the Crystal Mill and back.
Anyways, after the brutal ascent and getting past the choke point that the guy with the SUV earlier on talked about, I then got back to the stream crossing at 2:20pm. While the water looked a little deeper than this morning when it was partially frozen, the Vasque boots that I was wearing still was able to keep the water out.
I knew the Salomon 4d Quest that I had worn on the last trip couldn't have handled this. So this further validated my decision to stick with the Vasques though Julie told me that they don't make this one anymore.
Eventually after a somewhat gentle uphill except for the final stretch past the side waterfall, I finally made it back to the car at 2:45pm. By this point, I was quite tired, but I knew that we still had to get all the way to Aspen, and we still had to check in after hours.
So the drive out of Schofield Park was for the most part uneventful though there were a handful of cars still going towards Schofield! Fortunately, we didn't meet any of them on the narrow ledge portions by Emerald Lake.
Then, we followed a caravan of cars on the Gothic Road as we all headed towards Crested Butte. When we got to town at around 3:20pm-ish, the GPS kept wanting to take us on the long road back to Gunnison and then west towards Montrose before taking the 133. But I knew that there was the Kebler Pass Road leaving Crested Butte.
So despite the GPS protesting, I just pushed forward with the drive on the CR-12, which was a mix of paved and unpaved roads.
Then, it went through an extensive forested area with lots of bare aspen trees though we did spot a few groves still clinging to their leaves.
But finally after what seemed like a pretty long "shortcut", we finally got to the Hwy 133, when we then went up to the McClure Pass, and then descended towards the familiar turnoff leading to Marble. But with the shadows continuing to grow longer, we just kept going as we'd eventually stop at the large pullout for Hayes Creek Falls.
I don't know what possessed us to not stop for this waterfall three months ago when we were driving past (especially since there were at least two large pullouts), but I finally seized the moment now at about 5:30pm.
After waiting for cars to pass by the Hwy 133, I then crossed the road and scrambled right up to the base of the Hayes Creek Falls which was kind of still hanging on to its last flows. It had definitely seen better days, and it made me regret not stopping and taking pictures of it back on our Summer COVID-19 Road Trip.
When I had my fill of this waterfall, I then headed back on the shoulder of the Hwy 133 where I saw another couple checking out the falls from across the road. Thinking there might be another view from there, I went over there, where I then engaged in a conversation with the couple who recommended visiting Marble.
I had considered doing a hike from Marble to the Crystal Mill, or even driving that road seeing how the ranger at Crystal said it was "non-technical", but I figured I'd bring that up with Julie and seeing if she's up for visiting the town as well as maybe the mill tomorrow.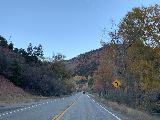 The drive continued as we then ultimately got to the Frias Office in Aspen at 6:50pm, where a security guy got us the keys and had us sign something. And from there, we finally checked into the familiar Chateau Eau Claire at 7pm.
And after sanitizing the accommodation (which wasn't as nice as the one we had over the Summer but it was still spacious), we finally got settled at around 7:45pm. We also had ourselves a self-cooked curry chicken dinner while finally unwinding from yet another eventful day.
At least now with the most demanding and uncertain part of the trip behind us, we earned a relaxing day tomorrow. And even if we don't have any hikes or waterfalls planned, I didn't mind considering we pretty much hit all the waterfalling highlights that we had targeted on this trip (that we also happened to miss from the Summer Trip).
By about 8:30pm, Tahia gave us a call, and we had a nice chat with her though apparently her cousins weren't at my Mom's place because they misbehaved. So I'm sure she must've been bummed about that, but still we relayed the fox sighting and other experiences with her while she still wanted to play Roblox…
It wasn't until around 1:45am that we went to bed, but at least we got to look forward to sleeping in for once…