Day 5 (October 19, 2020 – Los Angeles, California): "Last-Minute Decisions"
It was about 7am when we awoke without an alarm. It was already starting to get bright outside, which was kind of like our natural alarm clock.
Julie and I knew what we had to do as we promptly got up, brushed, got dressed, then promptly went to the kitchen to finish up whatever leftovers we had since yesterday. It was basically the galette from the not-so-great French place yesterday along with some leftover curry from our first night at the Chateau Eau Claire.
After going about our business packing and loading up the car, it was about 9:10am when we left the Chateau Eau Claire and started to drive towards the Maroon Bells.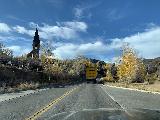 The Maroon Bells was the very reason why we anticipated spending the night in Las Vegas this night instead of gunning it all the way home thinking that arriving at home at around 2am was not a sound idea. So we had already spent some rewards points to pre-book the familiar Desert Paradise Resort, which was a condo that we had stayed at during the end of our Summer COVID-19 Road Trip.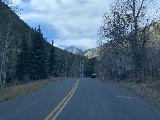 Then, the plan was to wake up very early the next day so we could get home before 10am when I was supposed to attend a 10am meeting for my day job (so I can see what I had been missing late last week as well as today).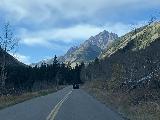 The drive out towards Maroon Creek Road was pretty busy though it was nowhere near as busy as the traffic queues going into the town of Aspen. I guess this must be what daily life must be like on a typical workday here as the queue seemed to extend out from around the roundabout with the Maroon Creek Road leading into town.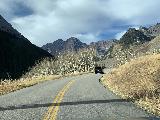 Anyways, we drove the familiar Maroon Creek Road where there were still some Fall colors on the trees flanking the road, but we could clearly see that further up the mountains, most of the aspen trees were devoid of leaves.
After getting past some road construction, and then past the welcome center where we showed our permit, we then arrived at the parking area for the Maroon Lake area at 9:40am.
We promptly got the tripod (which didn't get use throughout the trip until now) along with the mirrorless camera as we then walked the short path leading to the Maroon Lake.
When we got there, our suspiscions were confirmed as there were hardly any Autumn colors around the lake. But what was surprising to us was how much Maroon Lake seemed to have shrunk since three months ago when I was here.
Although it was pretty quiet around Maroon Lake, I guess it could have been busier a couple of weeks ago had we been here during the Fall colors explosion. That's kind of the good with the bad that we had to deal with when it came to timing these things, but timing wasn't exactly something I knew was in our favor when we made plans for and booked this spontaneous birthday trip at the last-minute.
So we took our time taking our usual shots (though I did set up the camera to shoot in RAW just so we could experiment with these shots when we get home and when spare time would permit). Then, I set up the tripod so we could take couple shots of us fronting the signature views of the Maroon Bells backing the reflective Maroon Lake.
By the way, given how much the lake shrunk, we couldn't really see the Maroon Bells reflected in the lake as its waters had receded quite a ways away from the roped off trail. In order to see the reflections, you'd have to go past the ropes and trample on places you're not supposed to, which I'd imagine some park employees would be doing the rounds to make sure no one does that.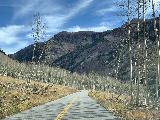 It didn't take long before Julie and I had our fill of the Maroon Bells views so by about 10:20am, we were back in the car. Thus, we only used up less than an hour of our three-hour window of 9:30am-12:30pm, and that meant that our return drive would happen a couple hours sooner than planned.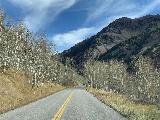 This planted the seed in my mind that maybe we might be able to make it home on this day even though we had already booked a non-refundable stay in Las Vegas. So Julie and I debated whether or not we should just go home or not with the default position to stay in Vegas for the night since the GPS estimated that we'd be there some time around 7pm.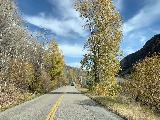 So the drive out of the Maroon Creek Road went without a hitch, and then we drove the familiar high-speed surface streets between Aspen and Glenwood Springs. Again, there were some Fall colors showing up throughout this drive.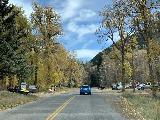 Unfortunately, I was getting annoyed that the only AM station that got any reception was some Republican propaganda talk on 980AM. There wasn't any sports talk (especially Jim Rome), which was a bummer since this was the time that it would have been airing. It got me thinking deeper about a similar observation when we were driving towards Ouray and had to put up with lots of similar talk when we were passing through Nevada and Utah (and I'd have to keep scanning the frequencies for the sparse sports talk channels).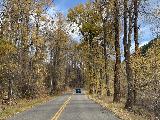 Anyways, this big picture observation made Julie and I wonder if this was one of the big reasons why most of rural America tends to politically lean right. After all, if this is the predominant voice (or the only radio station in this case) that you can listen to while driving long distances or even just living here day-to-day, then after hearing the same messaging over and over again, eventually the people listening to this stuff would be more likely to be manipulated to accept it as truth or "gospel".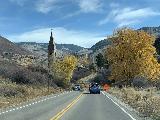 Perhaps, this was the extent of the right-wing propaganda machine that buys up air time and whole stations so they can spread their influence. They can do this since the laws have been twisted to protect oil interests or other petro-military-industrial complex interests that have been favored for decades and use their ill-begotten wealth to rig the political game even further in terms of buying off politicians as well as the propaganda engine itself.
I'd bet that this messaging and manipulation would spread like cancer into these rural communities. And then with social media, these biases become reinforced and radicalized to the point you get these Q-Anon conspiracies that actually work because the target audiences are those who have an inability to critically think about or consider the sources of information they're accepting.
Indeed, this seemed to be the insight as to why you have alt-right leaders like Trump in the USA and other countries like the UK and Brazil. You could even argue that the ScoMo government in Australia was derived from coal interests so they have a similar rural-urban divide there as well.
And while the rest of the world look at us and wonder why our voting is so contrary to what's beneficial to the world (especially with respect to climate change) as well as how fragile our democracy is, perhaps this also sheds light into how Trump getting re-elected (or at least a Republican senate majority to block any measures even if a non-right-leaning president was elected) continues to be a real possibility in this upcoming election and any future elections.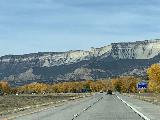 It was kind of a revelation that this must be what's going on all over the rural parts of the country. And perhaps this was an insight as to why the electoral college was one of the ways the political game was rigged against the popular opinion and voting. But also the way senate seats are filled further illustrate why you're likely to always have a conservative senate majority unless those states that vote for their senators in those right-leaning states finally wake up.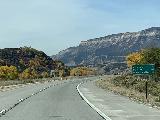 After all, these are systems that make votes in specific states (that tend to be dominated by more spread out populations and counties) matter more than those states dominated by cities. The disproportionate geographical representation as opposed to popular representation seem to be manifested in these rules, and it's the very reason why gerrymandering is one of the primary ways to control the government despite the popular vote.
Anyways, after finally getting onto the I-70 and heading west towards Grand Junction, that was when I was finally able to fill the long hours of driving with other stations (primarily sports talk). Too bad that when I finally was able to listen to Jim Rome show, it was only his last hour on air before they replayed Dan Patrick.
By the time we were further west of Grand Junction and going across Utah, we then found a Salt Lake City sports talk station where they had a long-form conversation with guests (kind of how Joe Rogan does his podcasts, which I found interesting). Though even during these sports talk interviews, the long form discussions ultimately becomes political as I'm sure it's on everyone's minds these days. Interestingly though, the guests that were on here seemed to be critical of Trump, which I thought was surprising considering how Utah traditionally votes conservative so I wouldn't have thought to hear dissenting opinion in Utah's talk radio.
In between filling all this air time with sports talk (and politics sprinkled within), there were still nice Fall colors flanking the I-70 throughout much of the drive even as we headed into the San Rafael Swell and the vicinity of Capitol Reef.
It wouldn't be until around the mid-afternoon when we finally made it to the I-15, and then we headed south on this much busier highway. Aside from the limited selection of sports talk to fill the monotony of the long drives, I always enjoyed the sparse traffic along the I-70 across Utah, but now that we're heading south on the I-15, I knew the traffic factor would ratchet up a notch.
Eventually at around 6pm, we finally got to Las Vegas just as the sun had set and we were entering twilight. Julie had this idea that we should eat takeout at this place called Lotus of Siam since they were the original owners of Renu Nakorn, which was one of the Thai restaurants that we liked to go to in LA.
Apparently, this place served up some dishes that we couldn't get at home, and so we figured that we mind as well have this last-minute dinner since we had skipped lunch again on this long driving day.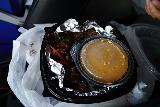 It turned out that Lotus of Siam was kind of in a sketchy part of Las Vegas somewhere near the Stratosphere. We had an awkward time eating in the car (as a COVID-19 safety measure) as we got some kind of crispy duck curry dish as well as a crispy prawn dish. The latter dish made me nervous because I was worried I might break out into hives or some kind of allergic reaction any time I eat shells of any shellfish or the heads of such shellfish (including shrimp but especially prawns).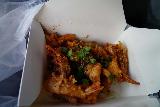 At the same time, I didn't want to waste food, and Julie was full pretty quickly. So I ended up eating the rest of the takeout food knowing that I might pay for this several hours later.
By 6:30pm, we finally left the parking lot at the Lotus of Siam, and then we headed towards the Desert Paradise Resort. But just as we were filling up gas to make sure we could make it home without another stop, we realized that we could actually make it home at a reasonable hour on this night.
Once again, we debated about whether it was worth eating the cost of not getting our money back and no-show at the Vegas condo, but if it meant not having to bring luggage up and then back down the next morning while rushing to get home so I could show up to my 10am meeting, then perhaps it was a price worth paying.
I also realized that since it was so easy to book Vegas accommodations at the last minute, perhaps in hindsight, we shouldn't have pre-booked a night here and waited until to last minute to see if we needed to spend one more night or not. But on this night, we finally decided that we should just extend the marathon another 4 hours and get home.
So by 6:55pm, we left the gas station in Vegas somewhere Decatur Blvd, and then we headed right back to the I-15 where we could drive to LA in hopefully lighter traffic. Speaking of the traffic, there was still a surprising volume of cars on the road even at night like this, but at least we were able to gun it for the most part where notoriously inconsiderate California drivers that clogged the passing lanes (i.e. the left lane) weren't too much of an issue though there were moments where risks had to be taken to get around them.
Indeed, by 10:25pm, we finally made it home, which was at least a half-hour sooner than expected. We had consistently gone at around an 85mph clip between Vegas and LA, and I knew I was pushing it in terms of getting a speeding ticket. But now that this drive was finally over, at least we could finally sleep in our own bed and try to resume "normal" life first thing in the morning tomorrow.
I always hate that feeling knowing that we have to get back to the grind (even under the pandemic) at the end of these trips, but it's all part of that cycle of work, work, then play, and then repeat…
By the way, the following morning, I had to wake-up early because as feared, the allergic reactions to the shellfish took hold. So I couldn't go back to sleep at around 4:30am (which was when I'd usually wake up to go to work anyways), and now I had to deal with the consequences of my actions from last night.
Indeed, my body was itching all over with rashes everywhere, and even my face and throat were swelling up. But instead of trying to block out the symptoms while making a futile attempt to sleep, I just decided to start my workday and use that as my excuse to block out these symptoms and focus on something else instead…