Day 4: GOING HOME
At around 9am, we awoke. This time, the lights were on and I heard the generators going again. It appeared that electricity had finally been restored.
Julie and I determined that we didn't want to carry our heavy packs with us on the way out – especially with that 2000ft ascent in the final mile up to the Hualapai Hilltop. So we lingered on in the village until the helicopter started taking tourists out of the canyon. I also figured it would save us a little time as we would be able to make it home in a reasonable hour before returning to work tomorrow.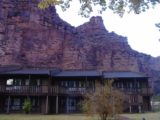 So to kill the time, we packed up, checked out, and headed over the village cafe. Since their kitchen just started working again, we couldn't have the elaborate Navajo taco we enjoyed two days ago. Instead, we had fry bread with eggs on top as we generously poured on salsa above it all.
And so as we awaited the 11am chopper flight out, we lingered about as we munched on our fry bread breakfast.
The backpackers who were hiking out would say to us, "Cheaters!" as they passed us. Obviously they were jealous that they had to take the physical challenge 😉
As we waited for the chopper, we engaged in some socializing with other folks who also intended to take this way out of the village. In one instance, I was busy chatting with someone when I put my fry bread on the bench as I was putting away something in my pack. But before I knew it, one of the stray dogs snatched at my fry bread breakfast and stole it!
Well, there went my fry bread fix. We all had a good chuckle from it. Perhaps my health was better for it by not finishing the greasy but good food.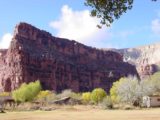 Finally at 11am, the helicopter arrived. The first couple of iterations involved shuttling out villagers and supplies. Once that was done, then it was the tourists' turn. Julie and I rode in separate flights, but it wasn't long before we both got to the Hualapai Hilltop after our 8-minute flights.
And after we loaded the car, my car struggled to crank as I started the ignition, but eventually the satisfying starting sound was heard and I gave the car some time to warm up.
Thus, we were on our way home. It was 11:15am.
The drive was pretty uneventful and smooth along the Route 66 then along the I-40. When we got to the London Bridge turnoff, we opted to go south along the Colorado River at the California/Arizona border instead of going on the I-15 – sensing there would be horrendous traffic there.
And so we drove down the desolate desert highway in partly cloudy weather. The road undulated as it went up and down washes, but it was smooth. We finally got to the I-10 after missing a Joshua Tree turnoff that I contended might have been better to avoid some of the traffic on the I-10. Julie protested and so I-10 it was.
And I-10 was terrible! We were still several miles east of Palm Springs and traffic crawled.
By the time we got to Cabazon, it was 7pm. So we opted to stop by the outlet here and have a meal as well as some post Thanksgiving sales. We had bought a few good synthetic clothes from the North Face Store for really cheap as they were closing for good.
Eventually at 9pm, we were back on the I-10. The traffic was still heavy but it flowed much better than before.
Finally at 11pm, we were back home in West LA. Exhausted from all the holiday traffic driving, I didn't even bother to shower as I crashed in bed and went to work the next day.