2-August 2020 to 12-August 2020:
So eventually I made it to a part of the trail where I would have to make the attempt to cross the intimidating-looking ford of the Fall River. Since I came prepared with Keens, I first stripped down to my underwear and accepted the mosquitoes and horseflies having at my exposed skin.
Then I tested the crossing with a pair of sticks that I had found during the hike as I was pleasantly surprised that the ford only went as high as thigh deep. However, the current on the river was strong and it kept wanting to push every one of my steps (especially the sticks) in the downstream direction.
So with that test, I ultimately decided that when I got back to my belongings, I would wear the backpack but leave the pants (not wanting to soak them). And I had put them on a branch in the tree so I would at least be able to visually see it when I would return.
And with that, I made the crossing slowly and deliberately to ensure that I wouldn't fall over and wet the things I didn't want to get wet. However, when I got to the other side of the river, I noticed that there was no trail and it was a straight bushwhack into the thickness of vegetation. Without pants, I realized that I probably should have just let the pants get wet because I wasn't sure if my bare skin was now brushing up against poison oak or other stinging plants.
Moreover, I was already feeling welts from mosquitoes as well as painful bites from horseflies. So that was definitely one decision I was regretting right off the bat by doing this bushwhack in my underwear…
Day 13 (August 2, 2020 – Waipti, Wyoming): "Chilled Out Yellowstone"
…It was 5:15am when I awoke naturally. Unlike yesterday, I felt very much rested. So I got right to catching up on yesterday's happenings before I helped Julie get ready for a day of light touring in Yellowstone today. She got up at 6am and we were targeting a 7am start.
With today being a dedicated Yellowstone day, we were looking forward to re-experiencing some old familiar haunts while also perhaps taking advantage of newly opened areas that were all closed up the last time we were here three years ago. How that would turn out remained to be seen though considering we were dealing with the COVID-19 pandemic though you wouldn't know it given how so many people out and about carried on as if there was no such thing as COVID-19…
Anyways, after getting a picnic lunch prepared and put into the cooler while I was having a kefir and fruit breakfast, we finally headed out at 7:10am under nearly cloudless skies as we drove back towards the familiar east entrance of Yellowstone National Park with the surrounding cliffs bathed in soft early morning sunlight.
Barely a couple minutes into our drive, we noticed a dead deer off to the right side of the road. That was the second deer I saw in the Wapiti vicinity in two days. Clearly the 65mph speed limits outside of town combined with pre-dawn or post-dusk driving made for a lot of vehicle-wildwife collisions. I did notice some locals had roo bars on their trucks, but I highly doubted that visitors had vehicles equipped with those things.
Anyways, the drive continued as we followed some slower cars into the familiar east entrance of Yellowstone National Park where we then headed back over the Sylvan Pass and towards the junction at the Fishing Bridge area, where we then headed north into Hayden Valley.
The drive through Hayden Valley then hit a bit of a traffic jam because there was a herd of bison within close proximity to the road. There was also one bison in particular who didn't feel like moving after blocking the road.
With the possibility of an animal almost as large as our vehicle ramming and possibly flipping it over if it was pissed off, the best course of action was to wait it out and let it move on its own will. Honking the horn and trying to make it move was probably not a wise thing to do.
Eventually by about 9am, we arrived at the Uncle Tom parking lot. There were plenty of parking spaces when we showed up, and so we had anticipated doing the Uncle Toms Trail to get real close to the Lower Falls of the Yellowstone River. We also anticipated getting views of the Upper Falls of the Yellowstone River. After all, just three years ago when we were here, this entire area was closed due to extensive construction work.
Unfortunately when we were about to head to the Uncle Toms Trail, we noticed that the stairs leading down to the Lower Falls was closed. That was a real bummer as I had really looked forward to experiencing that section for the first time since 2004.
We started off by heading towards the Uncle Toms Trail since we saw some people headed in that direction. Was the stairs closed like the signs said, I wondered? Well, as we headed in that direction, I did notice that no one was on the Brink of the Lower Falls Trail. Once again, that particular trail was closed, and that made the third time in as many visits to Yellowstone that no one had access to that trail. It made me wonder if that trail was ever open in the 16 years spanning our first visit here back in 2004 until now.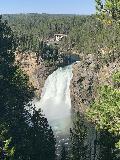 Then, we turned back when one other lady overheard us wanting to see the steps of the Uncle Toms Trail before she let us know that it was closed off.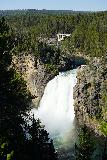 So it turned out that we wound up with a little more time to explore the Upper Falls, and we then experienced the busy main lookouts which were barely a stroll from the parking lot. The shots we managed to get from here eerily reminded me of the exact conditions that we had experienced back in 2004 in that the falls was either blindingly bright or it made everything else around it very dark due to its brightness.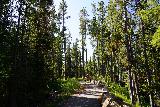 It seemed like the iPhone was better equipped to handle this high dynamic range situation on the fly. Perhaps in hindsight, I could have shot the waterfall in RAW format and then do some postprocessing to better equalize the high contrast situation. However, we did notice both people providing a good sense of scale on the other side of the river by the Brink of the Upper Falls as well as a faint rainbow in the mist of that waterfall itself.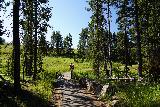 After having our fill of the main lookouts, Julie and Tahia were about to head back to the car, but I also wanted to continue exploring some of the Chittenden Trail, where I noticed a handful of people continuing to walk in that direction. Julie and Tahia were eagerly wanting to go to the Artist Point thinking that it might be rather crowded there, but I wanted to make sure that we left no stone unturned when it came to experiencing the Upper Falls this time around.
So I ended up taking the lead by following one family in particular along the paved trail that initially was flanked by trees that pretty much concealed the Upper Falls or only provided obstructed glimpses of it. But when the trail got to a curve (where the family in front of me took a shortcut that the park service seemed to discourage), that was when I finally saw a sanctioned viewpoint providing a nice profile view of the Upper Falls.
This viewpoint also yielded a nice bold morning rainbow in its mist near its base. So after the family had vacated the viewing spot, I had a brief moment alone before another couple came and went. Then, Julie and Tahia finally showed up as they decided to check out this place, too.
I was glad they showed up so they could experience what I was experiencing, and we even had a little more time where it was just us. But eventually, as a couple more parties started to show up, that was our cue to head back to the car. So by about 10:20am, we made it back to the car after seeing maybe 2 or 3 more families making their way in the opposite direction to that profile view of the falls.
Even though it wasn't totally secluded, it was a much smaller percentage of people who bothered to go there compared to the amount of people who checked out the Upper Falls from Uncle Toms Point by the parking area.
Next, we then drove a few minutes to the Artist Point parking lot as we got there at 10:25am. Unlike the last time we were here three years ago, this lot was surprisingly not as busy as we had anticipated. The first thing that Julie and I remarked on was that there were no mega tour buses that descended upon this spot. So that certainly reduced some of the anx that they would have caused (especially the Chinese tours) where perhaps dozens or even hundreds of people would crowd this spot.
Now while this spot was certainly not unbusy, there were moments where we did get to enjoy the prime views from both the upper and lower viewpoints of Artist Point. We were even able to spend some time at a bench with a framed view of the Lower Falls. Indeed, it was a little easier to maintain social distance as it wasn't as packed as we had feared, and certainly that was a bit of a pleasant surprise.
After having our fill of Artist Point, we then got back to the car at 10:55am, where we then made the drive towards the parking lot for the Brink of the Upper Falls. We'd eventually get there at 11am, where there were still plenty of parking despite this spot being fairly busy.
So we promptly walked to all the viewing spots before ending up at the busy brink of the Upper Falls. Along the way, we noticed the familiar upper cascades leading down to the turbulent brink of the Upper Falls which exhibited quite a lot of power even though it was a fair bit smaller than the Lower Falls further downstream.
After having our fill of the brink of the Upper Falls view, we then walked towards the quieter other end of the parking lot. Julie and Tahia took the car to that other end so we wouldn't have to walk as far back to the car (even if that only saved a few steps). Meanwhile, I just kept walking towards a sign there that pointed the way to Crystal Falls.
That was the first time that I noticed they had put park infrastructure in the form of a sign pointed the way there. And after briefly walking the road leading to the Brink of the Upper Falls, I then noticed that the paved path veered back towards the Crystal Falls past the continuation of the Rim Trail (which was closed; further reinforcing the notion of the closure of the Brink of the Lower Falls) and ultimately to a sanctioned lookout yielding the familiar view of Crystal Falls itself.
The whole time I was busy taking pictures and videos of the Crystal Falls for the first time since 2004, I couldn't help but wonder how alone I was here. So while everyone checked out the brink of the Upper Falls, it seemed like no one bothered to check out Crystal Falls, and so you really can't get better than that as far as social distancing was concerned!
I was surprised that Julie and Tahia didn't bother visiting Crystal Falls, however, because we easily could have had people shots here. So when I had my fill of this spot, I rejoined them in the car at about 11:45am, where I let them know what they were missing out on. But I guess compared to the power of the Yellowstone River, Crystal Falls didn't seem to hold any interest for neither Julie nor Tahia (though in the latter case, all she cared about was going to the gift shop in Canyon to buy souvenirs).
Next, we drove towards the familiar one-way North Rim Road, which at first didn't seem to be as busy as the last time we were here three years ago. But this time, we knew better than to grab the first parking spot by the Brink of the Lower Falls (which we also did last time) as I knew that would result in a bit of a walk to Lookout Point. Besides the Brink of the Lower Falls was closed anyways.
So when we got to the Lookout Point parking area, I was a little surprised that the parking here was more limited and busier than it was three years ago. I guess other people knew to keep going this time as well. Nevertheless, we were lucky that someone was pulling out just as we were pulling in so we managed to score a spot next to the handicapped spot at 11:50am.
Then, we promptly walked to the fairly busy Lookout Point though we did have a moment of checking out the falls and getting the choice corner where we took some people shots of the Lower Falls. When we got back to the car at 12:05pm, I think we had overlooked the Grandview Point, which we probably could have walked to in order to experience a slightly more distant view of Lower Falls.
But with Julie and especially Tahia eagerly wanted to get to the Canyon Village, we ultimately skipped that and continued on the North Rim Drive. That said, with the road to Inspiration Point open on this visit (as opposed to three years ago), we then arrived at the parking area for Inspiration Point at 12:15pm. This spot was also quite busy, but we managed to score one of the parking spots towards the far end of the looping parking lot there.
As we walked to the three or four lookout spots from here (which only had a sliver of Lower Falls visible in the distance as this was more of a canyon view), we took some shots and better appreciated the yellow stones caked in sulphur as this got Tahia's curiosity going.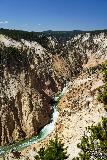 I also noticed that there was a gushing waterfall that was perhaps at least over 15ft tall from Inspiration Point, and I wondered if that could be counted as a legitimate waterfall, especially since we've seen smaller named waterfalls (like Grizzly Bear Falls). Julie thought I was stretching it by considering that waterfall as such, but I documented it nonetheless.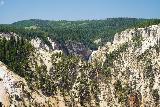 Anyways, we then got back to the car, and by 12:40pm, we were finally at the Canyon Village. It was eerily not busy here as there were plenty of parking spaces. I noticed a handful of cars kind of parallel parked against a tree-shaded area as it was a pretty hot and sunny day today. And so I wound up doing the same thing (even though it was technically illegal to park this way but who cares if the lot was so empty?).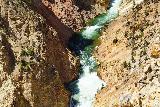 At first, Julie considered the idea of ordering takeout from one of the cafes or restaurants here, but knowing that there were still lots of people who refuse to wear masks both in line and indoors (despite what the signs were saying about wearing them), we decided that perhaps we were safer just having our own picnic near the car under the trees.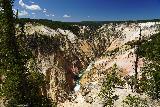 It turned out to be a great idea as we had our prepared preserved salmon mashed up with mayo and mustard, and this picnic experience turned out to be one of those priceless and memorable little experiences that we could only have in Yellowstone National Park. I guess the unusual COVID-19 situation made us turn that lemon into lemonade in this case, and I had a feeling that this was one of those small moments that will endure when this trip would be over in less than a couple of weeks time.
By about 1:25pm, we were done with the picnicking, and then Julie and Tahia put on their gloves and masks (but not the face shield), and they eventually went into the general store and souvenir shop. Meanwhile, I was busy cleaning up the car and tossing the picnic stuff as well as the bucket toilet contents into one of the many trash cans fronting the shops here.
I too had to wear gloves and a mask, especially since the trash bins here were bear proof so I had to reach into the handle to even open it, which meant lots of other people (probably asymptomatic carriers of COVID-19) were likely to have desposited the virus in that high touch area.
Ultimately by about 2pm, Julie and Tahia finally made it back to the car where we then decided to go to the Norris Geyser basin for the first time since 2004 as well. Indeed, this trip was definitely turning out to be one of those times where we were hitting the areas that we hadn't seen in over 16 years.
Eventually by 2:20pm, we got to the Norris Geyser Basin, but the parking situation was surprisingly tense. I didn't think this spot was as popular as it was, but I guess we were proven wrong. Luckily five minutes later, we managed to snag a spot just as someone was pulling out of a parking spot in front of us.
And so we then took the time to spend this hot early afternoon walking the entire Porcelain Basin Loop while also experiencing part of the Back Basin Loop.
In addition to the very scenically bright landscape of the Porcelain Basin, we noticed that there were definitely changes since we were last here as the Pinwheel Geyser didn't look like it had the colors and the water that we had seen back in 2004. We also managed to skip the Porcelain Basin Viewing Terrace, which was where the spur trail went to.
After having our fill sweating it out on the benign loop boardwalk trail of the Porcelain Basin, we then went to the Back Basin where we saw the Emerald Spring (which Tahia thought should be more like a Sapphire Spring given its deep blue color) and the spasming Steamboat Geyser. A sign here said the last time it went off was around July 30 at 1:08am so it was unlikely that anyone saw it. And it was very unlikely that we were going to see it either.
Then, we walked down past the Cistern Spring and eventually to the Echinus Geyser, which had a reddish appearance that Tahia thought was "scary".
We didn't bother walking the rest of the loop because it was getting late in the afternoon as we still had some errands to run in Cody before calling it a day since we had to get packed and check out tomorrow early in the morning knowing how long the drives were from Wapiti to anywhere worthwhile within Yellowstone National Park.
And so with that, we got back to the parking lot at 3:50pm, where Tahia really seemed to be into what she was seeing on this go around of the Norris Geyser Basin. Funny that three years ago, she didn't seem to have this kind of a fascination and reaction to the Upper Geyser Basin and its predictable geysers.
Anyways, we then we promptly drove back towards the East Entrance without making any significant stops (though there were more bison causing slowdowns in traffic near Hayden Valley and even near the South Rim Junction as well as the Sulphur Cauldron area).
What struck me about this drive back was that weather wise, this was probably the best afternoon weather we've had all trip long. Normally, it would get pretty rainy with pop-up or sticky thunderstorms in the Rockies, but on this day, it appeared that the budding thunderclouds never really got organized to the point that lightning and squalls were of consequence on this day.
That gave me hope that perhaps my desire to visit the other side of Terraced Falls might pan out. But it definitely wasn't going to happen on this day, and it was unlikely to happen tomorrow either. It was likely going to happen on the free day on our last full day of staying in Gardiner, which meant I'd also have to deal with a bit of a long drive either on that day or on the day we drive to Jackson.
We'll have to see how that all pans out.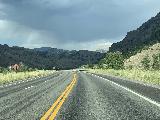 Regardless, by about 5:45pm, we returned to our cabin at the Wapiti Lodge, where there was apparently some kind of fender bender with a state trooper handling the incident right in front of the accommodation. I'm sure that helped our cause in terms of forcing people to slow down as the blinking and flickering lights of the state trooper would also get motorists' attention.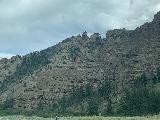 Then, by about 6pm, we headed out towards Cody for one last errand run knowing that it was going to be slim pickings at Gardiner, which was more of a tourist town serving the historical northern entrance of Yellowstone National Park.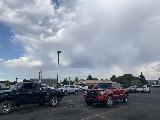 It seemed like the rain and thunderstorms that managed to avoid most of Yellowstone National Park were actually arond the Buffalo Bill Cody Reservoir as well as the town of Cody itself. That was where Tahia and I noticed a rainbow in the distance while Julie was inside the Albertsons there doing her shopping errand at 6:35pm.
That was also when I noticed that there was actually sports radio talk on the 1400AM dial so perhaps I could have listened to something other than iPod music while out and about here as well. It was certainly something a little more interesting than all the liberal bashing talk from all the other stations in these parts as we knew very well that we were in a place that supported Trump despite all the damage his administration has caused or allowed to happen with COVID-19 being the latest blunder (more like act of absolute neglect and irresponsibility which can be further extended to the voter base who refuse to take the disease seriously and put the rest of the public's health at risk by doing so).
Ultimately by about 7:05pm, Julie came back and we left Cody for good as we headed back to the Wapiti Lodge to end off this rather chill day. By about 7:30pm, we were back as the state trooper and the two vehicles involved in the accident we saw earlier were gone. And we ended up spending the rest of the day having a dinner and enjoying the front table outdoors of our cabin one last time while the afternoon thunderstorm was continuing to break up.
And with that, we ultimately crashed for one last time before anticipating what we hoped will be another chill day tomorrow as we expected to explore more popular parts of the familiar Upper Geyser Basin and perhaps the Midway Geyser Basin tomorrow…
Day 14 (August 3, 2020 – Gardiner, Montana): "Another Spontaneous Family Day"
It was 4am when I awoke to an alarm. Then, for the next two hours per what turned out to be a usual routine on this trip, I used the time to get caught up on yesterday's happenings while also wrapping up on getting packed and ready to go while Julie and Tahia were still asleep.
Eventually, Julie and Tahia got up and got packed as we were leaving Wapiti Lodge and about to tour the geyser basins of Yellowstone before arriving in Gardiner to spend the next three nights. Although Gardiner was less than 5 miles through the park, it was not the most ideal spot to stay since most of what we wanted to accomplish in the park were more on the southern side of the park as opposed to the northern side where the Tower Fall area and Dunraven Pass were closed.
Nevertheless, we still managed to load up the car and start driving off by 6:35am. But as we drove back towards the familiar east entrance, I couldn't help but notice the presence of puffy clouds up ahead. This was a sure sign that we were going to run into some thunderstorms on this day, especially if the clouds were already present this early in the morning!
In any case, we pretty much went back through the east entrance again, and then we headed over the Sylvan Pass before going down into the Fishing Bridge area where it looked like construction work had resumed considering that today was a Monday. By around 7:50am, we all had to do a potty break so we used the mobile bucket toilet in a pretty seldomly-used parking area next to the Fishing Bridge Village.
Then, five minutes later, we continued with the drive as we now headed southwest towards the junction by the West Thumb area as we seemed to be approaching ominously dark clouds. We did encounter one minor animal jam where apparently some folks had pulled over to see some elk grazing in the thickness of the woods.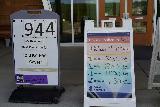 Anyways, by about 8:50am, we then found parking at the Old Faithful area where a road construction detour pretty much funneled everyone into the network of roads and parking lots there. Yet, we had no trouble finding parking, especially near the Old Faithful Lodge where we were able to walk just a few paces past the closed visitor center (and see the geyser predictions for the day) before continuing on.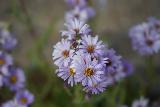 On this day, we noticed that the Old Faithful Geyser was predicted to go off at 9:44am give or take 10 minutes. As for other predictable geysers, it was only Grand Geyser that seemed like it was going to go off around 11:30am give or take 45 minutes. And also, it appeared that we had just missed the Daisy Geyser by about 15 minutes.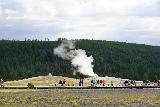 As for other predictable geysers that I hoped would go off while we were there like the Riverside Geyser and Castle Geyser, those seemed like they weren't in the cards for us on this day as they were predicted to go off some time later in the afternoon.
The original idea while we were here was to do the usual loop walk from Old Faithful all the way out to the Morning Glory Pool and then back to the Old Faithful area in the hopes of catching some geysers along the way. But with the surrounding dark clouds threatening to dump what seemed like nasty weather, it seemed like maybe it wasn't a good idea today to linger at the Old Faithful area.
That was when I decided that we should just watch Old Faithful go off so Tahia could see what was going on, and then we could drive over to the Biscuit Basin to do a couple of hikes – Morning Glory Pool and Mystic Falls.
And so we stuck with that change of plans where we patiently awaited the eruption of the reliable Old Faithful Geyser so my experiences with this geyser kind of suggested that it gets pretty steamy and difficult to photograph. Plus, with the lack of contrast against the grey skies in the background, it was probably a geyser that was better experienced than trying to photograph it especially as the crowds started to gather around the bench area.
With a combination of masked and unmasked individuals along with an inconsistent sense of social distancing, we were a bit nervous at the number of people gathered about here as we watched Old Faithful about to go off. But like clockwork, we ultimately watched the geyser put on its performance at around 9:50am after several sputtering head fakes that started at around 9:35am.
When the geyser went off, after an initial jet of water, we saw it started to get surrounded by steam while some of that steam was blowing our way. At the same time, it seemed like we got lucky with getting only a drop or two from the dark clouds that appeared to be headed our way before the winds had shifted.
After Old Faithful was done putting on its show, we then returned to the car and headed off at 10am as we then headed for the Biscuit Basin where we knew that parking would be more limited. By the time we got there at around 10:15am, we saw that it was already pretty busy as expected. However, we managed to snag one of the remaining parallel parking spots beyond the main lot.
Then, we geared up and started on a hike where we went across the busy Grand Loop Road and went right onto a trail headed back towards the Upper Geyser Basin. We were going through an area that we had never done before as we were now heading past some lesser known geysers and pools en route to the Morning Glory Pool.
Even though there were a handful of groups that either passed us or we had to go past (with masks on), for the most part, people were wearing masks around each other. Perhaps the lone exception was a large family that we had to pass where none of them had mask on. That's a situation where I was glad that they paused and let us go past since we wouldn't want to be exposed to their droplets when hiking behind them trying to pass.
We went past a couple of unnamed pools whose colors seemed to be muted due to the presence of menacing-looking clouds. One of the springs or geysers that we saw on the way that did have a name was one that was called the Artemesia Geyser (which the map on our GaiaGPS Topo said Atomizer Geyser). That naming started to make me wonder whether some of the map data was also crowd sourced and error prone as opposed to being properly surveyed before showing up on the map.
For a moment, it made me think about the bad info about Grizzly Bear Falls and that perhaps I should have started from the Grizzly Bear Creek Campground instead of the Mt Rushmore area at the Blackberry Trailhead.
Eventually by about 10:55am, we arrived at the Morning Glory Pool where there were maybe one or two families before us. And we happened to show up just in time for the sun to break through the dark clouds and really bring out its brilliant colors.
As the weather seemed to continue to improve while we were getting in our shots of the beautiful pool, we then satisfied Julie's curiosity a bit by briefly going back towards the Upper Geyser Basin to see the Mortar Geyser, the Spiteful Geyser, and some other geyser there. We didn't go back towards the Riverside Geyser, however, because we knew it wouldn't go off anytime soon.
So with that, we then headed back towards the Biscuit Basin just as the Morning Glory Pool was really starting to get crowded. Back on the trail that we took, there were also a few more people coming towards the MGP, but it was still refreshingly quiet compared to the familiar boardwalks coming from the Old Faithful area. Maybe we should do this trail more often, I thought.
We made one little detour stop besides some attractive rapids and mini-cascades, which was a nice little chill spot though I wouldn't think those cascades counted as waterfalls.
And as we got back towards the springs and the Artemesia Geyser, the sun and blue skies were becoming increasingly prominent and holding the dark clouds at bay for the time being. That was when we saw that even these springs and pools had an attractive blue color to them. These were also made more attractive by the cliffs backing the Biscuit Basin in the distance where I think the Yellowstone Waterfalls book might have said the "Unfaithful Falls" might be seen early in the Summer or late Spring. But during our visit, it was already beyond its drainage life for the season.
By about 11:45am, we were back at the Biscuit Basin parking lot where it got quite busy and parking appeared to be quite scarce. So now we continued towards the Biscuit Basin boardwalk, where I knew we'd see the Sapphire Pool that I think Julie mentioned she wanted to see (though she couldn't identify it by name).
Beyond the Sapphire Pool, we saw the Jewel Geyser go off periodically as well. It seemed to put on a show that might have been as exciting as the Old Faithful Geyser even though it didn't shoot as high. It also seemed to have a tell in that the neighboring Shell Spring would drain prior to the Jewel Geyser going off. Then, the Shell Spring would bubble and fill up again when the Jewel Geyser was taking a breather.
After getting all the way to the Avoca Spring at 12pm, we then followed the familiar short trail to the Mystic Falls. Like it was 3 years ago, the trail was now lined with healthy-looking trees. I remembered when Julie and I first did this hike, the trail was flanked by new sproutlings amongst the blacked and ghostly remnants of the trees burnt by the 1988 wildfires.
There were quite a few people on the trail going the other way so it wasn't as quiet as I had hoped, but it was certainly a far cry from the activity going on at the boardwalk of the Biscuit Basin.
Eventually by about 12:40pm, we made it to the familiar Mystic Falls. There were actually quite a few people scrambling towards the base of the falls, but we pursued the more uphill path leading to the lookout area.
Julie and Tahia only went so far up before they were content with their view of the waterfall, but I went up to the end or start of a particularly rough part of the descent coming down from the longer loop trail (which I did the last time I was here), where I got a more top down look at the attractive waterfall. I also scrambled a little ways down to get perhaps an even cleaner look at the falls.
After almost losing my mask and backtracking to find it, I then descended back down to rejoin Julie and Tahia, and then we took our time going back to the Biscuit Basin Boardwalk, which we returned to by about 1:25pm.
With the sun continuing to be out and it being quite the hot day, we eventually got back to the parking.
However, instead of heading for the Grand Prismatic Spring straight away, we decided that now would be a good time to have a picnic lunch and let Tahia play in the Firehole River, which a lot of other people were doing at this moment.
And by about 1:50pm, we managed to score one of the few tree-shaded spots just as one couple and their dog were leaving. So we laid out our picnic blanket and had ourselves some smoked sockeye salmon wraps with some fruits for lunch. In the mean time, Tahia and I were briefly in the shallow but surprisingly cold river chucking rocks to the other bank.
Again, this was another one of those priceless moments that you can only have when in Nature, and it seemed to top our little picnic lunch at the parking lot in Canyon yesterday.
Indeed, having a picnic in the shade and watching people from all walks of life from around the country having a good time was definitely giving me good feelings and validating our decision to go out here despite the COVID-19 pandemic.
Finally at around 2:55pm, we returned to the car and finally relinquished our parking spot here. We then had to go to the zoo that was the Grand Prismatic Spring, which I knew would be a major challenge to try to find parking there. But after getting past the traffic jam caused by people waiting for a parking spot inside the main lot, we managed to find some shoulder parking further down the road at around 3:10pm.
Sure I was parked in the wrong direction, but at least we could get out of the car and walk towards the boardwalk at the Midway Geyser Basin to experience the GPS close up for the first time since 2004.
Indeed, as we got to the parking lot for the Grand Prismatic Spring, it was very chaotic as there were people crowding the boardwalks and the parking lots. We did linger a bit across from the Firehole River where we saw the geothermal runoff from both the Grand Prismatic Spring and the Excelsior Geyser producing a pair of segmented cascades.
I used to think that these cascades shouldn't count as legitimate waterfalls, but now I started to have a change of heart considering how tall these cascades were and how permanent they were. After all, if the named Grizzly Bear Falls was going to be counted as legitimate, then I'd think that this thermal cascade ought to count since it was every bit much taller and more reliable.
After having our fill of this cascade where it was busy but not nearly as much as the boardwalk, we then started to go past the bridge and up the boardwalk path, which was a zoo. With dark clouds looming and approaching us, we had to get our visit in, especially since I had feared that lightning might accompany this next threat of a T-storm.
Walking up the boardwalk while constantly wearing the mask due to the sheer quantity of people here and lack of social distancing didn't make for a relaxing visit.
However, as the sun was still breaking through the clouds surrounding us, we could see the brilliant colors of the Grand Prismatic Spring shortly after seeing the boiling pools of the Excelsior Geyser and the Turquoise Pool along the way.
We could also see across the GPS towards that newly-built lookout (from 2017) that was crowded with people now. I figured that they might have gotten pretty dramatic views of the spring considering the sun would be behind them and the dark clouds would be in the distance for some really moody shots.
By about 4:20pm, we finally made it back to our parked car. It was tricky to get back on the Grand Loop Road considering the sheer amount of traffic in both directions, but we insisted when we had a slight opening and we were now back on the road heading north towards Gardiner.
The drive was for the most part uneventful though there were a couple of animal jams along the way. One was particularly stopped, but it was thick with trees so we didn't see anything.
However, there was another one in a more open area where apparently some people might have seen a fox or coyote or something.
By about 5:25pm, we then did a roadside stop for the Rustic Falls.
It was another waterfall that we hadn't documented since 2004, and even with the dark clouds threatening with the roar of thunder, we still managed to fit in our visit (along with other people pulling in and out) before resuming our drive towards Gardiner 15 minutes later.
As we passed through the Mammoth Hot Springs village, we saw the town's resident elk population (just like we did the first time we were here), and then we eventually made it to Riverside Cottages in Gardiner at 6:05pm just as the rain was starting to fall.
After going through our usual sanitization procedures, we were finally able to settle in and do a little grocery run down the street before finally having our dinner and winding down the day.
The people staying upstairs had kids though so it wasn't exactly peaceful considering how much noise they were making, but aside from that, it was yet another chilled out day spent as a family in Yellowstone National Park.
Day 15 (August 4, 2020 – Gardiner, Montana): "Different Recollections"
It was 5:30am when I awoke. I could have gotten up an hour earlier, but I decided to sleep in since I did feel like I had a bit of a sleep deficit.
With no real agenda other than to satisfy Julie's desire to see the Mammoth Hot Springs today, I let them sleep in while I was taking care of my blogging duties from yesterday's happenings.
So it wasn't until some time after 7:30am when Julie finally awoke, and we weren't out the door until about 8:35am. This was a bit to my frustration since it felt like we were spending too much time in the cottage instead of out and about in Yellowstone National Park.
Anyways, with the late start, we were immediately greeted by a line at the entrance gate, but after getting through that, we then followed a caravan of slow-moving cars as we passed by some of the resident elk grazing in Mammoth Hot Springs Village before luckily scoring a parking spot as one person had just pulled out when we were approaching one of the lower terrace spots at 9am.
It was a beautiful morning as there were no clouds in the sky when we got started. Yet it was definitely quite busy at the time. Right off the bat, we first walked past the Liberty Cap and then towards the Palette Spring, which had some nice flow to it as well as some terraces that were half-colored with a brownish orange color while the rest of it was dead white.
Given the height of this thermal runoff, it made me reconsider whether we should count such a hot spring runoff a waterfall. Again, since it was way higher than some of the named waterfalls that were probably more like rapids (like Grizzly Bear Falls in South Dakota), these hot springs had a bit more permanence to them as well as height.
That said, one of the criteria that we go by when we evaluate whether a waterfall was legitimate or not was its reliability of seeing it flow, and with the case of these terraces, their flow seemed to change with time. So that seemed to undermine their reliability.
After all, we could clearly see that upstream of Palette Spring, the Minerva Terrace remained dry like it mostly was 16 years ago.
Still, we found it unusual as a waterfall in that most of these springs were sourced by water geothermally bubbling up from underground before emerging as pools that had enough volume to runoff and result in such runoff that produced these beautiful terraces.
Speaking of Minerva Terrace, after checking out the Palette Spring, we then continued up the very busy boardwalk as we then started to follow along another attractive runoff area adjacent to the blindingly white yet dead Minerva Terrace.
This runoff ultimately came from another impressive set of active springs called the Mound Terrace, which featured a nice reddish terrace section before going down in a cascading stream tinted brown.
We probably spent the majority of our time checking out the very attractive Mound Terrace because Julie and I couldn't recall seeing this much activity in any one of the springs 16 years ago except perhaps the Canary Spring.
So it took us some time to marvel at the Mound Terrace (while at the same time trying not to mind the incessant groups of people coming and going) before deciding not to go up to the overlook and then complete the loop with a short detour to the Minerva Terrace spur.
By about 10:35am, we were back at the car. And this visit alone seemed to satisfy Julie's desire to see the Mammoth Hot Springs even though I had initially poo-pooed the idea thinking that it would be as disappointing as our prior visit here back in June 2004.
Next, we did the short one-way drive through the Upper Terrace (the hike we did was the Lower Terrace) where after not finding parking around the Canary Spring, we opted to keep driving towards the Orange Spring Mound. That mound had less water than when we saw it in 2004, but it still had one section that was flowing. Again, that just attested to how much things can change over time, which undermined the predictability of these springs.
When we had our fill of the one-way drive through the Upper Terrace, we then drove over to the Osprey Falls Trailhead. When we got there at 11:15am, we were shocked to see that it was completely full! Now one person who was parked very close to the road did pull out, which we claimed immediately afterwards.
And that allowed us to have a little bit of an awkward picnic in the car. This picnic consisted of some sushi wraps surrounding smoked salmon, lettuce, and avocado along with some fruits that we brought in the cooler. It was our third day in a row of having such a family picnic.
Then finally at 11:50am, we were done with the picnic, I geared up, and then I was finally starting the Osprey Falls hike while Julie and Tahia drove over to the Lamar Valley to see some wildlife.
The hike was similar to how I remembered it when Julie and I did it back in 2004 in that it was quite a wide open hike without too much tree cover. It seemed like most of the people doing this hike were going up to Bunseak Peak (which I contemplated doing on the way to Osprey Falls), but I thought better of it knowing how steep the waterfall hike already was.
Anyways, aside from getting a painful midge or horsefly bite as well as a mosquito bite, I eventually got a part of the hike where I got to look into part of Sheepeater Canyon at 12:45pm.
Along the way, I got some nice views towards Bunsen Peak's south side. But with such minimal tree cover along this trail, it was already a pretty hot hike.
I recalled on our prior visit here, Julie and I were caught in a lightning storm, and desite the trees back then being nothing more than sproutlings, this time around, some of the trees did start to look fully grown, but the hike remained dominated by open spaces.
By about 1:15pm, I ultimately arrived at the signed Osprey Falls junction. To this point, the hike had been mostly flat with lots of wildflowers and the odd small wildlife sighting. It didn't seem like the kind of trail where one could surprise a grizzly bear should an encounter take place given such wide open terrain.
There was a couple of guys here warning me about the steep and narrow trail up ahead, which pretty much reinforced what a sign said here about it being 1.4 miles. I didn't recall this part of the hike being so long, which made me wonder if they had extended it from the last time we did this hike when the total hiking distance should have been on the order of 8.5 miles or something like that. Now, this hike was said to be 9.2 miles round trip, which might have reflected a little bit of re-routing over the years.
To this point, I only encountered perhaps 3 or 4 other parties with all but one of them coming back the other way. As I descended into Sheepeater Canyon, the trail followed the rim of the nearly vertical gorge before the trail narrowed and descended several switchbacks.
On one of the switchbacks, a father and daughter had let me pass when I caught up with them. And then I proceeded to continue down the steep trail deeper into the Sheepeater Canyon making sure not to fall with so much dropoff exposure on the narrow trail.
While I didn't encounter any burnt trees on this descent this time, I still had to watch my step as well as mind the minimal shade. I knew that this was going to be a very brutal climb back out once I would have my fill of the Osprey Falls.
Ultimately by about 2pm, I finally made it to the Osprey Falls. At first, I took the ascending trail leading up to an elevated view of the impressively gushing and tall waterfall on the Gardner River. And it made me think that perhaps I should give this waterfall a higher scenic rating.
Yet, the lighting wasn't ideal just as it wasn't when I first came here with Julie back in 2004. Anyways, I lingered here for a bit and documented the experience especially as the sun started to hide behind some of the budding patches of clouds that started to form by the time I got here. These clouds didn't look like they'd organize into thunderstorms at the moment but at least they helped to even out the lighting.
After the father and daughter duo showed up and shared the experience with me, then they scrambled to the bottom by the Gardner River's banks where there was another couple down there. I briefly went down there myself after having my fill of the view and alcove at the end of the trail (where someone was inconsiderate enough to leave toilet paper and human poo in that alcove) where I got a few more looks at Osprey Falls from downstream of its base.
Eventually by 2:25pm, I started the long hike back up. And as expected, it was a long and tiring climb. Perhaps what helped to keep my attention and interest during this climb was the fact that I noticed wild huckleberries and raspberries alongside the trail within Sheepeater Canyon, where I knew Julie and Tahia would have been preoccupied with had they done this hike (though the long distance would have deterred them).
Finally by about 3:10pm, I had finally made it back up to the sign at the spur trail for Osprey Falls. By this time, I realized that my forearms were getting sunburnt, but I couldn't find my DEET nor my sunscreen. So that was not good. I couldn't figure out where this bag was, and I had assumed that Tahia and Julie must have been in possession of it.
Anyways, the trail back to the trailhead was also long and featureless, and by the time I started to see the Absaroka Mountains in front of me, the afternoon sun was pretty much against me. There were now more thunderclouds budding in the distance, but there was no threat of lightning strikes during the hike back.
By the time I returned to the trailhead at 4:30pm, Julie and Tahia were already waiting for me since I told them that I'd be back by 4pm. But I didn't realize the longer distance of the Osprey Falls hike, which resulted in the extra half-hour time it took for me to do this hike.
And upon changing into Chacos as well as taking off my pack, both Julie and Tahia said that they didn't have my bag of sunscreen and DEET. So apparently we must have lost it.
Anyways, as we headed back towards Gardiner, we did made one quick detour to the Undine Falls which benefitted from the nice late afternoon light. Since this was a roadside stop, there seemed to be quite a few people enjoying this waterfall so we had to practice social distancing and wearing a mask (which no one else did during our visit). It was a far cry from my lack of needing to wear a mask during the Osprey Falls hike.
After having our fill of the Undine Falls at 5:15pm, we then drove back towards the North Entrance, where we then made a quick detour to the Roosevelt Arch at 6pm. I figured that we mind as well have that family shot with the tripod in front of the historic archway, which was once the traditional entrance back in the day.
But when I think about how this arch symbolized what the first visitors must have seen as it had the words "For the Benefit and Enjoyment of All" put on the top, I got misty-eyed thinking about the entire concept of national parks. After all, it was this concept that was repeated and adopted around the world.
And that simple accident of being an area that encompassed three states of Montana, Idaho, and Wyoming, that resulted in the first national park in the first place in 1872 (as an afterthought no less) as opposed to a state park like Yosemite was in 1864 that we had something that was the embodiment of a democracy – something that was instituted as a public land for the benefit of all its citizens.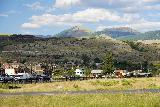 Of course even back then, such preserves had to be created to try to gain some federal protection against exploitation, and with the Trump administration standing against all that the national parks stood for, it was very clear that such cancers within our system persist and even thrive at the expense of the world we all want (whether the population knows it or not).
So it was with that backdrop that I think about what humanity can be versus what it currently is, and being at world's first national park certainly brought back all those emotions and thoughts as we stood before the Roosevelt Arch and took our photos.
Eventually by 6:10pm, we made it back to the Riverside Cottages. That was when we looked around the room and came up empty when it came to trying to look for my missing sunscreen and DEET bag. So I guess it was gone for good. Indeed, it seemed like we couldn't catch a break with our DEET since we had it confiscated after one use in when we were to Samoa last November, and now it seemed like after one use in Yellowstone, it was gone once again.
Well, with that, Julie and I then did a brief supermarket run at 6:40pm before we finally called it a night after playing a post-dinner round of Uno. So I ended up crashing by about 11:30pm, but my alarm was set up for 4am knowing that I was going to have to solo the entire day starting with an attempt to find wolves at Lamar Valley before making the long drive back to the south entrance in pursuit of Terraced Falls and that elusive other side that would require crossing the Falls River…
Day 16 (August 5, 2020 – Gardiner, Montana): "Lone Wolf"
It was about 4am when I awoke to my alarm. It was the moment of truth as today was the day where I would attempt to visit Terraced Falls from the other side of the Fall River. It was something that has haunted me over the years that I've visited this falls since June 2004 and again in August 2017. However, in both those times, I never got the better experience by viewing it from the other side of the river, which I knew came with risks.
So this time, I was determined to at least experience this waterfall from that elusive side to complete the experience once and for all.
Now given the camera dunking incident at Grizzly Bear Falls near Mt Rushmore about a week ago, I was also worried about that river crossing that I had to make. Was the water going to be too deep to attempt? How strong would the current be?
All these things were rushing through my head. Besides, Julie and Tahia didn't want me to do this attempt because they didn't like the idea of me taking such a risk, especially since I would be hiking alone in grizzly bear country.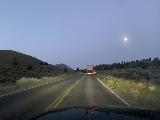 Anyways, after getting caught up on yesterday's happenings on the blog, I then had breakfast and got my stuff together before heading out by 5:35am. I got this early start because I first wanted to head over to Lamar Valley for the chance at seeing wolves. This was another thing I wanted to do while we were staying in the north of Yellowstone.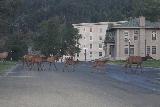 So as I drove off, the pre-dawn hours were surprisingly full of cars apparently also thinking the same thing I was. As I followed one truck into the familiar Mammoth Hot Springs Village where there were some elk crossing the road, I noticed that there was a full moon over the morning sky. Was this a omen?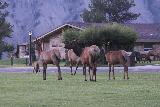 Anyways, there were at least a half-dozen cars or so already passing me as I took a few shots of the elk. So I eventually followed this caravan of cars towards the northeast of Yellowstone National Park.
With all these cars, I wasn't worried too much about running into wildlife on the roads since there was already a lead car setting the pace. The sun was also about to breach the horizon as we were getting past the Tower/Roosevelt junction, where the road closure happened all the way from the Roosevelt Lodge. So I knew that any hopes of re-visiting Tower Fall would also not happen.
Eventually by about 6:50am, I noticed some people pulling over to the side of the road. It turned out that there was one guy who spotted a bear way in the distance.
But it looked like nothing more than a dot. So after thanking the guy for showing me, I had overheard some lady saying that there was a carcass further down the road where there were wolves though people had left after the grizzly bears had left.
So I went there by about 7am, and I noticed at least two people sitting and watching in front of some van with paint saying something to the effect of "The Wolf Project".
That kind of gave me the indication that I must at least be in the right place. So I sheepishly asked what they were seeing (while at least dozens of other people were looking on), and they pointed out a bison carcass with wolves feeding on them.
It was hard to see with any detail with the naked eye, but through the zoom of my telephoto lens on my Canon EOS 70D (which I designated for wildlife photos on this trip), I saw that there was indeed a dead bison with wolves feeding on them along with black birds waiting for their shot to eat up the scraps.
The birds were just waiting there as if they knew there was a priority of who gets to eat. I wasn't sure if the wolves were the ones who brought down the bison, but if the grizzly bears already got their shot at the bison and then left, that might suggest that even the wolves knew to let the bears have their share of the meat before the wolves, and then the birds would get what's left.
If that's the case, that was a very interesting way of the wildlife knowing the pecking order when it comes to large kills like this.
So I spent a pretty good amount of time taking what pictures I could of this feeding, but it was so distant that I'm sure I would have to do some sort of cropping for these photos to at least show up in a more meaningful way (in a kind of "digital zoom").
I had overheard one of the people talking about another sighting or something near Slough Creek, and so after having my fill of this spot, I decided to make my way there. However, it looked like by the time I got there, the closest parking spots were already taken up.
I did see people with telephotos and scopes looking in a direction from the top of a hill so it seemed like they indeed spotted something. But with it getting late in the morning and I still needed to do the Terraced Falls experience, which I knew would take the rest of the day, I had to make the tough decision to let this go and start the long drive south towards the Cascade Creek Trailhead by 8am.
Indeed, this drive took a very long time, but I did scout out how busy the trailheads and parking areas were, and sure enough, by the time I had passed by the Midway Geyser Basin and the Fairy Falls Trailhead at around 9-10am, it wasn't surprising to me that they were all full already.
So if Julie wanted us to stop by at least the Fairy Falls Trailhead tomorrow on the way to Jackson Hole, that's a reality that we'd have to face.
Anyways, the long drive continued as I eventually made it past the South Entrance at around 10:45am. The sheer quantity of vehicles going in both directions certainly indicated to me that Yellowstone was very busy. So what if there was a pandemic going on. And this was exacerbated by people coming from states that didn't take COVID-19 seriously so of course they're defiantly taking risks with public safety and putting it on the local authorities and employees to enforce mask wearing and social distancing.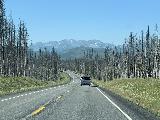 So the pandemic didn't seem to affect visitation as far as Americans coming here were concerned. Only foreign visitors were noticeably absent, and this included those big tour buses (which pushy Chinese tours are notorious for). So I guess we had to take the good with the bad like all things in life.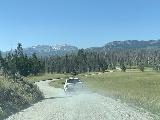 Well, I guess I had forgotten my mask back at the cottage this morning so I guess I was now one of those people who were becoming risks to public safety (both for myself as well as others around me). However, people seemed to be somewhat respectful at Lamar Valley, and I had a feeling that at Terraced Falls, it wouldn't be difficult to socially isolate either.
The Grassy Lake Road initially went through what seemed like an extensive burn area. I wasn't sure if I noticed this 3 years ago, but it was certainly pronounced. I took it as an omen that it had been dry here and perhaps the Fall River Crossing might be shallower as a result. But I won't know until I get there.
Finally after going through the familiar rough Grassy Lake Road to get to the Cascade Creek Trailhead at 11:30am, I found myself alone at the trailhead. This was surprising considering how many cars that I was driving the Grassy Lake Road. But most of those people were pursuing or already in campsites along the road. That seemed to be the popular road-tripping thing to do these days.
Now that I was finally here, I left as many things as I could behind in the car that couldn't get wet. I had bet that no one was going to break into the car so I only packed my Sony, iPhone, a notebook and pen, and car keys with sunscreen and bug spray. I had double-bagged the pack just in case I'd get wet, and that was the one thing that made me anxious about this visit.
And so after all that preparation, I started hiking at 11:50am.
Indeed, I was nervous about hiking in grizzly bear country alone, but it was a hot day with thunderclouds budding in the distance so I knew that perhaps the grizzly bears were elsewhere looking for food where it's cooler. As I descended further down the trail towards Terraced Falls, I decided that I was on a mission and wouldn't get sidetracked by other cascades on Cascade Creek.
So eventually by about 12:30pm, I made it to a part of the trail where I would have to make the attempt to cross the intimidating-looking ford of the Fall River. Since I came prepared with Keens, I first stripped down to my underwear and accepted the mosquitoes and horseflies having at my exposed skin.
Then I tested the crossing with a pair of sticks that I had found during the hike as I was pleasantly surprised that the ford only went as high as thigh deep. However, the current on the river was strong and it kept wanting to push every one of my steps (especially the sticks) in the downstream direction.
So with that test, I ultimately decided that when I got back to my belongings, I would wear the backpack but leave the pants (not wanting to soak them). And I had put them on a branch in the tree so I would at least be able to visually see it when I would return.
And with that, I made the crossing slowly and deliberately to ensure that I wouldn't fall over and wet the things I didn't want to get wet. However, when I got to the other side of the river, I noticed that there was no trail and it was a straight bushwhack into the thickness of vegetation. Without pants, I realized that I probably should have just let the pants get wet because I wasn't sure if my bare skin was now brushing up against poison oak or other stinging plants.
Moreover, I was already feeling welts from mosquitoes as well as painful bites from horseflies. So that was definitely one decision I was regretting right off the bat by doing this bushwhack in my underwear.
After an initial uncomfortably awkward scramble that involved going through one swampy section where it was easy to sink into the semi-quicksand, I then finally found what looked like use trails where I knew people had been before. But it was very faint, and it was already where the vegetation was opening up anyways as I was approaching the rushing waters of Terraced Falls flanked by the finger-like cliffs.
Finally at around 1:15pm, I had finally made it to a good view of the Terraced Falls, which was further downstream from the main drop. The falls itself looked like it had a lot of volume despite the crossing being only thigh-deep. But the sun wasn't in the most ideal spot as it was pretty much right on top of the falls and a little off to the side.
So there was a little bit of shadows on the cliffs to the right of the falls beneath where the official trail would have ended.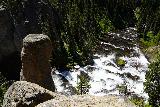 Nevertheless, I did what I could to document the whole thing on both cameras – the DSLR and the iPhone. And I was busy doing this while trying to shoo away the horseflies that didn't seem to be deterred by the insect repellent that Julie gave me for this hike (after having lost the Jungle Juice yesterday somehow).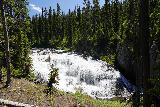 As much as I didn't want to leave this spot and wait for the sun to be in a more favorable position, I knew that I had to leave because I was anxious about the bushwhack before me as well as the river crossing again. I also was worried about a chance bear encounter.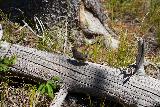 So I wasn't out of the woods yet, so to speak. However, I was already feeling high that I finally got to experience Terraced Falls the way I think it should have been had the park service built a suspension bridge and a proper trail.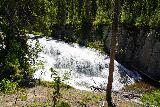 I'm sure the bushwhacking goes right against the principles of leaving no trace and trampling vegetation.
And so with that, I had my fill after maybe 10 minutes at the falls, and then I had to bushwhack my way through the bush after finding the pair of sticks that I had left. So eventually by about 11:40pm, I had made it back and found my hiking pants which were now on the ground as apparently they didn't stay on the branch that I had put it on.
Thus, I quickly put the pants back on as I was now swarmed by mosquitoes, and then I had to get the rocks out of the Keens. But once I did that, I then got the stuff out of the garbage bags, and then I proceeded to hike all the way back up to the Cascade Creek Trailhead.
Along the way, I then got a chance to check out the Cascade Acres and the other waterfalls on Cascade Creek (one of them looked like it had a large boulder fall over onto the waterfall), and after waving at one person sun-bathing by the Mountain Ash Creek Trail junction (the only person I saw on this hike), I finally made it back to the car at 2:30pm.
It took some time to get reorganized while also having my cherry and elk "Slim Jim" lunch while also changing out of the wet and rocky Keens into Chacos, but by 2:45pm I finally started driving back towards Gardiner. The GPS predicted that it might be around 6:10pm or so that I'd be there so I was worried about making Julie and Tahia worried that I'd be back so late.
And thus, I made the drive back towards Gardiner without stops. I also had to pass some annoying RVs who refused to use the pullouts. I always hate having to pass vehicles on mountain roads just because some drivers are stubborn or inconsiderate.
I also noticed at least two or three vehicles that were pulled over due to speeding. So that was something that tempered my haste in getting back to Gardiner. But eventually by about 6pm, I made it back to the cottage.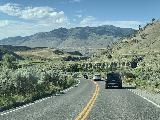 And with that, I had some leftover food from the Ironhouse Grill (basically the most popular and well-reviewed restaurant in town), and savored the food while regaling Tahia and Julie with the wolf sighting and also trying to rest up from all the bruises and scratches (and potential poison oak exposure) from today's adventures.
Not surprisingly, Tahia was not happy with the wolves killing the bison, but this was one of those moments where Nature can be remorselessly cruel except it's all part of the grand recycling project that Mother Nature does. Predators need food, grazing populations need to be controlled by these predators, and ultimately an ecosystem with healthy populations of predators means a healthy ecosystem as a whole regardless of what we might feel about it.
Indeed, wolves aren't bad. Bears aren't bad. They're just all part of the cycle of life that we have to respect and admire as well as take care of. That said, we as a species have been doing a piss poor job of that stewardship as the larger problems of Global Warming and mass extinctions continue given our perverse economic incentives in place worldwide, but especially in the USA and especially with the current administration which values money and wealth for specific people at the expense of everyone and everything else.
Thus, I was dead tired and essentially slept by 9:30pm and then again at 11:30pm (after finishing with the showering and brushing my teeth). The neighbors upstairs were busy being loud even though it was quiet time, but I ultimately dozed off content that I had finally conquered the Terraced Falls excursion that had haunted me after all these years…
Day 17 (August 6, 2020 – Jackson, Wyoming): "Blue MIst"
It was about 5:40am when I awoke. After getting drowsy after drinking a bit of cherry wine with my Iron Horse Grille leftovers that Julie and Tahia had eaten earlier in the afternoon for dinner yesterday and then dealing with some of the noise lasting well past midnight from our noisy upstairs neighbors, I was at least better rested than I had been in the last few days.
So after getting caught up on the blogging and also eating up a quick kefir breakfast, Julie finally got up at around 7am. And so it wasn't until about 8:15am when we finally checked out and headed back through Yellowstone National Park.
The agenda for today was going to be a simple kind of day where we basically did a drive back from the north entrance through to the south entrance and eventually settling in at Jackson Hole. And along the way, we'd make some stops.
If there were wildlife sightings, then so be it. That said, Tahia didn't seem interested in swimming in the Firehole River along the one-way Firehole Canyon Drive. However, Julie did want to stop at the Fairy Falls Trailhead for that newly-sanctioned view of the Grand Prismatic Spring.
In the past (i.e. our first visit to Yellowstone in June 2004), we had scrambled up one of the social trails which yielded a similar and less-crowded view. However, they recently build this overlook right before our August 2017 visit, and it was immediately a hit with visitors so it was always crowded there.
In any case, our drive south went by pretty uneventfully for the most part. We did make one wildlife stop, but we didn't see anything significant other than some pronghorn sheep as we were pulling away and Julie spotted them from the car.
And it wasn't unti about 9:45am when we managed to make up a parking spot at the Fairy Falls Trailhead. So once we geared up, we went on the quick walk to the overlook (maybe about a mile from the trailhead) and went up to the familiar Grand Prismatic Spring Overlook.
Not surprisingly, there were quite a handful of people here, but it was nowhere near as busy as I'd imagine it would be later in the day. So we were busy taking our shots between the growing trees while also getting some people shots before more people were showing up and making it harder to socially distance.
While Julie and Tahia headed back to the parked car, I decided to check out the remainder of the spur trail rejoining the Fairy Falls Trail. Unlike last time when I went all the way to the waterfall but the other side of the spur trail was still being worked on, this time, checked out that other path while offered some obstructed views of the Grand Prismatic Spring before getting back down to the main trail.
Along the main trail, I continued to look towards the Grand Prismatic Spring which seemed to be putting out blue mist or vapors. But after having my fill of taking the additional photos along the Fairy Falls Trai (including some thermal runoff near the trailhead), I then made a beeline back to the trailhead.
As I headed back on the relatively wide trail, it was easier to socially distance except for those who decided to walk in the middle of the road or on my side of the road.
By aout 11:15am, we were back in the car. And next we resumed the relatively long drive out of Yellowstone National Park, which we'd leave behind for good as we approached the Grand Tetons National Park.
Along the way south, we noticed that Lewis Falls was quite busy (as it was yesterday as well), but we continued to go further south towards the pullouts for Moose Falls on Crawfish Creek.
There were also quite a few cars and people here so we had to wear masks as we headed towards the falls by foot by 12:20pm. Once we made it to the falls, there were lots of people scrambling around trying to get their photos of the falls. However, it appeared that the swimming ban in the area (which seemed like such a notice was circulated in the early Summer of last year) definitely applied to Moose Falls as it did 3 years ago when I was last here.
So no one was swimming but there were plenty of people taking photos from both above and below the falls. This was probably as festive and busy as I've seen this waterfall over the years. Rgegardless, we had our fill of Moose Falls by about 12:50pm and then we continued to drive south towards Grand Tetons National Park.
The drive continued as we headed away from Yellowstone National Park. Its popularity was apparent as we saw a massive line waiting to enter the reserve and pay their admission fees.
Anyways, we then headed towards the regal and majestic views of the Grand Teton Range opposite the manmade Jackson Lake. We first stopped by some lookout just beyond the Jackson Lake Lodge at around 1:25pm. We were hoping to perhaps relive a pleasant eating experience by ordering takeout at the Jackson Lake Lodge, but after getting to the turnoff for the accommodation, we saw that it was closed for the 2020 season.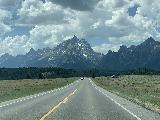 So we had to settle for panoramas from the next lookout spot where I also noticed the Wilderness and Columbine Falls in addition to the skyline of the Tetons.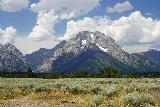 Ten minutes later, we continued on. Soon, we then reached a road junction where we could have continued towards the Hwy 191 for other more distant views of the Teton Range, but we then turned right and drove the Inner Loop, which was something we hadn't done since 2004. So I was curious to see what has changed over the years.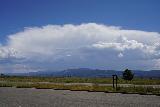 At 1:45pm, we stopped at the Mt Moran Lookout. This came after getting some road shots of the Teton Mountains rising sharply behind the road. This particular lookout was coming back to Julie and I since we recalled having views of this spot the last time we were here some 16 years ago.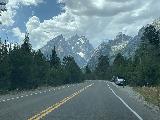 We then drove through the one-way scenic road where we were hoping to get the Cascade Canyon view across Jenny Lake. However, that little area was completely full. So we wouldn't be getting our views at all. If anything, we saw people parked quite a ways at a different lookout and then walking towards that view.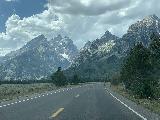 This was definitely a far cry from how we did it in the past where we just merely pulled up and got our views before continuing on. So that was a bummer, but it was fine because we were now focused on getting all the way to Jackson so we could take care of some errands including calling Enterprise Car Rental about the car's maintenance since we did see that an oil change was due.
Eventually by about 2:45pm, we checked into the Jackson Hole Lodge, which was situated at a very busy street just west of the downtown part of Jackson. After having passed through the town on the way here, we figured that we ought to walk around town this time instead of just passing through like Julie and I did when we drove through here 16 years ago.
Nevertheless, we commenced our sanitization procedures as per our protocol on this trip, and that was when we realized that the room we got had a kitchen and was very spacious. In fact, this place was probably the most generous in terms of amenities throughout our trip. But the only drawback here was that there was there were no bowls, plates, or utensils provided other than a few basic pots and pans.
After wrapping up with our sanitization, we then called Enterprise where we ultimately got the news that we either had to take the car into a Pep Boys (there was one in Salt Lake City which was our next accommodation), switch out the car, or just drive it all the way to LA since the next service due was at 8500 miles (we were at 8200 miles at the time). The lady who helped us said that we could even push it towards 10,000 miles.
So that was the thinking we'd have to do going forward. I'm sure we might get another message from the car itself regarding the need for an oil change, but we'll just play it by ear thinking that we're not likely going to drive this thing past the 10k mark by the time we'd return it when we get home.
Thus with that out of the way, we then decided that we should walk around downtown Jackson while eating at this place called Gathering. Julie had read good things about this restaurant, and we were keen to try it out. Having been disappointed by the takeout experience when we tried to eat out in Boulder (but were afraid of their social distancing situation and the lack of mask wearers there), it seemed like they took COVID-19 a bit more seriously in the Jackson Hole (unlike the rest of the state of Wyoming).
Perhaps it was because this place was so well-touristed that it was necessary to take these precautions. And so by about 5:15pm, we walked along Pearl Street towards Gather, and by 5:30pm, we managed to snag one of the outdoor eating patios fronting Gather.
Even though we were taking a risk eating here (because you never know what's going on in the kitchen; which you can argue was also a risk when eating takeout even back at home), it turned out that we had a pleasant experience. We wound up eating some kind of Korean style Snake River Wagyu Bison Steak, some kind of southwestern-style Pork Shank, and we got Tahia a pulled port steamed bun.
Indeed this place had a bit of a fusion flair to it, and it easily was the best meal we've had on this entire trip so far. Of course, I knew we were paying for it big time because it wasn't cheap. Still, we were happy enough with the food that we even got a flourless cake with chocolate ice cream.
By around 6:30pm, Julie had to make a brief jaunt back to our room so she could use the toilet (perhaps the lentils in her meal didn't sit well with her), and I took that time to walk over to the elk antler arches in the historic downtown's heart, which was definitely buzzing with a lot of activity.
When Julie and Tahia met up with me over there, we walked a brief half-lap around that local park or greenspace before checking out one of the gift shops next to a cowboy bar (where we noticed absolutely no social distancing inside there and was likely a huge risk of COVID-19). Still, the rest of the city seemed to adhere to the mandatory mask wearing in public, which was quite refreshing to see even though there were still quite a few people defiantly not wearing their masks. Again, without enforcement, people are just going to do whatever they feel like doing, especially if they subscribe to the Trump-supporter tribe.
After having our fill of walking around downtown Jackson Hole, which was quite charming with its cowboy western feel, we eventually returned to our room at 7:35pm.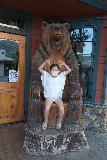 By that time, Julie decided to do some grocery shopping (though she wound up losing her ideal parking spot and had to park on Pearl Street later that evening).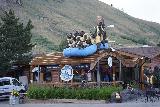 In the mean time, I indulged Tahia in her pool time, where we kept our distance for the most part though the hot pool certainly had more than the max of 4 people at a time so we never ended up doing that.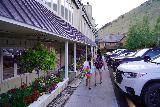 By around 8:35pm, we then got back to the room where we took a shower and heated ourselves up as it got quite cold after getting out.
And the rest of the evening was spent just getting cleaned up while chilling out. I think for the first time all trip long, Julie and Tahia decided to watch some HGTV (not something I endorse considering how much they advocate the unsustainable consumerism of the real-estate market), but I was pretty much dead tired and slept some time before 10pm.
Tomorrow, I was going to have a very long day visiting two waterfalls southeast of Jackson Hole while maybe sneaking in a pre-dawn visit to see the sunrise shining on the Grand Teton Range. We'll see how that goes as the ladies had no interest in an early wake-up and wanted to enjoy Jackson Hole a bit more while I would go about my business tomorrow…
Day 18 (August 7, 2020 – Jackson, Wyoming): "The Wind River Detour"
It was 4am when I awoke up pretty groggy to my alarm. Just like two days ago, it was another divide-and-conquer kind of day where Julie and Tahia would be left in the room while I would solo a very long day of adventure visiting at least two waterfalls. And similar to that day I went to Terraced Falls, this was going to be a day dominated by a lot of driving.
So per my usual routine after getting caught up on yesterday's happenings, I then had my quick kefir breakfast before finally heading out at 5:30am. I had heard some street sweeper going around all the cars parked on Pearl Street, and it made me wonder if we had gotten ticketed for parking on the street overnight given that all the legit parking spaces at the Jackson Hole Lodge were full. But it seemed to pass by no harm no foul.
Anyways, there were already quite a few cars out and about even though the sun hasn't risen yet. Of course I was concerned about wildlife jumping out across the road so I looked for cars in front of me to set the pace. I had a school bus in front of me that seemed to be able to drive the 55mps or so even though we were supposed to only go 45mph since it was still considered night time.
But after that bus driver turned off, I was behind someone who was adhering to the speed laws and going the slower 45mph. Eventually, I'd reach the familiar Antelope Flat Road, when then turned right and headed briefly towards the famous Mormon Row. This was the site of former homesteaders who settled in this part of the Grand Teton area and was once a thriving community of Mormon settlers, particularly from the Moulton family.
Well, it turned out that these days, these farms that are still standing are now popular foreground photo subjects for the Grand Teton skyline. I ultimately got to the most famous of the barns at 5:55am, and I found myself patiently waiting for the sunrise just as people were piling in.
For such a pre-dawn activity, there were easily dozens of people at this barn. However, I also noticed other people going in the opposite direction down the Mormon Row. So it made me wonder if I should check that out after my commitment to waiting out the sunrise at the most popular of the barns.
Three years ago, I took this same shot, but the sunrise was muted due to low clouds coming from the east side covering up the morning sun. But it looked like on this day, there would be no such complications though it looked like thunderclouds were already starting to bud behind the Teton Range.
Anyways, aside from a couple of girls doing photo shoots and annoying some photographer trying to do a time-lapse, people were definitely crowded around the choice photo spots. And while I was the only person with a mask on this morning, there were also people not socially distancing since the prospect of getting that good shot far outweighed any sense of public safety.
When the sun came out some time before 7am, we were getting a soft glow on the mountains and then eventually the barn, but to be honest, it was kind of underwhelming. In my mind, the best light was when the sun was out, but I was thinking that perhaps I didn't need such the early wakeup for this shot.
By 7am, people had left this photo spot and the next wave of people came to get their miscellaneous shots as those with tripods had already left. I then pursued my curiosity to see what else was going on in the Mormon Row so I drove a little ways further to the south. That was where I saw a different parking area with more barns though this one (called the TA Moulton Barn according to the signs) looked a bit smaller.
However, it might have been a better photo subject as it didn't dominate the frame like the other one I just saw. As a bonus, there were also sweeping vistas of the Teton Range rising sharply over other farms and cars in the distance. I thought that was probably the most compelling shot of all.
Anyways, I went ahead and took some tripod-less shots of both the TA Moulton Barn as well as the sweeping Teton Skyline with tiny foreground subjects, and by about 7:15am, I was done with this photo run and then proceeded to drive towards the Popo Agie Falls, which I knew was going to be a very long drive.
Along the way, I did make a stop at the Glacier View Turnout since I had noticed that one of the canyons did yield a waterfall though with the zoom of the 24-105mm lens, it was a bit on the hard-to-photo side. So I got my photos and then continued on.
As I continued the Hwy 89 due north towards the junction with the 26, I had contemplated going towards the Oxbow Bend for a morning shot of Mt Moran reflected in the Snake River. However, I didn't feel like backtracking for more Teton shots while competing with the many other motorists already out and about at this time of the morning. So I just turned right onto the 26 at the Moran Junction, and then I was on my way towards the increasingly quieter road leading into the Wind River Valley.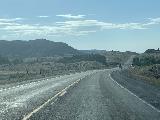 The drive was for the most part quite different from the more lush and forested scenery of Yellowstone and parts of the Grand Tetons. Indeed, it seemed like the further east I was going, the drier and more desert like the terrain seemed to be. Besides, I knew that I was going into some pretty lightly-developed lands when signs were starting to indicate that I was entering Native American Reservations, which seemed to get the raw end of the deal when it came to where they were displaced during the Manifest Destiny era when white settlers expanded and looked for fortunes out west from the colonies of the eastern US in the 19th century.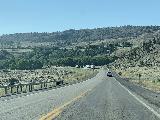 At around 8:45am, I filled up gas in a town called Dubois, which I recognized from one of the survivalists who made his 21 days on Naked and Afraid. He hailed from these parts, and I could see why it was fairly easy to socially distance since the town was quite small although it was significant enough for me to want to fill up gas here at a more reasonable price than what they were selling it for at the Jackson Hole.
I then continued further along the Wind River Valley as the drive continued through long flat and desolate stretches of dry lands reminiscent of the boundaries of subalpine terrain and deserts in the rainshadow of mountains like in the Eastern Sierras of California.
So this part of the drive was pretty straightforward with speed limits consistently at 70mph. Eventually, I'd reach the town of Lander, where I then took the Sinks Canyon Road leading towards the Popo Agie Falls. After passing through the state park managed part of Sinks Canyon, I'd eventually reach an area with lots of parked cars at the Bruce's Bridge Parking Lot at 10:15am.
This turned out to be the trailhead for the Popo Agie Falls. That said, it took some time for me to get prepared because I had the runs and I actually decided to use our bucket for this purpose rather than risk the outhouses here where I wasn't sure if a COVID carrier might be spreading germs there.
So it wasn't until about 10:35am when I started hiking. And indeed, it was quite hot and dusty already at this time of the morning. The trail itself began across the Sinks Canyon Road opposite the Bruce's Bridge Lot and then went onto a trail that followed along the Middle Popo Agie River as the trail rose above the river itself.
After getting passed by a couple of fast backpackers who seemed genuinely friendly and asked how far I was going (I told him I was just going to the falls but they looked like they were overnighting somewhere further into the wilderness), I was pretty much alone except for when people were coming down in the opposite direction.
Although I could constantly hear the rush of the Middle Fork Popo Agie River, this trail was definitely hot and dry. There were even dessicating winds gusting against me during the hike, which further made me run through my supply of water that I brought with me on this hike.
Anyways, the sun was beating down pretty relentlessly on this hike as shade was pretty limited the higher up the canyon I went. However, that also yielded some nice photo ops.
After getting up to a signed trail junction at 11:30am where the Falls Trail pointed to my left, I then continued climbing up a thinner and rockier trail, which ultimately led me up to a knob or outcrop area with my first glimpses of the Popo Agie Falls at 11:40am.
From this vantage point, I could see that there was an uppermost tier that was partially seen due to the presence of trees covering its bottom. However, there were many other segments of the Popo Agie Falls, which kind of reminded me of the disjoint nature of the Jourama Falls in Australia.
So it was kind of hard to take it all in as this waterfall was way bigger than I had thought. At first, I thought this might be the end of the trail, but then I noticed that people were coming back from further along other use trails that continued to get closer to some of the tiers of the Popo Agie Falls.
Thus, I pursued this to see where it went. That was when I then got to a bench with a direct view of one of the waterfalls belonging to the Popo Agie Falls. This benched lookout was just beyond a narrowing trail along what seemed like a bridge over some marshy tall grassy area.
Beyond this bench, the trail then pretty much started to degenerate into a rock scramble with lots of use trails. At 12:05pm, I first got to what seemed like an inviting swimming hole with some smaller branch of the overflow of Popo Agie Falls. There was one family that was here enjoying the scene though they had that look like this was their spot and kind of carried about suspiciously of me as I was busy just checking out the scene.
One guy was noticeably coughing out loud so I tried to keep my distance from him.
As I looked further upstream, I noticed that there was yet another spot where people in swimming attire were scrambling to so I continued on. And eventually by about 12:15pm, I saw another pool with a taller but just-as-thin waterfall. That said, there were kids sliding next to that waterfall on a wet sloping slab of rock and that seemed like a very thrilling and fun water slide that seemed more doable than the Papaseea Sliding Rocks in Samoa.
So I took some time to check out this scene but this was the end of the line for me. I saw that there were still other people scrambling further upstream towards what seemed like another swimming hole but I didn't see anyone sliding up there. And it seemed more secluded so I'm sure the adults up there probably didn't want someone like me snooping around and checking out the scene.
Thus, I headed back on the mostly downhill trail. At this time, I noticed quite a few more people coming up at this time of the day, which was pretty much the hottest part of the day. And I was asked on more than one occasion how much further the hike was as this 1.5-mile each-way hike was definitely not easy despite the modest distance (due to the dry and hot conditions).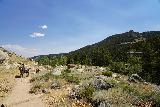 By about 12:30pm, I had made it back to the signed spur for the Popo Agie Falls, and the rest of the hike was pretty much downhill so I made it back by about 1:05pm. There was a family who was returning from their 5-day backpack in the wilderness, and they said they gone as far as Big Sandy. Not being from this area, I couldn't appreciate how far that was, but I knew it was far if they were gone for five days.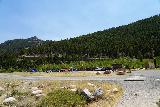 They asked me to take a picture for them (again, a COVID-19 risk but I obliged anyways), and then I promptly got back to the car where I left cherries baking in the car seat. So I had to eat them pretty hot before they rotted. I also munched on chips and slim-jim-like jerkies as I was finally headed out of the parking lot by about 1:15pm.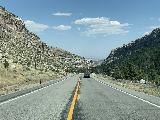 Next, the drive out of Sinks Canyon pretty much backtracked until I got to some surface street leading east across the southern end of Landers. It seemed like a fairly large town (I recalled it said the population was just under 8000) and it made me wonder what industry supported this town. Because once I left Landers and headed south on the WY28, the road was pretty much desolate and almost desert-like with lots of huge ranches or grazing prairies flanking both sides of the highway.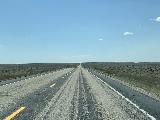 So I was making pretty good time as I was screaming along the road and its 70mph speed limit, and then I'd eventually reach US191 heading north. But just as I was making pretty good momentum, I encountered what appeared to be a major accident site at 2:40pm. Traffic was at a standstill here, and I wondered if I was in for a long delay.
There were already cars willing to drive onto an unpaved road that might go around this accident site, but since I wasn't familiar with this area and the last time I did this, I messed up my low clearance Acura Legend stick-shift, I just decided to stay put.
Finally by about 2:55pm, the accident seemed to be mostly cleared up, but I knew this was a pretty bad accident when there was a helicopter taking the victim away. And so after a bit of lookie-loo traffic to see how messed up the car was, traffic was pretty much sluggish for a large chunk of this drive as there were pricks who clogged the passing lanes instead of keeping right except to pass.
I eventually filled up gas near some town called Pinedale, and then I headed north on the US189 as the road seemed to return to the mountains. Eventually, I'd reach the Granite Road turnoff, which was just past a bridge over the Hoback River near where Granite Creek fed it, and then I was on an unpaved road.
This road was already pretty rocky and bumpy though it seemed quite doable as I saw more than my share of passenger cars doing it. However, the further along this road I went, the more I noticed pretty deep potholes as well as other rocks sticking up out of the graded surface. So indeed, even though I had a high clearance Jeep Cherokee, I was a little nervous about popping the tires. And I'm sure the 2wd vehicles had to mind their clearance even more.
While I was concentrating on trying not to mess up the car, I couldn't help but notice how scenic this road was due to the imposing mountains acting as a backdrop. There were quite a few primitive campsites here, and I could totally see their appeal here. Anyways, there were lots of signed spur trails, but I basically kept following signs for "Swimming Pool" or "Campground" until I eventually got to the Granite Creek Campground turnoff. But I just kept going as the GPS had me keep going.
Finally at about 5:10pm, I made it to the unsigned parking area for the Granite Falls. I could already see the waterfall from this rough parking area, and I could also see some interesting rock formation above the scene.
There were lots of younger adults as well as kids here as the thought playing in the water was really appealing here. Anyways, I went down one of several use-trails cutting through the vegetation and eventually leading to the banks of the Granite Creek at multiple makeshift viewing spots.
I started with the most downstream view of the impressive waterfall, then I worked my way up towards closer viewpoints until I got right to the profile of the wide Granite Falls. Unfortunately, the most frontal view of the falls required wading in the creek, and with the current being strong, I didn't feel like wetting my pants and risk falling over with the current to dunk the phone and camera in water again.
So I was content with taking my shots from the front side of Granite Creek, but I did see a handful of people wade towards what appeared to be a hot spring as there was a small thermal waterfall feeding what seemed to be a side natural pool alongside Granite Creek. Indeed, it seemed like a special spot but this trio or foursome of folks already claimed that spot and chilled in it.
By about 6pm, I had my fill of Granite Falls and made it back to the car. I then had to go back through the 9 miles of rough road though it seemed to be a bit less bumper on the way back than on the way in. There were lots of cars going in the other direction so I'd imagine they figured out a way to camp here as it was getting quite late in the day to be doing Granite Falls as a day trip.
Once I got back to the main part of the road, I'd eventually take the 189 north to the Hoback Junction where I then made it down the home stretch to the Jackson Hole.
There were lots of road construction going on so progress was a little on the slow side. But finally at 7:05pm, I returned to the Jackson Hole Lodge where there was surprisingly some open parking spots.
At least now that I was reunited with Julie and Tahia, their worries about me being out so late in the afternoon were over, and I went ahead and helped myself to their leftovers as they got to enjoy a relaxing day in the Jackson Hole.
And with that, we wound down the day though I was having difficulty copying videos from my iPhone to the hard-drive, and I suspected that this problem was a result of Julie upgrading my phone to the latest iOS, which might have some planned obsolesence in it to prevent reliably copying photos and videos to my computer as I saw this same problem with her phone. I never had this problem before, but I knew that because Julie wanted that Find My Phone feature turned on (which was useless to me because it doesn't work outside of the network, which is when we're usually separated), I now had this annoying inability to copy large images or videos to the computer.
So that puts even more pressure on me to capture videos on my Sony but it can't go in the water again. Besides, when we get home, I'm looking to send this camera body to the repair shop to see if we can exercise our warranty that we purchased along with the camera as Julie correctly thought we tend to abuse our DSLR cameras.
Regardless, that was the end of this adventurous day, and it didn't take long before I found myself crashing and sleeping in. I mentally already determined that I wasn't going to get up before sunrise tomorrow for another photo run at the Grand Tetons. However, there was still one more waterfall in Wyoming to pursue, and that was for Menace Falls, which was in the Forest Service literature, but it seemed remote enough that hardly anyone else goes out of their way to do this hike…
Day 19 (August 8, 2020 – Salt Lake City, Utah): "Uncertainty of Outcome"
It was 5am when I awoke without an alarm. I thought I was sleeping in, but it was merely an hour later than my alarmed wake-up from yesterday's 4am start. So I spent some time getting caught up on yesterday's happenings as per the usual morning routine on this trip, and then we all took our time having a family breakfast of leftovers before loading up the car and finally leaving the Jackson Hole Lodge at 8:50am.
I ultimately decided not to bother with another sunrise stint trying to photograph the Teton Range at Mormon Row or any of the other lookouts. I think yesterday's experience was good enough for me. Besides, I didn't find it all that special though I was curious about trying the same thing at the TA Moulton Barn instead of the more popular one that I photographed yesterday morning.
Anyways, we followed the road to the Hoback Junction, and then we headed south towards the small town of Daniel. Just south of there, we then took the Cottonwood-Rye Road which started off paved and then became a surprisingly smooth unpaved road. With the pace that we were going (roughly 45mph on the unpaved road), I initially thought that perhaps this detour to visit Menace Falls might be a breeze.
After the nearly 14 miles of driving on the Cottonwood-Rye Road, we then drove onto the Cottonwood Road for nearly another 10 miles. This road was also fairly smooth going as we were passing by more open spaces before entering the Bridger-Teton Forest.
However, when we got to the forest service road, the last five miles to the Cottonwood Springs Trailhead was quite a bit rougher and slow going as we encountered numerous deep potholes, ruts, and rocks sticking up. I was worried about inducing a flat tire on our rental Jeep Cherokee considering that we were also carrying a lot of cargo.
So even though we made it to the last five miles of the road some time before 11am, it still took us until around 11:30am when we finally made it to the end of the South Cottonwood Road. Along the way, the road still seemed to get pretty good use because there were lots of campers along the way. I guess people in the know would come out here to get away and have a camp out.
Anyways, Julie and Tahia opted not to do the Menace Falls hike. So I was going to go it alone again. There was a family that was also here, but I wasn't sure if they were going to Menace Falls, too.
In any case, it wasn't until around 11:50am when I finally got started after slapping on sunscreen and some bug repellent because there were definitely mosquitoes checking me out. And with that, I immediately crossed a shallow stream, and then moments later, I had a deeper stream crossing.
Ordinarily with my Vasque boots, I wouldn't hesitate to just go right across knowing that they're totally waterproof. However, with the Salomon Quest 4D boots, I also proved that these boots were not waterproof. So I hesitated and then just went through hoping that my water exposure wasn't long enough to make this a miserable hike with wet feet.
After getting across the stream, I heard the family on a separate trail veering further to the right. However, I stayed left and followed the former 4wd road. Without signs here, I looked a lot at the GaiaGPS app on my phone with the USFS 2016 map (a premium layer). So that helped keep me going in the right direction to find Menace Falls.
The literature that I printed out that made even a mention about this relatively unknown falls was no longer helpful at this point. So I kept going on the faith that I was on the correct trail. With such an uncertainty of outcome, I also realized that there was a distinct possibility that we could have driven all the way out this way only to be unsuccessful. I guess that's what the definition of an adventure is – where you don't know whether you'll be successful or not.
Anyways, I pretty much followed the fairly obvious former 4wd track which were flanked with many wildflowers of all sorts of varieties as well as butterflies attracted to them. In the distance, I saw some interesting-looking mountains against the bright blue skies. However, when I looked behind me, I couldn't help but notice that there were some budding thunderstorms so I knew that my time on this trail was limited. Besides, I didn't want to keep Julie and Tahia waiting for too long, and I didn't want us to be checking in too late to our condo in Salt Lake City today.
I pretty much followed the 4wd track until it led me to a second stream crossing at 12:10pm. Something didn't seem right to me that I had to cross the creek again, but the 4wd track did seem to suggest that I should keep going. So that meant getting the Salomon boots wet again as the stream was deep enough to at least go over the bridge of the foot.
Once I was on the other side, I followed what appeared to be one of the faint trails leading uphill. However, by about 12:20pm, I appeared to have lost the trail. I was still doubtful that I was on the correct side of the stream anyways so I eventually gave up on pursuing this trail and backtracked to that stream crossing.
Upon getting back to the original side at 12:30pm, I then looked around for any faint clues about the continuation of the main trail to the Menace Falls. After a little uncertain scrambling following some faint use-trails that were more overgrown and muddy, I eventually caught up with a more obvious-looking trail. I knew once I saw it that this must have been the continuation of the Menace Falls Trail that I had initially missed.
I'm sure I'd be able to find my mistake on my way back to the trailhead, but for now, I had to keep going to make sure Julie and Tahia weren't waiting too long for me. And so the trail pretty much went gradually uphill through a combination of more forested areas with a few clearings.
The trail continued climbing until it eventually reached a stream crossing at a small cascade at 12:55pm. This crossing also threatened to wet the Salomon boots above the bridge of the foot so I really had to pick my slippery steps carefully. But once I got past this stream crossing, the trail continued its ascent past a smaller easily-hopped stream before ultimately reaching a scree field.
I didn't think anything of it when I started to go on the scree, but it turned out that the remainder of this hike would be on this precarious scree section where makeshift ledges were narrow and made me keenly aware of the dropoffs besides it. Plus, all the scree were loose so the footing wasn't exactly the most secure.
The trail continued to keep climbing as I kept seeing small cascades on the stream further down the scree ravine. If Menace Falls was on this stream, this was a very disappointing hike, I thought to myself.
Anyways, the trail continued to relentlessly ascend as it got steeper the further along the scree ledge that I went. There was even a steep serious of switchbacks before finally climbing up to an apex and then turning a corner into a separate drainage. Not long after entering that other drainage, I started to see cliffs, and then shortly after that, I finally saw the tall Menace Falls at 1:30pm.
While this waterfall wasn't the most voluminous compared to the other waterfalls that we saw on this trip, it was certainly a worthwhile reward for all the trouble. So I had another fist-pumping moment at finally seeing the Menace Falls, and I took what photos and videos that I could as it was clear there was a budding thunderstorm right overhead.
I had briefly contemplated continuing further along the trail to see where it went, but the menacingly dark clouds overhead with the amount of exposure I was subject to here were not comforting. So I did what I could to get my fill of the view of Menace Falls, but there was nothing more I could do at the moment to experience it in a more intimate manner (like going to its brink or finding a way to scramble steeply down to its base if it's even possible).
And with that, I quickly headed back down the precarious screen section. The descent was even trickier than the ascent because the footing wasn't secure. But with the sun getting blocked out by the thunderhead overhead, I kept pushing as I didn't want to be hit by lightning with all the exposure here.
Eventually by about 1:50pm, I made it back to the start of the scree field where I then had to tie my shoelaces because the Salomon started to get undone again (just like the issues I had when I was in Norway last year). I also started to hear the crack of thunder which furthered my sense of urgency as the thunder echoed through the wilderness.
I then trail ran my way down the trail, where I eventually got back to the stream crossing at a small cascade at 2pm. The thunder continued as the skies behind me were continuing to get darker. So I trail ran through all the clearings hoping that I wouldn't get an unlucky lightning strike in those sections. Along the way, the shoelaces that I just did came loose again, but I just kept going without tying them because these shoes really annoyed me again.
As I returned back to the familiar 4wd track, I noticed that there was the remnants of some kind of sign at the far end of a clearing that deviated from the actual 4wd track that led me to the erroneous stream crossing that I shouldn't have taken in the first place. No wonder why I had missed the correct turnoff on the trail!
Anyways, I continued with the trail running on the way out of the clearings, and as I was totally winded, I then kept jogging my way towards the first stream crossing. By this point, I didn't care if the boots got wet. I just wanted to get back across and get back to the awaiting Julie and Tahia in the car.
Finally at about 2:30pm, I made it back to the car. With dark clouds overhead but not dumping rain yet, we heard a few more cracks of thunder. Meanwhile, I put the boots on the dash to dry, same with my socks, and then I hastily put my stuff back in the car for the long drive to Salt Lake City. At least I didn't notice any of the swarming mosquitoes that I saw this morning at this time of the day.
And with that, we embarked on the bumpy drive out of the Bridger-Teton Wilderness, and then we'd eventually make it back to the Cottonwood Road, which was considerably smoother. Then, we eventually made it back to the Cottonwood-Rye Road where we were pretty much gunning it at over 45mph while seeing the dark thunderclouds up ahead continuing to dominate the sky.
This unpaved drive was so extensive that Julie thought this waterfall was in Timbuktu. In her mind, no one comes here except for locals in the know, and it might have stretched the lengths that outsiders would go to see a waterfall. That said, she did meet the mother of the family that was here earier in the day, and they offered some wild strawberries that they picked. Julie told me that she seemed to really know this place so they must be local, and that pretty much only locals come out here.
Eventually, we'd make it back to the main road (US189) heading south towards the I-80. The drive was long and it seemed like we were leaving the thunderclouds as they seemed to break up the further south we were going. The drive was smooth and there were only a few instances of needing to pass by slower traffic, but with the 70mph speed limit, it was actually a pleasant drive.
After a couple hours driving towards the I-80 on these high-speed 2-lane highways, we then got onto the Interstate for the last hour of the drive. Eventually, we got to our condo unit in Northern Salt Lake City at around 6:55pm. There, we got the cleaning agents and sanitized the spacious condo.
Then, we unloaded the car and brought stuff into the unit, which pretty much took us to 7:30pm. From that point on, Julie went to the local Whole Foods to buy groceries to make a simple dinner since it was late. Meanwhile, Tahia was busy playing Roblox while I was getting caught up on today's happenings since it was pretty light on the sightseeing.
I also showered. So unlike other days on this trip, I was actually caught up before going to bed. So that would allow me to sleep in a little for tomorrow morning though we'd still want to not get too late of a start to pursue Donut Falls and Adams Falls tomorrow…
Day 20 (August 9, 2020 – Salt Lake City, Utah): "Into The Donut Hole"
It was 7am when I awoke. I allowed myself to sleep in, and by the time I was up for good, I could clearly see daylight outside.
We took our time to get breakfast ready and eat it as a family. As we were doing this, I was getting nervous about the parking situation for the Donut Falls hike since it was still Sunday in Summer. I had a feeling that we were probably likely going to have to walk the road to get to Donut Falls instead of trying to drive to the actual trailhead itself to knock off at least 2-3 miles round trip off our total hike.
I guess with our condo being as homey as it was, it was easy to just laze away the day here. But we opted to spend the extra night in Salt Lake City for a reason, and so we had to do the hike to Donut Falls in the morning (hopefully with parking available).
It wasn't until about 8:55am when we finally left for Donut Falls. Traffic was light when we got onto the highways from the I-80 to the I-215, but then when we got onto the Big Cottonwood Canyon Road, we pretty much followed a long line of cars.
From looking at the quantity of cars already that have already filled up the pullouts and trailheads on either side of the road, I was quite nervous about the parking situation for the popular Donut Falls. The last time we were here, it was Memorial Day weekend in 2017. And we had no such problems with parking but we did have to contend with snow. The road was also closed so the only way in was to walk instead of driving all the way to the trailhead.
By about 9:35am, we finally made it back to the Donut Falls Trailhead by the Cardiff Fork turnoff and gate. Well, it turned out that there were a handful of parking spaces available out here, but the gate was also open and I saw some cars drive in.
Rather than trying to do that though, we just decided to gear up and do the walk from the Cardiff Fork Turnoff. It wasn't until about 9:50am when we finally got started with the hike and the sun was intense.
Shortly after descending the road towards a bridge and then ascending beyond the bridge, we noticed that there was a Donut Falls Trail sign that led away from the road. It was 1.5 miles to get to the falls from this point.
I didn't recall seeing this trail the last time we did this hike so I wondered if this was a new thing. Anyways, since we hadn't done this before, we mind as well give this a try. And the first thing we noticed while on the trail was that there was a significant amount of shade. So in that sense, it was better than walking on the road.
There were also a handful of people on the trail so we did our usual procedure of masking up around people and then taking them off or putting them by the chin when people weren't around so we could breathe easier.
Anyways, it wasn't long before we went past a couple of minor switchbacks and then descending upon the actual trailhead for the Donut Falls. There were indeed lots of cars parked here, and it appeared that quite a few of them made up their own parking spots. The trail that we took actually went around the private property that the Cardiff Fork Road passed through, and perhaps that was the main reason why the trail was made (to help the residents here keep the peace).
From the actual trailhead, there were a lot more people going in either direction on the trail. The trail itself was going uphill, which Julie wasn't too thrilled about. But after the initial uphill, the trail meandered a bit in a seemingly longer-than-recalled route than the last time we did this hike.
But by 10:30am, we then encountered the familiar bridge over the stream from which the Donut Falls came from. And from there, we followed the familiar wide trail passing by numerous people (most of whom weren't masked), and then we went left on a trail junction before eventually descending on a short steep scramble to the creek itself.
Once on the creek, we were glad we wore Keens so we weren't as hesitant with the water than we otherwise would have been had we hiked in boots or trail runners. Others weren't as well-prepared and those were the people who struggled the most with finding the path to stay dry while still experiencing the Donut Falls.
By about 10:50am, we finally made it to the Donut Falls and the many people who were already here. Unlike the last time we were here, there was no snow and so there were numerous people scrambling up the rocks immediately below the Donut Falls and went into the little alcove there as well as even scrambling higher to get a more top down look at the donut hole itself.
The whole reason why we came back to this waterfall three years later was so I could actually get up to the donut hole, which I didn't get a chance to do last time due to the snow and ice. So this time, I was pretty determined to get up there.
So after taking our obligatory shots of the cascading waterfall from the stream itself, I then finally started to make the move up to get into the donut hole. Again, since I was wearing Keens, I didn't care too much about getting my feet wet while others either ruined their shoes to get wet or attempted some wobbly maneuvering to try to stay dry (albeit in a futile effort).
Eventually, I carefully made my way up the steep rocky climb to get towards a good view of the actual natural bridge where the Cardiff Fork went right into the hole before emerging below the bridge itself. So I took a good deal of time trying to take long exposure shots without making it too shaky without a tripod.
And as I was doing this, there was a family that scrambled into the dark alcove that the Donut Falls spilled into. It looked misty from where I was standing, but when I asked one of the ladies that went into the alcove, she said that it wasn't misty at all towards the far end of the "cave". So when they were done checking out the dark confines of the alcove, I then went in there myself.
Once in there, I took a bunch of shots as well as a video all the while trying to block out the pain in my feet from the constant immersion in cold water. It was definitely an exercise in willpower, but by the time I was pretty much done having my fill of this special part of the Donut Falls, I was suddenly surrounded by numerous people as they made their way up here.
So after getting out of the icy cold water and letting some feeling get back into my feet, I then did a little more photos and videos from outside the "cave" before scrambling my way back down as Julie and Tahia beckoned me to come back down. So by about 11:45am, I rejoined Julie and Tahia so we could take some people shots before finally leaving Donut Falls.
And as we hiked back towards the official trailhead again, there were numerous families coming towards the waterfall – most of whom were not masked. There were even large Latino families making their way to the falls without masks, and my thoughts immediately turned towards the Central Valley workers who were likely working in COVID-unsafe conditions but still needed to work to sustain income.
Anyways, after nearly missing the bridge on the way back, we then went back to the busy official trailhead while passing by even more families of all sorts of different ethnicities (who knew that Salt Lake City was this diverse?) making their way to the falls. So by about 12:15pm, we made it back to the closer trailhead parking area, where it definitely looked like people just made up parallel parking spots to save themselves the extra 2-3 miles or so of walking just to get started.
From there, Julie was adamant about us walking back along the road just like we did with this hike 3 years ago. That way, we wouldn't encounter other hikers so it would be easier to social distance ourselves, and the road itself was more direct and smooth without undulations from switchbacks and rocks on the path.
So by about 12:40pm, we made it back to the parking area by Big Cottonwood Canyon Road, where we then immediately changed out of our stinky Keens to let them dry on the dash of the car.
From there, we then drove back to our homey condo in Salt Lake City with a stop at the Whole Foods nearby so we could have a home-cooked pizza lunch. After all, the condo was on the way to the Adams Falls near Layton, Utah, which was where I wanted to go next since I wanted to check out the Little Adams Falls there.
So by about 1:10pm, we stopped by the nearby Whole Foods, and then by 1:40pm, we were back in the condo for a little rest, the pizza lunch, and to avoid the height of the hot Summer day. I decided right then and there that perhaps I should wait until the late afternoon to hike to the Little Adams Falls to avoid the worst of the parking situation there as well as to avoid some of the worst of the heat as well.
But Julie and Tahia weren't into doing another hike in the heat so it suddenly became just me doing another solo excursion to a waterfall. That was kind of a bummer because the Little Adams Falls was meant for Tahia to play in the water, but I think both Julie and Tahia weren't into any more hiking and just wanted to enjoy the condo some more.
And so at 3:25pm, I started heading out. As soon as I got into the car, it was like an oven. Even though the car said it was 92F, I swore the temperatures were either in the high 90s or in the triple digits today. Thus, in the back of my mind I thought about the heat that I would have to do for the Adams Falls hike, which I knew was not an easy hike based on the last time I did this hike 3 years ago on Memorial Day Weekend.
Nevertheless, I did think that the afternoon would cause longer shadows and perhaps a little relief whenever I would be in the shade. And so with that idea in mind, I pushed forward with the drive up the I-15 north to eventually the US89 north in the direction of Layton, Utah.
By about 3:55pm, I eventually made it to the Adams Falls Trailhead, where I surprising managed to find parking in the shade. I recalled the last time I was here, the parking situation was such that cars were parked all along the street almost all the way out to the turnoff from the US89. However, in this case, most of the streets in the area seemed to undergo some kind of extensive repaving.
So after taking about 10 minutes to gear up, make sure I carried both my stainless steel bottles full of water, reapplied sunscreen, put on the smelly Keens, and don the hat, I headed up the familiar trail. Of course, I knew that the beginning was going to be brutal since it ascended a handful of switchbacks on a sandy surface.
And underneath this near century-mark heat, I knew it wasn't going to be a fun start.
And thus, I proceeded with the hike while there were already some people headed down as I was headed up. Social distancing on these switchbacks wasn't easy since the trail was a little narrow, but I figured with the high heat of the day, the coronavirus would be less likely to survive external transmission. I could have worn my mask on this uphill, but that would have been a recipe for soaking it in sweat (let alone both my face and my chin as well as neck).
At about 4:15pm, I eventually made it up to a rest bench past the initial switchbacks. At first, I was about to keep ascending up the main trail to the signed junction between the Adams Falls Trail and the Bonneville Shore Trail. However, I then double-checked my trip research notes (mostly from the Utah Family blog that introduced me to the Little Adams Falls hike), and that was when I realized that there were a couple of spur trails deviating from the main trail near this bench.
So I went ahead and took the upper path leading away from the bench and sideways towards what I was hoping would be the Little Adams Falls. After a quick jaunt under the unrelenting sun, I eventually reached a section where the trail descended towards a steep ravine where I had heard voices coming from there (so I knew I was going the right way).
Funny how almost all the foot traffic was headed for the main Adams Falls, but far fewer people bother to go to the Little Adams Falls. And sure enough by about 4:30pm, I made it into the Little Adams Falls where there was one family already chilling out down there enjoying the seclusion and the refreshing coolness of the water to offset the Summer heat.
When I went down to join them, I frantically took pictures and videos to capture the scene. I even let my Keens get wet once again because the water felt real good on my feet. Not long thereafter, another family also showed up to the Little Adams Falls. So apparently this place wasn't as secretive as I had thought.
By about 4:45pm, I had my fill of the Little Adams Falls, and now I decided to continue up to the main Adams Falls. I had contemplated taking a shortcut trail to get up to the main trail from the Little Adams Falls (according to the Garmin Fenix map on my watch), but not knowing the trails here very well, I ultimately backtracked to the bench and then went up a couple more switchbacks before reaching the Bonneville Shore Trail junction at 5pm.
From there, most of the initial climbing was over and I pretty much went into the familiar ravine before being surrounded by welcoming bush to provide some much needed shade from the unrelenting afternoon sun. There were still people coming back from Adams Falls at the time and no one was wearing masks so I pretty much stalled and waited for people to pass before continuing on.
The trail actually seemed considerably easier than the last time I was here mostly because the creek was lower so the water wasn't butting up against the eroding creek banks upon which the trail clung onto. However, I did notice there were bridges built where the erosion was the most severe, and I never recalled seeing such infrastructure on this trail before.
The Adams Falls hike continued to generally go uphill, and there were several spots where the trail branched but then they ultimately re-merged further along. And so I pushed forward knowing that I couldn't be out too late for I didn't want to worry Julie and Tahia while I was still out-and-about.
By about 5:30pm, I caught up to a family just as we were approaching the familiar tilted bridge. Since I wore Keens, I just crossed the creek without using the bridge and went past them in this manner. Without masks, I didn't want to be following them for a prolonged period of time. Then, the trail really started to degenerate into more of a rocky scramble and route-find, which I also remembered quite well from doing this hike three years ago.
Five minutes later, I reached an intermediate cascade spilling underneath a big boulder. By this time, the trail was pretty much a straight scramble on some steep terrain (so I knew it wouldn't be easy heading back in the other direction).
I pretty much continued with the hike as it went from steep rocky climbs to moments of head-scratching though I already knew the general direction I should be going based on my experience with this hike. I was making good progress as I went though I did pause for water breaks and taking a few photos so the people that I had passed weren't far behind me.
Finally at about 5:50pm, I made it back to the Adams Falls. Unlike the last time I was here, the last stream crossing wasn't difficult at all because it wasn't running nearly as high as it did before. Indeed, despite this hike being a little on the rough side towards the end, it felt like it was significantly easier and didn't take nearly as much time as that Memorial Day Weekend visit in May 2017.
Anyways, as I witnessed the Adams Falls, it was getting a rainbow across its drop, but the shadows were also starting to creep up from the bottom already. So I quickly documented the experience just as people were starting to come in and join the group of people that were already here.
Thus, there was a bit of a festive atmosphere as quite a few of the ladies that arrived here went right to the waterfall to get wet under Adams Falls to cool off. So I spent some time just soaking in the experience thinking that my experience from before was more atypical, and that the experience of this time around was more of what should be the norm.
By about 6pm, I had my fill of this waterfall and started to head back. By this time, shadows were creeping upon the middle of the falls which was where the rainbow had been. And so I went ahead and got started since I didn't want Julie and Tahia to be waiting for me for too long.
With most of the hike being downhill, I anticipated that the way back shouldn't take nearly as long as it did on the way there.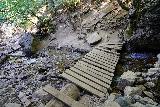 And indeed, I was going pretty fast as I had returned to the tilted bridge by 6:15pm. Surprisingly, there were still quite a few people making their way to the falls including one pair of young ladies that I had passed long ago who seemed to be struggling with this hike. I gave them words of encouragement as they were quite close to the goal.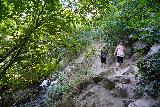 I also encountered what looked like a small rattlesnake that slithered across the trail and went into the neighboring foliage as I was approaching. I had its rattle going while it slithered away as it clearly saw me as a threat. And with it being deep in the foliage, I wasn't going to get a good photo of it so I continued on.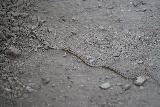 And so the trail running continued as I would cross paths with more people on their way up while also passing a couple more parties of people. In one instance, I passed a couple with trekking poles that I swore I had seen on the way up so they must have been going really slow or I was going really fast. But shortly after I had passed them, I suddenly saw another small rattlesnake going across the trail where I nearly stepped on it before I leaped over it instinctively.
But this rattlesnake seemed somewhat oblivious to my approach and leap so I managed to look back at it and get a decent photo of it slithering across the trail before it disappeared into the foliage. I thought to myself that with my trail running, I really should be very careful about where I placed my feet, especially since it seemed like these snakes like to come out at this time in the afternoon as the temperatures were starting to cool down quite a bit.
By about 6:40pm, I encountered a spur trail deviating to my left just as the main trail was opening up again without nearly as much foliage flanking the path. I decided to give the scrambling path on the left a try since the Garmin Fenix watch made it seem like there was a legitimate trail connecting the main trail with the Lower Adams Falls Trail.
After all, I was curious about whether I really needed to backtrack from the Lower Adams Falls back to the rest bench on the initial climb. Perhaps I could have taken this path to save some hiking on that initial climb. So I really wanted to satisfy my curiosity to see if such a path existed.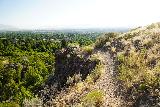 And so I went down the path where I then found myself scrambling down a steep path that didn't seem like it was going where I needed it to go to get to the Lower Adams Falls. So I then had to climb back up until I then saw a more flatter but even more faint path that ultimately skirted a narrow ledge on a steep slope before finally reaching the familiar path that I had taken earlier.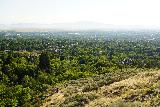 Indeed, in hindsight, if I was to do this hike from the Lower Adams Falls to the main Adams Falls, it would have been quite a bit easier to go up instead of down. That said, it still wouldn't have been as easy to find the correct trail to hook up with the main Adams Falls Trail due to all the false trails leading astray.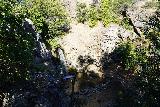 Now that I know it's possible, I know it can be done, but hindsight's always 20/20 when you're not in the know so it was still safer to backtrack and take the extra few steps of hiking to be on the safe side.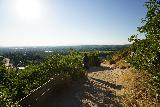 Anyways, I was back at the Lower Adams Falls at 6:50pm, where this falls was also half in shadow. So I didn't scramble all the way to the bottom to re-experience it. And so I then headed all the way back to the trailhead at 7pm just as I was pretty much trail running my way back the switchbacks.
By this time, I was a hot and sweaty mess, and the late afternoon sun was still burning quite hot even though its strength was waning. I was pretty much covered in dust from all the hiking and sandy surfaces, and I was pretty much a hot sweaty mess while the Keens were still wet and even more smelly.
By about 7:05pm, I started driving off. With all the road construction, I couldn't try to make a left onto the US89 so I actually had to continue driving north to the next light, and then make a U-turn from there. Finally, I pretty much followed the Garmin Nuvi back to the condo, which took me on a route that was different than the one I took to get to the Adams Falls Trailhead.
This time, it took me on a US89 South exit, when then got me onto some surface streets approaching the Utah State Capitol Building before despositing me on the familiar South Temple Street just east of the Mormon Temple we had visited the last time we were here. I then passed by a random cathedral that we had also visited the last time before I eventually returned to the condo at 7:40pm.
I guess this joy ride made me aware that this accommodation was actually not far from the Salt Lake City center though it would still require driving as it was a pretty solid couple of miles or so walk to the main city center in each direction.
Anyways, I had come back just in time for a shrimp scampi dinner that both Julie and Tahia were working on. And so we had ourselves another enjoyable self-catered family dinner before winding down the day where I processed the photos and videos taken on this day (and still having frustrations with the stupid iPhone movies not being copied over to the laptop via USB ever since the iOS upgrade). Meanwhile, Julie and Tahia were watching America's Got Talent on TV, which I guess they were into since we hadn't been watching any TV throughout this trip (as we shouldn't be since precious vacation time shouldn't be wasted on the TV).
And by around 11:30pm, I finally went to sleep. With two more days of waterfalling, the trip was definitely coming to a close though we were going to pursue a different method of accessing Stewart Falls first thing tomorrow and then scramble up to the base of Bridal Veil Falls in Provo Canyon on the way to Las Vegas. I had even entertained the thought of visiting Battle Creek Falls with better afternoon lighting, but I doubt we'd have the time to do that given how far Las Vegas was from Salt Lake City.
Indeed, this trip was winding down and I'm sure the daily life during the COVID-19 pandemic will sure test our mental and physical health once again. It sure felt like a different world on this road trip where people pretended like COVID-19 wasn't an issue on this trip, and I'm sure we might have had some incidental exposure at some point during the trip. But no symptoms so far, plus we were going to self-quarantine at home for 2 weeks anyways just so we don't get anyone else sick if we did indeed asymptomatically carry the coronavirus…
Day 21 (August 10, 2020 – Las Vegas, Nevada): "Unpleasant Surprises"
It was about 5:20am when I awoke without an alarm. Thinking that there really wasn't a real sense of urgency since I figured we might have a quick visit to Stewart Falls with the aid of a chair lift from the Sundance Resort, I took my time with blogging duties while also having self-made kefir breakfast with fruits.
Julie didn't get up until around 7am and after having a full breakfast of leftovers and eggs as well as Tahia's waffles, it wasn't until about 8:40am when we finally loaded up the car and left our homey Salt Lake City condo that we really enjoyed. Julie said that you can always tell if a woman furnished a place with all the attention to detail and finishing touches to really make a place feel like home.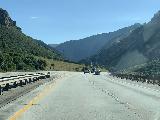 Anyways, we then promptly drove south on the I-15 as we made our way towards Provo Canyon and the Mt Timpanogos area. By around 9:40am, we arrived at the Sundance Resort, but the chair lift didn't look like it was running. When I pulled up to the lady at the kiosk (who wasn't wearing a mask despite a sign saying everyone past the entry gate had to wear a mask), she said that the chair lifts weren't starting to run until 11am.
That was a bit too late for us. Plus, she said that the only way to hike to Stewart Falls without doing the chair lift was to go up to Aspen Grove (though I wondered if she really meant Timpanogos Trailhead). So we pulled out from the resort and drove up to the familiar Timpanogos Trailhead at 9:50am. They took our Interagency Pass here so we didn't have to pay the vehicle fee.
I also noticed numerous private property signs with "no access to Stewart Falls" signs everywhere. So despite the trail markings on my Garmin Fenix map as well as the GaiaGPS map, that kind of suggested to me that there really isn't public access to Stewart Falls unless you park and hike from the Timpanogos Trailhead.
All this was kind of a bummer because I wanted to see what the experience would be like from the Sundance Resort side.
So after snagging the last parking spot at the Timpanogos Trailhead, we didn't start hiking until about 10:15am. But both Julie and Tahia were going really slow, and then they spotted wild raspberries along the trail, which delayed them even more.
When I realized that we were probably not going to make it to Stewart Falls and still be back in time to get to Bridal Veil Falls and then all the way to Las Vegas at a reasonable hour at the end of the day, I instructed them to go back to the car and drive to Sundance Resort to try the chair lift approach. I figured that by the time they would make it to the chair lift again, it would be close to 11am and that they could meet me at Stewart Falls, which I expected to get to before them.
And so once again, I was solo hiking and making good progress as the trail continued to climb up to what was once an open avalanche zone (from where I recalled back on my May 2017 visit). However, when I got up there this time around, it looked like there were lots more bush and only traces of bent trees that might have been affected by that avalanche from three years back.
Another thing I noticed was that when there wasn't shade, the sun was beating down pretty hard as it was another hot day in the Salt Lake Basin.
The trail then descended from this avalanche zone, which I knew would be a pain in the butt to hike back.
By about 11am, I made it to the familiar outcrop with a nice view of Stewart Falls. There was a young couple sitting on the outcrop where I wanted to stand on to get a good view so I ultimately stood near them (but socially distanced) while still getting the shots I needed before making the final descent down to the base of Stewart Falls.
At 11:10am, I then got down to the base of the Stewart Falls where as expected, I got nice backlighting from the morning sun. I kept thinking to myself that three years ago had we reversed the order of when we did Battle Creek Falls and Stewart Falls, then we probably wouldn't even need to make this visit to Stewart Falls today.
Anyways, I took nice shots of the falls given the morning backlighting, and there were plenty of people already down here enjoying the cool spray from Stewart Falls. While the falls had considerably less volume than in my prior visit, it seemed to have a good deal of character with a wispy upper drop and a more gushy lower drop.
As I was busy documenting the waterfall, I noticed a couple of ladies who had scrambled up to a ledge right at the base of the upper waterfall. Since I figured I still had to wait for Julie and Tahia to show up, I went ahead and made the steep scramble up to that ledge.
By the time that I got up there at around 11:25am, I saw immediately that it wasn't exactly a nice and relaxing spot because there were steep slopes everywhere with dropoffs. So I just took my shots and videos of this unusual experience of the Stewart Falls. However, as I was doing this, I noticed a text from Julie saying something about a three-mile hike to get from the chairlift to the Stewart Falls.
It didn't sound right, but I knew that it was almost as if the chairlift didn't really buy us any additional benefit of experiencing Stewart Falls. So Julie and Tahia decided to just take the chair lift back down and then drive back to the Timpanogos Trailhead to wait for me to come back.
I was quite surprised that I was able to have cell reception with Julie out here, but it was a good thing because this could have ended up in disaster without such communication.
So with that, I had my fill of Stewart Falls and then started the long uphill hike to get back to the apex of the hike. I pretty much sweated it out as I went quickly to try to get back to Julie and Tahia without causing further delay to eventually get to Las Vegas this evening.
Eventually by about 12:25pm, I made it back to the Timpanogos Trailhead where Julie and Tahia were waiting for me. They said they waited for nearly a half-hour so I guess all things considered, it didn't take much more time than I had planned for. However, I didn't like the unpleasant surprise of not being about to do the hike from Sundance to the falls and then back to the parking lot. That would have completed this experience.
But alas, it seemed like the chair lift option wasn't really worth the trouble (nor the cost of $42 for both Julie and Tahia) and so the Timpanogos Trailhead was still the way to go for the 4-mile round-trip hike. And the popularity of this trail still made it obvious that this was the way to go.
By 12:35pm, we finally left the parking lot after having had a quick snack of cherries and a nectarine. Then, we drove back into Provo Canyon en route for the Bridal Veil Falls.
By about 12:55pm, we arrived at the familiar parking lot at the base of Bridal Veil Falls, where it seemed like all the shaded spots were taken up except for one that was closest to the footbridge over the Provo River. As we pulled into that one, there was one guy squatting at this apparent parking spot as if he owned that spot.
So I just pulled up and tried to get as close to him as I could without touching him. I got weird looks from this Latina lady who obviously knew who he was, and that guy momentarily got up then squatted back down. I guess there was some tension there though I wasn't sure what all this was about.
Regardless, we parked, and while I left Julie and Tahia to decide what they want to do at Bridal Veil Falls or drive back to the Upper Falls Picnic Area to have a picnic then come back to pick me up, I just got my pack and had my boots already on, and then I proceeded right into the hike up to the base of the main drop of Bridal Veil Falls (something I didn't get a chance to do the last time we were here).
Sure enough, right on the other side of the bridge, I then scrambled past a shed and then went up a path that went up to a sign saying that this path was steep and narrow and that I'd be proceeding at my own risk.
Not long after that sign, the path did indeed ascend rather steeply and then it got to a really steep and eroded section where I knew that it might be real dicey to try to descend it. Regardless, I huffed and puffed my way up this steep and eroded incline before I got up towards some bent poles and some kind of a trail that fortunately flattened out compared to that eroded incline I had just ascended.
Not long thereafter at 1:15pm, I followed this trail right up to the base of the main drop of Bridal Veil Falls where I saw just a couple already there as well as a couple of other individuals – one who just got there and another who had just left.
Along the way, I looked down and saw that Julie and Tahia did walk to the base of the Bridal Veil Falls though it seemed like they couldn't see me. Then, there were more people who managed to climb up to this waterfall by directly scrambling up the loose rocks over which the Bridal Veil Creek flowed upon. Then, there were more young ladies who managed to get up to the falls via the trail that I had just taken.
Although I spent a few minutes documenting this experience, it seemed like the sun was right on top of the brink of Bridal Veil Falls. So I pretty much had to look against the sun in order to capture the falls. It wasn't ideal, but at least I finally got to experience this part of the waterfall.
So when it started to get a bit crowded here, I then made my way back down. I wasn't looking forward to the steep descent on that eroded slope that I had to ascend, but then I realized that there was actually a trail that kept going on a more tamer decline than that eroded section. So when I pursued this trail, it actually did a switchback, which eventually made it down to the base of that eroded scramble.
With hindsight being 20/20, it turned out that I didn't have to do that eroded scramble after all! So I was definitey glad that I found the less injury-prone approach, and by 1:30pm, I was back at the car where I saw Tahia and Julie having a picnic in the shade next to the footbridge over the Provo River. In fact, I actually heard them having an argument while I was descending on the trail.
It turned out that Tahia wanted to play in the river, but the current was too fast for our liking. So we just had ourselves a bit of a makeshift trout-roll picnic lunch, and finally by 1:45pm, we were back in the car and leaving for Las Vegas for good.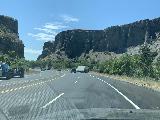 The drive out of Provo Canyon and then through Provo (and the BYU campus) got us to the I-15 where we pretty much had a smooth drive from northern Utah down to southern Utah. Indeed, we were making good progress as we got to Cedar City to fill up on gas at about 4:30pm.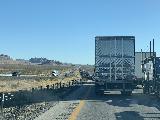 Then, we continued our pretty smooth drive along the I-15 until we ran into a bad traffic jam just outside of Las Vegas at around 6:30pm (or 5:30pm PST as we got back an hour). Unfortunatey, this was a pretty bad accident, and we wound up either stopped or sluggishly inching along for about 50 minutes before traffic finally started moving again.
Eventually at 6:50pm, we finally made it to the Desert Paradise Resort, where we'd be staying for the next two nights. Unfortunately, the pool was closed since 6pm so Tahia and I couldn't play in the pool and that would have to wait for tomorrow (hopefully when I'd be successful with all the Mt Charleston waterfalls that I was targeting).
Since the condo unit here was quite spacious, it took a bit of time to sanitize everything. But after settling down here and Julie doing a Whole Foods grocery run, we would finally have a late dinner some time at around 9:30pm. It was a compliant pizza dinner with some greens and olive oil, and it pretty much hit the spot considering we didn't really have a proper meal since breakfast.
And with that, we wound down the day. I still had the Mt Charleston hikes for tomorrow though I was kind of dreading the prospect that all the waterfalls there would likely be dry or trickling.
Yet I still had to finish the job with the falls since the last time I did these hikes, it was too eary in the season given the presence of a lot of snow.
So we'll see what tomorrow brings as this was going to be the last full day (and the last waterfall excursions) of this trip…
Day 22 (August 11, 2020 – Las Vegas, Nevada): "Tempered Expectations"
It was 5am when I awoke to the alarm. Despite the extra hour from crossing into Pacific Standard Time from Mountain Time, it felt like I could have used some more time to fall back asleep. However, I knew that an early start was necessary to do what we spent the extra night in Vegas (one of my least favorite cities) to go – hike the waterfalls of Mt Charleston once again.
Indeed, back in April 2017, I made my first go at Mt Charleston and was surprised to find out that there was too much snow, which impacted my experiences at Little Falls as well as aborting my attempt at Big Falls. That said, Mary Jane Falls was performing well though I wondered if it can do better had I visited at the peak of the snowmelt in say late June or early July.
Certainly, with these waterfalls near Las Vegas, timing was everything, but just the thought of visiting waterfalls in a desert as intense as that of the basin around Las Vegas was mind blowing. That said, I did have to temper my expectations because this was getting into the middle of August so I was proceeding with trepidation that all this effort to chase waterfalls at this time could end up being fruitless.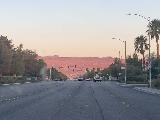 Anyways, after having breakfast and getting caught up on stuff from yesterday, I headed out by 5:55am. By this time, daylight was already starting to penetrate through the darkness, and I was pretty surprised by the amount of vehicles both on the highways and the local streets as apparently there were lots of early risers (probably to go to work given that today was a Monday).
The Garmin DriveSmart 50 that I was using on this trip kept saying something about the Hwy 95 being closed so it seemed to go out of its way to route me on some side streets and highways to get to the Kyle Canyon Drive. When I got to Oso Blanca Road after taking the CR-215, the road paralleled the US95 where I was surprised to see that the highway was indeed open. What on earth was this GPS doing?!?
Regardless, I finally got to the Kyle Canyon Road (Road 157), which then led me through the familiar climb leading into the Spring Mountains and Mount Charleston. That said, it definitely felt like the GPS put me on a joy ride and maybe costed me around 15 minutes or so.
With the early morning sun painting the mountains before me, it was a scenic start to the day. I'd eventually catch up to a couple of slower moving vehicles which seemed to adhere to the slower speed limits of the Mount Charleston area so I figured these people were either out-of-towners like me or they might have been locals who perhaps know full well how the speed limits here were enforced. I wasn't in any particular rush so I just followed along this three-car caravan to the trailhead.
By about 6:50am, I made it to the familiar Mary Jane Falls Trailhead, where it looked like I was the 5th car that showed up. Since the area was still under the shade of the canyon, it felt quite comfortably cool when I got started. Even though I knew Las Vegas would be burning hot with temperatures in the 100F range, I had a feeling that since this trailhead was closer to 8000ft in elevation, that perhaps the temperatures would be at least 20 degrees cooler.
Anyways, I geared up for doing two hikes because I was also going to add Big Falls to this hike since I didn't get a chance to do that one the last time I was here back in April 2017. However, I was already well aware that the Big Falls was dry. That said, I also learned that Mary Jane Falls was still flowing in my pre-trip research so I was eager to see how this experience would compare to the last one.