Day 2: ARCHES, GOOSENECKS, AND A MEXICAN HAT
On this morning, there was no real sense of urgency to get a real early start. So we checked out of Moab and left at around 7am (which was actually kind of late for us given our immediate history of the past few days of waking up at or before 5am).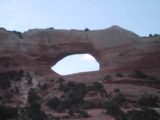 Today was basically a driving day. And not too long after we had left Moab heading south, we came across an interesting roadside arch called Wilson Arch. We made a stop for it to take photos. But we didn't linger for too long even though it was enticing to scramble up to the arch's span just to see what the view through it would've been like. But we were just too lazy to do that.
Next, we continued driving south towards Monticello. On the way, we noticed a turnoff for the Needles Overlook. So we took that spur road and went all the way to its dead-end at the lookout. It turned out to be a rather distant view of some more interesting formations in the distance (which we imagined were the namesake Needles).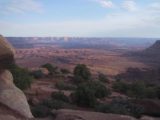 Personally, I knew this was probably all of the Needles District of Canyonlands that we were going to see because committing to driving into this part of the park meant we had to do some serious hiking to checkout some of the worthwhile attractions here like Druid Arch, Confluence Overlook, and Angel Arch. There was simply no way we were going to sign up for double-digit-mile hikes or even try the 4wd capabilities of the Isuzu Trooper on the slickrock jeep roads they had in there.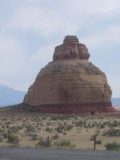 After having our fill of the overlook, we then went back onto the main road and continued south. We made another stop to check out the aptly-named church rock as it certainly did look like a domed church. There were some signs on the side of it though I didn't recall what they were for.
Then, we continued south past Monticello before connecting onto the highway leading towards Natural Bridges National Monument.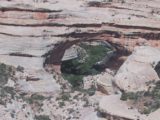 Once we got into the compact park, we were on a one-way road that passed by some overlooks of the reserve's rather giant natural bridges. We didn't hike down into the canyon to look through these natural bridges from the bottom up for at least the first two bridges – Sipapu and Kachina.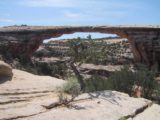 However, we did stop for the third bridge named Owachomo Bridge. This one was actually quite photogenic, and we even did the short hike to get closer to its span.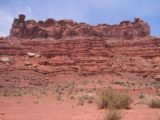 Our visit to this reserve was rather short. So not much longer than an hour after our entrance to the park, we then drove south along the Moqui Dugway as we descended an unpaved series of switchbacks. And when we made it back to pavement at the bottom, we then drove towards an unpaved road towards the Valley of the Gods.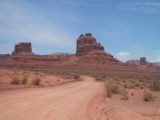 This was basically a short detour passing through some more buttes and rock formations. We didn't see any noticeable natural arches and there didn't seem to be a signature formation or landmark or overlook that was worth stopping for.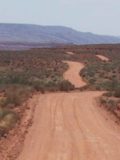 Thus, our Valley of the Gods visit was pretty short-lived.
So then, we were back onto the pavement and kept heading south. Then, we took a spur road to the Goosenecks State Park.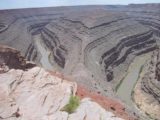 This park was really an overlook of some impressively twisty goosenecks of the San Juan River, which revealed some interesting bands and layers of earth. The cliffs here had a bit of a greyish appearance compared to the more whitish and reddish colors we had been seeing up to this point.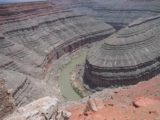 But when we tried to capture the scene in our photos, we found that we had to use the stitch feature on Andy's camera because the landscape here was simply too wide to capture in a single frame of our conventional cameras.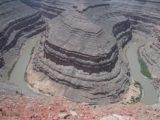 After Goosenecks State Park, we then made a brief stop at some balanced rock formation called Mexican Hat. There was a town here by the same name, which looked kind of sleepy. Actually, we were supposed to spend a night here, but when we saw how run down the place was, we decided to cancel our reservation (the Navajo lady was fair about us not paying any penalty for this last-minute cancellation), and we headed straight south in the direction of Monument Valley hoping we'd find a place to stay at the last minute.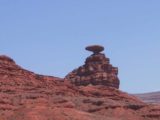 Fortunately for us, we managed to find a decent lodge near the bridge over the San Juan River. It turned out that they had vacancies and so we jumped at the chance to just take the room for tonight. After getting our stuff into the room, we then continued south on the Hwy 163 towards Monument Valley.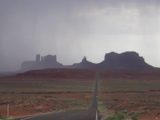 By this time, it was getting into the late afternoon where thunderstorms were popping up around us. Sudden lightning flashes were becoming frequent. Indeed, the thunderstorm was both beautiful and scary at the same time. We even tried to stay in our car and try to capture lightning in our point-and-shoot cameras (we didn't know how to do long exposures at the time). Needless to say, we failed miserably in that regard.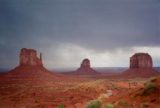 Eventually, we crossed over the Arizona-Utah border, and not long thereafter, we turned onto a road heading east where we then saw the famous mittens and Merrick Butte in that classic Country Western scenery probably made famous in those old John Wayne movies. Although with the menacing thunderclouds that were now starting to break up, the colors were a bit muted.
We didn't spend a whole lot of time down here given that it was getting late in the afternoon. However, Julie and I did contemplate coming back here tomorrow morning when the weather might be a little more benign than this moment.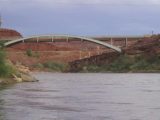 Back at the San Juan Inn, we had ourselves a dinner at their diner that consisted mostly of Navajo Tacos which were very tasty (albeit rather fattening). Still after going most of the day without eating anything substantial, it really hit the spot!
After the dinner, we then checked out the swollen San Juan River, which was moving pretty quickly right by us as we made sure to keep a safe distance from the banks. And we took a few more photos from down here before retreating back to our room to call it a night.
Visitor Comments:
Got something you'd like to share or say to keep the conversation going? Feel free to leave a comment below...
No users have replied to the content on this page