Day 3: SUN BEAMS
When we awoke (some time around 6am or so), we checked out of the San Juan Inn and then made our way back into Monument Valley. Even though there seemed to be some patches of stubborn thunderstorm remnants, the morning was pretty sunny.
So we returned back to the familiar overlook of Monument Valley. And while we were there, Stacey and Andy decided to just chill out at the overlook here for a bit. Meanwhile, one of the Navajo guides here looking to take visitors into the backcountry approached us and asked if we wanted to do a tour.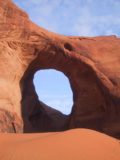 We ultimately went ahead and did it (for $50 that included the tip, I believe) where the Navajo guide took us into his high-clearance vehicle and pretty soon we found ourselves beyond the mittens and Merrick Butte.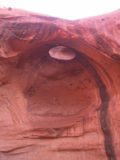 The guide took us through an assortment of arches and formations that we never even imagined was here (as all we thought this place had was merely the John Wayne formations). In any case, the guide took us to formations like the Ear of the Wind arch (which really did look like an ear's shape), the hogan (which had a hole at its top and really did look like one of the Native American dwellings), and even a thumb formation.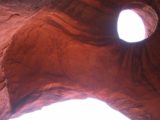 At the hogan, the guide showed us a bird-looking formation when we looked up at the hole at its top in a certain way. He also sang us a tribal song at this spot.
In the end, we thought the money spent on this little impromptu tour was well spent. We just hoped that Stacey and Andy didn't mind us being away from them for this long.
When we were back at the car, all four of us got back in and we then headed west towards Lake Powell. Our next accommodation was supposed to be at the town of Page.
We still had quite a bit of the morning left so by the time we made it to Page, we checked in early to our accommodation. Then, we promptly drove to a strip mall where there were tours offered for the Upper Antelope Canyon. We knew what we were in for in terms of scenery because we had seen postcards and posters of the sun beams in this slot canyon, and we were quite keen to seeing them for ourselves.
It turned out that we showed up just in time to catch one of their tours that was leaving just as we made our payment and hopped into the back of their pick-up full of people with a top for a little shelter.
When the big monster truck-like high clearance vehicle made it to the entrance of the Upper Antelope Canyon, the truck then drove on some sandy wash where sand was flying everywhere and we really had to work hard to make sure none of the granules went into our eyes (hard to do!).
Mercifully, the truck dropped us off at the mouth of Antelope Canyon, and we followed our tour guide right into the dark depths of the slot canyon.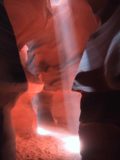 It didn't take long before we saw what we came here for – sun beams!
Some of the sun beams were already pronounced as there would be some sand gradually falling into the slot canyon from the top with the sun coming in the openings at the proper angles to light up the sand. Another trick that the guide mentioned and the kids loved doing was throwing the sand up in the air to amplify the brightness of those sun beams.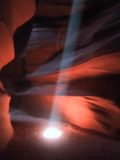 Needless to say, we spent the majority of our time just admiring these sun beams. It was certainly surreal, and we felt like we were taking photos that very easily could've been on those postcards that we saw. Clearly the key here (which the guide emphasized) was to turn the flash off.
Eventually, we'd get out towards the back end of the slot canyon, which looked like it was in another part of the wash. There wasn't a whole lot to see out here (other than finding a way to higher ground in the event of a flash flood) so we made our way back through the darkness of the slot canyon again (with the sun beams still there) and then we were back at the monster truck.
After going back the way we came, we then recovered our Trooper and decided to drive back out towards the Lower Antelope Canyon.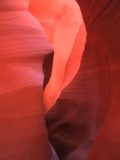 After paying our admission fee, we then passed by a memorial providing us with a sobering reminder of how screwed we'd be if a flash flood were to occur while we were inside the slot canyon. Given the thunderstorms we had been getting for the past few days, it was definitely on our minds.
Soon enough, the path descended into a crack in the rippling creek bed. And after going down several flights of stairs, we then contorted and weaved our way into the narrow depths of the Lower Antelope Canyon.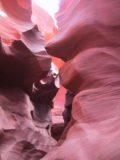 Some parts were so narrow that we literally had to contort our bodies to get through. And we'd eventually stop where there was a dropoff near a ladder that I believe they had recently put in there as a last resort to escape the water if we were to be caught in a flash flood.
Although it was colorful and eerie in this canyon, there were no sun beams. So we had our fill, got back up to the parked car (much to our relief as we no longer had to worry about getting caught in a flash flood), and then did some final bit of sightseeing since it was still around 5pm or so and quite bright outside.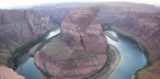 So we used that time to go to the Horseshoe Bend, which was a part of the Colorado River where it snaked into the shape of a horseshoe from the lookout point we were at. It was a pretty spot to take photos but our cameras needed stitching mode in order to get the whole bend.
However, the viewpoint itself was a bit scary as it was a long dropoff going right into the river down below from our unprotected vantage point. To even see the bottom of the river, we had to get right up to the edge and really test our butterflies.
And when we had our fill of the Horseshoe Bend, we returned to our room ending yet another event-filled day full of sights and experiences.
Visitor Comments:
Got something you'd like to share or say to keep the conversation going? Feel free to leave a comment below...
No users have replied to the content on this page