Day 5: 15 MILES AS THE CROW FLIES
We awoke fully rested from the laid back day yesterday and restful sleep last night. After checking out from the Motel 6 in Page, we then headed south towards the Grand Canyon's North Rim. It was to be the last major National Park of our whirlwind Grand Circle Trip, and we were really looking forward to it.
Last year, we had gone on a rather spontaneous Labor Day weekend trip to the South Rim of the Grand Canyon. So all of us were anxious to see what it was like on the North Rim of the Grand Canyon.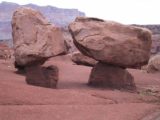 On the way towards Jacob Lake, we noticed some interesting rock formations at this place called the Cliff Dwellers. We didn't expect something like this, and we made a spontaneous stop just to take some fun photos amongst these rock formations (some of which looked like people made dwellings utilizing these formations).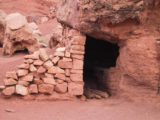 After having our fill of the Cliff Dwellers, we then made our way to Jacob Lake, and then took the turnoff that went straight south to the North Rim of the Grand Canyoon.
During the drive, Julie freaked me out when suddenly she gasped at the same time we saw a deer run across the road in front of us in the distance. I guess it was a good thing I slowed down with the sleep limit telling us to slow down. Otherwise, we could've very easily hit the deer and really immobilize our only means of getting around.
We'd eventually get to the North Rim Lodge at the road's end. There were a lot of cars already parked here, and fortunately, we were able to find a spot. Then, we pretty much did some short walking around both the property and along some of the short trails offering us overviews of the big ditch itself.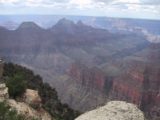 One particular hike we did was out to the Bright Angel Fault Overlook. The fault was easily seen from the South Rim, but from up on this side, it seemed like the views were less open than what we had seen last year from the South Rim.
After having our fill of the overlooks here, we then had ourselves lunch at the North Rim Lodge while also doing a little exploring of the historical lodge itself.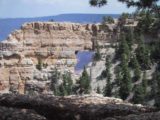 When we finally pried ourselves away from the North Rim Lodge, we then drove back the way we came, but this time, we took a turnoff that took us towards some other overlooks of the North Rim. Along the way, there were some sights such as Wotan's Throne, Angel's Window (our natural arch reason for doing this drive), and the overview at Point Imperial.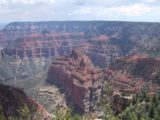 Most of the sights here were pretty much drive-to sights. We did do some brief hiking when we got to the end of the road (for more panoramas of North Rim and Wotan's Throne), but nothing real substantial.
And so that pretty much ended our sightseeing for the day.
I did have aspirations of going all the way to Toroweap Overlook, but seeing that we had to endure some 60 miles of unpaved roads in each direction, I knew there was no way we could do that in a span of a half-day and still make it all the way to Las Vegas where we were spending our last night of this trip.
It was a long drive with long expansive vistas interrupted by thunderstorms. I did entertain the thought of going back into Zion National Park, but by the time the connecting road came up, everyone was asleep, and I decided that maybe we mind as well just go straight to Vegas, check in, get cleaned up, and just enjoy our last night in Sin City.
None of us were really gamblers, but perhaps it would be an excuse for us to just walk around and check out the casinos and hotels on the Strip. We were also looking forward to our last meal of the trip as well.
And so ended our Grand Circle Trip. Little did we realize how much this one trip (as naive as we were and with as little experience as we had had in terms of preparing for such trips and hiking, etc.) how much it would change us. For over the years, Stacey and Andy would have the travel bug, and Julie and I would go chasing waterfalls around the world. And through all that we would end up experiencing, we still remembered the unforgettable scenery from this very trip!
Visitor Comments:
Got something you'd like to share or say to keep the conversation going? Feel free to leave a comment below...
No users have replied to the content on this page