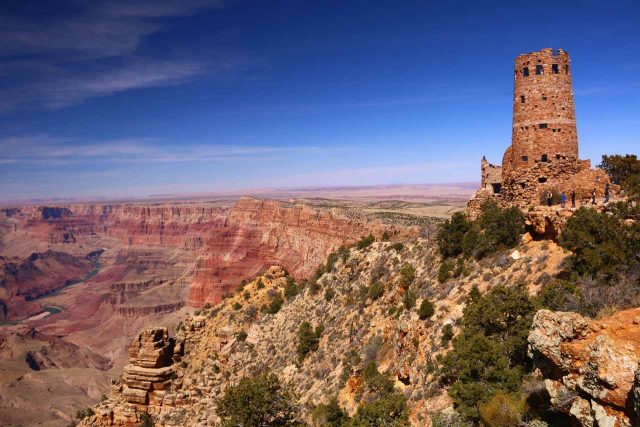 29-March 2018 to 6-April 2018:
For myself, this late start kind of exacerbated a day that wasn't going that right for me as I was fighting a toothache that started last night and wouldn't go away this morning. So I couldn't really cut my food with my front teeth (one of the four lower teeth that had been loosened decades ago from a basketball injury may finally be having its nerves dying and possibly necessitating another root canal).
I was also bothered by my left knee since the Wire Pass dud hike as it seemed like scar tissue was building up and prevent that leg from bending all the way back (so doing a quad stretch was difficult). With a frozen left shoulder and now limited range of motion on my left knee, that wasn't good news as I knew the long drive wasn't helping in terms of keeping my knees loose.
Then, by the time we left, my stomach was feeling really bloated. After two straight days of doing a morning ice cream binge so it wouldn't go to waste, I think the poor diet finally caught up to me and I was already bent over with discomfort as we left Page and made the long drive…
Day 1 (March 29, 2018 – Flagstaff, Arizona): "Long Drive"
It wasn't until about 1:40pm when we finally left home. But Tahia was still in school, and we had to take her out of school early as Julie and I sought to beat out the rush hour traffic knowing that the I-15 drive wasn't going to be pleasant. Heck, even just trying to get out of the greater Los Angeles area was not going to be smooth going with the sheer number of cars out on the road at that time of day.
I had originally wanted to be out of here by high noon, but I kind of suspected that it would be a pipe dream given that Julie didn't even start packing until this morning.
In any case, it wouldn't be until about 2pm when we finally got Tahia out of school because there was some magic show where her principal was going to be sawed in half during a magic show.
When Tahia got in the car, she didn't seem too bummed about not seeing her principal getting split in half. I think she was more excited about seeing her cousins on this road trip.
While Joshua and Tahia were on road trips last year to Yosemite and Death Valley, this trip was going to be different because Joshua's little sister Sophia was coming this time. Plus, we never had this large of a party (as both my parents were coming along) on a trip that was going to last over a week. So for sure, this was unchartered territory for us.
But hey, any opportunity to get my brother's kids into Nature is a good thing. They certainly weren't going to take their kids out to see the real world the way Julie and I were doing it…
Anyways, as expected, traffic was already pretty heavy as we were headed east to the I-15. And it didn't get any better once we got onto the I-15 itself as traffic was pretty much around 15-20mph in pockets (mostly where the freeways were merging).
It wouldn't be until about 4pm or so when we'd finally get past Barstow and be on the I-40 heading east through the Mojave Desert. At least now we were pretty much home free from this point forward.
The GPS predicted that we wouldn't be at the VRBO home we rented in Flagstaff until around 9:45pm or so. But I knew that was a pipe dream as we were planning on making a stop somewhere in Kingman as Julie found out that they had a Chipotle there.
I also tried to hold off on filling up on a tank of gas, especially since the station at Needles (still in California but close to the Arizona border) was asking for around $4.69 per gallon!
Eventually at around 7:45pm, we finally made it to the Chipotle in Kingman, Arizona. Prior to that, we had made a gas stop at the Safeway where I filled up 91 octane (thinking it would buy us some valuable mileage) for only $2.91 per gallon. Then, we went grocery shopping at that Safeway where Tahia was tattling on me about buying junk food (much to the amusement of people within earshot of her).
We pretty much finished up with dinner at around 8:30pm, and we thought about waiting for my parents to show up, but as we saw that the GPS predicted that we wouldn't be in Flagstaff until about 11pm, we couln't take the chance. So we kept going.
My parents happened to make it in Kingman by the time we left, but they needed to make a gas stop and also a take-out dinner stop.
After some more uneventful driving in the dark (though I had to be vigilant about rough road conditions on the slow lane and the everpresent danger of deer darting out on the interstate), we eventually got to our VRBO home near the Flagstaff airport at about 10:40pm.
The home was a little tricky to find because it sat behind a narrow driveway kind of hidden from the residential street that we were driving on. Nevertheless, we found our abode for the next two nights, and now we had to make sure that my parents would find this place without trouble (hopefully no deer complications for them).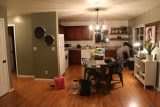 The VRBO home was quite homey and it definitely had a woman's touch to it. The decor was probably what got Julie to pick this place, and there were even homemade chocolate chip cookies sitting on the counter waiting for us. That was a nice touch!
By now, it was about 32F, but I wasn't bothered by the cold since I was busy hauling our stuff from the car into the nice, spacious, and very homey house. Looks like Julie made quite the find here.
The rest of the evening was spent cleaning up and getting settled while waiting for the rest of the family to show up.
When my parents and my brother's kids showed up a little after 11pm, that gave Tahia a second wind as she was so excited about sharing a room with her cousins. Meanwhile, my Dad was unwinding as he was the sole driver of the 8-hour drive from home to get here, and Mom was busy sorting out the groceries while tending to Sophia's bloody nose (too dry and too little water drunk, I'm sure as I used to have those issues in the past).
It was going to be a hectic evening because sleep was definitely going to be lacking as tomorrow was going to be Grand Canyon day. We had to get up early so we could find parking and tour the place (which would be my parents' first time there – it was on Mom's bucket list) for the better part of the morning before Mom and I would go to Grand Falls while the rest of the family would be back at Flagstaff or something a bit less adventurous.
We'll see how it goes…
Day 2 (March 30, 2018 – Flagstaff, Arizona): "Mismanagement and Miscalculations"
It was about 5:45am when Julie and I got up out of bed. We were actually awake for several minutes before when we heard what sounded like Joshua crying upstairs. We suspected that he might have had a nightmare.
With a busy day today, Julie got right out to the kitchen to prepare breakfast. I was concerned at the amount of cooking that Julie intended to do, and that nobody else was downstairs until around 6:40am.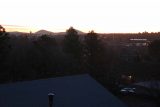 In the mean time, I took a few minutes to check out the view back towards Flagstaff from the balcony of our VRBO home. The sun came up at around 6:15am though the lighting quickly became harsh and not-so-photogenic once the sun breached the horizon.
I had calculated that we needed to be out of here by 7:30am in order to be at Grand Canyon by 9am, but I already had a feeling that we were going to blow through that deadline and suffer the consequences of overcrowding which would further add pressure on the things I had intended to do later on today after the anticipated half day spend at the Grand Canyon.
Sure enough, it wouldn't be until about 7:50am when we were finally leaving. Knowing that a 20-minute delay here could easily mean a nearly hour delay over there (due to the exponential part of the Gaussian curve), I kept fretting about how crowded it would be by the time we'd make it back to the Grand Canyon.
Nonetheless, this was Mom and Dad's first time to ever witness the Grand Canyon, so this part of the trip was pretty much for them as much as this was going to be a repeat for me. I was also entertaining the thought of checking out Hermit's Rest since that was something we had never done before over the three times we've been at the Grand Canyon.
Well, after a fairly frustrating drive behind slower drivers with very limited opportunities to pass whilst going north on the route leading from the Williams turnoff north to the south rim, we'd then be caught in a very long queue to get into the Grand Canyon entrance.
That part alone costed us about 30 minutes or more, but eventually at about 9:35am, we'd finally find parking at Lot 4, which was nearby the Visitor Center. It was actually quite a ways away from the village and Yavapai Lodge section that I had recalled we had stopped and parked at in years past.
Anyways, we then promptly walked over to Mather Point and took the Rim Trail west towards some other viewpoints before finally heading back to the Visitor Center area to catch the blue bus. But it turned out that the line for the blue bus was very long. And it also seemed like the orange line was loaded with more buses than the blue bus as there seemed to be 2 or 3 orange buses for every blue bus that showed up!
Talk about poor line management! I'm sure the budget cuts for the National Park service didn't help matters compared to the corporate tax breaks and other corrupt policies that were put in place by the Trump Administration.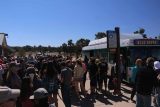 So at 10:35am, we stood in line for the blue shuttle bus to the village, but it wouldn't be until about 11:05am when we finally boarded the third blue shuttle bus that showed up. Once we got to the Market Plaza stop, Julie, Dad, and the kids all got off so they could have lunch and chill out while Mom and I continued towards the bus transfer stop to catch the red line towards Hermit's Rest.
When we finally got onto the second red bus that showed up at around 11:35am, I realized once we got on that it was going to be a minimum 80 minutes round trip that doesn't even include any walking and picture taking along the way.
So Mom and I decided not to get off any stops except for Hermit's Rest (though some of the viewpoints on this western side of the canyon seemed attractive enough to be worth some photo stops; like Powell Point and The Abyss among others). But time was running out and we were determined to get to the end to at least pique my curiosity about what was so special about Hermit's Rest.
Along the way, we noticed some private vehicles driving on this part of the road, which had a boom that prevent most public traffic from getting through except for the shuttle buses. Not all of the private vehicles had handicap placards so we wondered how they got here (which would have really saved time).
I suspected that perhaps they were staying at the Yavapai Lodge so the over $300 per night rates probably included access to shuttle-only areas as a perk for paying that premium. So that was something to consider the next time we might stop by here (hopefully after a rafting trip or something).
It wouldn't be until about 12:20pm when we got to the Hermit's Rest shuttle stop. There was the signature manmade arch and bell, but what I thought was an interesting historical building turned out to be nothing more than a gift shop with a cantina. There was some interesting architecture that reminded me of some of the beehives that might be seen near Gordes, France in the Provence region, but other than that, it was anticlimactic, and it turned out to be a costly 2-hour miscalculation on my part.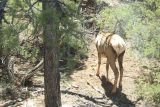 Good thing Julie, Dad, and the kids didn't come out to this part.
Eventually at 1:05pm, we managed to be dropped off at the Visitor Center via an express bus that pretty much bypassed the village area. Mom and I spent a few minutes eating leftover pizzas and chicken salad, while the kids were running around all excited and really burning off some energy.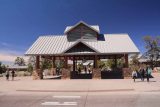 By about 1:40pm, we got back into our cars where a lot of marauding vehicles were anxiously looking for parking spaces and managed to score our spots. Good thing we got our early start (though it was still later than I had hoped). I guess this weekend was exacerbated by Spring Break and Easter Weekend as today was probably Good Friday or something.
Anyways, we then drove off behind another caravan of slow cars. But eventually at about 2:20pm, we finally made the 25-mile drive to the Desert View Watchtower complex. There was now a giant parking lot here and I couldn't see the watchtower along the road like we did in the past. I guess they must have re-routed the road over the years.
Still, we walked to the attractive tower, and managed to get our shots over the eastern end of the Grand Canyon, where the greenish Colorado River was clearly visible. With the afternoon sun, I also took advantage of the soft hazy light to shoot the watchtower juxtaposed with this part of the Grand Canyon (something I didn't do the first time we were here 17 years ago).
The kids really got re-engaged here as they liked checking out the views, and going up the steps (flanked by petroglyphs; not real but authentic) for more higher vantaged views of the Desert View section of the Grand Canyon itself.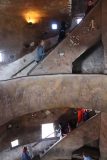 Eventually at about 3:20pm, we made it back to the car to continue the scenic route back to Flagstaff via the 64 then the 89. It was a good call by Julie to take this scenic detour instead of taking the direct way back.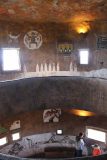 Eventually at 4:55pm, we made it back to the VRBO home in Flagstaff but unfortunately, my Mom had locked the screen door which we didn't have keys for. So we had to wait for the owner to come by and unlock it for us.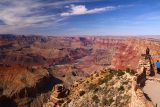 So while Julie, Dad, and the kids stayed behind, Mom and I made the drive out to Grand Falls before I worried that it would get dark. We wound up leaving at around 5:10pm, but after delays upon delays in just getting out of Flagstaff (there was a long train going east before another train went the opposite way just as the first train was done, which costed us another 15 minutes), it wouldn't be until about 5:30pm when we finally left the city limits of Flagstaff.
We then took the familiar Winona Exit 211 before going back west to Leupp Road. Once on Leupp Road, we then took the familiar paved road out to the Navajo Nation boundary. There was a sign that said Grand Falls next left, and we decided to turn left onto the familiar BIA-70 Road like before (as much as I wanted to try out the BIA-6190).
I also ran the car off the road as the turnoff came suddenly. Luckily, I managed, and then we found ourselves on the familiar wide but washboardy road that really rattled the car for the next 7-8 miles or so.
By about 7:15pm (mountain time, which meant we lost an hour as apparently Navajo Nation was not on pacific standard time), we made it to the familiar Grand Falls picnic area. Like before, there was no sign indicating the turnoff leading there, and I actually drove to the ford over the Little Colorado River. Unfortunately, there was no water on the Little Colorado River, and that meant that there was no water going over the waterfall.
Bummer!
Still, as the troopers we were, we still had to go to the overlooks and document our experience. This debunked the theory that this waterfall would flow reliably at specific months because we literally we here 18 years later in the same month of March and got one nice flowing experience and one totally dry experience.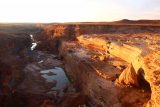 So while Julie and I argued in the past about whether Grand Falls belonged in the US Top 10 Waterfalls List, I think I was in the right (I wanted it off the lost) as it wasn't reliable enough to be placed above other deserving waterfalls. Indeed, this latest experience proved that point.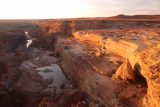 Mom and I took a few minutes to shoot the reddish cliff colors as the sun was setting. We could hear the buzz of mosquitos nearby but luckily there was a lot of wind to keep them at bay.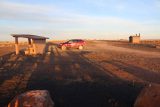 There was also one other truck that managed to drive a bit further along the cliffs to one of the lower lookouts with a more direct look at the Grand Falls. They were on their way back out and the driver waved to us as he made his way out.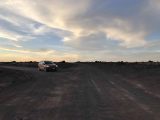 By about 7:30pm mountain time, we were back in the car and had our fill. By now, the sun had pretty much set and we were now taking the 6910 road back to the Leupp Road.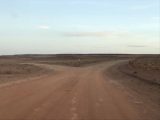 With a full moon rising against the purplish skies, we found that the 6910 road was a little smoother than the washboardy Road 70. There were a few rocky patches, but the road was on hard-packed dirt or sandstone instead of the sandier and looser dirt of the Road 70 (resulting in the more pronounced washboards).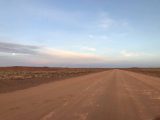 When we made it back to the Leupp Road, we couldn't see any trace of signage suggesting that the 6910 road led to the Grand Falls (unlike the Road 70 that did have such a sign).
As night time was now taking over as we headed back towards the I-40, Julie texted us that she needed us to run some errands. So we eventually wound up at the Whole Foods in Flagstaff at 7:30pm (back on pacific standard time so we went backwards in time by 5 minutes), and then after a stop at Wal-mart, we eventually made it back to the VRBO home at 8:15pm.
And so ended this very long day that wasn't high on the hit list in terms of successes, but this was really more about the parents' desire to see the Grand Canyon for the first time, as well as the kids spending time together.
So in that sense, I'm sure precious moments were gained on this day even though it wasn't much in terms of what I could put on the website.
Mom and I came home just in time for dinner though I think we overstuffed ourselves as there was also a lot of dessert and ice cream to finish up knowing that it would be hard to bring the stuff that'd melt out to Page tomorrow.
In any case, we'd have to get up early tomorrow, and we'd also lose an hour knowing that Utah was on Mountain Time so we'd have to spring forward yet another hour again.
And if today was any indication, it was going to be a major challenge to get up and out of here in time to do both Horseshoe Bend and the Lower Antelope Canyon tour.
Day 3 (March 31, 2018 – Page, Arizona): "Flip Flopping"
It was 5:15am when I awoke. Mom was already up and Julie had gotten up a few minutes later.
The house was already buzzing with activities from errands that we had to run in order to ensure that we were able to check out and make the drive north from Flagstaff to Page. There were activities planned for today such as the Horseshoe Bend, but more importantly, we didn't want to miss out on our scheduled tour for the Lower Antelope Canyon, which Julie had booked us for 1:15pm but with check-in 30 minutes prior so we had to be there at 12:45pm.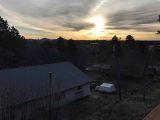 Further adding to the complication was that the GPS
indicated that we had to spring forward another hour because we were supposedly going into the Mountain Time Zone, though that kind of ran contrary to what I thought as we would still be in Arizona.
But even with all the pre-emptive packing and food preparations, it still wasn't until about 7:20am when we were finally out the door and made the house in a condition that was akin to the way we found it when we first checked in.
Unlike yesterday afternoon, the Route 66/89A was a bit on the quiet side so we were able to head north on the Hwy 89A without too much incident. We were also going at a pretty good clip as traffic was also fairly light on the highway with plenty of passing lanes to get around slower drivers and trucks (though we did have to be careful of state troopers looking for speeders as we were going about 4-5mph higher than the 65mph limit.
This drive between Flagstaff and Page was actually my first time doing this stretch of highway. The first time Julie and I were in Page was back in 2001, but we never went south as far back as Flagstaff. Instead, we headed to Jacob Lake and then to the Grand Canyon North Rim back then.
But this time, we followed along a fairly featureless drive except for the cliff formations that hinted at the underwater history of this area that I wasn't sure might have been part of the Great Basin area.
We'd eventually get past a climbing section where the road hugged a reddish cliffside with a scenic view towards the Colorado River cutting through a seemingly flat expanse.
As the road was descending towards Page, I had to slow down as I knew we were going to make a left turn to the familiar Horseshoe Bend.
Even though my Garmin Nuvi
said that we had made it to the parking lot of the Horseshoe Bend at 10:30am, we thought we had lost an hour on this drive (going into Mountain Time instead of being on Pacific Standard Time) so that put even more pressure on us to get through this excursion before making our Lower Antelope Canyon tour, which was scheduled for check-in at 12:45pm.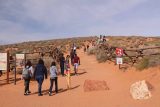 It was already busy at the Horseshoe Bend as the parking lot was pretty much full. We managed to find a couple of parking spots near the pit toilets though I had to park close to someone next to me so Dad could squeeze in.
It took a while to get all ready as we all had to wait to use the restroom before setting off.
A sign at the trailhead indicated that there was going to be a lookout platform that would be built by Summer 2018. That explained all the construction vehicles and heavy duty equipment in the area. Well, that wouldn't be available today so we had to be careful about getting too close to the edge to see the bend in its entirety (I doubted that our camera would pick up everything though given the height of the entire scene).
The walk initially began with a brief uphill revealing the extent of the full parking lot as well as the neighboring city of Page when looking left of the top of the hill. It seemed like there was an incessant stream of people walking in both directions, which contrasted mightily to the time when Julie and I first came here some 17 years ago (when we were only one of a few dozen people here).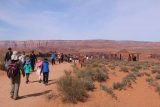 That said, it was a late afternoon visit so it wasn't the greatest lighting wise so perhaps that also helped to reduce the visitor numbers back then.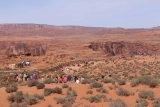 Now, it seemed like there were easily hundreds or even upwards of a thousand people here complete with multiple tour buses, large families, and younger folks armed with mobile phones looking for that selfie of themselves posing before the famous gooseneck of the Colorado River.
Like we had remembered from before, there were no guardrails or railings to keep people back from the edge of the gorge. So with three kids in tow, we had to really watch out and make sure they didn't linger too close to the edges.
So we all spent the next hour or so composing our own pictures of us sitting before the bend while Sophia and Tahia were busy playing with the red sand. Meanwhile, Joshua was running around hanging out with Dad a bit further away from the commotion.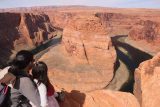 While looking down at the bend, I did notice some people camped at the base of the tonsil part of the bend while other boats would cruise the Colorado. Clearly, then must have put in their boats further upstream (probably somewhere closer to the Lake Powell Dam or perhaps at Lees Ferry going upstream) to get down there.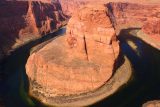 Once we had our fill of this spot (thinking we were now running out of time in terms of catching the tour for the Lower Antelope Canyon), we promptly hiked back to the car park at about 12pm.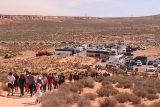 And as we headed back down to the parking lot, we noticed that it was even more full than it was earlier this morning. In fact, there were people parked out on the Hwy 89!
Next, we drove into the town of Page and looked to see if we could check in early to our accommodation. With the weather warming up quickly, we were really hoping that we could drop off our perishables inside the refrigerator of our unit.
When we got to the Suites on 10th at about 12:10pm, it turned out that the lady who happened to be cleaning and preparing our room let us put stuff in the refrigerator though we had to leave our other stuff in the car since the room wasn't going to be locked. So we'd take care of populating the room later on. That was fine since Julie got the room keys.
With that out of the way, we then drove over to the Dixie Ellis Tours of Lower Antelope Canyon. We could see across the Marina Point turnoff that the familiar Upper Antelope Canyon parking lot was full. Not only that, but when we pulled up to the Lower Antelope Canyon lots, there were like three tour operators side by side with each other all for this Lower Antelope Canyon.
This was already very different from what we remembered the last time we were here when there weren't all these tour operators and we only had to pay about $7 per person to self tour by going down into the canyon then hiking back up once we got to some dropoff.
When we checked into our tour at around 12:45pm, we were told that it was only 11:45am! I guess the Navajo Nation didn't recognize the time change even though our GPS had us believe that we had jumped ahead by an hour. Well, at least we were checked in and just had to come back about five minutes before our actual tour.
So now that we had about an hour to kill, perhaps we could squeeze in a lunch before making our tour.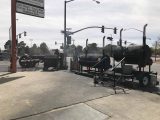 Julie saw reviews for this place called Big John's Texas BBQ. When we got there at about 12:15pm, the place wasn't that busy. And so we promptly got our table, made our order of pulled pork BBQ as well as BBQ beef brisket as well as a couple of bowls of salad.
The pulled pork was actually pretty good and soft. But the beef brisket was a bit on the disappointing side as it was a little on the tougher side and not as soft as what we would have expected like what we had in Austin a few years back. Plus, it needed the spicy sauce to enhance the flavor a bit (though they were definitely smoked as we could see and smell the smoker on the periphery of the property).
Good thing we didn't get the ribs that Dad was about to order (out of habit, I'm sure) since that would also be composed of the tougher beef.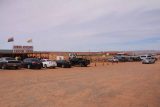 By 12:55pm, we were back in the car and headed back to the Lower Antelope Canyon. And by 1:05pm, we were back at the car park for the Dixie Ellis Tours.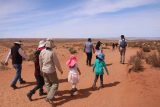 That was when we were led by a young Navajo guide named Elijah. He taught the kids a couple of Navajo words like Yateh (sp?) for hello and Goneh (sp?) for good-bye though we weren't sure if he was going to quiz them at the end of the tour.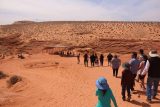 The first thing I noticed that was different about this tour was that we weren't going down the crack at the entrance then descending a long ways to the bottom like before. Instead, it seemed like we were being led further down the wash towards a sheltered stair entrance before the steps continued deeper into the slot canyon.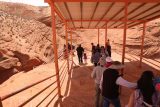 Right outside the sheltered steps before the put in point were a couple of Navajo folks checking to make sure people going down were guided.
Eventually when we made it to the bottom, we were then suddenly amongst the familiar psychedeic colors and patterns of the twisty slot canyon. There wasn't a whole lot I could remember from our first visit here 17 years ago in terms of matching up what we were seeing with the dropoff and metal escape ladder near the end.
In any case, the next 60- to 90 minutes were spent snapping as many photos as we could as we were kind of being rushed through as a tour was right behind us, and I'm sure Elijah was doing his best to keep things moving along telling us that we shouldn't be taking pictures at the steps or where the canyon was narrow.
It didn't make for the most relaxing experience, but I guess they wanted to keep things moving along. An Indian couple from Indiana as well as Julie were being a little defiant in taking the pictures where they could anyways knowing that we had paid $46 per person to be in here and take advantage of the moment knowing that such photo ops didn't come along very often.
While we knew that the sun beams weren't going to happen during our visit, especially to the Lower Antelope Canyon, we did appreciate the patterns and the colors when examining the narrow slot canyon walls around and above us. The Upper Antelope Canyon was actually sold out and since we had kids, we couldn't do it but if it was just us adults, perhaps we could have done it and tried to get the sun beams like before (though with the crowds, that might have been hard to manage).
It was a good thing that Elijah had us put our cameras in Vivid or Warm mode because they really did amplify the color saturation within this canyon. I usually refrained from making vivid settings on my camera because they tended to make the picture look more doctored or fake, but in the case of the Lower Antelope Canyon, it made a lot of sense.
We certainly took way better shots than 17 years ago when I was taking pictures using Julie's analog Nikon camera. Both her camera lacked the color saturation but we also had to develop film. Remember those days?
Some of the highlights of the Lower Antelope Canyon tour that we did included an attractive natural arch, some kind of birds nest, and some interesting formations like a lion's head, a seahorse, a woman in the wind, and many others.
The tour was definitely seemed longer than I remembered from our first visit and perhaps that was because they started us lower than that first time. With memories being a bit on the hazy side from that far back in time, I'm sure there was a lot about my recollections that probably weren't as accurate either.
When we finally got back up to the wash via the familiar spot we made our entrance and exit during our first visit, Elijah then showed the kids (as well as ourselves) where there were some dinosaur tracks. I forgot what the dinosaur name it was that produced these tracks (definitely not something memorable) and they weren't as impressive as the tiny imprints we saw on the Subway hike in Zion, but the kids seemed pretty impressed nonetheless.
By about 2:35pm, we were finally back at the tour operator's complex where we were each given a bottle of water to re-hydrate as well as getting a look back at that ugly coal-fired power plant that Elijah said will be decommisioned soon.
By about 2:50pm, we made it back to our pair of units at the Suites on 10th. That was where Julie, Dad, and the kids could do some grocery shopping then chilling out in town. Meanwhile, Mom and I were headed back out towards Wire Pass, and I had heard that that was a good short hike to get a brief taste of the Buckskin Gulch Narrows as well as some Native American petroglyphs in addition to some narrow slots themselves on the Wire Pass Trail.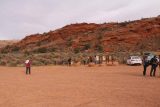 It wouldn't be until about 3:20pm when we finally headed out towards Wire Pass, and it wouldn't be until about 4:25pm when we finally arrived at the car park for Wire Pass Trailhead after going about 7-8 miles on fairly rough but doable unpaved road. Since we were technically north of the Arizona-Utah border, I guess it was really an hour ahead as Utah was on Mountain Time, but who was keeping score at this point since we were going back to Page after this excursion.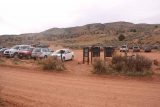 Once we parked the car, there were at least a couple of parties asking around about The Wave. I wasn't sure if this was the correct trailhead for that attraction, but I also knew you needed a permit to access it without a fine. And other people answering some of these peoples' inquiries corroborated that. After all, we all knew we needed a permit to do The Wave and it wasn't easy to get (something like 10 online lottery reservations and 10 walk-in permits per day were allowed).
There was one European guy who claimed he didn't know about the permit situation, but I knew he was just playing ignorant as a defense mechanism for if he did get caught without a permit. But I knew he was determined to go for that attraction as he probably wouldn't be coming back here in the near future or any other time.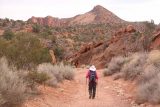 Another couple was also very determined to do that hike as he was very keen to circumvent the rules where he could. That said, I didn't see any clear signs of rangers enforcing the rules given how remote this place was, but perhaps it was because it was getting towards the end of the day and they knew that you either knew what you were doing to be starting off this late or risk getting lost (in which they'd find out you were here anyways and be subject to a fine provided a rescue was in order).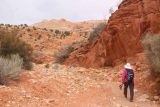 Anyways, Mom and I got started, and we brought along some sandals that could get wet in the case that we would encounter water wading.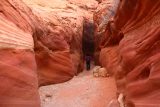 At around the half-way point of the 1.7-mile each way hike to the confluence with Buckskin Gulch, we noticed there was a spur trail with signage indicating something about the Coyote Buttes North Trail. Of course, nothing was said about the Wave on this sign so it was clear to me that the authorities weren't going to make it any easier to find The Wave.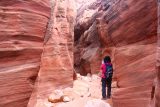 So Mom and I walked through mostly wash before the slot canyon really started to narrow in.
We'd eventually get to a spot where there was a dropoff that seeemed non-trivial to negotiate. While there was a make-shift ledge composed of what appeared to be a small log jam or something, the dropoff was severe enough that Mom and I decided we weren't going to do this and continue further downstream.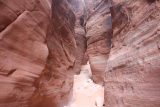 I knew there was a "bouldering obstacle" on the way to Wire Pass from the American Southwest Blog, but I also knew that people familiar with the slot canyons would probably look at that obstacle and think it's not a big deal. But for those not too familiar with slot canyons like we were, it would be a big deal and so we decided not to chance it as it didn't look easy to get back up even after managing to go down this obstacle while carefully putting weight on the dead-falls or log-jams wedged in the boulders we were standing on.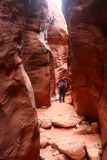 I'd bet with a rope or something, it might be manageable to go down and continue on, but clearly we were equipped only for day hiking but not for canyoneering.
On our way back out, there was one of the parties looking for the Wave (a couple apparently from Florida), and we had a bit of a conversation to help pass the time on the hike back out (or at least make it seem to us to be that way). This couple really seemed intent to make a visit to the Wave happen without a permit, and the guy was even contemplating doing the Lower Antelope Canyon without a tour guide (probably after hours, too).
I'm sure they were going to come back here tomorrow and try again. Hopefully for their sake, they don't get caught be rangers.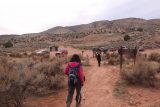 Well, when all was said and done, we were back at the Wire Pass Trailhead at 6:15pm. Thus, we concluded yet another anticlimactic end to the day (first Grand Falls and now this Wire Pass dud). Now, it was time to drive back to Page though the thought of making it out to the Coyote Buttes North towards The Wave was really tempting even though the sun was rapidly sinking and the skies had changed to overcast with some pockets of dark clouds.
Reason won out over this temptation however.
I knew that over time this hike would haunt me in much the same way that the Union Falls hike haunted me for the better part of 13 years before I finally got to try again. Who knows if I'll ever be able to do The Wave in my lifetime.
It's funny that the people who write about it on travel blogs gloat about being able to do the hike and saying it's a wonderful lifetime experience. Yet I'm also interested in the realities behind it as you don't generally hear about those stories either (kind of like the lottery; you hear about the winners but not so much about the losers as that's far too common and uninteresting I guess).
So who knows if we're really missing out or not.
Eventually at 7:15pm, Julie texted us to pick up something from the Safeway in town. So by then, we were running errands for Julie as my Mom helped to pick up some tortillas to be used as brekkie wraps.
Finally at about 7:25pm, Mom and I made it back to our unit where the kids were having fun at our room. Meanwhile, Mom and I joined Julie in having our dinners together. Everyone else had already eaten, and the kids were too busy trying to play with each other in our room.
When all was said and done, we unwound this busy day though Joshua seemed to be suffering from a headache. The first thing that came to mind was whether he was drinking enough water because I didn't recall him hydrating. Earlier in the trip, his sister Sophia had a bloody nose from not hydrating enough, so I suspected the same thing was happening to Joshua (though his reaction seemed to be a bit more severe).
Hopefully, an emergency room visit wasn't in order as the thought did cross my mind about heat exhaustion or something.
So that kind of cut the party short so to speak and my parents and brother's kids walked to their room to wind down the day while our side of the family did the same.
Speaking of pain, a couple of my lower teeth were starting to feel a little of discomfort (I hope they don't need a root canal) and my left knee was starting to get stiff again (it was actually getting stiff during the Wire Pass hike).
I guess every trip has drama and this was it for me. Still though, we were only nearly the half-way point of the Spring Break Trip and hopefully nothing happens that would cause a real downer on the overall trip…
Day 4 (April 1, 2018 – Hanksville, Utah): "Lows and Highs"
It was about 5:45am when I woke up. Julie actually got up then went back to bed so she was a bit complacent and assumed that we had the time to sleep in. I don't think she appreciated the amount of driving that was ahead of us, especially since it was her idea to make a very long detour to Monument Valley before visiting Goblin Valley State Park all before crashing for the night in Hanksville.
When Julie finally did get up at around 6:30am, the rest of the morning was spent trying to eat up whatever food had been unconsumed because we knew that the accommodation in Hanksville didn't have a regular-sized refrigerator nor did it have a kitchen.
Thus, we wound up eating chicken tacos, whatever was left of the kefir that I had made prior to the trip, spinach, eggs, sweet potato "muffins", and even ice cream (yes, ice cream!).
That last item was bought by Julie last night to go with the mug cake, which was Julie's healthy version of a dessert that was gluten free yet something the kids really looked forward to. Unfortunately, like at Flagstaff, she had bought too much of it since it was sold in a fairly large tub, and thus I wound up eating most of what was left in the morning.
After the brekkie, the kids were busy messing around while the adults were packing up and loading the car. So it wouldn't be until about 9am when we finally started to leave the Suites on 10th in Page and headed out towards Monument Valley.
With this late start, I was worried about not having time to visit a place like Goblin Valley towards the end of the day, which was something Julie and I missed out on when we first went passed through Hanksville on our way to Moab some 17 years ago. More importantly, it was something that I thought the kids would have fun at playing hide-and-seek. However, I sold this part to Tahia saying that she could be seeing goblins like the ones she read about in her Jack Frost book.
That last bit really set her expectations high about encountering goblins. Still, with the long drive ahead of us, we had to keep the kids' interest.
Meanwhile, the cloud cover over Page had been pretty thick. This surprised me as I had anticipated decent clear weather, but I guess this proves that you never know when you could have something that would produce rain (and even fill in the slot canyons with water). Luckily for us, we got our views of the Lower Antelope slot canyon yesterday and not today, which I'm sure would be a real bummer to visitors who paid but big bucks to make their visit (especially to the Upper Antelope Canyon at around $78 per adult).
For myself, this late start kind of exacerbated a day that wasn't going that right for me as I was fighting a toothache that started last night and wouldn't go away this morning. So I couldn't really cut my food with my front teeth (one of the four lower teeth that had been loosened decades ago from a basketball injury may finally be having its nerves dying and possibly necessitating another root canal).
I was also bothered by my left knee since the Wire Pass dud hike as it seemed like scar tissue was building up and prevent that leg from bending all the way back (so doing a quad stretch was difficult). With a frozen left shoulder and now limited range of motion on my left knee, that wasn't good news as I knew the long drive wasn't helping in terms of keeping my knees loose.
Then, by the time we left, my stomach was feeling really bloated. After two straight days of doing a morning ice cream binge so it wouldn't go to waste, I think the poor diet finally caught up to me and I was already bent over with discomfort as we left Page and made the long drive.
Indeed, it just wasn't a good start to the day all around, at least physically. The whole time I thought to myself that all of these issues had better be ironed out by the time we do our home run trip to Germany and Austria this Summer.
Regardless, the drive east of Page towards Monument Valley was pretty uneventful. We made one brief stop in Kayenta for a toilet break, and the kids were learning that we were indeed deep in the Navajo Nation as just about everyone we saw in the convenience store there were Navajo.
When we finally made it to the Monument Valley, we saw that they built an entry station as well as a hotel right at the viewing area. This was far different from those times that we were here back in 2001 as well as 2003 when we were able to just come here, take our pictures, and even hire a Navajo guide to get into the backcountry to visit places like the Ear of the Wind Arch and the Hogan among other things.
Now, it looked like most people spend the time to self-drive a scenic loop to take in most of the attractions except the natural arches that existed in the Monument Valley area.
I kind of expected this though, but there was a long queue to get into the vista of Monument Valley in order to process payment to get in. They were charging $20 per vehicle of four people or less, which makes sense to the Navajo people which still struggled with 40% poverty so it was their right to charge people to visit their lands.
Actually, in Europe and other places around they world, they charged per person for many of the sites, which makes the National Parks system like Grand Canyon seem like a bargain (which also came with its share of problems like the insufficient shuttle system with its bad line management) but was really underfunded and further exacerbated by the Trump Administration trying to dismantle or ruin such national treasures that everyone can enjoy.
Regardless, when I pulled up to pay, there were confusing signs where an adjacent kiosk said cash only, but the sign nearest the kiosk we were at said they took credit cards. So I went ahead and presented my card at first, but the lady at the kiosk was throwing me an attitude saying, "Didn't you see that it's cash only?!?!"
I calmly responded to her that I responded to a sign saying you accepted credit card payment, but to not belabor the point, I just switched to cash. She said that it took too long to process credit cards so she wanted cash. Of course, if that was the case, why didn't they cover up the credit card part of the sign, I thought to myself?
So by 11:15am, we finally parked at the spacious parking lot and seemingly newly-built visitor center for Monument Valley. I was already not having a good day, and that little exchange at the gate didn't help improve my mood. Still, it wasn't something to stew over when you consider the big picture that the Navajo people (and Native Americans in general) got a really raw deal courtesy of the US government and the people who came over from Europe in search of religious freedom in the 17th century, and then in search of new settlements between then and ultimately gold as part of the Gold Rush in the 19th century.
I'm sure there's much to be bitter about so I had to keep that perspective and just be as understanding as possible even if I had to swallow some bitter pills so to speak from time to time.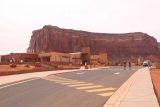 With my physical ailments probably peaking at this time, I took the photos and tried to soak in the newly built stuff around here. One guy was dressed up in traditional native garb having a chat with other tourists and taking pictures with him along with a donation.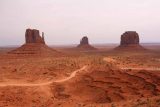 The rest of the family (once they finally got out of the car) were busy posing before the famous left and right mittens along with Merrick Butte. Then, we eventually went into the gift shop where Tahia was interested in reading the Native American books to learn more about them.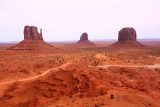 It was a good thing that she was a sponge soaking up information and willing to read so much, and at least this would ingrain in her some appreciation of the native people who called this place home for thousands of years – not just in the Navajo Nation but also try to make that connection that all of the Americas including Central and South America were inhabited by Native Americans that still live on to this day like Mexicans (or at least the Aztec and Mayan ancestors), First Nations People in Canada, Peruvians (or at least the Incan ancestors), etc.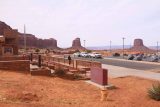 While they were busy doing touristy stuff in the gift shop, I went downstairs to the quieter museum where I read more about Native American life, the tragic Fort Sumter chapter in American History, and the role of the Navajo people code talking in World War II with the utilization of the Navajo language for fast and secure communications against imperialist Japan.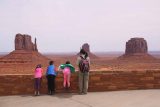 "It had to be done," summarized some signage and literature, where the Navajo way of life was perceived to be threatened even though the US government hadn't done them favors in the past (resulting in a strange bedfellows situation at the time).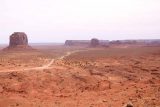 At 12pm, we were finally back in the car. And after Julie took some time to buy a lunch to go (I forewent eating anything she bought because my bloating was pretty severe and my tooth was still hurting), we finally headed out at 12:20pm.
As we continued driving north into Utah, that was when we finally officially had to jump forward another hour and get into Mountain Time.
The GPS
had routed me onto the highways as we passed through Mexican Hat, then through other sleepy Native American towns like Bluff before finally heading northwest on the Bicentennial Highway 95. I guess the GPS routed me away from the Moki Dugway, which was something I had taken in the past that I thought would shortcut a lot of what we were driving.
But apparently in its calculations, it wasn't much different though on the map, it did appear that it would have made a difference.
Regardless, with time running short, we didn't stop at the Mexican Hat Rock, nor the Goosenecks State Park (where I told mom that Horseshoe Bend wasn't the only goosenecks), nor the Valley of the Gods among others.
As we continued northwest on the Hwy 95, we were passing through dramatic red cliff scenery as we were approaching the headwaters of the once mighty Lake Powell.
The drive was quite scenic, and it even prompted Tahia to proclaim that this area was prettier than the Grand Canyon!
I think she said that because this drive passed through canyon scenery from below instead of above like the GC where we were at overlooks peering right into the depths of the canyon itself. But I knew that being inside the canyon made a world of difference, which was why I think she said what she said.
At 4pm, we finally stopped at the Hite Overlook, which provided us a view over the Colorado River towards the headwaters of Lake Powell. Mom and I were here speaking to a Navajo person who just happened to be here enjoying the views around 15 years ago, and from back then, she noticed that there was way less water now than there was back then.
Clearly there was less precipitation (most likely caused by Climate Change brought about by Global Warming) bringing about the current conditions, and it could only be appreciated through direct observations like this. It was also something that Tahia could understand by being out in the field and not getting all her information from hearsay.
So we spent some time at the Hite Overlook stretching our legs and taking photos. I didn't walk all the way to the end for a view against the sun towards the headwaters of Lake Powell as we were short on time.
So by 4:15pm, we were back in the car, and continued on our way to Hanksville.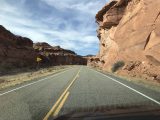 The drive remained dramatic and scenic initially though I sensed that the peak of the scenery was prior to the Hite Overlook stop. In any case, we took what photos we could from the road to at least capture the memory of this part of the drive.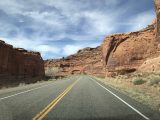 Eventually, as the dramatic section of the drive gave way to more wide open expanse, we finally arrived in the sleepy town at 4:55pm, where we checked into the Whispering Sands Motel (a place that Mom and I had stayed at before 15 years ago).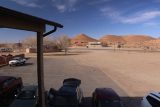 After dropping off most of our belongings in the room, we then resumed our drive towards Goblin Valley State Park at 5:20pm.
With the afternoon sun fading and casting longer shadows, we made haste before finally arriving at the main parking area and Valley of the Goblins at 6pm. It was a surprisingly popular place given the amount of vehicles parked here, and I guess I could see why they collected $15 per vehicle here as well (credit cards accepted).
But more importantly, the sight of the Valley of the Goblins was quite impressive and the kids instantly saw the opportunity to play hide-and-seek in there (even though Tahia kept complaining that these rocks looked nothing like the goblins she was used to reading about in Jack Frost).
With the fading sun, I was busy taking pictures of the reddish goblin-like formations in both Vivid mode as well as in regular daylight mode. I knew that Vivid meant more exaggerated color saturation so I couldn't go too crazy doing that.
Nevertheless, that mode did make the normal photos look dull in comparison.
Everybody was having a good time, and it didn't feel crowded or crushed at all, which was our experiences throughout the Grand Canyon and in Page.
Out here somewhat off the beaten path, it finally felt like a Nature experience as it should be even if we were in the midst of Spring Break with it being busy everywhere we went.
It wouldn't be until about 7pm when we finally left Goblin Valley. I'm sure the kids could have used another hour to play hike-and-seek here, but now, Julie wanted us to have dinner in Hanksville so she had a shot at eating something healthy since we weren't self-cooking tonight.
Eventually at 7:35pm, we arrived back in town and ate at the Duke's Slickrock Grill, where we had some BBQ smoked beef brisket, some BBQ ribs, some non-farmed trout from the Great Salt Lake, and some chicken. It was as clean of food as Julie could hope for in a place where this was pretty much the only joint in town except for some burger joints.
Yet it was also surprisingly good food considering the location.
But it was a nice end to a long day.
When all was said and done, it was 9:15pm when we got back to the Whispering Sands Motel where we all got cleaned up and crashed for the night to rest our tired but elated selves…
Tomorrow, we were headed to Lower Calf Creek Falls, which was a test to see if Joshua and Sophia (especially Sophia) who never hiked over 6 miles before, but as long as there's that hope of playing in the water, I'm hoping that they can make it there to finally get to get wet, which was lacking throughout this trip so far…
Day 5 (April 2, 2018 – Escalante, Utah): "The Start of the Trip"
It was 5:15am when I awoke. I spent the better part of the next hour blogging about yesterday while also finishing off packing up and getting ready for our early start. We had a bit of a time pressure in order to be at Duke's Slickrock Grill for our 7am takeaway brekkie.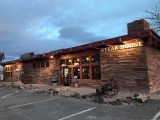 My parents were running a little late so once we got our stuff together, we drove over to pick up our brekkie and managed to get our food by 7:05am. Meanwhile, my parents with Joshua and Sophia met us at the restaurant parking lot and with that, we got as early as a start as possible.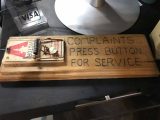 So we drove west on the UT24 heading into Capitol Reef, which featured a very scenic drive through slickrock and sandstone cliffs. I was looking for the familiar pullout that harbored the Fremont River Falls, but it appeared that the pullouts were either obscured or were taken away so that the general public wouldn't go finding the falls ever since drowning incidents had occurred on the man-made waterfall.
So I wouldn't be able to update our writeup on that waterfall, but we at least kept our momentum in continuing on to the Lower Calf Creek Falls Trailhead.
I was anxious about this hike since we were bringing kids aged between 5-7. Neither of my brother's kids had ever hiked more than a mile before, and they were about to embark on a hike that would be at least 6 miles long.
At least they had the prospect of playing in the water at the plunge pool of Lower Calf Creek Falls as sort of the carrot dangled before them. So hopefully that would keep their interest and keep them going on this hike.
I'm sure if we had more time, we might have stayed closer to Capitol Reef National Park to visit some of its lesser known attractions like Cathedral Valley, or to redo hikes like Hickman Bridge.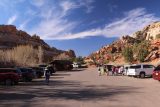 Eventually at 9am, we finally arrived at the Lower Calf Creek Trailhead, where we managed to score a couple of the handfuls of available parking spaces. It was a good thing we did get the early start though because lots of other cars were pulling in just as we were getting ready for the hike.
It wouldn't be until 9:30am when we were finally starting the hike. One of the biggest reasons why we took a lot of time to get ready was to ensure that we brought enough water while the kids had layers of clothing that they could take off if they got too hot.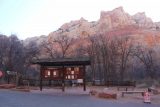 I also took some time to look at the day use fee situation, where at first I thought we had to pay $5 per vehicle until I saw in the fine print that since Mom had the Golden Age Passport while I had an Interagency Pass, we actually didn't need to surrended any cash. So we just displayed our permits so the rangers could tell that we were holders.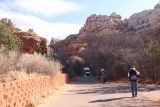 There were also potty breaks in the flush toilets at the trailhead as well as the kids already starting to burn some of their energy playing around in the parking lot itself (while we had to keep reminding them of the hazards of people backing up and possibly not noticing them).
The temperature was in the mid-60s when we got started, but given that this was a fairly long hike, that could easily climb higher throughout the excursion. It was hard to believe that when Julie and I first did this hike with a couple of friends, it was back in June 2001 and it was in the 90s here!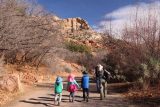 Eventually, the party started walking the paved 300 yards past some of the campsites alongside the road. We then got to a a trailhead register right where the trail started to briefly climb as it veered away from the concrete ford over Calf Creek.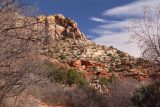 That right there told us that there was definitely going to be water going over this waterfall. Perhaps that shouldn't have been surprising because we saw that there was snow high up in the plateau as we were making the long drive going south from Torrey through Boulder and eventually to the Calf Creek Recreation Area. The road went as high as 9600ft but all that snow that was still there meant that enough of it was draining towards Calf Creek to keep the waterfall flowing.
To my knowledge, it was a perennial waterfall, which was quite rare in the desert environment that we knew we were in.
The kids were kind of racing each other as they were pushing forward where Dad kept going. Julie was not far behind while the kids were in between them. Meanwhile, I was waiting for Mom who was way behind (probably talking to the ranger).
I also talked to the ranger when we made it to the trailhead register, and he mentioned to us to not miss the petroglyphs. He said that in addition to the three we were likely to see, there were also a few more worth checking out. We didn't bring binoculars though, which was what he recommended to not only get a closer look at the petroglyphs but also be able to spot some of the other ones. I guess we'll see how that'll turn out.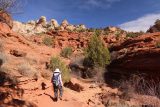 With that, Mom and I finally made our way to try to catch up to the rest of the party. During the first mile or so, the fairly soft glow of the morning light made the whites and hints of red on the cliffs contrast nicely with the blue skies as well as some of the lens clouds above.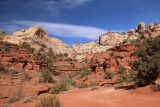 There were enough clouds in the distance to make me think that there might be some precipitation somewhere else or something. But now there were interesting lenticular patterns in them that hinted at how much wind might have been taking place up where those clouds were.
It wouldn't be until we got to around the numbered post 6 that we caught up with the rest of the group. The kids were already burning through their boundless energy on the hike (some of which was spent at the parking lot earlier), but we had to supply them with water to ensure they stay hydrated.
As the party continued on, there was once again a little separation between the head of the pack that now consisted of Julie, Joshua, and Tahia, while Dad kept an eye on Sophia (who was the youngest at 5 years and never did a real hike before) while Mom and I lagged in the back.
The separation pretty much was the result of Mom and I stopping at the signpost 8 at around 10:30am, where we looked across the canyon and noticed petroglyphs (or were they pictographs? I can't tell the difference) on a fairly light panel showing three consecutive figures looking very much like a cross between robots and some kind of warrior-god all standing side-by-side.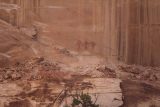 I used the 200mm zoom on my lens to bring the figures closer in photographs, but they were distant enough that they still appeared pretty small in my photos.
Mom and I spent a few more minutes looking for the other petroglyphs that the ranger mentioned, and Mom claimed that she found them, but it was hard for me to tell if what she was looking at were really genuine or if they happened to be haphazrd red streaks that somehow reminded her of more petroglyphs. Whatever they were, they were nowhere near as obvious as the three.
We then continued on with the hike as we still had another 5-6 more numbered posts to go, which suggested that we were around the half-way point of the hike. We figured that the rest of the party missed out on the petroglyphs but there would be an opportunity to check them out on the return.
The hike would persist for almost the next hour as we passed by some interesting granary seen high up on the cliffs in one side canyon where there was a hole in the cliffs. The location of that granary reminded me of how Peruvians would build cliffside structures or Anasazi had built cliff dwellings and "cities" also in high cliffs in southwestern Colorado.
So the resourcefulness of Native Americans to use whatever natural shelter to gain an advantage in the task of survival (especially high up on cliffs) demonstrated their creativity and ingenuity, where cliffside survival seemed to come naturally to them.
Eventually for the last half-mile or so, the trail followed alongside Calf Creek where the hike weaved in and out of shade as the sun continued to rise higher and eliminate whatever was left of the shadows as it was becoming late morning.
The terrain there was noticeably more lush and the water itself looked clear in the stream.
Finally at about 11:20am, we made it to the beautiful Lower Calf Creek Falls. Like the first time we were here, it had a healthy flow. There were already a few dozens of people here enjoying the waterfall, but it never felt crowded.
Naturally, the kids gravitated to the plunge pool of the waterfall where the kids were playing as if the coldness of the water didn't bother them.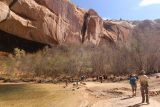 When Mom and I took off our shoes and walked in the pool for a bit, our feet were so cold that they were in a mixed state of pain and numbness. It meant that if it would be possible to do the Zion Narrows hike from the bottom to Orderville Canyon (which I was hoping to do when we get there in a few days), that Neoprene socks would definitely be necessary to keep the feet functioning.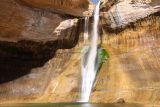 We spent lots of time letting the kids play and taking lots of photos. I also took a few videos here, as this was the very first time that we captured this scene in this manner. It was further fodder to update our writeup of this place on our website, which was getting stale after not being here since 2006, which was when I took Mom here back after the monsoons were ending in late September.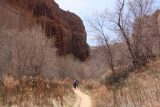 It wouldn't be until about 12:15pm when we all had our fill of the Lower Calf Creek Falls and then started the hike back out. This time, Dad was pushing ahead while Joshua with Julie were not far behind. Meanwhile, Mom, Sophia, and I were lagging in the back. We had to make sure that Sophia was hydrated.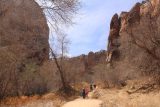 Not long into the return hike, Tahia was also lagging behind as she was needing water, but she left her water bottle with Julie. So she had to catch up to get it from her while I was sharing my leftover water with the parents so they could keep Joshua and Sophia hydrated.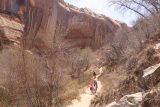 It was a little bit chaotic since Dad and Julie were pushing way ahead, but eventually, we caught up with them around the signpost 10 mark and everybody got their own waters then we continued on.
Now, the order was Julie was ahead with Dad and Joshua while Tahia and I were together for a bit, while Mom and Sophia were behind as she had to tend to Sophia's shoes getting sand inside as both Sophia and Tahia were busy in a stretch kicking sand at each other's feet.
We made another pause at the signpost 8 mark where everyone finally got to see the pictographs across the canyon wall. Sophia still couldn't see them, but the rest of the party did. When Joshua and Tahia finally figured it out, they were pretty impressed. Dad even got in the act as he was happily taking pictures.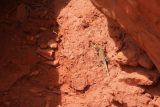 For the remainder of the hike, the group stayed somewhat together for the most part. We made one more rest stop in a shady section with a natural bench to sit on. We had one more tangerine break before continuing on and finally returning to the trailhead at 2pm.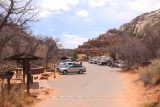 As expected, the parking lot was full. One lucky guy was waiting for us as we were leaving.
Eventually at 2:30pm, we made it to the Circle D Motel in Escalante, where we'd be spending the night. After dropping off our belongings, we then walked around to the restaurant's eatery for a late lunch.
The Circle D Motel was a far cry from the sleepeazy joint that Mom and I stayed at (and had to share a bed) 12 years ago. Back then, it was the Prospector Inn that was the premiere accommodation in town. But now, it seemed like the Circle D Motel was a decent place to stay, and that restaurant was really convenient.
We each pretty much got local burgers while Julie got a salad topped with BBQ brisket.
The kids were rowdy and Julie had them play in a separate room where a thick door restored the peace and quiet in the restaurant. And when the food finally came out, everybody was quietly eating.
At 3:55pm, after I paid for the lunch, Mom and I got back in the car to do the Upper Calf Creek Falls hike. The rest of the family stayed behind since I knew that this excursion was a bit more intense than the Lower Calf Creek Falls (even though we would only be hiking for a couple miles or so instead of 6, but it involved more route finding, and it was steep).
By this time of day, it was very windy and there were some dark clouds overhead. None of them produced any rain, but they always had that look like they were threatening.
After picking up some water from Griffin's Grocery Store, we then made the short drive back out along the UT12 towards Calf Creek. This time, we drove up past the scenic ridge before getting back to the familiar unsigned turnoff just south of mile post 81 and north of mile post 80.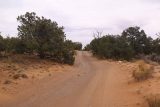 This time, we drove the unpaved access road to get to the trailhead as the road was tame enough, arriving at 4:35pm. It wasn't nearly as rocky nor rutted as in years past. In fact, the parking lot for the Upper Calf Creek Falls now had one of those bluish signs, and there were about a half-dozen cars parked here.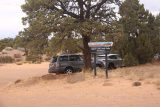 Indeed, it was a far cry from the relatively unknown and off-the-beaten-path attraction from years past. Now, it seemed like a bonafide attraction with infrastructure, even if the turnoff to get to this spot remained unsigned.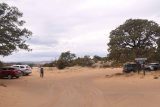 It was quite windy at the trailhead. There was a car parked next to us where a group of ladies were about to start their hike until one of them realized that they had left their day pack at a different trail in the Hole-and-the-Rock area.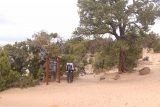 So they had to leave and go get it. And that pretty much left Mom and I to start the familiar hike after we had filled up on water, laced up our boots, and went for it.
After signing the trailhead register, we then descended the familiar steep friction pitch descent on the sloping white sandstone lined with dark volcanic boulders.
The path down had strategically-placed cairns so we knew where to go on the descent. From past experience, I also knew that going back up could be tricky. On that last time we were here 12 years ago, we had somehow lost the trail and had to do a little route finding to recover the trailhead on the steep and tiring ascent.
Heck, we had even lost the trail on the way down back then, and had to do a little route finding before we finally made it to the base of the Upper Calf Creek Falls.
On this particular visit, the cairns appeared to be more frequent, and the sandy parts of the trail seemed to be a bit more obvious. In the potentially confusing parts, I had marked on my GPS where we were at as sort of breadcrumbs for that return hike.
There were a few groups of people who were on their way back up just as we were going down, and one family actually had a young girl doing the excursion.
There was also a large group of Asian hikers with a Commonwealth accent that were on their way back up just as Mom and I were about to round a bend and get to a fork where rock cairns led us away from a separate trail that I suspected led to the top of Upper Calf Creek Falls instead of its base.
Anyways, as we made the final descent as the trail kind of hugged the sandstone ledge while across the Calf Creek drainage appeared to be some kind of cave with a separate stream coming from it, we'd eventually arrive at the Upper Calf Creek Falls' base at 5:35pm.
This time, the area appeared to be a little more overgrown than I remembered it. But the same thin-flowing falls was there pretty much like it was 12 years ago.
Since Lower Calf Creek Falls had so much water volume compared to the Upper Calf Creek Falls, I suspected that this particular waterfall didn't have the benefit of all of Calf Creek's volume here, and that might have been the result of that cave with a spring possibly adding to the flow of Calf Creek further downstream.
In any case, we spent a bit of time taking pictures from an alcove off to the side before negotiating the muddy terrain to get more frontal views of the falls.
After getting our fill of this spot, Mom and I then returned back to the cairns at the fork where we then decided to complete the experience by hiking that other trail. It kept gently ascending before eventually reaching the very top of the Upper Calf Creek Falls at about 6:05pm.
While the views of the top of Upper Calf Creek Falls was a bit on the precarious and unsatisfying side, I did see that there was a tiny cascade sliding right into a plunge pool right above the Upper Calf Creek Falls itself. For that reason alone, I could see the appeal of making it all the way up here to go for a dip to cool off. But this would definitely not be the place to be wading or swimming if Calf Creek was in higher flow since the plunge of the water was immediately downstream.
Once we had our fill of this spot, we then headed back towards the trailhead. As anticipated, it was a mostly uphill hike that took quite a bit out of us. I couldn't imagine how much more difficult this hike would have been in the Summer months when not only would we have to contend with the steep terrain and careful attention to the cairns and route-finding, but we'd also have to contend with the heat.
But on this day, it was cloudy with ominous dark bands in the distance and the odd glow of the sun piercing through breaks in the clouds giving the white sandstone cliffs a nice orangish glow.
With our calves and knees burning and sore from the rough hiking, Mom and I would eventually make it back to the trailhead at the top at 7pm, where it was still windy (actually the wind was more intense up there than it was further down below).
It seemed like the trail on the way back up was easier to follow, and we didn't have the same difficulties as before in terms of route-finding or losing the trail.
Finally, Mom and I could relax a bit and enjoy the drive back to Escalante. Along the way, we made a couple of scenic stops – one near the Kiva Coffeehouse, and another at the familiar overlook where we used to watch the sun rise after leaving Escalante and heading north into the sandstone wilderness of the Grand Staircase National Monument.
This time for that latter overlook however, they seemed to have built some dedicated viewing area with signage. This used to be just an open pullout with a view. Clearly, this was more built up than we were used to in years past. Like with the Upper Calf Creek Falls excursion, I guess it just goes to show you how much can change over the course of 12 years.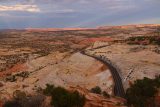 Eventually at 7:45pm, we returned to the Circle D Motel where it seemed like the rest of the family were having a bit of a party in our room. The kids were playing and jumping around on both beds while Dad was busy half watching Golf Channel and half checking out his iPhone.
Meanwhile, Julie was wrapping up the preparation of our dinner (for Mom and I since everyone else had already eaten) while also preparing mug cake for the kids.
I also managed to fit in some time watching the end of the Villanova-Michigan game as I hadn't realized that the end of March Madness was today.
And with that, we eventually crashed for the night as both Mom and I were quite tired from the long hiking while the rest of the family could revel in their accomplishment from today.
I always say that (like a best-of-seven playoff series doesn't begin until the road team wins a game) our trips don't begin until we've had a successful waterfalling excursion. And it took until day 5 before this finally happened for us. Indeed, it had been a good day, though the only downer was that somehow Julie forgot our toothpaste back in Hanksville so we had to relegate ourselves to using Tahia's toothpaste on this night.
With tomorrow being Bryce Canyon day, I figured that we didn't have too much driving to do, and we could probably buy another one of those organic toothpastes at the organic shop in Escalante when Yelp said they'd open at 9am tomorrow…
Day 6 (April 3, 2018 – Bryce Canyon, Utah): "Spring Chill"
It was about 5:30am when I woke up and did some blogging that I didn't get around to doing last night. I really didn't feel that there was that much of a sense of urgency on the day since we were aiming to just do Bryce Canyon then spend the night there.
But with the toothpaste snafu that occurred when we left Hanksville, we thought that the organic grocer in Escalante wouldn't be open until 9am so we took our sweet old time getting ready and having a self-cooked breakfast.
As I was loading up the car, the first thing I noticed was that it was freezing cold outside. Contrasting the cloudy skies and windy conditions from yesterday, today was cloudless with deep blue skies. So that was probably a big reason why today was a very chilly day.
During my back-and-forth visits from the trunk of the car to our adjacent room, I kept noticing a blue pick-up truck with the words "Sheriff" on its door that kept going back and forth on the UT12. Clearly with the 30mph speed limit in town, the cop was looking to ticket motorists.
Having gotten a traffic ticket once in this stretch of road between Henrieville and Escalante (back in Memorial Day Weekend 2003), I knew I had to be very cautious myself to avoid history repeating itself.
It wouldn't be until about 8:30am when the car was all loaded up and we were ready to go. It was still bitingly cold at 39F according to the thermometer in the car.
We first went to the organic grocery just down the street on the UT12, and contrary to what we thought, this place had been open since 7am! So I guess we dilly dallied for no reason.
It took Julie some time to pick up the replacement toothpaste because she ended up buying some more organic groceries including some frozen meat that could be used to make chicken taco later tonight since we had a kitchen at Bryce.
Eventually at 9am, we finally left Escalante and were bound for Mossy Cave.
I had low expectations for this excursion since the last time we were at Mossy Cave in the Spring (mid-April 2003 to be exact), the waterfall wasn't flowing. However, I did recall that there was an icicle inside the alcove-like "cave" itself and given how cold it was, I expected to see it on this visit.
Meanwhile, the drive was fairly straightforward and smooth going. After having been exposed to the attractive sandstone cliffs at Capitol Reef and then Grand Staircase, this stretch didn't seem as dramatic. I had also fancied making a detour to Kodachrome Basin as well as Grosvenor Arch on this morning, but Julie suggested that I kept the eye on the prize and just focus on Bryce Canyon.
Still, seeing that the town of Tropic seemed to be a bit more expanded than the town we remembered several years ago, this further indicated to us about how much things have changed over the years.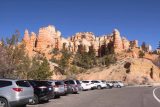 By about 9:45am, we arrived at the trailhead for Mossy Cave. And true to form at all the National Parks this week, the parking lot was quite full. We wound up following the lead of a guy who parked before us parallel, where the markings were more for trailered vehicles or oversized RVs. In either case, we managed to score one of the last couple of parking spaces and promptly donned our jackets as it was still bitingly cold here.
Clearly, the Mossy Cave Trail wasn't as obscure as it used to be, where we were used to being one of the few people who'd be on this trail.
That said, the contrast between the hoodoos and the deep blue skies made for nice photos. Perhaps even more surprising about our visit was that there was water in the Tropic Ditch!
So I knew that the waterfall would be flowing today.
After crossing the bridge, we then went up a switchback before keeping left to go up to the Mossy Cave itself. We saw that the waterfall was still in partial shadow so we figured that we mind as well check out the "cave" first, then get back to the waterfall.
When we got up to the familiar alcove that was the Mossy Cave, we saw that there was fencing that prevented people from getting into the Mossy Cave itself. There was still an icicle there (albeit smaller than when we were last here some 15 years ago), but I think they had to fence off the cave in order to prevent any further erosion, which was clearly evident.
Once we got our fill of the Mossy Cave, we then proceeded towards the waterfall. The trail that skirted the rim with less obstructed views of the falls were closed (again probably due to erosion), but the views of the falls were still satisfactory.
Looking up at the Scooby-Doo formation at the top of the cliffs opposite the Tropic Ditch from us was a little on the disappointing side as something clearly was different about it. It didn't look like the Scooby-Doo that I remembered.
Upon closer inspection, I saw that the nose of the formation must have fallen off. That also meant that the mouth of Scooby Doo was gone, too. So now, it was just a tiny arch alongside a couple of other tiny natural arches.
I guess things changing was to be expected, especially if it has been 12 years since our last visit here.
The kids then continued hiking further upstream along the Tropic Ditch as they saw that there was ice or snow covering the stream above some minor 5ft or shorter waterfalls. So the kids were having fun chucking pebbles into the stream just below the the bottommost waterfall.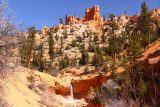 With more people showing up (and others disregarding the signs and scrambling up to the openings of the arches by the former Scooby Doo formation), we eventually we had our fill of this spot.
We then headed back the way we came while checking out the waterfall one last time (with the shadows mostly gone now) before getting back to the parking lot at 11:05am.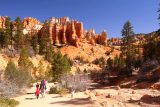 By then, the parking lot was totally full and there were some people parked further up the UT12 in another pullout.
At 11:15am, we pulled into the Best Western Grand Hotel as we were hoping to be able to at least drop off our perishables in the refrigerator before spending the better part of the day touring Bryce Canyon. But after being turned away, we had to rely on the cold outside temperatures and our ice cooler to at least keep the ice cream from melting in syrup and other goods from spoiling.
So by 11:25am, we found ourselves in a long queue to get into Bryce Canyon. I had a bad feeling that it was going to be difficult to do some autotouring before settling in on a spot to do a hike from Sunset Point.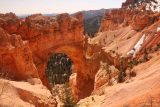 Once we got through the entrance station, we then drove all the way south to the Natural Bridge; getting there at 11:50am. Lighting wise, it was still probably a couple hours too early as the sun was somewhat behind the arch, but this was merely a short photo stop.
At 12:05pm, we then drove back north towards the Bryce Canyon Lodge so Julie could have her lunch.
When we got to the Bryce Canyon Lodge vicinity, we saw just how packed it was and how little parking was available. Even parking all the way out to Sunrise Point was hard to get. So at that instant, we decided to keep driving back towards the entrance and think out of the box to have lunch outside of the park itself.
While everyone else was crowding the park to have their lunch and compete for parking spaces, we were immediately seated at the Ruby's Dining Room inside the lodge at 12:30pm.
The lunch was mostly a buffet affair, but I did get an expensive (albeit ordinary rib-eye steak) and the kids got some expensive cheese pizzas. So in the end, I wound up paying about $116 for lunch. That said, we probably would have paid more and even waited longer at the Bryce Canyon Lodge.
At 1:45pm, we were back in the car. The temperatures were now in the 50's so it wasn't quite as bitingly cold as before. Again, I was concerned about the cooler contents.
Anyways, we then drove back into the park, where the queue was nowhere near as long as it was earlier this morning. So already our decision to eat outside the park paid off.
By 2pm, we got to Inspiration Point, where parking in the official lot was full. However, we managed to score a spot on the road shoulder parking in the wrong direction. Then, we all promptly walked up to the lookouts, where we were peering right into the Silent City under better lighting than all prior visits where we'd be here first thing in the morning.
So we spent some time checking out the lowest view, then walked up the slippery gravel slope up to the middle lookout before finally making it up to the uppermost viewpoint. While the views were nice for the adults, the kids didn't seem too terribly impressed.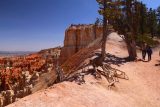 Again, I suspected that being within the canyon or amphitheater was a far more interactive and impressive experience than exclusively checking out the overlooks (just like at the Grand Canyon). So I figured that it was a good thing we'd be headed to Sunset Point after this stop so we could finally get to experience Bryce Canyon from within by foot.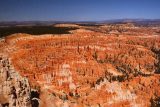 On the way back down to the parking lot, the kids were running down the hill. Unfortunately, none of them were listening to us imploring them not to run. And then Tahia ended up eating it on the way down and was crying.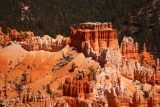 I guess experience was the best teacher and in this instance, she now knows that she shouldn't be running on this kind of terrain (with the gravel slopes).
At 2:45pm, we were back at the car. It seemed like there were now even more vehicles looking for parking spaces at Inspiration Point. That was bad news in terms of us trying to find parking at Sunset Point.
Sure enough, when we headed back to Sunset Point, rangers blocked the road saying that there were too many cars there. So we kept on driving, then made a long loop before returning to Sunset Point turnoff where the ranger was now gone. Finally at 3pm, we ultimately scored a couple of parking spaces just as quite a few people were leaving.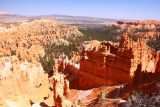 After gearing up with a couple big full re-usable water bottles, we then promptly walked towards the Navajo Loop. The plan was to do the 1.3-mile loop while also adding the Queen's Garden (which might add another mile each way). But as we descended the steep trail to a junction, we saw that the path on the right was closed.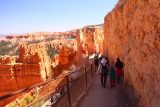 That trail looked eroded and it would have gone where the trees would grow between the tight spaces of the hoodoos towering above the trail. At first, I thought the closed trail was Wall Street, but after taking the other trail, which took in Thor's Hammer, it then went down a steep series of switchbacks that was actually the true Wall Street section itself.
With the afternoon glow of the hoodoos, we were getting nice shades of orange even without direct sunlight. But with the number of switchbacks on the steep descent, we weren't looking forward to going back up this trail.
After getting through the really cool Wall Street section, the trail then descended further towards a junction that would have hooked up with the closed part of the trail as well as connecting with the Peek-a-boo Trail that we did 15 years ago.
So we headed towards the Queen's Garden, which seemed like a longer (albeit flat) walk than I had recalled. Julie and Tahia were already complaining that we needed to get back to the apartment since it was getting late in the afternoon, but I just kept pressing forward.
Along the way, we saw a small deer grazing in the shadows before the trail started climbing towards the Queen's Garden section. Eventually, we got to the dead-end at the Queen's Garden spur where there was a sign and that familiar formation that looked like a doppelganger of the Queen Victoria herself.
After taking a break while getting a kick out of the formation that even the kids saw the obvious resemblance, Julie then suggested that we had a change of plans. So instead of hiking all the way back to Sunset Point via Wall Street and its brutally long and steep switchbacks, we should hike up to Sunrise Point then perhaps take the shuttle back to Sunset Point.
I don't think we had ever hiked this section of the trail in all the times we had been to Bryce Canyon, so I thought it was a good idea.
After having our fill of the Queen's Garden, we then continued through a small man-made arch then continued going uphill towards Sunrise Point as planned. It was quite a treat to pass through another small tunnel (also a man-made arch) as well as being flanked by some impressive hoodoo formations as we were making the steep ascent.
The trail was still pretty crowded on the return hike as there was a large group of Indian Tourists who happened to be hiking alongside our group at about the same pace (they also made frequent stops allowing us to pass them after passing us). It was annoying because some thoughtless members of that group were taking shortcuts on the switchbacks causing further erosion to the already erosion-prone terrain.
Towards the upper end of the trail, we were getting pretty impressive views down into the hoodoos as well as some hidden arches. There were still a few switchbacks to negotiate on the ascent, but they didn't seem to be as severe as that of Wall Street.
Eventually, we made it up to the top, where a sign indicated that it was another 1/2-mile to return to Sunset Point. So instead of taking the shuttle bus back (which I hadn't recalled ever seeing one of those shuttles run), we just hiked the remaining distance to get back to our cars.
By 5:30pm, we regained our cars and then promptly drove back to the Best Western Grand Hotel where Julie picked up the apartment keys and we could finally get settled. We still had to drive a short distance behind the property where there was a standalone building that housed our suite which was actually for handicapped people. By 5:50pm, we finally parked the car and started unloading.
Still, the kids were excited about being able to stay in the same room so they could play together. Meanwhile, we could all have dinner once again as we sought to finish off the food we had bought or brought over from Escalante.
The rest of the evening was spent keeping warm and having dinner together as a family. We knew outside was going to be freezing cold since we were still at around 8,000ft in elevation. The vacation rental here was missing all sorts of kitchen tools like no skillet or frying pan, no colander or strainer, no paper towels, etc. In fact, much of the cupboards were empty – literally!
Anyways, tomorrow, we had Springdale to look forward to. But I definitely wasn't looking forward to the road construction-induced traffic jams nor the Spring Break crowds at Zion National Park. Regardless, we'll just have to take things as they come…
Day 7 (April 4, 2018 – Springdale, Utah): "Not As Bad As Anticipated"
It was 5:45am when I awoke. I tried to sleep in a little bit, but with my alarms combined with the footstep sounds from upstairs (reminding me of my dorm days at university with the paper-thin walls and hollow flooring), I had no shot at sleeping in.
So I spent the early morning hours getting packed before I checked on the Wi-Fi about the strike situation in France since our Germany-Austria trip may be heavily impacted since we were flying to Paris then catching a TGV to Frankfurt (in June). I only knew to check on this because my Mom told me about it after checking on her phone about the latest news. I guess I have mixed feelings about always being connected to the web, and while we can't control the strike situation, it is far enough in the future that we'll have to keep an eye on this.
In any case, if the whole three months of the strike is realized, then we're pretty much screwed on that front.
It wouldn't be until about 6:30am when the rest of the family finally started getting up in earnest. And after Julie prepared the breakfast of poached eggs (no fried eggs since there was no skillet), we then spent the next hour or so getting packed up and loading up the cars.
It wouldn't be until about 8:20am when we finally started to leave the Ruby's Vacation Rental at Bryce Canyon City. It was very cold at 25F outside, but the forecast for Zion called for temperatures in the mid 70s. That must mean that we would be at lower elevations compared to the nearly 8,000ft of elevation at Bryce Canyon.
Of course, it wasn't the temperatures I was worried about. I was more concerned about traffic and the crowds along with the inevitable parking situation since we were still in a period of Spring Break where lots of families were out vacationing. On top of that, there was road construction on the UT9 in Springdale. The Utah Department of Transportation said to expect 60-90 minutes of delay with one-way traffic. How much that would impact our trip would remain to be seen.
The drive out towards Zion National Park was for the most part uneventful. I found myself following a tour bus from Brea, California who was actually going at a pretty good rate (possibly too fast for a tour bus). Nonetheless, that made things a little easier for me as we were going through a stretch of road where I had a bad history back in 2003.
On one trip in May 2003, I managed to get one of two speeding tickets on the same day in this stretch of the 89 between Panguitch and Mt Carmel. In June 2003 that same year, I totaled my Dad's MPV after hitting a deer on this stretch of road.
Anyways, when we turned right onto the UT9 towards Zion, an RV managed to turn in front of us then slow everyone down without using the pullouts. That was annoying, but luckily, it didn't take long before we found ourselves in a bit of stopped traffic near the Zion-Mt Carmel tunnel.
Perhaps that stopped traffic was a good thing because it gave us time to assess that we were adjacent to the Canyon Overlook Trail, which I intended to do in order to kill some time this morning.
So we promptly pulled over to the side of the road (since none of the legit spots were open at 9:55am), and we managed to gear up and prepare for a two-mile round trip hike to the Canyon Overlook. It would be the first time both Julie and I would be doing this hike in 17 years.
Once all the preparation formalities were done, we then walked alongside the stopped traffic for about 500ft towards the stairs at the trailhead of the Canyon Overlook Trail. Right off the bat, everyone had to start climbing, and then we embarked on a fairly adventurous uneven hike along slickrock benches with dropoff exposure.
Along the way, we saw impressive sandstone cliffs and beehives crowning the towering mountains around us. We also saw the narrow slotted depths of the Pine Creek Slot Canyon down below. And there were also atmospheric overhangs and alcoves along the trail.
An added bonus to the hike was the witnessing of a foursome of desert bighorn sheep grazing in an inaccessible ledge just above the depths of the Pine Creek Slot.
With constant attention being paid to on the dropoff exposure hazards and the uneven slickrock steps (some of which were wet with springs and others were slippery with loose sand), we were always mindful of the kids' well being.
Eventually, we arrived at the busy Canyon Overlook, which was pretty much situated right on top of the so-called Great Arch, which wasn't even an arch at all (more like a giant alcove).
The overlook itself peered right across the east end of the Zion Canyon area towards some towering white cliffs with red streaks on them situated behind what was once the location of the Zion Visitor Center. And with the morning light (albeit with some haze due to some light cloud cover), it was the perfect time of day to be taking in this view.
As we looked down at the switchbacks of the UT9 road between the end of the Zion-Mt Carmel Tunnel and the Zion Canyon turnoff, we saw that there appeared to be a horrendous parking situation down by the switchback where we expected to do the Pine Creek Falls scramble. That was going to be our next excursion after this.
I wasn't looking forward to trying to find parking down there, but for now, we had to enjoy the view and the experience of sharing the accomplishment of the kids making it to this spot while savoring the moment (which we knew would be a rare occurence in the lives of Joshua and Sophia until they get old enough to start doing this stuff on their own).
It was also priceless to be sharing the moment with my parents so we had exactly three generations sharing the moment on this trip – doing the hikes, doing the waterfalls, and overall just spending precious time together as who knows when we can't be doing this stuff anymore?
The kids were enjoying some of the munchos (snacks) that Julie brought along which included broccoli chips as well as pork rinds. I don't think neither Joshua nor Sophia ever had this stuff before, and Sophia really liked Auntie Julie's broccoli chips – she didn't want to leave until she finished up the whole bag, but that wasn't going to happen as there was way too much.
Once we had our fill of the Canyon Overlook, we then hiked back to our parked cars. The return hike was a bit busier than on the way in, so perhaps it was good that we got our somewhat early start.
When we got back to the trailhead, the parents and kids had to cross the highway to use the toilets. So we had to wait for them, and in so doing, we probably extended our eventual driving delays as we could see that the standstill traffic was right at the Zion-Mt Carmel tunnel entrance.
Basically, things got complicated if there were oversized vehicles that forced there to be one-way traffic. And there were plenty of RVs, trailers, tour buses, and even wide-bodied pick-up trucks that required oversized vehicle permits and forced the one-way traffic jams.
During the wait, Julie witnessed some Asian person toss a plastic water bottle outside. Apparently the ranger controlling the traffic didn't notice because she could have totally stopped them. And it happened too quickly for Julie to snap a photo on her phone and let authorities know. It's too bad some people treat National Parks like their own rubbish bin. I can only imagine how much more of these incidents occur elsewhere.
Eventually at 11:35am, we were back at our cars, and then we promptly had to get into the stopped traffic and wait our turn to get through the Zion-Mt Carmel Tunnel.
That movement wouldn't happen until around 11:45am (though it seemed longer than that), and then after getting through the tunnel, we had to slowly make our way down the switchbacks before the difficult task of trying to find parking near the hairpin turn with the Pine Creek access.
There was no signage for Pine Creek and yet there were all these cars parked here. Was the secret out about Pine Creek? I remembered on our last trip here, Julie and I were the only ones parked at the bottommost hairpin turn, and we were also one of the few people who made it all the way to the Pine Creek Falls.
I was anxious to see what this experience was like and how different it might or might not be compared to 15 years ago. However, the parking situation was the next major hurdle.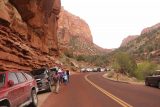 Luckily, my parents found a spot although they were barely able to fit. They tried to make room for us to pull over, but it was way too close to the cliff wall to attempt, so we had to drive all the way down to the Zion Canyon turnoff before turning around and heading back up the opposite direction.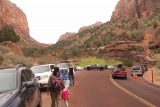 Eventually, Julie found a spot though it was very tight. The person who was parked behind us thought we were going to hit their car (though Julie was standing between it and us so it wouldn't happen), but seeing the difficulty we were faced with, they decided to back up their car to give us a little more breathing room.
And with that, we were finally parked and ready to take on the Pine Creek Falls at 12:05pm.
Next, we walked along the UT9 until we got to the familiar hairpin turn and informal trail-of-use alongside Pine Creek. Having seen that Pine Creek had water from the Canyon Overlook earlier on, I knew the waterfall would be flowing.
Yet, as we were doing the sandy hike, it seemed strange that we were one of the only people on this informal trail. Where were all those people from those parked cars?
Eventually, the canyon closed in and we found ourselves having to get through some tricky bouldering obstacles as well as some stream and pool obstacles. The trickiest one (that was still there from 15 years ago) involved going up over a boulder then clinging to a slickrock ledge without falling into the pool below.
With two seven-year-olds and a five-year-old along with two seniors in the late 60s, this was a dicey situation indeed.
After some very patient maneuvering along with some pulling and pushing, we finally made it past this obstacle. One other family managed to pass us at this point and keep going forward (obviously they knew about this spot too), and then we were faced with yet another obstacle.
This time, we had to crawl onto a boulder and through a tight opening on our bellies before getting to the other side. The kids actually managed this part a lot better than the adults.
Then, after this part, we then had some more relatively easy scrambling before finally making it to the pool and base of the Pine Creek Falls. We certainly earned this waterfall, and yet surprisingly, there were no one else but our family and the other family that passed us.
Based on this observation, that must have meant that all those cars parked along the UT9 were for the Zion Shuttles and they must have ran out of parking in the more legit spots in town and at the Zion Visitor Center.
I also realized that there were far more bouldering obstacles this time around than 15 years ago when it was more-or-less a walk after the bouldering obstacle, and eventually making it to the base from the other side. That must have meant that flash floods over the years deposited the boulders and took away prior paths. Indeed, scrambling in such washes or flash-flood-prone areas could be easier or harder or impossible from year-to-year depending on the whims of Mother Nature.
So with that in my mind, I then turned my attention to the kids who were enjoying themselves playing in the water and chucking rocks. The other family's dad scrambled next to the waterfall and slid down a "waterslide".
It was definitely another one of those moments where we savored the experience. But we had to cut it short as it was now past 1pm and Julie wanted to eat lunch.
After taking what people shots we had and putting the kids' shoes and socks back on, we then started the scramble back out, which was every bit as tricky going back down as it was climbing up (especially at the pool-and-slickrock-bench obstacle).
Dad almost jumped the gun and went up an incorrect path that would have led the kids to a cliff with no way to get down. There were people across Pine Creek that suggested there was an easier path from their side (something that I kept a mental note of), but it wasn't obvious how to get to them or to get down and back onto the sandy part of the trail.
So we just went back down the slickrock bench and ledge that we had gone up earlier.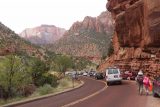 Eventually, with handling the kids one by one, we eventually got past the major obstacle, and then we were well on our way back to the UT9. That other family who found the easier way were actually from the Bay Area, and they said that someone advised them about the "easier" route.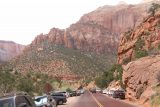 By 1:45pm, we were finally back at our cars, and then we drove into Springdale. It turned out that the Cable Mountain Lodge (where Julie, Tahia, and I were staying because it had a kitchen) was ideally situated right across the river from the Watchman Campground and Zion National Park Visitor Center.
I swore that this lodge and Canyon Village Marketplace was not there when we were last here (even as recent as 12 years ago), and I even recalled going to some RV park or something like that to pay to use shower facilities when we were camped at the Watchman Campground.
Oh my, how things have changed dramatically over the years. Not only was this place much more crowded with parking practically hopeless in Spring 2018, but I recalled how quiet and laid back Springdale was back in 2003 when Julie was last here with me.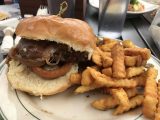 Anyways, we wound up trying to check in to Cable Mountain Lodge at 1:55pm, but they said the room wouldn't be ready until 3pm. So we occupied one of the check-in spots and then walked across to the Pub Brew Restaurant for lunch.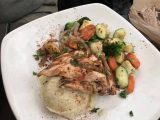 My parents couldn't find parking here so they eventually made their way all the way to the La Quinta a mile to the west of us, where they'd be staying.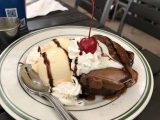 While we were busy having lunch, they eventually texted us that they'd be eating Mexican food near their accommodation. And with that, after having our ok lunch (though they did have Sticky Date Pudding, which was rare in an American establishment, at least in our experience), we eventually regained our car and room keys at 3:35pm, and then started unloading near our room five minutes later.
We then spent some time getting settled and loading up the refrigerator so nothing more would spoil.
By around 4:30pm, my parents and Tahia's cousins took the shuttle and then they walked to our room. While Julie went to the market to do some grocery shopping, my parents and I were watching the kids as we took advantage of the swimming pool and jacuzzi at the Cable Mountain Lodge.
After having our fill of the pool then rinsing off the chlorine, we then returned to our room for Julie's healthy dinner being prepared. Meanwhile, at 6:15pm, Mom and I walked back to the Canyon Village Outfitters so we could rent gear for our anticipated hike to the Kanarraville Falls tomorrow.
While most people there were doing the Narrows from the bottom, I was keen to be doing the other experience since I had never done it before. In fact, for two of the employees that I spoke to while getting fitted for canyoneering shoes and neoprene socks, they said that they loved the Kanarraville Falls excursion though they also mentioned out of the side of their mouths to not let the company they're working for know about it.
Perhaps they want this place to remain more of a locals spot and not as overwhelmed as the bottom of the Zion Narrows has become over the years (though I'm sure it's big business as our rental costed us around $46 with the Cable Mountain Lodge 10% discount).
Finally at 6:45pm, Mom and I returned to the room, and we were finally done for the day. We enjoyed having Julie's healthy Sloppy Joe while I also had some fajita leftovers from their lunch earlier today.
And with that (as well as some discussions about tomorrow's plans), I then dropped off my parents with Joshua and Sophia at the La Quinta at 8pm. It was a little tricky driving as there was clearly road construction going on, but it did appear to be free-flowing though it was a little ambiguous if I was going to be stopped by a worker of if I should just keep going.
It was definitely not the 60-90 minutes of delay with one-way traffic that the UTDOT had warned about when I was preparing for this part of the trip. Indeed, it wasn't as bad as I had anticipated (though the parking situation was bad but hopefully should be alleviated now that we're settled and parking at our respective accommodations and using shuttles as long as we're doing stuff in the park).
After dropping off my parents and nephew and niece, I then drove back to Cable Mountain Lodge where I had to pass a couple of construction vehicles even though I was only going for one mile. They were going THAT slow!
I guess that's something I'll have to be dealing with first thing tomorrow morning and hopefully around midday when we expect to be done with the Kanarraville Falls excursion.
And so ended our day (Julie did make one last grocery run in anticipation of making quesadillas and dessert tomorrow night or tomorrow for lunch), now we had to clean up and crash for the night. That said, we could hear the humm of heavy vehicles driving throughout the night. I guess if we had known better, we should have asked for a room that faced away from the road. Oh well.
Day 8 (April 5, 2018 – Springdale, Utah): "Risk Assessment"
It was 6am when I awoke. The skies were still dark at this time, but I promised Mom that I would be at their place before 7am. So I quickly got some leftovers for breakfast.
Unfortunately, there was a scheduled power outage at 11pm last night and it lasted until some time after 5am. So for those 6 hours, the refrigerator wasn't working, and the leftover chicken breast didn't taste very fresh. I hoped that I wouldn't get sick from food poisoning, especially since chicken wasn't the greatest food to be eating with bacteria growing all over them.
By 6:45am, I made it to the La Quinta. There was a surprising amount of vehicular traffic heading east towards Zion National Park at this time in the morning. I suspected that this was the early birds trying to secure a parking spot for the bottlenecked Zion Canyon shuttles.
There were certainly a lot of them, and based on our parking struggles along with stopped traffic yesterday, I don't blame them for doing what it takes to minimize the pain of unforeseen delays when vacation time was already precious to begin with.
It took some time for Mom to prepare Joshua and Sophia for the day. She had to make sure they had the right shoes as well since the plan for Julie, Dad, and the kids were to take the Riverside Walk for some water play on the Virgin River at the mouth of the Narrows.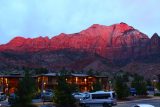 While this was going on, I took some time to check out the cliffs appearing bright red just as it was sunrise and the early light was striking the cliffs towering over the La Quinta.
We then went to their included breakfast, which was a disappointing fare of sausage patties, flattened eggs, hard-boiled eggs, some biscuits with gravy, and the usual milk and cereal as well as oatmeal. There were no waffles or pancakes like what we'd be used to at Holiday Inns or Hyatt Houses.
So it wasn't until about 7:30am when Mom and I left Dad with the niece and nephew, and they'd later take the shuttle to stop 1 at the Cable Mountain Lodge where they'd meet up with Julie and Tahia, then go about their relaxing day.
Meanwhile, Mom and I (with river shoes and neoprene socks) drove west away from the soon-to-be-zoo of Zion Canyon and towards the lesser known attraction of the Kanarraville Falls. And while that place didn't receive anywhere near the volume of people that the bottom of the Narrows would receive, the Kanarraville Creek Trail wasn't exactly unknown either; much to the locals' dismay that the cat had already been out of the bag years ago.
Even though there was road construction going on in Springdale, driving out of town wasn't that bad at all. So far, we had yet to see the extended stopped traffic in town that I had feared going into this Spring Break Trip. Indeed, the most severe delays occurred yesterday at the Zion-Mt Carmel Tunnel.
With the relatively smooth drive heading west on the UT9 towards Hurricane then northwest through Toquerville to the I-15 north, I was re-entertaining the thought of going to Toquerville Falls after our adventure on the Kanarraville Creek Trail. I had also entertained the thought of doing the bottoms up Narrows hike to Orderville Canyon's waterfall to take advantage of our rental.
That said, those would be bonus excursions as I knew we most likely wouldn't be having enough time to fit those in, or in the case of Toquerville Falls, the vehicle might not make it there and back in one piece.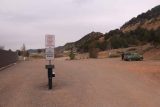 By 8:25am, we arrived at the Kanarraville Creek Parking Lot. We drew the $10 cash and did the pay and display thing to ensure we wouldn't get ticketed or towed. There was already one other vehicle that was parked here that got en even earlier start than we did. But it did feel somewhat eerie that we were only one of two cars here so far.
I wondered how often break-ins would occur here.
Regardless, it took some time to gear up with the rentals and ensure that we brought enough water on the hike. So it wouldn't be until about 8:45am when we finally started hiking.
The trail immediately started with some steps leading up to a dirt road that immediately went uphill. During the ascent, we were able to look over the sleepy residential town of Kanarraville and even out towards the noisy I-15.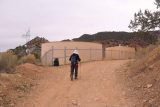 In the distance, we saw that there was still snow on the mountains in the distance. So I knew straight away that there would definitely be quite a bit of water on Kanarraville Creek if the presence of snow was any indication.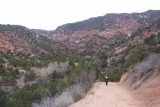 The initial uphill part of the hike peaked at a pair of water tanks situated next to some kind of radio or cell tower. Then, beyond the gate by the tanks, the track then descended before eventually curling towards Kanarraville Creek. During the descent, Mom spotted a deer in the distance before it started to somewhat hastily make its way further away from us.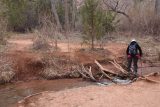 I'm sure it sensed our presence even though we were quite a distance away. Perhaps it was rightfully jittery due to deer hunting. I know prey tend to be jittery by nature since their primary way of taking in food is by grazing, which takes a while to perform as well as digest. But they're equipped to run as soon as they sense danger.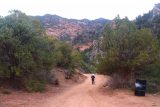 Anyways, we managed to stay dry on that first crossing of Kanarraville Creek as there were some logs set up to bypass the apparent road ford, and then after this crossing, the trail ascended another hill before descending towards a second crossing of Kanarraville Creek.
We managed to get there at about 9:15am. At this point, we had a choice of getting wet right now as opposed to taking a somewhat eroded by ledge-hugging dry path that went around this water part.
There was another family that overtook us at this point, and they took the dry path. So we followed them.
Twenty minutes later, the trail started to be less defined as there were lots of false trails created by people trying to prolong the dry hiking. But seeing how much bouldering and erosion was happening on some of these sketchier trails made me think that resistance was futile, and we'd eventually have to commit to getting wet.
That moment came five minutes later, when we pretty much had to coincide with Kanarraville Creek then criss-cross the creek several times as the canyon walls pretty much closed in on us. The depth of the canyon still wasn't high enough nor wide enough to create that narrows feeling, but the terrain was getting even more like the familiar Upper Narrows from yesteryear when we did the whole length of the Narrows back in late June 2003.
At about 9:45am, we encountered the first "waterfall" (if you could call it that) as it was pretty much a 5ft drop that had a chute-like characteristic as it slanted through a narrow groove in the bedrock. It was attractive, but I knew this wasn't the true "first" waterfall of this hike.
Beyond this waterfall, the trail continued to criss-cross Kanarraville Creek while some other sections involved hiking within the creek itself. And about 10:05am, we entered a dramatic section that looked like a narrows.
Indeed, there were tall fluted sandstone walls, and with the early morning light, we were getting pretty nice colorful glows on the canyon walls, especially when the camera was put in Vivid mode.
After rounding a couple of bends in this narrows section, we finally approached the true first waterfall of Kanarraville Creek at 10:15am, which was around 10-15ft tall with a metal ladder alongside it to get past this obstacle.
This was the waterfall that featured in most writeups of the Kanarraville Falls already in the literature. But Mom and I continued up beyond this ladder, which also had some rope to pull up beyond the top of the ladder. I could totally see how this section would have quite a queue to contend with when more people would arrive and crowd this spot waiting their turn to go up or down.
Beyond this first waterfall ladder, there was another waterfall split by a large boulder obstacle. While the left segment had a descent cascade, it was the narrower right side that was climbable.
That climb was awkward for Mom, but it was a good thing that we had rented gear from an outfitter right by the Cable Mountain Lodge at the Canyon Village Marketplace. The spider rubber soles were definitely grippy and they helped with these tricky and potentially dangerous scrambles.
After getting past the waterfall above the first waterfall ladder, the hiking momentarily got a bit tame though there were a couple more hairy sections of squeezing between boulders and cliffs as we continued our way upstream. We were getting passed by some younger and more able-bodied males as well as encountering others who were already making their way back downstream.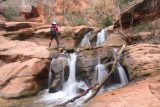 Upon inquiring some of the returning folks how far they went, we were warned that there was a second waterfall ladder that was rickety. One guy apparently fell from that ladder and got dunked in the freezing cold water. Another person said that there wasn't much going on beyond that second ladder as the canyon opened up into a creek going through plains or something like that.
I could have recalled from one of the trip reports that there was a third waterfall ladder further upstream, but so far the feedback was negative. Either that, or the people who were returning said they never made it that far past the second ladder.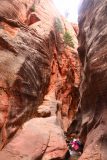 Nearby one of the squeeze-between-cliff-and-boulder obstacles, there was a pair of attractive cascades beneath a tall pillar of sandstone cliff. I managed to get to the opposite side of the creek to look towards both tiers of the falls as well as the backing reddish sandstone cliff.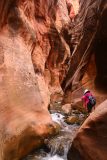 Then, past this waterfall, there was some more stream scrambling before we entered a second narrows. This time, the water appeared to run a little faster and deeper (about knee-deep in places) as we had to climb up and over some minor cascades.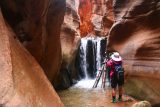 These scrambles were getting sketchier the further upstream we went, but still with the spider rubber shoes, we managed to get through them though our hiking sticks were becoming both a nuissance as well as an asset at the same time.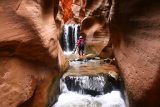 Eventually, we made it to the second waterfall ladder at 11:05am. This was where there were already a couple of guys who went up and kept going upstream. This made me wonder what was beyond that ladder, and whether there was yet a third narrows and waterfall further upstream.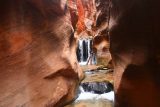 As I was indecisive about whether I should go up that ladder or not, Mom went ahead and made the attempt. This surprised me as I thought she wasn't going to try it and we were going to turn back from here.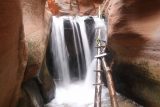 But when she made her attempt, already on that first step, she couldn't get her foot onto even the first rung, and apparently she managed to gash her left knee on that metal rung (apparently it had a very sharp edge).
When she came to me, I could see that her knee was bleeding with a deep cut, and we were busy trying to get that wound covered up and bandaged. It might even have been one of those cuts that needed stitches so she had some medical tape with strings in them that acted like stitches.
As Mom was doing this, I was trying to capture more of this second waterfall ladder in pictures and videos. There was a large group of guys who then showed up and hesitated about going up before the rest of the group showed up and they managed to push forward and make it.
Meanwhile, the father and son combo that went up in front of us had made it back. They both slowly descended the ladder backwards, and there were quite a few large steps that had to be made, including one rung that was rotating. Still they managed to descend successfully.
When I asked the father how far they went, he said that the canyon opened up and there wasn't much going on at that point. He added that if I was mulling over whether going up this ladder was necessary or not, he said that it was more for the adventure and not so much if you're after some kind of reward.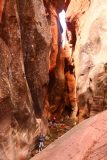 So with that, I stuck to my guns and retreated back to Mom at 11:25am. I ultimately decided in this risk assessment that the risk-reward equation simply didn't add up. That said, I hoped that I didn't regret this decision years later.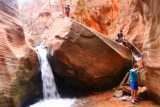 On the return hike, it went fairly fast. Since both Mom and I were already comfortable being wet with our rental gear, we opted to stay in the creek for most of the way downstream while many others were struggling to find dry trails to delay the inevitable.
We did have to pause a couple of times because Mom's bandage on her gashed knee wasn't holding up at the time given all the movement. However, she did reinforce what she had applied, and with that, we continued on as we returned to the first waterfall ladder, where there was a queue to get back down.
Mom was surprised at how many kids were on this trail. There were even those adults carrying the kids. We thought to ourselves that it seemed that many of the adults didn't know the risk they were putting their children in. In fact, we even saw a couple instances of children crying whether it was due to the icy cold water or that they were scared.
Mom even helped up some of the people making it up the first waterfall ladder before we got to go down while people were waiting for us to finish up before they made their attempt.
Once we got out of the first narrows, the trail then criss-crossed Kanarraville Creek like before, but we couldn't totally recall which way we had gone on the way in. So when in doubt, we simply trusted our rental gear and persisted in the water.
We ultimately made it back to the water gauge at about 12:30pm. At this point, the hiking back was straightforward.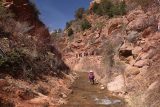 Along the return hike to this point, we encountered several parties of hikers (including some doing the ghetto thing by playing music loudly on the trail). When I see something like that, I can't help but think how some people who can't stay in the moment really ought to not do this hike and try to bring the thug or the city to natural places like this. Then, there are also those seeking out social media attention by showing off to their friends where they were just at.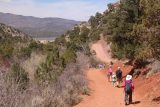 When we got back to that stretch of the water traverse versus hanging onto a ledge on the banks right above, this time we stayed in the creek and avoided the congestion up there.
Again, the spider rubber canyoning shoes were quite helpful, and the neoprene socks made it so that the creek never felt numbingly cold like it did at the plunge pool of Lower Calf Creek Falls a few days ago.
Eventually at 1:05pm, we finally made it back to the car. Along the way, there were many more people starting the hike (including more families with little children) as well as the familiar group of young men who had summitted the second ladder and had now caught up to us and even surpassed us near the end of the hike.
Speaking of the end of the hike, we saw down below that the parking lot for Kanarraville Falls was almost full.
After about 1:15pm, we finally left the parking lot and started to make our way back to Springdale.
When we finally made it to the I-15, we saw that there was quite a bit of congestion on the fast lane as the speed limit was 80mph but those clogging the left lane weren't necessarily doing that. So there were lots of situations where it was possible to pass on the right before getting into the fast lane.
During the drive, I thought that we might be able to make another attempt at visiting Toquerville Falls, especially since it was on the way.
So I went ahead and made the decision to use whatever margin of time we had to try to drive all the way to that waterfall. Unfortunately, the road to get there was even more rough than I had anticipated or remembered from last year's experience.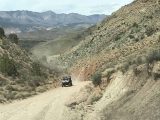 When we turned off on Spring Drive then went onto the rough and rugged Toquerville Road, we all of the sudden found ourselves moving between 5-10 mph. The rocks were simply too large on the road, and there were even deep gullies and ruts in addition to the large rocks.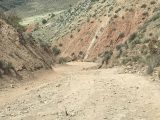 While other vehicles were going around us or gunning it in the opposite direction, they were clearly equipped with ATV vehicles or monster truck-like thick tires to manage the rugged terrain that our city car disguised as a compact SUV clearly wasn't equipped for. I don't think the high clearance of this car would help much as it was more about the tires and the ability of the car's engine to use all four wheels to properly crawl over the large rocks and through the deep gullies.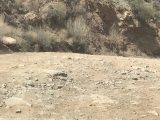 I turned out that I don't think we had gone much further than when Julie had me turn back on my first attempt last year. But this time around, we had a lighter car, yet still all the white knuckle driving made me give up and turn back. I certainly didn't want to go through the possibility of being stranded out in the middle of nowhere.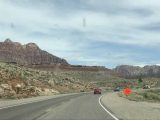 When we get near this large clearing area near the start of the rough part of the drive, one of the vehicles that had gunned past us was now parked over in that clearing with its hood open and a tool box that was laid out on the ground. Clearly something needed some work on that car under-the-hood, and it kind of put in perspective how prepared we had to be in order to make it all the way to Toquerville Falls.
Seeing that there were families in off-road vehicles, I wondered if it would be possible to do a bumpy off-roading tour to get there. That would be something I'd have to investigate going forward the next time we're in the area.
And thus, by 2pm, we were back on the pavement of Spring Drive. Eventually, we'd make a left turn back onto the UT9 bound for Zion National Park. By 2:45pm, we were back at the Cable Mountain Lodge, where Julie and company were still in our unit as she was busy making lunch.
So Mom and I were starved and gladly had Julie's healthy lunch of quesadillas, salad, and grilled veggies. Eventually after 2:50pm, we had our food and probably another hour later or so, we then started heading over to the La Quinta so the kids could play in the kiddie pool there.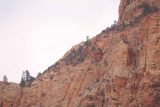 I also returned our soggy and wet canyoneering gear, which was well before the 7pm return time without being penalized additional money.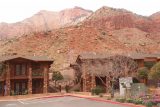 I also managed to spot the jug handle arch beneath the shoulder of Cable Mountain. Like I remembered from before, it was hard to spot, but at least now I could try to 200mm zoom of the DSLR instead of the crappy (or croppy) "digital zoom" of the old Sony Camera.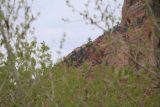 We then drove off from the Cable Mountain Lodge towards the La Quinta. Along the way, Julie adjusted the dinner reservation to 6pm instead of 7pm at the Spotted Dog Cafe.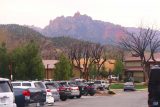 We ultimately got to the La Quinta some time around 4pm. The parents along with Joshua and Sophia took the shuttle back. At that point, the kids couldn't wait to get into the swimming pool. And after Julie initially watched the kids, then I joined in, Julie decided that perhaps she should go check out some of the goods sold at the Sol Foods Supermarket, which I knew would be right up her alley.
When my Mom showed up to watch the kids, I took Julie to the Sol Foods Supermarket at 4:35pm. There, we picked up some ingredients for Julie's mug cake. She regretted not coming here last night for healthier ingredients to make dinner as well as lunch. But now that the trip was likely to end tomorrow (as we were deciding against staying in Las Vegas), After picking up the produce, then bringing it back to our unit at Cable Mountain Lodge, we then got to the La Quinta at around 5:15pm.
The kids were still playing in the pool, which made me a little concerned about upholding our 6pm reservations at the Spotted Dog Cafe.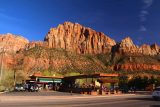 In any case, when the kids finally got back to the room, apparently Joshua had a bit of a relapse of the headache spell that he had suffered back in Page a few days ago. Whatever the case was, we needed to hydrate him as well as give him some electrolytes, which we wound up getting coconut water for him at the Sol Foods Supermarket again at 5:45pm.
We'd eventually plan on having a dinner part of 5 instead of 7 where Dad and Joshua stayed behind. We would bring them leftovers from this dinner, which was supposed to be our last splurge of the trip.
By 6:05pm, we were seated at the Spotted Dog Cafe, where we each got different dishes so we could sample the best of what this restaurant had to offer. We wound up getting some really delicious sauteed mushrooms, duck, salmon, trout, and lamb shank. Tahia and Sophia each got some kind of spaghetti with meatball.
The food was excellent quality, and pretty much everything we had here was good. It was a good thing that Julie picked tonight's dinner as our last splurge to celebrate the trip in which an even greater part of the family took part.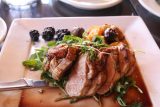 The good food kept reminding me or triggering some pleasant memory of having a good dining experience when Julie was last here with me back on an April 2003 trip, where we had visited the Subway and Angels Landing. And on the day we left late on a Sunday to go home (going to work the next day), I swore that after we made our visit to the Pine Creek Falls back then, that we might have eaten at this cafe once before just prior to going home.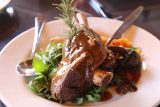 Anyways, the dinner ended at about 7:25pm. When we left the restaurant, we saw that there was standstill traffic right in front of the restaurant that stretched for the foreseeable distance to the west. I guess this was the traffic that I had feared going into this part of the trip, and now it finally happened!
Seeing this development, Mom ultimately had us drive back to Cable Mountain Lodge while Mom and Sophia took the leftovers back to their room so that Joshua and Dad could finally have their dinners.
Eventually, we got back to the Cable Mountain accomodation, where Julie made the mug cake as promised while we were also trying to pack up and be ready to leave as soon as tomorrow's brekkie was over.
Both Tahia and Sophia was already tired from their exciting day on the water both in the chlorinated pool as well as in the Virgin River earlier in the morning. So it was a good thing that the dinner ended when it did.
Julie revealed to me that they really lucked out on their visit because they showed up to the shuttle into Zion Canyon around 9:30am, and there was literally no one collecting the fees or checking for passes (as Mom and I both possessed the passes as we forgot to let them have it just in case). There was definitely someone collecting the fees or checking for passes when they took the shuttle back, however.
And so ended this eventful day, where I finally added a waterfall excursion that I hadn't done before in Kanarraville Falls though I was once again thwarted by the really rough road conditions for Toquerville Falls. I hoped that the rental car was still in good enough shape to get back to home come tomorrow.
We also finally decided to not stay in Las Vegas for the very last night, but we would meet with Julie's cousin Larry in Las Vegas for lunch. Like last time, no kids would be there since they were in school – their Spring Break schedule didn't sync up with Tahia's so the cousins still wouldn't get to see each other in person just like last year.
I had hoped to visit Valley of Fire and Mt Charleston when we were around the area, but I was perfectly fine with letting that pass. Anyways, it seemed like tomorrow's plan in addition to the long drive home was set. Hopefully we'd be going in the opposite direction of traffic so it would be smooth going…
Day 9 (April 6, 2018 – Los Angeles, California): "Catching Up"
I awoke to my alarm at 5:30am. When I awoke, I could hear lots of road work outside. These folks were definitely working real hard to get the UT9 ready for the Summer Peak Season, I guess, but it must have certainly made things hell for visitors and businesses trying to capitalize on the Spring Break period, which we were currently in.
Eventually, Julie got up and prepared breakfast while I was trying to be efficient and load up the car while all this was going on.
With the usual delays (mostly from Tahia dragging her feet eating her food then getting packed and ready as well as Julie taking her probiotics and other meds), it wouldn't be until about 8:10am when we checked out of Cable Mountain Lodge and drove to La Quinta to meet up with my parents.
Five minutes later, they were near the lobby taking pictures as they were waiting for us since 8am. Then, after taking our family shots and using the restrooms before hitting the road, we finally were off at 8:25am.
As we were making our way towards Hurricane, then towards the St George vicinity as we hit the I-15, there was already lots of traffic on the UT9 then the I-15. The towns along the UT9 seemed to be a lot more developed than I remembered, and it just further illustrated how much busier and more populated everywhere seemed to be getting.
The drive towards Las Vegas was pretty uneventful as we were actually making pretty good time keeping with the flow of the traffic and doing my best to stay in the right lane whilst only using the left lane to pass. While there were plenty of people who weren't doing that (i.e. clogging the left lane) on the way to Vegas, I knew from past experience that it'd get worse in the stretch from Las Vegas to Los Angeles – and hence one of the biggest contributors to the congestion on that I-15 corridor.
Since we gained back an hour when we left Utah and entered Arizona and then Nevada, we actually arrived at the Metro Diner in Las Vegas at around 10:15am. We had originally made this detour to meet up with Julie's cousin Tony, who lived in Las Vegas.
The meeting time was originally 11am, but we moved it up to 10:30am, and we got to catch up with him at that time.
My parents along with Joshua and Sophia were also eating at the diner for an early breakfast (though it had already been about 4 hours since that time if we didn't count the time zone change).
We learned about Tony and his intentions to move to Maui, which was a big deal. We also learned about the crime that was getting crazier in Las Vegas, which was something we can totally relate to back at home as our local city council seemed to be prioritizing monuments and statues over less glamorous things like safety and infrastructure maintenance and improvements.
We also talked a lot about health and how the foods and diet had a lot to do with it.
Speaking of the food, Tony recommended that I tried the Crab Cake Benedict, which was quite unexpectedly good. But being a fried chicken and waffles place, we let the kids have their chicken tenders (basically fried chicken strips) while trying to give them salad as well. Poor Julie didn't have much gluten free options but did manage a salad.
It was good company and great to catch up with Tony. I know Tahia was really looking forward to seeing Tony's kids, but her Spring Break didn't sync up with theirs so they were in school. Like with Julie's cousin Larry last year, Tahia couldn't meet his daughter due to the Spring Break not jiving.
In any case, we spent nearly two hours chatting at the restaurant and I knew my parents along with niece and nephew were starting to get bored. So we ended our lunch and got into our cars at 12:10pm. We did make plans to hang out with Tony's family before they make their big move.
Anyways, as anticipated the drive out of Las Vegas was busy but it wasn't frustratingly snarled like it was on the Memorial Day Weekend last year.
We did have to give Julie a restroom stop near the agricultural inspection point in Barstow (which did cause some congestion), and that was when we experienced some fierce desert winds kicking up enough sand in the air to create sandstorms.
At 3pm, we did make another stop as we managed to find cheap gas at a Food 4 Less while every other gas stop was charging well over $4 per gallon.
Anyways, the rest of the drive back to LA was for the most part fluid until we got into the Wrightwood vicinity, where the I-15 was in another slow and go traffic jam. I guess we happened to time our return for the Friday afternoon rush hour to get home.
So the rest of that drive took some time, and we eventually decided to make an early dinner stop at Man Chan Restaurant in Rowland Heights. We knew that it was pretty clean food for Julie so she wouldn't have to make dinner when we got home.
We got there at 4:45pm. The parents were already home by the time we got to the restaurant, and we decided not to have them come with us to this meal as I'm sure we subjected them to enough healthy foods that they weren't used to all trip long. And they probably needed a splurge on their usual comfort foods.
At 5:30pm, we were finally done with dinner, which hit the spot, then we drove home. Apparently, on the drive home, I made a mistake in taking the freeway back instead of taking local.
It turned out that we wouldn't get home until about 6:20pm. I wondered if I could have saved around 15 minutes or more had I taken local (even with all the traffic lights).
In any case, we then spent the rest of the evening getting unpacked, catching up on things we had not attended to when we left, and then dropped off the rental car (though we still had to return the keys tomorrow as the office had closed).
Thus ended this pretty fun trip, which was quite unlike any others Julie and I had done. And a week of this trip was pretty adequate. But going forward, I knew that the 6-week trip to Germany and Austria would be the big challenge, and it was necessarily just going to be the three of us on that one…
Visitor Comments:
Got something you'd like to share or say to keep the conversation going? Feel free to leave a comment below...
No users have replied to the content on this page