Day 1 (March 29, 2018 – Flagstaff, Arizona): "Long Drive"
It wasn't until about 1:40pm when we finally left home. But Tahia was still in school, and we had to take her out of school early as Julie and I sought to beat out the rush hour traffic knowing that the I-15 drive wasn't going to be pleasant. Heck, even just trying to get out of the greater Los Angeles area was not going to be smooth going with the sheer number of cars out on the road at that time of day.
I had originally wanted to be out of here by high noon, but I kind of suspected that it would be a pipe dream given that Julie didn't even start packing until this morning.
In any case, it wouldn't be until about 2pm when we finally got Tahia out of school because there was some magic show where her principal was going to be sawed in half during a magic show.
When Tahia got in the car, she didn't seem too bummed about not seeing her principal getting split in half. I think she was more excited about seeing her cousins on this road trip.
While Joshua and Tahia were on road trips last year to Yosemite and Death Valley, this trip was going to be different because Joshua's little sister Sophia was coming this time. Plus, we never had this large of a party (as both my parents were coming along) on a trip that was going to last over a week. So for sure, this was unchartered territory for us.
But hey, any opportunity to get my brother's kids into Nature is a good thing. They certainly weren't going to take their kids out to see the real world the way Julie and I were doing it…
Anyways, as expected, traffic was already pretty heavy as we were headed east to the I-15. And it didn't get any better once we got onto the I-15 itself as traffic was pretty much around 15-20mph in pockets (mostly where the freeways were merging).
It wouldn't be until about 4pm or so when we'd finally get past Barstow and be on the I-40 heading east through the Mojave Desert. At least now we were pretty much home free from this point forward.
The GPS predicted that we wouldn't be at the VRBO home we rented in Flagstaff until around 9:45pm or so. But I knew that was a pipe dream as we were planning on making a stop somewhere in Kingman as Julie found out that they had a Chipotle there.
I also tried to hold off on filling up on a tank of gas, especially since the station at Needles (still in California but close to the Arizona border) was asking for around $4.69 per gallon!
Eventually at around 7:45pm, we finally made it to the Chipotle in Kingman, Arizona. Prior to that, we had made a gas stop at the Safeway where I filled up 91 octane (thinking it would buy us some valuable mileage) for only $2.91 per gallon. Then, we went grocery shopping at that Safeway where Tahia was tattling on me about buying junk food (much to the amusement of people within earshot of her).
We pretty much finished up with dinner at around 8:30pm, and we thought about waiting for my parents to show up, but as we saw that the GPS predicted that we wouldn't be in Flagstaff until about 11pm, we couln't take the chance. So we kept going.
My parents happened to make it in Kingman by the time we left, but they needed to make a gas stop and also a take-out dinner stop.
After some more uneventful driving in the dark (though I had to be vigilant about rough road conditions on the slow lane and the everpresent danger of deer darting out on the interstate), we eventually got to our VRBO home near the Flagstaff airport at about 10:40pm.
The home was a little tricky to find because it sat behind a narrow driveway kind of hidden from the residential street that we were driving on. Nevertheless, we found our abode for the next two nights, and now we had to make sure that my parents would find this place without trouble (hopefully no deer complications for them).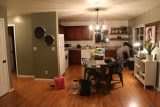 The VRBO home was quite homey and it definitely had a woman's touch to it. The decor was probably what got Julie to pick this place, and there were even homemade chocolate chip cookies sitting on the counter waiting for us. That was a nice touch!
By now, it was about 32F, but I wasn't bothered by the cold since I was busy hauling our stuff from the car into the nice, spacious, and very homey house. Looks like Julie made quite the find here.
The rest of the evening was spent cleaning up and getting settled while waiting for the rest of the family to show up.
When my parents and my brother's kids showed up a little after 11pm, that gave Tahia a second wind as she was so excited about sharing a room with her cousins. Meanwhile, my Dad was unwinding as he was the sole driver of the 8-hour drive from home to get here, and Mom was busy sorting out the groceries while tending to Sophia's bloody nose (too dry and too little water drunk, I'm sure as I used to have those issues in the past).
It was going to be a hectic evening because sleep was definitely going to be lacking as tomorrow was going to be Grand Canyon day. We had to get up early so we could find parking and tour the place (which would be my parents' first time there – it was on Mom's bucket list) for the better part of the morning before Mom and I would go to Grand Falls while the rest of the family would be back at Flagstaff or something a bit less adventurous.
We'll see how it goes…
Visitor Comments:
Got something you'd like to share or say to keep the conversation going? Feel free to leave a comment below...
No users have replied to the content on this page