Day 2 (March 30, 2018 – Flagstaff, Arizona): "Mismanagement and Miscalculations"
It was about 5:45am when Julie and I got up out of bed. We were actually awake for several minutes before when we heard what sounded like Joshua crying upstairs. We suspected that he might have had a nightmare.
With a busy day today, Julie got right out to the kitchen to prepare breakfast. I was concerned at the amount of cooking that Julie intended to do, and that nobody else was downstairs until around 6:40am.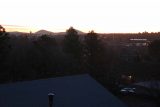 In the mean time, I took a few minutes to check out the view back towards Flagstaff from the balcony of our VRBO home. The sun came up at around 6:15am though the lighting quickly became harsh and not-so-photogenic once the sun breached the horizon.
I had calculated that we needed to be out of here by 7:30am in order to be at Grand Canyon by 9am, but I already had a feeling that we were going to blow through that deadline and suffer the consequences of overcrowding which would further add pressure on the things I had intended to do later on today after the anticipated half day spend at the Grand Canyon.
Sure enough, it wouldn't be until about 7:50am when we were finally leaving. Knowing that a 20-minute delay here could easily mean a nearly hour delay over there (due to the exponential part of the Gaussian curve), I kept fretting about how crowded it would be by the time we'd make it back to the Grand Canyon.
Nonetheless, this was Mom and Dad's first time to ever witness the Grand Canyon, so this part of the trip was pretty much for them as much as this was going to be a repeat for me. I was also entertaining the thought of checking out Hermit's Rest since that was something we had never done before over the three times we've been at the Grand Canyon.
Well, after a fairly frustrating drive behind slower drivers with very limited opportunities to pass whilst going north on the route leading from the Williams turnoff north to the south rim, we'd then be caught in a very long queue to get into the Grand Canyon entrance.
That part alone costed us about 30 minutes or more, but eventually at about 9:35am, we'd finally find parking at Lot 4, which was nearby the Visitor Center. It was actually quite a ways away from the village and Yavapai Lodge section that I had recalled we had stopped and parked at in years past.
Anyways, we then promptly walked over to Mather Point and took the Rim Trail west towards some other viewpoints before finally heading back to the Visitor Center area to catch the blue bus. But it turned out that the line for the blue bus was very long. And it also seemed like the orange line was loaded with more buses than the blue bus as there seemed to be 2 or 3 orange buses for every blue bus that showed up!
Talk about poor line management! I'm sure the budget cuts for the National Park service didn't help matters compared to the corporate tax breaks and other corrupt policies that were put in place by the Trump Administration.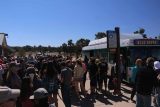 So at 10:35am, we stood in line for the blue shuttle bus to the village, but it wouldn't be until about 11:05am when we finally boarded the third blue shuttle bus that showed up. Once we got to the Market Plaza stop, Julie, Dad, and the kids all got off so they could have lunch and chill out while Mom and I continued towards the bus transfer stop to catch the red line towards Hermit's Rest.
When we finally got onto the second red bus that showed up at around 11:35am, I realized once we got on that it was going to be a minimum 80 minutes round trip that doesn't even include any walking and picture taking along the way.
So Mom and I decided not to get off any stops except for Hermit's Rest (though some of the viewpoints on this western side of the canyon seemed attractive enough to be worth some photo stops; like Powell Point and The Abyss among others). But time was running out and we were determined to get to the end to at least pique my curiosity about what was so special about Hermit's Rest.
Along the way, we noticed some private vehicles driving on this part of the road, which had a boom that prevent most public traffic from getting through except for the shuttle buses. Not all of the private vehicles had handicap placards so we wondered how they got here (which would have really saved time).
I suspected that perhaps they were staying at the Yavapai Lodge so the over $300 per night rates probably included access to shuttle-only areas as a perk for paying that premium. So that was something to consider the next time we might stop by here (hopefully after a rafting trip or something).
It wouldn't be until about 12:20pm when we got to the Hermit's Rest shuttle stop. There was the signature manmade arch and bell, but what I thought was an interesting historical building turned out to be nothing more than a gift shop with a cantina. There was some interesting architecture that reminded me of some of the beehives that might be seen near Gordes, France in the Provence region, but other than that, it was anticlimactic, and it turned out to be a costly 2-hour miscalculation on my part.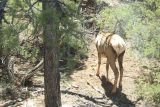 Good thing Julie, Dad, and the kids didn't come out to this part.
Eventually at 1:05pm, we managed to be dropped off at the Visitor Center via an express bus that pretty much bypassed the village area. Mom and I spent a few minutes eating leftover pizzas and chicken salad, while the kids were running around all excited and really burning off some energy.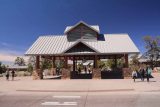 By about 1:40pm, we got back into our cars where a lot of marauding vehicles were anxiously looking for parking spaces and managed to score our spots. Good thing we got our early start (though it was still later than I had hoped). I guess this weekend was exacerbated by Spring Break and Easter Weekend as today was probably Good Friday or something.
Anyways, we then drove off behind another caravan of slow cars. But eventually at about 2:20pm, we finally made the 25-mile drive to the Desert View Watchtower complex. There was now a giant parking lot here and I couldn't see the watchtower along the road like we did in the past. I guess they must have re-routed the road over the years.
Still, we walked to the attractive tower, and managed to get our shots over the eastern end of the Grand Canyon, where the greenish Colorado River was clearly visible. With the afternoon sun, I also took advantage of the soft hazy light to shoot the watchtower juxtaposed with this part of the Grand Canyon (something I didn't do the first time we were here 17 years ago).
The kids really got re-engaged here as they liked checking out the views, and going up the steps (flanked by petroglyphs; not real but authentic) for more higher vantaged views of the Desert View section of the Grand Canyon itself.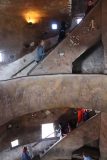 Eventually at about 3:20pm, we made it back to the car to continue the scenic route back to Flagstaff via the 64 then the 89. It was a good call by Julie to take this scenic detour instead of taking the direct way back.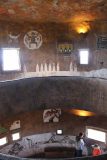 Eventually at 4:55pm, we made it back to the VRBO home in Flagstaff but unfortunately, my Mom had locked the screen door which we didn't have keys for. So we had to wait for the owner to come by and unlock it for us.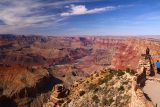 So while Julie, Dad, and the kids stayed behind, Mom and I made the drive out to Grand Falls before I worried that it would get dark. We wound up leaving at around 5:10pm, but after delays upon delays in just getting out of Flagstaff (there was a long train going east before another train went the opposite way just as the first train was done, which costed us another 15 minutes), it wouldn't be until about 5:30pm when we finally left the city limits of Flagstaff.
We then took the familiar Winona Exit 211 before going back west to Leupp Road. Once on Leupp Road, we then took the familiar paved road out to the Navajo Nation boundary. There was a sign that said Grand Falls next left, and we decided to turn left onto the familiar BIA-70 Road like before (as much as I wanted to try out the BIA-6190).
I also ran the car off the road as the turnoff came suddenly. Luckily, I managed, and then we found ourselves on the familiar wide but washboardy road that really rattled the car for the next 7-8 miles or so.
By about 7:15pm (mountain time, which meant we lost an hour as apparently Navajo Nation was not on pacific standard time), we made it to the familiar Grand Falls picnic area. Like before, there was no sign indicating the turnoff leading there, and I actually drove to the ford over the Little Colorado River. Unfortunately, there was no water on the Little Colorado River, and that meant that there was no water going over the waterfall.
Bummer!
Still, as the troopers we were, we still had to go to the overlooks and document our experience. This debunked the theory that this waterfall would flow reliably at specific months because we literally we here 18 years later in the same month of March and got one nice flowing experience and one totally dry experience.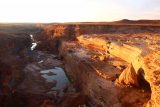 So while Julie and I argued in the past about whether Grand Falls belonged in the US Top 10 Waterfalls List, I think I was in the right (I wanted it off the lost) as it wasn't reliable enough to be placed above other deserving waterfalls. Indeed, this latest experience proved that point.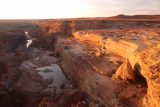 Mom and I took a few minutes to shoot the reddish cliff colors as the sun was setting. We could hear the buzz of mosquitos nearby but luckily there was a lot of wind to keep them at bay.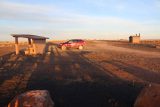 There was also one other truck that managed to drive a bit further along the cliffs to one of the lower lookouts with a more direct look at the Grand Falls. They were on their way back out and the driver waved to us as he made his way out.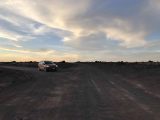 By about 7:30pm mountain time, we were back in the car and had our fill. By now, the sun had pretty much set and we were now taking the 6910 road back to the Leupp Road.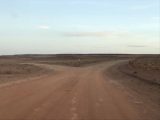 With a full moon rising against the purplish skies, we found that the 6910 road was a little smoother than the washboardy Road 70. There were a few rocky patches, but the road was on hard-packed dirt or sandstone instead of the sandier and looser dirt of the Road 70 (resulting in the more pronounced washboards).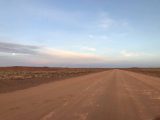 When we made it back to the Leupp Road, we couldn't see any trace of signage suggesting that the 6910 road led to the Grand Falls (unlike the Road 70 that did have such a sign).
As night time was now taking over as we headed back towards the I-40, Julie texted us that she needed us to run some errands. So we eventually wound up at the Whole Foods in Flagstaff at 7:30pm (back on pacific standard time so we went backwards in time by 5 minutes), and then after a stop at Wal-mart, we eventually made it back to the VRBO home at 8:15pm.
And so ended this very long day that wasn't high on the hit list in terms of successes, but this was really more about the parents' desire to see the Grand Canyon for the first time, as well as the kids spending time together.
So in that sense, I'm sure precious moments were gained on this day even though it wasn't much in terms of what I could put on the website.
Mom and I came home just in time for dinner though I think we overstuffed ourselves as there was also a lot of dessert and ice cream to finish up knowing that it would be hard to bring the stuff that'd melt out to Page tomorrow.
In any case, we'd have to get up early tomorrow, and we'd also lose an hour knowing that Utah was on Mountain Time so we'd have to spring forward yet another hour again.
And if today was any indication, it was going to be a major challenge to get up and out of here in time to do both Horseshoe Bend and the Lower Antelope Canyon tour.
Visitor Comments:
Got something you'd like to share or say to keep the conversation going? Feel free to leave a comment below...
No users have replied to the content on this page