Day 3 (March 31, 2018 – Page, Arizona): "Flip Flopping"
It was 5:15am when I awoke. Mom was already up and Julie had gotten up a few minutes later.
The house was already buzzing with activities from errands that we had to run in order to ensure that we were able to check out and make the drive north from Flagstaff to Page. There were activities planned for today such as the Horseshoe Bend, but more importantly, we didn't want to miss out on our scheduled tour for the Lower Antelope Canyon, which Julie had booked us for 1:15pm but with check-in 30 minutes prior so we had to be there at 12:45pm.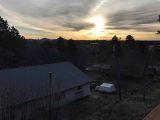 Further adding to the complication was that the GPS
indicated that we had to spring forward another hour because we were supposedly going into the Mountain Time Zone, though that kind of ran contrary to what I thought as we would still be in Arizona.
But even with all the pre-emptive packing and food preparations, it still wasn't until about 7:20am when we were finally out the door and made the house in a condition that was akin to the way we found it when we first checked in.
Unlike yesterday afternoon, the Route 66/89A was a bit on the quiet side so we were able to head north on the Hwy 89A without too much incident. We were also going at a pretty good clip as traffic was also fairly light on the highway with plenty of passing lanes to get around slower drivers and trucks (though we did have to be careful of state troopers looking for speeders as we were going about 4-5mph higher than the 65mph limit.
This drive between Flagstaff and Page was actually my first time doing this stretch of highway. The first time Julie and I were in Page was back in 2001, but we never went south as far back as Flagstaff. Instead, we headed to Jacob Lake and then to the Grand Canyon North Rim back then.
But this time, we followed along a fairly featureless drive except for the cliff formations that hinted at the underwater history of this area that I wasn't sure might have been part of the Great Basin area.
We'd eventually get past a climbing section where the road hugged a reddish cliffside with a scenic view towards the Colorado River cutting through a seemingly flat expanse.
As the road was descending towards Page, I had to slow down as I knew we were going to make a left turn to the familiar Horseshoe Bend.
Even though my Garmin Nuvi
said that we had made it to the parking lot of the Horseshoe Bend at 10:30am, we thought we had lost an hour on this drive (going into Mountain Time instead of being on Pacific Standard Time) so that put even more pressure on us to get through this excursion before making our Lower Antelope Canyon tour, which was scheduled for check-in at 12:45pm.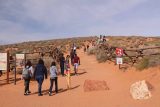 It was already busy at the Horseshoe Bend as the parking lot was pretty much full. We managed to find a couple of parking spots near the pit toilets though I had to park close to someone next to me so Dad could squeeze in.
It took a while to get all ready as we all had to wait to use the restroom before setting off.
A sign at the trailhead indicated that there was going to be a lookout platform that would be built by Summer 2018. That explained all the construction vehicles and heavy duty equipment in the area. Well, that wouldn't be available today so we had to be careful about getting too close to the edge to see the bend in its entirety (I doubted that our camera would pick up everything though given the height of the entire scene).
The walk initially began with a brief uphill revealing the extent of the full parking lot as well as the neighboring city of Page when looking left of the top of the hill. It seemed like there was an incessant stream of people walking in both directions, which contrasted mightily to the time when Julie and I first came here some 17 years ago (when we were only one of a few dozen people here).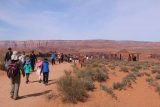 That said, it was a late afternoon visit so it wasn't the greatest lighting wise so perhaps that also helped to reduce the visitor numbers back then.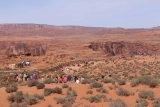 Now, it seemed like there were easily hundreds or even upwards of a thousand people here complete with multiple tour buses, large families, and younger folks armed with mobile phones looking for that selfie of themselves posing before the famous gooseneck of the Colorado River.
Like we had remembered from before, there were no guardrails or railings to keep people back from the edge of the gorge. So with three kids in tow, we had to really watch out and make sure they didn't linger too close to the edges.
So we all spent the next hour or so composing our own pictures of us sitting before the bend while Sophia and Tahia were busy playing with the red sand. Meanwhile, Joshua was running around hanging out with Dad a bit further away from the commotion.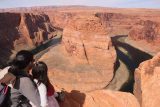 While looking down at the bend, I did notice some people camped at the base of the tonsil part of the bend while other boats would cruise the Colorado. Clearly, then must have put in their boats further upstream (probably somewhere closer to the Lake Powell Dam or perhaps at Lees Ferry going upstream) to get down there.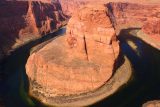 Once we had our fill of this spot (thinking we were now running out of time in terms of catching the tour for the Lower Antelope Canyon), we promptly hiked back to the car park at about 12pm.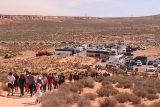 And as we headed back down to the parking lot, we noticed that it was even more full than it was earlier this morning. In fact, there were people parked out on the Hwy 89!
Next, we drove into the town of Page and looked to see if we could check in early to our accommodation. With the weather warming up quickly, we were really hoping that we could drop off our perishables inside the refrigerator of our unit.
When we got to the Suites on 10th at about 12:10pm, it turned out that the lady who happened to be cleaning and preparing our room let us put stuff in the refrigerator though we had to leave our other stuff in the car since the room wasn't going to be locked. So we'd take care of populating the room later on. That was fine since Julie got the room keys.
With that out of the way, we then drove over to the Dixie Ellis Tours of Lower Antelope Canyon. We could see across the Marina Point turnoff that the familiar Upper Antelope Canyon parking lot was full. Not only that, but when we pulled up to the Lower Antelope Canyon lots, there were like three tour operators side by side with each other all for this Lower Antelope Canyon.
This was already very different from what we remembered the last time we were here when there weren't all these tour operators and we only had to pay about $7 per person to self tour by going down into the canyon then hiking back up once we got to some dropoff.
When we checked into our tour at around 12:45pm, we were told that it was only 11:45am! I guess the Navajo Nation didn't recognize the time change even though our GPS had us believe that we had jumped ahead by an hour. Well, at least we were checked in and just had to come back about five minutes before our actual tour.
So now that we had about an hour to kill, perhaps we could squeeze in a lunch before making our tour.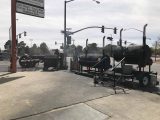 Julie saw reviews for this place called Big John's Texas BBQ. When we got there at about 12:15pm, the place wasn't that busy. And so we promptly got our table, made our order of pulled pork BBQ as well as BBQ beef brisket as well as a couple of bowls of salad.
The pulled pork was actually pretty good and soft. But the beef brisket was a bit on the disappointing side as it was a little on the tougher side and not as soft as what we would have expected like what we had in Austin a few years back. Plus, it needed the spicy sauce to enhance the flavor a bit (though they were definitely smoked as we could see and smell the smoker on the periphery of the property).
Good thing we didn't get the ribs that Dad was about to order (out of habit, I'm sure) since that would also be composed of the tougher beef.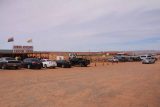 By 12:55pm, we were back in the car and headed back to the Lower Antelope Canyon. And by 1:05pm, we were back at the car park for the Dixie Ellis Tours.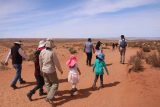 That was when we were led by a young Navajo guide named Elijah. He taught the kids a couple of Navajo words like Yateh (sp?) for hello and Goneh (sp?) for good-bye though we weren't sure if he was going to quiz them at the end of the tour.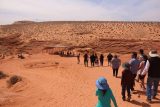 The first thing I noticed that was different about this tour was that we weren't going down the crack at the entrance then descending a long ways to the bottom like before. Instead, it seemed like we were being led further down the wash towards a sheltered stair entrance before the steps continued deeper into the slot canyon.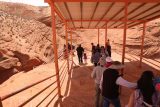 Right outside the sheltered steps before the put in point were a couple of Navajo folks checking to make sure people going down were guided.
Eventually when we made it to the bottom, we were then suddenly amongst the familiar psychedeic colors and patterns of the twisty slot canyon. There wasn't a whole lot I could remember from our first visit here 17 years ago in terms of matching up what we were seeing with the dropoff and metal escape ladder near the end.
In any case, the next 60- to 90 minutes were spent snapping as many photos as we could as we were kind of being rushed through as a tour was right behind us, and I'm sure Elijah was doing his best to keep things moving along telling us that we shouldn't be taking pictures at the steps or where the canyon was narrow.
It didn't make for the most relaxing experience, but I guess they wanted to keep things moving along. An Indian couple from Indiana as well as Julie were being a little defiant in taking the pictures where they could anyways knowing that we had paid $46 per person to be in here and take advantage of the moment knowing that such photo ops didn't come along very often.
While we knew that the sun beams weren't going to happen during our visit, especially to the Lower Antelope Canyon, we did appreciate the patterns and the colors when examining the narrow slot canyon walls around and above us. The Upper Antelope Canyon was actually sold out and since we had kids, we couldn't do it but if it was just us adults, perhaps we could have done it and tried to get the sun beams like before (though with the crowds, that might have been hard to manage).
It was a good thing that Elijah had us put our cameras in Vivid or Warm mode because they really did amplify the color saturation within this canyon. I usually refrained from making vivid settings on my camera because they tended to make the picture look more doctored or fake, but in the case of the Lower Antelope Canyon, it made a lot of sense.
We certainly took way better shots than 17 years ago when I was taking pictures using Julie's analog Nikon camera. Both her camera lacked the color saturation but we also had to develop film. Remember those days?
Some of the highlights of the Lower Antelope Canyon tour that we did included an attractive natural arch, some kind of birds nest, and some interesting formations like a lion's head, a seahorse, a woman in the wind, and many others.
The tour was definitely seemed longer than I remembered from our first visit and perhaps that was because they started us lower than that first time. With memories being a bit on the hazy side from that far back in time, I'm sure there was a lot about my recollections that probably weren't as accurate either.
When we finally got back up to the wash via the familiar spot we made our entrance and exit during our first visit, Elijah then showed the kids (as well as ourselves) where there were some dinosaur tracks. I forgot what the dinosaur name it was that produced these tracks (definitely not something memorable) and they weren't as impressive as the tiny imprints we saw on the Subway hike in Zion, but the kids seemed pretty impressed nonetheless.
By about 2:35pm, we were finally back at the tour operator's complex where we were each given a bottle of water to re-hydrate as well as getting a look back at that ugly coal-fired power plant that Elijah said will be decommisioned soon.
By about 2:50pm, we made it back to our pair of units at the Suites on 10th. That was where Julie, Dad, and the kids could do some grocery shopping then chilling out in town. Meanwhile, Mom and I were headed back out towards Wire Pass, and I had heard that that was a good short hike to get a brief taste of the Buckskin Gulch Narrows as well as some Native American petroglyphs in addition to some narrow slots themselves on the Wire Pass Trail.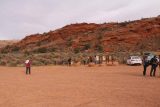 It wouldn't be until about 3:20pm when we finally headed out towards Wire Pass, and it wouldn't be until about 4:25pm when we finally arrived at the car park for Wire Pass Trailhead after going about 7-8 miles on fairly rough but doable unpaved road. Since we were technically north of the Arizona-Utah border, I guess it was really an hour ahead as Utah was on Mountain Time, but who was keeping score at this point since we were going back to Page after this excursion.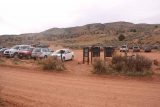 Once we parked the car, there were at least a couple of parties asking around about The Wave. I wasn't sure if this was the correct trailhead for that attraction, but I also knew you needed a permit to access it without a fine. And other people answering some of these peoples' inquiries corroborated that. After all, we all knew we needed a permit to do The Wave and it wasn't easy to get (something like 10 online lottery reservations and 10 walk-in permits per day were allowed).
There was one European guy who claimed he didn't know about the permit situation, but I knew he was just playing ignorant as a defense mechanism for if he did get caught without a permit. But I knew he was determined to go for that attraction as he probably wouldn't be coming back here in the near future or any other time.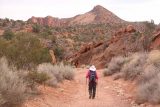 Another couple was also very determined to do that hike as he was very keen to circumvent the rules where he could. That said, I didn't see any clear signs of rangers enforcing the rules given how remote this place was, but perhaps it was because it was getting towards the end of the day and they knew that you either knew what you were doing to be starting off this late or risk getting lost (in which they'd find out you were here anyways and be subject to a fine provided a rescue was in order).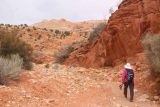 Anyways, Mom and I got started, and we brought along some sandals that could get wet in the case that we would encounter water wading.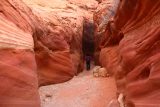 At around the half-way point of the 1.7-mile each way hike to the confluence with Buckskin Gulch, we noticed there was a spur trail with signage indicating something about the Coyote Buttes North Trail. Of course, nothing was said about the Wave on this sign so it was clear to me that the authorities weren't going to make it any easier to find The Wave.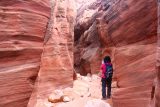 So Mom and I walked through mostly wash before the slot canyon really started to narrow in.
We'd eventually get to a spot where there was a dropoff that seeemed non-trivial to negotiate. While there was a make-shift ledge composed of what appeared to be a small log jam or something, the dropoff was severe enough that Mom and I decided we weren't going to do this and continue further downstream.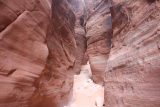 I knew there was a "bouldering obstacle" on the way to Wire Pass from the American Southwest Blog, but I also knew that people familiar with the slot canyons would probably look at that obstacle and think it's not a big deal. But for those not too familiar with slot canyons like we were, it would be a big deal and so we decided not to chance it as it didn't look easy to get back up even after managing to go down this obstacle while carefully putting weight on the dead-falls or log-jams wedged in the boulders we were standing on.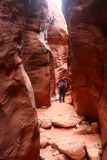 I'd bet with a rope or something, it might be manageable to go down and continue on, but clearly we were equipped only for day hiking but not for canyoneering.
On our way back out, there was one of the parties looking for the Wave (a couple apparently from Florida), and we had a bit of a conversation to help pass the time on the hike back out (or at least make it seem to us to be that way). This couple really seemed intent to make a visit to the Wave happen without a permit, and the guy was even contemplating doing the Lower Antelope Canyon without a tour guide (probably after hours, too).
I'm sure they were going to come back here tomorrow and try again. Hopefully for their sake, they don't get caught be rangers.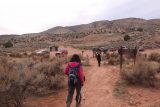 Well, when all was said and done, we were back at the Wire Pass Trailhead at 6:15pm. Thus, we concluded yet another anticlimactic end to the day (first Grand Falls and now this Wire Pass dud). Now, it was time to drive back to Page though the thought of making it out to the Coyote Buttes North towards The Wave was really tempting even though the sun was rapidly sinking and the skies had changed to overcast with some pockets of dark clouds.
Reason won out over this temptation however.
I knew that over time this hike would haunt me in much the same way that the Union Falls hike haunted me for the better part of 13 years before I finally got to try again. Who knows if I'll ever be able to do The Wave in my lifetime.
It's funny that the people who write about it on travel blogs gloat about being able to do the hike and saying it's a wonderful lifetime experience. Yet I'm also interested in the realities behind it as you don't generally hear about those stories either (kind of like the lottery; you hear about the winners but not so much about the losers as that's far too common and uninteresting I guess).
So who knows if we're really missing out or not.
Eventually at 7:15pm, Julie texted us to pick up something from the Safeway in town. So by then, we were running errands for Julie as my Mom helped to pick up some tortillas to be used as brekkie wraps.
Finally at about 7:25pm, Mom and I made it back to our unit where the kids were having fun at our room. Meanwhile, Mom and I joined Julie in having our dinners together. Everyone else had already eaten, and the kids were too busy trying to play with each other in our room.
When all was said and done, we unwound this busy day though Joshua seemed to be suffering from a headache. The first thing that came to mind was whether he was drinking enough water because I didn't recall him hydrating. Earlier in the trip, his sister Sophia had a bloody nose from not hydrating enough, so I suspected the same thing was happening to Joshua (though his reaction seemed to be a bit more severe).
Hopefully, an emergency room visit wasn't in order as the thought did cross my mind about heat exhaustion or something.
So that kind of cut the party short so to speak and my parents and brother's kids walked to their room to wind down the day while our side of the family did the same.
Speaking of pain, a couple of my lower teeth were starting to feel a little of discomfort (I hope they don't need a root canal) and my left knee was starting to get stiff again (it was actually getting stiff during the Wire Pass hike).
I guess every trip has drama and this was it for me. Still though, we were only nearly the half-way point of the Spring Break Trip and hopefully nothing happens that would cause a real downer on the overall trip…
Visitor Comments:
Got something you'd like to share or say to keep the conversation going? Feel free to leave a comment below...
No users have replied to the content on this page