Day 4 (April 1, 2018 – Hanksville, Utah): "Lows and Highs"
It was about 5:45am when I woke up. Julie actually got up then went back to bed so she was a bit complacent and assumed that we had the time to sleep in. I don't think she appreciated the amount of driving that was ahead of us, especially since it was her idea to make a very long detour to Monument Valley before visiting Goblin Valley State Park all before crashing for the night in Hanksville.
When Julie finally did get up at around 6:30am, the rest of the morning was spent trying to eat up whatever food had been unconsumed because we knew that the accommodation in Hanksville didn't have a regular-sized refrigerator nor did it have a kitchen.
Thus, we wound up eating chicken tacos, whatever was left of the kefir that I had made prior to the trip, spinach, eggs, sweet potato "muffins", and even ice cream (yes, ice cream!).
That last item was bought by Julie last night to go with the mug cake, which was Julie's healthy version of a dessert that was gluten free yet something the kids really looked forward to. Unfortunately, like at Flagstaff, she had bought too much of it since it was sold in a fairly large tub, and thus I wound up eating most of what was left in the morning.
After the brekkie, the kids were busy messing around while the adults were packing up and loading the car. So it wouldn't be until about 9am when we finally started to leave the Suites on 10th in Page and headed out towards Monument Valley.
With this late start, I was worried about not having time to visit a place like Goblin Valley towards the end of the day, which was something Julie and I missed out on when we first went passed through Hanksville on our way to Moab some 17 years ago. More importantly, it was something that I thought the kids would have fun at playing hide-and-seek. However, I sold this part to Tahia saying that she could be seeing goblins like the ones she read about in her Jack Frost book.
That last bit really set her expectations high about encountering goblins. Still, with the long drive ahead of us, we had to keep the kids' interest.
Meanwhile, the cloud cover over Page had been pretty thick. This surprised me as I had anticipated decent clear weather, but I guess this proves that you never know when you could have something that would produce rain (and even fill in the slot canyons with water). Luckily for us, we got our views of the Lower Antelope slot canyon yesterday and not today, which I'm sure would be a real bummer to visitors who paid but big bucks to make their visit (especially to the Upper Antelope Canyon at around $78 per adult).
For myself, this late start kind of exacerbated a day that wasn't going that right for me as I was fighting a toothache that started last night and wouldn't go away this morning. So I couldn't really cut my food with my front teeth (one of the four lower teeth that had been loosened decades ago from a basketball injury may finally be having its nerves dying and possibly necessitating another root canal).
I was also bothered by my left knee since the Wire Pass dud hike as it seemed like scar tissue was building up and prevent that leg from bending all the way back (so doing a quad stretch was difficult). With a frozen left shoulder and now limited range of motion on my left knee, that wasn't good news as I knew the long drive wasn't helping in terms of keeping my knees loose.
Then, by the time we left, my stomach was feeling really bloated. After two straight days of doing a morning ice cream binge so it wouldn't go to waste, I think the poor diet finally caught up to me and I was already bent over with discomfort as we left Page and made the long drive.
Indeed, it just wasn't a good start to the day all around, at least physically. The whole time I thought to myself that all of these issues had better be ironed out by the time we do our home run trip to Germany and Austria this Summer.
Regardless, the drive east of Page towards Monument Valley was pretty uneventful. We made one brief stop in Kayenta for a toilet break, and the kids were learning that we were indeed deep in the Navajo Nation as just about everyone we saw in the convenience store there were Navajo.
When we finally made it to the Monument Valley, we saw that they built an entry station as well as a hotel right at the viewing area. This was far different from those times that we were here back in 2001 as well as 2003 when we were able to just come here, take our pictures, and even hire a Navajo guide to get into the backcountry to visit places like the Ear of the Wind Arch and the Hogan among other things.
Now, it looked like most people spend the time to self-drive a scenic loop to take in most of the attractions except the natural arches that existed in the Monument Valley area.
I kind of expected this though, but there was a long queue to get into the vista of Monument Valley in order to process payment to get in. They were charging $20 per vehicle of four people or less, which makes sense to the Navajo people which still struggled with 40% poverty so it was their right to charge people to visit their lands.
Actually, in Europe and other places around they world, they charged per person for many of the sites, which makes the National Parks system like Grand Canyon seem like a bargain (which also came with its share of problems like the insufficient shuttle system with its bad line management) but was really underfunded and further exacerbated by the Trump Administration trying to dismantle or ruin such national treasures that everyone can enjoy.
Regardless, when I pulled up to pay, there were confusing signs where an adjacent kiosk said cash only, but the sign nearest the kiosk we were at said they took credit cards. So I went ahead and presented my card at first, but the lady at the kiosk was throwing me an attitude saying, "Didn't you see that it's cash only?!?!"
I calmly responded to her that I responded to a sign saying you accepted credit card payment, but to not belabor the point, I just switched to cash. She said that it took too long to process credit cards so she wanted cash. Of course, if that was the case, why didn't they cover up the credit card part of the sign, I thought to myself?
So by 11:15am, we finally parked at the spacious parking lot and seemingly newly-built visitor center for Monument Valley. I was already not having a good day, and that little exchange at the gate didn't help improve my mood. Still, it wasn't something to stew over when you consider the big picture that the Navajo people (and Native Americans in general) got a really raw deal courtesy of the US government and the people who came over from Europe in search of religious freedom in the 17th century, and then in search of new settlements between then and ultimately gold as part of the Gold Rush in the 19th century.
I'm sure there's much to be bitter about so I had to keep that perspective and just be as understanding as possible even if I had to swallow some bitter pills so to speak from time to time.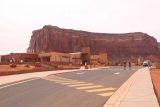 With my physical ailments probably peaking at this time, I took the photos and tried to soak in the newly built stuff around here. One guy was dressed up in traditional native garb having a chat with other tourists and taking pictures with him along with a donation.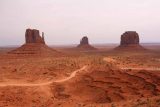 The rest of the family (once they finally got out of the car) were busy posing before the famous left and right mittens along with Merrick Butte. Then, we eventually went into the gift shop where Tahia was interested in reading the Native American books to learn more about them.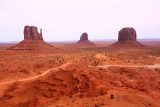 It was a good thing that she was a sponge soaking up information and willing to read so much, and at least this would ingrain in her some appreciation of the native people who called this place home for thousands of years – not just in the Navajo Nation but also try to make that connection that all of the Americas including Central and South America were inhabited by Native Americans that still live on to this day like Mexicans (or at least the Aztec and Mayan ancestors), First Nations People in Canada, Peruvians (or at least the Incan ancestors), etc.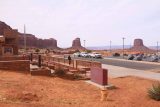 While they were busy doing touristy stuff in the gift shop, I went downstairs to the quieter museum where I read more about Native American life, the tragic Fort Sumter chapter in American History, and the role of the Navajo people code talking in World War II with the utilization of the Navajo language for fast and secure communications against imperialist Japan.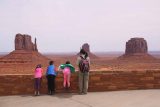 "It had to be done," summarized some signage and literature, where the Navajo way of life was perceived to be threatened even though the US government hadn't done them favors in the past (resulting in a strange bedfellows situation at the time).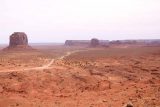 At 12pm, we were finally back in the car. And after Julie took some time to buy a lunch to go (I forewent eating anything she bought because my bloating was pretty severe and my tooth was still hurting), we finally headed out at 12:20pm.
As we continued driving north into Utah, that was when we finally officially had to jump forward another hour and get into Mountain Time.
The GPS
had routed me onto the highways as we passed through Mexican Hat, then through other sleepy Native American towns like Bluff before finally heading northwest on the Bicentennial Highway 95. I guess the GPS routed me away from the Moki Dugway, which was something I had taken in the past that I thought would shortcut a lot of what we were driving.
But apparently in its calculations, it wasn't much different though on the map, it did appear that it would have made a difference.
Regardless, with time running short, we didn't stop at the Mexican Hat Rock, nor the Goosenecks State Park (where I told mom that Horseshoe Bend wasn't the only goosenecks), nor the Valley of the Gods among others.
As we continued northwest on the Hwy 95, we were passing through dramatic red cliff scenery as we were approaching the headwaters of the once mighty Lake Powell.
The drive was quite scenic, and it even prompted Tahia to proclaim that this area was prettier than the Grand Canyon!
I think she said that because this drive passed through canyon scenery from below instead of above like the GC where we were at overlooks peering right into the depths of the canyon itself. But I knew that being inside the canyon made a world of difference, which was why I think she said what she said.
At 4pm, we finally stopped at the Hite Overlook, which provided us a view over the Colorado River towards the headwaters of Lake Powell. Mom and I were here speaking to a Navajo person who just happened to be here enjoying the views around 15 years ago, and from back then, she noticed that there was way less water now than there was back then.
Clearly there was less precipitation (most likely caused by Climate Change brought about by Global Warming) bringing about the current conditions, and it could only be appreciated through direct observations like this. It was also something that Tahia could understand by being out in the field and not getting all her information from hearsay.
So we spent some time at the Hite Overlook stretching our legs and taking photos. I didn't walk all the way to the end for a view against the sun towards the headwaters of Lake Powell as we were short on time.
So by 4:15pm, we were back in the car, and continued on our way to Hanksville.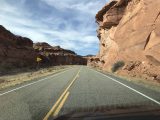 The drive remained dramatic and scenic initially though I sensed that the peak of the scenery was prior to the Hite Overlook stop. In any case, we took what photos we could from the road to at least capture the memory of this part of the drive.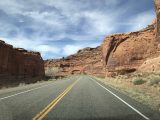 Eventually, as the dramatic section of the drive gave way to more wide open expanse, we finally arrived in the sleepy town at 4:55pm, where we checked into the Whispering Sands Motel (a place that Mom and I had stayed at before 15 years ago).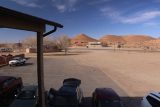 After dropping off most of our belongings in the room, we then resumed our drive towards Goblin Valley State Park at 5:20pm.
With the afternoon sun fading and casting longer shadows, we made haste before finally arriving at the main parking area and Valley of the Goblins at 6pm. It was a surprisingly popular place given the amount of vehicles parked here, and I guess I could see why they collected $15 per vehicle here as well (credit cards accepted).
But more importantly, the sight of the Valley of the Goblins was quite impressive and the kids instantly saw the opportunity to play hide-and-seek in there (even though Tahia kept complaining that these rocks looked nothing like the goblins she was used to reading about in Jack Frost).
With the fading sun, I was busy taking pictures of the reddish goblin-like formations in both Vivid mode as well as in regular daylight mode. I knew that Vivid meant more exaggerated color saturation so I couldn't go too crazy doing that.
Nevertheless, that mode did make the normal photos look dull in comparison.
Everybody was having a good time, and it didn't feel crowded or crushed at all, which was our experiences throughout the Grand Canyon and in Page.
Out here somewhat off the beaten path, it finally felt like a Nature experience as it should be even if we were in the midst of Spring Break with it being busy everywhere we went.
It wouldn't be until about 7pm when we finally left Goblin Valley. I'm sure the kids could have used another hour to play hike-and-seek here, but now, Julie wanted us to have dinner in Hanksville so she had a shot at eating something healthy since we weren't self-cooking tonight.
Eventually at 7:35pm, we arrived back in town and ate at the Duke's Slickrock Grill, where we had some BBQ smoked beef brisket, some BBQ ribs, some non-farmed trout from the Great Salt Lake, and some chicken. It was as clean of food as Julie could hope for in a place where this was pretty much the only joint in town except for some burger joints.
Yet it was also surprisingly good food considering the location.
But it was a nice end to a long day.
When all was said and done, it was 9:15pm when we got back to the Whispering Sands Motel where we all got cleaned up and crashed for the night to rest our tired but elated selves…
Tomorrow, we were headed to Lower Calf Creek Falls, which was a test to see if Joshua and Sophia (especially Sophia) who never hiked over 6 miles before, but as long as there's that hope of playing in the water, I'm hoping that they can make it there to finally get to get wet, which was lacking throughout this trip so far…
Visitor Comments:
Got something you'd like to share or say to keep the conversation going? Feel free to leave a comment below...
No users have replied to the content on this page