Day 5 (April 2, 2018 – Escalante, Utah): "The Start of the Trip"
It was 5:15am when I awoke. I spent the better part of the next hour blogging about yesterday while also finishing off packing up and getting ready for our early start. We had a bit of a time pressure in order to be at Duke's Slickrock Grill for our 7am takeaway brekkie.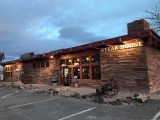 My parents were running a little late so once we got our stuff together, we drove over to pick up our brekkie and managed to get our food by 7:05am. Meanwhile, my parents with Joshua and Sophia met us at the restaurant parking lot and with that, we got as early as a start as possible.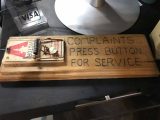 So we drove west on the UT24 heading into Capitol Reef, which featured a very scenic drive through slickrock and sandstone cliffs. I was looking for the familiar pullout that harbored the Fremont River Falls, but it appeared that the pullouts were either obscured or were taken away so that the general public wouldn't go finding the falls ever since drowning incidents had occurred on the man-made waterfall.
So I wouldn't be able to update our writeup on that waterfall, but we at least kept our momentum in continuing on to the Lower Calf Creek Falls Trailhead.
I was anxious about this hike since we were bringing kids aged between 5-7. Neither of my brother's kids had ever hiked more than a mile before, and they were about to embark on a hike that would be at least 6 miles long.
At least they had the prospect of playing in the water at the plunge pool of Lower Calf Creek Falls as sort of the carrot dangled before them. So hopefully that would keep their interest and keep them going on this hike.
I'm sure if we had more time, we might have stayed closer to Capitol Reef National Park to visit some of its lesser known attractions like Cathedral Valley, or to redo hikes like Hickman Bridge.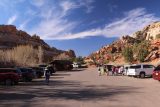 Eventually at 9am, we finally arrived at the Lower Calf Creek Trailhead, where we managed to score a couple of the handfuls of available parking spaces. It was a good thing we did get the early start though because lots of other cars were pulling in just as we were getting ready for the hike.
It wouldn't be until 9:30am when we were finally starting the hike. One of the biggest reasons why we took a lot of time to get ready was to ensure that we brought enough water while the kids had layers of clothing that they could take off if they got too hot.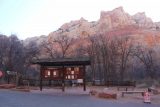 I also took some time to look at the day use fee situation, where at first I thought we had to pay $5 per vehicle until I saw in the fine print that since Mom had the Golden Age Passport while I had an Interagency Pass, we actually didn't need to surrended any cash. So we just displayed our permits so the rangers could tell that we were holders.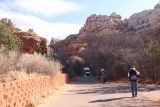 There were also potty breaks in the flush toilets at the trailhead as well as the kids already starting to burn some of their energy playing around in the parking lot itself (while we had to keep reminding them of the hazards of people backing up and possibly not noticing them).
The temperature was in the mid-60s when we got started, but given that this was a fairly long hike, that could easily climb higher throughout the excursion. It was hard to believe that when Julie and I first did this hike with a couple of friends, it was back in June 2001 and it was in the 90s here!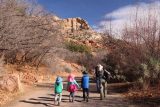 Eventually, the party started walking the paved 300 yards past some of the campsites alongside the road. We then got to a a trailhead register right where the trail started to briefly climb as it veered away from the concrete ford over Calf Creek.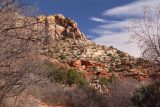 That right there told us that there was definitely going to be water going over this waterfall. Perhaps that shouldn't have been surprising because we saw that there was snow high up in the plateau as we were making the long drive going south from Torrey through Boulder and eventually to the Calf Creek Recreation Area. The road went as high as 9600ft but all that snow that was still there meant that enough of it was draining towards Calf Creek to keep the waterfall flowing.
To my knowledge, it was a perennial waterfall, which was quite rare in the desert environment that we knew we were in.
The kids were kind of racing each other as they were pushing forward where Dad kept going. Julie was not far behind while the kids were in between them. Meanwhile, I was waiting for Mom who was way behind (probably talking to the ranger).
I also talked to the ranger when we made it to the trailhead register, and he mentioned to us to not miss the petroglyphs. He said that in addition to the three we were likely to see, there were also a few more worth checking out. We didn't bring binoculars though, which was what he recommended to not only get a closer look at the petroglyphs but also be able to spot some of the other ones. I guess we'll see how that'll turn out.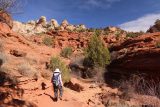 With that, Mom and I finally made our way to try to catch up to the rest of the party. During the first mile or so, the fairly soft glow of the morning light made the whites and hints of red on the cliffs contrast nicely with the blue skies as well as some of the lens clouds above.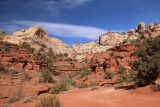 There were enough clouds in the distance to make me think that there might be some precipitation somewhere else or something. But now there were interesting lenticular patterns in them that hinted at how much wind might have been taking place up where those clouds were.
It wouldn't be until we got to around the numbered post 6 that we caught up with the rest of the group. The kids were already burning through their boundless energy on the hike (some of which was spent at the parking lot earlier), but we had to supply them with water to ensure they stay hydrated.
As the party continued on, there was once again a little separation between the head of the pack that now consisted of Julie, Joshua, and Tahia, while Dad kept an eye on Sophia (who was the youngest at 5 years and never did a real hike before) while Mom and I lagged in the back.
The separation pretty much was the result of Mom and I stopping at the signpost 8 at around 10:30am, where we looked across the canyon and noticed petroglyphs (or were they pictographs? I can't tell the difference) on a fairly light panel showing three consecutive figures looking very much like a cross between robots and some kind of warrior-god all standing side-by-side.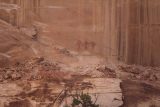 I used the 200mm zoom on my lens to bring the figures closer in photographs, but they were distant enough that they still appeared pretty small in my photos.
Mom and I spent a few more minutes looking for the other petroglyphs that the ranger mentioned, and Mom claimed that she found them, but it was hard for me to tell if what she was looking at were really genuine or if they happened to be haphazrd red streaks that somehow reminded her of more petroglyphs. Whatever they were, they were nowhere near as obvious as the three.
We then continued on with the hike as we still had another 5-6 more numbered posts to go, which suggested that we were around the half-way point of the hike. We figured that the rest of the party missed out on the petroglyphs but there would be an opportunity to check them out on the return.
The hike would persist for almost the next hour as we passed by some interesting granary seen high up on the cliffs in one side canyon where there was a hole in the cliffs. The location of that granary reminded me of how Peruvians would build cliffside structures or Anasazi had built cliff dwellings and "cities" also in high cliffs in southwestern Colorado.
So the resourcefulness of Native Americans to use whatever natural shelter to gain an advantage in the task of survival (especially high up on cliffs) demonstrated their creativity and ingenuity, where cliffside survival seemed to come naturally to them.
Eventually for the last half-mile or so, the trail followed alongside Calf Creek where the hike weaved in and out of shade as the sun continued to rise higher and eliminate whatever was left of the shadows as it was becoming late morning.
The terrain there was noticeably more lush and the water itself looked clear in the stream.
Finally at about 11:20am, we made it to the beautiful Lower Calf Creek Falls. Like the first time we were here, it had a healthy flow. There were already a few dozens of people here enjoying the waterfall, but it never felt crowded.
Naturally, the kids gravitated to the plunge pool of the waterfall where the kids were playing as if the coldness of the water didn't bother them.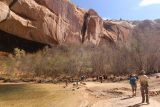 When Mom and I took off our shoes and walked in the pool for a bit, our feet were so cold that they were in a mixed state of pain and numbness. It meant that if it would be possible to do the Zion Narrows hike from the bottom to Orderville Canyon (which I was hoping to do when we get there in a few days), that Neoprene socks would definitely be necessary to keep the feet functioning.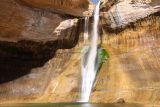 We spent lots of time letting the kids play and taking lots of photos. I also took a few videos here, as this was the very first time that we captured this scene in this manner. It was further fodder to update our writeup of this place on our website, which was getting stale after not being here since 2006, which was when I took Mom here back after the monsoons were ending in late September.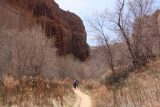 It wouldn't be until about 12:15pm when we all had our fill of the Lower Calf Creek Falls and then started the hike back out. This time, Dad was pushing ahead while Joshua with Julie were not far behind. Meanwhile, Mom, Sophia, and I were lagging in the back. We had to make sure that Sophia was hydrated.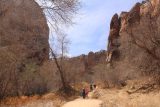 Not long into the return hike, Tahia was also lagging behind as she was needing water, but she left her water bottle with Julie. So she had to catch up to get it from her while I was sharing my leftover water with the parents so they could keep Joshua and Sophia hydrated.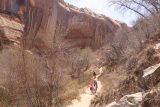 It was a little bit chaotic since Dad and Julie were pushing way ahead, but eventually, we caught up with them around the signpost 10 mark and everybody got their own waters then we continued on.
Now, the order was Julie was ahead with Dad and Joshua while Tahia and I were together for a bit, while Mom and Sophia were behind as she had to tend to Sophia's shoes getting sand inside as both Sophia and Tahia were busy in a stretch kicking sand at each other's feet.
We made another pause at the signpost 8 mark where everyone finally got to see the pictographs across the canyon wall. Sophia still couldn't see them, but the rest of the party did. When Joshua and Tahia finally figured it out, they were pretty impressed. Dad even got in the act as he was happily taking pictures.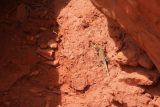 For the remainder of the hike, the group stayed somewhat together for the most part. We made one more rest stop in a shady section with a natural bench to sit on. We had one more tangerine break before continuing on and finally returning to the trailhead at 2pm.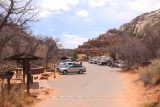 As expected, the parking lot was full. One lucky guy was waiting for us as we were leaving.
Eventually at 2:30pm, we made it to the Circle D Motel in Escalante, where we'd be spending the night. After dropping off our belongings, we then walked around to the restaurant's eatery for a late lunch.
The Circle D Motel was a far cry from the sleepeazy joint that Mom and I stayed at (and had to share a bed) 12 years ago. Back then, it was the Prospector Inn that was the premiere accommodation in town. But now, it seemed like the Circle D Motel was a decent place to stay, and that restaurant was really convenient.
We each pretty much got local burgers while Julie got a salad topped with BBQ brisket.
The kids were rowdy and Julie had them play in a separate room where a thick door restored the peace and quiet in the restaurant. And when the food finally came out, everybody was quietly eating.
At 3:55pm, after I paid for the lunch, Mom and I got back in the car to do the Upper Calf Creek Falls hike. The rest of the family stayed behind since I knew that this excursion was a bit more intense than the Lower Calf Creek Falls (even though we would only be hiking for a couple miles or so instead of 6, but it involved more route finding, and it was steep).
By this time of day, it was very windy and there were some dark clouds overhead. None of them produced any rain, but they always had that look like they were threatening.
After picking up some water from Griffin's Grocery Store, we then made the short drive back out along the UT12 towards Calf Creek. This time, we drove up past the scenic ridge before getting back to the familiar unsigned turnoff just south of mile post 81 and north of mile post 80.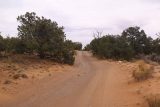 This time, we drove the unpaved access road to get to the trailhead as the road was tame enough, arriving at 4:35pm. It wasn't nearly as rocky nor rutted as in years past. In fact, the parking lot for the Upper Calf Creek Falls now had one of those bluish signs, and there were about a half-dozen cars parked here.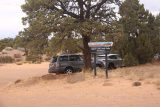 Indeed, it was a far cry from the relatively unknown and off-the-beaten-path attraction from years past. Now, it seemed like a bonafide attraction with infrastructure, even if the turnoff to get to this spot remained unsigned.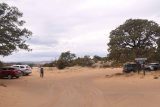 It was quite windy at the trailhead. There was a car parked next to us where a group of ladies were about to start their hike until one of them realized that they had left their day pack at a different trail in the Hole-and-the-Rock area.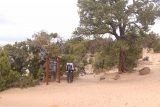 So they had to leave and go get it. And that pretty much left Mom and I to start the familiar hike after we had filled up on water, laced up our boots, and went for it.
After signing the trailhead register, we then descended the familiar steep friction pitch descent on the sloping white sandstone lined with dark volcanic boulders.
The path down had strategically-placed cairns so we knew where to go on the descent. From past experience, I also knew that going back up could be tricky. On that last time we were here 12 years ago, we had somehow lost the trail and had to do a little route finding to recover the trailhead on the steep and tiring ascent.
Heck, we had even lost the trail on the way down back then, and had to do a little route finding before we finally made it to the base of the Upper Calf Creek Falls.
On this particular visit, the cairns appeared to be more frequent, and the sandy parts of the trail seemed to be a bit more obvious. In the potentially confusing parts, I had marked on my GPS where we were at as sort of breadcrumbs for that return hike.
There were a few groups of people who were on their way back up just as we were going down, and one family actually had a young girl doing the excursion.
There was also a large group of Asian hikers with a Commonwealth accent that were on their way back up just as Mom and I were about to round a bend and get to a fork where rock cairns led us away from a separate trail that I suspected led to the top of Upper Calf Creek Falls instead of its base.
Anyways, as we made the final descent as the trail kind of hugged the sandstone ledge while across the Calf Creek drainage appeared to be some kind of cave with a separate stream coming from it, we'd eventually arrive at the Upper Calf Creek Falls' base at 5:35pm.
This time, the area appeared to be a little more overgrown than I remembered it. But the same thin-flowing falls was there pretty much like it was 12 years ago.
Since Lower Calf Creek Falls had so much water volume compared to the Upper Calf Creek Falls, I suspected that this particular waterfall didn't have the benefit of all of Calf Creek's volume here, and that might have been the result of that cave with a spring possibly adding to the flow of Calf Creek further downstream.
In any case, we spent a bit of time taking pictures from an alcove off to the side before negotiating the muddy terrain to get more frontal views of the falls.
After getting our fill of this spot, Mom and I then returned back to the cairns at the fork where we then decided to complete the experience by hiking that other trail. It kept gently ascending before eventually reaching the very top of the Upper Calf Creek Falls at about 6:05pm.
While the views of the top of Upper Calf Creek Falls was a bit on the precarious and unsatisfying side, I did see that there was a tiny cascade sliding right into a plunge pool right above the Upper Calf Creek Falls itself. For that reason alone, I could see the appeal of making it all the way up here to go for a dip to cool off. But this would definitely not be the place to be wading or swimming if Calf Creek was in higher flow since the plunge of the water was immediately downstream.
Once we had our fill of this spot, we then headed back towards the trailhead. As anticipated, it was a mostly uphill hike that took quite a bit out of us. I couldn't imagine how much more difficult this hike would have been in the Summer months when not only would we have to contend with the steep terrain and careful attention to the cairns and route-finding, but we'd also have to contend with the heat.
But on this day, it was cloudy with ominous dark bands in the distance and the odd glow of the sun piercing through breaks in the clouds giving the white sandstone cliffs a nice orangish glow.
With our calves and knees burning and sore from the rough hiking, Mom and I would eventually make it back to the trailhead at the top at 7pm, where it was still windy (actually the wind was more intense up there than it was further down below).
It seemed like the trail on the way back up was easier to follow, and we didn't have the same difficulties as before in terms of route-finding or losing the trail.
Finally, Mom and I could relax a bit and enjoy the drive back to Escalante. Along the way, we made a couple of scenic stops – one near the Kiva Coffeehouse, and another at the familiar overlook where we used to watch the sun rise after leaving Escalante and heading north into the sandstone wilderness of the Grand Staircase National Monument.
This time for that latter overlook however, they seemed to have built some dedicated viewing area with signage. This used to be just an open pullout with a view. Clearly, this was more built up than we were used to in years past. Like with the Upper Calf Creek Falls excursion, I guess it just goes to show you how much can change over the course of 12 years.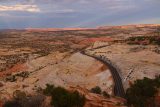 Eventually at 7:45pm, we returned to the Circle D Motel where it seemed like the rest of the family were having a bit of a party in our room. The kids were playing and jumping around on both beds while Dad was busy half watching Golf Channel and half checking out his iPhone.
Meanwhile, Julie was wrapping up the preparation of our dinner (for Mom and I since everyone else had already eaten) while also preparing mug cake for the kids.
I also managed to fit in some time watching the end of the Villanova-Michigan game as I hadn't realized that the end of March Madness was today.
And with that, we eventually crashed for the night as both Mom and I were quite tired from the long hiking while the rest of the family could revel in their accomplishment from today.
I always say that (like a best-of-seven playoff series doesn't begin until the road team wins a game) our trips don't begin until we've had a successful waterfalling excursion. And it took until day 5 before this finally happened for us. Indeed, it had been a good day, though the only downer was that somehow Julie forgot our toothpaste back in Hanksville so we had to relegate ourselves to using Tahia's toothpaste on this night.
With tomorrow being Bryce Canyon day, I figured that we didn't have too much driving to do, and we could probably buy another one of those organic toothpastes at the organic shop in Escalante when Yelp said they'd open at 9am tomorrow…
Visitor Comments:
Got something you'd like to share or say to keep the conversation going? Feel free to leave a comment below...
No users have replied to the content on this page