Day 7 (April 4, 2018 – Springdale, Utah): "Not As Bad As Anticipated"
It was 5:45am when I awoke. I tried to sleep in a little bit, but with my alarms combined with the footstep sounds from upstairs (reminding me of my dorm days at university with the paper-thin walls and hollow flooring), I had no shot at sleeping in.
So I spent the early morning hours getting packed before I checked on the Wi-Fi about the strike situation in France since our Germany-Austria trip may be heavily impacted since we were flying to Paris then catching a TGV to Frankfurt (in June). I only knew to check on this because my Mom told me about it after checking on her phone about the latest news. I guess I have mixed feelings about always being connected to the web, and while we can't control the strike situation, it is far enough in the future that we'll have to keep an eye on this.
In any case, if the whole three months of the strike is realized, then we're pretty much screwed on that front.
It wouldn't be until about 6:30am when the rest of the family finally started getting up in earnest. And after Julie prepared the breakfast of poached eggs (no fried eggs since there was no skillet), we then spent the next hour or so getting packed up and loading up the cars.
It wouldn't be until about 8:20am when we finally started to leave the Ruby's Vacation Rental at Bryce Canyon City. It was very cold at 25F outside, but the forecast for Zion called for temperatures in the mid 70s. That must mean that we would be at lower elevations compared to the nearly 8,000ft of elevation at Bryce Canyon.
Of course, it wasn't the temperatures I was worried about. I was more concerned about traffic and the crowds along with the inevitable parking situation since we were still in a period of Spring Break where lots of families were out vacationing. On top of that, there was road construction on the UT9 in Springdale. The Utah Department of Transportation said to expect 60-90 minutes of delay with one-way traffic. How much that would impact our trip would remain to be seen.
The drive out towards Zion National Park was for the most part uneventful. I found myself following a tour bus from Brea, California who was actually going at a pretty good rate (possibly too fast for a tour bus). Nonetheless, that made things a little easier for me as we were going through a stretch of road where I had a bad history back in 2003.
On one trip in May 2003, I managed to get one of two speeding tickets on the same day in this stretch of the 89 between Panguitch and Mt Carmel. In June 2003 that same year, I totaled my Dad's MPV after hitting a deer on this stretch of road.
Anyways, when we turned right onto the UT9 towards Zion, an RV managed to turn in front of us then slow everyone down without using the pullouts. That was annoying, but luckily, it didn't take long before we found ourselves in a bit of stopped traffic near the Zion-Mt Carmel tunnel.
Perhaps that stopped traffic was a good thing because it gave us time to assess that we were adjacent to the Canyon Overlook Trail, which I intended to do in order to kill some time this morning.
So we promptly pulled over to the side of the road (since none of the legit spots were open at 9:55am), and we managed to gear up and prepare for a two-mile round trip hike to the Canyon Overlook. It would be the first time both Julie and I would be doing this hike in 17 years.
Once all the preparation formalities were done, we then walked alongside the stopped traffic for about 500ft towards the stairs at the trailhead of the Canyon Overlook Trail. Right off the bat, everyone had to start climbing, and then we embarked on a fairly adventurous uneven hike along slickrock benches with dropoff exposure.
Along the way, we saw impressive sandstone cliffs and beehives crowning the towering mountains around us. We also saw the narrow slotted depths of the Pine Creek Slot Canyon down below. And there were also atmospheric overhangs and alcoves along the trail.
An added bonus to the hike was the witnessing of a foursome of desert bighorn sheep grazing in an inaccessible ledge just above the depths of the Pine Creek Slot.
With constant attention being paid to on the dropoff exposure hazards and the uneven slickrock steps (some of which were wet with springs and others were slippery with loose sand), we were always mindful of the kids' well being.
Eventually, we arrived at the busy Canyon Overlook, which was pretty much situated right on top of the so-called Great Arch, which wasn't even an arch at all (more like a giant alcove).
The overlook itself peered right across the east end of the Zion Canyon area towards some towering white cliffs with red streaks on them situated behind what was once the location of the Zion Visitor Center. And with the morning light (albeit with some haze due to some light cloud cover), it was the perfect time of day to be taking in this view.
As we looked down at the switchbacks of the UT9 road between the end of the Zion-Mt Carmel Tunnel and the Zion Canyon turnoff, we saw that there appeared to be a horrendous parking situation down by the switchback where we expected to do the Pine Creek Falls scramble. That was going to be our next excursion after this.
I wasn't looking forward to trying to find parking down there, but for now, we had to enjoy the view and the experience of sharing the accomplishment of the kids making it to this spot while savoring the moment (which we knew would be a rare occurence in the lives of Joshua and Sophia until they get old enough to start doing this stuff on their own).
It was also priceless to be sharing the moment with my parents so we had exactly three generations sharing the moment on this trip – doing the hikes, doing the waterfalls, and overall just spending precious time together as who knows when we can't be doing this stuff anymore?
The kids were enjoying some of the munchos (snacks) that Julie brought along which included broccoli chips as well as pork rinds. I don't think neither Joshua nor Sophia ever had this stuff before, and Sophia really liked Auntie Julie's broccoli chips – she didn't want to leave until she finished up the whole bag, but that wasn't going to happen as there was way too much.
Once we had our fill of the Canyon Overlook, we then hiked back to our parked cars. The return hike was a bit busier than on the way in, so perhaps it was good that we got our somewhat early start.
When we got back to the trailhead, the parents and kids had to cross the highway to use the toilets. So we had to wait for them, and in so doing, we probably extended our eventual driving delays as we could see that the standstill traffic was right at the Zion-Mt Carmel tunnel entrance.
Basically, things got complicated if there were oversized vehicles that forced there to be one-way traffic. And there were plenty of RVs, trailers, tour buses, and even wide-bodied pick-up trucks that required oversized vehicle permits and forced the one-way traffic jams.
During the wait, Julie witnessed some Asian person toss a plastic water bottle outside. Apparently the ranger controlling the traffic didn't notice because she could have totally stopped them. And it happened too quickly for Julie to snap a photo on her phone and let authorities know. It's too bad some people treat National Parks like their own rubbish bin. I can only imagine how much more of these incidents occur elsewhere.
Eventually at 11:35am, we were back at our cars, and then we promptly had to get into the stopped traffic and wait our turn to get through the Zion-Mt Carmel Tunnel.
That movement wouldn't happen until around 11:45am (though it seemed longer than that), and then after getting through the tunnel, we had to slowly make our way down the switchbacks before the difficult task of trying to find parking near the hairpin turn with the Pine Creek access.
There was no signage for Pine Creek and yet there were all these cars parked here. Was the secret out about Pine Creek? I remembered on our last trip here, Julie and I were the only ones parked at the bottommost hairpin turn, and we were also one of the few people who made it all the way to the Pine Creek Falls.
I was anxious to see what this experience was like and how different it might or might not be compared to 15 years ago. However, the parking situation was the next major hurdle.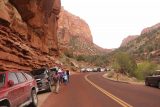 Luckily, my parents found a spot although they were barely able to fit. They tried to make room for us to pull over, but it was way too close to the cliff wall to attempt, so we had to drive all the way down to the Zion Canyon turnoff before turning around and heading back up the opposite direction.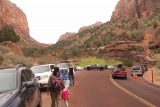 Eventually, Julie found a spot though it was very tight. The person who was parked behind us thought we were going to hit their car (though Julie was standing between it and us so it wouldn't happen), but seeing the difficulty we were faced with, they decided to back up their car to give us a little more breathing room.
And with that, we were finally parked and ready to take on the Pine Creek Falls at 12:05pm.
Next, we walked along the UT9 until we got to the familiar hairpin turn and informal trail-of-use alongside Pine Creek. Having seen that Pine Creek had water from the Canyon Overlook earlier on, I knew the waterfall would be flowing.
Yet, as we were doing the sandy hike, it seemed strange that we were one of the only people on this informal trail. Where were all those people from those parked cars?
Eventually, the canyon closed in and we found ourselves having to get through some tricky bouldering obstacles as well as some stream and pool obstacles. The trickiest one (that was still there from 15 years ago) involved going up over a boulder then clinging to a slickrock ledge without falling into the pool below.
With two seven-year-olds and a five-year-old along with two seniors in the late 60s, this was a dicey situation indeed.
After some very patient maneuvering along with some pulling and pushing, we finally made it past this obstacle. One other family managed to pass us at this point and keep going forward (obviously they knew about this spot too), and then we were faced with yet another obstacle.
This time, we had to crawl onto a boulder and through a tight opening on our bellies before getting to the other side. The kids actually managed this part a lot better than the adults.
Then, after this part, we then had some more relatively easy scrambling before finally making it to the pool and base of the Pine Creek Falls. We certainly earned this waterfall, and yet surprisingly, there were no one else but our family and the other family that passed us.
Based on this observation, that must have meant that all those cars parked along the UT9 were for the Zion Shuttles and they must have ran out of parking in the more legit spots in town and at the Zion Visitor Center.
I also realized that there were far more bouldering obstacles this time around than 15 years ago when it was more-or-less a walk after the bouldering obstacle, and eventually making it to the base from the other side. That must have meant that flash floods over the years deposited the boulders and took away prior paths. Indeed, scrambling in such washes or flash-flood-prone areas could be easier or harder or impossible from year-to-year depending on the whims of Mother Nature.
So with that in my mind, I then turned my attention to the kids who were enjoying themselves playing in the water and chucking rocks. The other family's dad scrambled next to the waterfall and slid down a "waterslide".
It was definitely another one of those moments where we savored the experience. But we had to cut it short as it was now past 1pm and Julie wanted to eat lunch.
After taking what people shots we had and putting the kids' shoes and socks back on, we then started the scramble back out, which was every bit as tricky going back down as it was climbing up (especially at the pool-and-slickrock-bench obstacle).
Dad almost jumped the gun and went up an incorrect path that would have led the kids to a cliff with no way to get down. There were people across Pine Creek that suggested there was an easier path from their side (something that I kept a mental note of), but it wasn't obvious how to get to them or to get down and back onto the sandy part of the trail.
So we just went back down the slickrock bench and ledge that we had gone up earlier.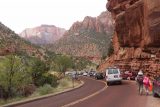 Eventually, with handling the kids one by one, we eventually got past the major obstacle, and then we were well on our way back to the UT9. That other family who found the easier way were actually from the Bay Area, and they said that someone advised them about the "easier" route.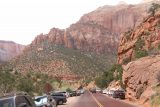 By 1:45pm, we were finally back at our cars, and then we drove into Springdale. It turned out that the Cable Mountain Lodge (where Julie, Tahia, and I were staying because it had a kitchen) was ideally situated right across the river from the Watchman Campground and Zion National Park Visitor Center.
I swore that this lodge and Canyon Village Marketplace was not there when we were last here (even as recent as 12 years ago), and I even recalled going to some RV park or something like that to pay to use shower facilities when we were camped at the Watchman Campground.
Oh my, how things have changed dramatically over the years. Not only was this place much more crowded with parking practically hopeless in Spring 2018, but I recalled how quiet and laid back Springdale was back in 2003 when Julie was last here with me.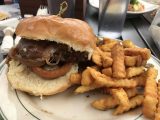 Anyways, we wound up trying to check in to Cable Mountain Lodge at 1:55pm, but they said the room wouldn't be ready until 3pm. So we occupied one of the check-in spots and then walked across to the Pub Brew Restaurant for lunch.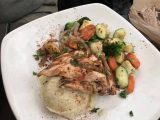 My parents couldn't find parking here so they eventually made their way all the way to the La Quinta a mile to the west of us, where they'd be staying.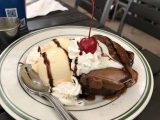 While we were busy having lunch, they eventually texted us that they'd be eating Mexican food near their accommodation. And with that, after having our ok lunch (though they did have Sticky Date Pudding, which was rare in an American establishment, at least in our experience), we eventually regained our car and room keys at 3:35pm, and then started unloading near our room five minutes later.
We then spent some time getting settled and loading up the refrigerator so nothing more would spoil.
By around 4:30pm, my parents and Tahia's cousins took the shuttle and then they walked to our room. While Julie went to the market to do some grocery shopping, my parents and I were watching the kids as we took advantage of the swimming pool and jacuzzi at the Cable Mountain Lodge.
After having our fill of the pool then rinsing off the chlorine, we then returned to our room for Julie's healthy dinner being prepared. Meanwhile, at 6:15pm, Mom and I walked back to the Canyon Village Outfitters so we could rent gear for our anticipated hike to the Kanarraville Falls tomorrow.
While most people there were doing the Narrows from the bottom, I was keen to be doing the other experience since I had never done it before. In fact, for two of the employees that I spoke to while getting fitted for canyoneering shoes and neoprene socks, they said that they loved the Kanarraville Falls excursion though they also mentioned out of the side of their mouths to not let the company they're working for know about it.
Perhaps they want this place to remain more of a locals spot and not as overwhelmed as the bottom of the Zion Narrows has become over the years (though I'm sure it's big business as our rental costed us around $46 with the Cable Mountain Lodge 10% discount).
Finally at 6:45pm, Mom and I returned to the room, and we were finally done for the day. We enjoyed having Julie's healthy Sloppy Joe while I also had some fajita leftovers from their lunch earlier today.
And with that (as well as some discussions about tomorrow's plans), I then dropped off my parents with Joshua and Sophia at the La Quinta at 8pm. It was a little tricky driving as there was clearly road construction going on, but it did appear to be free-flowing though it was a little ambiguous if I was going to be stopped by a worker of if I should just keep going.
It was definitely not the 60-90 minutes of delay with one-way traffic that the UTDOT had warned about when I was preparing for this part of the trip. Indeed, it wasn't as bad as I had anticipated (though the parking situation was bad but hopefully should be alleviated now that we're settled and parking at our respective accommodations and using shuttles as long as we're doing stuff in the park).
After dropping off my parents and nephew and niece, I then drove back to Cable Mountain Lodge where I had to pass a couple of construction vehicles even though I was only going for one mile. They were going THAT slow!
I guess that's something I'll have to be dealing with first thing tomorrow morning and hopefully around midday when we expect to be done with the Kanarraville Falls excursion.
And so ended our day (Julie did make one last grocery run in anticipation of making quesadillas and dessert tomorrow night or tomorrow for lunch), now we had to clean up and crash for the night. That said, we could hear the humm of heavy vehicles driving throughout the night. I guess if we had known better, we should have asked for a room that faced away from the road. Oh well.
Visitor Comments:
Got something you'd like to share or say to keep the conversation going? Feel free to leave a comment below...
No users have replied to the content on this page