Day 8 (April 5, 2018 – Springdale, Utah): "Risk Assessment"
It was 6am when I awoke. The skies were still dark at this time, but I promised Mom that I would be at their place before 7am. So I quickly got some leftovers for breakfast.
Unfortunately, there was a scheduled power outage at 11pm last night and it lasted until some time after 5am. So for those 6 hours, the refrigerator wasn't working, and the leftover chicken breast didn't taste very fresh. I hoped that I wouldn't get sick from food poisoning, especially since chicken wasn't the greatest food to be eating with bacteria growing all over them.
By 6:45am, I made it to the La Quinta. There was a surprising amount of vehicular traffic heading east towards Zion National Park at this time in the morning. I suspected that this was the early birds trying to secure a parking spot for the bottlenecked Zion Canyon shuttles.
There were certainly a lot of them, and based on our parking struggles along with stopped traffic yesterday, I don't blame them for doing what it takes to minimize the pain of unforeseen delays when vacation time was already precious to begin with.
It took some time for Mom to prepare Joshua and Sophia for the day. She had to make sure they had the right shoes as well since the plan for Julie, Dad, and the kids were to take the Riverside Walk for some water play on the Virgin River at the mouth of the Narrows.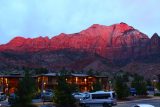 While this was going on, I took some time to check out the cliffs appearing bright red just as it was sunrise and the early light was striking the cliffs towering over the La Quinta.
We then went to their included breakfast, which was a disappointing fare of sausage patties, flattened eggs, hard-boiled eggs, some biscuits with gravy, and the usual milk and cereal as well as oatmeal. There were no waffles or pancakes like what we'd be used to at Holiday Inns or Hyatt Houses.
So it wasn't until about 7:30am when Mom and I left Dad with the niece and nephew, and they'd later take the shuttle to stop 1 at the Cable Mountain Lodge where they'd meet up with Julie and Tahia, then go about their relaxing day.
Meanwhile, Mom and I (with river shoes and neoprene socks) drove west away from the soon-to-be-zoo of Zion Canyon and towards the lesser known attraction of the Kanarraville Falls. And while that place didn't receive anywhere near the volume of people that the bottom of the Narrows would receive, the Kanarraville Creek Trail wasn't exactly unknown either; much to the locals' dismay that the cat had already been out of the bag years ago.
Even though there was road construction going on in Springdale, driving out of town wasn't that bad at all. So far, we had yet to see the extended stopped traffic in town that I had feared going into this Spring Break Trip. Indeed, the most severe delays occurred yesterday at the Zion-Mt Carmel Tunnel.
With the relatively smooth drive heading west on the UT9 towards Hurricane then northwest through Toquerville to the I-15 north, I was re-entertaining the thought of going to Toquerville Falls after our adventure on the Kanarraville Creek Trail. I had also entertained the thought of doing the bottoms up Narrows hike to Orderville Canyon's waterfall to take advantage of our rental.
That said, those would be bonus excursions as I knew we most likely wouldn't be having enough time to fit those in, or in the case of Toquerville Falls, the vehicle might not make it there and back in one piece.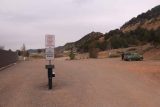 By 8:25am, we arrived at the Kanarraville Creek Parking Lot. We drew the $10 cash and did the pay and display thing to ensure we wouldn't get ticketed or towed. There was already one other vehicle that was parked here that got en even earlier start than we did. But it did feel somewhat eerie that we were only one of two cars here so far.
I wondered how often break-ins would occur here.
Regardless, it took some time to gear up with the rentals and ensure that we brought enough water on the hike. So it wouldn't be until about 8:45am when we finally started hiking.
The trail immediately started with some steps leading up to a dirt road that immediately went uphill. During the ascent, we were able to look over the sleepy residential town of Kanarraville and even out towards the noisy I-15.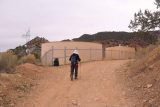 In the distance, we saw that there was still snow on the mountains in the distance. So I knew straight away that there would definitely be quite a bit of water on Kanarraville Creek if the presence of snow was any indication.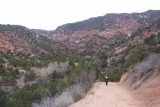 The initial uphill part of the hike peaked at a pair of water tanks situated next to some kind of radio or cell tower. Then, beyond the gate by the tanks, the track then descended before eventually curling towards Kanarraville Creek. During the descent, Mom spotted a deer in the distance before it started to somewhat hastily make its way further away from us.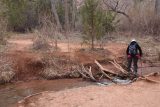 I'm sure it sensed our presence even though we were quite a distance away. Perhaps it was rightfully jittery due to deer hunting. I know prey tend to be jittery by nature since their primary way of taking in food is by grazing, which takes a while to perform as well as digest. But they're equipped to run as soon as they sense danger.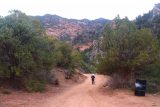 Anyways, we managed to stay dry on that first crossing of Kanarraville Creek as there were some logs set up to bypass the apparent road ford, and then after this crossing, the trail ascended another hill before descending towards a second crossing of Kanarraville Creek.
We managed to get there at about 9:15am. At this point, we had a choice of getting wet right now as opposed to taking a somewhat eroded by ledge-hugging dry path that went around this water part.
There was another family that overtook us at this point, and they took the dry path. So we followed them.
Twenty minutes later, the trail started to be less defined as there were lots of false trails created by people trying to prolong the dry hiking. But seeing how much bouldering and erosion was happening on some of these sketchier trails made me think that resistance was futile, and we'd eventually have to commit to getting wet.
That moment came five minutes later, when we pretty much had to coincide with Kanarraville Creek then criss-cross the creek several times as the canyon walls pretty much closed in on us. The depth of the canyon still wasn't high enough nor wide enough to create that narrows feeling, but the terrain was getting even more like the familiar Upper Narrows from yesteryear when we did the whole length of the Narrows back in late June 2003.
At about 9:45am, we encountered the first "waterfall" (if you could call it that) as it was pretty much a 5ft drop that had a chute-like characteristic as it slanted through a narrow groove in the bedrock. It was attractive, but I knew this wasn't the true "first" waterfall of this hike.
Beyond this waterfall, the trail continued to criss-cross Kanarraville Creek while some other sections involved hiking within the creek itself. And about 10:05am, we entered a dramatic section that looked like a narrows.
Indeed, there were tall fluted sandstone walls, and with the early morning light, we were getting pretty nice colorful glows on the canyon walls, especially when the camera was put in Vivid mode.
After rounding a couple of bends in this narrows section, we finally approached the true first waterfall of Kanarraville Creek at 10:15am, which was around 10-15ft tall with a metal ladder alongside it to get past this obstacle.
This was the waterfall that featured in most writeups of the Kanarraville Falls already in the literature. But Mom and I continued up beyond this ladder, which also had some rope to pull up beyond the top of the ladder. I could totally see how this section would have quite a queue to contend with when more people would arrive and crowd this spot waiting their turn to go up or down.
Beyond this first waterfall ladder, there was another waterfall split by a large boulder obstacle. While the left segment had a descent cascade, it was the narrower right side that was climbable.
That climb was awkward for Mom, but it was a good thing that we had rented gear from an outfitter right by the Cable Mountain Lodge at the Canyon Village Marketplace. The spider rubber soles were definitely grippy and they helped with these tricky and potentially dangerous scrambles.
After getting past the waterfall above the first waterfall ladder, the hiking momentarily got a bit tame though there were a couple more hairy sections of squeezing between boulders and cliffs as we continued our way upstream. We were getting passed by some younger and more able-bodied males as well as encountering others who were already making their way back downstream.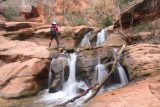 Upon inquiring some of the returning folks how far they went, we were warned that there was a second waterfall ladder that was rickety. One guy apparently fell from that ladder and got dunked in the freezing cold water. Another person said that there wasn't much going on beyond that second ladder as the canyon opened up into a creek going through plains or something like that.
I could have recalled from one of the trip reports that there was a third waterfall ladder further upstream, but so far the feedback was negative. Either that, or the people who were returning said they never made it that far past the second ladder.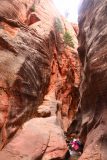 Nearby one of the squeeze-between-cliff-and-boulder obstacles, there was a pair of attractive cascades beneath a tall pillar of sandstone cliff. I managed to get to the opposite side of the creek to look towards both tiers of the falls as well as the backing reddish sandstone cliff.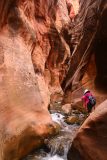 Then, past this waterfall, there was some more stream scrambling before we entered a second narrows. This time, the water appeared to run a little faster and deeper (about knee-deep in places) as we had to climb up and over some minor cascades.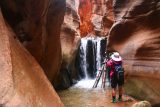 These scrambles were getting sketchier the further upstream we went, but still with the spider rubber shoes, we managed to get through them though our hiking sticks were becoming both a nuissance as well as an asset at the same time.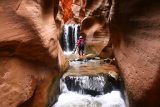 Eventually, we made it to the second waterfall ladder at 11:05am. This was where there were already a couple of guys who went up and kept going upstream. This made me wonder what was beyond that ladder, and whether there was yet a third narrows and waterfall further upstream.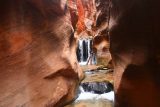 As I was indecisive about whether I should go up that ladder or not, Mom went ahead and made the attempt. This surprised me as I thought she wasn't going to try it and we were going to turn back from here.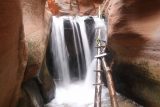 But when she made her attempt, already on that first step, she couldn't get her foot onto even the first rung, and apparently she managed to gash her left knee on that metal rung (apparently it had a very sharp edge).
When she came to me, I could see that her knee was bleeding with a deep cut, and we were busy trying to get that wound covered up and bandaged. It might even have been one of those cuts that needed stitches so she had some medical tape with strings in them that acted like stitches.
As Mom was doing this, I was trying to capture more of this second waterfall ladder in pictures and videos. There was a large group of guys who then showed up and hesitated about going up before the rest of the group showed up and they managed to push forward and make it.
Meanwhile, the father and son combo that went up in front of us had made it back. They both slowly descended the ladder backwards, and there were quite a few large steps that had to be made, including one rung that was rotating. Still they managed to descend successfully.
When I asked the father how far they went, he said that the canyon opened up and there wasn't much going on at that point. He added that if I was mulling over whether going up this ladder was necessary or not, he said that it was more for the adventure and not so much if you're after some kind of reward.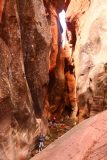 So with that, I stuck to my guns and retreated back to Mom at 11:25am. I ultimately decided in this risk assessment that the risk-reward equation simply didn't add up. That said, I hoped that I didn't regret this decision years later.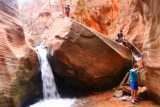 On the return hike, it went fairly fast. Since both Mom and I were already comfortable being wet with our rental gear, we opted to stay in the creek for most of the way downstream while many others were struggling to find dry trails to delay the inevitable.
We did have to pause a couple of times because Mom's bandage on her gashed knee wasn't holding up at the time given all the movement. However, she did reinforce what she had applied, and with that, we continued on as we returned to the first waterfall ladder, where there was a queue to get back down.
Mom was surprised at how many kids were on this trail. There were even those adults carrying the kids. We thought to ourselves that it seemed that many of the adults didn't know the risk they were putting their children in. In fact, we even saw a couple instances of children crying whether it was due to the icy cold water or that they were scared.
Mom even helped up some of the people making it up the first waterfall ladder before we got to go down while people were waiting for us to finish up before they made their attempt.
Once we got out of the first narrows, the trail then criss-crossed Kanarraville Creek like before, but we couldn't totally recall which way we had gone on the way in. So when in doubt, we simply trusted our rental gear and persisted in the water.
We ultimately made it back to the water gauge at about 12:30pm. At this point, the hiking back was straightforward.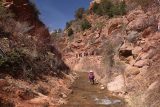 Along the return hike to this point, we encountered several parties of hikers (including some doing the ghetto thing by playing music loudly on the trail). When I see something like that, I can't help but think how some people who can't stay in the moment really ought to not do this hike and try to bring the thug or the city to natural places like this. Then, there are also those seeking out social media attention by showing off to their friends where they were just at.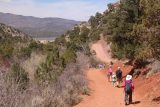 When we got back to that stretch of the water traverse versus hanging onto a ledge on the banks right above, this time we stayed in the creek and avoided the congestion up there.
Again, the spider rubber canyoning shoes were quite helpful, and the neoprene socks made it so that the creek never felt numbingly cold like it did at the plunge pool of Lower Calf Creek Falls a few days ago.
Eventually at 1:05pm, we finally made it back to the car. Along the way, there were many more people starting the hike (including more families with little children) as well as the familiar group of young men who had summitted the second ladder and had now caught up to us and even surpassed us near the end of the hike.
Speaking of the end of the hike, we saw down below that the parking lot for Kanarraville Falls was almost full.
After about 1:15pm, we finally left the parking lot and started to make our way back to Springdale.
When we finally made it to the I-15, we saw that there was quite a bit of congestion on the fast lane as the speed limit was 80mph but those clogging the left lane weren't necessarily doing that. So there were lots of situations where it was possible to pass on the right before getting into the fast lane.
During the drive, I thought that we might be able to make another attempt at visiting Toquerville Falls, especially since it was on the way.
So I went ahead and made the decision to use whatever margin of time we had to try to drive all the way to that waterfall. Unfortunately, the road to get there was even more rough than I had anticipated or remembered from last year's experience.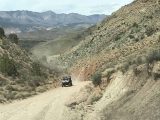 When we turned off on Spring Drive then went onto the rough and rugged Toquerville Road, we all of the sudden found ourselves moving between 5-10 mph. The rocks were simply too large on the road, and there were even deep gullies and ruts in addition to the large rocks.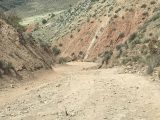 While other vehicles were going around us or gunning it in the opposite direction, they were clearly equipped with ATV vehicles or monster truck-like thick tires to manage the rugged terrain that our city car disguised as a compact SUV clearly wasn't equipped for. I don't think the high clearance of this car would help much as it was more about the tires and the ability of the car's engine to use all four wheels to properly crawl over the large rocks and through the deep gullies.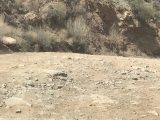 I turned out that I don't think we had gone much further than when Julie had me turn back on my first attempt last year. But this time around, we had a lighter car, yet still all the white knuckle driving made me give up and turn back. I certainly didn't want to go through the possibility of being stranded out in the middle of nowhere.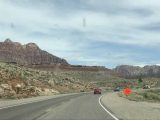 When we get near this large clearing area near the start of the rough part of the drive, one of the vehicles that had gunned past us was now parked over in that clearing with its hood open and a tool box that was laid out on the ground. Clearly something needed some work on that car under-the-hood, and it kind of put in perspective how prepared we had to be in order to make it all the way to Toquerville Falls.
Seeing that there were families in off-road vehicles, I wondered if it would be possible to do a bumpy off-roading tour to get there. That would be something I'd have to investigate going forward the next time we're in the area.
And thus, by 2pm, we were back on the pavement of Spring Drive. Eventually, we'd make a left turn back onto the UT9 bound for Zion National Park. By 2:45pm, we were back at the Cable Mountain Lodge, where Julie and company were still in our unit as she was busy making lunch.
So Mom and I were starved and gladly had Julie's healthy lunch of quesadillas, salad, and grilled veggies. Eventually after 2:50pm, we had our food and probably another hour later or so, we then started heading over to the La Quinta so the kids could play in the kiddie pool there.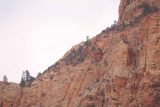 I also returned our soggy and wet canyoneering gear, which was well before the 7pm return time without being penalized additional money.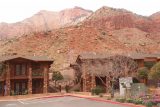 I also managed to spot the jug handle arch beneath the shoulder of Cable Mountain. Like I remembered from before, it was hard to spot, but at least now I could try to 200mm zoom of the DSLR instead of the crappy (or croppy) "digital zoom" of the old Sony Camera.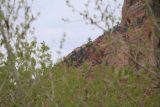 We then drove off from the Cable Mountain Lodge towards the La Quinta. Along the way, Julie adjusted the dinner reservation to 6pm instead of 7pm at the Spotted Dog Cafe.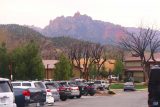 We ultimately got to the La Quinta some time around 4pm. The parents along with Joshua and Sophia took the shuttle back. At that point, the kids couldn't wait to get into the swimming pool. And after Julie initially watched the kids, then I joined in, Julie decided that perhaps she should go check out some of the goods sold at the Sol Foods Supermarket, which I knew would be right up her alley.
When my Mom showed up to watch the kids, I took Julie to the Sol Foods Supermarket at 4:35pm. There, we picked up some ingredients for Julie's mug cake. She regretted not coming here last night for healthier ingredients to make dinner as well as lunch. But now that the trip was likely to end tomorrow (as we were deciding against staying in Las Vegas), After picking up the produce, then bringing it back to our unit at Cable Mountain Lodge, we then got to the La Quinta at around 5:15pm.
The kids were still playing in the pool, which made me a little concerned about upholding our 6pm reservations at the Spotted Dog Cafe.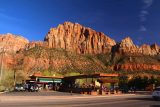 In any case, when the kids finally got back to the room, apparently Joshua had a bit of a relapse of the headache spell that he had suffered back in Page a few days ago. Whatever the case was, we needed to hydrate him as well as give him some electrolytes, which we wound up getting coconut water for him at the Sol Foods Supermarket again at 5:45pm.
We'd eventually plan on having a dinner part of 5 instead of 7 where Dad and Joshua stayed behind. We would bring them leftovers from this dinner, which was supposed to be our last splurge of the trip.
By 6:05pm, we were seated at the Spotted Dog Cafe, where we each got different dishes so we could sample the best of what this restaurant had to offer. We wound up getting some really delicious sauteed mushrooms, duck, salmon, trout, and lamb shank. Tahia and Sophia each got some kind of spaghetti with meatball.
The food was excellent quality, and pretty much everything we had here was good. It was a good thing that Julie picked tonight's dinner as our last splurge to celebrate the trip in which an even greater part of the family took part.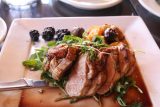 The good food kept reminding me or triggering some pleasant memory of having a good dining experience when Julie was last here with me back on an April 2003 trip, where we had visited the Subway and Angels Landing. And on the day we left late on a Sunday to go home (going to work the next day), I swore that after we made our visit to the Pine Creek Falls back then, that we might have eaten at this cafe once before just prior to going home.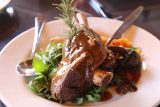 Anyways, the dinner ended at about 7:25pm. When we left the restaurant, we saw that there was standstill traffic right in front of the restaurant that stretched for the foreseeable distance to the west. I guess this was the traffic that I had feared going into this part of the trip, and now it finally happened!
Seeing this development, Mom ultimately had us drive back to Cable Mountain Lodge while Mom and Sophia took the leftovers back to their room so that Joshua and Dad could finally have their dinners.
Eventually, we got back to the Cable Mountain accomodation, where Julie made the mug cake as promised while we were also trying to pack up and be ready to leave as soon as tomorrow's brekkie was over.
Both Tahia and Sophia was already tired from their exciting day on the water both in the chlorinated pool as well as in the Virgin River earlier in the morning. So it was a good thing that the dinner ended when it did.
Julie revealed to me that they really lucked out on their visit because they showed up to the shuttle into Zion Canyon around 9:30am, and there was literally no one collecting the fees or checking for passes (as Mom and I both possessed the passes as we forgot to let them have it just in case). There was definitely someone collecting the fees or checking for passes when they took the shuttle back, however.
And so ended this eventful day, where I finally added a waterfall excursion that I hadn't done before in Kanarraville Falls though I was once again thwarted by the really rough road conditions for Toquerville Falls. I hoped that the rental car was still in good enough shape to get back to home come tomorrow.
We also finally decided to not stay in Las Vegas for the very last night, but we would meet with Julie's cousin Larry in Las Vegas for lunch. Like last time, no kids would be there since they were in school – their Spring Break schedule didn't sync up with Tahia's so the cousins still wouldn't get to see each other in person just like last year.
I had hoped to visit Valley of Fire and Mt Charleston when we were around the area, but I was perfectly fine with letting that pass. Anyways, it seemed like tomorrow's plan in addition to the long drive home was set. Hopefully we'd be going in the opposite direction of traffic so it would be smooth going…
Visitor Comments:
Got something you'd like to share or say to keep the conversation going? Feel free to leave a comment below...
No users have replied to the content on this page