Day 2: TUBING IN THE SUBWAY
Julie and I awoke to a clear blue-sky day at around 6am. After boiling water and having some Cup-o-Noodles, we drove over to the backcountry office waiting for the window to open. We needed to secure permits for the Subway hike we were about to do and they only issued about 10 per day for this canyon – despite the fact we weren't canyoneering.
We made a brief stop at the Zion Adventure Company to buy Julie some neoprene socks.
And with that, we headed west to the town of Virgin. When we got to Virgin, we took the Kolob Reservoir Road out to the Kolob Terrace section of the park. By now, we had left the boundaries of the park and were about to re-enter through a different part.
Finally at 9:15am, we made it to the Left Fork trailhead.
Before the trip, dad got me some waterproof pants for fishing since he no longer used it. So thinking this might help me when we got to the subway, I proceeded to wear it and use it.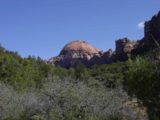 Julie was all set and ready to go. I was decked out in dad's fishing gear with neoprene socks. It was already getting hot in this outfit. Maybe it wasn't such a good idea to wear these things.
Anyways, with the Tabernacle Dome watching over us, we proceeded on the nearly 8-mile strenuous hike.
The trail initially was flat and we nearly got lost when we followed a wash instead of the trail. But we noticed footprints were missing so that was our cue to turn back.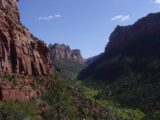 We eventually made it to a point where the trail started to disappear into the Lava Cliffs. It was then that we had to start the steep descent.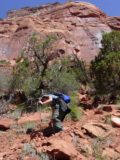 There were some sections in the descent that even required the use of our hands as well as our feet. Still, we took our time and we eventually made it down to the base of the canyon. We could hear the rushing waters of the Left Fork.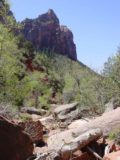 It was 10:30am when we started to follow the confusing series of trails along the Left Fork. Sometimes the trail crossed the creek and sometimes it didn't. It didn't take long for us to lose the trail and start scrambling our way upstream hoping we'd find the trail again.
It was utterly confusing and frustrating with the slow progress we were making. But we knew if we kept going upstream, we'd eventually get to the Subway.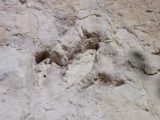 So after another hour of nearly aimless wandering along the seemingly-nonexistent trail, we finally saw some dinosaur tracks at 11:30am. That was a neat little diversion from the featureless hiking we had done so far under the blue cloudless sky. But we didn't tarry much longer as we knew we had to keep going.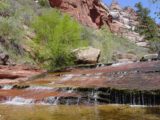 Finally at noon, we were a series of cascades called the Archangel Cascades. These sheets of water flowed thinly on the red creekbed. Often times we had to hike directly in the cascade as we couldn't find another way to go.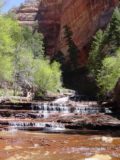 Generally, the cascades had a pretty flat slope, but the last cascade seemed to be a little more vertical and required a little bit of route finding to find a way up. Fortunately, the wet sandstone wasn't as slippery as I had anticipated in many spots though there were some spots where persistent algae kept the surface slippery.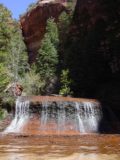 Eventually, we made it up to the top of the cascades where the hiking continued on the hard red creek bed. Although we were encouraged by the sight and sound of the cascades, we were really wondering if we were getting close to the Subway.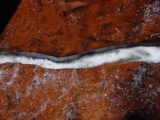 While we were on the flat creekbed above the cascades, we noticed that some parts of the bed already had cracks filled with rushing water in its grooves. It was kind of like the birth of a slot canyon in a way, except it wasn't flash floods that was causing the water-filled cracks in this instance. Indeed, it was quite interesting, to say the least.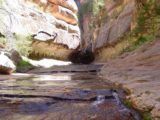 At 1pm, Julie had gone ahead of me. As we rounded a bend in the creek, I heard Julie exclaim, "Honey! Look!"
Quickly I hastened my pace and caught up to her. And there it was…
…the Subway!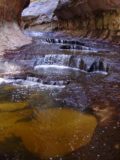 In front of us was this tubular entrance. Like the name indicated, the flash flood carved entrance really did resemble an urban subway tunnel. So without further hesitation, we walked into its shadowy entrance and continued going up minor inclines of small cascades and pools. The footing here was definitely slippery and it was hard to keep our balance even with hiking sticks serving as the third and fourth legs.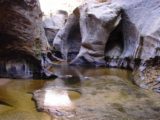 As Julie and I made our way up the slippery wet hardened sandstone floor, we were immediately met by a series of deep pools that conspired to turn us around like so many others who went up the Subway backwards. But knowing about this obstacle in advance, I came prepared with an inflatable rafting tube and now was the time to start blowing on it so we can see what lies beyond.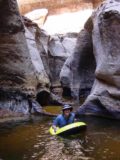 It took a while to blow up the inflatable tube. Finally I just plugged up the hole and accepted the semi-inflated state of the tube. I told Julie about the depth of these pools exceeding the heights of people so she dared not go any further since she couldn't swim. I thought I could get her to tube across these pools, but she didn't want to do that either.
So I gave Julie all my electronic equipment (so I don't risk killing them in the water) and got in the tube and splashed into the dark deep pool. At first, I thought I had to start paddling because the floatation device didn't seem to do anything. But eventually, the tube kept my upper torso afloat and I proceeded to traverse the three pools before us.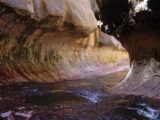 At the end of the third pool, the creek turned to the left. Before me was a waterfall. I really wished I had my camera with me at the time to take a photo of it, but I didn't. It seemed apparent to me that I couldn't proceed any further even though I had read accounts of people able to climb up past the falls.
So with that, I tubed back to Julie. I had realized at this point that the fishing pants dad got me also ripped around by butt. So all that ice cold water came rushing down my legs and weighed down the pants.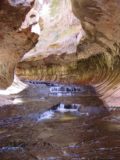 When I got out of the water, Julie and I took a few more photos as well as talked with another couple who caught up to us. But as the afternoon was wearing on and the shadows crept further up the canyon, I was starting to shiver and chatter.
So Julie and I wasted no time getting back out of the Subway and back out into the sun.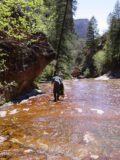 By now, me knees really started hurting because of the excess weight from all that water accumulated in the fishing pants. It also didn't help that I had played basketball earlier in the week, which always inflamed by knees.
Finally I got to a point where I just took off the fishing pants and packed it away. From that point on, I was able to hike a little more freely, but I had to endure a few painful steps with the inflamed knee.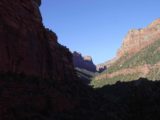 We had gone down the Archangel Cascades at 3pm and we eventually returned to the Lava Cliffs area at 5pm. It's funny how the trail seemed to be much easier to follow on the way out than on the way in. Anyways, the climb back up the cliffs was brutal on my knees as I kept feeling pain when I put pressure on my left leg when it was bent.
Eventually, Julie and I returned to the car park at 6pm. While we were up there, a backcountry ranger pulled up to us and asked if we had permits. We gladly showed them to him and he was on his way.
As I started the car, I had trouble shifting gears (it was a manual transmission). It was almost as if I had to force the stick even though the clutch was all the way down. Apparently, that little detour we took to avoid the traffic jam on the I-15 did damage the vehicle. Anyways, we eventually got back to our campground where we promptly got our clothes and headed back to Springdale to shower.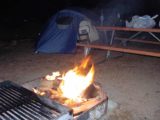 Julie and I ended up having some backpacker food we had bought from REI, which she wanted to try out. And I had to say the food didn't taste bad at all. Then again, probably anything tastes good after going through a long day of difficult hiking.
We also had bought some firewood earlier in the day and we were anxious to use it. So we did, but we didn't have marshmallows, graham crackers, nor chocolates so we couldn't do Smores. Doh! So the fire was just for show pretty much.
Visitor Comments:
No users have replied to the content on this page