Day 3: UP TO WHERE THE ANGELS TOUCH THE EARTH
Julie and I got up at around 6am and broke camp. While I was busy packing our stuff into stuff sacks, Julie was preparing another hot breakfast utilizing the packaged camp food from REI.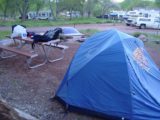 After the breakfast, we proceeded to load up the car, check out from our camp, and move the car to the public car park. From there, Julie and I caught the mandatory shuttle bus en route to Angels Landing deep in Zion Canyon, the goal of today's hike.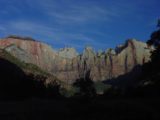 So after taking a few shots from the bus of the Court of the Patriarchs, it wasn't long before the shuttle made its stop at the Grotto Trailhead at 7:15am.
Julie and I promptly disembarked and used the restrooms in the picnic area nearby knowing there weren't any facilities along the popular trail.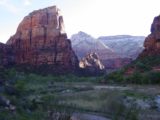 And with that both of us were off.
Right off the bat, we could see the imposing Angels Landing monolith from the trailhead. It didn't look far from where we were at, but on this hike, distance wasn't the issue. We knew that it would be the dropoff exposure on the way to its top. From the pre-trip research, it was that part that made me nervous.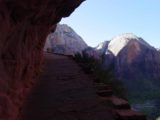 The trail immediately headed towards the cliffs of the canyon. After an initial stretch along the Virgin River yielding views of the tall monolith before us, the trail wasted no time starting to climb up the cliffs through a series of several switchbacks.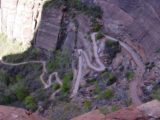 When we got close to Refrigerator Canyon (a hanging canyon way up above the floor of the main canyon) at around 8am, we could look down at the switchbacks we had just climbed. Still, we knew there was more climbing to go so we continued along the cliff-hugging trail.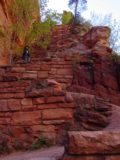 When we entered the shady confines of Refrigerator Canyon, we could see the striations on the adjacent canyon walls that were really reminiscent of Hidden Canyon on the other side of the valley. Obviously, this section here is prone of flash floods and I certainly wouldn't want to be in here in a thunderstorm.
At 8:10am, the paved trail started to switchback onto itself and face a series of switchbacks held up by red retaining walls. I knew this was the famous Walter's Wiggles and it marked the final ascent to at least the Scout's Lookout, which itself was about a 1/4-mile from the summit of Angels Landing.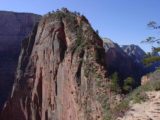 We made it to the top of the wiggles at 8:30am and before us was the infamous Scout's Lookout. This view of Angels Landing showed us the final 1/4-mile of the trail. Many people turn back at this point unwilling to move forward with the cliff exposure on both sides of the trail. However, Julie and I weren't to be denied and we kept on going.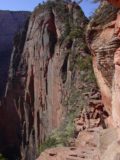 There were chain bolts and footholds throughout most of the final scramble to the summit of the knife-like ridge of Angels Landing. Clearly I could envision Angels landing on that monolith, but the last thing Julie and I wanted to do would be to join the angels…
Still, we weren't really aware of the drop offs around us as we focused on the steps and paths ahead of us. Since we were climbing, our attention was always focused on looking up and not down so that helped us mentally. But even then, some of the cliff exposed parts were unavoidable and they were certainly unnerving. I recalled there was even one pretty narrow section where the dropoff exposure were on BOTH sides of us!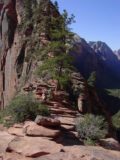 This trail received lots of bi-directional traffic so we patiently allowed people to pass in the particularly difficult or narrow stretches.
But finally at 9am, Julie and I had made it to the top of Angels Landing!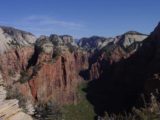 I was concerned going into this trip that Julie might have problems with this trail, but she made it through with flying colors. Of course, there was still that issue of going back down as we would face the cliff exposure all the way down, but we were basking in the glory of our accomplishment.
I had intended this hike to be one of several hikes to train for the upcoming Half Dome hike in Yosemite this June. And this hike, which was short and quite easy to follow, was supposed to be the one that would get us over our fear of heights and cliff exposure. Check!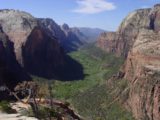 And so we took our time enjoying the 360 degree panorama. Towards the head of the canyon, we could see the vertical cliffs closing in where the Narrows was supposed to be. Towards the mouth of the canyon, we could see the great expanse of Zion Canyon. As we faced directly across the canyon, we could see the Great Throne looming large at nearly eye level with us. Heck, we could even make out the switchbacks on the opposite side of the canyon leading up to Hidden Canyon as well as Observation Point.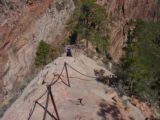 By 10:15am, Julie and I started making our way back down the knife-ridge. As anticipated, it was a bit scary to constantly stare down at the dual drop-offs while hanging on to the bolted chains. Whenever there was a point where we didn't have the confidence to stand upright and descend, we just took a seat and scooted our way down. That tactic was quite effective and it practically neutralized the unsure footing factor.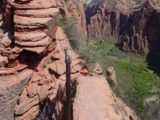 Julie was making such good progress that she was way out in front of me. She had already made it down Walter's Wiggles when I just started that part of the trail. Just then, some elderly guy stopped to talk to me as he noticed I was limping.
I was limping because of my inflamed knee, which was acting up again. The elderly guy told me, "Son, I had a brother who couldn't walk anymore because he wouldn't get his legs checked out."
And with that, we engaged in conversation. I worried about leaving Julie alone further down the trail, but I didn't want to be rude to this guy so I entertained his need to talk about stuff and pretty much hiked down together with him.
The topics ranged from the Southern Utah scenery to some political things. Funny how I can't ever seem to avoid political talk no matter which stranger I run into.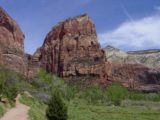 Anyways, I we finally made it back to the trailhead and shuttle stop at noon. When I finally broke free from the pleasant but a tad bit excessive chatter with the elderly guy, I saw Julie sitting on the picnic table. She got up and proceeded to ask me, "What took you so long?"
When I explained to her the conversation I had with the elderly guy and how I couldn't be rude to him, she laughed. Anyways, within a few minutes, the shuttle arrived and we were back at the Watchman Campground Visitor Center by 1pm.
Julie and I weren't about to head home yet and face the horrendous traffic jam we knew would occur after Las Vegas. So we decided to spend the rest of this afternoon in the park – starting with this waterfall I had read about in Pine Creek.
So we left the Watchman Campground Visitor Center and made a left onto State Highway 9. Within minutes, we found the large pullout before the bridge over Pine Creek at the first switchback and parked the car there.
Next, we proceeded to put on Chacos as we knew we would get our feet wet. Then, we followed the trail and before long, we had to cross Pine Creek as we had expected.
After a few minutes of pretty simple hiking, we met an obstacle. In the way was this large standing pool that looked way too deep to traverse without swimming. Julie and I searched around and weren't exactly sure which way to go.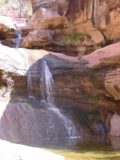 Fortunately, there was a mother and a pair of kids sitting at the top of a dropoff and they pointed to us which way we should go. So taking their advice, we hugged a cliff wall and climbed up a rock with a tree for support. Eventually, we would be above the deep pool though the sloping surface would dump us into the pool if we fell. So we were careful to stay as balanced as possible.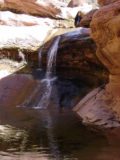 After thanking the lady for her kindness, we proceeded further up the canyon. The trail continued to cross the creek again. We had to be careful where cacti were lying on the ground since our bare feet were exposed in our Chacos.
Eventually, we followed a sheltered shelf with dropoffs into standing pools of water below us before we finally went around a large boulder and beheld the Pine Creek Waterfall before us.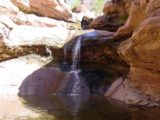 The falls were half in shadow as the afternoon sun wanted to sink deeper behind the towering sandstone cliffs of Zion Canyon. That made taking decent photos a bit difficult. Nonetheless, the waterfall was a lovely 30ft one and Julie and I spent some time here taking a few photographs and pondering upon the peaceful scene before us. We were the only ones here.
By 3pm, we left the waterfall and headed back to the car. My nose started to bleed given the dry desert air and perhaps lack of sufficient water, but eventually it plugged up and clotted and I was good to go.
We next drove into Springdale and had a relaxing dinner at Flannigans. We saw it was Zagat Rated so we figured it ought to be decent. Of course, the joint didn't look cheap, but Julie and I wanted to celebrate our relaxing weekend, which was drawing to a close. Besides, the weather had been perfect this weekend and this was the way to end off our time in Zion.
The food was pretty good and we eventually left at around 5pm.
The drive home was exhausting, but we at least made it through to Victorville without much traffic. There were still lots of cars on the road though and that was to be expected.
However, what wasn't expected was the traffic we saw at 11pm in Victorville. This was ridiculous! And with the clutch still stubbornly out-of-whack from our off-road driving experience on Friday, this was a nightmare for me as I had to keep forcing the stick to shift as we constantly changed speeds in the sluggishness.
Well eventually, we made it back to our apartment in West LA past midnight. We quickly dumped our clothes into the laundry basket before showering, brushing, and ultimately crashing in our comfortable bed.
It was nearly 2am when we finally slept, but both of us had to get to work when daylight broke. Needless to say, I would be a zombie when I had to get up at 5am for my 6:30am start back in the rat race.
But oh it was so worth it!
Visitor Comments:
No users have replied to the content on this page