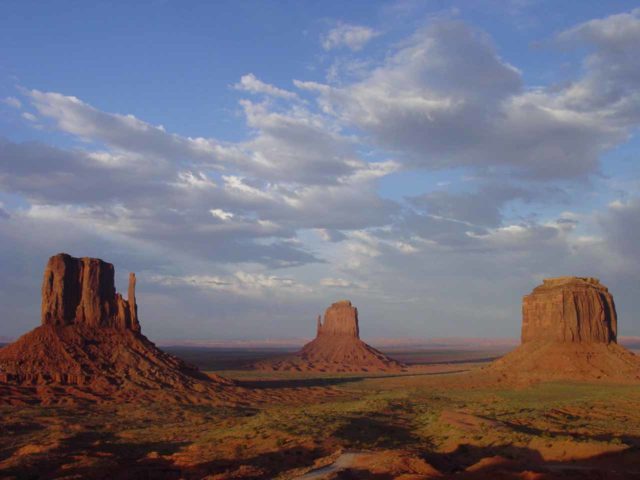 23-May 2003 to 25-May 2003:
Up to this point, all we had seen were things we had seen before. We went through nearly 8 hours of driving by now and I was anxious to start seeing something I hadn't seen before or something I hadn't seen in years. As we entered the township of Hatch, the speed limit was reduced to 35mph so I lazily let the car roll to the required slower speed from the 75mph we had gone, but apparently it wasn't slowing down fast enough because a state trooper was going the other way when he flashed his blinker and made a U-turn just as we passed him…
Day 1: TWO TICKETS TO MY DRIVING RECORD
It was Memorial Day Weekend and I had to take Julie to the airport early in the morning so she could attend her trade show in Las Vegas. The hordes of people lining up outside the check-in areas for security checks certainly indicated how busy this weekend was for travel. But no matter, I dropped Julie off a couple of hours before her flight then I headed to my parents place to pick up mom and try to avoid the mad holiday rush the best we could.
When all was said and done, it was essentially 9am when we headed east on the 60 Fwy then north on the I-15 bound for the town of Escalante.
During the course of my trip planning, I actually had this crazy idea to sleep in a rest area for tonight to save one nights accommodation. Thus, I didn't make a booking though I did book for a night in Hanksville on the following night since we intended to head out to Monument Valley and Natural Bridges National Monument – a couple old haunts I always wanted to return to since my 2001 Grand Circle Trip with Julie, Andy, and Stacey.
Traffic was reasonable throughout the I-15 even though there was construction and high volumes of cars. The traffic improved immensely when we zoomed past Las Vegas and left the crowds in the dust.
It was around 2:30pm when we passed Springdale, Utah and arrived in Zion National Park. However, lingering here wasn't on our itinerary so we proceeded to go east on Highway 9 towards US89, where we would head north towards State Highway 12 then east and eventually into the Grand Staircase National Monument and the town of Escalante.
I knew driving on the US89 was pretty featureless so I bent the rules a little and went about 10mph above the speed limit.
Up to this point, all we had seen were things we had seen before. We went through nearly 8 hours of driving by now and I was anxious to start seeing something I hadn't seen before or something I hadn't seen in years. As we entered the township of Hatch, the speed limit was reduced to 35mph so I lazily let the car roll to the required slower speed from the 75mph we had gone, but apparently it wasn't slowing down fast enough because a state trooper was going the other way when he flashed his blinker and made a U-turn just as we passed him.
Before long, he was right on our tail and made me pull over.
"Why were you going 55mph in a 35mph zone?" he asked me.
I just nodded, knowing I had no answer for his inquiry. So with that, I got my ticket for what would eventually cost me $125 and a blemish on my previously unblemished driving record.
It didn't feel good to have that ticket as I continued to make my way towards Hwy 12.
Mom and I eventually made it into the town of Cannonville just east of Bryce Canyon National Park. There, we headed south towards the Kodachrome Basin State Park – a place I hadn't been since my Grand Circle trip two years ago.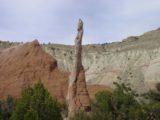 This park featured lots of spires, which were believed to be accumulated deposits from extinct geysers. Such spires resemble interesting shapes from ballerinas to chimneys to even obscene bodily organs. Perhaps when Yellowstone's supervolcano goes extinct (not sure how likely this is going to be), its great geyser basins might start looking like Kodachrome Basin.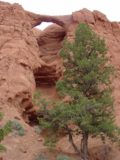 Anyhow, we were here to hunt for Shakespeare Arch. And after going on a dirt road that left the Grand Parade road, we made it to the quiet car park where we went on to hike another 1/2 mile to see the interesting arch.
Without further adieu, we took photos and returned to the car so we can proceed to Escalante.
As we left the town of Cannonville and headed east on Highway 12, we started to enter the familiar sandstone cliffs of the Grand Staircase. I was making sure I went slow on the speed trap zones in town, but I was pretty comfortable going 5-10mph over the speed limit outside town. Besides, folks who were in greater haste passed me so I figured I was fine.
As we were about to head up a climbing section of the road, mom must've saw a cop because she exclaimed to me, "Slow down!"
I must've not seen the cop because it didn't dawn on me why she all of the sudden said that. But sure enough, I looked in my rear-view mirror and saw this black SUV with LED blinkers growing quickly. And moments after that, we had to pull over.
"Again?!?" said I.
And out walked another officer who walked over to mom's side of the car. This time, I was not as aware of what I had done. He went on to tell me that I had gone 10mph over the speed limit. He also went on to tell me that Hwy 12 is 55mph tops except for a few spots where it gets reduced to 35mph. And with that, he handed me another ticket, which eventually amounted to $50 and yet another blemish on my driving record.
I was cursing my luck and mom seemed to understand. She insisted that we switch drivers, which I gladly did. But my mood was totally soured by this double-dinger.
Heh, two tickets to paradise? It was more like two tickets to my driving record!
So mom took us further east on Hwy 12 going even slower than the painfully slow 55mph speed limit. Plenty of folks tailed us before passing us, but at least we finally made it into Escalante at around 7pm.
Mom then took charge of the situation and made sure I didn't follow through with my intention to spend the night in a rest area. She pulled into a fair-looking motel called the Prospector Inn and we asked if they had any availability. To my surprise, they did, and it was only around $40 for the night.
Without any more wasted energy, we checked in, got to our rooms to briefly unpack what we needed to tend to our personal hygiene, and then proceeded to eat in the diner in the back of the motel. Mom and I hadn't eaten all day and we were famished!
To my surprise, this restaurant had Navajo Taco (basically salsa, meat, beans, and cheese all on fry bread). Of course I had to try it out – even if Escalante was far away from the Navajo lands of the 4 Corners area.
Then, we returned to our rooms to sleep. Both of us had trouble sleeping as we couldn't stop replaying the times I had gotten pulled over…
Day 2: CUTTING ACROSS THE STATE
It was a little before 5am when we awoke. Somewhat recovered from the mental trauma induced yesterday, we checked out early from the motel and put our stuff into the car. Once again, mom took charge of the driving and we slowly made our way towards the Escalante River – site of our next hike to see the Escalante Natural Bridge.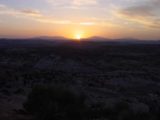 We made one brief stop at a roadside pullout before the Hwy 12 snaked its way down amongst the slickrock. I recalled that two years ago on our June 2001 trip, our group pulled out somewhere close to here and did the exact same thing!
After seeing the sunrise over the slickrock expanse some time after 5am, we arrived at the car park for the Escalante Natural Bridge at around 5:30am. I had put on Chacos knowing there were quite a few river crossings to get to the natural bridge and I didn't feel like getting my boots soggy. Mom got her Tevas on and we hastily started hiking as the mosquitoes started to swarm around us.
The first river crossing happened immediately. There was even a sign that read, "Yep! You're gonna get wet!"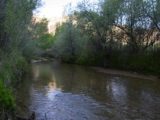 So we continued hiking through a sandy trail that went through a mixture of sagebrush and cacti. The land looked lush yet unforgiving. Mom and I briefly missed the main trail when we didn't see the second river crossing and kept following false paths into the bush.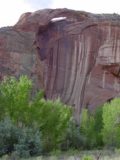 After regaining the path, we crossed the river a few more times. On the way, we saw Skyline Arch way off in the distance and we eventually got our first glimpse of the Escalante Natural Bridge at a little after 7am.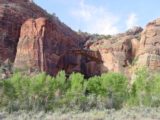 Next, we proceeded to take the spur trail towards the base of the natural bridge, which involved yet another river crossing right in front of it.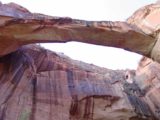 We spent a few moments here gazing up at the impressive bridge, but the swarms of mosquitoes were become a bit too much for us. We got our shots then headed back on the trail for Skyline Arch. But not before I was bit numerous times on my arms and my hands.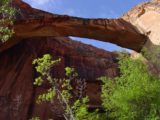 We eventually made it to Skyline arch at 7:45am after a couple more river crossings. It was perched high atop the cliff wall and didn't quite have the scenic qualities of some of the other natural arches I had seen. But mom wasn't used to seeing natural arches and enjoyed this one.
It was finally around 9am when we got back to the car and the heat of the new day started to intensify.
Now, we headed towards Capitol Reef National Park. But we basically passed right through it as we intended to get to Natural Bridges National Monument to get close to the bridges that I had only seen from afar in my previous trip here two years ago.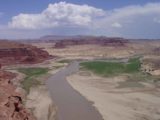 The drive was long and mom made sure we stuck with the speed limit. We passed Hanksville at around 11am and it was still too early to check in so we kept driving south along State Route 95 (the Bicentennial Highway).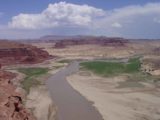 We eventually made it to an overlook of the head of Lake Powell by the Hite Marina in the Glen Canyon area. What we saw before us was nothing like the Webshots photo I had seen on my screen saver. That photo showed a large lake expanse with a road going around the lake amongst some rock formations. The view before us looked familiar, but the lake waters were replaced by ugly mud flats. It seemed quite apparent that the damming of the Colorado to create Lake Powell had resulted in all the sediment accumulating in the depths of Glen Canyon.
As we were enjoying the scenery, we engaged in a long conversation with one of the Navajo Indians who took his family out to see this overlook. He explained to us that they started letting water go at the dam because of the persistent drought. He also talked about how he usually works at some power facility near Page, but runs tours from his home in Monument Valley.
After we said our good-byes, mom and I continued to head south on SR95 towards Natural Bridges National Monument. We would eventually arrive to the trailhead for Sipapu Bridge at 2pm.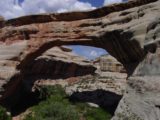 From there, we went down the steep trail, which had a few sections involving ladders (tricky if you're carrying hiking sticks). It wasn't long before we got near the bottom of the 1.5mi return hike where we could see the massive span of the Sipapu Bridge.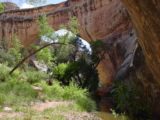 We even went to the other side of the bridge where we noticed there were some pools hugging the cliffs, and I'd imagine that this was the stream (or what's left of it) responsible for the cutting action that caused this natural bridge.
Next, mom and I returned to the trailhead and were about to drive off when a pair of elderly men approached us and asked if they could hitch a ride. They were hot and sweaty from walking around the trail at the canyon bottom passing by all the bridges in Natural Bridges National Monument. Clearly, they were doing a shuttle hike, but we couldn't take them all the way to their car at Owachomo Natural Bridge. We told them we'd stop at the next natural bridge Kachina Bridge and then they could figure out what to do from there. Mom and I were about to hike to the base of that second natural bridge.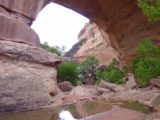 And so that we did. We went on another short hike – this one about 1.2mi round trip with about the same elevation loss. But this one didn't have ladders we had to contend with though there was a short steep section on slickrock that required using a hand rail bolted into the hard sandstone.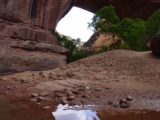 And we finally made it to the base of Kachina Natural Bridge at 3:45pm. The standing pool of water on the bridge's backside provided interesting reflections of its big span. After spending a few minutes photographing this beauty, mom and I headed back up the trail.
Along the way, someone pointed out to us that there was another arch on the trail. Funny we didn't notice it on the way down. But it wasn't long before we saw the tiny wall-hugging arch. It was hardly anything to write home about, but it was intriguing nonetheless.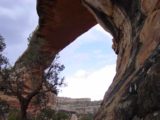 When mom and I returned to the car park, the skies started to get dark. Apparently, a thunderstorm was about to loom over us. But before we could end the day, we had to at least check out Owachomo Bridge, which involved a short 3/4-mile round trip hike on an easy walking trail.
After witnessing a few flashes of lightning, a guy at the car park told me that a friend of his was struck by lightning at the Grand Canyon. It kind of reminded mom and I just how dangerous being exposed in the desert can be if we're not careful.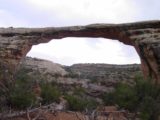 Anyways, Mom and I got to the natural bridge at around 5pm. By then, lightning continued flashing and the skies started pouring. Mom and I sought shelter next to the cliff supporting Owachomo Bridge before the rain finally relented.
It was about 5:15pm when we returned to the trailhead. And on a whim, I decided there was still a few hours left in the day to get out to Monument Valley. I figured it would be a good opportunity to show mom this distant spot. Besides, the San Juan Inn was near by in the town of Mexican Hat, and I knew they made killer Navajo Tacos since that town was run by Navajo Indians.
And so we proceeded south on the Moki Dugway. Mom had to avoid a few cows in the middle of the road on Hwy 261, but it didn't stop us from moving forward.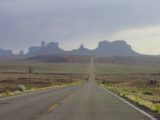 As we descended down the brief unpaved switchbacks of the Moki Dugway, I managed to get a few photos of the Valley of the Gods in the late afternoon sunlight beneath the thunderclouds.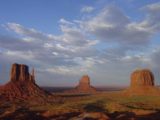 By 6:45pm, we were finally at the visitor center area of Monument Valley. Here, the thunderclouds were disorganized enough to allow us some gorgeous shots of the Mittens and the Merrick Butte as the sun painted them nearly red as it was about to set.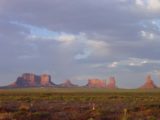 When twilight was upon us at 7:15pm, mom and I stopped by the San Juan Inn, which sat right on the banks of the San Juan River. We took this opportunity to contact our motel in Hanksville telling them we would be checking in late. Meanwhile, we had our taste of the heavy but good Navajo Taco. It was still just as good as I remembered it two years ago.
It was about 9pm when we left the San Juan Inn. Mom finally relinquished the wheel so I could drive. Seeing that it was late and we'd be passing through the desolate regions along SR95, we weren't too concerned about getting another speeding ticket.
And so I made my way back up the Moki Dugway and eventually back onto the SR95. All along, there were frequent flashes of lightning piercing the darkness of the night sky. The awesome display of nature kept both of us awake for this final stretch run back to Hanksville.
Finally after 11pm, we arrived in Hanksville, checked in (the guy at the lobby kindly waited for us to arrive), and quickly got to our rooms to clean up, tend to our personal hygienes, and sleep. It was good thing we booked this place in advance because it certainly looked like there was no more vacancy here.
Day 3: DEFEATED BY UPPER CALF CREEK FALLS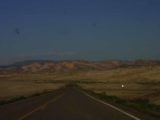 Mom and I awoke at around 5am. Having checked out the previous night as I checked in, it was about 5:30am when we left the inn in Hanksville and headed back into Capitol Reef National Park on Hwy 24.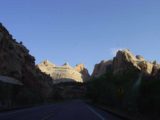 The first order of the day was to see a particular waterfall on the Freemont River. Since it was early in the morning and we were probably going to be the first ones there, we carefully made sure every large suspicious-looking pullout was looked at before we kept heading west. Eventually, we would find the big turnout, which stood above the falls. It was 6:15am.
We could hear the churning waters of the Freemont River and it didn't take long for us to scramble through the bush to get right at the base of the impressive waterfall. The early light of the morning sun brightened the white cliffs backing the short waterfall. It was quite unusual to see such a high volume river beneath the white sandstone cliffs in the open desert.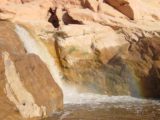 When we had our fill of the Freemont River Waterfall, we proceeded further west towards a car park before the Capitol Dome. We arrived at about 6:45am and quickly began hiking to the Hickman Bridge – the next natural arch or bridge on our itinerary.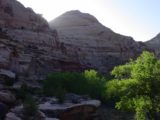 It already started to get hot this early in the morning as we climbed above the car park. There were signposts with numbers on them that were keyed to this brochure we picked up at the trailhead. I guess it kept us occupied somewhat.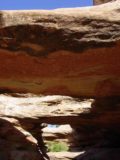 During the hike, we passed by a smaller series of natural bridges. You had to crawl to get underneath them, but they were interesting nonetheless. Still they were nothing compared to the giant we were about to see.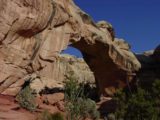 And there it was – the Hickman Bridge. We got here at 7:15am and couldn't get any decent views from the trail. So we went behind the bridge and noticed how cool it was back there. There was a gentle breeze that went through the mini canyon we were in before the air passed beneath the natural bridge. Still, the views of the arch here weren't good and we eventually scrambled down beneath the bridge's span until we got in front of it.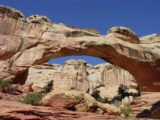 Now that was better! As we looked back at the bridge, the magnitude and size of this impressive natural bridge became apparent. So mom and I took lots of time photographing this bridge before heading back to the car.
It was about 8:20am when we got back to the car. By now, we had noticed more people on the trail going the other way as well as more cars at the car park. Apparently, this spot was pretty popular. Mom also went into the tiny cooler and gave me an apple. And after the dry hiking we had done up to this point, it was the sweetest apple I had ever tasted.
Now, it was time to head further south on Highway 12 and seek out Upper Calf Creek Falls.
When mom arrived in Boulder, she was tired. We switched driving responsibilities and so I took over the wheel again. I tried to remember which turnout to take to start the Upper Calf Creek Falls hike. I had read in my Falcon Guide that there was a short 4WD path leading to the actual car park. So I was looking for such a spur intending to walk that 1/4-mile stretch if my low-clearance Legend couldn't handle it.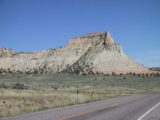 At 10am, we were at the apparent trailhead. We soon walked towards a steep incline that required us to have good traction on the incline in order to proceed further. There were black volcanic boulders strewn about the area and cairns along the trail to hopefully guide us to the waterfall.
Mom and I continued to follow the cairns down to some trails near the bottom of the incline. We must've hiked for at least an hour before we were suddenly stopped in our tracks by the edge of the cliff into Calf Creek Canyon.
This was disconcerting because the waterfall shouldn't have to be this far of a hike and we didn't even hear any water. Now I was confused. So both mom and I followed a few more false trails before the reality started to sink in that we took the wrong trail.
When I whipped out my topo map and noted my GPS coordinates, it looked like we were a bit too far south of the actual waterfall. What's more, when I entered the GPS coordinates of Upper Calf Creek Falls into my Garmin eTrex, it stated that we were about a mile too far south.
Then, I looked at the Falcon Guide and my error immediately became apparent. We were supposed to find the car park between mile markers 81 and 82. But somehow I thought it was between 81 and 80.
Around that time, thunderclouds had loomed over us again and we both heard rolling thunder. In the exposed expanse of the desert, this was certainly not the place to be!
So mom and I huffed and puffed as we quickly made the strenuous friction pitch back up the slickrock incline. It must've seemed like forever when we finally made it to the top, but we didn't see the car park up here. It was apparent that we were lost.
But I knew if we kept going in one direction away from the cliffs, we would eventually get to State Highway 12. And with the faith of this theory, we scrambled through the brush until we reached the embankment of the road near the mile marker 81.
From there, we hiked along the road back to the Legend. With thunderclouds still above us, I had to declare defeat on this hike and Upper Calf Creek Falls would have to wait until a future trip.
On the way into Escalante, I was shocked to see how many cars were lined up along Highway 12 at the Calf Creek Recreation Area. Clearly they couldn't find parking in the official car park and hence there was this big line of cars on both shoulders of Highway 12. That was crazy! I had seen Lower Calf Creek Falls two years ago on the Grand Circle trip and I wasn't particularly interested in coming back today – especially since it was starting to get late in the day.
It was about 1pm when we arrived in the town of Escalante. We had a very good pizza in town before continuing our drive further west.
I was back behind the wheel as we headed back towards US89. But instead of heading south on US89 towards Highway 9 near Zion National Park, we headed north towards Panguitch before going west into the Brian Head area.
The purpose for this detour was to finally see what Cedar Breaks National Monument looked like. I had seen photos and it appeared like a poor-man's Bryce Canyon, but this area was closed due to snow the last time we were in the area back in early April so I wasn't about to let this opportunity slip away.
So once we got to Panguitch, we took Highway 143 deep into the Dixie National Forest. The road seemed like it would climb forever. And it did, because Cedar Breaks was at an elevation of something like 10,000ft!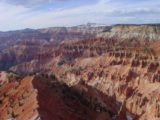 Finally, we reached the turnoff for Hwy 148, which cut right around the eastern edge of the amphitheaters of Cedar Breaks. Snow was still embanking the road, which was wet from their running meltwaters. It wasn't until 4:45pm did we start seeing the west-facing scenery as we looked against the afternoon sun. Particularly memorable was Point Supreme, which seemed to have one of the better comprehensive panoramas up in this nose-bleed elevation.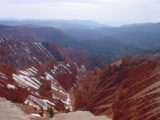 Mom and I finally left Cedar Breaks at 5pm. In another hour we would finally arrive at Cedar City, and from there, we headed south on the I-15.
We didn't book any accommodations on this night so it would have to be another last minute affair – probably in Vegas. But when mom and I switched after filling up on petrol in St George, mom decided to heck with it and just go home.
We ended up at home at midnight. Both of us were exhausted. So I crashed in Grandma's room not even thinking about driving home in West LA this night.
Visitor Comments:
Got something you'd like to share or say to keep the conversation going? Feel free to leave a comment below...
No users have replied to the content on this page