Day 1: TWO TICKETS TO MY DRIVING RECORD
It was Memorial Day Weekend and I had to take Julie to the airport early in the morning so she could attend her trade show in Las Vegas. The hordes of people lining up outside the check-in areas for security checks certainly indicated how busy this weekend was for travel. But no matter, I dropped Julie off a couple of hours before her flight then I headed to my parents place to pick up mom and try to avoid the mad holiday rush the best we could.
When all was said and done, it was essentially 9am when we headed east on the 60 Fwy then north on the I-15 bound for the town of Escalante.
During the course of my trip planning, I actually had this crazy idea to sleep in a rest area for tonight to save one nights accommodation. Thus, I didn't make a booking though I did book for a night in Hanksville on the following night since we intended to head out to Monument Valley and Natural Bridges National Monument – a couple old haunts I always wanted to return to since my 2001 Grand Circle Trip with Julie, Andy, and Stacey.
Traffic was reasonable throughout the I-15 even though there was construction and high volumes of cars. The traffic improved immensely when we zoomed past Las Vegas and left the crowds in the dust.
It was around 2:30pm when we passed Springdale, Utah and arrived in Zion National Park. However, lingering here wasn't on our itinerary so we proceeded to go east on Highway 9 towards US89, where we would head north towards State Highway 12 then east and eventually into the Grand Staircase National Monument and the town of Escalante.
I knew driving on the US89 was pretty featureless so I bent the rules a little and went about 10mph above the speed limit.
Up to this point, all we had seen were things we had seen before. We went through nearly 8 hours of driving by now and I was anxious to start seeing something I hadn't seen before or something I hadn't seen in years. As we entered the township of Hatch, the speed limit was reduced to 35mph so I lazily let the car roll to the required slower speed from the 75mph we had gone, but apparently it wasn't slowing down fast enough because a state trooper was going the other way when he flashed his blinker and made a U-turn just as we passed him.
Before long, he was right on our tail and made me pull over.
"Why were you going 55mph in a 35mph zone?" he asked me.
I just nodded, knowing I had no answer for his inquiry. So with that, I got my ticket for what would eventually cost me $125 and a blemish on my previously unblemished driving record.
It didn't feel good to have that ticket as I continued to make my way towards Hwy 12.
Mom and I eventually made it into the town of Cannonville just east of Bryce Canyon National Park. There, we headed south towards the Kodachrome Basin State Park – a place I hadn't been since my Grand Circle trip two years ago.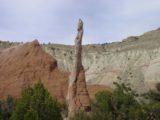 This park featured lots of spires, which were believed to be accumulated deposits from extinct geysers. Such spires resemble interesting shapes from ballerinas to chimneys to even obscene bodily organs. Perhaps when Yellowstone's supervolcano goes extinct (not sure how likely this is going to be), its great geyser basins might start looking like Kodachrome Basin.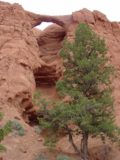 Anyhow, we were here to hunt for Shakespeare Arch. And after going on a dirt road that left the Grand Parade road, we made it to the quiet car park where we went on to hike another 1/2 mile to see the interesting arch.
Without further adieu, we took photos and returned to the car so we can proceed to Escalante.
As we left the town of Cannonville and headed east on Highway 12, we started to enter the familiar sandstone cliffs of the Grand Staircase. I was making sure I went slow on the speed trap zones in town, but I was pretty comfortable going 5-10mph over the speed limit outside town. Besides, folks who were in greater haste passed me so I figured I was fine.
As we were about to head up a climbing section of the road, mom must've saw a cop because she exclaimed to me, "Slow down!"
I must've not seen the cop because it didn't dawn on me why she all of the sudden said that. But sure enough, I looked in my rear-view mirror and saw this black SUV with LED blinkers growing quickly. And moments after that, we had to pull over.
"Again?!?" said I.
And out walked another officer who walked over to mom's side of the car. This time, I was not as aware of what I had done. He went on to tell me that I had gone 10mph over the speed limit. He also went on to tell me that Hwy 12 is 55mph tops except for a few spots where it gets reduced to 35mph. And with that, he handed me another ticket, which eventually amounted to $50 and yet another blemish on my driving record.
I was cursing my luck and mom seemed to understand. She insisted that we switch drivers, which I gladly did. But my mood was totally soured by this double-dinger.
Heh, two tickets to paradise? It was more like two tickets to my driving record!
So mom took us further east on Hwy 12 going even slower than the painfully slow 55mph speed limit. Plenty of folks tailed us before passing us, but at least we finally made it into Escalante at around 7pm.
Mom then took charge of the situation and made sure I didn't follow through with my intention to spend the night in a rest area. She pulled into a fair-looking motel called the Prospector Inn and we asked if they had any availability. To my surprise, they did, and it was only around $40 for the night.
Without any more wasted energy, we checked in, got to our rooms to briefly unpack what we needed to tend to our personal hygiene, and then proceeded to eat in the diner in the back of the motel. Mom and I hadn't eaten all day and we were famished!
To my surprise, this restaurant had Navajo Taco (basically salsa, meat, beans, and cheese all on fry bread). Of course I had to try it out – even if Escalante was far away from the Navajo lands of the 4 Corners area.
Then, we returned to our rooms to sleep. Both of us had trouble sleeping as we couldn't stop replaying the times I had gotten pulled over…
Visitor Comments:
Got something you'd like to share or say to keep the conversation going? Feel free to leave a comment below...
No users have replied to the content on this page