Day 3: DEFEATED BY UPPER CALF CREEK FALLS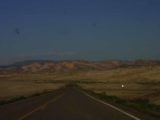 Mom and I awoke at around 5am. Having checked out the previous night as I checked in, it was about 5:30am when we left the inn in Hanksville and headed back into Capitol Reef National Park on Hwy 24.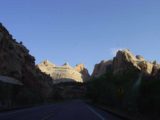 The first order of the day was to see a particular waterfall on the Freemont River. Since it was early in the morning and we were probably going to be the first ones there, we carefully made sure every large suspicious-looking pullout was looked at before we kept heading west. Eventually, we would find the big turnout, which stood above the falls. It was 6:15am.
We could hear the churning waters of the Freemont River and it didn't take long for us to scramble through the bush to get right at the base of the impressive waterfall. The early light of the morning sun brightened the white cliffs backing the short waterfall. It was quite unusual to see such a high volume river beneath the white sandstone cliffs in the open desert.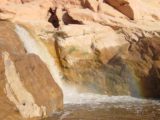 When we had our fill of the Freemont River Waterfall, we proceeded further west towards a car park before the Capitol Dome. We arrived at about 6:45am and quickly began hiking to the Hickman Bridge – the next natural arch or bridge on our itinerary.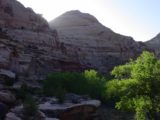 It already started to get hot this early in the morning as we climbed above the car park. There were signposts with numbers on them that were keyed to this brochure we picked up at the trailhead. I guess it kept us occupied somewhat.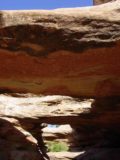 During the hike, we passed by a smaller series of natural bridges. You had to crawl to get underneath them, but they were interesting nonetheless. Still they were nothing compared to the giant we were about to see.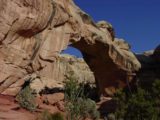 And there it was – the Hickman Bridge. We got here at 7:15am and couldn't get any decent views from the trail. So we went behind the bridge and noticed how cool it was back there. There was a gentle breeze that went through the mini canyon we were in before the air passed beneath the natural bridge. Still, the views of the arch here weren't good and we eventually scrambled down beneath the bridge's span until we got in front of it.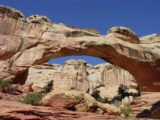 Now that was better! As we looked back at the bridge, the magnitude and size of this impressive natural bridge became apparent. So mom and I took lots of time photographing this bridge before heading back to the car.
It was about 8:20am when we got back to the car. By now, we had noticed more people on the trail going the other way as well as more cars at the car park. Apparently, this spot was pretty popular. Mom also went into the tiny cooler and gave me an apple. And after the dry hiking we had done up to this point, it was the sweetest apple I had ever tasted.
Now, it was time to head further south on Highway 12 and seek out Upper Calf Creek Falls.
When mom arrived in Boulder, she was tired. We switched driving responsibilities and so I took over the wheel again. I tried to remember which turnout to take to start the Upper Calf Creek Falls hike. I had read in my Falcon Guide that there was a short 4WD path leading to the actual car park. So I was looking for such a spur intending to walk that 1/4-mile stretch if my low-clearance Legend couldn't handle it.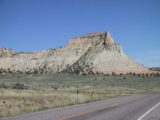 At 10am, we were at the apparent trailhead. We soon walked towards a steep incline that required us to have good traction on the incline in order to proceed further. There were black volcanic boulders strewn about the area and cairns along the trail to hopefully guide us to the waterfall.
Mom and I continued to follow the cairns down to some trails near the bottom of the incline. We must've hiked for at least an hour before we were suddenly stopped in our tracks by the edge of the cliff into Calf Creek Canyon.
This was disconcerting because the waterfall shouldn't have to be this far of a hike and we didn't even hear any water. Now I was confused. So both mom and I followed a few more false trails before the reality started to sink in that we took the wrong trail.
When I whipped out my topo map and noted my GPS coordinates, it looked like we were a bit too far south of the actual waterfall. What's more, when I entered the GPS coordinates of Upper Calf Creek Falls into my Garmin eTrex, it stated that we were about a mile too far south.
Then, I looked at the Falcon Guide and my error immediately became apparent. We were supposed to find the car park between mile markers 81 and 82. But somehow I thought it was between 81 and 80.
Around that time, thunderclouds had loomed over us again and we both heard rolling thunder. In the exposed expanse of the desert, this was certainly not the place to be!
So mom and I huffed and puffed as we quickly made the strenuous friction pitch back up the slickrock incline. It must've seemed like forever when we finally made it to the top, but we didn't see the car park up here. It was apparent that we were lost.
But I knew if we kept going in one direction away from the cliffs, we would eventually get to State Highway 12. And with the faith of this theory, we scrambled through the brush until we reached the embankment of the road near the mile marker 81.
From there, we hiked along the road back to the Legend. With thunderclouds still above us, I had to declare defeat on this hike and Upper Calf Creek Falls would have to wait until a future trip.
On the way into Escalante, I was shocked to see how many cars were lined up along Highway 12 at the Calf Creek Recreation Area. Clearly they couldn't find parking in the official car park and hence there was this big line of cars on both shoulders of Highway 12. That was crazy! I had seen Lower Calf Creek Falls two years ago on the Grand Circle trip and I wasn't particularly interested in coming back today – especially since it was starting to get late in the day.
It was about 1pm when we arrived in the town of Escalante. We had a very good pizza in town before continuing our drive further west.
I was back behind the wheel as we headed back towards US89. But instead of heading south on US89 towards Highway 9 near Zion National Park, we headed north towards Panguitch before going west into the Brian Head area.
The purpose for this detour was to finally see what Cedar Breaks National Monument looked like. I had seen photos and it appeared like a poor-man's Bryce Canyon, but this area was closed due to snow the last time we were in the area back in early April so I wasn't about to let this opportunity slip away.
So once we got to Panguitch, we took Highway 143 deep into the Dixie National Forest. The road seemed like it would climb forever. And it did, because Cedar Breaks was at an elevation of something like 10,000ft!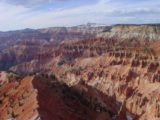 Finally, we reached the turnoff for Hwy 148, which cut right around the eastern edge of the amphitheaters of Cedar Breaks. Snow was still embanking the road, which was wet from their running meltwaters. It wasn't until 4:45pm did we start seeing the west-facing scenery as we looked against the afternoon sun. Particularly memorable was Point Supreme, which seemed to have one of the better comprehensive panoramas up in this nose-bleed elevation.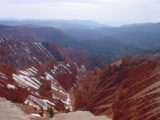 Mom and I finally left Cedar Breaks at 5pm. In another hour we would finally arrive at Cedar City, and from there, we headed south on the I-15.
We didn't book any accommodations on this night so it would have to be another last minute affair – probably in Vegas. But when mom and I switched after filling up on petrol in St George, mom decided to heck with it and just go home.
We ended up at home at midnight. Both of us were exhausted. So I crashed in Grandma's room not even thinking about driving home in West LA this night.
Visitor Comments:
Got something you'd like to share or say to keep the conversation going? Feel free to leave a comment below...
No users have replied to the content on this page