22-March 2017 to 24-March 2017:
Speaking of getting back to LAX from Denver, Julie and Tahia were successfully able to check in to their flight, but I wasn't. Apparently, my reservation was not in the system anymore. And so I had to call customer service to see what was going on.
Once I got connected with an agent, I was told that my reservation was cancelled because I was a "no show" for my earlier flight from LAX to Denver on Wednesday, which clearly wasn't true. I don't know why they cancelled the original booking (though I suspected that the original United agents really wanted to make an example of me for some reason), but now they charged another $250 to re-issue my ticket for something I never cancelled myself.
So the grand total for these erroneous change fees was now about $638 and change…
Day 1 (March 22, 2017 – Colorado Springs, Colorado: "Drama At The Gate"
It was 4am when I awoke. Having only gotten about 4.5 hours of sleep (maybe less because I kept hearing Julie doing stuff while staying up late), I wasn't in the mood to get up, but I had to knowing that I had a 5:40am flight to catch. Time wasn't on my side this morning, but I figured that as long as I was out the door at 4:30am, then I should be in good shape.
But as I was finished having my kefir for breakfast, I was ready to get all the luggage and load up the car by 4:30am just as I had planned. However, Julie and Tahia weren't ready, and it wouldn't be until about 4:45am when we had finally left the house. Now I was getting real nervous about missing the flight. The fine print in the boarding pass said that boarding time was 5:15am and the boarding closed at 5:25am so I technically had even less time to make my flight!
As we drove off, there were already quite a few cars on the road at this time. Complicating matters was that the weather was a cross between drizzle, some momentary rain, and back to drizzle again. So that meant the roads were undoubtedly slick and it wasn't like I could gun it to LAX, especially with the amount of traffic already on the road.
Well, it wasn't until about 5:15am when we made it to the Terminal 7 Parking Lot though we had wasted about 5-10 minutes trying to find parking as there were already lots of cars filling the lots. Once I took out all the luggages from the car, I left the car keys with Julie and I had to leave them quickly as I was now in rush to catch my flight.
But first as I went in, I had to get through TSA security, and right off the bat, the lady managing the entrance to the line wanted me to stuff my laptop inside my backpack as I was strictly allowed only one personal item (my day pack) and one carry-on (my roller). She also wanted me to check my roller that it fit in the tester, though when I did it, she wasn't looking. Yet more wasted time.
When I queued up for the security, there were still about a dozen folks waiting to get their IDs and boarding passes matched up. Once that was done, I then had to queue up at the X-ray machines that also wasn't moving along quickly enough. Plus, I had to take out the laptop and shoes and stuff (the usual though when you're in a rush, everything seemed to conspire against you I guess).
When I got to the other side, I grabbed the laptop, quickly stuffed it back in the laptop bag, then carried my day pack, and laptop bag shortly after slipping on the shoes. Then, I was in a rush to find the gate for my flight except it wasn't stated on my pass so now I had to look for a monitor to figure out which gate. When I saw that it was 70A, I had to quickly rush to find the gate, which happened to be a few paces near the TSA security egress point and that was when a pair of United agents were about to close to door when they saw me.
They quickly scanned my ticket and let me in after lecturing me about being late. My watch said that it was a minute or two after the 5:25am closing time for boarding. But just as we were queueing up at the airplane door, I realized that I was missing my roller!
So when I told the agents about it, they said I had a choice of either getting on the flight or catching the next flight to get that roller even though the TSA egress point was less than a minute walk from this gate. The line to get into the plane wasn't moving along anyways, but in my rushed state I had initially said I could do without the roller but then I realized that they're not going to ship the luggage over to Colorado Springs.
So I changed my mind and went back out the door to quickly get the roller that was sitting in a bin at the end of the conveyor belt. When I came back seconds later, the door was already closed though just seconds later, a person just came out.
When the other agent came out, they said I was too late. Even though I knew that they couldn't have possibly boarded the folks and closed the door to the cabin in the minute that I left and came back. It seemed to me that they wanted to make an example of me, and that didn't sit well in my mind.
So while one of the agents was busy trying to rebook me for the next flight to Denver at 8:30am (a bad alternative since I would still have to drive to Colorado Springs after getting the car), I thought quickly and realized that Julie and Tahia were on a 7:40am flight to Colorado Springs, which was exactly where I needed to go. So I asked about getting put on that flight, which in hindsight probably made more sense in the first place. Boy I wished our system at work made me aware of that flight and leaving late Friday out of Denver, but I guess it was more geared towards a round-trip flight since those were generally cheaper flights.
And in the ten minutes or so we were doing this (noting that the change fee for this rebooking was $75, according to that agent) while the plane was not moving, I think I said something to the effect that "This is B***s***!" and that prompted the agent to say, "You want me to help you or not? I could make you go to customer service to help you."
So I didn't say anything more, but then a minute or two later, the agent said, "You know what, just go to customer service." I guess this guy really didn't want to help me from the moment I made it to the gate in the nick of time (without my roller) and I guess I was a victim of this particular incident. In hindsight, if I'm going to take an early flight for business, either don't take Julie and Tahia or wake up another hour earlier at 3am instead of 4am and insist they get up!
By now, it was about 5:45am when I had to walk around to find the customer service, and it wound up being somewhere near Gate 77 or something like that (at the end of the corridor I was in). The customer service initially said that I was checked in for another flight, but when I explained how they locked me out as I had to go back to TSA to get my roller and the plane was still at the gate behind them, she just nodded and moved forward with my intentions to change to the Colorado Springs flight bound for Dayton at 7:40am.
The strange thing was that they said I was supposed to go all the way to Dayton even though I needed to get off at the stop in Colorado Springs. I guess that complication meant that I had to incur some kind of rebooking fee, but this time, this agent said that the cost would be $388!!!
Well, since this was company travel, I told them to just make it happen. But in the back of my mind, I wasn't sure if our system was forgiving on incidents like these. I guess I'll have to worry about that when I get back to the office on Monday.
Eventually after another 10 minutes or so when the customer service rep had to get off the phone, I finally got my alternate boarding pass. And then I had to walk all the way to gate 88, which was all the way on the other end of this terminal 7 area. By 6:05am, I finally made it all the way to the gate where I had to make another call to Avis and change the car rental reservation as I was no longer picking up the car in Denver (picking up from Colorado Springs and dropping in Denver instead).
When this change was successfully made, I was surprised to hear that the car rental cost was actually $5 CHEAPER than what it was originally despite the one-way drop off. I guess it wasn't often that they get people picking up the car from Colorado Springs and dropping off in Denver.
At that point, things were finally in order again as far as the United Airlines drama and the complications that came from it for now. I was now busy waiting for Tahia and Julie to make it to this came since we were now on the same flight. But again in hindsight, I probably should have gone to Colorado Springs directly on this flight on the way there in the first place. It was just that I wasn't aware of this flight until Julie and Tahia made this booking using points last Friday.
The flight eventually left on time at 7:40am and we actually landed at around 10:30am (45 minutes early) in Colorado Springs. But as usual, the gate wasn't ready for us so we had to wait to get taxied. This wasn't the first time this happened, and in fact, I don't think we had ever made it to a gate more than 5-10 minutes early in all the travels that we had done. So I never put much stock when the captain gets excited about making it to the gate early.
We'd eventually get into the terminal at 11:05am, relieve our bladders (due to sitting on the plane that extra time), and finally picked up our rental car and booster seat at 11:30am. The weather out here was a little on the partly cloudy and hazy side, but the view west towards the Rocky Mountains was quite scenic.
It would take a few more minutes to get the car all loaded up, and then as we drove towards Helen Hunt Falls (the first destination of the day to try to get all the sightseeing in today while the weather was still holding up), we stopped by a Panda Express for lunch on the go.
When we left at about 12pm, we then quickly drive over to Helen Hunt Falls but the North Cheyenne Road was closed. When I asked what was going on, the lady in the truck said they were doing work to do some preventative work to ensure the next rain wouldn't kill this road. Upon asking if there was an alternate way to get to Helen Hunt Falls, she gave me a pretty complicated route that would take 20 minutes to get there from the backside.
When I thanked her for her help, I went ahead and drove back in the direction of the I-25 then onto the Hwy 24 near the Garden of the Gods. At that point, I changed my mind about forcing Helen Hunt Falls for now and punted that for later this afternoon when I figured the workers wouldn't be there. Instead, I decided that we should go over to Pike's Peak since a coworker recommended that I do that as one of the must-see things to do here as well as the Garden of the Gods.
So that was the plan though I wasn't sure how long it would take to make it all the way up to Pike's Peak but we took a punt and just went for it though the worry now was that it would consume too much of our precious little remaining daylight and fair weather available on this day. Tomorrow was a workday so it would be difficult to fit in any more sightseeing, and Friday was supposed to be the bad weather day (at least forecast in the morning, which made me real concerned about missing Seven Falls – the must-do waterfall of Colorado Springs).
Anyways, at least the Pike's Peak Highway was well-signed when we left the Hwy 24 somewhere near Green Mountain Falls. The drive up the mountain was initially not so severe of an incline, but it didn't take long before we got to the entrance gates, which charged us $25 for the three of us (I'm guessing $10 per adult and $5 for Tahia).
The lady at the kiosk warned us that it was real windy up there so we better hold onto the car door when we open them or else the door might blow off. Also she said to keep the car in high gear on the descent, which was something I wasn't a stranger to after having gone up and down the mountain roads in the Sierras before. However, I wasn't quite sure how to shift to lower gear on this Nissan Altima the Avis gave us. I only saw a D and a DS but nothing more.
Regardless, the drive was pretty scenic as we were ascending higher and higher up towards Pike's Peak. We made a quick stop along the way at the Crystal Reservoir for a photo stop before continuing on at around 12:50pm. There were lots of slower vehicles not using the pullouts (at least not until they had a line of cars behind them) but I wouldn't blame them considering that there were plenty of opportunities to take in the views as there were some interesting rocks of volcanic origin flanking the road.
It wouldn't be until about 1:25pm when we had finally made it to the summit of Pike's Peak. A sign here said it was about 14,115ft high, and I think this was probably the highest I had ever been without being on a plane. The air up here was quick cold and sure enough, the winds were pretty strong. The skies were also a bit overcast with dark clouds looming so the colors and contrast were also a bit muted.
Tahia wanted to play in the snow here, but the snow had a weird, jagged crystallized shape to it. I suspected that the snow here must have been shaped by the wind. Still, with the thin air and our bodies not having much of a chance to acclimate, I was already getting a bit light-headed. I suspected Julie had similar issues, and even Tahia might have been affected.
Well, at least I finally got to eat the Panda Express takeaway for lunch at this time. Julie and Tahia were able to eat earlier while I was driving.
So after getting our fill of the views (which looked kind of flat in our photos) while trying not to get blown off the peak from the winds, we got back in the car and started to drive down at around 2pm. In hindsight, we probably could have done without doing Pike's Peak and we'd save a precious two hours which could have been used towards spending more time at Garden of the Gods, which we were headed to next.
The drive down the mountain was a bit of a slow affair as a line of cars were adhering to the 20mph or less speed limit, but more importantly, they were probably descending in low gear to help prevent brake failure. Sure enough with our Altima, I couldn't figure out how to get this car into first or second gear on this automatic so I was relegated to relying more on the brakes than I wanted to. But with the slow pace of traffic, I guess we never got the high enough momentum to really put us at risk of brake failure.
But still, I was starting to get road fatigue, especially since we had gotten up so early. When I drifted lanes, I managed to catch myself, and mercifully, by about 3pm, we made it into the Garden of the Gods area where we parked the car next to the intriguing Balanced Rock. You couldn't miss this one as there were lots of people taking pictures around it and there were a couple of pullouts and slow-moving traffic where the road went right between the balanced rock and some other rock pillar.
We needed the time to stretch our legs and take pictures here so we all did as the others were doing, which was being silly taking some gag shots of "holding up the rocks" or some other thing like that. With all the people around the rock, it was hard to get that desired shot without other folks photobombing, but in any case, it was fun.
Next, we continued the drive deeper into the Garden of the Gods, where we then stopped by some Trading Post. Thinking it was the visitor center (which it wasn't), I asked a couple clerks about information. Luckily, one young lady gave me a map and told me that for a couple of hours, she recommended a trail taking in the Siamese Twins as well as a separate trail taking in the Central Garden where there was a main parking lot.
By this time, it was about 3:35pm so Julie and I decided that we should skip the Siamese Twins and just shoot for the Central Garden. After all, in my mind, we still had to do Helen Hunt Falls before we could finally go grocery shopping at Whole Foods and checking in at the Hyatt House.
As we drove around the Garden of the Gods, we were quite impressed by the cluster of giant cliff formations and spires that reminded me very much of Park Avenue in Arches National Park. They were indeed impressive, and we couldn't wait to get out of the car and do the so-called 1.5-mile loop through the Central Garden.
It wouldn't be until about 3:55pm when we finally got to the main parking lot, which not surprisingly, was very busy. Still, we got our parking spots and promptly walked the paved trail which took in things like the Kissing Camels (which had a natural arch at its top), the Cathedral Spires (an interesting mix of balanced rocks looking like arches), and other formations that had names but I couldn't remember them.
It was fun doing this walk as a family though Tahia seemed very fascinated with trying to make arrowheads after having seem them at the Trading Post. When I told her that the Native Americans were very resourceful people exemplified by those arrowheads which were simply rocks being split into smaller sharper pieces to be used for spears and arrows, she then had it in her mind to try to smash rocks together to do the same thing.
I told her that it took generations for them to figure that out and do so reliably so her first try at this wasn't likely to be successful (or at least as successful as she had hoped).
During this walk, we were also surprised to see that this place was actually a gift from the Perkins family to the city of Colorado Springs. So this place was actually free, and we agreed that this was quite an act of philanthropy to ensure that people of all walks of life could enjoy quick a natural place as this.
And so our walk was surprisingly short for a 1.5-mile loop. Was there something I had missed? Anyways, we were back at the car at about 4:55pm and were ready to drive out to Helen Hunt Falls. But on the way out, we saw a nice pullout with a broad contextual view of part of the Central Garden. Adding to the allure of the scene was the soft late afternoon light of the sun momentarily breaking through the clouds that had accumulated and moved from the Rockies. So we gladly took photos from here as this was the big signature shot I was looking for regarding this place.
Next, we drove south of the Garden of the Gods and headed south on the I-25 until we got off on Tejon Rd before re-engaging with Cheyenne Road. When we eventually got to the junction with the North Cheyenne Road, my suspicions were confirmed when the road closure blockade was gone and we were able to drive through. And after driving through the narrow canyon road seemingly weaving its way in a gorge alongside a stream, we'd eventually get to a large parking area with a structure right in view of the Helen Hunt Falls.
We got there at about 5:30pm. With all the drama from today and the possibility of not being able to do neither Helen Hunt Falls today nor Seven Falls on Friday (due to weather), I was really worried about this trip being a failure in terms of waterfalling. But it was a good thing that we finally got to see this waterfall to at least have something to show for our efforts. This was even though the falls itself didn't seem to have very much flow despite this being early Spring.
We spent a few minutes taking photos and getting a feel for this place. We even walked up a ramp leading up to a bridge right above the falls for a different view and experience. Meanwhile, I briefly continued up the Silver Cascade Trail but when I saw that it was switchbacking away from the creek (and a minor waterfall I saw en route), I concluded that it probably wasn't worth the extra trouble to keep going despite the signs saying it was only 1/3 mile long (round trip?). I could be wrong, but Julie wanted me to end the sightseeing of this very long day and get right to grocery shopping so Julie could at least control her diet given all her sensitivities.
So by 5:55pm, we got back to the car after Tahia and I were conversing with one of the other visitors here walking their dogs.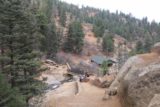 And so we drove back towards the I-25 before heading north. When Julie's iPhone
said that Whole Foods was further north of the Hyatt House, we decided right then and there to just check into our room and leave most of our belongings in there. So we'd get to the Hyatt House at 6:20pm (noticing some interesting-looking cliff formation looking like some kind of fort right off the Rockrimmon Road exit, and then we left to do our grocery errands at 6:50pm.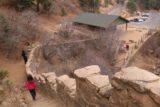 We'd eventually get to Whole Foods at 7pm, where the whole family was both hungry and thirsty so we took adventage of their food court to get some rotisserie chicken and some grilled vegetables. After having our late and informal dinner, we then did a grocery errand picking up a chicken, some snacks, a kefir, and some fruits. So it wouldn't be until 9pm when we were done with Whole Foods, and then we got back to the Hyatt House at 9:10pm.
It was the end of a very long day, but it seemed like things were finally back to a somewhat stable state though I was wondering what other repercussions were coming my way as a result of the incident with United Airlines earlier this morning…
Day 2 (March 23, 2017 – Colorado Springs, Colorado: "Opportunity Knocks"
It was about 5:10am when I woke up without the aid of the alarm. But when I went to put on my work clothes, I realized that I had forgotten to bring my belt. Fortunately, I wouldn't be needing it to keep the pants up, but I'm sure it'd look pretty tacky to an impartial observer if they pay any attention to me.
After running some errands to pick up the included breakfast and getting Julie some filtered water, we then drove over to the company's subcontractor's site for a critical review. We managed to get there at around 7:50am, and that was when I rocked up to the lobby while I left the car keys with Julie so she and Tahia to go back to the Hyatt House to finish breakfast and then have a free day to visit the sights in Colorado Springs (most likely the zoo over there).
The meeting went pretty quickly as we wound up wrapping it up nearly 3 hours early. So I was actually waiting for Julie since around 1:45pm and it wouldn't be until about 2:45pm when Julie and Tahia showed up to pick me up. It turned out that they only had a little over an hour at the zoo, and so we rushed to get back to the Hyatt House so I could get changed, and then we zoomed over to Seven Falls so I could do the hike while Julie and Tahia would go back to the zoo to experience more of that place.
It was sort of a fortunate divide-and-conquer opportunity to get these excursions in today before the blizzard would occur tonight and tomorrow morning. And that early finishing of the review was just the break I needed to allow the Seven Falls excursion to happen on this day.
Anyways, at 2:55pm, we finally made it back to the Hyatt House. Then, I quickly got changed and brought out Julie's water and meds. And then by 3:15pm, we were back out on the road.
So the divide-and-conquer plan involved driving to Seven Falls, then I'd get dropped off while Julie and Tahia would quickly drive to the zoo. They had to get to the zoo before 4pm, which was the last admission. So time was of the essence.
Anyways, I quickly made the drive all the way to the gate to get into Seven Falls. That gate was only letting employees and shuttles in. So we did a three-point turn, and then parked illegally off to the side of the road so I could get out, get my pack, and camera (which fortunately Julie pointed out to me before I forgot in my rush to get started).
And so by 3:35pm, I started walking through the pedestrian gate, which was open. Meanwhile, Julie and Tahia headed over to the zoo. Hopefully, they'd make it in time as they had less than 25 minutes. Nevertheless, once I was inside the complex, I then went across to the ticket office, where I paid $10 for myself. I guess with Tahia and Julie not coming, that saved me about $15.
Upon gettin the tickets, the lady at the office told me that the 5pm closure time was the time when the "last ticket would be sold". So I guess if desired, it was possible to extend the stay well past the "closing time".
Well, staying well past closing time wasn't my intent. Instead, I was content to just experience the Seven Falls, but I figured that since I was here, I mind as well go check out all of the viewpoints and lookouts as well as Midnight Falls further upstream of Seven Falls.
The paved road and adjacent footpath continued uphill from the gate and ticket office, but the walk itself was fascinating as it was flanked by tall formations that had imaginative names associated with them like the Three Amigos, Hugging Bears, Tower of Hercules, etc. With the late afternoon sun, when I looked back in the direction of the entrance, the cliffs had a nice orange glow juxtaposed against blue skies.
The walk was every bit atmospheric and pretty peaceful as well as the park didn't seem overly crowded though it did appear pretty busy for a Thursday afternoon. Anyways, I'd eventually make it to the base of Seven Falls at 4pm after walking past the gift shop, the stairs and elevator leading up to the Eagle's Nest Lookout, and the 1858 restaurant.
Since up at the Eagle's Nest still appeared to be looking against the sun towards the Seven Falls, I opted to go right to the base of the falls, and then go up the steps leading up to the top of the Seven Falls. It was interesting to note that they named each of the seven waterfalls though I tended to think of them collectively as the Seven Falls as a single entity.
The stairs themselves were somewhat steep but nothing like the Mayan pyramids at Chichen Itza or the Wat Arun in Bangkok where you'd literally had to walk hand-over-feet without the benefit of handrails no less. And so about 15 minutes and 224 steps later, I managed to get to the top of the Seven Falls just past the Ramona Falls. I guess with being acclimated to the altitude at Colorado Springs after yesterday's experience, going up these steps did make me a little out-of-breath, but I wasn't lightheaded or showing other symptoms of altitude sickness anymore.
Beyond Seven Falls, the trail then went past a shelter with some signs and a map sign showing that there was a trail leading to Midnight Falls and a separate trail leading to the Helen Hunt Jackson Inspiration Point. I first decided to go quickly to the Midnight Falls Trail and it didn't take long before I reached the falls at around 4:25pm. By this time, the clouds had already taken over and the sun was pretty much muted for good.
Midnight Falls was a pretty puny waterfall exacerbated by the low flow as apparently Colorado had been experiencing somewhat of a drought. It appeared this area didn't benefit much from the bombardment of heavy rains that had hit much of California this Winter season.
Anyways, I besides checking out the falls and a small alcove next to the falls, I didn't linger here much longer and quickly made my way back to the junction with the Helen Hunt Jackson Inspiration Point Trail. There, I followed a few switchbacks as it zigzagged its way up to even higher elevations. When I got up to the straightaway hugging a ledge while also heading to some shelter (with signs saying I'm on camera), I did notice looking to the left that there was a tall waterfall way in the distance as well as some interesting mountain formations.
Beyond the shelter, the trail ascended a bit more before reaching some lookout called Covered Wagon. And then just a few minutes further, the trail then descended past a couple of what appeared to be zipline stations before finally ending up at the Inspiration Point.
At this viewpoint, I was able to get a partial look back in the direction of Colorado Springs as well as the canyon housing Seven Falls and the cliffs and mountains looking all the way to the left where the clouds seemed to have been rolling in.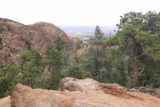 This viewpoint was apparently said to have been the inspiration for writer Helen Hunt Jackson's book "Ramona". I guess that would explain some of the nomenclature of the falls here as well as why they called this lookout "Helen Hunt Jackson Inspiration Point" for indeed this place was where she was inspired to write her work.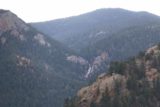 I got up here at 4:50pm, and it didn't take long before I had my fill of this spot. Knowing that Julie and Tahia wouldn't be long before they'd be out of the zoo, I knew I had to hurry to get back to the falls and check out the Eagle's Nest Lookout before leaving the facility.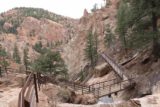 I'd be back at the top of the Seven Falls at 5pm, where I then decided I should take a long movie of me showing all the different waterfalls seen along the way as I was going down the steps in real-time. It might be a bit dicey given how a misstep on the steep steps could be fatal, but I used the neck strap for the camera and ensured that I had at least one hand on a handrail the whole time.
It turned out that I made a 6.5-minute video of the experience, which made for a pretty long and beefy file, but it pretty much captured the entirety of the intimate Seven Falls experience. When I got back to the bottom of the falls, I then went over to the Eagle's Nest trail, but instead of taking the elevator (I thought I had to pay for it), I decided to go up the 185 steps.
Once I got up to the top, I was a little bit out-of-breath and breathing heavily, but I did get a good workout out of it. Up at this viewing deck, I got the full comprehensive view of the Seven Falls as one giant waterfall with the infrastructure in the canyon down below as well as the tiny people on the stairs adjacent to the falls acting as subjects to provide a sense of scale for the falls.
While I was up here at 5:15pm, Julie texted me and said they were leaving the zoo. The timing was pretty good as I was going to head out of here the moment I had my fill of this view. And so after spending a few minutes more of documenting the experience, I was about to text Julie the photos before my iPhone
inexplicably died even though it was nowhere near drained.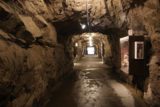 After having my fill of the Eagle's Nest View, I took the elevator back down to the bottom (in hindsight, I should have taken the elevator up and the stairs back down) and then I caught the $1 tram at 5:25pm, which took me back to the entrance gate. I didn't have to pay the $1 as the lady at the gift shop said that I was good as the shop had closed for the day.
Next, I waited for the complementary shuttle to get back to the parking lot near the Broadmoor, and by about 5:45pm, I was finally back at the car park before the Golden Bee Restaurant, which was right across the street from the larger parking lot for the Seven Falls shuttle.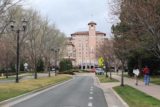 When I caught up with Julie and Tahia again, Julie was making a call for a reservation at the Rabbit Hole, which was a place that my coworkers had recommended after having dined there last night. In the mean time, Tahia and I were taking photos in front of the impressive facade of the Broadmore Hotel. There were other fancy homes and hints of the Rocky Mountains in the distance in the background, but with the clouds already well overhead, there wasn't much color to the scene, and so we didn't linger here for long after taking our obligatory hotel shots as well as Tahia shots.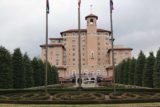 So as Julie made 6pm reservations for the Rabbit Hole (and it was already about 5:50pm), Julie quickly picked us up, and we were headed for dinner straight away. We'd eventually get to downtown Colorado Springs and find free parking near a city park, and then we walked for a couple of blocks to the Rabbit Hole entrance. And once we got all the way down to the underground restaurant at 6:15pm, we were seated and then we could finally relax over dinner.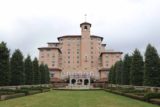 The dinner turned out to be quite good though it was a lot of food because Julie got her filet mignon steak while I decided on getting a butcher's block, which was a bit assortment of the meats that the Rabbit Hole was famous for. Tahia and I shared most of the Butcher's Block while Julie also had a few bites of my stuff at the risk of aggravating her rashes.
Eventually at 8pm, we were back at the car fully stuffed from this evening's meal, which pretty much lived up to the hype. About 15 minutes later, we then drove right over to the Trader Joes not far from the Hyatt House, where Julie could make one last quick grocery run and get a couple more waters just in case. Tahia also had to make a really urgent potty run after not telling us that she had to go until we were just getting onto the I-25 after leaving downtown Colorado Springs.
At 8:40pm, we finally made it back to our room at the Hyatt House. By now, the skies still seemed benign though it seem like the winds were picking up. The storm still hadn't come yet, but we knew it was coming eventually. Having never been in a snow storm since our first Mammoth trip together back in 1999, it made us wonder if we might have issues trying to get back to Denver tomorrow evening.
Speaking of getting back to LAX from Denver, Julie and Tahia were successfully able to check in to their flight, but I wasn't. Apparently, my reservation was not in the system anymore. And so I had to call customer service to see what was going on.
Once I got connected with an agent, I was told that my reservation was cancelled because I was a "no show" for my earlier flight from LAX to Denver on Wednesday, which clearly wasn't true. I don't know why they cancelled the original booking (though I suspected that the original United agents really wanted to make an example of me for some reason), but now they charged another $250 to re-issue my ticket for something I never cancelled myself.
So the grand total for these erroneous change fees was now about $638 and change. I sure hope our company could stomach these charges on the expense reports because if it was my own money, I'd be royally pissed. I guess this experience told me that the customer service on United Airlines was very bad, though I wasn't sure if it was a United thing or something that was just consistently bad across all the domestic carriers.
This was the biggest reason why flying domestically sucks, but then again, I'm sure everyone has had a horry story concerning airlines at one point or another. I guess this would be my horror story, especially if my work doesn't eat this cost. All I know is that on the expense report, I'd have to put in TSA-related delay and uncooperative United Airlines agents as the root causes for these exorbitant change fees.
Anyways, it wouldn't be until about 10:30pm that I got my confirmation that the ticket had been re-issued and I'm good to go for tomorrow. Good thing I called because I'd otherwise be stranded in Denver without this being resolved. I guess the ripple effects of the drama that occurred on Wednesday morning could still be felt even on this night.
Boy those agents on that fateful Wednesday morning really seemed to have it out for me for some reason…
And with that, it was time to finally sleep and probably sleep in for tomorrow morning knowing that we're probably going to see quite a bit of snow. With no activities planned for the day other than to get out of here and to the airport further to the north, it was time to get cleaned up and rested while seeing what happened during March Madness on this day…
Day 3 (March 24, 2017 – Los Angeles, California: "The Happy Drunk"
It was about 7:45am when I awoke. As expected, there was some snow outside though it wasn't to the extent that Julie and I had experienced way back on our first trip together to Mammoth with friends back in 1999. On that trip, we actually had to shovel off snow from the car that was piled higher than the car (actually a van) itself! But in this case, I looked out the window towards some kind of courtyard with a covered pool, and the snow was accumulating on the pool as well as the planters on the perimeter of the courtyard. But the concrete didn't have any of the snow stick, and the snow on the roof still had its ridges protrude.
That said, the winds were howling so I'd imagine any kind of travel at this time wouldn't be wise. But we kind of braced ourselves for this condition and we resigned ourselves to not checking out or getting onto the road until at least the late morning or possibly around noonish.
I generally don't like late starts, but for today, we really had nothing planned as we had pretty much done all the things we had targeted on this trip in the last two days in anticipation for this weather event (a blizzard warning according to the National Weather Service). When Tahia woke up, she was excited about the prospect of playing in the snow.
So we got off to a sluggish start as I was helping Julie with some of the veggie cutting duties and doing the dishes while she was preparing things with her pressure cooker that she managed to bring on this trip. But when we went downstairs for breakfast at around 9:15am, pretty much everything was all gone and all the tables were taken up. So we actually sat in one of the lounge tables by the bar. Meanwhile, we were getting whatever was left like some bananas and grapefruit. We also filled out an omelette sheet knowing that it would take a while before it would be ready.
After Julie got a person from the kitchen staff to prepare another batch of grub, we'd finally get some sausages and crispy waffles (that wasn't steamed from putting a cover over it like yesterday), plus some of the real tables were finally starting to clear at some time after 9:30am.
After finishing our omelettes and whatever else was left from the brekkie room, we went back upstairs to finish packing and preparing whatever Julie was trying to puree or turn into soup on the go for today. We pretty much spent the next two hours or so just taking our time with the packing and preparing for Julie's meals, and it wouldn't be until 12:05pm when Tahia and I headed downstairs with our stuff and left Julie to wrap up what she was doing with us bothering her.
So when I was done loading up most of the car except for Julie's large luggage stuff (and somehow cutting my hand in the process), Tahia and I were busy playing in the parking lot where she wanted to have a snowball fight we me. As I was getting pelted by Tahia's snowballs (some of them were icy), I was digging the views over towards the Rocky Mountains as the foothills and mountains not shrouded in clouds were caked with white from the recent snowfall. Even the parking lot had quite a few patches of snow, which Tahia took fully advantage of.
As my hand continued bleeding, I indulged Tahia in the snowball fight while taking photos for a few minutes more before even the wind chill and the cold weather couldn't constrict the blood enough to prevent the bleeding anymore. And so I briefly went back inside to rinse off the blood and use a paper towel as a temporary wrap. Then, the receptionist noticed my hand and was generous enough to give me a spare bandage to at least free up one hand from having to hold the paper towel.
After a few minutes more of waiting for Julie to wrap up her business, Tahia and I spent a few more minutes of playing in the snow before we finally loaded up the remaining stuff, checked out, and left Colorado Springs at 12:55pm. By now, the sun was trying to break through the storm clouds, and as the forecast had predicted, the worst of the snow had pretty much left us by noon.
The drive north on the I-25 was pretty uneventful though we could see that quite a few of the offramps still had patches of slush requiring big snow plows to re-enable access to those exits. But at least the main highway was moving along at pretty high speeds with most of the people going about 75mph. We didn't need to take any of the toll roads that my coworkers had talked about, and by around 1:45pm or so, we left the I-25 at Colorado Blvd and took it for about 4 miles on busy surface streets and lots of traffic lights before we finally got to park the car at the Denver Museum of Nature and Science, which Julie thought would be a good way to kill some time before we had to return the rental car and go to the Denver International Airport in time for our 7pm flight.
As we roamed quickly from exhibit to exhibit in the museum, we started off with the Egyptian exhibit, which was nowhere as impressive as what we had seen in the UK or in Chicago so we then went to the wildlife exhibit and checked out pretty much the Colorado habitats but didn't bother with the other parts of the world. We then went over to the prehistoric earth exhibits, which talked about the origins of life and eventually ended off with lots of dinosaur bones, including a live lab where workers were busy cleaning up what had been dug up probably from the southwestern part of Colorado at Dinosaur National Monument or even the Mesa Verde vicinity (two places we'd like to visit as part of Tahia's spring break this year).
It turned out that we spent most of the time in the dinosaur exhibits, and then we pretty much had to rush to see the rest of the things that we wanted to check out like the Sky Terrace and the Space Exhibits. The Sky Terrace had a nice view over the city park towards the downtown direction backed by the Rocky Mountains. But with the clouds still clinging to the mountains, the highest peaks either couldn't be seen or there wasn't enough contrast to really get good photos of the skyline. And this was despite the sun already breaking through the holes in the storm clouds.
Meanwhile, it seemed like the space exhibit was mostly the planetarium, which required extra payment, and there was a line to get in to see it. We spent a few minutes making a sundial that would work in Los Angeles (their default setup was for Denver at 40 deg lattitude instead of around 34 deg lattitude), and then there was an interesting game where you tried to control a space shuttle or rover and park it, except the only on that was open happened to be broke as it kept turning out of control in one direction regardless of how you moved the joystick.
By about 3:35pm, we were back in the car. Sure the visit felt rushed, but it wasn't like we really missed out on anything as we had definitely seen better in Chicago under a couple of years ago.
Next, we drove over to this place called the Chop Shop. We couldn't really have a sit down place as we were running out of time (we mentally gave ourselves a 4:30pm deadline to start heading to the airport), but we still wound up at the casual eating spot at 4pm.
Given Julie's diet restrictions, we wound up getting all the sauces on the side and got some kind of slow-roasted short ribs as well as a marinated filet. The meats were quite tasty and definitely had a bit of fusion to it (one of the sauces was like a Vietnamese fish sauce). But as we were busy trying to finish up the waters that we had bought (knowing we'd have to toss them at the airport), I guess Tahia forgot her bottle which we wouldn't realize until we were already in the car and well on our way to the Denver Airport at 4:55pm.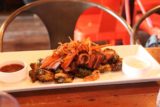 Even from where we were at, Julie's iPhone
predicted that it wouldn't be until around 5:30pm when we'd be at the terminal, and so once again, we were in a bit of a rush as we were quite concerned about the possibility of missing yet another flight (even though we'd still have around 90 minutes before our 7pm flight if the phone's prediction was correct).
Well, after a little bit of traffic going east on the I-70, we then took some highway leading to the Denver International Airport which was way out in the boonies away from the city of Denver. We'd eventually return the car at the Avis lot at 5:35pm, and then do some last minute organization with our luggages before quickly catching the shuttle to the terminal.
Indeed, the rental car lot was quite a ways from the terminal, and it wouldn't be until around 5:45pm when we finally got to the United Terminal. We then had to check in Julie's big luggage, and we also had to print our boarding passes. Then, we had to get through security where as we were waiting in line for a few zig-zags, a security officer all of the sudden made everyone walk all the way to the other side of the terminal to go into another TSA security line that was no shorter than the one we were at. What on earth was that for?!?!
Anyways, after getting through security, we then had to take a rail all the way to the gate 38. And when we finally showed up at about 6:30pm, people were already boarding. It was quite chaotic in the cabin though Julie and Tahia managed to get first class while I had to sit all the way in the back.
This was a really full flight and the place seemed like one of those that could be used to go overseas. The overhead bins were a bit awkward in the middle so there was a lot of Tetris going on in trying to get at least two rollers side by side there (which rarely worked for those kinds of bins). Then, towards the end of everyone boarding, there was one lady who had no luck getting her roller in an overhead bin so she managed to fit that under the seat in front of her at the expense of no leg room.
She was a pretty talkative passenger and happened to sit on the opposite aisle seat from me in the middle so there were two other strangers sitting between us. While I was starting to doze off from another long day, I could overhear that she was introducing herself to the two folks sitting between her and myself. As the plane was taking off, she was busy playing with the guy sitting next to her on her iPhone
and this persisted for the whole time I was dozing off as the plane took off.
About an hour into the flight, I started waking up and all of the sudden, she started talking to me as apparently the iPhone
games she was playing with her direct neighbor was getting old. I guess since flying tends to suck, I was indulging her dialog thinking that this was probably one of the more festive flights I had ever been on even though she was essentially the one person party trying to get others into it, I guess.
Our row would eventually learn that her name was Allie and that she was a school teacher on a spontaneous trip to California. During this dialog, she was trying to get the two folks between us to visit Red Rock since those folks were also from the Colorado area. But then when she tried to get me into some other game after Julie handed me some nuts (from her own stash) as well as cookies from the first class service, Allie kept calling me "left nut".
Her joke was that she was the "right nut" and I was the "left nut" and whenever she'd call out which nut she was, I was supposed to say mine, and then we were supposed to squeeze the two folks between us as they were supposed to be the genital between the two nuts. This was funny at first, but I think throughout the rest of the flight, the act got old.
The lady that was sitting next to me told me in a low voice that she was carrying a flask (suggesting that she was drunk). I guess that would explain some of the behavior and annoyances that we were being subject to on this flight.
Then, when Allie wanted to take a photo on her iPhone
of our row, that was when she crossed the line as the neighbors between us wanted no part of it, and I was getting uneasy with my mug being on some stranger's social media. I knew with the low lighting conditions, I probably wouldn't show up very well, but for the two folks to my right, they had every right to cover up.
Finally at some point, the lady sitting next to me started to get really mean to Allie and that pretty much killed the festive vibes as it now became more awkward. Eventually when the plane was descending and finally landed, Allie was trying to make it up to the two folks between us and myself as well (though I'd be forever known to her as "left nut"), but the lady next to me wanted none of it by saying, "Why don't you just face forward and leave us alone?" (I intentionally left out the expletives).
Mercifully, the 2.5-hour flight was over and we all took our time getting off the plane since we were pretty much the last ones to leave, and we'd finally be at the gate at 8:35pm. We still had to recover our luggage and then our parked car before we can finally call it the end of this trip, and we wound up having to hike from Gate 77 all the way past Gate 80-88, and then all the way to the baggage claim. It was quite a hike to say the least.
At least Julie's luggage came pretty quickly, and then we recovered the car, and finally made it home at 9:55pm. And so ended what was perhaps one of the craziest trips I had ever been on that I can remember that went awry from the get-go. But I'm personally still not out of the woods given the extra change fee expenses incurred from the missed flight to Denver from those United employees wanting to make an example out of me or something. So the drama's not over as far as I'm concerned, but at least I have the Saturday and Sunday to do a little recovery before facing the music at work on Monday…
Visitor Comments:
Got something you'd like to share or say to keep the conversation going? Feel free to leave a comment below...
No users have replied to the content on this page