Day 1 (March 22, 2017 – Colorado Springs, Colorado: "Drama At The Gate"
It was 4am when I awoke. Having only gotten about 4.5 hours of sleep (maybe less because I kept hearing Julie doing stuff while staying up late), I wasn't in the mood to get up, but I had to knowing that I had a 5:40am flight to catch. Time wasn't on my side this morning, but I figured that as long as I was out the door at 4:30am, then I should be in good shape.
But as I was finished having my kefir for breakfast, I was ready to get all the luggage and load up the car by 4:30am just as I had planned. However, Julie and Tahia weren't ready, and it wouldn't be until about 4:45am when we had finally left the house. Now I was getting real nervous about missing the flight. The fine print in the boarding pass said that boarding time was 5:15am and the boarding closed at 5:25am so I technically had even less time to make my flight!
As we drove off, there were already quite a few cars on the road at this time. Complicating matters was that the weather was a cross between drizzle, some momentary rain, and back to drizzle again. So that meant the roads were undoubtedly slick and it wasn't like I could gun it to LAX, especially with the amount of traffic already on the road.
Well, it wasn't until about 5:15am when we made it to the Terminal 7 Parking Lot though we had wasted about 5-10 minutes trying to find parking as there were already lots of cars filling the lots. Once I took out all the luggages from the car, I left the car keys with Julie and I had to leave them quickly as I was now in rush to catch my flight.
But first as I went in, I had to get through TSA security, and right off the bat, the lady managing the entrance to the line wanted me to stuff my laptop inside my backpack as I was strictly allowed only one personal item (my day pack) and one carry-on (my roller). She also wanted me to check my roller that it fit in the tester, though when I did it, she wasn't looking. Yet more wasted time.
When I queued up for the security, there were still about a dozen folks waiting to get their IDs and boarding passes matched up. Once that was done, I then had to queue up at the X-ray machines that also wasn't moving along quickly enough. Plus, I had to take out the laptop and shoes and stuff (the usual though when you're in a rush, everything seemed to conspire against you I guess).
When I got to the other side, I grabbed the laptop, quickly stuffed it back in the laptop bag, then carried my day pack, and laptop bag shortly after slipping on the shoes. Then, I was in a rush to find the gate for my flight except it wasn't stated on my pass so now I had to look for a monitor to figure out which gate. When I saw that it was 70A, I had to quickly rush to find the gate, which happened to be a few paces near the TSA security egress point and that was when a pair of United agents were about to close to door when they saw me.
They quickly scanned my ticket and let me in after lecturing me about being late. My watch said that it was a minute or two after the 5:25am closing time for boarding. But just as we were queueing up at the airplane door, I realized that I was missing my roller!
So when I told the agents about it, they said I had a choice of either getting on the flight or catching the next flight to get that roller even though the TSA egress point was less than a minute walk from this gate. The line to get into the plane wasn't moving along anyways, but in my rushed state I had initially said I could do without the roller but then I realized that they're not going to ship the luggage over to Colorado Springs.
So I changed my mind and went back out the door to quickly get the roller that was sitting in a bin at the end of the conveyor belt. When I came back seconds later, the door was already closed though just seconds later, a person just came out.
When the other agent came out, they said I was too late. Even though I knew that they couldn't have possibly boarded the folks and closed the door to the cabin in the minute that I left and came back. It seemed to me that they wanted to make an example of me, and that didn't sit well in my mind.
So while one of the agents was busy trying to rebook me for the next flight to Denver at 8:30am (a bad alternative since I would still have to drive to Colorado Springs after getting the car), I thought quickly and realized that Julie and Tahia were on a 7:40am flight to Colorado Springs, which was exactly where I needed to go. So I asked about getting put on that flight, which in hindsight probably made more sense in the first place. Boy I wished our system at work made me aware of that flight and leaving late Friday out of Denver, but I guess it was more geared towards a round-trip flight since those were generally cheaper flights.
And in the ten minutes or so we were doing this (noting that the change fee for this rebooking was $75, according to that agent) while the plane was not moving, I think I said something to the effect that "This is B***s***!" and that prompted the agent to say, "You want me to help you or not? I could make you go to customer service to help you."
So I didn't say anything more, but then a minute or two later, the agent said, "You know what, just go to customer service." I guess this guy really didn't want to help me from the moment I made it to the gate in the nick of time (without my roller) and I guess I was a victim of this particular incident. In hindsight, if I'm going to take an early flight for business, either don't take Julie and Tahia or wake up another hour earlier at 3am instead of 4am and insist they get up!
By now, it was about 5:45am when I had to walk around to find the customer service, and it wound up being somewhere near Gate 77 or something like that (at the end of the corridor I was in). The customer service initially said that I was checked in for another flight, but when I explained how they locked me out as I had to go back to TSA to get my roller and the plane was still at the gate behind them, she just nodded and moved forward with my intentions to change to the Colorado Springs flight bound for Dayton at 7:40am.
The strange thing was that they said I was supposed to go all the way to Dayton even though I needed to get off at the stop in Colorado Springs. I guess that complication meant that I had to incur some kind of rebooking fee, but this time, this agent said that the cost would be $388!!!
Well, since this was company travel, I told them to just make it happen. But in the back of my mind, I wasn't sure if our system was forgiving on incidents like these. I guess I'll have to worry about that when I get back to the office on Monday.
Eventually after another 10 minutes or so when the customer service rep had to get off the phone, I finally got my alternate boarding pass. And then I had to walk all the way to gate 88, which was all the way on the other end of this terminal 7 area. By 6:05am, I finally made it all the way to the gate where I had to make another call to Avis and change the car rental reservation as I was no longer picking up the car in Denver (picking up from Colorado Springs and dropping in Denver instead).
When this change was successfully made, I was surprised to hear that the car rental cost was actually $5 CHEAPER than what it was originally despite the one-way drop off. I guess it wasn't often that they get people picking up the car from Colorado Springs and dropping off in Denver.
At that point, things were finally in order again as far as the United Airlines drama and the complications that came from it for now. I was now busy waiting for Tahia and Julie to make it to this came since we were now on the same flight. But again in hindsight, I probably should have gone to Colorado Springs directly on this flight on the way there in the first place. It was just that I wasn't aware of this flight until Julie and Tahia made this booking using points last Friday.
The flight eventually left on time at 7:40am and we actually landed at around 10:30am (45 minutes early) in Colorado Springs. But as usual, the gate wasn't ready for us so we had to wait to get taxied. This wasn't the first time this happened, and in fact, I don't think we had ever made it to a gate more than 5-10 minutes early in all the travels that we had done. So I never put much stock when the captain gets excited about making it to the gate early.
We'd eventually get into the terminal at 11:05am, relieve our bladders (due to sitting on the plane that extra time), and finally picked up our rental car and booster seat at 11:30am. The weather out here was a little on the partly cloudy and hazy side, but the view west towards the Rocky Mountains was quite scenic.
It would take a few more minutes to get the car all loaded up, and then as we drove towards Helen Hunt Falls (the first destination of the day to try to get all the sightseeing in today while the weather was still holding up), we stopped by a Panda Express for lunch on the go.
When we left at about 12pm, we then quickly drive over to Helen Hunt Falls but the North Cheyenne Road was closed. When I asked what was going on, the lady in the truck said they were doing work to do some preventative work to ensure the next rain wouldn't kill this road. Upon asking if there was an alternate way to get to Helen Hunt Falls, she gave me a pretty complicated route that would take 20 minutes to get there from the backside.
When I thanked her for her help, I went ahead and drove back in the direction of the I-25 then onto the Hwy 24 near the Garden of the Gods. At that point, I changed my mind about forcing Helen Hunt Falls for now and punted that for later this afternoon when I figured the workers wouldn't be there. Instead, I decided that we should go over to Pike's Peak since a coworker recommended that I do that as one of the must-see things to do here as well as the Garden of the Gods.
So that was the plan though I wasn't sure how long it would take to make it all the way up to Pike's Peak but we took a punt and just went for it though the worry now was that it would consume too much of our precious little remaining daylight and fair weather available on this day. Tomorrow was a workday so it would be difficult to fit in any more sightseeing, and Friday was supposed to be the bad weather day (at least forecast in the morning, which made me real concerned about missing Seven Falls – the must-do waterfall of Colorado Springs).
Anyways, at least the Pike's Peak Highway was well-signed when we left the Hwy 24 somewhere near Green Mountain Falls. The drive up the mountain was initially not so severe of an incline, but it didn't take long before we got to the entrance gates, which charged us $25 for the three of us (I'm guessing $10 per adult and $5 for Tahia).
The lady at the kiosk warned us that it was real windy up there so we better hold onto the car door when we open them or else the door might blow off. Also she said to keep the car in high gear on the descent, which was something I wasn't a stranger to after having gone up and down the mountain roads in the Sierras before. However, I wasn't quite sure how to shift to lower gear on this Nissan Altima the Avis gave us. I only saw a D and a DS but nothing more.
Regardless, the drive was pretty scenic as we were ascending higher and higher up towards Pike's Peak. We made a quick stop along the way at the Crystal Reservoir for a photo stop before continuing on at around 12:50pm. There were lots of slower vehicles not using the pullouts (at least not until they had a line of cars behind them) but I wouldn't blame them considering that there were plenty of opportunities to take in the views as there were some interesting rocks of volcanic origin flanking the road.
It wouldn't be until about 1:25pm when we had finally made it to the summit of Pike's Peak. A sign here said it was about 14,115ft high, and I think this was probably the highest I had ever been without being on a plane. The air up here was quick cold and sure enough, the winds were pretty strong. The skies were also a bit overcast with dark clouds looming so the colors and contrast were also a bit muted.
Tahia wanted to play in the snow here, but the snow had a weird, jagged crystallized shape to it. I suspected that the snow here must have been shaped by the wind. Still, with the thin air and our bodies not having much of a chance to acclimate, I was already getting a bit light-headed. I suspected Julie had similar issues, and even Tahia might have been affected.
Well, at least I finally got to eat the Panda Express takeaway for lunch at this time. Julie and Tahia were able to eat earlier while I was driving.
So after getting our fill of the views (which looked kind of flat in our photos) while trying not to get blown off the peak from the winds, we got back in the car and started to drive down at around 2pm. In hindsight, we probably could have done without doing Pike's Peak and we'd save a precious two hours which could have been used towards spending more time at Garden of the Gods, which we were headed to next.
The drive down the mountain was a bit of a slow affair as a line of cars were adhering to the 20mph or less speed limit, but more importantly, they were probably descending in low gear to help prevent brake failure. Sure enough with our Altima, I couldn't figure out how to get this car into first or second gear on this automatic so I was relegated to relying more on the brakes than I wanted to. But with the slow pace of traffic, I guess we never got the high enough momentum to really put us at risk of brake failure.
But still, I was starting to get road fatigue, especially since we had gotten up so early. When I drifted lanes, I managed to catch myself, and mercifully, by about 3pm, we made it into the Garden of the Gods area where we parked the car next to the intriguing Balanced Rock. You couldn't miss this one as there were lots of people taking pictures around it and there were a couple of pullouts and slow-moving traffic where the road went right between the balanced rock and some other rock pillar.
We needed the time to stretch our legs and take pictures here so we all did as the others were doing, which was being silly taking some gag shots of "holding up the rocks" or some other thing like that. With all the people around the rock, it was hard to get that desired shot without other folks photobombing, but in any case, it was fun.
Next, we continued the drive deeper into the Garden of the Gods, where we then stopped by some Trading Post. Thinking it was the visitor center (which it wasn't), I asked a couple clerks about information. Luckily, one young lady gave me a map and told me that for a couple of hours, she recommended a trail taking in the Siamese Twins as well as a separate trail taking in the Central Garden where there was a main parking lot.
By this time, it was about 3:35pm so Julie and I decided that we should skip the Siamese Twins and just shoot for the Central Garden. After all, in my mind, we still had to do Helen Hunt Falls before we could finally go grocery shopping at Whole Foods and checking in at the Hyatt House.
As we drove around the Garden of the Gods, we were quite impressed by the cluster of giant cliff formations and spires that reminded me very much of Park Avenue in Arches National Park. They were indeed impressive, and we couldn't wait to get out of the car and do the so-called 1.5-mile loop through the Central Garden.
It wouldn't be until about 3:55pm when we finally got to the main parking lot, which not surprisingly, was very busy. Still, we got our parking spots and promptly walked the paved trail which took in things like the Kissing Camels (which had a natural arch at its top), the Cathedral Spires (an interesting mix of balanced rocks looking like arches), and other formations that had names but I couldn't remember them.
It was fun doing this walk as a family though Tahia seemed very fascinated with trying to make arrowheads after having seem them at the Trading Post. When I told her that the Native Americans were very resourceful people exemplified by those arrowheads which were simply rocks being split into smaller sharper pieces to be used for spears and arrows, she then had it in her mind to try to smash rocks together to do the same thing.
I told her that it took generations for them to figure that out and do so reliably so her first try at this wasn't likely to be successful (or at least as successful as she had hoped).
During this walk, we were also surprised to see that this place was actually a gift from the Perkins family to the city of Colorado Springs. So this place was actually free, and we agreed that this was quite an act of philanthropy to ensure that people of all walks of life could enjoy quick a natural place as this.
And so our walk was surprisingly short for a 1.5-mile loop. Was there something I had missed? Anyways, we were back at the car at about 4:55pm and were ready to drive out to Helen Hunt Falls. But on the way out, we saw a nice pullout with a broad contextual view of part of the Central Garden. Adding to the allure of the scene was the soft late afternoon light of the sun momentarily breaking through the clouds that had accumulated and moved from the Rockies. So we gladly took photos from here as this was the big signature shot I was looking for regarding this place.
Next, we drove south of the Garden of the Gods and headed south on the I-25 until we got off on Tejon Rd before re-engaging with Cheyenne Road. When we eventually got to the junction with the North Cheyenne Road, my suspicions were confirmed when the road closure blockade was gone and we were able to drive through. And after driving through the narrow canyon road seemingly weaving its way in a gorge alongside a stream, we'd eventually get to a large parking area with a structure right in view of the Helen Hunt Falls.
We got there at about 5:30pm. With all the drama from today and the possibility of not being able to do neither Helen Hunt Falls today nor Seven Falls on Friday (due to weather), I was really worried about this trip being a failure in terms of waterfalling. But it was a good thing that we finally got to see this waterfall to at least have something to show for our efforts. This was even though the falls itself didn't seem to have very much flow despite this being early Spring.
We spent a few minutes taking photos and getting a feel for this place. We even walked up a ramp leading up to a bridge right above the falls for a different view and experience. Meanwhile, I briefly continued up the Silver Cascade Trail but when I saw that it was switchbacking away from the creek (and a minor waterfall I saw en route), I concluded that it probably wasn't worth the extra trouble to keep going despite the signs saying it was only 1/3 mile long (round trip?). I could be wrong, but Julie wanted me to end the sightseeing of this very long day and get right to grocery shopping so Julie could at least control her diet given all her sensitivities.
So by 5:55pm, we got back to the car after Tahia and I were conversing with one of the other visitors here walking their dogs.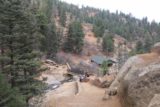 And so we drove back towards the I-25 before heading north. When Julie's iPhone
said that Whole Foods was further north of the Hyatt House, we decided right then and there to just check into our room and leave most of our belongings in there. So we'd get to the Hyatt House at 6:20pm (noticing some interesting-looking cliff formation looking like some kind of fort right off the Rockrimmon Road exit, and then we left to do our grocery errands at 6:50pm.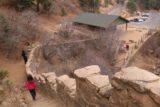 We'd eventually get to Whole Foods at 7pm, where the whole family was both hungry and thirsty so we took adventage of their food court to get some rotisserie chicken and some grilled vegetables. After having our late and informal dinner, we then did a grocery errand picking up a chicken, some snacks, a kefir, and some fruits. So it wouldn't be until 9pm when we were done with Whole Foods, and then we got back to the Hyatt House at 9:10pm.
It was the end of a very long day, but it seemed like things were finally back to a somewhat stable state though I was wondering what other repercussions were coming my way as a result of the incident with United Airlines earlier this morning…