Day 3 (March 24, 2017 – Los Angeles, California: "The Happy Drunk"
It was about 7:45am when I awoke. As expected, there was some snow outside though it wasn't to the extent that Julie and I had experienced way back on our first trip together to Mammoth with friends back in 1999. On that trip, we actually had to shovel off snow from the car that was piled higher than the car (actually a van) itself! But in this case, I looked out the window towards some kind of courtyard with a covered pool, and the snow was accumulating on the pool as well as the planters on the perimeter of the courtyard. But the concrete didn't have any of the snow stick, and the snow on the roof still had its ridges protrude.
That said, the winds were howling so I'd imagine any kind of travel at this time wouldn't be wise. But we kind of braced ourselves for this condition and we resigned ourselves to not checking out or getting onto the road until at least the late morning or possibly around noonish.
I generally don't like late starts, but for today, we really had nothing planned as we had pretty much done all the things we had targeted on this trip in the last two days in anticipation for this weather event (a blizzard warning according to the National Weather Service). When Tahia woke up, she was excited about the prospect of playing in the snow.
So we got off to a sluggish start as I was helping Julie with some of the veggie cutting duties and doing the dishes while she was preparing things with her pressure cooker that she managed to bring on this trip. But when we went downstairs for breakfast at around 9:15am, pretty much everything was all gone and all the tables were taken up. So we actually sat in one of the lounge tables by the bar. Meanwhile, we were getting whatever was left like some bananas and grapefruit. We also filled out an omelette sheet knowing that it would take a while before it would be ready.
After Julie got a person from the kitchen staff to prepare another batch of grub, we'd finally get some sausages and crispy waffles (that wasn't steamed from putting a cover over it like yesterday), plus some of the real tables were finally starting to clear at some time after 9:30am.
After finishing our omelettes and whatever else was left from the brekkie room, we went back upstairs to finish packing and preparing whatever Julie was trying to puree or turn into soup on the go for today. We pretty much spent the next two hours or so just taking our time with the packing and preparing for Julie's meals, and it wouldn't be until 12:05pm when Tahia and I headed downstairs with our stuff and left Julie to wrap up what she was doing with us bothering her.
So when I was done loading up most of the car except for Julie's large luggage stuff (and somehow cutting my hand in the process), Tahia and I were busy playing in the parking lot where she wanted to have a snowball fight we me. As I was getting pelted by Tahia's snowballs (some of them were icy), I was digging the views over towards the Rocky Mountains as the foothills and mountains not shrouded in clouds were caked with white from the recent snowfall. Even the parking lot had quite a few patches of snow, which Tahia took fully advantage of.
As my hand continued bleeding, I indulged Tahia in the snowball fight while taking photos for a few minutes more before even the wind chill and the cold weather couldn't constrict the blood enough to prevent the bleeding anymore. And so I briefly went back inside to rinse off the blood and use a paper towel as a temporary wrap. Then, the receptionist noticed my hand and was generous enough to give me a spare bandage to at least free up one hand from having to hold the paper towel.
After a few minutes more of waiting for Julie to wrap up her business, Tahia and I spent a few more minutes of playing in the snow before we finally loaded up the remaining stuff, checked out, and left Colorado Springs at 12:55pm. By now, the sun was trying to break through the storm clouds, and as the forecast had predicted, the worst of the snow had pretty much left us by noon.
The drive north on the I-25 was pretty uneventful though we could see that quite a few of the offramps still had patches of slush requiring big snow plows to re-enable access to those exits. But at least the main highway was moving along at pretty high speeds with most of the people going about 75mph. We didn't need to take any of the toll roads that my coworkers had talked about, and by around 1:45pm or so, we left the I-25 at Colorado Blvd and took it for about 4 miles on busy surface streets and lots of traffic lights before we finally got to park the car at the Denver Museum of Nature and Science, which Julie thought would be a good way to kill some time before we had to return the rental car and go to the Denver International Airport in time for our 7pm flight.
As we roamed quickly from exhibit to exhibit in the museum, we started off with the Egyptian exhibit, which was nowhere as impressive as what we had seen in the UK or in Chicago so we then went to the wildlife exhibit and checked out pretty much the Colorado habitats but didn't bother with the other parts of the world. We then went over to the prehistoric earth exhibits, which talked about the origins of life and eventually ended off with lots of dinosaur bones, including a live lab where workers were busy cleaning up what had been dug up probably from the southwestern part of Colorado at Dinosaur National Monument or even the Mesa Verde vicinity (two places we'd like to visit as part of Tahia's spring break this year).
It turned out that we spent most of the time in the dinosaur exhibits, and then we pretty much had to rush to see the rest of the things that we wanted to check out like the Sky Terrace and the Space Exhibits. The Sky Terrace had a nice view over the city park towards the downtown direction backed by the Rocky Mountains. But with the clouds still clinging to the mountains, the highest peaks either couldn't be seen or there wasn't enough contrast to really get good photos of the skyline. And this was despite the sun already breaking through the holes in the storm clouds.
Meanwhile, it seemed like the space exhibit was mostly the planetarium, which required extra payment, and there was a line to get in to see it. We spent a few minutes making a sundial that would work in Los Angeles (their default setup was for Denver at 40 deg lattitude instead of around 34 deg lattitude), and then there was an interesting game where you tried to control a space shuttle or rover and park it, except the only on that was open happened to be broke as it kept turning out of control in one direction regardless of how you moved the joystick.
By about 3:35pm, we were back in the car. Sure the visit felt rushed, but it wasn't like we really missed out on anything as we had definitely seen better in Chicago under a couple of years ago.
Next, we drove over to this place called the Chop Shop. We couldn't really have a sit down place as we were running out of time (we mentally gave ourselves a 4:30pm deadline to start heading to the airport), but we still wound up at the casual eating spot at 4pm.
Given Julie's diet restrictions, we wound up getting all the sauces on the side and got some kind of slow-roasted short ribs as well as a marinated filet. The meats were quite tasty and definitely had a bit of fusion to it (one of the sauces was like a Vietnamese fish sauce). But as we were busy trying to finish up the waters that we had bought (knowing we'd have to toss them at the airport), I guess Tahia forgot her bottle which we wouldn't realize until we were already in the car and well on our way to the Denver Airport at 4:55pm.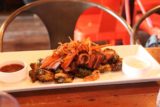 Even from where we were at, Julie's iPhone
predicted that it wouldn't be until around 5:30pm when we'd be at the terminal, and so once again, we were in a bit of a rush as we were quite concerned about the possibility of missing yet another flight (even though we'd still have around 90 minutes before our 7pm flight if the phone's prediction was correct).
Well, after a little bit of traffic going east on the I-70, we then took some highway leading to the Denver International Airport which was way out in the boonies away from the city of Denver. We'd eventually return the car at the Avis lot at 5:35pm, and then do some last minute organization with our luggages before quickly catching the shuttle to the terminal.
Indeed, the rental car lot was quite a ways from the terminal, and it wouldn't be until around 5:45pm when we finally got to the United Terminal. We then had to check in Julie's big luggage, and we also had to print our boarding passes. Then, we had to get through security where as we were waiting in line for a few zig-zags, a security officer all of the sudden made everyone walk all the way to the other side of the terminal to go into another TSA security line that was no shorter than the one we were at. What on earth was that for?!?!
Anyways, after getting through security, we then had to take a rail all the way to the gate 38. And when we finally showed up at about 6:30pm, people were already boarding. It was quite chaotic in the cabin though Julie and Tahia managed to get first class while I had to sit all the way in the back.
This was a really full flight and the place seemed like one of those that could be used to go overseas. The overhead bins were a bit awkward in the middle so there was a lot of Tetris going on in trying to get at least two rollers side by side there (which rarely worked for those kinds of bins). Then, towards the end of everyone boarding, there was one lady who had no luck getting her roller in an overhead bin so she managed to fit that under the seat in front of her at the expense of no leg room.
She was a pretty talkative passenger and happened to sit on the opposite aisle seat from me in the middle so there were two other strangers sitting between us. While I was starting to doze off from another long day, I could overhear that she was introducing herself to the two folks sitting between her and myself. As the plane was taking off, she was busy playing with the guy sitting next to her on her iPhone
and this persisted for the whole time I was dozing off as the plane took off.
About an hour into the flight, I started waking up and all of the sudden, she started talking to me as apparently the iPhone
games she was playing with her direct neighbor was getting old. I guess since flying tends to suck, I was indulging her dialog thinking that this was probably one of the more festive flights I had ever been on even though she was essentially the one person party trying to get others into it, I guess.
Our row would eventually learn that her name was Allie and that she was a school teacher on a spontaneous trip to California. During this dialog, she was trying to get the two folks between us to visit Red Rock since those folks were also from the Colorado area. But then when she tried to get me into some other game after Julie handed me some nuts (from her own stash) as well as cookies from the first class service, Allie kept calling me "left nut".
Her joke was that she was the "right nut" and I was the "left nut" and whenever she'd call out which nut she was, I was supposed to say mine, and then we were supposed to squeeze the two folks between us as they were supposed to be the genital between the two nuts. This was funny at first, but I think throughout the rest of the flight, the act got old.
The lady that was sitting next to me told me in a low voice that she was carrying a flask (suggesting that she was drunk). I guess that would explain some of the behavior and annoyances that we were being subject to on this flight.
Then, when Allie wanted to take a photo on her iPhone
of our row, that was when she crossed the line as the neighbors between us wanted no part of it, and I was getting uneasy with my mug being on some stranger's social media. I knew with the low lighting conditions, I probably wouldn't show up very well, but for the two folks to my right, they had every right to cover up.
Finally at some point, the lady sitting next to me started to get really mean to Allie and that pretty much killed the festive vibes as it now became more awkward. Eventually when the plane was descending and finally landed, Allie was trying to make it up to the two folks between us and myself as well (though I'd be forever known to her as "left nut"), but the lady next to me wanted none of it by saying, "Why don't you just face forward and leave us alone?" (I intentionally left out the expletives).
Mercifully, the 2.5-hour flight was over and we all took our time getting off the plane since we were pretty much the last ones to leave, and we'd finally be at the gate at 8:35pm. We still had to recover our luggage and then our parked car before we can finally call it the end of this trip, and we wound up having to hike from Gate 77 all the way past Gate 80-88, and then all the way to the baggage claim. It was quite a hike to say the least.
At least Julie's luggage came pretty quickly, and then we recovered the car, and finally made it home at 9:55pm. And so ended what was perhaps one of the craziest trips I had ever been on that I can remember that went awry from the get-go. But I'm personally still not out of the woods given the extra change fee expenses incurred from the missed flight to Denver from those United employees wanting to make an example out of me or something. So the drama's not over as far as I'm concerned, but at least I have the Saturday and Sunday to do a little recovery before facing the music at work on Monday…