This itinerary of our visit to Angel Falls pretty much revolved around an organized tour that would allow us to access the remote waterfall.
It took the entire week of Thanksgiving, but I'm still kicking myself for not taking a few extra days of adding the Gran Sabana part of the trip (for possibly 2-3 days).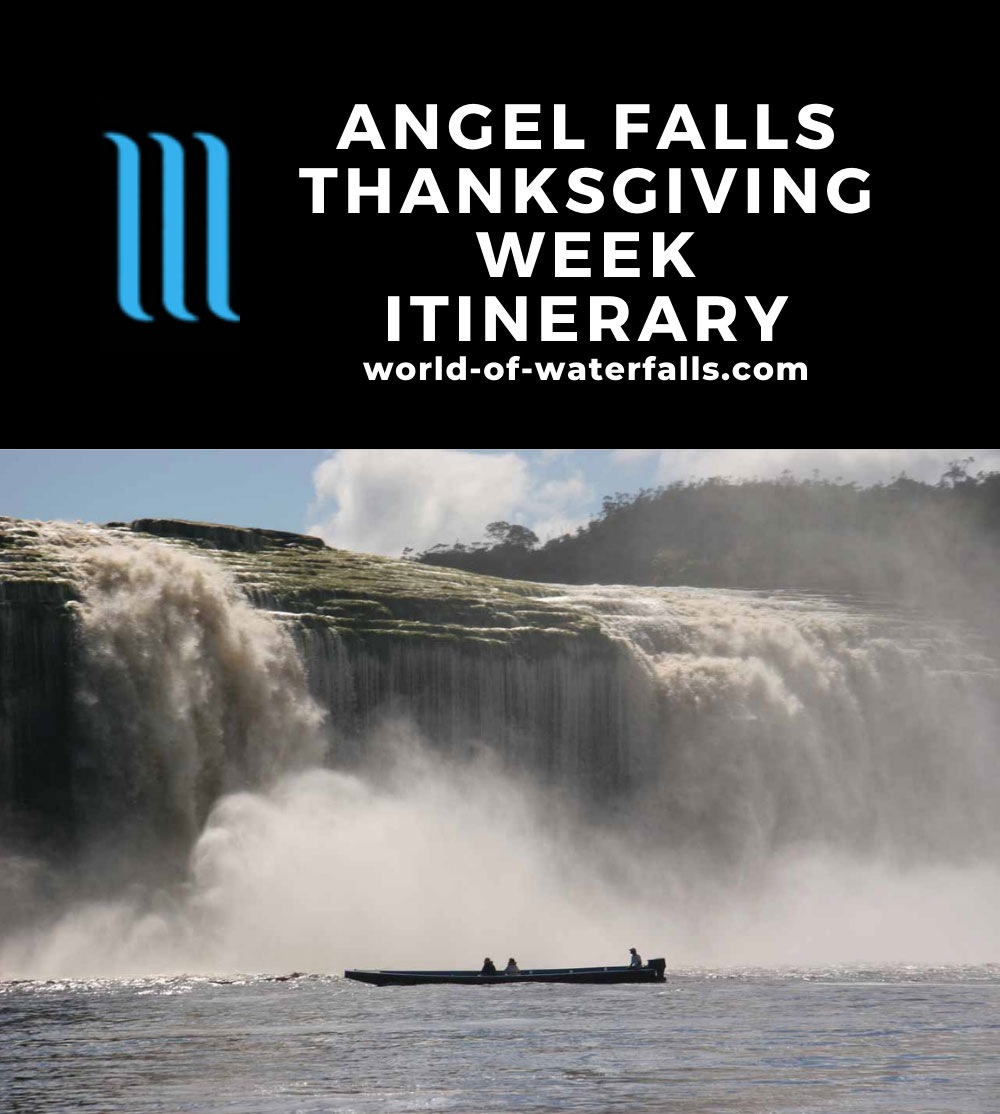 Anyways, just about everything on this trip was coordinated with a tour operator. The only exceptions to this were in the few circumstances when our tour operator wasn't present (e.g. at the remote Canaima Airport or when we were walking around Ciudad Bolivar on our own), which forced us to use our Spanish to get by.
As you can see below, there was very little idle time from a logistical standpoint, and this is why I suspect that seven days would be the minimum amount of time necessary to visit Angel Falls (including travel days). The waterfall was remote enough that we had to overnight in outdoor camps while sleeping in hammocks for two of the nights.
Finally, one pleasant surprise from this trip was our time spent bonding with other tour participants who hailed from Canada, Venezuela, Belgium, Spain, and Norway. It's shared experiences with people from different walks of life all with the shared interest of seeing this world wonder that I personally remembered most about this trip.
In any case, here's a brief summary of what we managed to do on this trip…
Trip Highlights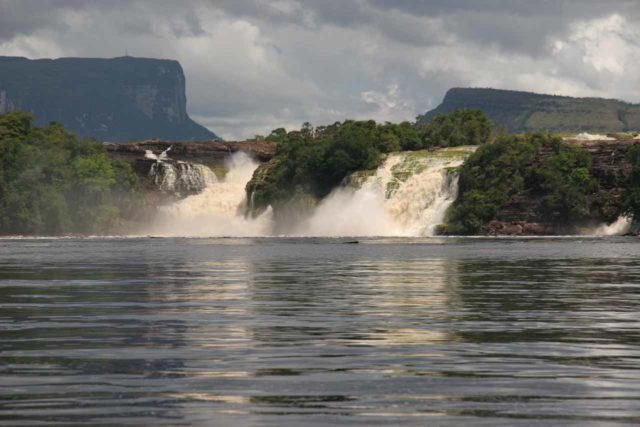 Canaima Lagoon – This was the first thing we encountered when we landed at the remote airstrip in the village of Canaima. It grabbed our attention because the river spilled over at least three or four large segments producing impressive waterfalls, which made the boat ride to our camp on the opposite of the lagoon that much more special.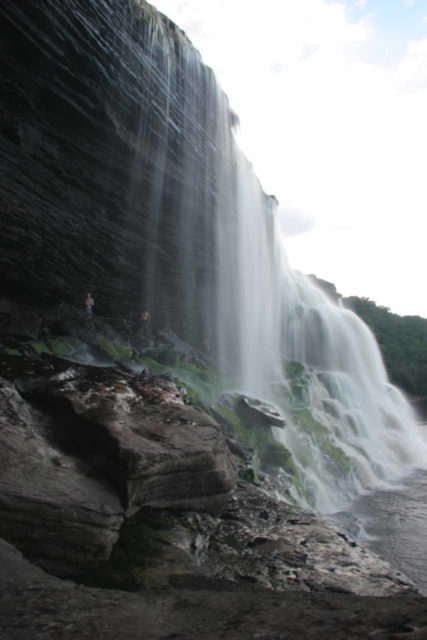 Sapo Falls – While we were waiting for our river journey up to Angel Falls, we had some idle time to explore this impressive waterfall near our camp. It featured a long trail that went behind the curtain of water, and there was a beach perfect for sun bathing or for taking a dip in the water. This hike also included going up to the top and visiting the Sapito Falls along with some interesting panoramas over the top of the bigger waterfall…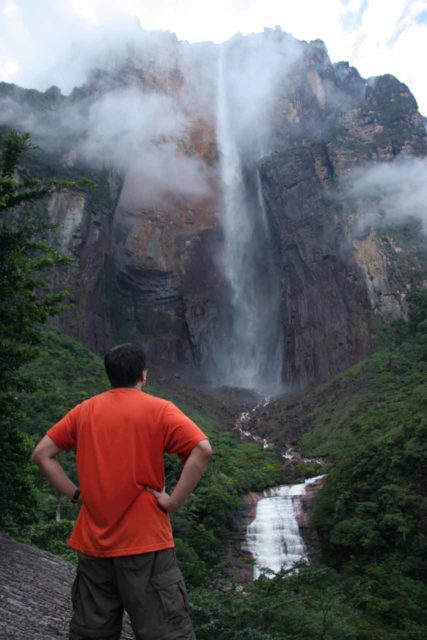 Angel Falls – Of course the very reason for doing this trip in the first place had to be the highlight of the trip. That said, we had to be real patient with the weather because it was variable and the sighting wasn't guaranteed. So when it did produce for us, we were treated to the majestic scene, and we still look back at it like we were very lucky to have seen it…
Trip Advice
I'm usually keen on visiting the South Pacific at the start of the Dry Season (which coincides with around the month of May). However, since our personal milestone dates happen to fall in November, I opened my mind to a visit at the end of the Dry Season (and start of the Wet).
Here's a quick summary of some additional advice or lessons learned…
Angel Falls sighting is NOT guaranteed: Because we were dealing with a tropical climate, the weather changes rapidly. Our visit coincided with the end of the Wet Season and start of the Dry Season though that doesn't guarantee anything in terms of cloud cover. And indeed, when low clouds are around, Angel Falls gets shrouded. So basically, it's all a matter of luck whether Mother Nature wants to reveal the waterfall to you or not.
We even saw for ourselves how quickly Angel Falls was momentarily revealed only to cover up again a few minutes later, then rain all night before clearing up the following day after it seemed hopeless to not see anything. Indeed, the weather is THAT fickle.
Hard to get good sleep: While sleeping in hammocks with mosquito nets to keep the biting insects away from the skin, the shelter was primarily open-air corrugated tin roof. So when the rain hit, each droplet clangs onto the roof and it eventually becomes white noise after a while. But until then, just getting comfortable in the hammock was hard enough, and so all these things conspired to make me a bit groggy since I'm already a light sleeper to begin with.
Cushion for your bum The river journey was around four hours upstream and about two hours downstream. That's a pretty long time to be sitting on hard wooden beams of a small motor boat. If you can, it's worth bringing some kind of cushion to mitigate the sore bums and stiff legs on this journey (you can be creative with a jacket or something that will fit in your day pack).
We didn't have such cushions and our bums and legs didn't appreciate it very much.
Travel Itinerary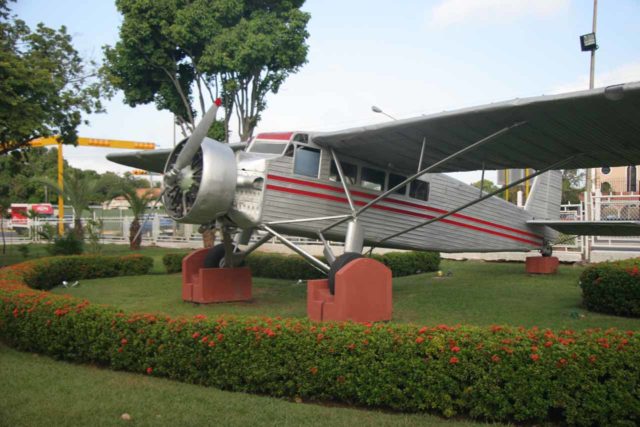 Days 1-2: Fly from Los Angeles to Caracas, then take regional flight to Ciudad Bolivar
Overnight: Hotel Laja Real (Ciudad Bolivar, Venezuela)
This was a long period of travel where we caught a red-eye flight to Miami, then spent most of the remainder of the next day flying to Caracas, then enduring a long layover before finally flying to Ciudad Bolivar, where we spent the night.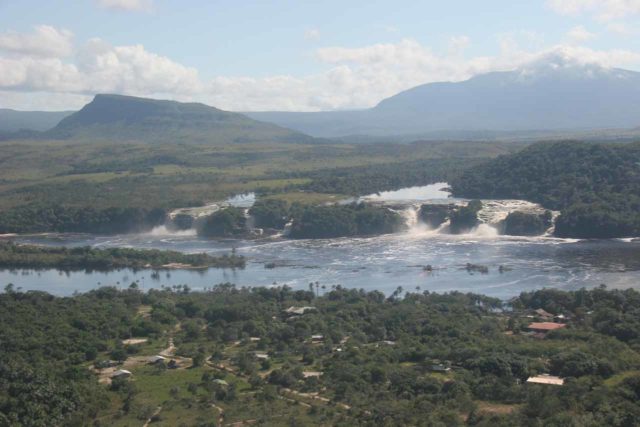 Day 3: Fly from Ciudad Bolivar to Canaima
On this day, we caught a morning flight to the village of Canaima on a twin propeller plane. After landing, we were taken by boat to our camp across the lagoon, where we dropped off our stuff. We then were able to go back across the lagoon by boat to check out the Canaima Village while also getting up to the brink of one of the waterfalls spilling into the lagoon. At the very end of the day, we returned to camp and hiked to Sapo Falls.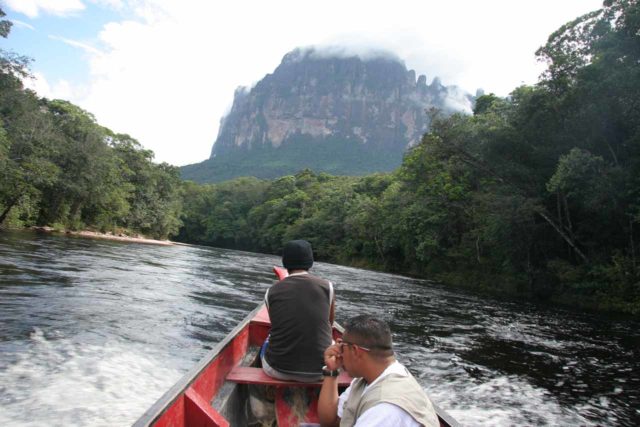 Day 4: Boat ride to the remote outdoor camp near Angel Falls
On this day, we did our long boat ride up to Angel Falls, which took around four hours. We had a bit of a late start so by the time we got to the falls, we did the two-hour hike to the mirador, where we waited there a while for the weather to cooperate. But when we were done, we had no time to continue hiking to one of the swimming holes at the very base of the falls.
We eventually settled into the remote camp for a quick dip in the river (our pseudo cold-shower, if you will), a chicken dinner, and rest.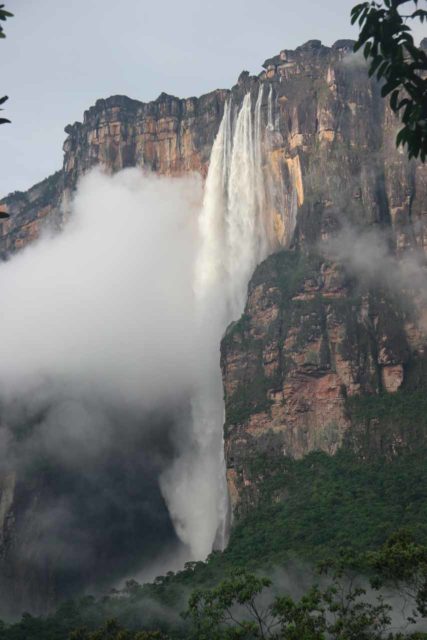 Day 5: Boat ride back to Canaima, then catch flight back to Ciudad Bolivar
Overnight: Posada Angostura (Ciudad Bolivar, Venezuela)
On this day, we managed to see Angel Falls after breakfast in full flow, then we took the boat ride back downstream to Canaima. Along the way, we stopped by the so-called Happiness Pool.
Once back at camp, we got our stuff, then boated back to the airstrip (seeing now-swollen Canaima Lagoon Waterfalls en route) to be flown back to Ciudad Bolivar. Along the way, we were able to do an overflight of Angel Falls as well as other waterfalls. Once in Ciudad Bolivar, we checked into our charming accommodation, then had some free time to walk around the city for a bit.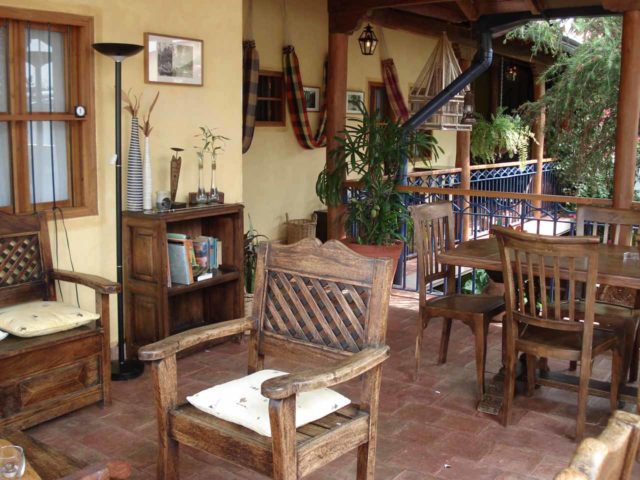 Day 6: Fly from Ciudad Bolivar to Caracas then fly to Miami
Overnight: Hampton Inn (Miami, Florida, USA)
This was basically a travel day where we got to enjoy the Posada Angostura a little bit in the morning, then we were flown to Caracas for our international flight to Miami. We had yet another long layover in the airport but no luck exchanging our bolivares back to US dollars.
Day 7: Fly home from Miami to Los Angeles
On this day, we flew home and ended the trip.
What to Bring
In addition to the equipment that we bring on all of our trips, we've also found the following items were especially useful for this particular trip.
Keens: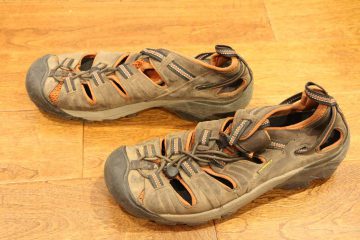 Generally in tropical environments, I tend to bring these because they're light, they have toe protection, and they're flexible in that I can use them on hikes (especially if there's water so I don't have to ruin hiking boots) and when out and about in the cities or the beaches. They also worked for use on the plane.
In this trip, there was indeed a river crossing at the start of the Angel Falls hike so for sure these came in handy.
Trip Reports
Waterfalls included in this itinerary
Visitor Comments:
Got something you'd like to share or say to keep the conversation going? Feel free to leave a comment below...
No users have replied to the content on this page