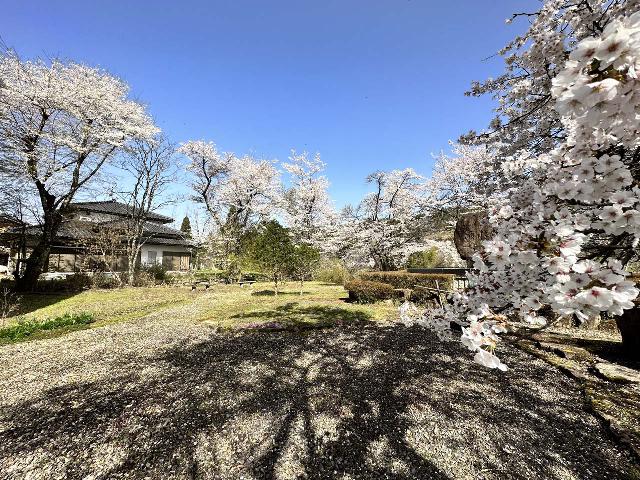 5-April 2023 to 16-April 2023:
Eventually after returning to the 168, I thought that the drama of the Sasa Falls was over and I could finally enjoy exploring the Hotel Urashima again, but I had noticed that the road seemed to be getting louder and louder.
Now, I wondered if maybe I had scraped the underside of the car and something got loose and started scraping the road, or if I had gotten a flat.
Well, when the noise got too loud, I knew right then and there that I must have gotten a flat tire.
Damn!
This wasn't the first time I had to deal with flat tires like this (it felt like we always deal with tire issues and it might have been the fourth or fifth one overall if my memory serves me right), but that really sucked given that it was unexpected…
Days 0-1 (April 5-6, 2023 – Tokyo, Japan): "Delayed Beginnings"
It was 6:15am when I awoke as it was time to wrap up our packing and getting organized duties in preparation for getting to the airport and off to Japan.
It had been a pretty hectic last couple of days for this effort, but I still managed to get in a kefir breakfast just to keep things normal (especially since I know my gut will probably get wrecked on this trip from jetlag and from getting used to different routines and foods).
Anyways, it wasn't until about 7:55am when we finally got into the car, which was around the time when some people were already heading towards school.
But in Tahia's case, she's missing school since we made the priority call to have her miss these last couple of days before Spring Break instead of reducing the already short trip even more as well as incurring even more expenses and crowds by waiting for the weekend.
At least the rush hour traffic wasn't too bad, and aside from the usual slowdown areas, the carpool was a help for the most part, and by about 8:45am, we waited for the Uber after I had parked at work.
We weren't going to bother with the 105 Airport Parking this time because they cost more (they're on a per person basis) and they've been very slow.
Anyways, we got to LAX at 9am, which was making pretty good time, but the ANA counter wasn't opening until 9:30am so we had like a half-hour of waiting to check in while the queues were building up rapidly.
After dropping off our luggages and getting to the always busy and hectic security, we would eventually get to our gate by about 10am, which was pretty much about as smooth as an airport jaunt could be.
So we spent the next couple of hours letting Tahia play Roblox while I was doing some last minute cram sessions watching the YouTube videos of Japanese From Zero Book 3 (even though I hadn't gotten around to going through that book yet as I had just finished Book 2).
At around 12:15pm, I learned that our flight had been delayed, which was not good news since we knew that we were likely going to be checking into our hotel in Shibuya Crossing pretty late today, and this delay would make us check in even later (in our jetlagged states I'm sure).
Ultimately by around 12:50pm, we finally got to boarding the plane, and the full flight pretty much took off on time (from the delayed time from 12:30pm to 1pm).
The 11-hour or so flight was pretty much uneventful and surprisingly well-serviced though the seats were pretty hard so I knew our butts would be a bit sore.
Aside from getting some shut-eye (maybe 3 hours or so worth) on the plane, which was probably aided by double-masking (so the oxygen deprivation made it easier to sleep I guess), I did manage to watch some ANA videos of a few shows as well as a couple of movies.
The movie selections probably weren't up to par on this flight, but I took that as an opportunity to check out the ANA travel shows.
These focused on some off-the-beaten path locations throughout Japan in the Spring as well as the Shosenkyo Gorge, which I went to with the parents back in 2016.
I managed to get some pointers and mental notes for a future Japan trip, especially a surprise waterfall that we weren't aware of in the Shosenkyo Gorge area though I'm still trying to figure out where that was.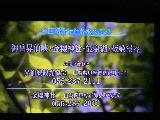 I took some pictures just to see if I could make sense of the Japanese for clues on where to find such a waterfall on a future visit.
I also managed to watch some documentary about Salvatorre Ferragamo, which was interesting and a bit off-beat, as well as the Mission Impossible Rogue Nation.
By the time all was said and done, we arrived in Tokyo as (delayed) scheduled at 5pm the next day, which was now April 6.
The de-planing process wasn't too bad, and even the customs and immigration lines weren't as bad either as we had anticipated from the horror stories of the long waits (some even 3 hours from last week or so).
We were among the last to pick up our checked baggages, and then we took a bit of time trying to figure out the SIM card situation so we could communicate with each other as well as the NEX (Narita Express) train purchasing.
As much as we wanted to catch the 7:12pm train (it was 6:45pm when we finally got the SIM situation and Forex situation sorted out), we ultimately had machine difficulties with our foreign credit card so we ultimately went to a manned kiosk to purchase our tickets for the 7:48pm train.
Ultimately, it wouldn't be until around some time after 9pm when we finally got off at the busy Shibuya Station, and then we spent the next several minutes making circles trying to figure out where the hotel was.
The place was called the Shibuya Excel Hotel Tokyu, but we couldn't find it as we walked around, and Julie's Google Maps navigation wasn't at all helpful since it kept spinning the map (she refuses to lock the map to always point north).
So it was hard to get oriented, and it wouldn't be until we talked to one of the traffic guards or police officers before finally figuring out that our accommodation was right next door to the Shibuya Station!
Yeah, it wasn't until about 9:40pm when we finally got to the lobby and checked in, and then we promptly got up to the room to drop off our stuff.
Meanwhile, Tahia decided not to join Julie and I to go down for a late ramen dinner and a brief stroll in the late evening action of the Shibuya area.
Tahia just crashed since she was totally jetlagged and didn't feel like pushing herself anymore.
Anyways, by about 10pm, Julie and I went down, and we promptly went to some random ramen place that was quite close to our hotel behind a series of these Plinko joints.
There were some dark alleyways that actually looked charming and not threatening, and I was commenting to Julie how such places back at home or even in Europe could be threatening, but we didn't feel that was in Japan.
As much as I wanted to check them out and soak in some of the subtle ambience of the place, we ultimately got right to the Ramen place, which was a small and tight joint that was really a series of individual kiosks strictly for eating ramen.
We ultimately got some kind of black garlic ramen while Julie got some classic tonkatsu ramen, and we did the coin-op machine to make the order in cash before having our ramen meal in our tight quarters.
Finally, we thanked our hosts and proceeded to walk around the Shibuya Crossing briefly just to scope out possible brekkie spots, and in one coffee joint called Excelsior or something like that, I swore I saw a look-alike of Kim Jung Un.
He had an uncanny resemblance to the North Korean dictator, and I was guessing that there was one guy who wanted to be like him or maybe he really was him (nah, I doubt it).
We also checked out a next-door convenience store where they had some bento boxes to go (that looked very preserved) as well as an ATM machine if we needed more cash (though we probably needed to find a true foreign exchange kiosk that's manned so we could switch US dollars for yen).
Indeed, we knew that credit cards weren't accepted everywhere so these liquor stores would be our savior at some point when we have to start busting out our bank cards to withdraw cash.
Anyways, Julie wasn't feeling prolonging the night to do some more exploring of the happening Shibuya Crossing District looking as Times Squaresque as ever, but by 10:45pm, we finally got back to the room.
Yep, our bodies were telling us that we needed to sleep, and we pretty much got cleaned up and did just time before midnight.
Tomorrow was going to be hectic since it was essentially our lone full day in Tokyo before heading out west while also meeting up with Julie's cousins, and we'll definitely have to make some tough priority calls given such limited time…
Day 2 (April 7, 2023 – Tokyo, Japan): "Weary Legs And More…"
It was about 5am when I awoke naturally without an alarm (actually I could have gotten up about 15 minutes earlier).
Since there really wasn't anything on my mind in terms of things we needed to see and do as well as places we needed to be at specific times, I pretty much got up, got cleaned up, and then took some time to briefly blog about the happenings from yesterday as well as copying photos.
It didn't take much time before both Tahia and Julie got up as well, as I suspected that for much of this trip, we should be able to use the jetlag to our advantage and get up earlier, and thus get a head start on each day of this trip.
I'm sure that kind of routine would serve us well if we keep it up, especially when we have to pick up the rental car and give ourselves maximum time for the long drives, which we have one such long drive ahead of us tomorrow.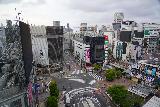 Anyways, it wouldn't be until about 6:30am when we headed down to the Shibuya Crossing area, which wasn't busy at the time though there were definitely some people starting to get out and about.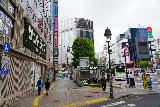 We first stopped by the same Excelsior Coffee place for a pick-me-up (the same place where we saw the Kim Jung Un look-alike last night).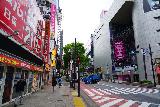 Then, we started on our Tokyo Metro adventure, where we had a bit of trouble trying to find the metro at the Shibuya Station.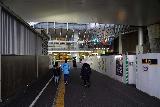 I guess with all the construction going on, we would eventually figure out that we had to hike further to the south past some scaffoldings and ultimately to the Ginza Line, which was on the 3rd floor.
While we were up there at 7:10am, we also had to figure out how to purchase metro tickets, and we ultimately bought a one-way ticket to the Asakusa Station, which was the last stop on the Ginza line.
Then, we would get on the metro and follow it for around 18 stops before finally getting out of the metro, which was definitely busy with commuters at the time.
Anyways, we eventually surfaced and followed some walking arcade that was covered and the shops weren't quite open for the day.
It wasn't obvious at first where we should be walking to get to the Senso-ji Temple, which was what we were targeting today.
But eventually, we pretty much followed a couple blocks worth of these covered arcades (under a misting rain that started to fall so the shelters were appreciated) before getting to an attractive walkway that still had some cherry blossom flowers seemingly set up in a line along the walkway.
The walkway went past a bunch of yet-to-be-open shops and ultimately led towards the Senso-ji Temple, which now looked quite familiar from the first time Julie and I were here in 2009.
Anyways, this place was quite atmospheric and it wasn't too busy with people since it was still early in the morning (it was about 7:50am when we got there).
The weather was misting rain on and off during our visit, but it wasn't anything too troublesome at the time.
If anything, we were having ourselves a good time trying to take pictures of the massive temple along with a neighboring pagoda.
There was even a captivating Tokyo Sky Tower (or Sky Walk?) in the distance that seemed to stick out over the skyline off to our right.
Once we checked out the main sanctum of the temple after around 8:25am, where lots of people were definitely burning incense and praying, we then went down to a Japanese Garden, where they definitely made use of the limited space.
Indeed, I knew that a main hallmark of Japanese gardens was that they tend to make it seem like there's an attractive viewing spot every step you take, and with the Senso-ji with pagoda acting as backgrounds to the garden's foreground, it was quite a nice spot.
However, by this time, the rain was falling on an on and off basis so it wasn't easy taking pictures with umbrellas as we went, plus there was some wind that conspired to invert our umbrellas.
We did try out some kind of grilled mackerel from one of the many food stalls at the temple grounds that were just starting to open up.
Now Tahia noticed there were a bunch of vending machines along the walkway, and she was particularly drawn to the machines that might have Calpis (or Capico Water at home) because I told her how we used to love drinking that on our first visit to Japan.
Tahia actually had a strange obsession with them, and she kept looking at them for every time we walked by them, and I was afraid that I created a monster.
And by the time we were pretty much done with the temple part of our visit, there were definitely lots of people approaching the temple, especially large tour groups.
Good thing we got the early start with this place when we did, I thought to myself.
It took some time for us to ultimately leave the Senso-ji Temple complex as Julie and Tahia kept getting distracted by the numerous shops that were now starting to be open along the nice walkway on the way back out.
Ultimately, we'd head back to the metro in search of the next target on Julie's agenda for today, which was the Imperial Palace.
It turned out that we had to take a different metro line to get there, and as we did so, we also figured out that we could purchase a Tokyo Metro day pass for about 900 yen, which was quite affordable.
Now why didn't we think of doing that earlier with the long train ride to Asakusa?
Regardless, we knew the metro fares were adding up, and so we each got ourselves a paper ticket (we weren't messing with Suica cards that seemed to be ubiquitous).
Nevertheless, we'd eventually find ourselves getting off somewhere around the Otemachi Station at about 9:50am, which involved a very long hike within the subway system just to get back on the surface around the Imperial Palace.
From there, it was a bit of a walk beneath urban skyscrapers towards the Imperial Palace, but when I saw that the place was mostly closed and we had to go around the perimeter of the moat, I wondered if this spot was something we could have just given a miss.
To add insult to injury so to speak, it was also raining a bit more as we were checking out the palace, and along with the gusty winds that would blow from time to time, Tahia's umbrella blew into the moat as she tried to lay down the umbrella to take a picture.
So back to the metro station we went at around 10:20am, and we then took another line towards the Meiji Jingumae stop, where we found ourselves nearby the shrine entrance while also getting in contact with Julie's cousin Ly and her family.
We eventually met up with them in front of a large wooden Torii gate in a forested environment, and it was kind of ironic how we were meeting up with Ly even though they lived near downtown Los Angeles where we hardly see them.
And yet here we were thousands of miles away in Japan meeting up and catching up with them.
So we pretty much spent the next several minutes strolling the forested grounds towards the main structures of the Meiji Jingumae Shrine.
There were lots of trees and the environment here definitely felt more natural and understated than the red and bold Senso-ji Temple that we were at earlier.
We went past some interesting sake and wine barrel display before eventually got to the temple complex, where there was a large gate fronting a square and another inner sanctum.
No pictures were allowed on the elevated platform of the inner sanctum (you couldn't even take pictures looking back towards the large courtyard area facing away from the inner sanctum) so we didn't linger for too long on that elevated inner platform.
We pretty much got the gist of this place, and then we then decided to head over to the Harajuku District as we noticed that Tahia started to get bored with all these temples and palace visits.
So back to the entrance of the Meiji-Jingumae complex we went, and along the way, we found a Family Mart, where we then looked for Tahia's Calpis and eventually found it when I realized that the bottle was written in katakana, and only then did we confirm it was Calpis (or "kalpisu").
Then we started to pursue the main walking street of the Harajuku District, but Julie was following some random GoogleMaps directions and we found ourselves on some random alleyways where there were mostly locals.
It was also starting to rain again, and as much as Julie insisted that she was going the right way believing GoogleMaps, I knew that we were nowhere close to the walking street that we were at before.
Eventually, one local pointed us in the direction of Takeshita Street, and that was when I decided I should lead the way against Julie's confusion and ultimately we got towards the actual walking street part of Takeshita Street.
From there, we then went into the busy walking street where it was hard to soak in the ambience when we first arrived because there was a bit of persistent rain and people had their umbrellas out.
It was also starting to get towards lunch time, and so we decided that we should at least make one round of the walking street before heading back towards a lunch spot, where Julie and Tahia had their sights on this spot called Japanese Spaghetti.
By the time we got towards a main entrance near what appeared to be a JR Rail Station, we then took pictures of an archway that seemed to put onlookers on an active screen (looking right back at the apparent camera that was there).
That was kind of a trip to look at, but then as we were about to head back through the walking street to the Japanese Spaghetti joint, Ly told Julie that they were going to head back because Travis' feet were killing him at the time.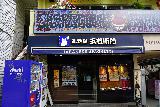 So we'd meet up with them again for dinner tonight, which was a planned thing and we'd catch up with Julie's other cousin in the area named Tina, who was living in Tokyo with her husband and she was about to have a baby.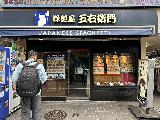 And with that, we'd eventually make our way back through the happening Takeshita Street again (this time with the weather calming down), and there was definitely a festive ambience as the street really came alive.
Tahia even picked up a cute T-shirt about a dog slurping on ramen noodles with some words in a combination of Japanese characters (in hiragana, katakana, and kanji) that seemed to sum up her love of dogs as well as being in Japan.
Ultimately by about 1:15pm, we got back to the Japanese Spaghetti joint, and we finally got to get off our feet for a bit while having a meal here.
My achilles was definitely getting sore with all this walking, and I was getting concerned that there'd be more walking to do for the rest of this trip.
So how would my less-than-100% achilles fare for just this one week?
Regardless, we had a pretty satisfying meal with our individual spaghetti plates though I was hoping they'd have uni (sea urchin) pasta here, which they didn't.
But we did try some interesting Japanese fare that had mushrooms, some intricate egg yolk, and some sauces.
It was hard to explain exactly what we got, but we each got something different and tried out our variety before slurping away on our individual orders.
The meal was only around 3900 yen or so, which was actually quite reasonable considering we easily spent over $50 at home these days with inflation (and this doesn't include tax and tip).
After having our meal, we then went back over to the happening part of Takeshita Street just to try the Marion Crepe place, which had a line when we were there earlier, but now it wasn't so bad.
That said, as we were eating the crepe-folded-like-an-ice-cream-cone offering, it seemed like the owner or someone working there was getting interviewed.
Anyways, Takeshita Street at this time definitely came alive with seemingly even more people (especially foreigners out and about).
By about 2:30pm, we returned to the metro just to see if we could check out the Shinjuku District.
Although we knew that this was another neighborhood that was probably best experiended at night, it wasn't going to work trying to fight jetlag and explore that area later on, especially with a planned dinner with Tina, her husband, and Ly's family.
When we got out of the metro station there, we found ourselves in another lively part of the city also with larger than live billboards and active screens (ala Shibuya Crossing and Times Square).
But this one had a seemingly more expensive sprawl of such activity, and it was actually quite attractive to walk around and just be engulfed by this scene.
Regardless, we thought we should try to check out some target sights here and those that came to mind was some kind of Godzilla Head as well as the Golden Gai.
When Julie saw on her GoogleMaps that the Godzilla head was quite a ways away, we decided to head over to the Golden Gai just to see what that was about.
Along our aimless meander, we found ourselves accidentally going through what appeared to be a red light district part of town, and that definitely got Tahia's attention as she was wondering why there were signs and billboards of revealing women and lots of "adult bars".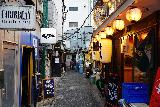 Eventually, we found ourselves in some fairly discreet and narrow alleyways of the Golden Gai, which was really nothing more than a tight collection of pubs, and I can see that this was really like a hang out spot for a pub crawl for those that like to drink.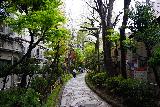 I guess whoever came up with this part of the top experiences of Tokyo was probably younger in age and liked to drink and take in a bar scene.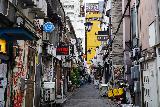 These things were definitely not really our cup of tea, and it goes to show you that guidebooks and TripAdvisor ratings are nothing more than opinions.
Some of these things hit and a lot of these things miss, and this seemed more like something we got the flavor of, but we'd probably not really come back to again (unless Tahia gets older and for some reason brings us back here).
Anyways, we were all getting quite weary and tired by this time, and so we decided that as the afternoon was wearing on, we should leave the Shinjuku District and return to our hotel at the Shibuya Crossing.
We figured that if we were to meet up with cousin Tina, we should do so at the Shibuya Crossing since the dog statue (Hachiko) there was easy to find and use as a meeting place.
So we agreed to meet Tina there at 5:15pm, but we were back at the apartment at around 4:25pm, which gave us enough time to get cleaned up while Julie and Tahia got a coffee pick-me-up with some L'Aduree macarons there.
Anyways, by around 5:10pm we got down to the Hachiko statue and finally met up with Tina at the agreed upon time of 5:15pm, and then we followed Tina around as we were now headed to the stop near where we were to have dinner.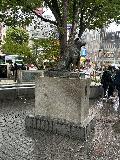 It was nice catching up with her about what life was like in Tokyo, especially since she was apparently living there just under a year after leaving Hong Kong as well as Shanghai.
We'd ultimately get to a metro stop at what I think was Shirokanedai, where we then met up with Tina's husband Jihoo as well as catching back up with Ly's family.
However, when we did surface from the metro, the weather suddenly started to pour rain, and so we had to walk a few blocks in this weather towards a residential neighborhood, which was the least likely spot we'd expect to find a restaurant.
Nevertheless, we embraced being in the homely joint as we were all trying to dry off and not ruin the wood floors there, and we wound up at the top floor of this place where we got to chill out in our own room as they served a dinner course.
We got here at around 6:15pm and we pretty much spent the next 3 hours having a chat learning more about Jihoo (who has been living in Tokyo for about 3 years now so he was getting pretty fluent with his Japanese though he said Korean grammar was similar so that helped him a lot).
Anyways, the meal was definitely traditional Japanese fare with a variety of small bowls of soups and salads both hot and cold.
The main course involved some grilled fish as well as medium rare steak slices.
There was even an interesting jelly of either matcha or sake.
And as much as I was embracing the diversity of the fare, I was also getting Tahia and Julie's portions as Tahia wasn't too keen on the food while Julie was getting stuffed.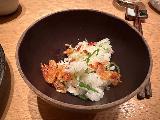 So I was getting stuffed as a result.
And as it was getting past 9pm, all of us were getting very sleepy as our jetlag was definitely kicking in.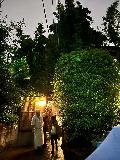 Finally at around 9:15pm or so, we finally left the restaurant though I was surprised by how busy this restaurant became in the lower floors.
Plus, I overheard some English being spoken here, so apparently this wasn't as much of an isolated dive as I thought if there are foreigners that also found this place (maybe they, too, were living here so they're in the know).
Regardless, we then headed back in the rain though Julie and Tahia went way ahead of the group and we'd eventually get to the metro stop so we could put our stuff into a bag after collapsing the umbrellas.
As we all re-entered the Metro Station, we said our farewells, and then we proceeded to take the metro lines back towards the Shibuya Station (this time we took the Hanzomon line instead of the Ginza line so we'd be closer to the hotel instead of hiking back from the station).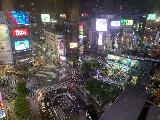 And eventually by about 10:15pm, we finally made it back to the hotel to call it a night as we all badly needed to crash.
With tomorrow requiring an early wake-up, I knew it wasn't going to be an easy night, especially now that we're going to have to deal with the mass transit situation with our luggages…
Day 3 (April 8, 2023 – Kyoto, Japan): "Calling An Audible"
It was about 2:45am when I got out of bed though it was probably since about 2:10am when I awoke and couldn't get back to sleep.
I guess jetlag was still in effect since we all slept around 10:30pm last night.
In any case, I took the extra time to get all caught up with yesterday's happenings, but my achilles was also not feeling 100% given all the walking that we did the entire day.
If my achilles was already in this shape at the start of the trip, I guess this didn't bode well for my ability to do any sort of long term walking or hiking on any trip since they all involve a fair bit of walking and/or hiking.
I wonder if I'll have to pay the piper at some point and go under the knife to finally see if there's a way to correct this persistent problem that had been going on for the past few years now.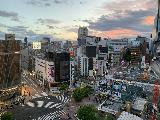 Anyways, I used this time wisely, and eventually the ladies also got up pretty early from their jetlagged states so it didn't take much for us to start heading down at about 5:15am – all packed up and ready to go.
Today, I was feeling a little anxious because we next had to catch some transport to get all the way to Odawara to pick up the rental car.
Then, there was the long drive ahead of us as well as some excursions to do along the way as I had expected to get to Kyoto pretty late (much to the chagrin of Julie who really wanted us to get to Kyoto as soon as possible without the waterfall stops).
Regardless, it was about 5:25am when we got back down to the Shibuya Station, and we were debating whether to lug our stuff all the way over to the Ginza Line, where we'd then have to fit into the crowded Metro with our stuff before finding a shinkansen station in Shinjuku.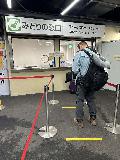 But then, we saw that there was a JR office that was about to open at 5:30am, and we figured that maybe the better way to go would be to just go through the JR Yamanote Line to some shinkansen station before making the bullet train journey to Odawara.
Thus, we ultimately decided to just wait until the office opened, and then let the JR person dictate our fate for today.
Indeed, after the kiosk opened up, we ultimately bought ourselves three pairs of tickets doing exactly what we anticipated though we were to catch the Yamanote Line all the way to Shinagawa Station before going to Odawara.
The whole journey costed us on the order of about 11k yen (probably around $100 USD), but I guess that's the price we had to pay to rely on public transportation just to get ourselves to a spot where we could pick up a rental car where driving in traffic wouldn't be bad.
Anyways, we ultimately caught the Yamanote Line to Shinagawa Station, and we then were at the shinkansen platform in Shinagawa Station at around 6am, which was in plenty of time for our 6:28am departure.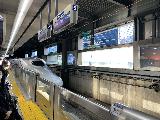 This bought Julie and Tahia some time to pick up a quick bite (more sandos or sandwiches) as well as a coffee pick-me-up, and by about 6:35am, we were on the Hidari 631 train bound for Odawara.
Tahia commented how these bullet trains looked like the front of airplanes, and well, that was by design since these trains go really fast.
Indeed, these are the kinds of things that she notices on these trips, and I'm sure that helps to expand her mind to what's possible as she gets older.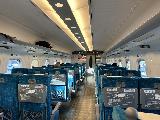 During the train ride, we saw that the skies were surprisingly clear (not anything like the forecast that called for mostly cloudy skies).
So that started to screw with my mind a bit, and I wondered if we should just seize the moment and detour to Chureito Pagoda before going to Abe Great Falls, and then finally Kyoto.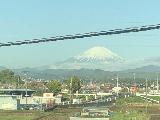 The original plan was that we'd forsake the Chureito Pagoda and then go straight for the Goryu Falls, Abe Otaki Waterfall, and maybe another detour to the Atera 7 Falls before finally making it to Kyoto.
If we were to do that, it would definitely be a late checkin to Kyoto, but I'm sure Julie was having none of that.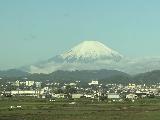 Thus, all these things were swirling in my mind, and I guess since we were to arrive in the Odawara Station roughly an hour early before the rental car kiosk would open up, perhaps we could use that time to both get oriented and continue to mull over the options that were spinning in my head.
In any case, the smooth train ride treated us to teasing glimpses of Mt Fuji looking as majestic as ever in the morning light with hardly a cloud in sight as we caught glimpses of it.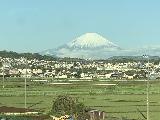 It was hard to take pictures because the train was moving so fast and there were always power lines or homes or hills in the way so we really had to act quickly to take decent photos through the airplane-like windows of our seat.
Apparently, other people were doing the same thing as we were as the opportunity to see Mt Fuji was too good to pass up, considering the amount of rain that we had to deal with during our whole time in Tokyo.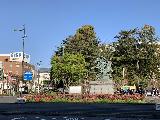 When we ultimately arrived at the Odawara Station at 7am, there were a surprising number of people on the train platforms (many leaving the train as well as others getting on).
Even though it was a Saturday morning, it always seems like people are on the clock needing to go somewhere in Japan, apparently.
Regardless, we had plenty of time to get oriented and look for the Toyota Rent-a-car that Julie booked for our ability to finally have a bit of freedom.
As we started to make our way over to the escalators and elevators, we heard a loud whoosh as one of the shinkansen trains went right past Odawara Station without stopping, and that caught our attention.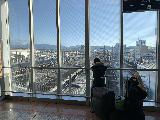 The train moved by with frightening speed, and I thought to myself that this was why if you were ever to get from Tokyo to Kyoto, the shinkansen would be the way to go.
Of course, we're not doing that on this trip because we were aiming to visit some waterfalls along the long drive west.
Anyways, we'd eventually get to the west exit of the train station, where we saw the familiar Nissan Rent-a-car, which I used when I was here with my parents some 7 years ago.
I recalled how smooth that rental experience was, but now here we were trying to figure out where we needed to go to rent from Toyota.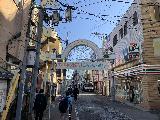 Apparently, according to Google Maps, there were a couple of Toyota Rent-a-car locations in Odawara.
We went to the first one that Google search put out, and we found ourselves going down to the East Exit, where we then had to walk a few blocks to get to the tiny Toyota Rent-a-car station.
However, the address didn't match up with Julie's printout, and we realized that the other one was closer to the train station, we then had to make our way back over to the west exit to finally pick up the car.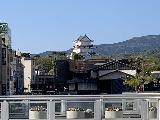 During that bit of a detour, we were on one of the terraces of the east exits of the train station where we saw the Odawara Castle in the distance standing out against the cloudless morning blue sky.
The last time I was here with the parents, it was raining in Odawara, and we eventually visited a couple of waterfalls before settling into Kawaguchiko.
I was still thinking about seizing the moment and visiting the Chureito Pagoda before continuing west, but that detour worried me considering how long the drive was to get all the way to Kyoto.
Eventually, we got to the correct Toyota Rent-a-car location at 7:35am, and we had to wait for the 8am opening.
Only once that happened, then we could finally load up the fairly spacious rental car, and finally leave the Odawara Station at 8:20am.
At first, I had routed the Japanese GPS towards the Chureito Pagoda, but then when I realized that it wouldn't be until around 11am before we'd finally get to that place, I decided to call an audible and abandon that idea.
Unfortunately, I didn't have a phone number for the Abe Otaki Waterfall and so I had to rely on my less-than-up-to-date Garmin Nuvi, which I brought along for navigation, but that didn't help either.
Finally, Julie decided to use GoogleMaps on her phone, and that was eventually what we used to get going towards Shizuoka and ultimately the Abe Great Falls.
However, that wasn't before we went on one wrong turn and had to backtrack before finally finding ourselves on some mountain roads following a caravan of cars through the somewhat twisting road before finally getting to the expressway at least an hour or so later.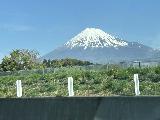 I never recalled having this much difficulty getting to an expressway from Odawara, but maybe we screwed up trying to get to Chureito Pagoda first before changing my mind.
In any case, it was a very long drive to get towards Mishima and then eventually Shizuoka, and along the way, Julie managed to get some video footage as well as some pictures of Mt Fuji still looking as majestic as ever from the roads we were driving.
Eventually, we would finally get off an interchange at around the east of Shizuoka before heading up the 27 road in the direction of Umegashima Onsen.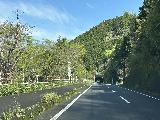 Then, we apparently had another hour or so of driving much narrower rural roads (some even becoming single-lane in spots), and there always seemed to be a good deal of road work along the way (I guess it's never easy to keep roads open in mountain areas where floods and landslides are common).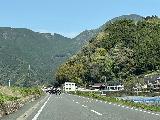 During this drive, I couldn't help but notice that I had noticed some kanji indicating that there were other waterfalls (well-signed mind you) along the way.
I wondered what they would be like if we were to stop for them, but we had to stick with the plan today and focus on getting to the Abe Otaki Waterfall.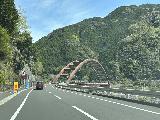 Julie was already less than enthused about the apparent long detour to get to this waterfall excusion with still Kyoto looming ahead of us.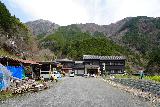 But eventually, we'd arrive at some inn with no signage indicating that this was the right place for the Abe Otaki Waterfall (which struck me as strange since this was supposed to be one of Japan's best waterfalls and yet smaller ones get better signage and infrastructure?).
Regardless, we got there at 10:45am, and a woman approached us asking for 300 yen (she didn't speak English so this was the first time I had to try to use whatever Japanese I learned from Japanese From Zero books and YouTube series).
It kind of paid off because at least we confirmed that we were in the right spot, and I even noticed in smaller print a cloth banner draped to the side of the entrance of the residence or inn that there was something in kanji about a big falls (though nothing mentioning the "Abe" part).
After paying the lady, we then geared up and finally started up with the walk at 11am.
I always say that our trips don't begin until we visit a waterfall, and now I felt like we finally had an opportunity to experience a waterfall with Tahia in Japan (which contrasted mightily from the chaos of Tokyo yesterday).
Anyways, we proceeded to walk up a short pathway back up to the 27 and then 29 roads before going down what appeared to be a more obvious signed driveway descending towards an adjacent inn as well as a suspension bridge.
From reading what katakana and hirogana that I could tell, apparently if you went down this driveway, you had to pay 500 yen for parking or 300 yen if you had a motorbike.
But I guess I take back what I said about this waterfall not being that well-signed though it was still considerably less signed with even more limited parking than those other waterfalls that were apparently on the way up the 29 road.
So we got through that suspension bridge, which was pretty sturdy and the views looking down at the Abe River rushing below us were impressive.
On the other side of the bridge, there seemed to be a closed off path heading north so we had to go to the right and follow this down a path to a second swinging bridge.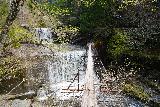 This time, the bridge wasn't as sturdy, and there was metal netting to hold up some old looking planks as we were crossing in front of two man-modified waterfalls where the creek or river was spilling over some dam walls or something.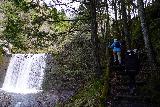 I wasn't sure why there were that many of these walls forming man-made or man-modified waterfalls, but we saw quite a few of them on the drive up the 27 and 29 to get up here as well.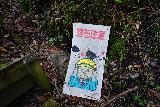 Regardless, this was a scarier bridge to cross, but we all managed it fine.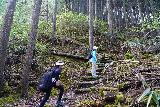 We just had to be patient because if too many people walked on this suspension bridge at the same time, then we could constructively interfere and create a dangerous bounce that might actually cause us to fall off and into the river.
So we were careful to give each other space while also taking pictures both on the bridge as well as of us in action crossing it.
Once we were across the second suspension bridge, we then were on a more conventional narrow path along with a series of steps since the trail was generally ascending.
Considering all the flat walking we had been doing in Tokyo to this point, the uphill walking this time took a bit of wind out of Julie.
But I was embracing this time in Nature with the family because it was the perfect yin to the yang that you need in life let alone a tightly packed trip like what we were doing today.
Anyways, we continued with the generally uphill hike as we saw that there was quite a bit of infrastructure going on – from bridges to things built to stabilize the trail from further landslides to even avalanche and rockslide things.
In one part of the trail, we noticed some kind of waffle wall across the creek or river that I'd imagine was responsible for the Abe Otaki Waterfall, and there was even a part with a bunch of fallen logs (or felled logs?) being arranged perpendicularly to the slope (or parallel to the trail).
We also noticed the odd cherry blossom though I'm sure it was nothing like what you might see during peak bloom, which happened at least a week or two ago now.
Still, there were other attractive trees that were apparently peach blossoms I think that were even more colorful than the famous Sakura that it seemed like everyone was in Japan for.
Ultimately after getting past more bridges over intermediate waterfalls as well as a third suspension bridge, we then traversed some narrow rockslide-prone terrain before finally getting up to a sheltered lookout area right in front of the impressive Abe Otaki at 12:05pm.
The impressive 80m (or is it 90m) waterfall towered over us while creating quite a bit of spray.
So we took some time to take pictures of the falls as well as people shots in front of the falls.
We were the only people at this waterfall though we did see a quartet of women make their way back from the falls, and they were the only people we saw along the trail at the time.
Indeed, it was so refreshing to be out in Nature and away from crowds, but I knew that when we'd finally make it down to Kyoto that it would be back to the tourist crush again.
After having our fill of the Abe Otaki Waterfall, we then headed back at 12:20pm, where we made better time going generally downhill back to the trailhead.
Along the way, we saw a few more people making their way up to the falls so this place wasn't as unknown as I had anticipated, but it was primarily Japanese visitors where we were probably one of a handful (if any) foreign tourists coming out here.
And that's precisely why we mix things up on our trips in this manner!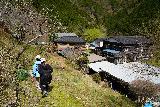 By about 1pm, we made it back to our parked car, where we then proceeded to set up the car for routing towards our accommodation in Kyoto.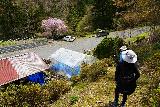 I wasn't really looking forward to the parking part of the drive because apparently, we wouldn't be making it to Kyoto until at least 7pm or so (at least that's what the GPS' indicated when we started out).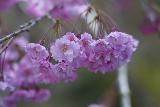 It took some time to make our way back down to the E1A Expressway towards Kyoto by way of Nagoya, but once we got onto the expressway, we were primarily going around 120 km/h speed limit.
Traffic was definitely going smoothly, and people for the most part adhered to the road rules of not clogging the fast lane while trucks generally stayed in the far left lane.
There were also speed cameras throughout the drive, which made me nervous about whether there was some speed limit changes that might catch me off guard, but I guess I won't know until after the rental is over if we have a huge speeding ticket bill.
Anyways, both Julie and Tahia were asleep in the car for the most part while I was doing pretty well.
There was some surprising localized weather in some parts around Nagoya, but for the most part, the weather was mostly clear.
However, there were some very strong winds that tended to blow our car (as well as other cars) sideways, and at the speeds we were going, there was even one bridge near Nagoya where the speed limits were actually supposed to be 50km/h (though I don't think anyone was really going that slow).
By the way, the drive went through several long tunnels as the expressway essentially bypassed a lot of the curves of the mountainous roads, and I suspected that earlier on near Odawara, we must have somehow missed the turnpike to bypass the mountain roads we ended up taking.
Regardless, Julie and I did notice a huge amusement park somewhere near the industrialized chaos of Nagoya (which I contended was the industrial heart of Japan).
Upon hearing Julie and I banter about how big the roller coasters here looked, that woke up Tahia and kind of got her excited even though we weren't going to stop for this place on this visit.
In fact, none of the roller coasters seemed to be working (probably due to the high winds) though we did see some more carnival rides that were swinging and running.
So that was food for thought for our Summer trip with Tahia's cousins should we spend time at either Fuji-Q Highlands or this one called Nagashima Spa Land (or both, time permitting).
After all, we were going to be driving this way again from Fuji-san on that Summer trip, and I'm sure the kids would appreciate these amusement parks more so than the Nature that would satisfy us adults.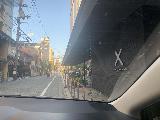 Eventually, we arrived in the somewhat heavy traffic as we entered Kyoto, and it wouldn't be until about 5:30pm when we finally got to the Cross Hotel, where there were a bunch of no parking signs though we did manage to find a small pullout so Julie could check in and get some info.
Hopefully, I wasn't parked illegally the whole time, but at least taxis could go around us while we waited for Julie to do her thing.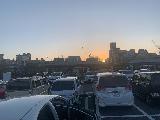 When she came back, we were given three different options to park the car, but we somehow missed the first parking lot (the Royal Parking or something like that), but we ultimately found an outdoor parking by the train station that we saw on the way towards the hotel earlier on.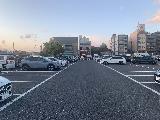 So that was ultimately the one we used, and that outdoor lot had plenty of space.
Anyways, we finally parked the car at 6pm (after a bit of a tense runaround looking for such parking lots with the busy traffic), and finally by 6:30pm, we were settled in our room.
Ten minutes later, we went downstairs and then right across the street to this place called Masayoshi, which was known for Japanese steaks.
We were all pretty hungry since we didn't have lunch and we had a pretty minimal brekkie.
Nevertheless, we splurged on this meal as we had 200g of Kobe Beef Steak as well as 300g of their signature black pineapple steak.
We also got some chicken karaage, some reddish eggs (tamago), and some lettuce wrap which we could eat with the beef along with an assortment of sauces.
Although this dinner probably costed us closer to $180 USD or something like that, it definitely hit the spot and it wasn't too much food.
But I think tomorrow, we were going to go for something a bit more humbler.
By about 7:50pm, we were done with dinner, and the restaurant was definitely busy with people waiting by this time (so good thing we ate when we did).
There was definitely a bit of an Aussie presence here (I could tell by their accents, especially since I'm a Triple J listener, and we've been to Australia several times now).
Anyways, we decided to take advantage of the night time ambience and explore the area around us, which was definitely something I don't think we had ever experienced before in all the times that I've been to Kyoto.
Indeed, we spent the next hour or so pretty much walking around looking for charming alleyways like the Pontocho area as well as a covered shopping arcade called Shinyogokyu.
We even found the old-school Nishiki Market though all the shops there were closed as I'd imagine that was more of a daytime shop.
It was a nice little stroll while also soaking in the ambience of lots of tourists experiencing such charming places like this, and once again, it was one of those things where Kyoto surprised us and charmed us yet again in unexpected ways.
I guess that's the main reason why people love Kyoto, and even though I prefer nature over tourist traps, I'd have to say that this was something I'm glad that we did, and I'm sure we'll be back here again tomorrow night.
By about 9:15pm, we were back in the room finally ready to crash again.
I don't think we slept until around 11:30pm, but at least I don't have to drive tomorrow and we're back to letting Julie control the itinerary so she could prioritize and choose what we're doing throughout the day in Kyoto…
Day 4 (April 9, 2023 – Kyoto, Japan): "Headstrong"
It was about 4:30am when I awoke to the alarm, which was the first time all trip that this happened.
So I guess my body is either getting adjusted to the time zone in Japan or I was just so sleep deprived over the past few days, that my body needed the extra sleep.
Whatever the case, I pulled myself up, got cleaned up, and then went ahead and tried to get caught up on all the happenings from yesterday.
It took some time for this to happen as there's always a backlog of stuff to do from the prior day (I just don't have the energy to complete things on the day of, especially if there's more stuff to see and do, which takes priority over blogging and photo organizing).
In any case, it wouldn't be until about 6:05am when Julie finally was awake, which seemed to lack any sense of urgency if she had a laundry list of stuff to do on this day.
Nevertheless, it seemed that she had her sights set on the Kinkakuji Temple (i.e. the Gold One) as the first target of the day even though the place doesn't open until 9am.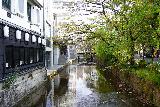 However, it was about 7:20am when we finally started to head out to a rather chilly (in the 40F range) but sunny morning.
The first thing we did was to try to go to a nearby Starbucks since I guess both Julie and Tahia had a craving for their offerings.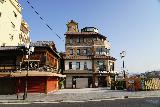 That said, the Starbacks wouldn't be open until at least 8am, and it wasn't worth waiting for that long just for fast food and overpriced sweet drinks.
So we eventually just went across the street and bought a bunch of snacks from musubi to rice crackers, and that took quite a bit of time.
Julie got a latte from there, but when she tried to drink it outside, she managed to spill the coffee on herself as apparently the lid wasn't put on right.
So Julie spent quite a bit of time trying to clean up her day clothes (to no avail), and we were still in limbo for even more time as I guess Julie had her heart set on still going to Kinkakuji Temple even though we'd have to wait for the doors to open.
I thought in my head that maybe we should have been more efficient with our time and visit the Fushimi Inari Taisha Shrine towards the southern end of town since that one doesn't really have opening hours.
Then, we could have had our fill of that place without the crowds before going to the opposite side of the city for the Kinkakuji Temple after the place opens.
Regardless, we just followed Julie's GoogleMaps, which took us to some bus stop, and we took the 205 bus for several minutes before arriving at the Kinkakuji Stop at around 8:35am.
From there, we walked towards the temple, where a queue was starting to build up as everyone anticipated the gates to open precisely at 9am.
Well, after the time finally got to the opening time, I noticed that there were many tour groups waiting in line behind us, and I just knew that the experience with the Gold Temple wasn't going to be peaceful nor pleasant.
I don't know why we had to wait some 20 minutes for opening if the experience was already going to be bad to begin with, and sure enough, when the gates did open, it was a mad rush to get to the views of the temple.
It was practically impossible to take any people shots in peace as there was always people hijacking spots or rushing to get into any open space (and thus screw up photos inconsiderately), and I figured that was the whole I gotta get mine mentality when it comes to crowded places like this.
I was already pretty over this place (especially since it was my third time here though it was Tahia's first time), and I didn't think it was anything all that special (but that's just me).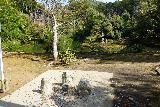 When we eventually got towards the exit after taking several random shots of the temple as well as the crowds, Julie and Tahia then started to kill lots of time going window shopping for treats as well as souvenirs.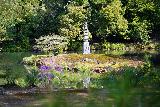 As we were doing that, at 9:35am I noticed my co-worker Yong was approaching the exit, and I pretty much approached him since meeting people you know abroad and unplanned just doesn't happen that often.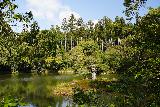 Well in this case, this was actually my second time this happened because I met another co-worker named Alex back in Miami when we were stopping over there after flying home from Argentina.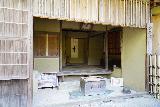 Who knew?
Regardless, Yong had to catch up with his group who pretty much kept going on without realizing that Yong stopped to chat with us briefly.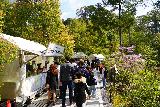 And so went that chance meeting as they were going to the next sightseeing sights (basically trying to knock all that off in the morning before going shopping and eating in the afternoon).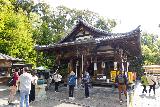 I don't think we were going on as relaxed of a pace as Julie was next targeting the Fushimi Shrine (i.e. the one with all the rows of red torii gates), which I knew blew up on the interwebs over the years.
The first time Julie and I were there, the place was eerily quiet, and there was even a spiritual spooky charm to the place.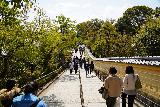 But when I came with my parents some 7 years later, the place had already blown up on the socials and it became quite the crowded and happening spot.
Anyways, it was about 9:55am when we were back on the 205 bus headed towards the Kyoto Station, but Julie insisted on getting off some other bus terminal stop to take a metro or train line towards the Fushimi Shrine.
I don't know why she did that, especially since we had a bus pass already, and now we'd have to pay even more out-of-pocket.
So we eventually circled back to the bus terminal again and waited for another 205 bus before finally going towards the Kyoto Station.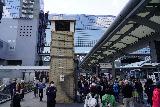 Ultimately by about 10:55am, we arrived at the Kyoto Station, which was as busy as ever.
We ended up going into the JR Station and bought some basic one-way fares towards the Inari Stop on the Nara Line, and we ultimately caught a crowded train where it seemed like everyone was going in that general direction specifically for the shrine.
By about 11:25am, we arrived at the Inari Station, which was jam packed with people trying to get out of the station, and I kind of knew that we screwed up by not coming here earlier in the day.
Because there was so many people, I kept myself double masked, but at some point as we were walking up the familiar path to the red shrines and temples and ultimately into the corridors of red torii gates, I started to feel a bit lightheaded or uncomfortable.
I almost felt like I was going to pass out, and ultimately we just went towards a bench in some random spot near some bell as well as some people dressed as stormtroopers.
Speaking of people being dressed up, there seemed to be an inordinate amount of people dressed in rental kimonos, which was essentially a tourist thing.
I don't get the appeal of doing that, but I guess some people just want to be seen or have their social media photos to show off.
I had to sit for a bit and try to hydrate thinking that perhaps I was too dehydrated, but it didn't seem to improve my condition a whole lot.
Then, I thought that perhaps my double masking was depriving me of oxygen (given how many people were here), but that didn't seem to improve the condition a whole lot either.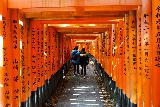 And as much as we probably could have explored this shrine a bit more, I think I had enough of it and wanted to get back.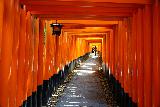 Julie and I kind of got in a bit of an argument as I tried to remind her that it didn't have to be this way, and we were suffering unnecessarily.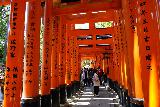 In fact, this laundry list mentality of trying to hit sights one after another without the context and just to check the boxes kind of flew against being in the moment and properly being in the right mindset.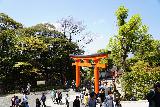 I got a bit sick of Julie getting picky of posing and taking pictures in the shrine, especially since hardly any of them worked out as there was just too many people to even do this in peace.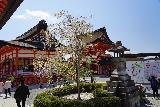 And perhaps, this was why I just wasn't really feeling this place anymore, which kind of got Julie to consider me a whinger now.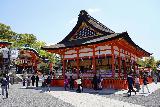 Because I was struggling so much on this visit, we eventually headed back down towards the entrance while trying to take a few more shots with whatever residual cherry blossoms there were around the red structures.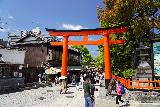 I really hated this way of traveling, and it was why I felt more at peace in yesterdays waterfall hike when there wasn't many people around than this zoo.
But by about 12:20pm, we were pretty much almost back at the Inari stop, where we then took the line a la carte back to the JR Kyoto Station.
Next, Julie wanted to go to the Kiyomizu Dera Temple and Shrine, but at the rate things were going, it wasn't going to be an enjoyable visit, and both Tahia and I were running on empty.
At first, we thought we could go to some ramen joint called Ichiran since it was crowded last night, and we figured maybe we could walk through the Nishiki Market on the way there.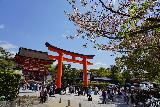 However, somehow, we took the 205 bus in the wrong direction, and we eventually walked back to the Kyoto Station after realizing our mistake (which brought out even more tensions between Julie and I since she was blindly following GoogleMaps without actually reading the signs around her).
And I felt like I was the one suffering because of it due to having to carry all the stuff as well as having to do extra walking on hard pavement and asphalt on a bad achilles tendon.
Indeed, I was already starting to limp pretty badly as we made our way back to the JR Station, and by about 1:25pm, we finally got back to the station, where we eventually randomly decided to go to some udon and unagi place inside the JR Station.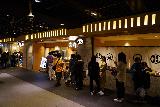 I knew it wasn't good news if you had to wait in line just to get seated, but eventually we were, and we pretty much slurped a couple of dishes of an unagi combo bowl and cold tempura udon while Tahia got some kind of beef udon hot.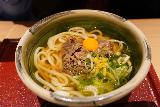 I wouldn't say that this place really hit the spot (because I'm generally not that big of a fan of udon), but by 2:05pm, we eventually left the Porta Cafe (I think that's what this place was called), and then we finally made our way towards taking one of the buses to the Kiyomizu Dera.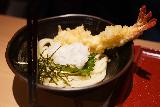 We eventually took what I think was the 207 bus, which eventually dropped us off at 2:50pm at some stop that I didn't really recognize when it came to going to the Kiyomizu Dera Temple.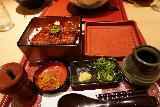 This route took us on some arduous 10-minute uphill walk on a narrow alleyway with lots of shops and plenty of people walking in both directions.
Up ahead, we could see one of the red pagodas making up the Kiyomizu Dera Complex so we knew we were headed the right way, but ultimately by about 3pm, we finally got up to the crowded grounds of the Kiyomizu Dera.
We spent some time going up some steps and eventually towards the right side of the complex before making our way up to the top of the public part though the inner shrine sanctums costed additional money.
Again, it was kind of hard to take decent people shots, especially since the views towards downtown Kyoto was against the afternoon sun (indeed this was more of a morning place).
But after a while, it felt like all we were doing was just taking a bunch of random photos in an effort to convey the craziness of the mob scene on both the temple grounds as well as the walking streets.
Ultimately by about 3:30pm, we were done with our Kiyomizu Dera visit, and I was trying to figure out if there was a path that went to a shrine and pagoda near the main street towards the east side of Kyoto.
I remembered driving past this busy area back in our 2016 trip, and it was the kind of experience that made me realize that driving in Kyoto wasn't a good idea (no thanks to the GPS putting us on a joyride at the time).
Finally by about 4pm, we ultimately slowly made our way down a very busy walking street that was every bit as atmospheric as it was intense.
We picked up a bus in an effort to go back to the Nishiki Market, which was something we didn't really get to do yesterday since everything was closed.
By about 4:35pm, after what seemed like an extensive hike through covered arcades and busy sidewalks (while my limp became more pronounced and uncomfortable), we finally arrived at the Ichiran.
There wasn't much of a wait, and before we knew it, we were all seated in our own little cubbies.
It was almost as if our ramen eating experience here was like a confessional or something (maybe an appropriate analogy since today was Easter Sunday).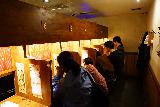 We each got our own ramen noodles set or bowl, which we slurped gladly though I did have to finish Tahia's portion.
I was relieved that I could finally get off my feet, but my achilles still wasn't feeling all that great, and I knew it was probably getting worse with all the walking we still had to do.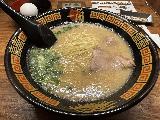 Nevertheless, by about 5:15pm, we were done eating at Ichiran, and then we walked (or like Julie and Tahia supporting me as I was limping) back to the Cross Hotel.
Forget exploring the Gion District by night time, as we knew we had to do more driving with an early start tomorrow (as well as filling up gas).
So mercifully, by 5:30pm, we were finally back in our room, where suddenly I started to feel like I was having a headache as well as the chills.
I don't know what was going on, but I started to wonder if the raw egg dip that I sampled on last night's dinner might have come back to haunt me (maybe I contracted a parasite or something).
Regardless, it was early, but I needed to try to sleep this off, and now I was a bit worried about the shape I'll be in over the coming days, especially since I was the lone driver in the group…
…and we had more long drives ahead of us, starting with tomorrow's drive towards Nachikatsuura before another long drive to Takayama a couple of days after tomorrow, and then finally another long drive to Nikko a couple of days after arriving in Takayama.
Given the revelations of how long it really took to drive yesterday, I'm sure I'll have to reset expectations on what could and can't be accomplished, but now I'm kind of debating whether we should bother with Yoshinoyama to see some blossoms in the mountains, or not do that at all.
It was the same kind of decision that I was faced with regarding Chureito Pagoda yesterday, and man that doesn't exactly put me at ease in terms of a trip that's supposed to go smooth for a Spring Break…
Day 5 (April 10, 2023 – Nachikatsuura, Japan): "Don't Go Chasing Sakura!"
It was about 4:30am when I awoke to the alarm.
It had been a very long sleep for me (I probably slept some time at around 8pm or so) because I was fighting chills.
When Julie made me take a temperature after she woke up some time about a half-hour later, the thermometer first said 99.8F.
When I measured it a second time, the thermometer said 100F, yikes!
Clearly, there was something that had invaded my body, and it was trying to fight it off, and I couldn't help but wonder if it had to do with that raw egg dip that I tried oh so briefly at the steak restaurant a couple of nights ago.
It also made me wonder if this was a condition that I'd have to deal with for the remainder of the trip, which meant that maybe I wouldn't be able to have sushi without the risk of contracting another parasite while my body was in this weakened state.
It wasn't until around 5:30am when Tahia finally awoke, which was worrisome because I wanted to be out of Kyoto by no later than 5 so we could get to Mt Yoshino at a reasonable hour.
I wasn't sure what the traffic situation would be like over there because I heard that it gets super crowded when the sakura (cherry blossoms) are in peak bloom, and getting an early start was essential.
However, at the rate we were going, we were going to get screwed if this be the case.
Now while I was aware that the peak of the sakura was over about a week or two ago (apparently it came earlier this year because Japan experienced an warmer-than-usual Winter and Spring), I was hoping that maybe Mt Yoshino might have blossoms higher up in elevation so we could still see it.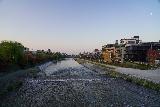 Anyways, we pretty much drove off from Kyoto, which was quiet, but when we got on the expressways and headed south in the direction of Nara, the expressways got really busy really fast.
Now for each of the interchanges, GoogleMaps told us to prematurely exit (at least that's how Julie interpreted the maps), but in reality, we should have stayed on the expressways and taken the ramps that went straight onto the next expressway.
This happened to us twice, and it certainly made for a confusing drive, especially at one off-ramp where I had to cross a couple of lanes to the left before going (not sure if I was running a red or not).
There were also some pockets of heavy congestion as we were going from around Nara to the end of the freeway somewhere not far from Asuka (now that I saw the kanji for it, I could understand why the wrestler that goes by the same name calls herself "the Empress of Tomorrow").
The kanji goes something like "Tomorrow Scent" or something like that, which doesn't make sense, but it was the tomorrow thing that got my attention.
"Nobody is ready for Asuka!" I'd randomly blurt out to Julie every time I saw a sign that mentioned Asuka.
Anyways, throughout the drive through the urban jungle of the built up areas of the eastern Kansai Region, Julie couldn't help but notice how industrialized Japan was.
There were buildings and factories and smoke stacks as far as the eye can see, and it was the kind of Japan that you don't really get to appreciate if you're taking JR trains everywhere you go (like the average tourist would do).
But by us self-driving, we were essentially getting closer to what a local would experience (at least those that don't live directly in the city or those that need a car, which might not be many since it's expensive to have one).
And this sight of sprawling factories and developments everywhere was the real Japan that was afforded us as we self-drove the expensive tolls of the expressways.
Anyways, the expressways eventually ended somewhere near Asuka, and there were signs pointing the way to Mt Yoshino along the Route 169, which we then followed.
It followed some rural roads with traffic lights before getting to a point where we deviated from the route as GoogleMaps had us go on an even smaller rural street before re-connecting with the 169 somewhere alongside the Yoshino River.
After going across the bridge over the river, at first GoogleMaps wanted us to go on a route towards our right to get to the Shimosenbon car park, but when we saw that it was closed, we then kept going and saw that there was another way.
When we got to its small turnoff (it wasn't that obvious save for a couple of guys standing there directing traffic or helping to prevent accidents given the blind turns here), we then followed its narrow two-lane mountain road up to the Shimosenbon car park.
A lot of the landmarks from a wide open grassy area for spillover parking to the Shimosenbon car park itself were familiar looking to me because I had scouted it out using Google Earth before the trip.
By the way, with our struggles using GoogleMaps to navigate in Japan, this actually doesn't bode well for us trying to navigate in Korea where GoogleMaps doesn't work.
Now it's even more important that we do our homework and download Naver to our phone and try to pre-set all the points of interest on there (if they let you do that) so that we can route to where we need to go once there.
I don't think we'll be getting phone numbers to every possible destination we're seeking out in Korea, and so this kind of weighed on our minds as GoogleMaps was our friend in Japan (for the most part).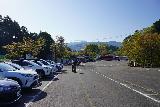 By about 8:15am, we finally parked our car at the Shimosenbon car park, which was surprisingly not busy at the time.
We paid 2000 yen to park, and then it took some time for Julie and Tahia to get geared up and out of the car.
Eventually at around 8:30am or so, we finally started our walk together, which was pretty much along a narrow mountain road flanked by shops and street stands.
I presume that all this infrastructure here was inded the Yoshino Town, and there were a smattering of cherry blossom trees as well as other types of trees still holding onto their flowers.
But we could kind of already see that the peak of the sakura had already passed, which kind of put Julie and Tahia in a mood that they probably thought this excursion was a waste of time.
Nevertheless, I was hoping that there'd be a bus that would take us closer to the Hanayagura Lookout, which was the lookout that we were targeting on our visit, but unfortunately, it was said to be about an hour in each direction.
Knowing how slow we go, we might take even longer than that!
Anyways, the early morning walk was greeted by local shopkeepers just starting to open their doors, and there were a handful of people who were also here enjoying the scenery (though they were more determined to make their way up Mt Yoshino as they passed us).
There were a few forks in the road, including one in front of a tall building, but that eventually led to the same spot.
There was also some kind of cherry blossom display that was open at 9am (which a lot of people went down to), but Julie thought it wouldn't be anything so we kept going.
However, there was a second fork, where one path kept going steeply uphill to the right, while the other one was flatter on the left.
We opted to take the flatter path on the left, which went into a forested area before reaching some kind of steps near a toilet, and we went up those steps into some kind of garden or shrine area.
That spot apparently still had some sakura in bloom, and it was perhaps the most photogenic aspect of our visit so far (making me wonder if we would have missed it had we taken the uphill from the get-go path instead).
Continuing uphill on the paved roads, the shops started to thin out, and the roads started to switchback while there were also some steps to cut through those road switchbacks.
Having already walked over an hour to get to this point, the steps definitely took a bit out of both Julie and Tahia, and I'm sure their attitude of this whole excursion being a waste of time was probably further reinforced.
After going up to the top of the steps, we got separated (because I was way ahead of them), and went right to the Hanyagura Lookout at 10am, which yielded a majestic view over Yoshino Town and even the Yoshino City in the distance.
A lady who was sharing the experience with me was talking to me in Japanese, and then when I said "Uh wakarimasen", she then switched to broken English, and asked me where I was from.
When I told her Los Angeles, that seemed to impress her that we had come from far away, and she said that this was her first time here.
Of course, she too was hoping to see the sakura as I was, but we were apparently a week too late to check that out at this famous viewpoint.
When I got a text from Julie that they were at the shrine (which I think is called the Yoshino Mikumari Jinja Shrine), I joined them there and checked out the temple grounds, which was small and rectangular.
There was a lone cherry blossom there, but lots of sakura leaves on the ground, and it was yet another reminder that we were here a week too late.
By this time, Julie and Tahia came up with a song for me that went something like "Don't Go Chasing Sakura… Stick to the Waterfalls that you always chase…"
And well, they were right about that, and I wondered if we could have saved ourselves at least 3 hours to do something else.
Regardless, after having our fill of the shrine, we then went back to the Hanayagura Lookout, where we took some people shots (once again, they saw the lack of cherry blossoms down below which got them singing the song again).
And then we made our way down.
As we were making our way down, I couldn't help but notice that now there were a lot of people heading up as we were going down, and I was guessing that perhaps these people made advanced reservations a year in advance or so.
So regardless of whether the sakura was in full bloom or not, they were going to do this.
That was the only reason how I could explain what we were seeing with all these people even though the cherry blossom season was over!
When we got down to the Chikurinin bus stop, there was a huge line of people waiting to go down via the bus there, and as tempted as Julie was to wait for that bus, I think we'd be waiting there forever for at least 2 or 3 buses given how big that line was!
So we eventually made our way all the way down by foot, where we got ourselves a grilled pork skewer as our on-the-go lunch, and we also got some kind of really creamy and rich soft-serve ice cream with a butter cookie cone crust.
When we were done with our excursion and back at the car park, we couldn't find any trash bins throughout that return walk so we still had a bunch of rubbish to discard somewhere, but it wouldn't be here.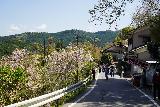 I guess in Japan, you really have to exercise the notion of taking your trash with you until you properly dispose of it.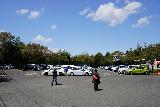 For the most part, Japan is litter free, which goes to show you how respectful the people are here, but I don't think I can say the same for tourists who don't show the same kind of respect.
So it wouldn't be until around 11:45am when we returned to the car and the very crowded car park, which I guess was a good thing that we got the early start that we did.
Throughout this excursion, we did see some inns along the way, and I wondered if it would have been smarter to stay here for the cherry blossoms, but then again, you'd probably have to book the places here well in advance at high prices, and still have no guarantee of timing the visit right!
No thanks!
Anyways, now we could finally leave the crowds and head further south through the mountains of Kumano and eventually to Nachikatsuura, where we were to stay at the familiar Hotel Urashima.
I was definitely looking forward to checking out the sea cave onsens down there.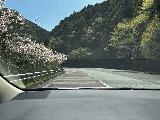 And so we continued driving east then south along the Route 169, and along the way, I couldn't help but notice that there were actually more cherry blossom blooms along this mountain route.
While they were in pockets, they were still more impressive than the cherry blossoms that we saw on Mt Yoshino.
Most of the drive seemed to follow along the Yoshino River, and we were pretty much driving between a mix of mountain roads along with many tunnels cutting right through these same mountains.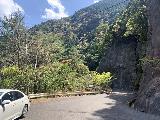 Eventually, we got past a bridge over the Yoshino River, and then we went on a single-lane road (that was real easy to miss but we had GoogleMaps to give us the heads up), and proceeded on this narrow cliff-hugging road.
There were quite a few rocks strewn about on this road, which kind of indicated how little use the road seems to get (as well as how easy this road can get closed due to damage over time).
But delightfully, there were no other cars around during our drive, and by about 1:15pm, after going past a tunnel past some signage, we finally got to the pullout off to the side of the single-lane road for the Fudonanae Falls.
For Julie and Tahia, this was nice because they didn't have to walk to see this waterfall.
And I guess they called this place 7 falls for a reason, because there were apparently 7 falls in its course.
Well, I suppose if I looked carefully enough and counted all the smaller drops that could have been merged with the main drops, then there were indeed 7 waterfalls at this spot.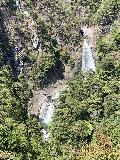 The falls were gushing though I wondered if we were experiencing a warmer-than-normal Japan as perhaps the falls may have seen even greater volume.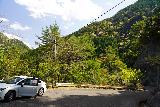 Maybe the rivers are starting to go low already and that Japan might be experiencing a drought this year?
Who knows?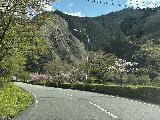 Regardless, we got to enjoy this lookout for ourselves, and by about 1:35pm, we left the Fudonanae Falls and continued south along the Route 169 towards Shingu.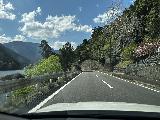 We pretty much continued following the 169 road through even more tunnels and the odd cherry blossoms before merging with the Route 168 and finally arriving at the city of Shingu.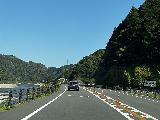 Then, we went on an expressway and headed south towards the Nachikatsuura exit, where we then promptly headed right up the valley towards its head where both the Nachi Falls was as well as the Kumano Nachi Taisha Grand Shrine.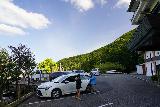 Having been here before, we knew that we should try to drive all the way up to the grand shrine itself, though at 3:35pm we got to a part where I didn't quite recognize the main car park in front of the shrine like where the bus would drop you off.
So when we got to the end of a road at what seemed to be the front of an accommodation, I wasn't sure if we were in the right spot, but I figured that we could go walking around at this point.
There was supposed to be a fee collection of 800 yen here (as opposed to 500 yen or 300 yen further down the mountain), but no one was here to collect.
Maybe it was getting late?
Regardless, we geared up and proceeded to explore the grand shrine area, which was something we hadn't really gotten to explore at leisure on our first visit largely because of the bus schedules and even the boat schedules for Hotel Urashima.
We were afraid that places around the shrine and the falls were about to close so we kind of made haste with our visit, but at least the grand view of Nachi Falls fronted by a pagoda was still there though the best views from an adjacent building remained closed.
As we got further down towards the pagoda fronting Nachi Falls, it just turned 4pm and while Julie and Tahia were busy taking pictures up there, they missed their opportunity to go into the pagoda as a lady just started to close to the doors.
Oh well, at least having been there before, we kind of knew that it wasn't a huge miss.
Then, at a little after 4pm, I decided to go down to the bottom of the Nachi Falls, which Julie wasn't really keen on doing.
So Julie and Tahia stayed at the top where the shops and the shrine were, while I continued going down the bouldery steps towards the bus stop and ultimately to the familiar torii fronting the stairs to the lower lookout of Nachi Falls.
Eventually at 4:20pm, I got down there, where there was a photographer maybe taking pictures for a fee as well as some incense burning and fencing infrastructure right at the lookout area.
There was also a shop to the left, where I saw that you could pay 300 yen to go up to the "worship" area for an even closer unobstructed look at the Nachi Falls, which I promptly did just that.
Indeed, I thought Julie and Tahia were missing out down here, but regardless, I was soaking in the zen of just being in Nature in Japan around some spiritual surroundings in this World Heritage area.
Eventually, by about 4:40pm, I had my fill of this place and then headed back up to the bus stop, where Julie texted me and asked where I was.
I asked if she could drive down to the bus stop to pick me up so I wouldn't have to walk all the way back up, and she finally agreed (I guess she didn't like the narrow and steep roads there).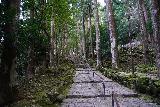 However, Julie apparently went the wrong way (forgetting to use GoogleMaps), and so it wouldn't be until about 4:55pm when she finally got down to pick me up.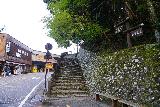 I wondered if I was better off walking back up to the car since I could have done that in the same amount of time.
Anyways, as I was waiting for Julie, I couldn't help but notice how many more foreign tourists are giving the Nachi Falls a visit, and I wondered if our website had something to do with this place starting to blow up (well not to the extent of Kyoto and the usual public transportation sites).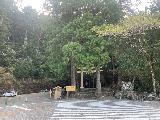 It was a bit comical watching them walking around wondering if they were in the right place because most of the signs were in Japanese, and that was Julie and I when we were first here back in 2009 when we were the only gaijin around here it seemed.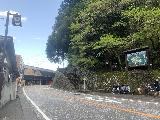 So we know the feeling, but at least I also had the benefit of at least making sense of some of the kanji even though pronouncing them would be another thing.
Like I always found myself saying something-no-pu instead of something-no-taki since the 1st kanji is the "pu" in "pu-bu" (the tones matter in Chinese by the way), and there were so many other words like that in Japanese that I recognized but didn't know.
I guess I really need to continue on to book 3 in Japanese From Zero to finally get familiar with some of the kanji the right way!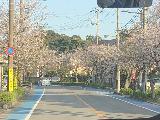 Now that we were back together again, we then drove all the way to the Katsuura Town, where we then parked at a large car park that the Hotel Urashima suggested self drivers should stop at.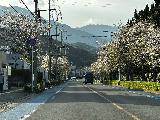 Sure enough, we were instructed where to park, and then we proceeded to board a shuttle bus that instead of taking us to the ferry dock, it took us through tunnels towards a side entrance of the Hotel Urashima.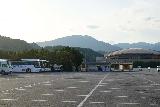 Personally, I like the ability to do this instead of the boat's restrictive schedule, and by about 5:30pm, we were at the familiar front desk of the Hotel Urashima with a bit of a welcoming committee as they had people standing there whose sole job is to greet people or direct them.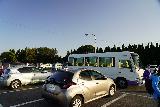 I thought to myself, that must be a boring job (and it could be tiring on the legs), but everyone had a smile and the usual Japanese sheepish politeness that was so infectious that we pretty much found ourselves sheepishly bowing frequently by this point of the trip.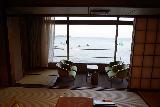 At about 6pm, we finally got the keys to our room, and it turned out to be a very nice sea view room towards some kind of cove.
The room was also spacious though it was a tatami-style room, which was the first time Tahia got to experience this (though Julie wasn't keen on sleeping on the floor).
Well, we didn't have dinner until about 7:30pm (that was our scheduled time) so we took the remaining time to check out what turned out to be one of two sea cave onsens (though we almost went to a smaller one earlier on, which was the wrong one).
The water was hot, but the view at the far end of the onsen was sublime as I could hear the waves crashing into the cove while also checking out an attractive sea arch.
It looked like there was some infrastructure within the sea cave to try to minimize the likelihood of rockfalls within the sea cave so there were some manmade rock-looking pavings as well as walls segregating the two genders.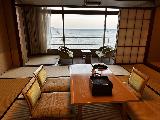 There was no photography allowed in this place even if no one was around, which is understandable but also a bummer (I didn't want to be an asshole about it) so you'll have to take my word for it.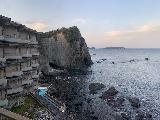 Anyways, just sitting in the hot water and finally easing away the tensions in my body was the perfect antithesis to the Kyoto experience where crowds and loads of foreign tourists were the norm.
By about 7pm, we were back in the room, and then we proceeded to go back downstairs for the 7:30pm dinner.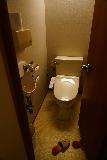 The buffet had a lot of food, and they even had a Calpis fountain (which Tahia took advantage of though I thought it tasted a bit syrupy, which indicated how much sugar was in that stuff).
As for the rest of the foods, they had pretty much every type of Japanese food imaginable – a ramen station, an udon station, a tempura station, some interesting fisherman's soup, and even a steak station (though the guy there only gave each person one at a time).
There was also a sushi station as well as a sashimi station as well as all the other self-help stuff with chicken karaage, stir frys, etc.
Unfortunately, when it came to the raw stuff, Julie consumed some and she ended up with the Big D (or diarrhea).
Meanwhile, I got some recurrence of the chills, and I guess as we're aging, our bodies just can't seem to handle the raw stuff anymore.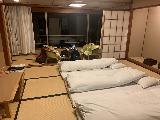 So back to the room we went at around 8:45pm, and from there, I tried to get all our stuff charged while Julie had already crashed for the night.
At the same time, Tahia was playing on Roblox or something like that, and I was trying to copy photos and name them, and that kind of thing, but I was just too tired to even try to blog.
So I crashed some time after 10pm I think though I was a bit surprised by how hard the tatami floors were and how the cushioning wasn't as sufficient as I recalled (maybe my aging body also can't handle the camping-style hard floors with padding anymore)!
Day 6 (April 11, 2023 – Nachikatsuura, Japan): "Unexpected Drama In So Many Ways"
It was about 3:45am when I awoke before the 4am alarm.
But the thing was that I wasn't exactly itching to go back to bed and sleep in as my body was a little sore from the insufficient cushioning of our sleeping arrangements against the tatami floor.
As much as I was loving the extended Hotel Urashima experience this time around, I guess our bodies were aging and perhaps not as accommodating to sleeping on the floor anymore.
It kind of makes me wonder if I can do overnight backpacks or even camping trips anymore.
Anyways, I took quite a bit of time trying to get caught up on yesterday's happenings while also noticing a nice sunrise from our east-facing (sea view) room.
It wouldn't be until about 5:30am when I wrapped up as much of the chores as I could do before making a morning run at the Boki-dou Onsen somewhere attached to the main building.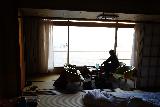 I had fond memories of bathing in an onsen within a sea cave at the Hotel Urashima on our first trip to Japan (back in 2009), but not that I realized that there were to cave onsens on this property, I was keen to try out the other one.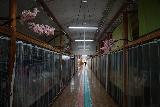 So I quickly got my kimono (the staff actually called it a yukari) and some towels, and then I proceeded to walk to the main building.
Even though it hadn't even been 6am yet, the place was already busy with guests walking about (probably thinking the same thing as I was, I guess).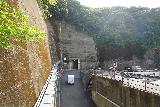 When I finally got to the Bokidou Onsen, I saw that there were actually multiple entrances to the sea cave area from the "locker room" area, which I thought was interesting.
How big was this cave anyways?
Maybe the one that we did back then wasn't exactly the Boki-dou cave, but it was the other one that was also in a cave but smaller and more intimate.
After stripping down and putting my stuff away, I found out soon that when I went out one entrance, there were a pair of pools set way back from an outdoor area with another thermal pool looking out in the direction of where the sunrise would have been.
By this time, the sun had already risen well beyond the horizon and now the lighting was no longer the soft orange glow that we had witnessed earlier this morning.
When I continued to explore this cave, I then saw that there was a hallway past some more showers, which I then went ahead and used to clean up, and then when I got to the other side, there were even more pools under an even bigger sea cave.
I definitely didn't recall being here before because the sheer size of this place was beyond something I don't think we had experienced before.
Indeed, in this larger chamber, there were another 3 pools I think, with a couple of people chilling out already in one of the hotter pools that was set back and elevated with a view towards the sun.
Meanwhile, there was a lower pool at the edge of the cave opening also peering to the east, and that was the pool that I took first.
Sure the water was hot, but because I had hydrated and used cold water to wet the face towel that I had put on my head, the onsen was less likely going to make me pass out (I had noticed on the signs yesterday that this was the way you were supposed to do it).
So I spent the next half-hour or so just soaking and contemplating the day ahead while also just relaxing thinking how great this experience had been, and how we're so glad that we stayed at the Hotel Urashima a second time under less rushed circumstances.
I also went up to the hotter elevated pool for a different perspective of the cave opening as well as the tall confines of the onsen itself.
I even went back to the other side to soak on the side that I had entered before I finally showered and headed back up to the room by about 6:40am.
This was right around the time that breakfast was starting, and on my way back to the room, the dining hall was packed with people lining up!
This brought about some deja vu from the first time we were here back in 2009 when there were tour groups or something as everyone had their breakfast and then checked out.
When I told Julie and Tahia my observations, we waited a few minutes before going downstairs knowing that the brekkie area was going to be very crowded.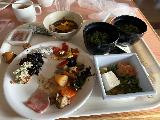 Anyways, we got down there, had what turned out to be a pretty full breakfast though after last night's chills, both Julie and I avoided the raw stuff as much as possible (again, a real bummer).
I even tried the Calpis soda, which was definitely fizzier than the Calpis Water, but I didn't care for the taste of the soda version too much.
Regardless, we went back up to our room pretty stuffed by about 8am, and I finally got to do a #2 (I hadn't gone since our second night in Tokyo).
I was getting a little worried that I was getting a late start to the day because I wanted to visit quite a few waterfalls in the Kii and Kumano Mountains inland from where we were at, but knowing now how long it takes to drive to places, I had to tone down those ambitions.
At first, I wanted to visit the Sasa Falls, the Totsugawa Falls, then the Kumano Nunobiki Falls as well as the Hatcho (or Haccho) Falls before finally checking out the Kuwanoki Falls.
But in my mind, I still wanted to come back to the Hotel Urashima at a reasonable hour (like say 3pm or earlier) so I could explore the grounds before things started to close or get dark.
Plus, I wanted to experience the Bokidou Cave once more.
So when I got my stuff together and left Tahia and Julie to chill out and enjoy the resort, it was about 8:35am when I was waiting for the mini-shuttle back to the car parking area.
By that time, I had decided that I was only going to target the Kuwanoki Falls and Sasa Falls before heading back, and that should be sufficient for the day.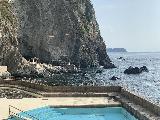 I wondered about taking the boat shuttle again, which I'd imagine most guests that weren't self-driving were doing, and since no one else was complaining about their boat schedule anymore, maybe it wasn't as crazy as it was the first time we were here.
Regardless, knowing that there was the mini-shuttle option to the car park was the way to go in my mind, and I ultimately regained the car at 8:50am.
After starting the car and heading out, I couldn't help but notice how naked I felt when I realized that my phone wasn't able to route using GoogleMaps (and the app couldn't be installed) using my current roaming.
With T-mobile, it was free, but it was slow, and so I guess I had to navigate the old school way, which was to look at maps manually and relate where I was at to where I was going.
At least I knew the road I should be taking to get to Shingu and then into the Kumano Mountains (having driven in yesterday), but this time instead of the 169, I was going to take the 168 for a ways.
After checking out the cherry blossom-lined street in front of the car park, I then proceeded to follow my route, and it didn't take long before I went left onto the 230 road.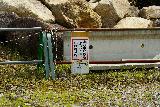 After getting past some road construction causing single-lane traffic, I then got to the humble trailhead for the Kuwanoki Falls at 9:30am, where there was a car park area that wasn't well-signed for the falls.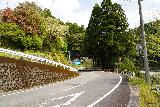 At first, I thought it was someone's property that wasn't meant for the waterfall parking, and there were even some signs in red saying something in Japanese that I couldn't quite figure out.
But from knowing at least some hirogana, I saw the characters for "ka ra", which meant "from" in the sense of "from here" (usually it's paired with "ma de") so they're just telling you not to park or go past a certain point.
However, the rest of the space there was fair game, and so I took advantage of it, geared up, and proceeded to walk towards the bridge spanning the Takada River.
On the other side of the bridge, there was a small cemetery and the trail appeared to go around it.
I tried not to photograph the cemetery knowing that Mom said it tends to bring bad luck, and even though the rational part of me thinks that luck is more about how you manage your own chances at good or bad things happening, my brother's death last year still weighed on my mind.
So I thought better of being too liberal with taking photos around here.
Anyways, beyond the small cemetery, the path then followed a smaller creek that had a healthy flow as it led to some kind of shrine.
Then, the path continued towards a bridge going over the smaller creek before going past a fork on the other side (the other path was apparently private as dictated by English signs here).
For such an obscure waterfall, I was quite surprised at how the signs here had English because there were other parts we've been to where there were hardly any Romaji let alone English, and yet here I was in a place that apparently hardly anyone goes and there was English!
Anyways, the path got progressively rougher but it was still maintained, but I had to deal with more rocks (mossy ones at that) as well as narrow paths and some sloping wooden walkways that could be quite slick.
Along the way, I did see that there was a big logjam in the creek somewhere past the half-way point of the hike, which was quite interesting because of seemingly wide open this gorge or valley was, but it was also full of trees everywhere, too.
Aside from really watching my step, I couldn't help but notice just how serene things were here (at least compared to the places we were at earlier like at Yoshinoyama and Kyoto), and this was precisely the yin to the yang that you need in life (let alone a trip like this).
Eventually at about 10:15am, I got to the end of the trail at the Kuwanoki Falls, but I could see that it wasn't easy to get a good look at the falls given all the boulders in front of it.
So I had to do some really slow, slippery, and not-so-easy boulder scrambling to at least get to the middle of the creek before I could finally get a clean look at the somewhat rectangular-looking waterfall.
Even though the sun peeking in and out of the increasing clouds made for not the greatest lighting (making me appreciate those times that clouds would cover the sun), I still got good looks at the falls, and documented the place accordingly.
By about 10:25am, I started to head back quite satisfied that I got a pretty good start to the day with this waterfall.
By about 10:45am, I was back at the car, and I couldn't help but to smell a whiff of sulphur like maybe there was an onsen nearby or just some active geology going on here.
But to be honest, I wasn't sure if it was the natural presence of sulphur here, or if it was just me smelling like onsen since I was in it this morning.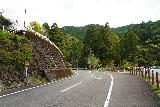 Next, I did the long drive further up the 168 towards Totsugawa in pursuit of the Sasa Falls.
Along the way, there were some roadside waterfalls (including one by some road construction area that I wished I could have stopped for because it looked natural) as well as the odd cherry blossom display.
But I couldn't help but to notice that most of the cherry blossoms or other flowering blossoms left at this time were way up the mountains at the very top.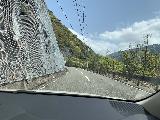 Indeed, by this point of the trip, I couldn't help but get trained to seeing different shades of pink even though our visit was just past the peak of the bloom this year.
And yet, it seemed like the best of the bloom left weren't in the crowded touristy areas, but they were in the mountains (like way down south here in Kumano area), and I wondered if we'd be seeing more when we head north tomorrow and for the rest of the trip.
The drive along the 168 was surprisingly smooth and full of tunnels, where I really appreciated how the Japanese have taken the Norwegian approach to getting through mountains by going through them instead of dealing with landslides and closures above the ground.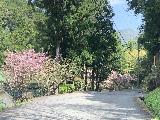 There were some shrines and even a town which I think was near Hongu, where I saw a handful of gaijin, and I'd imagine they were here due to some grand shrine or something.
Anyways, I kept going past the attractive Totsugawa Town nearby some dam or reservoir on the Totsugawa River before leaving the 168 and going on a single-lane road towards the Sasa Waterfall.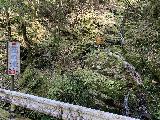 The narrow road was pretty straightforward to follow as there were countdown signs every 1km apart, when kept me on the path before finally arriving at the trailhead for the Sasa Falls by about 12:30pm.
I couldn't help but wonder if there were more waterfalls further up the road because it kept going (and apparently Google Maps said there was more; in my pre-trip research), but time was short.
Still, regarding Sasa Falls, I was impressed with how well-signed this place was.
And given all the choices of waterfalls to pursue on this day, all this infrastructure was making me glad that I had chosen the right waterfall out of all of them.
That said, there were other falls I would have liked to add on this trip, but they would involve too much time on driving and for extending the trip.
Anyways, I geared up and started on the walk, where I noticed some blossoms at the top of the neighboring mountains, which were hard to photograph, and there was also a rushing cascade down below the road bridge.
I then proceeded to walk up to the torii at the start of the short walk to the Sasa Falls, and it pretty much followed along the creek while sandwiched between that and some impressive cliffs to my right.
The path quickly got into a jumble of boulders that I then had to sneak into and out of with chains for assistance before I started to see the impressive Sasa Falls up ahead (albeit partially).
As with all my experiences with the Japan Top 100 Waterfalls, when the Ministry of the Environment was tasked with coming up with this list back in 1990, they did an excellent job because once again, this place was spot on!
The falls was huge, and I couldn't wait to get closer for a cleaner look at this waterfall.
However, it didn't take long before the path degenerated into a really scary slippery scramble with chains to help me get up to the wet and slippery ledge promising the cleanest view of the falls.
At first, I thought this waterfall was going to be easy and short, but it actually took me a lot of time plus a lot of nervous moments.
That's because I wasn't sure if I was going to make a false step and fall down the boulders into the dropoffs or the plunge pool below!
Every step I took wasn't a sure one because they were so wet and slick, and the slopes were tilting the wrong way!
I only had the chain and myself trying to figure out how best to put my weight to proceed.
I ultimately got to the desired ledge but not before my pants were wet from crawling in some spots and sitting and scooting in others.
So even though I finally got a nice (albeit misty) look at the Sasa Falls 1:15pm, I was still nervous about getting back down that scramble!
So I documented what I could of the falls (spray and add), and then I went back down the chains and the ledge VERY slowly (once again wetting my pants sitting and scooting on the slippery boulder surfaces).
I pretty much still used the chains for leverage (like climbers would), and it wouldn't be until about maybe another 20 minutes later or so when I finally got to terra firma.
Whew!
By about 1:55pm I finally made it back to the car even though I had contemplated whether to continue going up this road towards another waterfall that I had identified on my pre-trip research, but none of the signage here said anything about it.
All I could make out was that the road apparently continued towards the Takigawa Valley (i.e. the Falls River Valley), and so there was still that uncertainty that there weren't more waterfalls going up that way.
So I ultimately decided to just head straight back to Hotel Urashima, and by 2:05pm, I proceeded back down the winding road as now the road had those same signs that counted down every kilometer back to the 168.
Eventually after returning to the 168, I thought that the drama of the Sasa Falls was over and I could finally enjoy exploring the Hotel Urashima again, but I had noticed that the road seemed to be getting louder and louder.
Now, I wondered if maybe I had scraped the underside of the car and something got loose and started scraping the road, or if I had gotten a flat.
Well, when the noise got too loud, I knew right then and there that I must have gotten a flat tire.
Damn!
This wasn't the first time I had to deal with flat tires like this (it felt like we always deal with tire issues and it might have been the fourth or fifth one overall if my memory serves me right), but that really sucked given that it was unexpected.
Anyways, some time at around 2:30pm, I finally found a bus stop somewhere on the outskirts of Totsukawa, where there was plenty of space to safely pull over and assess the damage.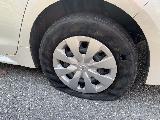 Well, I saw the huge gash on the side of the rear left tire, so that tire was pretty hopelessly gone, but now I had to figure out how to get the spare tire on.
After all, I'd be here forever if I waited for roadside assistance, and even then, I couldn't speak Japanese, the documentation was in Japanese, and I knew I had to take matters into my own hands in terms of getting back to Shingu (the capital of Wakayama) before anything meaningful can be done.
It took some time for me to figure out how to work the jack though but it was a combination of the crowbar and some other S-shared tool, and at first, I had placed the jack in the wrong spot.
Finally I had to start over and look under the car before I finally felt and found the metal frame that the jack was supposed to be under, and then I finally got the car elevated enough so I could get the rotten tire off the ground.
During this time, because I had a signal, I was able to text Julie what happened, and eventually we were on call through WhatsApp as this was going on.
Eventually, I worked out with Julie to use the Hotel Urashima staff to see if they can contact Toyota Rent A Car on our behalf since they can speak the language (they would be our "Auto Europe" in this case like they were for us when we had rental car office hours siesta issues in Spain).
And while that was going on, I'd continue to work to get the spare tire on, as the next part of the puzzle was to prop off the hub caps.
And then I had to use quite a bit of body leverage to finally get the lug nuts off the tires, and then finally remove the rotten tire and try to get the spare tire on.
Well, apparently, I didn't prop the jack high enough because the spare would go on, so I had to work the jack a bit more before I finally got the spare on and tightened the lug nuts as best I could.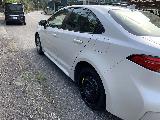 When all was said and done, it was about 3:20pm when I finally was back in the car and ready to roll again.
I was still about 60km for Shingu so I knew it was going to take a while to get to town, but hopefully Julie and the Hotel Urashima staff could provide further instructions on what to do once I was in Shingu.
In the mean time, I was just headed to the town until I hear any further instruction on what to do next (like getting a phone number for the Toyota Rent A Car Shop in Shingu so I could use the Japanese GPS to route to it).
And so the drive would pretty much continue uneventfully though the shadows were growing longer, and I was also thinking about how my plan on exploring Hotel Urashima might not happen as it might get dark by the time I return to the resort.
I was also worried that the tire shop in Shingu might not be open by the time I finally get back to Shingu.
Nevertheless, Julie and I continued to be in communication, and at one point, they wanted to know what the Toyota RAC number was that came with my paperwork (which was all in Japanese).
So I found a pullout at one point when I saw the text, and then proceeded to text photos of the documentation, and then I got a number for the Shingu Shop's Toyota RAC.
So I then routed to that destination even though I was already headed towards Shingu, but eventually as I got closer to Shingu, Julie texted me that Toyota tried to call me.
When I looked at the call history, I saw that there were some missed calls that I didn't hear, and so I tried to call back the number.
When I reached someone, the guy said he didn't speak Japanese and that there was a separate number to call for English.
Ugh. I couldn't write and drive at the same time, and I knew this call wasn't going anywhere, so I politely told him thank you and texted Julie the situation when I got to the next road construction stopped traffic.
However, I guess now that I called that number, I got another call from the same number (maybe their call could go through now that I initiated a call with them), and I got a lady this time who spoke English.
From that point, I explained to the lady as I was driving that I was driving on a spare tire and that I was heading into Shingu.
In fact, I was still on the call with the lady when I got to a gas station in Shingu at 4:35pm, and she eventually instructed me to go to a tire shop in Shingu to replace the tire (I got the phone number so I knew how to route to it).
I was also instructed to purchase the tires from the shop, and then keep the receipt as well as the spare, and then show the receipt when we return the car in Narita.
It was about 4:55pm when I finally got to the tire shop in Shingu, which was in a narrow street that seemed like one of those off-the-beaten path parts of Shingu, and the guys there were really quick.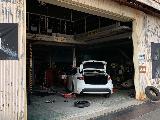 Usually when I think of tire shops in the States, we have to wait at least and hour or more just to get serviced, but in this case, these guys got me in and out of there in 15 minutes!
I guess it helped that I was the only customer at the time, but in true Japanese fashion, they were efficient and thorough, and they didn't even use any fancy machinery – just good old fashioned manual labor.
Of course, they checked the rest of the tires, and after paying the 21k yen for the job (which was about $200 USD by my estimation), I was back on the road and eventually back to the Hotel Urashima car park at 5:35pm.
I couldn't help but notice how many more cherry blossom flowers fell off the attractive flower-lined street in front of the car park, which told me how fleeting this sakura phenomenon was.
Anyways, I was eventually back at the Hotel Urashima, and I then proceeded to just turn on my GoPro and proceed to explore the property as I was intending to do hopefully 3 hours earlier!
By about 6:05pm, I was above the long "Space Walker" escalator, which went all the way up to the 32nd floor of the hotel, which was basically a separate building on top of a peninsula.
Then I went outside to the garden area, where I could see that it seemed to be more built up than I had recalled from our first visit back in 2009, but it was still more zen and attractive.
Of course, instead of being the only person up there like before, there were a handful of couples exploring this top garden this time around, but it was getting late so eventually I was by myself at some point.
So I went ahead and savored the overlooks (trying to recall if I had seen such perspectives before), and I also noticed other buildings around here that I didn't recognize from before.
I also checked out the shrine within this garden as well as a footpath that went all the way to the western end (getting there at 6:30pm), where I got a nice view of the pinky-like series of islets jutting out as well as the sunset and the Pacific.
By about 6:55pm, I finally got back to the room, where Julie told me that she had 8pm reservations for a restaurant down at the main building.
We weren't interested in going for another buffet dinner so this seemed like a cool thing to do for tonight.
However, when we got to the restaurant at around 7:15am, we quickly learned that this place had no English menu, and none of the staff spoke English.
So good luck trying to tell them that we had 8pm reservations and we were wondering if we could eat earlier than that!
Eventually, we got seated, and then we were given a menu that had no pictures, but we did see a menu that did have pictures though it wasn't too much help.
So at this point, I had to really leverage my broken Japanese while at the same time Julie was working with Google Translate, and the waitress had a translator of her own.
It was kind of comical, but I really thought my Japanese from Zero lessons helped out in this instance, and I even asked her what she recommended as far as steaks were concerned.
By about 7:30pm, we ended up ordering one of her recommendations (by this time, I now was quite familiar with "hitotsu" as the counter for 1), and we also got another meat dish recommendation.
Apparently, we weren't the only ones having language difficulties because there were Chinese visitors who also did this, but they could at least read the kanji better than us.
But I don't think they learned any Japanese, so that's where the human element in communicating with the waitress comes in.
Anyways, Tahia also got a chicken karaage, and we got some kind of delicious tofu salad, too.
When the food came out, the lady's recommendation was pretty spot on, as the tofu salad was good, we got some appetizer dish that was good, the bulgogi-like meat dish was good, but the steak dish we got was definitely one of the best beef we've had all trip!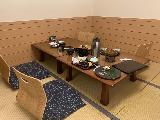 I swear this was one of the more adventurous things we did, and it really worked out in this instance as we the drama of the language barrier was overcome (for the most part) in this instance to yield a beautiful dinner that was way better than the buffet.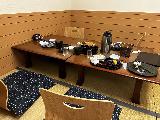 When we asked (again with some language difficulty) what kind of beef it was, we learned that it was local Kumano Wagyu Beef, which we had never heard before, but man it was delicious (o-i-shi-i deshita).
Finally by about 8:45pm, we were back in the room, where I had promised Tahia to spend some time with her to play in the Game Corner before they closed at 9:30pm.
Then only after that, I finally got to have my second go at the Boki-dou Cave Onsen, where I found out that they switched sides this time.
So now the guys got the side on the right, which was narrower and smaller than the multi-roomed one I was at this morning, which I guess kept things interesting.
Thus, it wasn't until 10:15am when I finally returned to the room, and only then could I finally crash and close off this drama-filled day!
We always have at least one day like this on our trips, and today was it!
Day 7 (April 12, 2023 – Takayama, Japan): "No Dramas"
It was 5:05am when I awoke, which was an hour later than I had expected.
Apparently, I had forgotten to set the alarm when I crashed last night so I couldn't devote any time this morning to blog about yesterday's eventful happenings.
But with the long drive ahead of us, we had to get our belongings together, catch the mini shuttle back to our car, and then head north – way north – to Takayama.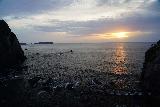 Nevertheless, it wasn't until about 6:30am when we checked out of the Hotel Urashima and waited for the mini-shuttle.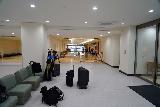 Then, by 6:50am, we got to the car, where we could now clearly see that there were quite a few more clouds this day than at any other point throughout our stay at the Hotel Urashima (which by the way was the best place we've stayed at on this trip so far).
From there, we then proceed to head north from Katsuura town noticing this time around that the cherry blossoms that lined the boulevard before the car park was noticeably more bare than say a couple of days ago.
It further goes to show you just how fleeting the whole sakura phenomenon is, and it's also a sign of why you can't really revolve a whole trip around seeing the cherry blossom since the peak changes year over year depending on the conditions.
And given how popular Japan is, you have to make reservations in advance, which means you can't make last-minute reservations or bookings to come here based on forecasts given literally days or weeks in advance unless you're already here like a local or you lucked out.
And even that is frought with peril as you'll be dealing with queues, traffic jams, etc., which are not things you'd want to be dealing with when time is so precious when on travel.
Anyways, the drive to the north went along the eastern coast of Wakayama and then Kumano for quite a ways until we got to a big rest area just to the southwest of Nagoya at around 9:45am.
At the very minimum, we needed this rest stop to use the toilets pretty badly, but since we were already here, we also wanted get a legit hot meal since I did mention to Julie prior to this trip that Japanese Rest Stops are many levels above in quality against American equivalents.
That's because from my trip with the parents back in October 2016, we learned that they feature food courts in addition to huge toilet facilities and gas stations, and they're real easy to get in and out of along the toll expressways in Japan.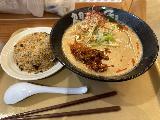 So we wound up getting some ramen noodles at some joint within the food court, though there were also other types of foods served up in here.
This ramen joint also served up karaage as well as gyoza (Tahia's first go at the Japanese version of pan-fried dumplings).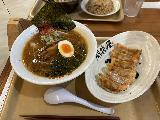 We let Tahia pick the foods on our behalf as well as her own on the coin-op machine, which dispensed tickets that we'd give to the cooks at this place.
However, when the food came out a few minutes later, we wound up getting our respective ramen dishes, but Tahia's chicken karaage never showed up though we did yet another bowl of fried rice.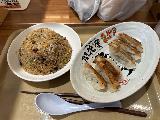 That was when it dawned on me that Tahia may have pressed the wrong button that yielded the rice instead of the karaage, which bummed Tahia out.
Indeed, even though they showed pictures, I guess Tahia didn't pay enough attention to the kanji because by process of elimination, she could have figured it out.
In addition, I didn't realize the button she pushed, but I also knew the Japanese word for rice, which was "gohan", which also happened to mean meal (as "gohan" would be prefixed by other words to mean breakfast, lunch, or dinner; just like how Chinese works when "fan" is prefixed).
Anyways, once we had our fill of the ramen noodle bowls as well as helping Tahia finish the extra rice she bought (which really filled us up), we then picked up some soft serve ice cream and made one last restroom stop before heading out.
When we left the building, there were some ladies given freebies out (though I wasn't sure what the purpose was), but there were some literature in Japanese as well as a can of Red Bull (which we avoid drinking).
I politely took one just to not be a jerk, but I just left it in the car and we'd have to look for a place to discard it.
Anyways, we were back in the car at 10:50am, and then we continued on our long drive going right into Nagoya before continuing on north to Takayama.
As we approached the next interchange, we once again ran into a bit of confusion where we wound up missing the C1 interchange and had to take the next exit onto the busy streets of Nagoya before mazing our way towards the next on-ramp back onto the C1.
From there, we pretty much followed the directions towards Takayama after a handful of traffic lights, and then we had to squeeze into a backed up lane just to get onto an IC entrance for the expressway bound for Takayama.
Luckily, one driver let us in for that one when I realized that the far right lane was right turn only (despite what Google Maps said).
Anyways, back on through the ETC gate and further north we went on the expressway…
Except now, as we went further north, it started raining pretty persistently the further into the mountains we went north of Nagoya.
This second leg of the long drive went pretty much without too much incident though the speed limit here seemed to have changed to about 80 km/h due to the hazardous conditions with the rains slicking up the road.
I don't recall that expressways tended to persistently have such low speed limits, but maybe they change them due to the speeds, or maybe the expressways always had this low of a speed limit (though lots of other drivers seemed to be going 20 km/h faster than that; even big trucks).
And once again, the Japanese expressways went through many tunnels instead of chancing it with Nature above the surface.
The rain seemed to continue to persist even as we exited the correct IC and towards Central Takayama.
However, instead of going to the accommodation first (check-in wasn't until about 3pm anyways), we continued on the route 158 heading east of Takayama towards the Hida Great Limestone Cave.
This was something I hadn't done before, and I thought it might be the perfect opportunity to check out something different that is also fine in bad weather in addition to good weather.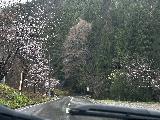 As we got to the well-signed turnoff for the Hida Great Limestone Cave, I couldn't help but notice that there were still nice cherry blossoms lining the road, which indicated that the sakura still hadn't completely passed here.
So by about 1:45pm, we finally arrived at the Hida Great Limestone Cave (a spot that was well-signed so we didn't miss it when it came up).
Then, we proceeded to put on our jackets (as it was quite chilly), and the rain seemed to continue to come down even as we got out of the car and promptly went to the toilets before buying tickets to enter the complex and check it out.
I was expecting that this cave had guided tours or something, but it was pretty much a self-guided tour in an artificially-lit cave where there was some music and speech in parts of the cave that zig-zagged paying customers throughout the complex.
There were actually three main routes within the cave, and after starting with tour 1 and tour 2, I knew that tour 3 would cover even more (fake) waterfalls and dark, claustrophic chambers.
The tour generally went in an uphill direction, and it seemed like Julie and myself were already getting a little short of breath, which made me realize that we must be at some pretty high elevations to be this winded on such a relatively physically tame excursion.
At the end of each "route", there were opportunities to exit prematurely, but since we were already here, we wanted to experience it all.
Heck, even at the end of Tour 2, there was a closed sake shop building inside a large cave chamber, which was something you certainly don't often see in cave tours.
But at the very end of the visit, there was a covered walkway (ala like the Changbai Waterfall in China's border with North Korea) that went quite a ways downhill towards the car park again.
Indeed, we were done with this tour at around 2:55pm, at which time the weather was considerably calmer as the worst of the persistent rains that seemed to be in the area may have already blown by.
By the way, over the years of Julie and I traveling in mountain areas, Spring seemed to be the quietest time of year (largely because it's in that in between season between Winter and Summer).
That might be why the cave seemed to quiet during our visit, and I wondered if Takayama will be that way?
With us being close to the Choshi Waterfall, I decided to drive even further to the east to pursue this waterfall though Julie said GoogleMaps didn't have it.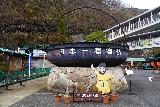 But I knew that in my pre-trip research via Gaia GPS, I definitely knew where to go, and I recalled in the past that there were signs for it.
So minutes later, when we drove east, sure enough the falls was signed, and the turnoff happened to be just beyond a bridge over the creek that I'd imagine belonged to the Choshi Falls.
It wasn't until about 3:15pm when we arrived at the Choshi Falls parking area at the end of a single-lane road which actually wasn't all that scary to drive.
From the small car park area set back before the dead-end, we couldn't help but notice right upstream from the footbridge was the gushing Choshi Falls.
The family wound up spending quite a bit of time right in front of the falls even though we were in the mist zone and it was getting quite cold.
After having our fill of the falls at 3:40pm, we then proceeded to return to the car and drive right into the heart of Takayama in search of our accommodation.
We'd eventually get to our accommodation at the Wat Resort at 4:20pm, which was at around a 10-minute walk from the action in the heart of Central Takayama.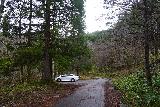 We then promptly got settled in our room at around the 4:30pm, where Julie did some research about dinner spots, and she ultimately settled on this place with good reviews called Hidagyu Maruaki serving up Hida steak and other Japanese fare.
It was about 5:05pm when we went to said restaurant, which had just opened not that many minutes ago, and when we entered the waiting area, we were the only party waiting while all the smaller parties were already seated.
Yet it still took some time before we finally got seated, and during that time, the waiting room really filled up fast!
I guess it was the right call to drive straight to this restaurant while most of the gaijin were walking their way to this joint even though it was seemingly in the boonies of Takayama.
Finally, at about 5:40pm, we had already placed our order (getting some kind of premium Hida Steak combo item along with some veggies) and then proceeded to cook our meats which came out first.
We then spent a bit of time grilling the Hida Steak pieces Korean BBQ style though the veggies we got seemed like they were better to be used in soup or sukyaki or something and not on a grill because a lot of those pieces got burnt on the grill.
Eventually when all was said and done, we then got back into the car to drive back up the street to where we were staying.
Unfortunately, it took some time for us to exit given the amount of traffic on the street I was trying to back out into from the restaurant.
But eventually after insisting before a generous driver who helped to let us out, we finally returned to the Wat Hotel at about 6:30pm.
Finally, we used the remaining time of the day to explore the 7th floor of the hotel, which featured an onsen as well as a bar and even a viewing area adjacent to it.
Julie and Tahia didn't feel like soaking, but we did enjoy the twilight views over the clearing skies (though it was quite chilly) as well as the self-playing piano bar on the top floor.
Indeed, it was definitely getting quite cold at night, and so we didn't linger for too long on our exploration of the property so that eventually we got back into the room at 7am to finally call it a day.
Day 8 (April 13, 2023 – Takayama, Japan): "Deja Vu But Not Quite"
It was about 4am when I awoke just before the alarm, and so I tried to take this morning to get as caught up as I could on the blogging from two days ago when there was a lot of drama.
It turned out that I got caught up as far as the end of that day before last ("ototoi" in Japanese, I think), but it was about 6:15am when Julie and Tahia were finally ready and I was in the car trying to defrost the windshield.
I don't think Tahia ever saw frost on the windshield before, but that was something I've dealt with even at home on really cold mornings when I had to go to work.
Anyways, the plan for today was to do some Nature sightseeing by car in the morning, and then spending the better part of the day back in Takayama to do some more sightseeing since this was our lone full day here.
As much as Tahia wanted to sleep in, I figured that she could sleep in the car while we drove towards the Hirayu Waterfall, which was the priority for this morning.
This was on my Top 10 Japan Waterfalls List though the circumstances of that day happened to be perfect as there was koyo as well as it was capping off a nearly perfect day of sightseeing the Norikura Highlands.
But that was October 2016, and now we were in a different season so would the rating hold up?
On the way out of town, we stopped by a 7-11 at 6:30am, which was right across the street from an ENEOS station advertising regular gas at 167 yen per liter (which was one of the cheaper rates we've seen).
However, I wanted to wait until we got back to fill up here because we still had to drive 50 minutes east and then 50 minutes back.
In the meantime, Julie and Tahia went into the 7-11 shop to get some grub, and this was the first time on this trip that we stopped at a 7-11 whereas in the prior trip with my parents 7 years ago, they seemed to be more ubiquitous along with the Circle K's.
They were important for us on that trip primarily because cash was still king in Japan, and we kept running out of it so we needed to pay their ATM's a visit as they could take foreign bank cards whereas your standard Japanese banks don't do that.
Once that was done, we then continued east along the 158 going further east than the Hida Limestone Cave as well as east of the Choshi Falls, where we definitely noticed the signage being even more obvious in the sunny weather now than yesterday.
There was also another place showing a big picture of a lacy cascade though it didn't have any kanji for waterfall, and I wondered if that was a private facility or something (it looked closed anyways).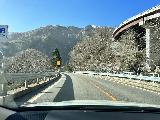 Regardless, after leaving a tunnel, we then descended a couple of bridges with mountains crowned with snow, and it was at this moment that I realized that there was no way we could have gone to visit Ubagataki on the White Road on this month as I was hoping to with the warmer-than-normal year.
So that's still going to have to be a Summertime visit to the Shirakawago (though I had entertained going there on this trip).
Eventually by about 7:10am, we got to the nearest car park for the Hirayu Waterfall, which seemed as big and as familiar as when I first came here with Mom and Dad in 2016.
But the difference with this visit was that it was bitterly cold and there was still even some patches of snow on the way up this car park (though there was always blacktop that I always had at least two wheels on so there was traction).
Apparently, this place still wasn't the season for visiting Hirayu Falls yet so there wouldn't be a shuttle bus reducing the already short walk to get up to it.
And after Julie and Tahia got ready, we then proceeded to walk up past the restaurant (also closed for the season) and then up through the garden area looking pretty dead and unmaintained since it was also closed for the season.
And once we got back onto the shuttle route at 7:40am, we could see there was definitely snow on the road downslope of us though walking up to the end of the shuttle route was still pretty easy.
Beyond the shuttle stop, we then got through a pretty bare-looking observation area, where I remembered seeing koyo on that October 2016 visit, but now it looked rather winter bare.
Still the falls looked big but its base was partially covered in snow making it look a little shorter than I had remembered, and its volume was also a little thinner than I had remembered given that water was still locked in ice at this time.
So we took our shots and videos while the morning sun still hadn't penetrated the falls yet, and then I intended to get all the way down to the closest lookout for the falls (though I could clearly see snow and ice on the narrower footpath to get there).
However, I was stopped short by a barricade on the bridge crossing over some man-modified cascade immediately after the first viewing area, and that pretty much nixed that idea.
Indeed, Spring at Hirayu Falls was not a good idea, and we'd have to come back on the Summer trip to properly see this place again (so in my mind, our visit now was kind of a fluke and it shouldn't knock on its status as one of my favorites in Japan – yet).
So we got back to the car at about 8:15am, and then we decided to drive into the Hirayu Onsen town just to see what that place was like.
After all, I had read about the white monkey (shirozaru) that had inadvertently started the town because it led some person to the onsens there, which eventually led to the place being built up as an onsen resort.
But when we got to the town, we could see that it was pretty dead, and that it was clearly a ski resort town, where we happened to show up in Spring which is usually the dead period in such ski resort areas.
It's kind of like how dead Mammoth Lakes would be at this time or how dead Telluride was when we were there for Spring Break back in 2016 or 2017 time frame I believe.
However, we did make a stop at this place called Hirayu-no-Yu at 8:25am, where we proceeded to explore around the grounds as some spots looked like they were public rest areas.
There were even a couple of open onsens, where Julie checked out the women's side and I checked out the men's side, and there were definitely outdoor onsens there under the shelter of a roof.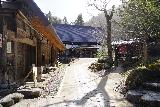 That was kind of cool to see, and I wondered if they were really for feet and leg bathing as opposed to full body bathing naked since there was no explicit "no photography or videography" signage around here.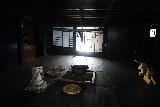 Regardless, we were done with our brief visit and got back in the car at 8:35am, and then we drove back towards Takayama though we intended to make a stop at the Arakawa's Residence since we saw yesterday that that place still had an attractive cherry blossom.
When we got there at around 9:05am, the place had just opened and we were pretty much the only people there besides whoever manages the place.
But before doing the tour of the residence, we first took lots of photos around the cherry blossoms because this was one of the best sightings of the sakura on this trip even though the peak of the bloom had passed pretty much everywhere we went (except in Katsuura Town).
While the lower flowers had already gone bare (which really would have augmented the scene), we were quite content with our sighting on this gorgeous sunny day.
And we easily spent the better part of at least a half-hour or so just soaking in the pink display with some traditional building backdrop.
Then, we went inside parts of the facility to see what was on display (one house required turning the lights on, and I wondered if it was supposed to be open and requiring shoes off).
But the other house was definitely watched over by a lady who insisted that everyone wear masks (and remove shoes).
As we walked this second house, there was some interesting tatami-styled rooms that were furnished with historical pieces and re-creations of what life was like (during the Edo period?) before going upstairs to look at some wood and straw working displays.
After concluding this visit at 10am, we started to notice more people starting to show up, but now it was time to head towards the Hida no Sato, which was a traditional folk village outdoor museum.
Julie's GoogleMaps had us go around Takayama so I wouldn't be able to go back to the cheaper ENEOS to fill up on gas, but I wound up doing it at an ENEJET place that sold it for 172 yen/L instead of 167 yen/L (I'm sure the extra 5 yen per liter wouldn't make that much difference).
Anyways, we got to the Hida no Sato at 10:35am, and it was just as out-of-the-way of Central Takayama as I had remembered from the past.
However, this time, it seemed like the car park was quite empty (no one was collecting payment at the car park itself) though there were a handful of (Australian) visitors leaving the facility just as we were entering.
We paid for the admission and the parking (the latter was cash only, surprisingly), and then we proceeded the walk the familiar grounds.
I remembered when I first came here 7 years ago, I thought that it would be great if Julie and Tahia came here, and now that they're here, I wondered how they'd take this visit.
Regardless, instead of seeing koyo around the village, there were scatterings of cherry tree blossoms though most of them were bare, and a lot of other trees were bare as well.
Indeed, our visit seemed way more subdued today than it was back in October 2016, and it further reinforced just how low season we were in Takayama as it was that in-between season.
Still, there were lots of foreigners because the primarily language spoken randomly about here wasn't Japanese apparently.
Anyways, we spent almost the next couple of hours strolling the grounds and checking out each of the buildings (some in Gassho-style straw roofs that we'd see more of in the Summer at Shirakawago).
But by about 12:45pm, we had our fill of this place and got back to the car so we could drive it back to our accommodation, and then proceed to finally have our soba noodle lunch.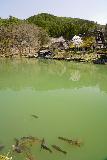 I kept thinking about the soba noodle experience that I had with the parents in Takayama where we got to grate our own wasabi to put into the soba noodle stock, but I don't think that place is around anymore, which was a bummer.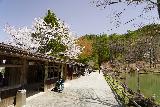 But we did find a place that was known for traditional soba noodles in Takayama, and that was what we targeted.
So we drove back to the Wat Hotel at 12:55pm, and then we proceeded to go back to the room to get changed into street clothes.
From there, we then walked to the targeted soba joint called Kofune at 1:30pm, which looked quite traditional, but there were also quite a few people already inside so this place had a rep.
We eventually got ourselves 3 different types of soba meals – Tahia got a shrimp tempura one, Julie got a zara soba one (the usual cold soba), and I got a hot Premium Hida Steak soba.
Of course we did it mostly family style so we could share though Tahia only shared the head of the shrimp tempura and the sweet potato tempura with us (the first one I can't have cause it would make me break out in hives).
Nevertheless, the meal definitely hit the spot and given the current exchange rates, the place was very reasonably priced (even cheaper than eating out at home)!
Since the Japanese were pretty efficient in practically everything they do (including at the eateries), we were out of there by 2pm (and I could feel my Japanese was improving as I kept using it when paying and doing the talking for basic transactions).
Then, we walked towards the happening Sanmachi-dori walking street, but before getting there, we couldn't help but notice another attractive line of cherry blossoms along the Miyagawa River.
In fact, it was so attractive over there that lots of tourists were posing around the bridges surrounding the primary blooming areas, and we kind of got caught up in all the picture taking here.
So it wasn't until about 2:45pm when we finally got to stroll along the happening Sanmachi Walking Street, which was also still happening like I remembered it.
However, I could easily imagine that it would have been more crushing in the Summertime since Spring seemed to feel like low season still.
So if there already this many people within the Sanmachi Street now, it's definitely going to be a bit tight in the Summer.
Anyways, we kind of went against most of the traffic as we toured this street, and I was actively looking for the Hida Steak Sushi spot served on rice crackers or shrimp crackers.
It was as sustainable as a sushi stand can be, and I was hoping to find it again.
However, we got distracted by lots of shops as Julie went looking for a coin or currency purse to put her yen into, as I guess her wallet was bulging to much now.
Then, we saw a sweets place where they served that creamy soft serve that we saw in Yoshinoyama though they charged 600 yen per cone here instead of 500 yen over at Yoshino.
At the same joint, we also got some small baked cream-puff-like balls with flat corners where of the 5 we got with a 300 yen purchase, we got 2 chocolates and 3 custard cremes.
And then Julie got a matcha tea, and this further added to our calorie count that was definitely piling up throughout our Spring Break in Japan (as I was pretty sure I'd be pushing 200 pounds again when I was hovering around 190 or less prior to this trip).
Anyways, after having our sweets here, we got to the next block, where I finally saw the Hida Steak sushi, and we wound up buying one order of 2.
It was actually seared from its refrigerated state so it wasn't completely raw, but it tasted like it I remembered it though Julie and I were wary about raw foods on this trip given how our stomachs didn't agree earlier on in the trip (and I was fighting chills while in Kyoto and Katsuura).
After having our fill of going down in one direction of the Sanmachi Street, we then went back in the other direction as we needed some time to kill before going to a dinner spot.
However, before leaving the Sanmachi, we did stop at this really popular sake place, which Julie said had tons of reviews.
Now that the big tour bus crowds have stopped crowding the joint, the individual visitors were now crowding what turned out to be self-serve vending machines of different flavors of sake.
The way it works was that you put money into a machine for coins, and you also have to pay 100 yen for a sake shot cup that you could also keep.
We then used that cup to hold each sake sample activated with the coins, and we ended up trying a whole host of flavors though by far the best of these flavors was the Yuzu-flavored one as it tasted more like juice than the sake flavor I was more used to.
We weren't alone in thinking that the Yuzu flavor was best as that was by far the most popular machine.
Anyways, we paid 1000 yen for 13 coins, and of that 13 tries we got, I swore at least 7 of them were from the Yuzu machine after trying a handful of the others and they were just too mediciny for my taste.
So that was a bit of a fun visit, and we even picked up 2 bottles of Yuzu sake to take home (something that was uncharacterisic of us to do since we're not alcohol connoisseurs).
Eventually at 4:20pm, we had left the Sanmachi Street and then went towards the Takayama Jinya, as we expected a short visit to a shrine.
But it turned out that what we got with this visit was actually a pretty extensive walking tour of what turned out to be an old castle or castle-like tour that was mazing and self-guided going through a series of rooms, halls, and garden views along the way.
It was kind of reminiscent of how the Sanzen-in Temple was run, and there were some displays and parts of the tour that kind of reminded me of the Nijo Castle in Kyoto.
So that was a bit unexpected, and it wouldn't be until about 4:55pm when we were done with the shoes off tour, and then put back on our shoes to make the walk to a pizza joint since Julie and Tahia were getting sick of Japanese food by this time.
This place wasn't a trivial walk, and it wasn't until about 5:10pm when we finally found the pizza place (we didn't know the Romaji for it), but it still wasn't open until 5:30pm.
So I took that time to stroll back towards a bridge over the Miyagawa River, and then return to the restaurant by 5:25pm, where we were the first customers seated.
We ended up getting a couple different kinds of pizza (a margherita as well as a prosciutto) as well as a salad and an interesting cassoulet-like dish of egg, asparagus, and mozzarella cheese in some kind of porcelain pot.
Once again, this place hit the spot and was surprisingly good (Napolitano style), and eventually by 6:05pm we were done with dinner.
Overall cost was quite reasonable as it was less than 5k yen, and I couldn't imagine paying less in USD for dinner at home again.
Anyways, we left the restaurant and walked some quiet alleyways before getting back to the Wat Hotel, which was surprisingly close by about 6:25pm.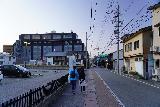 And that was pretty much it for today's happenings.
Now, Julie and Tahia expressed interest at one point to go up to the 7th floor for a family onsen bathe, but I don't think they liked being naked in public like that.
So they nixed that idea and decided to stay on screen in the room, and that was pretty much how this day ended, which saw us having a pretty efficient time doing a combo of both nature and the best of Takayama.
In fact, we even started to wonder if we should cut the number of days in Takayama on the Summer trip given that we seemed to have already done what there is to do here.
Perhaps that's the thing when you self-drive, you can be very efficient and see so much more with comparable cost against the mass transit-only option that most gaijin tourists would do…
Day 9 (April 14, 2023 – Nikko, Japan): "Unexpected Early Season Complications"
It was about 3:45am when I awoke, which afforded me some time to get caught up on yesterday's happenings before Julie's alarm would go off at 5am.
We needed the early start to check out of our accommodation in Takayama so we could make the long drive all the way to Nikko knowing that today could very well be the last day we'd have of decent weather.
That's because the forecast for Saturday (tomorrow) called for rain, and it might persist all the way through our flight on Sunday afternoon.
Indeed, everything was riding on today, and we had to make the most of it.
Eventually, Julie and Tahia got up to their alarm, and by about 6:05am, the car was loaded up, we were all checked out, and we made our drive out of Takayama when most of the city was still asleep.
On our way out of town, we already knew where both the 7-11 and the Lawson's Station were along the Route 158 so we actually made brief stops for both to get some hot bites (like a Chinese-like mantou as well as a musubi, which Tahia seemed to be a big fan of by now).
Eventually after 6:25am, we were done with the Lawson's stop, which was further away from Central Takayama, and then we proceeded to make the drive to the east.
It was pretty uneventful though we were often caught behind either a slow moving truck or a slow moving bus as we made our way east towards Matsumoto.
The 158 drive towards Hirayu was familiar though we could definitely see that there were more clouds building up so it wasn't the bright clear day that we say yesterday (and thus the snowy mountains weren't contrasting as much against blue skies since they were more lightly gray).
We then took the IC towards Matsumoto, where having done this drive before (going in the opposite direction) in the past, I knew that we were going to deal with a mountain road, but I also remembered that there were tunnels as well.
I'm sure with a thicker car (like a truck or bus or maybe even the van we'll be driving in the Summer?), some of these tunnels might be a bit on the tight side, but I know people have managed before and it wasn't a big deal to those who are used to it.
Eventually, we got through the narrow gorges, tunnels, and reservoirs before the mountain road descended towards Matsumoto, which by around 8am already saw a bit of mild congestion due to kids going to school as well as people going to work.
The road ultimately hooked up with the expressways, and that was when we could finally start to drive a bit more freely (though the speed limits seemed to limit our speeds to either 50km/h or 80km/h; which a lot of drivers seemed to push another 20km/h or more).
Again, for the most part, the drive was pretty smooth and unevetful save for the odd road work-caused congestion due to merged lanes.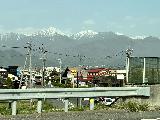 But other than that, we were enjoying the wide open drives that seemed surprisingly smooth as we went northeast of Matsumoto towards Nagano, where Julie and I were thinking about ways to re-tweak our Summer trip due to the things we have accomplished on this Spring Break Trip.
Among the things we were discussing was how to incorporate Kyoto into the Summer itinerary while getting rid of one or maybe two of three nights in Takayama.
Julie also wanted to visit Himeiji Castle since that was something we wanted to repeat again and thought the kids would enjoy it (though it might be a bit harder for Mom and Dad given how hard it could be on the joints for the nearly vertical steps without shoes during the tour).
Julie also wanted to do Nijo Castle, which didn't happen on this week's visit, and the more I thought about it, the more I realized that maybe Kyoto wouldn't be such a bad base after all knowing the parking situation and if we could stay at the Cross Hotel once again.
Of course, that would mean I'd have to lose a waterfall or two to chase, but perhaps they wouldn't be as big a deals anymore, but I definitely had my work cut out for me in terms of re-planning (and preparing for the Korean part of the trip without GoogleMaps; using Naver instead).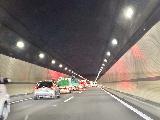 Anyways, my mind was thinking the trip should now be Osaka, Kyoto, Takayama, Matsumoto, and then 2 nights in Nagano (though Julie was going to have to do some research on whether Nagano would have enough for them to do over those two nights of dividing and conquering).
The original plan so far (and we had bookings as such) was Osaka, Takayama (3 nights), Matsumoto, and then onwards to the north.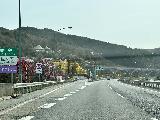 Continuing on with the drive, we also spotted quite a few areas around Nagano and further to the southeast that still had cherry blossoms as I'd imagine the temperatures here would be quite colder still.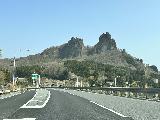 However, the car said that the outside temperature was approaching 20C, which was actually quite warm for the Japan's Central Alps Region (or Northern Alps Region as some signs seemed to have suggested), but that at least kept the drives interesting.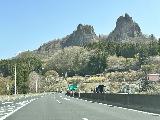 Eventually, we got to an interchange where we left the E17 and then went north towards Niigata though I also noticed the expressway kept going east towards Utsunomiya.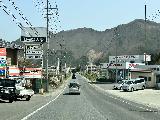 The reason why we did this was because we were pursuing the Fukiware Waterfall, which was on the way to the backside of Nikko via the Route 120.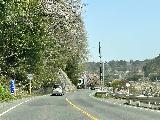 When we got off the expressway, we found ourselves driving amongst some rural towns each seeming to sell apples (since I knew the word "ringo" meant apple).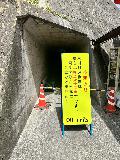 And by about 10:45am, we ultimately got to one of the entrances for the Fukiware Waterfall, but unfortunately, we saw that there was a closure sign saying the place was off limits.
What?!?
I thought from my pre-trip research that this place was pretty easily accessible, but apparently it wasn't during the Spring, and I guess it was really more of a Summer and Fall destination.
So I thought that was a bummer, but at least we could move on and save another hour or so of a visit to get to Nikko faster and we drove a bit further to the north before Julie's GoogleMaps indicated that we also couldn't take the 120 to approach Nikko from the west via Yumoto Onsen.
Damn, a double whammy!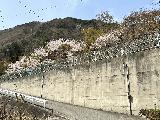 I guess the kanji that I was seeing in red concerning the 120 was talking about how the road was closed, and I guess that meant that this detour was for nothing!
Heck, we could have really made good time if we stuck with the expressway going towards Utsunomiya before going northwest towards Nikko, but as it stood now, we had to go through nearly 2 hours worth of mountain roads to hook up with Nikko.
Indeed, this wasn't the greatest way to spend the lone good weather day we'd have before the rain would come upon us, but I guess we are where we're at now, and there's no use crying over spilled milk.
So indeed, I learned that Spring in the mountains was probably not a good idea, and you really want to time your visit to Japan in these mountains for the Fall and the koyo season instead as well as the Summer.
Another lesson learned that you don't necessarily appreciate when you do trip research until you're actually here and get ground intel like we were now.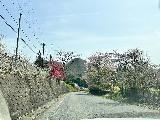 So down the twisty 267 we went at 11:10am in the southeast direction.
It took quite a bit of time before we eventually joined up with the 122 and took it to the northeast.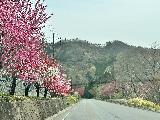 For much of the 122 drive, we were caught behind a slow-moving truck and that further kept us on the road for quite a bit, which didn't help our cause in terms of trying to get the most out of our lone good weather day today.
And then, when we headed west on the 120, we found ourselves on another really twisty road that was apparently two lanes though they were narrow and they had lots of switchbacks, which city buses shared along with other tour buses and smaller more nimble cars that we tried to follow behind.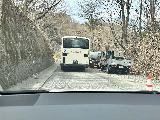 It wasn't the most relaxing drive, but I was pretty familiar with mountain driving around the world, and the only concern at this point was to not get Tahia carsick.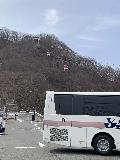 Anyways, I decided that based on this observation, whatever we were going to do today was going to be exclusively about the waterfalls around Lake Chuzenji and Lake Yunoko because we weren't going to do this in the rain tomorrow.
So by about 12:50pm, we finally made it to the midway point of this one-way drive on the 120, and we arrived at the Akechidaira Ropeway.
For some reason, we had missed doing this our first time around back in 2009, but now that we were self-driving, we could control our schedules a lot more, and now we could finally experience what Kegon Falls would be like from a panoramic point of view.
Sure enough, we proceeded to park in one of the many parking spots they had here, and then we bought a ticket to go up the ropeway.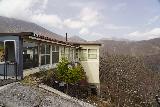 The lady was telling me in Japanese something about my car, and at first I wasn't sure if I was supposed to pay for parking at a different kiosk.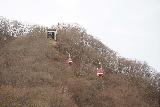 But when I got back to her, I used my broken Japanese to finally understand that she only wanted to know where I had parked my car, and only after that, she gave me a magnetized ticket so I could get out of the car park.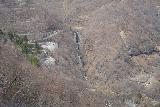 Huh, funny how even the simple things like this can be a misunderstanding even though I bothered to try to learn Japanese before this trip, but at least we got over that hurdle, and I smiled feeling pretty stupid about it.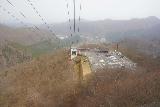 Anyways, we boarded a pretty packed gondola that went up the ropeway towards a viewing platform, and along the way, we saw more switchbacking roads as well as some other waterfall besides it though that one looked engineered.
By about 1:20pm, we were finally atop the viewing platform, where we got a pretty majestic view (albeit hazy) towards the Kegon Falls (looking like it had lower flow compared to our last visit) along with Lake Chuzenji feeding the falls.
There was also a small town off to the side of the both of falls and lake, and there was also the slopes of Mt Nantai dominating the scene further to the right.
On the other side of the lookout deck, we saw that there was a partial view looking in the direction of what I think was Nikko, but the mountains seemed to be blocking the rest of the city.
I think with this town, the World Heritage stuff and the touristy parts were actually in the suburbs as opposed to the rest of the city, because what we saw from the deck was primarily sprawling industrial type developments and not the temples and accommodations I would have expected to see.
So we spent quite a bit of time up here taking what photos and videos that we could before waiting our turn to go back down the ropeway at 1:35pm.
And after getting a pretty juicy chicken skewer for our makeshift lunch at the food stand at the car park, we finally got back into the car at 1:55pm.
Next, we intended to drive further up the 120 towards the top of the Kegon Waterfall, where we'd then take the elevator and experience the falls once again close up.
By about 2:05pm, we parked at the Lot #2, where we then walked towards the familiar elevator building though we did notice quite a few souvenir and munchos shops along the way to the queue.
The tickets down the elevator weren't cheap at about 1000 yen per person, but I knew this place knew they had a good thing, and with the exchange rates the way they were, we really didn't have much to complain about.
Anyways, we were waiting for the elevator, and even though it was busy here with tour bus crowds, it actually wasn't as bad as I'd imagine it could be in the Summer and Fall.
I guess that was one unexpected benefit of visiting in the Spring, which still felt like it was off-season in the mountains.
After going down the 100m elevator, we finally got down to the lookout deck after going through a long tunnel (kind of reminding me of the Journey Behind The Falls excursion at Niagara Falls).
Then, we got to the 3-level observation deck, which seemed to draw quite the response from first-timers who were seeing the Kegon-no-taki for the first time.
Of course we next spent a good deal of time just soaking in the sights, taking both photos and videos, and appreciating both the waterfall itself, the basalt geology giving rise to such a vertical falls like this, and also checking out the Nehan Waterfall as well as the engineered falls by the viewing deck (not Shirakumo Falls).
That last waterfall (which I only learned its name from the ropeway) seemed to be more of an engineered waterfall perhaps diverting water or keeping water from undercutting the lower lookout infrastructure or something.
But back in 2009, I thought it might be possible explore more of the area around that Shirokumo Falls, but it turned out that there was nothing missed, and that the last time's experience was the same as this time around save for more shops.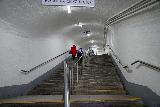 Speaking of the shops, Julie and Tahia got more of those cute T-shirts, but this time it was about the monkeys of the sacred stables instead of the Shiba Inu dog slurping on ramen surrounded by Japanese text (which I wished I got with Tahia in hindsight).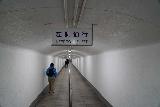 Anyways, now that I'm older and wiser, I could better understand what we saw back then while finally being able to document the whole experience.
I'm sure I'll definitely have more to say when I redo the write-up I already have for the Kegon Falls.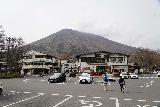 Eventually by about 2:50pm, we had our fill of this viewing area as people seemed to be coming and going in waves (definitely as a result of the tour bus crowd), and by 3pm, we were back in the car again.
With the afternoon getting late, I knew that we still had to take advantage of going to the Yudaki so we wouldn't have to do this drive in the rain tomorrow.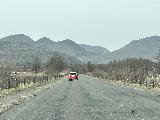 And thus, we proceeded to go further to the west alongside the impressive Lake Chuzenji before going through more scenery involving trees that were mostly bare (making me wonder if there were ever any cherry blossom blooms to keep things colorful here in the first place).
There were also some snowy mountains surrounding the scenery in stretches though the haze and high clouds certainly kept the contrast to a minimum.
We were caught behind another slow driver (this time a passenger car) though we weren't in too much of a hurry.
So we eventually got to the Yudaki car park at 3:20pm, but not before noticing that there were monkeys out and about along the short driveway leading to the car park lot.
Upon seeing them, Tahia was still scarred from losing her glases to an aggressive monkey in Bali last year, and she was less than thrilled to see them.
Anyways, we quickly geared up and went right to the bottom of the Yudaki Waterfall, which still looked as impressive as before.
But what got me smiling was that there was still a sign (maybe not at the falls anymore) by the car park saying something about the falls having a feminine quality to it.
And after mentioning that to both Julie and Tahia, we all got a laugh, especially when Julie said, "Hey!" to me once she got what I was insinuating what I think the signs here was referring to.
I'll leave it up to you to figure that out, too.
Anyways, we took some time documenting the falls and taking some people shots as there were no more than a handful of people here at any one time.
Quite a few of them actually decided to go up the switchbacks to the top of the waterfall, but we opted not to do that since we kind of already knew that perspective in the past.
Besides, Julie wanted to get back to Nikko to explore the town a bit.
However, I was interested in doing the short loop walk to at least check out the Kotaki Waterfall, and so I ultimately did that while Julie and Tahia went straight back to the car.
While there was the presence of bears in this area, I was just going to keep making noise and I was filming the experience, and I wound up doing this loop walk in a counterclockwise direction.
The path was through a quiet forest that was mostly full of trees without leaves (again, reminding me that Spring wasn't the best time to be in these mountains), but the path was quite tame on all boardwalk.
When I got to the bottom of the loop walk, there were more paths going further to the south towards the Ryuzu Falls as well as some other wetland, but I wasn't going to do that.
I then cut across to finally see the Kotaki Waterfall at 3:50pm, which looked like it might have seen better days in the Summer when in higher volume might spread out and be a wide waterfall.
So after having my fill of this waterfall, I then made my way back towards the car getting there at 4:10pm, where we now could head down towards Nikko.
It was certainly a nice walk, and I was glad that I got to do this experience with the Kotaki Falls, which further reinforced to me that when you're chasing waterfalls in Japan, you're better off self-driving that trying to force things with mass transit (as extensive as it is).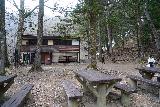 Anyways, we were caught because a tour bus from Tokyo that didn't want to use any of the pullouts so we watched as it made tight turn after tight turn almost clipping the guardrails in some situations or getting clipped in the back by the slope of the switchbacks.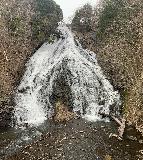 This bus actually just got on the road in front of us, much to our luck, but I guess that was kind of the theme for today.
Anyways, we'd ultimately make it down to our accommodation at 4:55pm, where we parked the car and learned that we had to give the keys to the hotel, which was called Kozuchi no Yado Tsurukame Daikichi.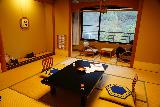 Then, upon check-in, we also learned that apparently dinner and breakfast were included in our bookings though apparently the booking was for 2 people and not 3.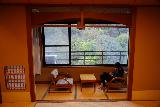 Again, when you have a booking through Expedia, our experience has been something gets lost in translation, and it's never quite as smooth as when we're able to book something through Booking.com.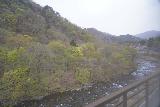 And in this case, apparently, only Expedia had this place available whereas Booking or Agoda did not.
It was interesting having these conversations with the hotel staff since English was not really spoken, and I did my best with my limited Japanese though Julie was less patient and jumped right to Google Translate to try to shortcut my attempts at communicating.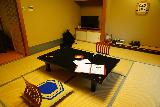 Eventually, we learned that this place was actually a full service accommodation, and that it was too late for tonights dinner for a third helping for Tahia.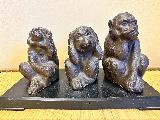 We would also have to pay for the extra person since they didn't anticipate it, and that the affected meals would occur starting tomorrow.
We also learned that dinner was going to be at 6pm tonight while breakfast wouldn't be until 7:30am tomorrow (which might be bad for us considering that we had to get to the airport on Sunday morning).
We'll have to figure that out tomorrow, but I would have to learn how to say breakfast and use the cause-and-effect grammatical constructs that I had just learned from Japanese from Zero book 2 in order to pull that off, when the time comes tomorrow.
In the mean time, we just spent the rest of the evening getting settled in the traditional tatami-style room, and then, we proceeded to have our dinner at the scheduled 6pm.
The meal was a multi-course dinner consisting of a grilled first course before getting to a shabu shabu second course, and then finally having a dessert course, which Tahia wanted to share with us the most.
By about 7pm, we were back in the room as the place was all made up (and the bedding seemed to be a little softer than the Hotel Urashima was), and so we'd pretty much spent the remaining hours of the day just settling in and eventually crashing some time after 11pm.
Seeing the forecast for tomorrow made us realize that the rest of this trip was going to be uncomfortable, but we'll just have to make do as we always do…
Day 10 (April 15, 2023 – Nikko, Japan): "Nature Forcing The Hand"
It was 5am when I awoke naturally without an alarm (as I had apparently forgotten to set it).
Looking outside our river view, I saw that the weather outside already looked cloudy while there was already a misty area further upstream that meant the system was dumping rain just as predicted.
Indeed, today was going to be a wet day, and we did it right by getting all the sightseeing done yesterday where it was more critical to have those done in the good weather in the face of the incoming storm.
Now that the storm was here, we could do the UNESCO World Heritage Shrines and Temples of Nikko, where such touring is not as weather dependent.
And any other waterfalling that I can fit in after the temple touring is done would be icing on the cake.
Anyways, I took some time to get caught up as usual since I'm more awake and alert in the morning than I am in the evening (where trying to force myself to finish something ends up being both closer and prone to writing jibberish).
And we were basically killing time before the scheduled 7:30am breakfast, where we were wondering whether it would be a good idea to skip the breakfast tomorrow to give ourselves more time to get to the airport while also fitting in a visit to the Ryumon Waterfall just east of Utsunomiya.
So when 7:30am came around, we were greeted with a welcoming committee before we were asked to pick our fish (there were four different kinds to choose from).
I think Julie and Tahia picked sardines while I picked a horse mackerel (but they also had a barracuda and some other river fish on offer though the name escapes me).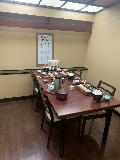 Then, we were seated in our usual private room at the corner of the first floor of the accommodation, and once again, it looked like there were already dishes ready and waiting for us.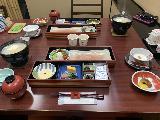 Already, we were thinking that this breakfast felt special just like last night's dinner was, and now I was thinking that breakfast tomorrow shouldn't be skipped.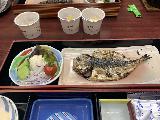 So I was calculating in my head how long it would take to drive from Nikko to Ryumondaki, and then from the falls to the Narita Airport with a gas stop plus restroom stops in between.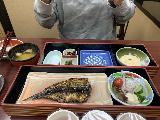 It's definitely going to be cutting it close, especially since we need to be reimbursed for the tire replacement expenses that the Toyota Operator said I had to buy outright, and then ask for reimbursement upon car rental return.
And then we'd have to shuttle from the airport shop to the Narita Airport for all the chaotic checking in, dropping off luggages, and all that jazz.
Anyways, we were enjoying the Japanese breakfast, where it was multiple courses of healthy fare with a variety of different little dishes, and we were once again just surprised at the attention to detail to the presentation of the food as well as the service as each course was coming out.
This full service accommodation thing was not only unexpected, but now we were thinking that this pretty much made the experience here, and it was certainly a happy accident.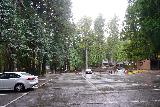 By about 8:20am, we were finally in the car, and now that it was definitely raining, we decided that we were going to drive everywhere to minimize the amount of walking in the rain.
So first up, we went up towards the Nikko Futarasan Jinja Shrine, which was apparently open before 9am as the famous Toshogu Shrine wasn't.
The parking there was 700 yen, but the guy said that it was good for all day though we were thinking that this was going to be a quick stop before we were going to drive elsewhere for the next stop.
Anyways, we were probably one of a couple of cars parked here, and we proceeded to walk around the temple grounds, which seemed to have a couple of blossoms in the large courtyard area that also seemed to double as a staff car park.
Then, we paid 300 yen per person plus 100 yen for Tahia to get into the temple grounds itself, where there was one main building and another one that still seemed to be going through restoration work.
There were more attractive blossoms fronting the main temple, but it was basically a short visit via a loop walk taking in more elevated views of the temple.