Day 12: WHIRLWIND TOUR OF MUMBAI
Trying to seize the moment of having been here and not forseeing a return to India in the immediate future, we tried to take advantage of the fact that our flight to Goa wasn't departing until noon today. So last night before calling it a night, we arranged with the driver to take us on a bit of a whirlwind tour of Mumbai this morning. And we were going for a 7am start.
So we awoke at 5:45am. We didn't sleep until around 1:30am earlier this morning because we were too busy basking in our little anniversary dinner while trying to enjoy what little time we had in the luxury suite.
I looked out our window and could see that it was raining at 6:40am.
And by 7am, we got our boxed breakfasts, checked out, and joined Araun our driver for our whirlwind tour.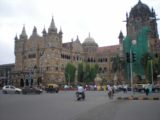 After unsuccessfully trying to take photos of "King Khan's" mansion, we crossed over a long bridge into South Mumbai. From there, Araun drove us to and fro allowing us to check out both train stations and other interesting Victorian architecture in the city (no doubt built during British rule).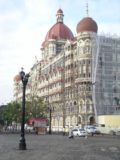 At 8am, we were dropped off for an hour at Colaba. Unfortunately, it was kind of dead here (which I suspected since I had hoped we would have enough time to check out the energy of the evening scene here last night, but the flight delays made that practically impossible). Still, we got to photograph the Gate of India (as opposed to the India Gate in Delhi), the Taj Mahal Hotel (still being renovated after being hit hard by the November 26th attacks last year), and all the pidgeons crowding the large public square.
Even this early in the morning, we couldn't really take our photos and contemplate having breakfast outdoors in peace as touts were already on us and wouldn't take no for an answer. So we retreated into the Taj Mahal, going through their tight security, and munched in the new lobby area. From there, we walked towards the old lobby area, which was small and was really nothing more than some fancy carpeted stairs.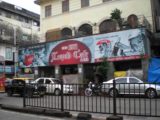 By 9am, we were picked up by Araun again, and he proceeded to take us to more stop-and-go sights such as a couple of gardens, Malabar Hill, the walkway in front of the Oberoi Hotel (also being renovated due to 26-11 attacks), and some of the Parsi structures and institutions.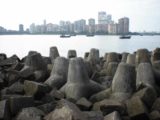 He also pointed out at several points throughout the whirlwind tour the governor's mansion, at which point I wondered if some of these officials were corrupt given how much money (which I suspect was taxpayers money or treasury coffers) was spend on lavish buildings and could've been better spent on infrastructure, opportunities, and education for the masses.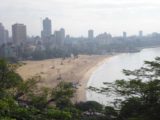 In any case, I got the sense that Mumbai was really more of a place to soak in the atmosphere of tourists and locals browsing about at the Colaba Causeway or Chowpatty Beach. And it wasn't really a place to do any serious sightseeing in the way that you might do in say New York or Hong Kong.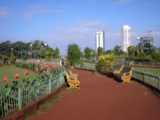 At 9:45am, we were headed back to the airport. We took a different route back in which we could see that traffic was pretty much in full effect. We could also see villagers living on the streets, which the driver acknowledged was a major problem in Mumbai. Plus, we could see some of the slum neighborhoods though we didn't get into the Dharavi Slum, which was featured in the movie Slumdog Millionaire.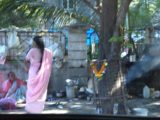 At 10:45am, we were checked in at the airport and were awaiting our 12pm flight, which was delayed until 12:30pm. By now, we've come to expect flight delays as all but one of our domestic flights were delayed on this trip.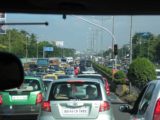 Throughout this morning, Julie was feeling the chills. She started to conclude that it was probably food poisoning, which she was already having yesterday. So she was out of it when it came to the Mumbai whirlwind tour and she was definitely out of it on the plane ride to Goa.
At 1:15pm, the plane finally took off. And on this crowded flight, we were served food and drinks (unlike the 2.5-hour flight to Mumbai yesterday in which nothing was served). I guess this is characteristic of flights involving more tourists than locals.
At 2:10pm, we landed. The landing wasn't a straight landing, but we still made it to Goa safely nonetheless. When we met up with our rep and driver, we loaded up the car and proceeded to drive the 45 minutes to our Casa de Goa accommodation somewhere around Calangute and Baga.
We noticed that the cars here were newer than what we had experienced in Guwahati and Shillong. But we also witnessed the aftermath of two accidents involving scooters being struck by vehicles. This is like the third or fourth accident we've seen on this trip (including one involving our car and driver and a little boy in a rural village near Ranthambhore), and given our sampling, it seems like India's reputation for having the most dangerous roads seems to be holding true.
At 4pm, we made it to the Casa de Goa and checked in. Our accommodation was pretty humble and definitely nowhere near the quality we'd been used to on all our previous night's stays up until this point; this despite our expectations that Goa is more of a resort destination.
Still, the atmosphere seems much more laid back than all the other parts of India that we had been to. Though that statement is relative since we've seen more laid back resort spots in our travels.
Julie wasted no time in getting right to bed and taking a rest to try to shake off her food poisoning symptoms.
At 5:40pm, I walked alone to the nearby beach. The walk itself was around 5 minutes through a local alleyway, which I thought at first wasn't the right way to go.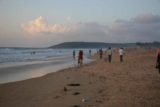 When I arrived at the beach, it was quite busy. There were lots of people as well as hawkers on the beach itself. I also noticed quite a few foreigners playing in the waters as well (though I did notice the waves were a bit on the dangerous side thanks to the increased swells from Cyclone Phyan).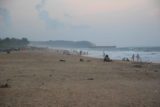 Meanwhile, other foreigners were doing what I was doing – taking photos while staying dry. It wasn't the same checking out this beach without sharing it with Julie as she was struggling with her ailments. So I took whatever atmosphere shots I could given that the daylight was rapidly fading. Some locals were busy arranging their fishing nets on some of the boats moored in the sand. Some of the female locals had baskets balanced on their heads looking to tout pineapples and coconuts.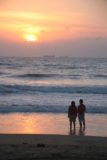 Meanwhile, as the sun was setting and my attention was focused offshore, I couldn't help but notice several dozen oil rigs and tankers offshore. Along with that, there was also a fair bit of litter on the beach. These kind of ruined my preconceived notion of what Goa's beaches were supposed to be like, but then again, we weren't all that particular about our choice of accommodation and beach location here since the main goal was to check out Dudhsaghar Falls, which was our activity for tomorrow.
With the locals saying that heavy rains pounded this area for the last couple of days, I hoped that the falls on this side of India might have gotten a bit of a revival considered the weak monsoon everyone had been complaining about.
At 6:05pm, I was back at the room. Julie was still asleep and didn't really feel like trying any of the Goan cuisine on this night. So we just decided to save a little money, get cleaned up, and call it a day.
At 11pm, furious after realizing there was no hot water (I had taken a cold shower earlier), no hair dryer, no filtered water, toilet cover broken, no hand towels, and overall the room felt quite dirty and subpar considering we're spending 2 nights here and Goa was a resort town, Julie placed a call with the local rep to request a change of accommodation for tomorrow night (it was already too late for tonight). I was curious how much Casa de Goa costed us because I started to grow suspicious of the local tour operator here, who might have skimped on our accommodations and pocketed the rest of the money themselves. After all, this place (a supposedly resorty place that foreigners go to for a relaxing beach holiday in India) was the worst we'd been to for some time. We both could take this for smaller rural villages, but we're talking a resort town here. Something just didn't add up.
Anyways, we finally slept.