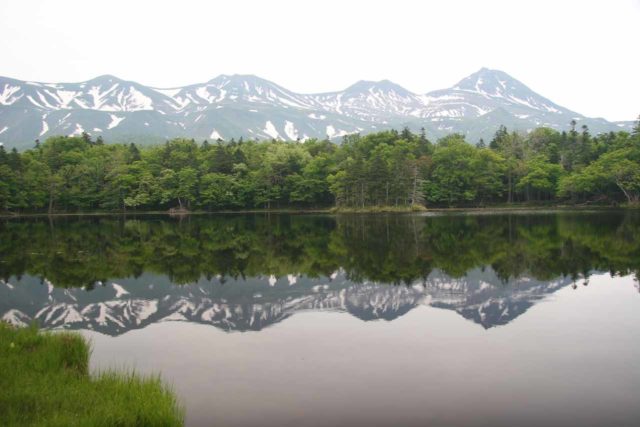 5-June 2009 to 12-June 2009:
But just as we were about to get going past the bridge, we were stopped in our tracks by a closure sign. We couldn't read the Japanese script by this closure sign, but a sign further up the path showed a picture of a menacing bear.
"I don't need to read Japanese to understand that sign," said a relieved Julie, who didn't feel like doing this waterfall anyways knowing that bears are in the area…
Day 50: GLAD TO MAKE IT TO HOKKAIDO
We slept in a little bit knowing that our flight out to Hokkaido won't be until 10am. So we ended up getting up at 6:30am (sure it's a bit early for most, but we're used to getting up at 5am at this point) and leaving our hotel in Kobe's Sannomiya Station at 7am.
First order of business was to figure out how to use the Portliner (which was right at the station) bound for the Kobe Airport. Turned out that was pretty easy enough as we just had to buy our ticket at the vending machine (we had done this numerous times before already), went through the turnstiles as usual, found elevators to facilitate lugging our luggage, and took the 18 minute train ride right for the airport (making sure not to take the Kita line).
The train ride was basically on roads bridging long stretches of harbor as the airport looked to be on one of the islands off the southern coast. Looked like as Kobe expanded, they had no choice but to turn offshore islands into part of the city since it's backed by hills not conducive to further development.
During the ride, we also saw that it was raining pretty moderately as low lying dark clouds dominated the horizon out to sea as well as behind us as it shrouded Kobe's neighboring foothills.
At 7:50am, we were already at the airport gate. Having read the very strict luggage restrictions for domestic flights (i.e. 15kg checked baggage and 10kg carry-on plus one purse-like bag to put under the seat with 550yen per excess kilo charged), we pulled out all the stops in terms of packing efficiently and wearing our heavy jackets.
Turned out we weren't charged anything even though our luggages were 17kg each. So that was kind of a relief.
We then spent the next couple of hours trying to pass the time using the airport's wireless internet. And by 9:30am, we boarded the plane and by 10am, the flight took off.
The flight was pretty much uneventful and somewhat smooth until around 11:11am. That was when we suddenly hit a really rough patch of turbulence upon our descent into the New Chitose Airport in Hokkaido.
The plane felt like it ran into something hard as everything rattled. Then the plane jerked to the right (almost rolled to one side) before jerking to the left (again almost rolling and banking in that direction). We could hear worried gasps and screams by some passengers as Julie and I looked at each other knowing that whatever this was wasn't the norm.
We certainly can't recall turbulence as violent as this before, and with the Air France flight that went down off the coast of Brazil earlier in the week, we were wondering if there's some kind of bad karma in store for us.
Well, the turbulence subsided followed by a Japanese announcement telling us not to use the toilets and fastening our seatbelts as the captain said we were going into turbulence – first in Japanese, then in English. OK, now they're telling us this. Seemed like it was all after the fact as the plane seemed to have straightened out and stopped rattling before the announcement was finished.
At 11:46am, we landed. Now we felt a bit better and safer for the moment. Certainly, we were glad to be in Hokkaido for our last 7 days on our marathon trip.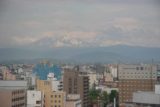 So we collected our bags, got reserved seats for the JR train bound for Asahikawa via Sapporo. All that went pretty smoothly and by 2:30pm even though the weather was pretty rainy throughout the day from Kobe to this part of Hokkaido.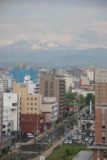 We arrived at the Asahikawa JR Train Terminal where we entered the Asahikawa Terminal Hotel and checked into our room. It looked like the weather was kind of clearing up so I took some photos from our room as some of the mountains in the distance (Mt Asahi?) revealed themselves among the clouds (albeit barely).
So we got settled and spent the rest of our day figuring out where to find some LP recommended dinner spots.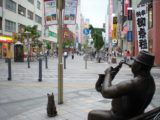 Utilizing a statue of a sax player and a listening cat as landmarks on the main pedestrian street, we eventually we found this real local scallop sashimi place where we pretty much ordered what LP recommended (local raw scallop and fresh steamed local oysters).
Not a word of English was spoken so we had to rely on our best pronunciations based on the Romaji (romanized Japanese) in the LP book along with our phrasebook to figure out how to ask for the check, ask for tea, etc. It's times like these where I really wished I had picked up some functional Japanese prior to the trip, but at least the phrasebook and LP combo saved us somewhat again.
The rest of the time was spent wandering the pedestrian street, having a Japanese margherita pizza (seems better than some of the ones back at home) to help supplement our light sashimi and oyster dinner, and having a soft serve ice cream for dessert.
At 7pm, we returned to the room. Not a whole lot of sightseeing on this day. But I did manage to catch the Lakers vs. Magic NBA Finals Game 1 dubbed in Japanese. It wasn't live, but it was entertaining…
Day 51: THE BIG SNOW MOUNTAIN WATERFALLS
We slept in this morning knowing that the car hire office across the street didn't open until 8am. So we got up at 7am, which was one of the later starts that we had on the Japan part of the trip. We did briefly wake up before going back to sleep some time around 5am. That was because it was already very bright as if sunrise was around some ridiculous hour of 4am.
One look out the window when we were wide awake and it seemed like the low clouds had obscured the mountains (we suspect it's Mt Asahi) to the east of Asahikawa. Not sure if this was a good or bad sign or not.
At 8am, we finally left the hotel. After picking up some pastries and preserved sushi for a takeaway breakfast and lunch during the day, we went straight for the car hire office.
I was a little bit anxious about driving since this would be the very first time we would be driving in almost two months. In fact, it was the first time we would be driving in Asia. But the biggest thing that got us a bit worried was the fact that hardly anyone speaks English, the signs are mostly in Japanese, and we're not totally sure about the driving mannerisms (especially with the images of the near anarchy of the roads in China still fresh in our minds).
So with our phrasebook in hand, we bravely entered the car hire office, showed our international driving permit along with our reservation vouchers, and the process went rather smoothly.
By 8:35am, we were in the car and ready to go. We just had to wait for our software to load up and our GPS unit to lock onto the satellites. The car already came with its own GPS navigation system, but it was completely in Japanese and utterly useless to us (or almost utterly useless since we could at least compare images to our computer, but not in real-time though as that would be dangerous).
We decided to first go for the Ginga-no-taki and Ryusei-no-taki combo, which was way out in the northeastern side of Daisetsuzan National Park. The drive out that way was for the most part uneventful.
The only thing annoying were the ridiculously slow speed limits of 40 or 50 km/h. It seemed the locals routinely ignore these speed signs, but given my inexperience in driving in Japan, I was completely scared of getting a speeding ticket. So I tried to adhere to the speed limits as much as I could, but even then I could only take so much and was cruising closer to 60 or 70km/h. When locals would be in front of me, I'd pretty much try to follow them and let them establish the flow of traffic.
I did see one hiding cop in a straightaway, and that got me a little worried. He didn't chase us, but I can't tell for sure if he had a camera or not. Plus, some overhanging signs seemed to have camera-like thingies as well.
The drive seemed like it took a very long time. I didn't recall any of my pre-trip research telling me the drive took longer than an hour to get here, but it was sure working out that way.
At 10am, we found the well-signed turnoff for the desired waterfalls and arrived at the large car park. There weren't many cars for such a large parking space, and considering it was Saturday, it was quite surprising.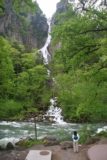 Most of the people here seemed to consist of tour groups or people who arrived by public bus. Even with that said, there were only a dozen or so people. We snuck a peek at the bus schedule and saw that there didn't seem to be a frequent bus that comes here (only around 13:00?). So it was perhaps a good call on driving in Hokkaido even though it'd be a bit more expensive than completely relying on public transport as we had been in Honshu. But then again, we'd have to be slaved to their time schedules, and like in the case of Nachi-no-taki, it was utterly inconvenient.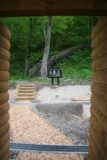 Anyways, we could see both waterfalls from the car park, and it seemed the vast majority of people were content with seeing the falls from down here. But we noticed some stairs behind the shops, and after a little bit of lingering near the base of Ginga-no-taki (the taller of the two), we embarked on the stairmaster exercise session and went up the steep 430m path in search of a better view of the waterfalls.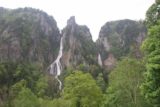 About half-way up the stairs, there was a viewing platform yielding a view of the two waterfalls with a tall tree in between them and lots of other foliage blocking the lower extremes of both falls.
But all the way at the top, we could see a gorgeous view of both falls framed on both sides by tall trees while the falls themselves were separated by a tall protruding rock with a hint of snowy mountains above the Ryusei-no-taki.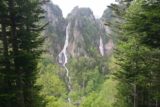 Aside from a trio of Japanese people who were headed back down when we ascended, we were the only ones here. Thus, it was an utterly peaceful and pleasant experience to view the falls from this vantage point and just take in the scenery of the Daisetsuzan National Park.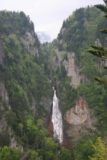 After soaking in the views, we made our way back down the well-forested path to the car park. We couldn't help but notice many of the steps covered with wood chips. Perhaps they were there to absorb excess water and keep the steps from becoming too muddy.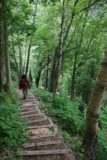 When we returned to the bottom, we briefly walked along the river for a better view of Ryusei-no-taki from down here. There were some wildflowers in bloom providing a little extra color to the scenery, but it wasn't quite as grand as Ginga-no-taki.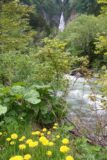 We couldn't help but notice some of the kanji characters that we were able to recognize near the Ryusei-no-taki viewing spot. We figured out that Daisetsuzan's kanji characters literally mapped into Chinese as "Big Snow Mountain." I guess that would explain why the falls were going as well as they did as we imagined most of the water was being unlocked by melting snow.
At 11:10am, we were back in the car thinking about how these waterfalls might be right up there with Nachi-no-taki in terms of the best of the Japanese waterfalls. We did this while enjoying our takeaway sushi while drinking some Japanese beverages (Julie bought some CC Lemon drink by Suntory from one of the ubiquitous vending machines while I drank Calpis Water which we picked up from the Lawson's liquor store in town yesterday).
Ten minutes later, we left the area and drove nearly a long loop to get to the Tenninkyo area on the western side of Daisetsuzan National Park (Sounkyo, where we were at, was on the northeast side of the park) where we expected to see both Hagoromo-no-taki and Shikishima-no-taki.
Again, it was a very long drive, but I was starting to get the hang of following the flow of traffic (even if it was some 20km/h above the speed limit). I couldn't imagine doing both these areas in one day by bus so again we were quite satisfied with our decision to try driving in Hokkaido. In fact, traffic was so laid back out here (especially in the rolling hills of the countryside) that if you can't handle driving in Hokkaido, you can't drive anywhere! At least that was how I felt.
Even though our GPS software didn't seem to have the routing correct, we pretty much followed the main highways (as we did for Ginga and Ryusei Waterfalls) and didn't have much difficulty. Though in this case, we had to follow the 1160 at first and then the 213. Key was to look for Tenninkyo.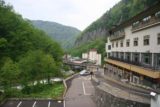 At 1:15pm we arrived at the car park near the Tenninkyo Spa area. We could see vehicles weren't allowed any further and we parked at the nearest car park to that pedestrian area.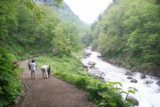 There seemed to be lots of people coming back from a walk, and we weren't sure if they belonged to a tour group or not. But in any case, we started walking along the paved path passing by what looked like a nice waterfall only to realize that it was either man-made or man-modified. Something we had seem many times before in Japan, namely the Japan Alps area.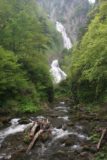 It wasn't long before we reached a bridge where we could see the impressive multi-tiered Hagoromo-no-taki. The bugs kept us from having lingering down here too long, but at least they didn't seem to bite.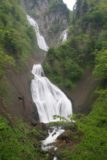 We next went up some stairs leading to a better view of the falls. Unlike the Ginga and Ryusei Waterfalls, this stairway wasn't long. So we snapped what photos we could from here. Then headed back down trying to get to the Shikishima Waterfall.
But just as we were about to get going past the bridge, we were stopped in our tracks by a closure sign. We couldn't read the Japanese script by this closure sign, but a sign further up the path showed a picture of a menacing bear.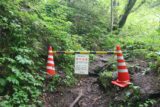 "I don't need to read Japanese to understand that sign," said a relieved Julie, who didn't feel like doing this waterfall anyways knowing that bears are in the area.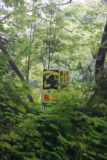 So it was kind of a bummer that we couldn't see this waterfall. But we still saw the best of the area and was content anyways. Now it was time to get back to Asahikawa.
We got back to the car at 2:10pm. During the leisurely drive back, we took photos of some of some familiar basalt formations (so typical of areas that historically had a combo of lava and ice) as well as other photos of Mt Asahi behind some manmade lake.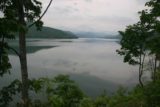 The drive was a little bit shorter (but more than the quoted 30 minutes) to get back into town. We noticed some commotion in town where there seemed to be a parade.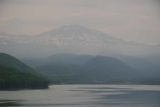 We also tried to fill up some gas (even though the tank was mostly full) because we needed to know which places could take credit cards. Imagine paying nearly $100 USD on a full tank [and this is a Toyota Camry mind you] in cash with a limited cash supply. That was what we were faced with.
Eventually we found what seemed to be a chain of gas stations (either ENEOS or Jomo) that seemed to accept credit cards. The local one near the car hire office only took cash. Scratch that one.
At 4pm, we finally made it back into the ETSA Parking Structure. It was a bit tight and crazy in here because a lot of locals seemed to be on their way out of here. Apparently, there was some kind of parade and most of the parade and performances were done so people started leaving. And all this hoopla just so happened to be ending at the JR Asahikawa Train Station.
We weren't sure what the reason for the festivities were, but it seemed like the whole town was here.
The rest of the evening was spent eating some delicious ramen noodles (Julie got their specialty of ramen with some kind of pork cheek meat, which was really tender) along with gyoza (potstickers or tiny fried dumplings).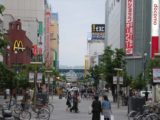 Then, we walked the pedestrian street again treating ourselves to more junk food like Japanese versions of doughnuts along with another helping of Hokkaido milk vanilla ice cream in a waffle cone.
We were back in our room a little after 6pm pretty glad that we accomplished what we set out to do today. Now it was time for some z's.
Day 52: DRIVING IN A TRANCE
We awoke at 6:30am to rainy weather. After getting our things all packed and ready to go, we left Asahikawa at 8:10am after waiting some 5 minutes or so for the GPS to lock again.
And so we embarked on a very long drive to Utoro near Shiretoko National Park on the far east peninsula of Hokkaido. It was some 220km from Asahikawa to Abashiri (the nearest major city to Shiretoko NP), but the ridiculously low speed limits of 50km/h throughout the drive really slowed things down.
Pretty much for the entire drive, it was raining regardless of where in Hokkaido we were. But the slow speed limits kind of made me drive in a trance as we felt we could've covered the distance in 3 hours or less.
Instead, I was relegated to trying to find some local driver to follow so we can exceed the speed limits within the flow of traffic. But when I was alone, I tried real hard to stay reasonably within the 50km/h speed limits. I also saw the same cop that was hiding at the straightaway near the Ginga-no-taki and Ryusei-no-taki turnoff near the Sounkyo area.
While we were somewhere not too far from the Shari Town, we filled up on gas at an Idemitsu. Turned out they take credit cards, too. So at least we know to also look for them on the return drive back to Asahikawa later in this trip.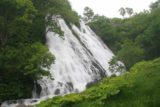 It wasn't until after 1pm when we drove on a stretch of road that finally revealed the Sea of Okhotsk. And at about 1:20pm, we saw an impressive white wall of water in the distance. Upon getting closer, we saw a large car park area and a sign for Oshinkoshin Waterfall right before a tunnel.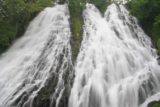 That was the perfect excuse to stop at the car park and take a breather from the 5 hours of trance driving in the rain.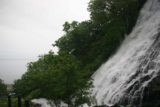 It seemed like the weather started to let up a little bit as it was merely sprinkling when we got out of the car. And from there, we walked up the stairs and took whatever photos we could along with a handful of other Japanese tourists.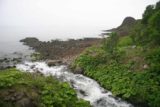 On the other side of the road, we could see the waterfall's stream go right into the Sea of Okhotsk, which looked rather calm for an open body of water.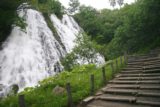 At 1:55pm, we were back in the car. And at 2:05pm we got to the Ikura Hotel on the opposite side of the bay as the town of Utoro. The town looked a little more developed that we had expected since we had read that Shiretoko was as wild as Japan gets. It seemed like Utoro supported some fishing industry along with tourism, but it really kind of reminded us of some Icelandic fishing towns somewhere out in the Westfjords.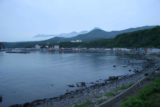 By 2:30pm, we were checked into the mom and pop style hotel, which was in a charming Japanese style room.
We spent the rest of the afternoon loitering about in Utoro town, especially at the visitor center and at the UNESCO World Heritage Conservation Center next door. There, we realized that the land on the Shiretoko Peninsula was too topographically rough to support any type of farming. And it's this fact that has allowed this peninsula to remain wild thereby supporting a healthy population of Asiatic brown bears, sika deer, foxes, lots of bird species, and more. We hope to be seeing some of this on display in Nature tomorrow.
But by 6pm, we were back at the hotel for the included dinner. There, we feasted on a generous helping of crab, salmon, sashimi, octopus shabu shabu, and a smoked salmon salad among others.
Afterwards, we bathed in the property's onsen, which provided views across the bay towards Utoro. Plus the water wasn't too hot. It was relaxing and a great way to end off this otherwise long travel day in rain.
Day 53: LIKE YELLOWSTONE IN JAPAN
At 6:30am, we awoke after allowing ourselves a little bit of sleeping in beyond the usual 5 or 6am. Upon looking out the window, we could see it was still overcast, but we were able to see some of the peaks behind Utoro town.
The forecast had called for 20% chance of precipitation or otherwise partly cloudy conditions.
After our 7am breakfast, we went back to our room to get ready for the day. By 8:45am, we were in the car and headed for the Fox Cafe where we were supposed to meet to fulfill our reservation for a boat tour on the Utoro side of the Shiretoko Peninsula.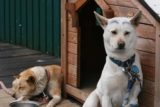 We weren't sure they were going to tour today because the literature said a mininum of 7 people were needed and we only had 6. But the staff there assured us that they were going to go today.
While we waited for the 9:30am tour, we occupied ourselves with free internet at the cafe (Julie) while I was playing with a pair of dogs that appeared to be owned by someone at the Fox cafe.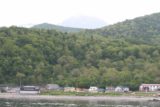 So at 9:30am, we were on our way out of the dock. I think the dogs were attached to me as I was to the dogs so when we were walking towards the boat, one of them barked as if it didn't want me to leave.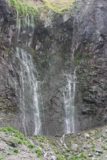 Anyways, we boarded the boat and were off into the Sea of Okhotsk to the soundtrack of Enya. All of the dialog over the loudspeaker was in Japanese, but the driver also pointed us to a screen just to the side of him (since we sat on the frigid top of the boat while the rest stayed below) where it would show us what we were seeing in English text. Pretty nifty.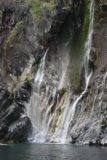 Barely a few minutes into the tour, we already started to visit the Furepe Falls as well as some other set of wispy waterfalls falling through cracks in the cliffs.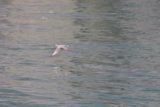 From there, lots of the scenery from the boat revealed more light waterfalls as well as sea cliffs. Interspersed throughout this stretch were some birds skimming the Sea of Okhotsk, which was notable since I couldn't recall seeing this much wildlife so readily in Japan let alone Asia.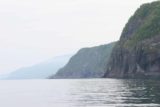 As we were about to approach Kamuiwakka Falls (visible way out in the distance at this point), the boat driver pointed out an eagle perched on the sea cliff to us.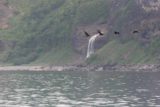 It was a good thing I armed myself with a telephoto lens but even that was barely enough to make the eagle appear a little more than just a dot. However, the telephoto made it difficult to take landscape shots so I had to rely on Julie's point and shoot for that.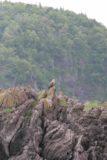 Not long thereafter, we went right in front of the Kamuiwakka Waterfall. Originally, I had hoped we wouldn't need a boat tour to see this waterfall, but the problem was that they don't allow private vehicles on the unsealed road to get to the falls, and the bus that goes there only operates from mid-July to mid-August.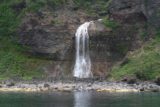 In that experience, we'd get to soak in the sulfur-rich hot stream for as natural an onsen experience as you could get by a natural waterfall.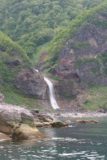 But instead, we had to settle for a view from the boat. Actually it was a surprisingly good experience as we could see the waterfall pretty much with its tallest drops. The only drawback was that we just couldn't treat it like a natural onsen experience.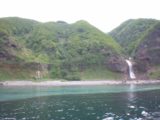 One thing that struck us was how green the water was as the falls fed the Sea of Okhotsk. It was a rather unusual sight as the green water abruptly turned back to the natural dark color as the concentration of the sulfur was diluted enough to act more or less like seawater again.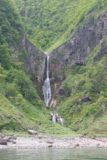 Beyond Kamuiwakka Falls, there were even more waterfalls who names escapes me. I think the waterfall fatigue was setting inn given the quantity of waterfalls seen on the boat trip so far.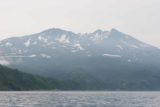 Some landscapes afforded us views of alcoves hidden amongst the sea cliffs as well as these cliffs fronting towering snowy volcanic peaks and craters looming behind them.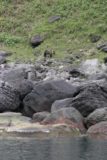 We also started to see Asiatic brown bears foraging for food. These were the lords of the forest in these parts who apparently can be aggressive and kill in much the same way grizzlies can. They're bigger than the California black bears we're used to at home, and they don't quite command the same kind of fear and respect as these bears (along with grizzlies) apparently do.
Again, I was glad I had the telephoto lens because the we didn't want to get too close.
We also saw more bears up cliffs as well as by the rocky beaches near some fishing hamlet beyond some end of the road.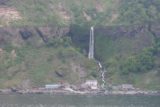 Speaking of which, we were a little surprised at seeing how many tiny fishing hamlets were spread out along the Shiretoko coast facing the Sea of Okhotsk. We had researched the Shiretoko National Park and were consistently told that it was untouched and pristine.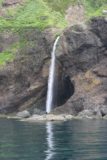 But what we were seeing from the water was that humans have definitely left their imprint along the coasts going as far as the end at the Cape of Shiretoko. Even some of the sea walls seemed to be eyesores.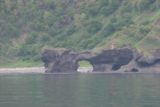 I'm betting that the real untouched wilderness in Shiretoko National Park lies in the interior of the peninsula amongst the forests and volcanic peaks where no roads exist. There may be some hardy backpacking souls in there trying to truly get away from it all in Japan, but it's definitely not for the faint of heart in bear territory and where trails can disappear in the thick forest as well as along the sea cliffs!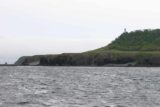 Amongst all the sightseeing that was going on in the boat, we were also having runny noses as we had worn some four or five layers to fight off the bitter cold. They even gave us light gloves to help keep our hands from getting numb or frostbitten. But our faces bore the brunt of the windchill as the boat pierced through the cold air. So that's why our noses were running profusely while our cheeks were probably flushed.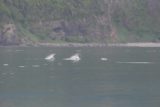 As we headed back to Utoro, we started to notice dolphins making their presence known only when they surfaced to breathe. But they didn't reveal much of themselves, unlike the dolphins we saw in New Zealand where some did backflips for us. I'm guessing it's because the boat motors and Enya music were on and probably scared off the dolphins or at least discouraged them from coming closer.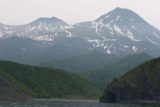 Eventually by about 1pm, we made it back to land. Our nearly 3.5-hour boat ride was over and now was the time to enjoy a little lunch that I was really looking forward to. The reason why was because there were some local restaurants here serving sea urchin, salmon roe, and other fresh seafood over a bed of rice and seaweed strips.
So we settled on this place across the street from the main visitor center. There, we each ordered a mixed bowl of the aforementioned sealife along with amaebi (really sweet shrimp), octopus, salmon, and yellowtail over rice and seaweed.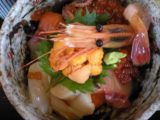 It was probably the best sashimi over rice bowl we've had, and the price paid was pretty much on par with what we would've paid for a decent sashimi bowl over rice in a Japanese joint in Gardena.
At a little after 2pm, we were finally on our way to visit the Shiretoko Go-ko (5 Lakes). This was supposedly the most touristed part of Shiretoko National Park. But I had hoped we instead drive over the pass towards Rausu Town where there was another waterfall as well as a predictable geyser that goes off nearly once an hour.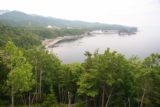 Unfortunately, Julie's fear of bears kept us from considering this latter option, which was a bummer for me since I wanted to experience some of Shiretoko's nature firsthand instead of from a boat offshore. Besides, the walk to Kumagoe Waterfall was said to be 0.2km according to the lady at the visitor center. Plus, the predictable geyser was pretty easy to see.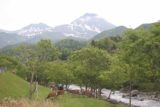 But instead, we chose the 5 Lakes over the Rausu Excursion for the latter half of the day. That one seemed to be the one excursion where we could get the most bang for our limited time this afternoon.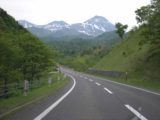 On our way to the lake, we saw many deer by the road as well as amongst the foliage before the mountains serving as backdrops. It was a bit reminiscent of the autotouring and animal sightseeing we experienced in Yellowstone National Park.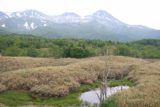 But through all of our picture taking, we kind of overlooked stopping at the Nature Center, which was a mistake because I had originally intended to see the Furepe Waterfall from the short walk behind the Nature Center but completely forgot about this trail.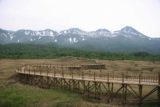 At 2:45pm, we arrived at the car park for the Shiretoko Five Lakes area. We were charged 410 yen to park here, so I guess it was kind of indicative of how well touristed this part of the park is considering I didn't recall other parts of the park charging for anything just to get in.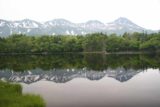 The walk at first went out to some wooden platform amongst some marshlands. We saw more deer here as it was becoming clear that they were a dime a dozen. The views here were primarily looking back towards the mountains as well as a distance glimpse of the first of the Shiretoko Five Lakes.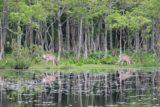 We next proceeded to join the tour groups and go onto the 5 Lakes walk. It was a bit of a challenge to get ahead of the slow moving tour group of mostly elderly people. But once we got to the first lake, we were able to pass most of them and start to enjoy the lakes in a little more peace.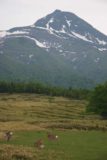 Throughout the 90-minute walk, we tried to use the calm of the lakes which produced reflections of the mountains in the distance. Unfortunately, it was a bit difficult to photograph the mountains with the reflections in their entirety because it made the photos look flat. I was now able to see why post cards and ads of the Shiretoko Five Lakes tended to focus on specific subjects instead of trying to capture it all with the reflections.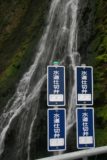 At around 4:20pm, we left the Shiretoko Go-ko Area and made it back into Utoro Town at about 4:40pm. There, we checked out what appeared to be a natural waterfall spilling right into town. But with all the manmodified waterfalls we'd seen throughout the country, we couldn't really tell if this waterfall was fed by onsen wastewater upstream.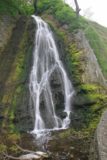 This waterfall also didn't have a formal name, which further made us a little bit suspicious about whether this was a real waterfall or not. Still, we took photos just because it was attractive in its own way, and to prove that we were here.
At 4:50pm, we stopped by the Visitor Center in town for another helping of delicious Hokkaido Milk Vanilla Soft Serve in a waffle cone as well as the same thing in Mango Soft Serve.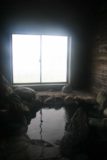 And at 5:10pm, we were back at the hotel where we soaked in the property's onsen again while having yet another big dinner consisting of mostly seafood. It was a bit different from yesterday's meal as this one also included Hokkaido lamb and what looked like King Crab legs. Delicious nonetheless, but we left dinner totally stuffed.
And so ended our long touring day of Shiretoko. As our some 500+ photos between us would attest, there was definitely no shortage of sights to see and we still could've seen more on the 334 en route to Rausu if not for Julie's phobia of bears.
Day 54: TOO MANY COSTLY DETOURS
It was 6:30am when we awoke. Once again, it was cloudy outside. But today, it looked even cloudier than before as most of the peaks behind Utoro Town seemed to be clouded over. I began wondering if the sun is ever coming up in Hokkaido because I can't recall throughout this week that it has at all.
After a different included breakfast than yesterday, we left the Ikura Hotel at 7:35am.
I really wanted to turn left and head towards Rausu to see Kumagoe Falls and the Rausu Geyser. But Julie's phobia of bears really kept it from happening, and I wasn't in the mood for an argument and fight over it. So I turned right and headed back in the direction of Shari Town and Abashiri.
I was fortunate to be following some locals who were going well over the 50km/h speed limit so we ended up at the Platform 3 at Lake Mashu by 9am, which was much faster than I anticipated. However, the skies were very overcast and even looked like it threatened rain.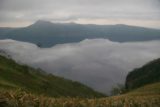 When we got out of the car, we walked up the stairs and set our eyes on Lake Mashu, which looked very attractive despite the suboptimal conditions.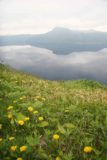 In fact, both Julie and I thought about our Tianchi (Heaven Lake) experience on the China/North Korea border. And what we saw at Lake Mashu was what we felt Tianchi should've yielded had it not been frozen over and threatening thunderstorms (as we came 4-5 months too early).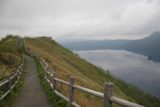 At 9:35am, we were back in the car and 5 minutes later, we ended up at a more developed platform. This one charged us 410 yen to park so I reckon it must be good here.
Still with overcast skies, we could see that the way the foliage framed the lake, this was clearly the more photographable spot. Even tour buses and lots more people were here to enjoy the views, but it was still quiet compared to China. Though it was definitely much busier than the quiet platform 3 that we were just at.
We returned to the car at 10:25am. Thinking we had lots of time to get to Kushiro, Julie wanted us to stop over at this place called the Wakoto-hanto (hanto = peninsula). She was in search of a "natural" onsen, which was something we hadn't seen on this trip.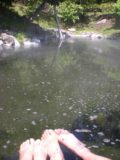 At 10:50am, we followed the signs to the large, mostly empty parking lot for the Wakoto-hanto. We walked towards the lake and then followed the footpath along its shores towards a humble looking pool that was steaming.
That must be the onsen.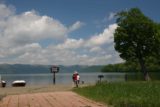 We spent some time here sitting down and dipping our feet in the onsen. The onsen, as advertised, was quite scalding hot. Even putting our feet in the algae-infested pool was rather an uncomfortable experience as our feet were turning pink from the heat.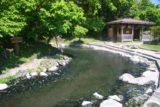 Sharing the pool was a Japanese family of three where they let the kid go buck naked and right into the pool a little closer to the lake than we were.
The experience was quiet and relaxing. We expected to see more people around here, but that wasn't the case.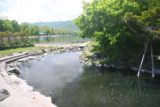 But upon observing the surroundings of this onsen, it seemed that all wasn't as natural as we had expected as they built some kind of concrete path around half the onsen while it looked like there was some kind of channeling or subtle plumbing to allow the geothermally heated water to go right into this particular spot. Once you cross the bridge, the water in the adjacent lake was quite cold. So we started to wonder whether this onsen really was "natural" or not.
In any case, after we were done soaking our legs, we checked out some of the calm, reflective waters of the lake taking more photographs. It was real interesting to see clouds reflected in the water especially as the weather continued to improve and become partly cloudy and sunny skies.
I think this might be the first time we got to see sun and blue skies in Hokkaido!
At 12:10pm, we were back at Lake Mashu after driving back here from Wakoto-hanto. Thinking that this sudden improvement in the weather might yield a different experience back at Lake Mashu, we returned here knowing that our already bought ticket should let us in without having to pay more.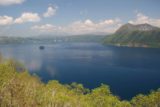 And sure enough, the experience was completely different than just an hour or two ago. Now, the lake was a very deep blue, and the blue skies along with the sun's coloring effects really made the scenery come to life in contrast to the cloudy skies we had witnessed from here earlier.
So we capitalized on this rare circumstance of good weather in this photogenic spot and took even more photos from here. Now, they were arguably post card quality.
We left Lake Mashu at 12:45pm. From there, we thought we might make a quick stop at the Akankohan where we expected to see some Ainu Village along with a lunch and a look at some kind of fuzzy spherical algae ball that the Lake Akan is famous for.
Unfortunately, the drive ended up being longer than we expected as Akankohan seemed to be a very long 50km or so detour. I had assumed that this village and attraction was nearby Lake Mashu, but this wouldn't be the case.
But now that we were committed to this path, there was no turning back the way we came which should've been a more direct path southwards to Kushiro when this "side" excursion ends.
One thing that seemed disconcerting was the amount of military vehicles going the other way. We weren't sure where they were headed, but we were wondering whether this had anything to do with North Korea starting to remilitarize, launch missiles into the Sea of Japan, and run nuclear weapons tests.
Anyways, it was getting surprisingly late in the afternoon (it was now nearly 2pm at this point) and we were having trouble finding the correct building and parking area for our fuzzy balled attraction. Realizing that this wasn't the real priority of the day and how much time we had wasted on this detour (not realizing how far it was to begin with), we called it a loss and continued south on a different road to Kushiro.
This road passed through lots of farms (mostly dairy farms) and was quite featureless.
We then passed through Kushiro City before heading north aimlessly in search of the Kushiro Shitsugen (Wetlands) Visitor Center and Viewing Platform.
We ended up going to the Hosooka Viewing Deck area at around 3:25pm. Thoroughly exhausted from the driving, we still weren't quite sure we were at the right place as there seemed to be minimal infrastructure and not a whole lot of people as expected.
So thinking this wasn't the right place, we kept driving further inland, which ended becoming an unpaved gravel road. This ended up being a huge waste of time and gas as this unpaved road seemed to keep going and going. At some point, we realized that we were probably well past the coverage of some of the visitor info maps of the area that we glimpsed.
Thus, we headed back to the Visitor Lounge near the Hosooka Viewing Deck knowing we still hadn't seen anything from here.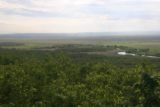 Eventually at 4pm, we found something that looked like a walkway leading to a platform. So we parked somewhat illegally on the dirt road and quickly made our way to the viewing platform. And sure enough, this was indeed the Hosooka Viewing Platform, but the views from here weren't all that impressive and clearly there were none of those famous Japanese cranes to be found from here.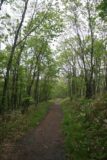 Twenty minutes later, we walked to the Visitor Lounge and saw more maps over there. Then, we realized that the Visitor Center and Viewing Deck we expected to find was way on the other side of the marsh along the route 53, which I swear we must've driven on at some point to get all the way here.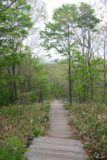 At this point, I was resigned to just putting that visit off for tomorrow morning on the way back to Asahikawa. Clearly it wasn't going to happen today since we had taken too many wasted detours and it was getting late. Plus, we still needed to check into our accommodation in Kushiro City.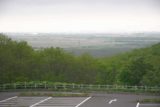 At 5pm, we finally checked into the hotel, and I was finally able to take a break from a long day of driving. We ended up having another sushi dinner that was a bit cheaper than what we got in Utoro, but it wasn't quite the same though still decent. The Food Market was dead and it looked like everyone was closing. So obviously, it was more of a lunch thing and not a dinner thing.
Day 55: MORE FRUITLESS DETOURS
Once again we got up at 6:30am. I realized that this was the last day we could use our JR Pass (as it was day 21 of 21 since redeeming the voucher), and we're planning on making it count when we return to Asahikawa Station after returning the car hire. That train ride is to go to Sapporo, which will be the last place of any sightseeing on this trip.
After going across the street to the Kushiro Station to pick up some bento boxes for lunch today, we left the hotel at 8am. Our intention was to head to the Kushiro Shitsugen National Park in search of those elusive red crowned cranes.
We got to the Kushiro Marsh Observatory at 8:25am. We had hoped there might be someone here to help us find the crane viewing spots. But no one there spoke English. Plus, the walk to one of the overlooks was fruitless in that it led to an obstructed overlook of the marsh area from the west side. That wasn't worth some of the mozzies or midges that seemed to like to bury themselves in our hair and bite our scalp.
So at 8:55am, we returned to the car and continued heading north on the 53.
After aimlessly overshooting the intended viewing spot known as Tsirumidai, we finally found it and parked the car at 9:50am. Actually, we weren't quite sure we found it at all since we were surrounded by farmlands. It didn't seem like red crowned cranes would come here at all since it seemed nothing like a wild habitat.
But it turned out after talking to a cafe owner who spoke a little bit English that the cranes were on the grass here (surrounded by farms we must add) earlier this morning. It's just that they're not here at this time. I'm guessing you have to come here early before cars come whizzing by on the Hwy 53 and start scaring the birds away.
I also wondered whether the cranes are fed here to attract them since we couldn't figure out why cranes would ever want to come here considering how it's all agricultural turf here.
Needless to say, there wouldn't be any live cranes we'd be seeing out in the open (and definitely not in the wild) so we thought perhaps the Tsurui Village's Bird Sanctuary might offer us a chance to see them in captivity.
But when we got there at 10:30am, it was closed. It definitely wasn't meant to be. This whole time searching for cranes in Kushiro really felt like a major fruitless detour just as yesterday was riddled with many of them.
And so we started our drive back to Asahikawa.
At around 11:30am, we realized that we were headed back to the Akankohan area. We figured that since it's on the way back to Asahikawa and we might have some time to spare, we mind as well check out this place to see those spherical green algae as well as the Ainu Village.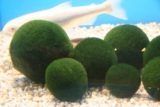 So by 11:55am, we paid the 410 yen to park the car by the Eco Museum. We managed to see the spherical algae (known as Marimo Balls) in an aquarium setting. Since we couldn't see them in their natural habitat by boat (we simply didn't have the time), we had to settle for the artificial habitat in the aquarium.
We then went back to the car and searched for the Ainu Village. Needless to say, we didn't exactly get the best bang for the buck for that parking fee at the Eco-Museum considering we were only here for some 30 minutes.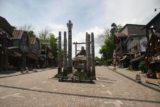 At 12:30pm, we found the Ainu Village, which was on a slope and flanked by lots of wooden shops. This little block definitely had a distinctly different flair about it. But it really didn't offer much beyond these shops and a small museum at the top of the hill.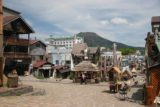 I wondered how much of the Ainu population and culture had been decimated. It definitely didn't feel like it was a genuinely Ainu place apart from making it attractive to tourists.
And so we left the village ten minutes later. Now, we were bound for Asahikawa.
It wasn't until 4:40pm when we got back to the Asahikawa Station. Again, we saw lots of military vehicles going in the other direction as well as a handful of them going in the same direction of us. Again, we wondered if any of this had to do with North Korea. We certainly didn't want to be caught in the middle of an outbreak of violence.
After surrendering the rental car without problems, we managed to get out our luggage and quickly make it to the JR Asahikawa Station across the street. By 4:50pm, we managed to catch the 5pm train bound for Chitose Airport by way of Sapporo.
This was going to be our last train ride covered by our JR Pass.
We got to the JR Sapporo Station at around 6:20pm as scheduled, and the first thing we noticed was how busy it was here. Sure enough, it was a full-on city, and it seemed like everyone was getting off work or school at this moment.
At 7pm, we finally found the Chisun Inn and checked into our room. This would be the last accommodation we're staying in on this trip so there was this air of finality to the trip.
We went out for a quick bite in some Italian Restaurant (trying to save ourselves up for ramen dinner tomorrow since Sapporo is known for ramen). Over the dinner, we were discussing what needed to be done when we return home. Apart from being a little homesick (or in Julie's case, very homesick), it's hard not to think about all the crap about the rat race that make you want to travel in the first place.
I guess that's life. But in the mean time, we mind as well sleep in and enjoy our last full day in Japan tomorrow.
Day 56: SOGGY LAST SIGHTSEEING DAY IN JAPAN
We really didn't have much planned for today other than to unwind for a bit and try some local foods that Sapporo is known for (namely the ramen and Nijo Fish Market sashimi).
So we didn't get up until around 7:30am. This was pretty late by our standards. And one look out the window of our cramped room showed that it was going to be a wet day.
So with our waterproof pants and quick-drying windbreakers on, we braved the wet weather along with thousands of well-dressed Japanese people and went touring at 8:30am.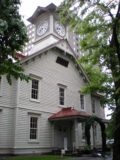 We headed towards a couple of Sapporo landmarks en route to the Nijo Fish Market. The first stop was the clock tower. Well, this was more like an old house with a clock tower attached to it (kind of Back to the Future style), but we could see right away that it didn't seem like any big deal except for its history. So we snapped photos of it in the rain and continued onwards towards the TV Tower.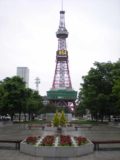 The TV Tower was only another block away, and it had a nice park area with frontal views of the Eiffel Tower-like structure with a big digital clock right across its upper section. Again, we took more photos here in the rain before continuing onwards to the Nijo Fish Market.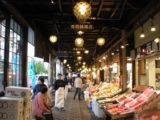 At 9:15am, we finally made it to the fish market. Fortunately, this block of Fisherman's Wharf-like shops of freshly caught sealife was under canopies. So that allowed us a little time to dry off from the relentless rains that were vascillating between moderate showers to annoying sprinkles.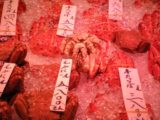 We could see from browsing the shops that crab was a big deal here. Unfortunately, they were mostly for fish enthusiasts or for people who are willing to buy them fresh and cook them or prepare them for sashimi at home. Nothing real consummable for visitors like us.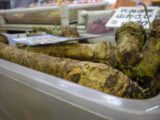 However, we did find some rice bowl places where various sashimi were put on top. We ended up going to this pretty busy place inside one of the buildings for a rice bowl covered with amaebi (sweet shrimp), uni (sea urchin), salmon, and scallops. Pretty pricey and small bowl, but pretty good.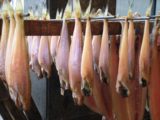 It was kind of a strange symmetry in that on the day before we're going home, we're having morning sushi. And on the day after we arrived in Tokyo, we had morning sushi at the Tsukiji Fish Market.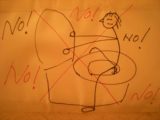 Anyhow, we finished our breakfast and made a brief restroom stop. During this pit stop, Julie noticed some comical drawings showing you how to use the Western Style toilet.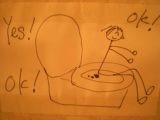 When Julie showed me her snaps on her camera (obviously I couldn't go into the women's loo), I snickered at first. But then it dawned on me later that perhaps this was mainly for old school Asian women who are more accustomed to using latrines as opposed to Western style toilets.
Next, we headed back to our room at a little after 10am for a quick break from the rain.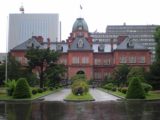 But the break didn't last long as we headed back downstairs and walked west towards some former government building as well as the Hokkaido University Botannical Garden. Now we had intended to stroll through the garden, but we didn't feel like spending more money for something we didn't feel like we absolutely had to see. So we walked across the street in search of an Ainu Museum.
This museum was on the 7th floor of a multi-purpose office building. At first we weren't sure we were in the right place. But some well-placed signs in English on the directory helped guide us along.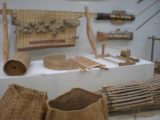 At 11:45am, we were inside the museum, which was really a room containing cultural artifacts as well as some signage in English though most were in Japanese. There was a real helpful 35-minute video discussing the plight of the Ainu people from the time of Japanese invasion towards the present day.
We were kind of glad we got to see this video because now we better understood the Ainu situation in a way that we didn't quite pick up from reading about it in LP or DK. Now, we saw the Ainu situation in much the same light as the Native Americans (North and South America), Maori (New Zealand), Sami (Scandinavia), Innuits (Northern Canada), and even Aborigines (Australia) and ethnic minorities in China like Tibetans, Manchus, etc.
It's interesting that around the world, indigenous peoples face similar discriminations and land grabs. I'm guessing the indigenous peoples never really aquired the numbers of people for military might nor have they branched out and faced other civilizations since they already got what they needed to survive and thrive peacefully.
Perhaps that ultimately sheds light on how sustainable growth in populations and relatively peaceful existence with Nature are often overtaken by more exposed majorities who go through boom cycles in population while having greater exposure to technology for more military might. That's probably the biggest reason why the world is perilously (perhaps self-destructively) ignoring or unwilling to urgently take action to correct the environmental problems brought on by our overpopulation and insatiation for natural resources. Indeed, old habits die hard.
At around 12:30pm, we left the museum and headed back in the rain bound for the JR Sapporo Station. There, we intended to check out the food court and indulge in some more foods since the sashimi bowls weren't very filling. And having scouted the place last night, we knew there was a Beard Papa's down there for dessert.
So we did that as well as got a little eye hungry buying some takeaway sticks of yakitori.
And after feeling a little guilty eating the cream puffs, we decided to find an internetting place to whittle away some of the afternoon hours. We were going to check out the Sapporo Beer Museum, but the incessant rains and the thought of spending more money on something we didn't feel like we absolutely had to do (since we're not exactly beer fans) kind of nixed that idea.
At least we did read up about why Hokkaido seemed to house a disproportionate number of famous Japanese beers like Sapporo, Kirin, and Asahi. That was mainly due to the purity of the water, and apparently Hokkaido's water coming down from the mountains here have that quality that makes the beer better. So in a way, those waterfalls we saw on this island contained water that must've been good enough for Japan's most famous beers.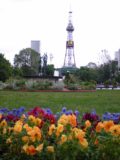 At 2:50pm we were done internetting and walked back in the rains towards our hotel. There, we (i.e. Julie) decided to rest a bit and take a bit of a siesta. We anticipated heading back out on the town to experience a little bit of Sapporo's nightlife while sampling their distinct ramen noodles in their ramen alley.
At 5:30pm, we finally left the hotel and walked towards the Susukino District in search of the famous ramen alley (ramen yokocho). It's basically a small side alley street that would otherwise be hard to find if it wasn't described in LP.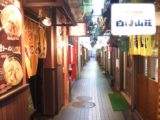 The narrow alleyway was lit up by neon signs fronting the humble ramen joints (some 16 of them all back-to-back). And it was difficult trying to pick a place to eat since they each offered something that could've easily got us to go. But eventually we picked the very first ramen place at the front of ramen yokocho because it was simple, cheap, and looked traditional.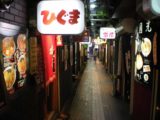 In any case, we knew we couldn't go wrong picking any one of these places. And sure enough, we were fully stuffed on the ramen noodles we ate along with a different looking gyoza they sold.
After the early ramen meal, it was still kind of bright outside so we killed some time inside some mall. Julie was still on the prowl looking for silk pajamas or stretch-fitting leather shoes. Whatever it was, she didn't buy anything and we managed to accomplish the goal of killing time so we could check out the Susukino scene at night.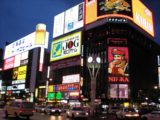 That was when we took more photos of the bright neon lights with more of a Times Square feel to the scene. Seems like the Japanese love this type of city nightscape as we witnessed this no matter which cosmopolitan city we were at in the evening whether it was Tokyo, Osaka, Kyoto, and now Sapporo.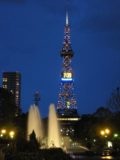 We then walked by the TV Tower which looked much better at night as well. That would turn out to be the very last bit of sightseeing on this trip.
At 8pm, we were back in our room. Time to get packed, cleaned up, and prepared for the long flights back home tomorrow where it's time to face reality once again.
Day 57: THOSE IDIOT AMERICANS
We slept in once again and awoke after 7:30am. The very first thing we noticed was that it was mostly sunny when we looked out the window.
It was an unusual sight considering it had been either overcast or raining throughout Hokkaido wherever we went with the exception of a brief moment of sunny weather at Lake Mashu and Wakoto-hanto.
There was a strange sense of symmetry as back on April 17th, we arrived in Hong Kong under sunny skies. And now we're leaving Sapporo under mostly sunny skies. We kind of wished there was more of this weather when we were touring Hokkaido, but this unpredictability resulted in some unique highs and lows that made our experiences so memorable and cherished afterwards.
We still had to get logistics out of the way as we had to lug our luggage some four or five blocks from the Chisan Hotel to the JR Sapporo Station. Then, we had to buy our train tickets to the New Chitose Airport (JR Pass expired at this point) where we'd be catching a domestic flight to Narita International Airport and then the international flight back home.
Even back at home (assuming all goes well, especially in light of the Air France plane crash), there's more logistics to worry about as we still have to pick up our luggage (lost luggage is always a worry), recover the car, hope it starts after reconnecting the battery, drive home, and get settled (hoping home wasn't burgarlized while we were away). Indeed, reality will come fast and it will come hard.
And as we anticipate our homecoming, it will feel strange considering we had been gone for two months in places where English was hardly spoken.
At least we were able to get by for the most part in China, but Japan was a real challenge. Maybe next time, I'll be better prepared by studying some Japanese before a follow-up trip.
We took the JR train from Sapporo to New Chitose Airport without incident. Sure it was crowded and we didn't get reserved seats to save a little bit of out-of-pocket money, but it wasn't a bad half-hour, especially compared to taking trains in China. And after checking in and getting through security at the New Chitose Airport bound for Narita Airport, we happened to catch the last bit of the 3rd quarter of the Lakers-Magic NBA Finals Game 4 live.
How's that for pre-flight entertainment?!?
It didn't matter that the whole telecast was commentated in Japanese because we were glued to our seats and intently watched this very tense game.
This game was so close and so tense that it produced moments where Julie and I were the only ones in the airport making noise during crazy moments during the game. And when the Lakers seemed to have lost the game (down 5 with 30 seconds to go), some missed Orlando free throws and clutch shooting set up that Derek Fisher game-tying 3.
That was when Julie and I exploded in cheer in the silent airport. We drew funny looks from just about every Japanese person within audible range of us. Not caring much about basketball in these parts, they probably thought, "Those idiot Americans!"
Julie and I made noise again when Fisher hit another 3 pointer to put the Lakers up for good in Overtime. Again, we drew looks from indifferent Japanese people probably thinking, "Those idiot Americans!"
So with our euphoria of having witnessed perhaps the coronation of our local team winning the first NBA championship in 7 years, our flight to Narita Airport went by uneventfully.
Now here we are at the pretty crowded gate awaiting our flight back to LAX.
Knowing how airplane food would probably suck, we saw a stand-up ramen place right next to the departure gate. So we had ourselves one last helping of authentic Japanese ramen. And still plenty of time to wait for our flight home.
So with all this time to reflect on what has transpired in the last two months, we realized that this trip once again taught us more about ourselves, our heritage, different perspectives, different nature, and different ways of getting things done. It's this stimulus you couldn't otherwise get at home that always keeps us passionate about traveling.
We always say variety is the spice of life, and there's no better way to acquire this variety of experiences than through travel to unfamiliar places (using waterfalls as the excuse to pick the destinations, of course).
But it's a bittersweet end to the 2-month trip because we get the feeling that our traveling will be much more limited going forward. We're not getting any younger and the urge to start a family and pass on what we've learned throughout our lives and especially through our travels is quite strong.
We'll see how it all plays out, but for sure we do feel like the end of this trip is also the end of a chapter of our lives where we've felt we've gotten the most of our time as well as made up for things we missed when we were naive and younger (traveling of course). It's amazing how an ambition for waterfalling can evolve into a journey of self discovery and enlightenment about the world and our lives.
Indeed, going forward, we hope to stay efficient with getting the most out of life while starting a legacy that we hope will be productive and long lasting as we try to impart what we know and have learned…
Visitor Comments:
Got something you'd like to share or say to keep the conversation going? Feel free to leave a comment below...
No users have replied to the content on this page