Day 50: GLAD TO MAKE IT TO HOKKAIDO
We slept in a little bit knowing that our flight out to Hokkaido won't be until 10am. So we ended up getting up at 6:30am (sure it's a bit early for most, but we're used to getting up at 5am at this point) and leaving our hotel in Kobe's Sannomiya Station at 7am.
First order of business was to figure out how to use the Portliner (which was right at the station) bound for the Kobe Airport. Turned out that was pretty easy enough as we just had to buy our ticket at the vending machine (we had done this numerous times before already), went through the turnstiles as usual, found elevators to facilitate lugging our luggage, and took the 18 minute train ride right for the airport (making sure not to take the Kita line).
The train ride was basically on roads bridging long stretches of harbor as the airport looked to be on one of the islands off the southern coast. Looked like as Kobe expanded, they had no choice but to turn offshore islands into part of the city since it's backed by hills not conducive to further development.
During the ride, we also saw that it was raining pretty moderately as low lying dark clouds dominated the horizon out to sea as well as behind us as it shrouded Kobe's neighboring foothills.
At 7:50am, we were already at the airport gate. Having read the very strict luggage restrictions for domestic flights (i.e. 15kg checked baggage and 10kg carry-on plus one purse-like bag to put under the seat with 550yen per excess kilo charged), we pulled out all the stops in terms of packing efficiently and wearing our heavy jackets.
Turned out we weren't charged anything even though our luggages were 17kg each. So that was kind of a relief.
We then spent the next couple of hours trying to pass the time using the airport's wireless internet. And by 9:30am, we boarded the plane and by 10am, the flight took off.
The flight was pretty much uneventful and somewhat smooth until around 11:11am. That was when we suddenly hit a really rough patch of turbulence upon our descent into the New Chitose Airport in Hokkaido.
The plane felt like it ran into something hard as everything rattled. Then the plane jerked to the right (almost rolled to one side) before jerking to the left (again almost rolling and banking in that direction). We could hear worried gasps and screams by some passengers as Julie and I looked at each other knowing that whatever this was wasn't the norm.
We certainly can't recall turbulence as violent as this before, and with the Air France flight that went down off the coast of Brazil earlier in the week, we were wondering if there's some kind of bad karma in store for us.
Well, the turbulence subsided followed by a Japanese announcement telling us not to use the toilets and fastening our seatbelts as the captain said we were going into turbulence – first in Japanese, then in English. OK, now they're telling us this. Seemed like it was all after the fact as the plane seemed to have straightened out and stopped rattling before the announcement was finished.
At 11:46am, we landed. Now we felt a bit better and safer for the moment. Certainly, we were glad to be in Hokkaido for our last 7 days on our marathon trip.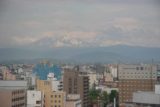 So we collected our bags, got reserved seats for the JR train bound for Asahikawa via Sapporo. All that went pretty smoothly and by 2:30pm even though the weather was pretty rainy throughout the day from Kobe to this part of Hokkaido.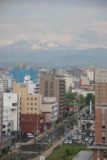 We arrived at the Asahikawa JR Train Terminal where we entered the Asahikawa Terminal Hotel and checked into our room. It looked like the weather was kind of clearing up so I took some photos from our room as some of the mountains in the distance (Mt Asahi?) revealed themselves among the clouds (albeit barely).
So we got settled and spent the rest of our day figuring out where to find some LP recommended dinner spots.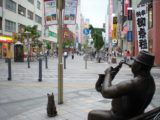 Utilizing a statue of a sax player and a listening cat as landmarks on the main pedestrian street, we eventually we found this real local scallop sashimi place where we pretty much ordered what LP recommended (local raw scallop and fresh steamed local oysters).
Not a word of English was spoken so we had to rely on our best pronunciations based on the Romaji (romanized Japanese) in the LP book along with our phrasebook to figure out how to ask for the check, ask for tea, etc. It's times like these where I really wished I had picked up some functional Japanese prior to the trip, but at least the phrasebook and LP combo saved us somewhat again.
The rest of the time was spent wandering the pedestrian street, having a Japanese margherita pizza (seems better than some of the ones back at home) to help supplement our light sashimi and oyster dinner, and having a soft serve ice cream for dessert.
At 7pm, we returned to the room. Not a whole lot of sightseeing on this day. But I did manage to catch the Lakers vs. Magic NBA Finals Game 1 dubbed in Japanese. It wasn't live, but it was entertaining…