Day 51: THE BIG SNOW MOUNTAIN WATERFALLS
We slept in this morning knowing that the car hire office across the street didn't open until 8am. So we got up at 7am, which was one of the later starts that we had on the Japan part of the trip. We did briefly wake up before going back to sleep some time around 5am. That was because it was already very bright as if sunrise was around some ridiculous hour of 4am.
One look out the window when we were wide awake and it seemed like the low clouds had obscured the mountains (we suspect it's Mt Asahi) to the east of Asahikawa. Not sure if this was a good or bad sign or not.
At 8am, we finally left the hotel. After picking up some pastries and preserved sushi for a takeaway breakfast and lunch during the day, we went straight for the car hire office.
I was a little bit anxious about driving since this would be the very first time we would be driving in almost two months. In fact, it was the first time we would be driving in Asia. But the biggest thing that got us a bit worried was the fact that hardly anyone speaks English, the signs are mostly in Japanese, and we're not totally sure about the driving mannerisms (especially with the images of the near anarchy of the roads in China still fresh in our minds).
So with our phrasebook in hand, we bravely entered the car hire office, showed our international driving permit along with our reservation vouchers, and the process went rather smoothly.
By 8:35am, we were in the car and ready to go. We just had to wait for our software to load up and our GPS unit to lock onto the satellites. The car already came with its own GPS navigation system, but it was completely in Japanese and utterly useless to us (or almost utterly useless since we could at least compare images to our computer, but not in real-time though as that would be dangerous).
We decided to first go for the Ginga-no-taki and Ryusei-no-taki combo, which was way out in the northeastern side of Daisetsuzan National Park. The drive out that way was for the most part uneventful.
The only thing annoying were the ridiculously slow speed limits of 40 or 50 km/h. It seemed the locals routinely ignore these speed signs, but given my inexperience in driving in Japan, I was completely scared of getting a speeding ticket. So I tried to adhere to the speed limits as much as I could, but even then I could only take so much and was cruising closer to 60 or 70km/h. When locals would be in front of me, I'd pretty much try to follow them and let them establish the flow of traffic.
I did see one hiding cop in a straightaway, and that got me a little worried. He didn't chase us, but I can't tell for sure if he had a camera or not. Plus, some overhanging signs seemed to have camera-like thingies as well.
The drive seemed like it took a very long time. I didn't recall any of my pre-trip research telling me the drive took longer than an hour to get here, but it was sure working out that way.
At 10am, we found the well-signed turnoff for the desired waterfalls and arrived at the large car park. There weren't many cars for such a large parking space, and considering it was Saturday, it was quite surprising.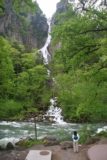 Most of the people here seemed to consist of tour groups or people who arrived by public bus. Even with that said, there were only a dozen or so people. We snuck a peek at the bus schedule and saw that there didn't seem to be a frequent bus that comes here (only around 13:00?). So it was perhaps a good call on driving in Hokkaido even though it'd be a bit more expensive than completely relying on public transport as we had been in Honshu. But then again, we'd have to be slaved to their time schedules, and like in the case of Nachi-no-taki, it was utterly inconvenient.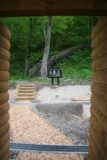 Anyways, we could see both waterfalls from the car park, and it seemed the vast majority of people were content with seeing the falls from down here. But we noticed some stairs behind the shops, and after a little bit of lingering near the base of Ginga-no-taki (the taller of the two), we embarked on the stairmaster exercise session and went up the steep 430m path in search of a better view of the waterfalls.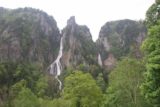 About half-way up the stairs, there was a viewing platform yielding a view of the two waterfalls with a tall tree in between them and lots of other foliage blocking the lower extremes of both falls.
But all the way at the top, we could see a gorgeous view of both falls framed on both sides by tall trees while the falls themselves were separated by a tall protruding rock with a hint of snowy mountains above the Ryusei-no-taki.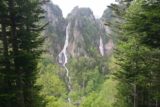 Aside from a trio of Japanese people who were headed back down when we ascended, we were the only ones here. Thus, it was an utterly peaceful and pleasant experience to view the falls from this vantage point and just take in the scenery of the Daisetsuzan National Park.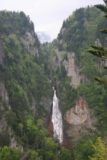 After soaking in the views, we made our way back down the well-forested path to the car park. We couldn't help but notice many of the steps covered with wood chips. Perhaps they were there to absorb excess water and keep the steps from becoming too muddy.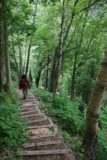 When we returned to the bottom, we briefly walked along the river for a better view of Ryusei-no-taki from down here. There were some wildflowers in bloom providing a little extra color to the scenery, but it wasn't quite as grand as Ginga-no-taki.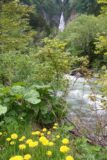 We couldn't help but notice some of the kanji characters that we were able to recognize near the Ryusei-no-taki viewing spot. We figured out that Daisetsuzan's kanji characters literally mapped into Chinese as "Big Snow Mountain." I guess that would explain why the falls were going as well as they did as we imagined most of the water was being unlocked by melting snow.
At 11:10am, we were back in the car thinking about how these waterfalls might be right up there with Nachi-no-taki in terms of the best of the Japanese waterfalls. We did this while enjoying our takeaway sushi while drinking some Japanese beverages (Julie bought some CC Lemon drink by Suntory from one of the ubiquitous vending machines while I drank Calpis Water which we picked up from the Lawson's liquor store in town yesterday).
Ten minutes later, we left the area and drove nearly a long loop to get to the Tenninkyo area on the western side of Daisetsuzan National Park (Sounkyo, where we were at, was on the northeast side of the park) where we expected to see both Hagoromo-no-taki and Shikishima-no-taki.
Again, it was a very long drive, but I was starting to get the hang of following the flow of traffic (even if it was some 20km/h above the speed limit). I couldn't imagine doing both these areas in one day by bus so again we were quite satisfied with our decision to try driving in Hokkaido. In fact, traffic was so laid back out here (especially in the rolling hills of the countryside) that if you can't handle driving in Hokkaido, you can't drive anywhere! At least that was how I felt.
Even though our GPS software didn't seem to have the routing correct, we pretty much followed the main highways (as we did for Ginga and Ryusei Waterfalls) and didn't have much difficulty. Though in this case, we had to follow the 1160 at first and then the 213. Key was to look for Tenninkyo.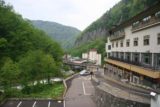 At 1:15pm we arrived at the car park near the Tenninkyo Spa area. We could see vehicles weren't allowed any further and we parked at the nearest car park to that pedestrian area.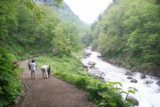 There seemed to be lots of people coming back from a walk, and we weren't sure if they belonged to a tour group or not. But in any case, we started walking along the paved path passing by what looked like a nice waterfall only to realize that it was either man-made or man-modified. Something we had seem many times before in Japan, namely the Japan Alps area.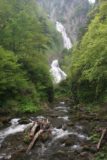 It wasn't long before we reached a bridge where we could see the impressive multi-tiered Hagoromo-no-taki. The bugs kept us from having lingering down here too long, but at least they didn't seem to bite.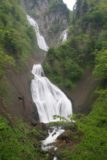 We next went up some stairs leading to a better view of the falls. Unlike the Ginga and Ryusei Waterfalls, this stairway wasn't long. So we snapped what photos we could from here. Then headed back down trying to get to the Shikishima Waterfall.
But just as we were about to get going past the bridge, we were stopped in our tracks by a closure sign. We couldn't read the Japanese script by this closure sign, but a sign further up the path showed a picture of a menacing bear.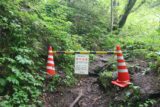 "I don't need to read Japanese to understand that sign," said a relieved Julie, who didn't feel like doing this waterfall anyways knowing that bears are in the area.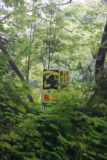 So it was kind of a bummer that we couldn't see this waterfall. But we still saw the best of the area and was content anyways. Now it was time to get back to Asahikawa.
We got back to the car at 2:10pm. During the leisurely drive back, we took photos of some of some familiar basalt formations (so typical of areas that historically had a combo of lava and ice) as well as other photos of Mt Asahi behind some manmade lake.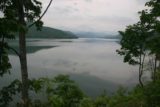 The drive was a little bit shorter (but more than the quoted 30 minutes) to get back into town. We noticed some commotion in town where there seemed to be a parade.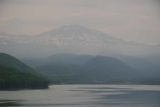 We also tried to fill up some gas (even though the tank was mostly full) because we needed to know which places could take credit cards. Imagine paying nearly $100 USD on a full tank [and this is a Toyota Camry mind you] in cash with a limited cash supply. That was what we were faced with.
Eventually we found what seemed to be a chain of gas stations (either ENEOS or Jomo) that seemed to accept credit cards. The local one near the car hire office only took cash. Scratch that one.
At 4pm, we finally made it back into the ETSA Parking Structure. It was a bit tight and crazy in here because a lot of locals seemed to be on their way out of here. Apparently, there was some kind of parade and most of the parade and performances were done so people started leaving. And all this hoopla just so happened to be ending at the JR Asahikawa Train Station.
We weren't sure what the reason for the festivities were, but it seemed like the whole town was here.
The rest of the evening was spent eating some delicious ramen noodles (Julie got their specialty of ramen with some kind of pork cheek meat, which was really tender) along with gyoza (potstickers or tiny fried dumplings).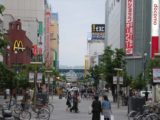 Then, we walked the pedestrian street again treating ourselves to more junk food like Japanese versions of doughnuts along with another helping of Hokkaido milk vanilla ice cream in a waffle cone.
We were back in our room a little after 6pm pretty glad that we accomplished what we set out to do today. Now it was time for some z's.