Day 52: DRIVING IN A TRANCE
We awoke at 6:30am to rainy weather. After getting our things all packed and ready to go, we left Asahikawa at 8:10am after waiting some 5 minutes or so for the GPS to lock again.
And so we embarked on a very long drive to Utoro near Shiretoko National Park on the far east peninsula of Hokkaido. It was some 220km from Asahikawa to Abashiri (the nearest major city to Shiretoko NP), but the ridiculously low speed limits of 50km/h throughout the drive really slowed things down.
Pretty much for the entire drive, it was raining regardless of where in Hokkaido we were. But the slow speed limits kind of made me drive in a trance as we felt we could've covered the distance in 3 hours or less.
Instead, I was relegated to trying to find some local driver to follow so we can exceed the speed limits within the flow of traffic. But when I was alone, I tried real hard to stay reasonably within the 50km/h speed limits. I also saw the same cop that was hiding at the straightaway near the Ginga-no-taki and Ryusei-no-taki turnoff near the Sounkyo area.
While we were somewhere not too far from the Shari Town, we filled up on gas at an Idemitsu. Turned out they take credit cards, too. So at least we know to also look for them on the return drive back to Asahikawa later in this trip.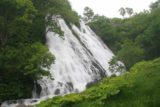 It wasn't until after 1pm when we drove on a stretch of road that finally revealed the Sea of Okhotsk. And at about 1:20pm, we saw an impressive white wall of water in the distance. Upon getting closer, we saw a large car park area and a sign for Oshinkoshin Waterfall right before a tunnel.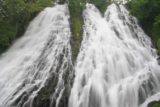 That was the perfect excuse to stop at the car park and take a breather from the 5 hours of trance driving in the rain.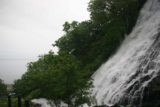 It seemed like the weather started to let up a little bit as it was merely sprinkling when we got out of the car. And from there, we walked up the stairs and took whatever photos we could along with a handful of other Japanese tourists.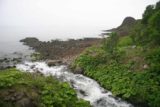 On the other side of the road, we could see the waterfall's stream go right into the Sea of Okhotsk, which looked rather calm for an open body of water.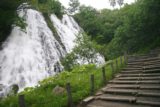 At 1:55pm, we were back in the car. And at 2:05pm we got to the Ikura Hotel on the opposite side of the bay as the town of Utoro. The town looked a little more developed that we had expected since we had read that Shiretoko was as wild as Japan gets. It seemed like Utoro supported some fishing industry along with tourism, but it really kind of reminded us of some Icelandic fishing towns somewhere out in the Westfjords.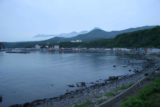 By 2:30pm, we were checked into the mom and pop style hotel, which was in a charming Japanese style room.
We spent the rest of the afternoon loitering about in Utoro town, especially at the visitor center and at the UNESCO World Heritage Conservation Center next door. There, we realized that the land on the Shiretoko Peninsula was too topographically rough to support any type of farming. And it's this fact that has allowed this peninsula to remain wild thereby supporting a healthy population of Asiatic brown bears, sika deer, foxes, lots of bird species, and more. We hope to be seeing some of this on display in Nature tomorrow.
But by 6pm, we were back at the hotel for the included dinner. There, we feasted on a generous helping of crab, salmon, sashimi, octopus shabu shabu, and a smoked salmon salad among others.
Afterwards, we bathed in the property's onsen, which provided views across the bay towards Utoro. Plus the water wasn't too hot. It was relaxing and a great way to end off this otherwise long travel day in rain.