Day 54: TOO MANY COSTLY DETOURS
It was 6:30am when we awoke. Once again, it was cloudy outside. But today, it looked even cloudier than before as most of the peaks behind Utoro Town seemed to be clouded over. I began wondering if the sun is ever coming up in Hokkaido because I can't recall throughout this week that it has at all.
After a different included breakfast than yesterday, we left the Ikura Hotel at 7:35am.
I really wanted to turn left and head towards Rausu to see Kumagoe Falls and the Rausu Geyser. But Julie's phobia of bears really kept it from happening, and I wasn't in the mood for an argument and fight over it. So I turned right and headed back in the direction of Shari Town and Abashiri.
I was fortunate to be following some locals who were going well over the 50km/h speed limit so we ended up at the Platform 3 at Lake Mashu by 9am, which was much faster than I anticipated. However, the skies were very overcast and even looked like it threatened rain.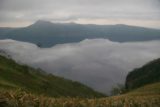 When we got out of the car, we walked up the stairs and set our eyes on Lake Mashu, which looked very attractive despite the suboptimal conditions.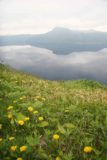 In fact, both Julie and I thought about our Tianchi (Heaven Lake) experience on the China/North Korea border. And what we saw at Lake Mashu was what we felt Tianchi should've yielded had it not been frozen over and threatening thunderstorms (as we came 4-5 months too early).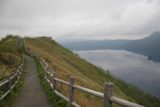 At 9:35am, we were back in the car and 5 minutes later, we ended up at a more developed platform. This one charged us 410 yen to park so I reckon it must be good here.
Still with overcast skies, we could see that the way the foliage framed the lake, this was clearly the more photographable spot. Even tour buses and lots more people were here to enjoy the views, but it was still quiet compared to China. Though it was definitely much busier than the quiet platform 3 that we were just at.
We returned to the car at 10:25am. Thinking we had lots of time to get to Kushiro, Julie wanted us to stop over at this place called the Wakoto-hanto (hanto = peninsula). She was in search of a "natural" onsen, which was something we hadn't seen on this trip.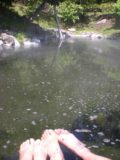 At 10:50am, we followed the signs to the large, mostly empty parking lot for the Wakoto-hanto. We walked towards the lake and then followed the footpath along its shores towards a humble looking pool that was steaming.
That must be the onsen.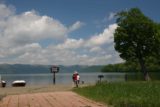 We spent some time here sitting down and dipping our feet in the onsen. The onsen, as advertised, was quite scalding hot. Even putting our feet in the algae-infested pool was rather an uncomfortable experience as our feet were turning pink from the heat.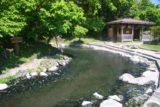 Sharing the pool was a Japanese family of three where they let the kid go buck naked and right into the pool a little closer to the lake than we were.
The experience was quiet and relaxing. We expected to see more people around here, but that wasn't the case.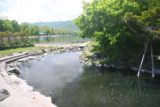 But upon observing the surroundings of this onsen, it seemed that all wasn't as natural as we had expected as they built some kind of concrete path around half the onsen while it looked like there was some kind of channeling or subtle plumbing to allow the geothermally heated water to go right into this particular spot. Once you cross the bridge, the water in the adjacent lake was quite cold. So we started to wonder whether this onsen really was "natural" or not.
In any case, after we were done soaking our legs, we checked out some of the calm, reflective waters of the lake taking more photographs. It was real interesting to see clouds reflected in the water especially as the weather continued to improve and become partly cloudy and sunny skies.
I think this might be the first time we got to see sun and blue skies in Hokkaido!
At 12:10pm, we were back at Lake Mashu after driving back here from Wakoto-hanto. Thinking that this sudden improvement in the weather might yield a different experience back at Lake Mashu, we returned here knowing that our already bought ticket should let us in without having to pay more.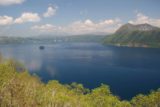 And sure enough, the experience was completely different than just an hour or two ago. Now, the lake was a very deep blue, and the blue skies along with the sun's coloring effects really made the scenery come to life in contrast to the cloudy skies we had witnessed from here earlier.
So we capitalized on this rare circumstance of good weather in this photogenic spot and took even more photos from here. Now, they were arguably post card quality.
We left Lake Mashu at 12:45pm. From there, we thought we might make a quick stop at the Akankohan where we expected to see some Ainu Village along with a lunch and a look at some kind of fuzzy spherical algae ball that the Lake Akan is famous for.
Unfortunately, the drive ended up being longer than we expected as Akankohan seemed to be a very long 50km or so detour. I had assumed that this village and attraction was nearby Lake Mashu, but this wouldn't be the case.
But now that we were committed to this path, there was no turning back the way we came which should've been a more direct path southwards to Kushiro when this "side" excursion ends.
One thing that seemed disconcerting was the amount of military vehicles going the other way. We weren't sure where they were headed, but we were wondering whether this had anything to do with North Korea starting to remilitarize, launch missiles into the Sea of Japan, and run nuclear weapons tests.
Anyways, it was getting surprisingly late in the afternoon (it was now nearly 2pm at this point) and we were having trouble finding the correct building and parking area for our fuzzy balled attraction. Realizing that this wasn't the real priority of the day and how much time we had wasted on this detour (not realizing how far it was to begin with), we called it a loss and continued south on a different road to Kushiro.
This road passed through lots of farms (mostly dairy farms) and was quite featureless.
We then passed through Kushiro City before heading north aimlessly in search of the Kushiro Shitsugen (Wetlands) Visitor Center and Viewing Platform.
We ended up going to the Hosooka Viewing Deck area at around 3:25pm. Thoroughly exhausted from the driving, we still weren't quite sure we were at the right place as there seemed to be minimal infrastructure and not a whole lot of people as expected.
So thinking this wasn't the right place, we kept driving further inland, which ended becoming an unpaved gravel road. This ended up being a huge waste of time and gas as this unpaved road seemed to keep going and going. At some point, we realized that we were probably well past the coverage of some of the visitor info maps of the area that we glimpsed.
Thus, we headed back to the Visitor Lounge near the Hosooka Viewing Deck knowing we still hadn't seen anything from here.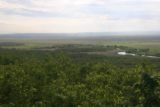 Eventually at 4pm, we found something that looked like a walkway leading to a platform. So we parked somewhat illegally on the dirt road and quickly made our way to the viewing platform. And sure enough, this was indeed the Hosooka Viewing Platform, but the views from here weren't all that impressive and clearly there were none of those famous Japanese cranes to be found from here.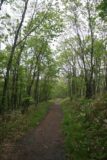 Twenty minutes later, we walked to the Visitor Lounge and saw more maps over there. Then, we realized that the Visitor Center and Viewing Deck we expected to find was way on the other side of the marsh along the route 53, which I swear we must've driven on at some point to get all the way here.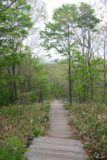 At this point, I was resigned to just putting that visit off for tomorrow morning on the way back to Asahikawa. Clearly it wasn't going to happen today since we had taken too many wasted detours and it was getting late. Plus, we still needed to check into our accommodation in Kushiro City.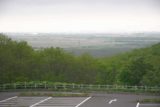 At 5pm, we finally checked into the hotel, and I was finally able to take a break from a long day of driving. We ended up having another sushi dinner that was a bit cheaper than what we got in Utoro, but it wasn't quite the same though still decent. The Food Market was dead and it looked like everyone was closing. So obviously, it was more of a lunch thing and not a dinner thing.