Day 55: MORE FRUITLESS DETOURS
Once again we got up at 6:30am. I realized that this was the last day we could use our JR Pass (as it was day 21 of 21 since redeeming the voucher), and we're planning on making it count when we return to Asahikawa Station after returning the car hire. That train ride is to go to Sapporo, which will be the last place of any sightseeing on this trip.
After going across the street to the Kushiro Station to pick up some bento boxes for lunch today, we left the hotel at 8am. Our intention was to head to the Kushiro Shitsugen National Park in search of those elusive red crowned cranes.
We got to the Kushiro Marsh Observatory at 8:25am. We had hoped there might be someone here to help us find the crane viewing spots. But no one there spoke English. Plus, the walk to one of the overlooks was fruitless in that it led to an obstructed overlook of the marsh area from the west side. That wasn't worth some of the mozzies or midges that seemed to like to bury themselves in our hair and bite our scalp.
So at 8:55am, we returned to the car and continued heading north on the 53.
After aimlessly overshooting the intended viewing spot known as Tsirumidai, we finally found it and parked the car at 9:50am. Actually, we weren't quite sure we found it at all since we were surrounded by farmlands. It didn't seem like red crowned cranes would come here at all since it seemed nothing like a wild habitat.
But it turned out after talking to a cafe owner who spoke a little bit English that the cranes were on the grass here (surrounded by farms we must add) earlier this morning. It's just that they're not here at this time. I'm guessing you have to come here early before cars come whizzing by on the Hwy 53 and start scaring the birds away.
I also wondered whether the cranes are fed here to attract them since we couldn't figure out why cranes would ever want to come here considering how it's all agricultural turf here.
Needless to say, there wouldn't be any live cranes we'd be seeing out in the open (and definitely not in the wild) so we thought perhaps the Tsurui Village's Bird Sanctuary might offer us a chance to see them in captivity.
But when we got there at 10:30am, it was closed. It definitely wasn't meant to be. This whole time searching for cranes in Kushiro really felt like a major fruitless detour just as yesterday was riddled with many of them.
And so we started our drive back to Asahikawa.
At around 11:30am, we realized that we were headed back to the Akankohan area. We figured that since it's on the way back to Asahikawa and we might have some time to spare, we mind as well check out this place to see those spherical green algae as well as the Ainu Village.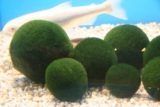 So by 11:55am, we paid the 410 yen to park the car by the Eco Museum. We managed to see the spherical algae (known as Marimo Balls) in an aquarium setting. Since we couldn't see them in their natural habitat by boat (we simply didn't have the time), we had to settle for the artificial habitat in the aquarium.
We then went back to the car and searched for the Ainu Village. Needless to say, we didn't exactly get the best bang for the buck for that parking fee at the Eco-Museum considering we were only here for some 30 minutes.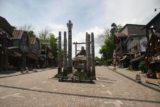 At 12:30pm, we found the Ainu Village, which was on a slope and flanked by lots of wooden shops. This little block definitely had a distinctly different flair about it. But it really didn't offer much beyond these shops and a small museum at the top of the hill.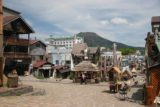 I wondered how much of the Ainu population and culture had been decimated. It definitely didn't feel like it was a genuinely Ainu place apart from making it attractive to tourists.
And so we left the village ten minutes later. Now, we were bound for Asahikawa.
It wasn't until 4:40pm when we got back to the Asahikawa Station. Again, we saw lots of military vehicles going in the other direction as well as a handful of them going in the same direction of us. Again, we wondered if any of this had to do with North Korea. We certainly didn't want to be caught in the middle of an outbreak of violence.
After surrendering the rental car without problems, we managed to get out our luggage and quickly make it to the JR Asahikawa Station across the street. By 4:50pm, we managed to catch the 5pm train bound for Chitose Airport by way of Sapporo.
This was going to be our last train ride covered by our JR Pass.
We got to the JR Sapporo Station at around 6:20pm as scheduled, and the first thing we noticed was how busy it was here. Sure enough, it was a full-on city, and it seemed like everyone was getting off work or school at this moment.
At 7pm, we finally found the Chisun Inn and checked into our room. This would be the last accommodation we're staying in on this trip so there was this air of finality to the trip.
We went out for a quick bite in some Italian Restaurant (trying to save ourselves up for ramen dinner tomorrow since Sapporo is known for ramen). Over the dinner, we were discussing what needed to be done when we return home. Apart from being a little homesick (or in Julie's case, very homesick), it's hard not to think about all the crap about the rat race that make you want to travel in the first place.
I guess that's life. But in the mean time, we mind as well sleep in and enjoy our last full day in Japan tomorrow.