Day 56: SOGGY LAST SIGHTSEEING DAY IN JAPAN
We really didn't have much planned for today other than to unwind for a bit and try some local foods that Sapporo is known for (namely the ramen and Nijo Fish Market sashimi).
So we didn't get up until around 7:30am. This was pretty late by our standards. And one look out the window of our cramped room showed that it was going to be a wet day.
So with our waterproof pants and quick-drying windbreakers on, we braved the wet weather along with thousands of well-dressed Japanese people and went touring at 8:30am.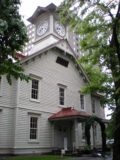 We headed towards a couple of Sapporo landmarks en route to the Nijo Fish Market. The first stop was the clock tower. Well, this was more like an old house with a clock tower attached to it (kind of Back to the Future style), but we could see right away that it didn't seem like any big deal except for its history. So we snapped photos of it in the rain and continued onwards towards the TV Tower.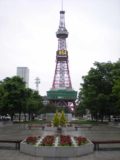 The TV Tower was only another block away, and it had a nice park area with frontal views of the Eiffel Tower-like structure with a big digital clock right across its upper section. Again, we took more photos here in the rain before continuing onwards to the Nijo Fish Market.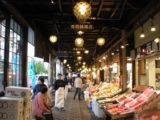 At 9:15am, we finally made it to the fish market. Fortunately, this block of Fisherman's Wharf-like shops of freshly caught sealife was under canopies. So that allowed us a little time to dry off from the relentless rains that were vascillating between moderate showers to annoying sprinkles.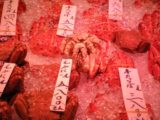 We could see from browsing the shops that crab was a big deal here. Unfortunately, they were mostly for fish enthusiasts or for people who are willing to buy them fresh and cook them or prepare them for sashimi at home. Nothing real consummable for visitors like us.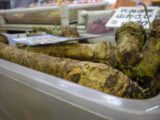 However, we did find some rice bowl places where various sashimi were put on top. We ended up going to this pretty busy place inside one of the buildings for a rice bowl covered with amaebi (sweet shrimp), uni (sea urchin), salmon, and scallops. Pretty pricey and small bowl, but pretty good.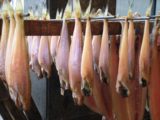 It was kind of a strange symmetry in that on the day before we're going home, we're having morning sushi. And on the day after we arrived in Tokyo, we had morning sushi at the Tsukiji Fish Market.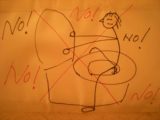 Anyhow, we finished our breakfast and made a brief restroom stop. During this pit stop, Julie noticed some comical drawings showing you how to use the Western Style toilet.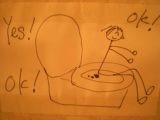 When Julie showed me her snaps on her camera (obviously I couldn't go into the women's loo), I snickered at first. But then it dawned on me later that perhaps this was mainly for old school Asian women who are more accustomed to using latrines as opposed to Western style toilets.
Next, we headed back to our room at a little after 10am for a quick break from the rain.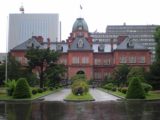 But the break didn't last long as we headed back downstairs and walked west towards some former government building as well as the Hokkaido University Botannical Garden. Now we had intended to stroll through the garden, but we didn't feel like spending more money for something we didn't feel like we absolutely had to see. So we walked across the street in search of an Ainu Museum.
This museum was on the 7th floor of a multi-purpose office building. At first we weren't sure we were in the right place. But some well-placed signs in English on the directory helped guide us along.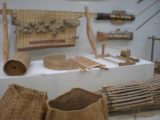 At 11:45am, we were inside the museum, which was really a room containing cultural artifacts as well as some signage in English though most were in Japanese. There was a real helpful 35-minute video discussing the plight of the Ainu people from the time of Japanese invasion towards the present day.
We were kind of glad we got to see this video because now we better understood the Ainu situation in a way that we didn't quite pick up from reading about it in LP or DK. Now, we saw the Ainu situation in much the same light as the Native Americans (North and South America), Maori (New Zealand), Sami (Scandinavia), Innuits (Northern Canada), and even Aborigines (Australia) and ethnic minorities in China like Tibetans, Manchus, etc.
It's interesting that around the world, indigenous peoples face similar discriminations and land grabs. I'm guessing the indigenous peoples never really aquired the numbers of people for military might nor have they branched out and faced other civilizations since they already got what they needed to survive and thrive peacefully.
Perhaps that ultimately sheds light on how sustainable growth in populations and relatively peaceful existence with Nature are often overtaken by more exposed majorities who go through boom cycles in population while having greater exposure to technology for more military might. That's probably the biggest reason why the world is perilously (perhaps self-destructively) ignoring or unwilling to urgently take action to correct the environmental problems brought on by our overpopulation and insatiation for natural resources. Indeed, old habits die hard.
At around 12:30pm, we left the museum and headed back in the rain bound for the JR Sapporo Station. There, we intended to check out the food court and indulge in some more foods since the sashimi bowls weren't very filling. And having scouted the place last night, we knew there was a Beard Papa's down there for dessert.
So we did that as well as got a little eye hungry buying some takeaway sticks of yakitori.
And after feeling a little guilty eating the cream puffs, we decided to find an internetting place to whittle away some of the afternoon hours. We were going to check out the Sapporo Beer Museum, but the incessant rains and the thought of spending more money on something we didn't feel like we absolutely had to do (since we're not exactly beer fans) kind of nixed that idea.
At least we did read up about why Hokkaido seemed to house a disproportionate number of famous Japanese beers like Sapporo, Kirin, and Asahi. That was mainly due to the purity of the water, and apparently Hokkaido's water coming down from the mountains here have that quality that makes the beer better. So in a way, those waterfalls we saw on this island contained water that must've been good enough for Japan's most famous beers.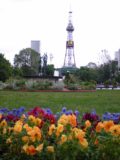 At 2:50pm we were done internetting and walked back in the rains towards our hotel. There, we (i.e. Julie) decided to rest a bit and take a bit of a siesta. We anticipated heading back out on the town to experience a little bit of Sapporo's nightlife while sampling their distinct ramen noodles in their ramen alley.
At 5:30pm, we finally left the hotel and walked towards the Susukino District in search of the famous ramen alley (ramen yokocho). It's basically a small side alley street that would otherwise be hard to find if it wasn't described in LP.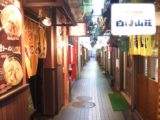 The narrow alleyway was lit up by neon signs fronting the humble ramen joints (some 16 of them all back-to-back). And it was difficult trying to pick a place to eat since they each offered something that could've easily got us to go. But eventually we picked the very first ramen place at the front of ramen yokocho because it was simple, cheap, and looked traditional.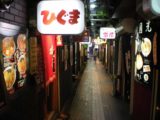 In any case, we knew we couldn't go wrong picking any one of these places. And sure enough, we were fully stuffed on the ramen noodles we ate along with a different looking gyoza they sold.
After the early ramen meal, it was still kind of bright outside so we killed some time inside some mall. Julie was still on the prowl looking for silk pajamas or stretch-fitting leather shoes. Whatever it was, she didn't buy anything and we managed to accomplish the goal of killing time so we could check out the Susukino scene at night.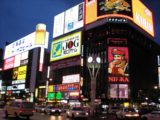 That was when we took more photos of the bright neon lights with more of a Times Square feel to the scene. Seems like the Japanese love this type of city nightscape as we witnessed this no matter which cosmopolitan city we were at in the evening whether it was Tokyo, Osaka, Kyoto, and now Sapporo.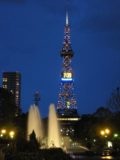 We then walked by the TV Tower which looked much better at night as well. That would turn out to be the very last bit of sightseeing on this trip.
At 8pm, we were back in our room. Time to get packed, cleaned up, and prepared for the long flights back home tomorrow where it's time to face reality once again.