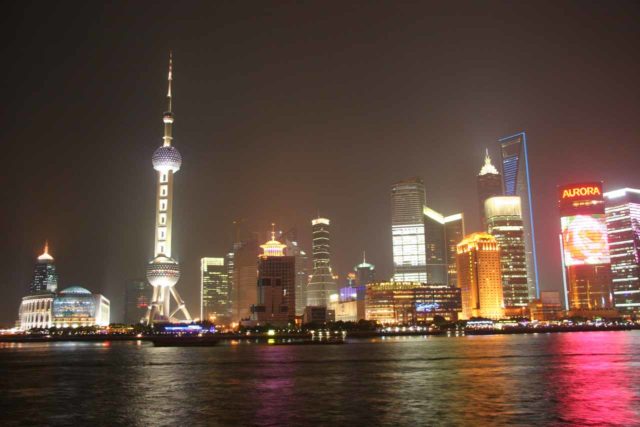 9-May 2009 to 11-May 2009:
There, we paid our 20 yuan per person admission charge and walked about checking out some of the indoor exhibits and having fun with looking at some of the larger statues, especially the first one with a large penis and a chain around its mouth. The sign next to it said something to the effect that you can't stop Nature…
Day 23: LATE NIGHTS AND HOT DAY
It was 11:45pm when we arrived at the Shanghai Airport. The airport terminal looked very modern though the long walk to get from our arrival gate to the baggage claim was very very long.
We met our tour guide Alan for the Suzhou area where we're supposed to be spending the night tonight. And so began our long drive from the airport to Suzhou (a tour hour drive at night).
Alan actually told us our Zhangjiajie flight to Shanghai was actually one of the earlier ones. There are other ones that leave the airport after midnight as late as 3am!
During the drive in the dark as we were zooming along in the fairly light traffic, we conversed somewhat with Alan almost completely in English. In fact, of all the guides we've seen so far, talking to this guy was almost like talking to a Chinese guy who grew up in Alhambra or Monterrey Park. Clearly, he spoke the best English of all the guides we've met. And the kicker is that he never really left the Suzhou area. That's pretty impressive!
When Alan took a look at our itinerary, he noted that we had seen much of Southern China. But now that we're in Shanghai and entering the Jiangsu Province, he told us that China was shaped like a rooster split in the middle by the mighty Yangtze River (also known as Changjiang or the "Long River" in Chinese). And since the river's mouth is near the Shanghai harbor, he said we're now in the belly of the rooster.
It wasn't until 2am when we got to our hotel in Suzhou. It was actually a very charming place, but I wasn't sure if we were truly able to appreciate the traditional Chinese garden boutique theme here given our late night.
In any case, we wanted to sleep on the plane, then we wanted to sleep in the car, and now we had to get cleaned up and get to sleep in the hotel room.
We awoke at 8am getting around 3 or 4 hours of sleep.
We still wanted to sleep more, but we knew we had to get up and ready for today's sightseeing.
After a traditional breakfast of congee, zhongzi (sticky rice in some kind of leaves), and some eggs, we got prepared to bag up our luggage and face the day.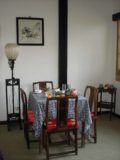 We still had some time to kill, and we were quite charmed by the ambience of our accommodation so I took a few minutes to sneak in an informal self-tour of the place we were staying at. Too bad it was under these unusual circumstances.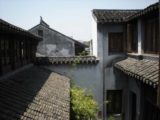 I managed to check out the upper balconies and roof area of our accommodation though the view itself was just of other roofs. It was charming, but I guess it was meant to put us back to a time of dynasties as I'm sure this was what was seen from dwellers back in the day as well.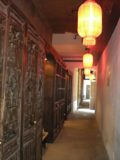 Then, I walked around the corridors of the accommodation which were lined with fancy wooden frames and sliding doors as well as lit up by traditional-looking lanterns hanging from the ceilings.
It actually wasn't until 11:30am did we rendezvous with Alan and get going.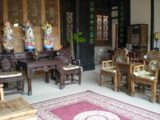 First order of business was a quick "light" lunch. Actually this lunch consisted of 7 dishes and there was just no way we'd come even close to finishing it. I hope they don't waste this food.
At 12:30pm, we faced the heat of this sunny day (well over 30 degrees Celsius) to go to the nearby Humble Administrators Garden.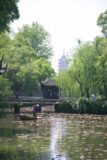 This garden was a much larger and more crowded version of the Suzhou-based garden we visited in Portland. But from being in the real deal, we could see that the garden in Portland was actually nicely done and captured the spirit of the place.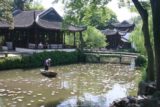 We started on the right side of the three-part garden and worked our way to the left. The middle part of the garden was the most scenic part as that was the part that contained a giant pond that was totally connected with bridges going over.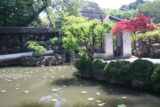 Many buildings had both Qing and Ming dynasty furniture. I guess I could kind of see why my parents were partial to the type of furniture we were seeing in these buildings because if that was your idea of affluence and royalty growing up, I'm sure it would be something subconsciously worth striving for.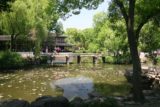 But it was the photo ops we were after and with all the different ways you could take photographs of the same thing, we took nearly a hundred before we knew it.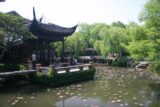 It was about 1:40pm when we left the Humble Administrator's Garden.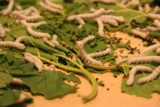 We then went to some silk factory to get the sell on. But in this case, the guide actually accompanied us to do a lot of the explaining since silk is a major silk exporter of China. And in the end, Julie bought some stuff (much to the chagrin of our pockets).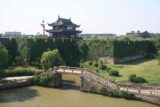 At 2:50pm, we paid a quick visit to the Panmen Gate where we saw some arched bridges and a pagoda.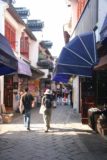 15 minutes later, we got in the car where we headed over to Tongli – a charming little canal town. I was dying of fatigue so I spent a good deal of time trying to get caught up on some sleep in the car (from the lack thereof last night).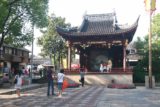 At 3:45pm, we boarded some electric tram that took us into the mostly vehicle-free zone of Tongli. Then, we took our luggage and lugged it a few blocks to our hotel within this charming town. We got into our room at 4:05pm.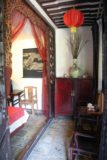 We could see the canals and red-lamped buildings lining it giving it that old school charm that was probably the way Suzhou used to be back in the day. It made us wonder if it was worth spending another night here though we knew it wasn't possible given our itinerary was pretty much locked in.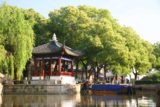 The hotel we were at was quite charming and even more traditional than the one we stayed at in Suzhou, which was definitely saying something since the one in Suzhou was pretty good itself!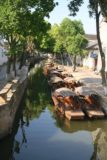 After getting settled, we went back out to town and took a gondola ride through the charming little canals in town.
Since I hadn't been to Venice, Italy yet and Julie already had been, I was actually pretty impressed by what I saw at Tongli. On the other hand, Julie knew that I hadn't seen anything yet because she kept telling me that the one in Italy was on a whole other level than this one.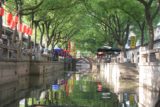 It was very relaxing and scenic and quite different from Venice's canals, according to Julie. She said the Italian ones had canals bordered by tall buildings and it was sinking. China's version here was flanked by walkways and lower red-lamp-adorned buildings.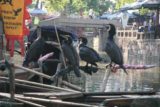 When we were done with the gondola ride, we walked into the Tuisi Garden, which was compact as well as beautiful in much the same way the Portland Chinese Garden was. The benefit of this garden that was very similar to the Humble Administrator's Garden in Suzhou was that this one had really calm and reflective ponds.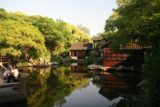 So that really made it appealing for us to spend quite a bit of time here taking photos. Perhaps the only drawback to all this calm and still water was the likelihood of mosquitoes spawning and getting their shots at us while we were obliviously taking our time.
At 5:25pm, we went back to the room for a rest.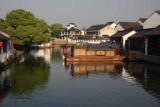 Along the way, we passed through some charming shops though it was considerably quieter than earlier in the day since the day was winding down. It wasn't until 7pm that we went back out on the town, which was actually quite dead.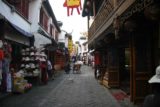 I guess since this town was non-commercialized, that was the yin and yang in that there's no real nightlife here, which was fine by us.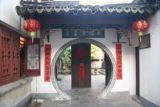 Nonetheless, the dead feel of this place (while calm and serene) also felt like it lacked energy and atmosphere. I guess you can't really have it both ways. It's either going to be quiet and serene or busy and atmospheric.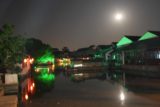 So we took a bit of a quick stroll taking photos from the bridge near the entrance to town. There, we could see a bright moon reflected over the canal.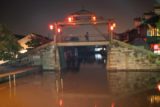 We also looked at an arched bridge adorned with red lamps with a pair of people kissing on that bridge! Yes, I guess even China can have some romantic spots like this.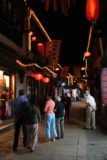 And so we proceeded along our random walk just taking in the sights and the tranquility of a night in Tongli. There was still some residual activity in some parts of town, but we figured they were more locals closing up shop and maybe engaging in a little bit of banter before calling it a night.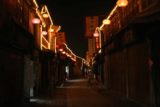 After finishing the quick stroll (not in the dark and really dead canal section where we took the gondola ride though), we were back in our room at around 9pm. There, we settled in and tried not to let the mosquitoes get to us too much…
Day 24: SHANGHAI (AFTER) NOON
It was about 8am when we awoke. I had an uneasy sleep because in the middle of the night my neck broke out into some kind of rash and my stomach didn't feel all that well. I wondered if I was allergic to those tiny shrimps or fish that we ate last night, or if it was something in the sheets at the hotel.
In any case, the rash went away at this time. My stomach still wasn't feeling all that well, but it was acceptable.
After a pretty hearty East meets West kind of breakfast of eggs, soft bread, kiwi (gooseberry), orange, bananas, and sponge cake, we set out at 9am for the Sexual Cultural Exhibit somewhere in Tongli town. After asking a couple of locals along the way (they all seemed to know where it was), we managed to find the unassuming garden and museum.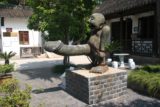 There, we paid our 20 yuan per person admission charge and walked about checking out some of the indoor exhibits and having fun with looking at some of the larger statues, especially the first one with a large penis and a chain around its mouth. The sign next to it said something to the effect that you can't stop Nature.
Actually, this museum delves into the history of sexuality from around the world. Of course, a lot of it exhibits and explains some sexual culture from the Chinese perspective (including prostitution, concubines, and foot binding).
They also showed some pieces from places like India, Egypt, Rome, Indonesia, and more. There were also displays and discussions on homosexuality (clearly something that has been around for several centuries or perhaps thousands of years).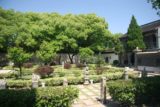 In a way, this place was actually far more informative than what the pre-conceived notions would've led us to believe going in here. And in fact, we thought it was tastefully done. For as you can imagine, this could've easily become one of those erotic XXX porn things if they really wanted it to be.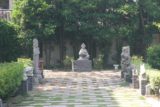 Since we were supposed to meet our guide and check out of our hotel at 10am, we ran out of time and ended up leaving the upstairs and a few other rooms unexplored. Still, we thought it was good experience as it definitely opened our eyes and put into perspective how people dealt with this topic in the past and how that compares to our attitudes today. In other words, it was quite educational, which was what museums are designed to do, right?
As we left Tongli town, we could tell the heat was ratcheting up quickly as well as the number of tourists invading the town.
When we met up with Alan, he said it was already 34 degrees Celsius (definitely in the 90s on the Fahrenheit scale).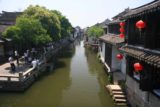 About 10:30am or so, we arrived at Zhouzhuang. This was another canal town like Tongli except this one was older, bigger, and busier. We could also see straight away that it was probably prettier than Tongli.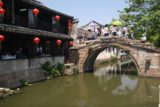 However, after a few steps into the town, you were already met by loud and aggressive hawkers. We could see what Alan meant by this place being more commercialized.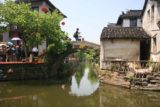 We visited the Zhou residence which contained lots of fancy landscape arts and Ching-style furnishings. It also contained crowds of tour groups led by tour guides with loud speakers.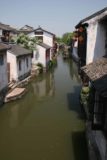 The Buddha museum was only partially visited because Alan sensed we weren't devout Buddhists.
We did manage to take several canal photos and market photos as well. There wasn't a whole lot of stopping on this little stroll through town and between people.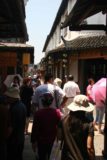 In any case, since we were looking for a bit of energy and atmosphere to contrast our Tongli experience, I'd have to say that this place definitely fit the bill. Yet once again, there was that yin and yang as this place also felt a bit more commercialized.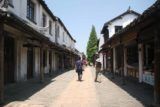 I'm sure if we weren't on a tight itinerary (since we had to go back to Shanghai today), we probably would've savored this place a bit more. But alas, it was what it was.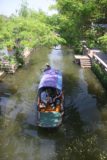 And even though when we think of canal towns, this place has the imagery, we think Tongli was still more old school and probably more like what Suzhou was like in the past. In any case, we were glad we got to see both places.
Indeed, yin and yang seemed to be the theme of this part of the trip.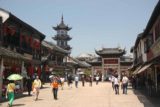 At 11:45am, we left Zhouzhuang and headed straight for the Tongli train station.
Once there, we got onto the train at a little after 1pm (1:08pm to be exact; not exactly on the 1:02pm schedule) and arrived in Shanghai at around a little after 2pm.
The train was kind of crowded and it wasn't easy getting our luggage in and out of there. But at least it was a little more pleasant lugging the luggage around these stations than it was from Guilin to Nanning earlier on in the trip. This was more of a quiet 45-minute trip as we didn't have fun girls to chat with for 5 hours like before.
After meeting up with our guide Nancy, she guided us to the Manhattan Business Hotel right in the Bund of Shanghai. There, we could see that there was a lot of construction going on in preparation for the Asian World Expo 2010. Thus, there were some wooden barrier walls erected that separated the Bund into a waterfront portion and the busier market and buildings portion.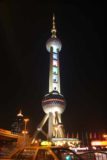 We checked into our room at 2:35pm where we got in contact with Julie's friends and did some catching up from there. We wouldn't be seeing the travel service personnel until early Tuesday morning (6am to give some margin for the nasty Shanghai traffic and other unexpected delays). So we were free of the tour guiding like we were in Leshan.
At 4:30pm, Julie's friend Seav (who works in Shanghai) and her sister Leslie met us at our lobby. From there, it was sort of a whirlwind tour of following the locals around. Among the highlights were visiting some financial district where we took photos of the iconic TV Tower with its futuristic look.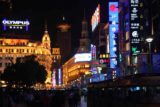 There, we also chit chatted over yummy gelatos with Julie's cousin Tina (who's studying in Shanghai) briefly took a break from her studies to join us.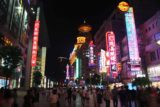 Then, we walked around in the happening and bright Nanjing Rd. It's basically a bunch of shops and restaurants, but the electricity of this place on a Sunday night was reminiscent of the energy of Times Square in New York. Of course it seems like every city in China has one of these walking streets featuring bright neon lights and heaps of locals and foreigners alike trying to take it all in.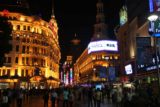 We ended up having a very late dinner at Din Tai Fung (a Taiwanese establishment) having Shanghai's famous xiaolongbao (soup dumplings). This was after numerous failed attempts at hailing a taxi at the end of Nanjing Rd. So we took a subway train and walked past what looked like foreigners' row (basically a bunch of non-Chinese joints with tourist prices) to Din Tai Fung.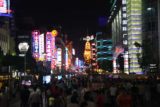 We also realized that today was Mother's Day after seeing many specials celebrating this occassion at "foreigner's row."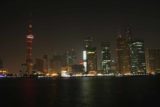 Finally at around 11:30pm, we made it to the Bund. Unfortunately, the Bund was under construction so there wasn't a whole lot to walk before hitting one of those ubiquitous construction sites. Also, the lights across the river to the Pudong side were for the most part turned off. Given all that, it was no wonder the Bund was sparsely populated than what we expected.
All in all, it was a tiring but fun day. We can't wait to see what comes next tomorrow when Leslie takes over to show us around…
Day 25: CONSTRUCTION DUST
Having slept last night kinda late, we had a little trouble waking up this morning. But Julie's mother called long distance to the hotel and that kind of forced us to be awake. She was quite concerned about the H1N1 virus going around and she wanted to make sure we had masks. Of course, she's in California, which we thought would be more serious than out here where reported cases were still few.
It wasn't until after 10am that we left the hotel because Seav and Leslie were caught in traffic on the way over here.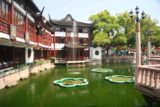 In any case, it was a very hot day and we were dropped off at the Yu Garden to do a little tour of this place while trying out the famous soup dumplings here.
Seav had to work so Leslie was the one who led us around.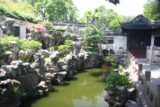 After snapping photos in a crowded pond area (before the entrance to the garden), we went straight for trying out the famous soup dumplings (xiaolongbao).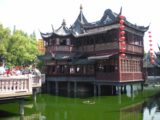 We weren't quite sure which joint was the one that sold the real soup dumplings because there were more than one that had the same name. We ended up going to one of the dives upstairs, but we were quite disappointed with the soup dumplings we had there.
All they served was pork, but the skin of the dumplings were suspect as they were soft and the insides of the dumplings didn't really have the explosive hot soup inside.
It wasn't until Julie went to the restroom did she realize there was yet another restaurant on the same floor. When she snuck a peak at some of the peoples' food, she noticed the skin on those dumplings were thinner. That was when she realized that perhaps we did go to the wrong one.
Well we were too full to try the other restaurant at this instant.
So we decided to tour the garden and work off the junk dumplings we had earlier before returning here for another go at the soup dumplings. After all, we couldn't come to Shanghai without seeing what the real soup dumplings were about.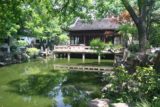 Thus, at 11:15am, we were inside the Yuyuan (Yu Garden). We did the best we could trying to stay in the shade while snapping away photos inside the garden.
Like the ones we saw in Suzhou, this compact garden was all about simplicity and how you could get different views of the same thing.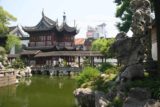 Breaking the serenity were a pair of large Japanese Tour Groups led by guides with loud speakers. So you know it wasn't just the Chinese groups that do this.
By 12:30pm, we were eating at the other restaurant. This time, we had crab dumplings instead of the pork ones at the imitation place.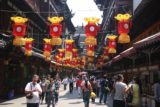 And indeed, we could tell the dumplings we had here were legit. We also ordered a strange bao with a straw coming out of it so you can drink the soup directly. Never tried that before.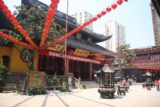 After the lunch, we took a cab over to the Jade Buddha Temple where we took more photos and looked upon one of the big jade Buddhas upstairs in a building where photos were not allowed.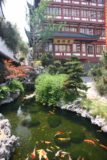 It was a pretty long taxi ride to get here yet we didn't spend a whole lot of time here.
So I felt kind of bad that we had to take another taxi to get over to the financial district, getting there some time around 2:30pm.
From that point, we walked into the welcoming air-conditioned base of the Shanghai World Financial Center Tower. At some 472m high, it was said to house the tallest public observatory in the world.
There, we bought the tickets and followed the futuristic-themed paths leading to a waiting area where we were introduced to Shanghai's plans for the financial district as well as some of the statistics about the tower we were about to ascend.
Eventually, we went up some 94 floors to get into a glassy area where another elevator took us up to the 100th floor.
The elevators were quite smooth and the only thing letting us tell we were going up (besides the floor indicator screen) were our ears popping.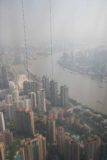 We really dug the futuristic theme, and we could really get the sense that China was looking forward to the future and putting their money where their mouth is.
The more I thought about how Shanghai's got lots of construction for improved public transport, a souped up tourist area based on the financial center, and trying to modernize everything, the more I kept thinking how backwards we are back in the States. Too much impedance of progress by special interests bribing politicians and seeing how even China has been surpassing us is just indicative of that.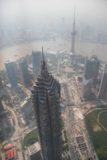 Anyways, once we were at the fancy glassy observation hallway, that was where we saw top-down views of the financial district of Shanghai.
Even though the skies were thick with haze from a combination of smog and construction dust, the views were still beautiful as we were looking down at the Oriental Pearl TV Tower and other surrounding financial buildings.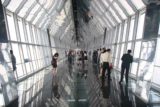 Some of the floor tiles were glass so you could see how high up we were.
After doing this bit of touring, we tried to beat the heat with a little chit chat and some gelatos again at 3:45pm.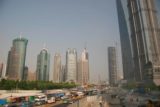 Then, we took another cab into a different part of town to go to the knock-off mall again for Julie to try to pick up some stuff on the cheap.
By around 5:30pm we met up with Seav again and we went to a restaurant called Dongbei Ren (North East Person), which was one of Seav and Leslie's favorites. We had quite a few sweet foods and a couple of local stuff, but it was really more about the chit chatting as we dined here.
We sat directly beneath an air conditioning vent so while I was freezing as the dinner wore on, it at least blew away most of the cigarette smoke from us.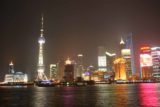 At 7:45pm, we were done eating dinner and caught a cab over to the Bund.
This time, we could see that the lights on the buildings of the Pudong area across the river were well lit up and much more livelier than last night.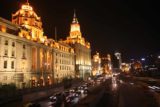 Also, the waterfront walk and promenade was quite busy.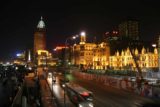 So we took a bunch of photos here. But it was too bad there was so much construction going on here that it wasn't easy to get decent shots looking back at the classic buildings on the Bund itself.
Oh well, maybe we'll come back to Shanghai to see the finished work after Asia Expo 2010.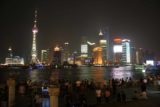 At around 9pm, we were back at our hotel. With our early morning start tomorrow morning to catch our flight to Haerbin, we had to call it a night and try to get cleaned up and rested. So we big Seav and Leslie a fond farewell and were on our way to continue on our marathon to cooler (and possibly wetter) places in the Northeast…
Visitor Comments:
Got something you'd like to share or say to keep the conversation going? Feel free to leave a comment below...
No users have replied to the content on this page