Day 23: LATE NIGHTS AND HOT DAY
It was 11:45pm when we arrived at the Shanghai Airport. The airport terminal looked very modern though the long walk to get from our arrival gate to the baggage claim was very very long.
We met our tour guide Alan for the Suzhou area where we're supposed to be spending the night tonight. And so began our long drive from the airport to Suzhou (a tour hour drive at night).
Alan actually told us our Zhangjiajie flight to Shanghai was actually one of the earlier ones. There are other ones that leave the airport after midnight as late as 3am!
During the drive in the dark as we were zooming along in the fairly light traffic, we conversed somewhat with Alan almost completely in English. In fact, of all the guides we've seen so far, talking to this guy was almost like talking to a Chinese guy who grew up in Alhambra or Monterrey Park. Clearly, he spoke the best English of all the guides we've met. And the kicker is that he never really left the Suzhou area. That's pretty impressive!
When Alan took a look at our itinerary, he noted that we had seen much of Southern China. But now that we're in Shanghai and entering the Jiangsu Province, he told us that China was shaped like a rooster split in the middle by the mighty Yangtze River (also known as Changjiang or the "Long River" in Chinese). And since the river's mouth is near the Shanghai harbor, he said we're now in the belly of the rooster.
It wasn't until 2am when we got to our hotel in Suzhou. It was actually a very charming place, but I wasn't sure if we were truly able to appreciate the traditional Chinese garden boutique theme here given our late night.
In any case, we wanted to sleep on the plane, then we wanted to sleep in the car, and now we had to get cleaned up and get to sleep in the hotel room.
We awoke at 8am getting around 3 or 4 hours of sleep.
We still wanted to sleep more, but we knew we had to get up and ready for today's sightseeing.
After a traditional breakfast of congee, zhongzi (sticky rice in some kind of leaves), and some eggs, we got prepared to bag up our luggage and face the day.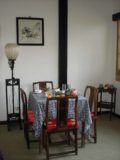 We still had some time to kill, and we were quite charmed by the ambience of our accommodation so I took a few minutes to sneak in an informal self-tour of the place we were staying at. Too bad it was under these unusual circumstances.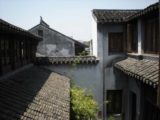 I managed to check out the upper balconies and roof area of our accommodation though the view itself was just of other roofs. It was charming, but I guess it was meant to put us back to a time of dynasties as I'm sure this was what was seen from dwellers back in the day as well.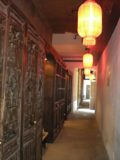 Then, I walked around the corridors of the accommodation which were lined with fancy wooden frames and sliding doors as well as lit up by traditional-looking lanterns hanging from the ceilings.
It actually wasn't until 11:30am did we rendezvous with Alan and get going.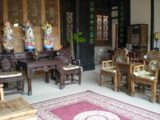 First order of business was a quick "light" lunch. Actually this lunch consisted of 7 dishes and there was just no way we'd come even close to finishing it. I hope they don't waste this food.
At 12:30pm, we faced the heat of this sunny day (well over 30 degrees Celsius) to go to the nearby Humble Administrators Garden.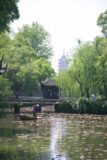 This garden was a much larger and more crowded version of the Suzhou-based garden we visited in Portland. But from being in the real deal, we could see that the garden in Portland was actually nicely done and captured the spirit of the place.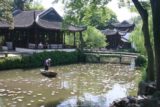 We started on the right side of the three-part garden and worked our way to the left. The middle part of the garden was the most scenic part as that was the part that contained a giant pond that was totally connected with bridges going over.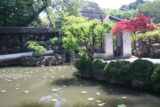 Many buildings had both Qing and Ming dynasty furniture. I guess I could kind of see why my parents were partial to the type of furniture we were seeing in these buildings because if that was your idea of affluence and royalty growing up, I'm sure it would be something subconsciously worth striving for.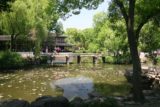 But it was the photo ops we were after and with all the different ways you could take photographs of the same thing, we took nearly a hundred before we knew it.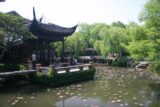 It was about 1:40pm when we left the Humble Administrator's Garden.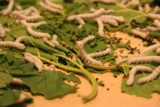 We then went to some silk factory to get the sell on. But in this case, the guide actually accompanied us to do a lot of the explaining since silk is a major silk exporter of China. And in the end, Julie bought some stuff (much to the chagrin of our pockets).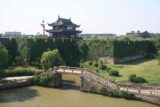 At 2:50pm, we paid a quick visit to the Panmen Gate where we saw some arched bridges and a pagoda.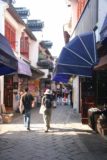 15 minutes later, we got in the car where we headed over to Tongli – a charming little canal town. I was dying of fatigue so I spent a good deal of time trying to get caught up on some sleep in the car (from the lack thereof last night).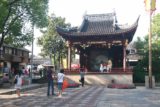 At 3:45pm, we boarded some electric tram that took us into the mostly vehicle-free zone of Tongli. Then, we took our luggage and lugged it a few blocks to our hotel within this charming town. We got into our room at 4:05pm.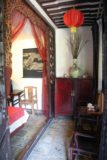 We could see the canals and red-lamped buildings lining it giving it that old school charm that was probably the way Suzhou used to be back in the day. It made us wonder if it was worth spending another night here though we knew it wasn't possible given our itinerary was pretty much locked in.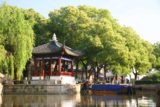 The hotel we were at was quite charming and even more traditional than the one we stayed at in Suzhou, which was definitely saying something since the one in Suzhou was pretty good itself!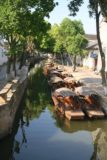 After getting settled, we went back out to town and took a gondola ride through the charming little canals in town.
Since I hadn't been to Venice, Italy yet and Julie already had been, I was actually pretty impressed by what I saw at Tongli. On the other hand, Julie knew that I hadn't seen anything yet because she kept telling me that the one in Italy was on a whole other level than this one.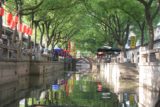 It was very relaxing and scenic and quite different from Venice's canals, according to Julie. She said the Italian ones had canals bordered by tall buildings and it was sinking. China's version here was flanked by walkways and lower red-lamp-adorned buildings.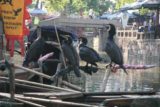 When we were done with the gondola ride, we walked into the Tuisi Garden, which was compact as well as beautiful in much the same way the Portland Chinese Garden was. The benefit of this garden that was very similar to the Humble Administrator's Garden in Suzhou was that this one had really calm and reflective ponds.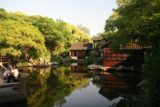 So that really made it appealing for us to spend quite a bit of time here taking photos. Perhaps the only drawback to all this calm and still water was the likelihood of mosquitoes spawning and getting their shots at us while we were obliviously taking our time.
At 5:25pm, we went back to the room for a rest.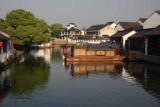 Along the way, we passed through some charming shops though it was considerably quieter than earlier in the day since the day was winding down. It wasn't until 7pm that we went back out on the town, which was actually quite dead.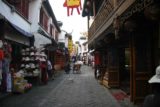 I guess since this town was non-commercialized, that was the yin and yang in that there's no real nightlife here, which was fine by us.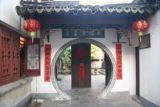 Nonetheless, the dead feel of this place (while calm and serene) also felt like it lacked energy and atmosphere. I guess you can't really have it both ways. It's either going to be quiet and serene or busy and atmospheric.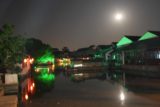 So we took a bit of a quick stroll taking photos from the bridge near the entrance to town. There, we could see a bright moon reflected over the canal.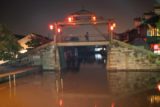 We also looked at an arched bridge adorned with red lamps with a pair of people kissing on that bridge! Yes, I guess even China can have some romantic spots like this.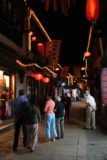 And so we proceeded along our random walk just taking in the sights and the tranquility of a night in Tongli. There was still some residual activity in some parts of town, but we figured they were more locals closing up shop and maybe engaging in a little bit of banter before calling it a night.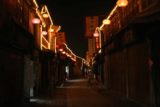 After finishing the quick stroll (not in the dark and really dead canal section where we took the gondola ride though), we were back in our room at around 9pm. There, we settled in and tried not to let the mosquitoes get to us too much…