Day 24: SHANGHAI (AFTER) NOON
It was about 8am when we awoke. I had an uneasy sleep because in the middle of the night my neck broke out into some kind of rash and my stomach didn't feel all that well. I wondered if I was allergic to those tiny shrimps or fish that we ate last night, or if it was something in the sheets at the hotel.
In any case, the rash went away at this time. My stomach still wasn't feeling all that well, but it was acceptable.
After a pretty hearty East meets West kind of breakfast of eggs, soft bread, kiwi (gooseberry), orange, bananas, and sponge cake, we set out at 9am for the Sexual Cultural Exhibit somewhere in Tongli town. After asking a couple of locals along the way (they all seemed to know where it was), we managed to find the unassuming garden and museum.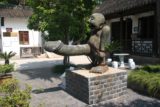 There, we paid our 20 yuan per person admission charge and walked about checking out some of the indoor exhibits and having fun with looking at some of the larger statues, especially the first one with a large penis and a chain around its mouth. The sign next to it said something to the effect that you can't stop Nature.
Actually, this museum delves into the history of sexuality from around the world. Of course, a lot of it exhibits and explains some sexual culture from the Chinese perspective (including prostitution, concubines, and foot binding).
They also showed some pieces from places like India, Egypt, Rome, Indonesia, and more. There were also displays and discussions on homosexuality (clearly something that has been around for several centuries or perhaps thousands of years).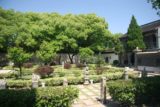 In a way, this place was actually far more informative than what the pre-conceived notions would've led us to believe going in here. And in fact, we thought it was tastefully done. For as you can imagine, this could've easily become one of those erotic XXX porn things if they really wanted it to be.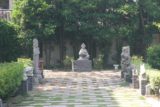 Since we were supposed to meet our guide and check out of our hotel at 10am, we ran out of time and ended up leaving the upstairs and a few other rooms unexplored. Still, we thought it was good experience as it definitely opened our eyes and put into perspective how people dealt with this topic in the past and how that compares to our attitudes today. In other words, it was quite educational, which was what museums are designed to do, right?
As we left Tongli town, we could tell the heat was ratcheting up quickly as well as the number of tourists invading the town.
When we met up with Alan, he said it was already 34 degrees Celsius (definitely in the 90s on the Fahrenheit scale).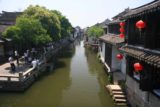 About 10:30am or so, we arrived at Zhouzhuang. This was another canal town like Tongli except this one was older, bigger, and busier. We could also see straight away that it was probably prettier than Tongli.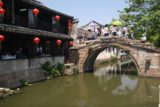 However, after a few steps into the town, you were already met by loud and aggressive hawkers. We could see what Alan meant by this place being more commercialized.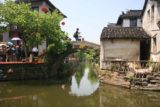 We visited the Zhou residence which contained lots of fancy landscape arts and Ching-style furnishings. It also contained crowds of tour groups led by tour guides with loud speakers.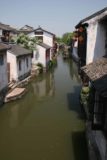 The Buddha museum was only partially visited because Alan sensed we weren't devout Buddhists.
We did manage to take several canal photos and market photos as well. There wasn't a whole lot of stopping on this little stroll through town and between people.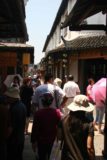 In any case, since we were looking for a bit of energy and atmosphere to contrast our Tongli experience, I'd have to say that this place definitely fit the bill. Yet once again, there was that yin and yang as this place also felt a bit more commercialized.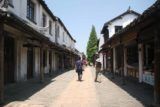 I'm sure if we weren't on a tight itinerary (since we had to go back to Shanghai today), we probably would've savored this place a bit more. But alas, it was what it was.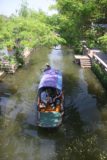 And even though when we think of canal towns, this place has the imagery, we think Tongli was still more old school and probably more like what Suzhou was like in the past. In any case, we were glad we got to see both places.
Indeed, yin and yang seemed to be the theme of this part of the trip.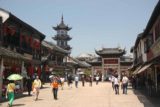 At 11:45am, we left Zhouzhuang and headed straight for the Tongli train station.
Once there, we got onto the train at a little after 1pm (1:08pm to be exact; not exactly on the 1:02pm schedule) and arrived in Shanghai at around a little after 2pm.
The train was kind of crowded and it wasn't easy getting our luggage in and out of there. But at least it was a little more pleasant lugging the luggage around these stations than it was from Guilin to Nanning earlier on in the trip. This was more of a quiet 45-minute trip as we didn't have fun girls to chat with for 5 hours like before.
After meeting up with our guide Nancy, she guided us to the Manhattan Business Hotel right in the Bund of Shanghai. There, we could see that there was a lot of construction going on in preparation for the Asian World Expo 2010. Thus, there were some wooden barrier walls erected that separated the Bund into a waterfront portion and the busier market and buildings portion.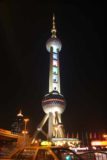 We checked into our room at 2:35pm where we got in contact with Julie's friends and did some catching up from there. We wouldn't be seeing the travel service personnel until early Tuesday morning (6am to give some margin for the nasty Shanghai traffic and other unexpected delays). So we were free of the tour guiding like we were in Leshan.
At 4:30pm, Julie's friend Seav (who works in Shanghai) and her sister Leslie met us at our lobby. From there, it was sort of a whirlwind tour of following the locals around. Among the highlights were visiting some financial district where we took photos of the iconic TV Tower with its futuristic look.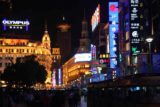 There, we also chit chatted over yummy gelatos with Julie's cousin Tina (who's studying in Shanghai) briefly took a break from her studies to join us.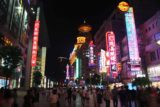 Then, we walked around in the happening and bright Nanjing Rd. It's basically a bunch of shops and restaurants, but the electricity of this place on a Sunday night was reminiscent of the energy of Times Square in New York. Of course it seems like every city in China has one of these walking streets featuring bright neon lights and heaps of locals and foreigners alike trying to take it all in.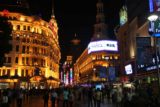 We ended up having a very late dinner at Din Tai Fung (a Taiwanese establishment) having Shanghai's famous xiaolongbao (soup dumplings). This was after numerous failed attempts at hailing a taxi at the end of Nanjing Rd. So we took a subway train and walked past what looked like foreigners' row (basically a bunch of non-Chinese joints with tourist prices) to Din Tai Fung.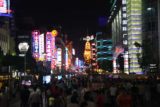 We also realized that today was Mother's Day after seeing many specials celebrating this occassion at "foreigner's row."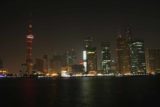 Finally at around 11:30pm, we made it to the Bund. Unfortunately, the Bund was under construction so there wasn't a whole lot to walk before hitting one of those ubiquitous construction sites. Also, the lights across the river to the Pudong side were for the most part turned off. Given all that, it was no wonder the Bund was sparsely populated than what we expected.
All in all, it was a tiring but fun day. We can't wait to see what comes next tomorrow when Leslie takes over to show us around…