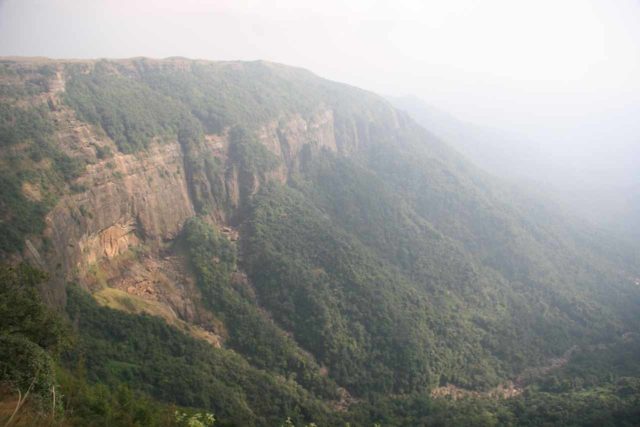 9-November 2009 to 11-November 2009:
At 6:30pm, the plane was in a holding pattern. The captain announced that there was a thunderstorm in Mumbai (probably influenced by the cyclone), visibility was a 3km, and the runway was wet. The holding pattern was to take place until at least 7:20pm.
Throughout the flight, Julie was started to get the chills. I speculated whether it was the soot from the diesel exhaust in both Shillong and Guwahati that weakened her immune system. I also had black nostrils myself as my nose had boogers covered in black soot, and each time I blew my nose, I could see black specks on the tissue. So indeed this wasn't quite the anniversary day that I was hoping for. What else could go wrong?…
Day 9: DELAYED
The day began with a becoming-normal wake-up at 5:45am. With a real quick morning breakfast, we left the hotel at 7:15am and were at the Delhi airport shortly thereafter.
When we got to check in at 7:50am, we suddenly learned that our flight was delayed by two hours!
Well this really sucks. I guess there are going to be a lot of waterfalls today that we won't get to see.
So far, we have yet to see a waterfall on this trip due to unforseen circumstances. Now, it seems a few more waterfalls will elude us.
Will we ever be able to see some of India's waterfalls?
At 8:35am, I looked up at the monitor again and saw that the new estimated departure time was now 11am!
By 9:30am, the EDT was holding steady at 11am. I can't help but to keep glancing at the monitor just so I can catch that moment when the monitor status changes (for better or worse, though I kept fearing the worst).
So with all this free time, I did some reading on LP. And perhaps the lack of waterfalls on this trip so far has fueled my delusion because I started fantasizing about a return trip to India focusing on the waterfalls of the more politically unstable Eastern India states of Chhattisgarh, Orissa, and Jharkhand. Perhaps even adding in Sikkim to get close to the Himalayas would also be in order as well…
Well, back to reality…
It wasn't until around 10:50am when we finally went to gate 15 to start boarding. And it wasn't until 11:50am before the flight finally took off.
The three-hour delay was sure to ruin the waterfalling today. So mentally, I'm thinking we have to just go for the real big important waterfalls and be prepared for some waterfall casualties.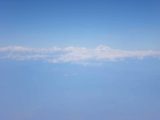 At 1pm, the pilot announced that Mt Everest (the dark, steep-faced mountain in the distance) could be seen from out our window. I didn't expect to see the world's tallest mountain, but I guess this is somewhat of a consolation for not being able to see waterfalls today.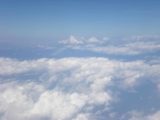 One thing that kind of amazed me was that the Himalayas were at eye-level with us even though we were cruising at around 30,000 feet! That just goes to show you that the Himalayas are almost as tall as cruising altitude of commercial jet airplanes!
At 1:45pm, we finally arrived at Guwahati Airport, and at 2:05pm, we met up with our guide and driver and proceeded to start heading for Shillong. The SUV we sat in was pretty basic as the windows were manual (didn't mind that), there wasn't a lot of leg room (could tolerate that), and there were no seat belts in the back seat (that was worrisome).
Anyways, as we were driving southbound, I learned from our guide (who wasnamed Imran) that the separatist organization ALPHA caused a work-stoppage strike in Guwahati. So a lot of the town was quiet as no one was out to work on this Monday.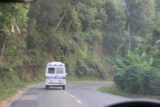 At 3:10pm, Imran was hungry and got us to stop at some roadside restaurant.
And about half-hour later, we were back on the road again.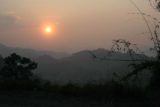 Even though Shillong was only around 90km from this restaurant, we were warned that it was a 3.5-hour drive between Guwahati and Shillong. And from looking at the road we were driving on, it was all curvy, mountainous, and uphill with the familiar chaotic Indian driving etiquette.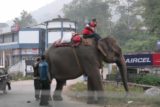 Adding to the drive was the seemingly everpresent smell of diesel exhaust. When we climbed high enough into the mountains of Meghalaya state, the driver and Imran rolled down their windows to let the "fresh" air in. Unfortunately, that air also included the diesel exhaust from our own vehicle as well as the dark sooty clouds belched by lorries and trucks plodding along in front or opposite us.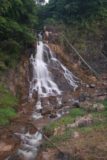 At 4:45pm, the driver noticed a waterfall and pulled over for us. With the fading light of the day, we quickly got out of the car and snapped what photos we could from the bridge in front of it. The guide talked to some locals there and told me that this was called the Dumdam Falls (near the village Umium). And while it was a pretty small and humble waterfall, it was noteworthy in that we ended up seeing our first waterfall on this trip on this day, and it was this one!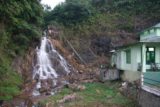 Onwards we drove as the light of the day quickly faded. Now we had to proceed in the darkness, and there was a surprising amount of traffic and pedestrians even under these dangerous conditions.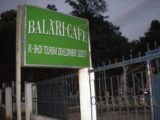 By the time we reached Shillong at some time well after 5:30pm, we were surprised at how crowded and how modern the city was. After all, it wasn't an easy drive to get over here and the road seemed to go all uphill throughout the drive. We weren't sure if we were in high altitude or not, but it sure was chilly up here.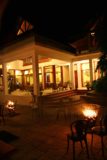 At 6:20pm we finally made it to our guest house called the Royal Heritage Tripura Castle somewhere in Shillong. After having a dinner, we tried to stay warm as the room seemed like it was almost as cold as the outside air. It felt like it was less than 5 deg C (easily in the 30 deg F range) so the provided heater and hot bucket shower felt real good. But when Julie blew her nose, she showed me the black stains on the tissue, which we were both sure were from the soot embedded in the everpresent diesel fumes.
And so ended this day. But on tap for tomorrow was to go straight to Cherrapunjee and the major waterfalls there. Then work our way slowly back to Shillong seeing the rest of the waterfalls we were supposed to have seen today…
Day 10: WATERFALL CRAM SESSION
Given the 3-hour flight delay yesterday, we knew we had a lot of catching up to do today. So we awoke at 6am, had a rushed breakfast at 7am, and left the hotel at 7:45am.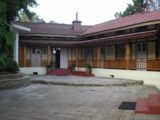 Getting up wasn't easy because I tended to sleep better when it's cold, and I didn't want to get up when the alarm went off at 5:30am.
In any case, it looked like Shillong was already wide awake and busy. After fighting our way through traffic, we proceeded to continue onwards for the next 53km to Cherrapunjee (also known as Sohra).
This area was known as the wettest place on earth, but from looking at the vegetation showing brown, I began to wonder whether this place would live up to its reputation. Imran warned us that this year's monsoon was weak and there wasn't much water right now.
Still, we prodded along the bumpy paved roads trying not to be too bothered by the diesel smell from our vehicle and those being belched by large trucks slowing traffic in front of us.
As we got closer to Cherrapunjee, we could see the road was kind of on top of some moor or plateau with dropoffs to our left. These dropoffs revealed deep valleys lush with vegetation, and it was pretty reminiscent of some of the valleys seen in tropical places like Hawaii.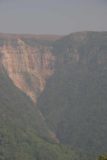 At around 9:20am, we saw a tall but thin waterfall way off in the distance of some escarpment as it was doing its dive in a way that reminded us of some of the waterfalls found in the Blue Mountains in Australia. But the unimpressive flow of the falls kind of confirmed that either this year's monsoon was weak as feared or these falls just don't last very long and you have to be here during the monsoon itself, or both.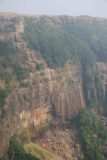 We didn't know the name of this falls (and this included the guides who didn't know either), but we took the photo somewhere near the village of Nongsawlia.
Continuing on, at 9:45am we'd eventually find some unsigned stop that offered us angled views of what was supposed to be the Seven Sisters Falls, otherwise more formally known as Nohsngithiang Falls.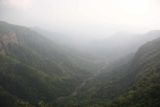 Of course, the falls really looked more like a few thin strands that were barely visible through the morning haze so any further views of the falls further from the one we were at were probably futile.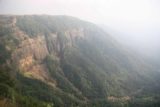 Even looking towards Bangladesh down the valley was quite misty. So we snapped what photos we could then proceeded onwards.
At 10:10am, we were at the Thangkharang Park. This manicured park with botannical gardens and open lawns offered up a waterfall we didn't expect to see prior to booking this trip – Kynrem Falls.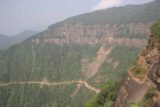 It actually had a little better flow than the Nohsngithiang Falls plus it had a winding road crossing near its base for a good sense of scale. That road actually continues to snake its way towards Bangladesh further down into the hazy basin below us. From this viewpoint, we could get the whole context of the falls. We didn't take the road leading to the base of the falls a further 7km further.
Imran told us that Kynrem Falls would have several more thicker columns of water during the monsoon. But it looked like the lone major strand left would probably go dry next month. Imran further told us that Indian people tend to visit this area during the monsoon.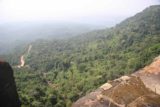 Still, this is one of the few waterfalls (if not the only one) we've seen where we could hear the noisy cicadas nearly drowning out the light roar of the falls.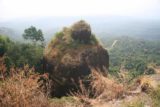 We left the park at 10:35am and ten minutes later, we were at some viewpoint of Shiva's Lingam. There's also the top of some tall waterfall up here, but we couldn't really get a good view of it so it wasn't anything to brag about.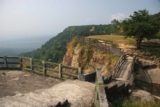 Nonetheless, the walk around this area was interesting as it seemed like we were on the very top of some escarpment with the lowlands of Bangladesh right below us. Indeed, it seemed like we were on some kind of frontier between Indian and Bangladesh, but this would be the most of that country we'd be seeing on this trip.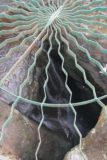 At 11:20am, as we were headed towards Nohkalikai Falls, we made a quick detour towards some Eco-Park that featured Missing Falls, which was really nothing more than a waterfall that disappears into a narrow chasm. The folks here built a well-like structure where you can peer into the falls. Imran told us that this falls eventually becomes part of the Nohsngithiang Falls. Personally, with the unimpressive flows of the falls, we probably could've saved time by not doing this.
At 11:50am, we finally made it to the Nohkalikai Falls. And after a morning of disappointing waterfalls, one look at this one made Julie and I ooh and aah.
Now this one was worth all the trouble of coming here.
Nohkalikai Falls was a very tall plunging waterfall leaping off an overhanging escarpment with a colorful blue-green pool at its base. It's been said that this is the world's 4th tallest waterfalls, but somehow I doubt that claim.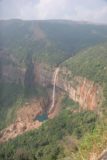 The falls has a pretty healthy flow, and we could see that the drainage responsible for the falls had some pretty healthy vegetation. That might explain its decent flow despite the fact that the drive to get here was through a plateau that was now nothing more than coal quarries and grasses (Imran said it used to be full of trees).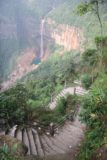 Julie noticed some steps leading down to some lower viewpoints so we went ahead and took the stairs to see where it went. The stairs would eventually end at a real steep gully, where further progress seemed rather dangerous. The viewpoint itself wasn't signed, but I guess the end of the steps kind of hinted that you could proceed at your own risk. I'd imagine the path would ultimately lead to the base of the falls, but we knew we were short on time if we were to try to see the falls near Shillong before it gets dark.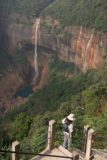 The stairs were steep, but they offered different perspectives not seen from the uppermost viewpoints. According to a sign at the start of the steps, it looked like it was completed some time in 2005-2006. But it was too bad the steps were lined with litter spoiling an otherwise divine scene.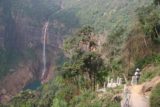 After the sweaty climb back up, we had ourselves a quick lunch at one of the local shacks nearby. And by 1:05pm, we left in the direction of Shillong. It was a good thing we saw Nohkalikai Falls when we did because fog was rolling in with a vengeance thereby obscuring the views. Imran also told us that early morning here would be too foggy as well, so we timed it just so we could see the falls at midday.
Being short on time, we skipped the Mawsmai Caves. But then we made an unexpected stop at the top of the first waterfall we photographed today. Still, it merely conspired to waste more time on a day when time was precious.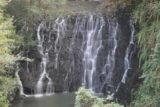 At 2:35pm, we finally arrived at Elephant Falls, which was some 11km from Shillong. The drive couldn't have ended sooner as I was getting headaches from breathing the diesel fumes.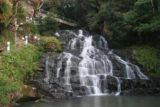 This falls was actually a series of three small cascading waterfalls. A sign here said the British renamed the falls (originally named by the Khasi as translated to "Three Step Falls") to Elephant Falls based on a rock that resembled an elephant. But that rock was destroyed by erosion (earthquake?) back in the late 19th century.
Of the three falls, the bottom most one was the most impressive.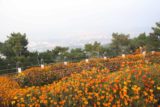 At 3:05pm, we returned to the car. We made a quick stop to Shillong Peak at 3:30pm, which was nestled within some Air Force base. The peak offered views of the city of Shillong, but the haze (not sure if it was due to smog or moisture or both) kind of made the views unimpressive, and we probably could've done without this detour.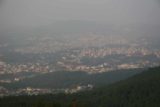 Imran was telling us that we probably wouldn't be able to make it to Sweet Falls today. But in my mind, I thought it was going to be a tiny one like the Elephant Falls. We also made a quick run at some swimming hole called Crinoline Falls, but the locals said it was dry and not recommended.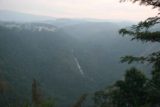 So with the fading light, we decided to hedge our bet that we might not have enough time tomorrow to catch any waterfalls before our flight out of Guwahati tomorrow and visit the Beadon & Bishop Falls.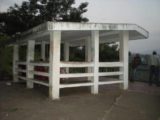 And by 4:30pm, we made it to some unsigned overlook with views of a pair of very tall and surprisingly high volume waterfalls. We were joined by a group of five attractive local Khasi girls, who were looking at us with curiosity as if we were the only Asian foreigners here.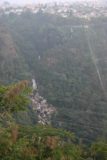 The size of these falls took me by surprise as I expected something dinky. But these falls were legit, and when I asked Imran whether the Sweet Falls was bigger than these falls, he said it was about the same size as the Bishop Falls except it was vertical instead of slanting. That bit of news kind of bummed me out as now I really wished we got to see Sweet Falls. But alas, the 3-hour flight delay yesterday really messed us up, and I guess it just wasn't meant to be.
Still, Beadon Falls and Bishop Falls, which kind of tumbled side by side into a deep canyon was probably at least 100-200m tall in my estimation. Beadon Falls, which was on the left, was harder to see and photograph due to vegetation and power lines getting in the way. But Bishop Falls could be seen at an angle in profile and was easily visible.
Finally with these falls seen, we opened the door for the option of revisiting these falls on the way to Guwahati tomorrow morning. But at least if we're short on time, we could skip the revisit if needed. Now, we could head back to our hotel as clearly there wasn't any more light left in the day. And by 5:20pm, we were back at the hotel.
So we crammed what Imran said was a two-day itinerary into one day. I guess considering the circumstances, we didn't do that bad, but I certainly wished we could've seen the Sweet Falls. Oh well, wasn't meant to be. But with hindsight being 20/20, I knew I'd be fruitlessly replaying in my mind what might have been had we been more efficient with our time by spending less time in Cherrapunjee and more time near Shillong (where the waterfalls seemed to have had healthier flows and were bigger than I expected; perhaps I should've done my homework before the trip to let Imran know how we wanted to prioritize the sights).
But after a day and a half of visiting this part of India, Julie and I sensed that this visit really felt like we were in another country. After all, the people here were mostly Khasi, which Imran said they had Mongolian ancestry. So that probably might explain why most of the people here looked more southeast Asian than Indian. Plus, the jungle sights and smells were also quite different than what we had seen in India up to this point.
Day 11: FROM THE FORGETTABLE TO THE UNFORGETTABLE
Knowing that we had a 3.5-hour drive to Guwahati with a pending 12pm flight to Kolkata (Calcutta), we didn't waste any time with a 6:30am breakfast as we were already packed and ready to leave at 7:30am sharp. Unfortunately, with today being our five-year wedding anniversary, this travel day that would start in Shillong and end up in Mumbai wasn't exactly the way wanted to spend this special day. Moreover, Julie complained that she wasn't feeling well. We weren't sure if she was coming down with something or if she had a case of food poisoning. Not good.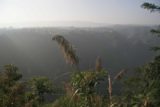 So we left the hotel and in less than 20 minutes, we returned to the overlook for Beadon and Bishop Falls. But the sun's suboptimal position and the morning haze made photography worse than yesterday's twilight conditions. So we didn't spend much more time here taking more photos before we resumed our long drive back to Guwahati at 8am.
The drive back was basically an endless repetition of tailgating slow moving, diesel-belching lorries and trucks while looking for opportunities to pass them on the narrow 2-lane winding mountainous roads. With all the blind corners, it was hard not to be concerned about any oncoming traffic whenever we would pass one of these vehicles.
And of course, the diesel exhaust fumes were ever present.
At 9am, we made another quick restroom stop at the familiar Dumdam Falls. The driver told us that the neighboring village named Umium meant "water" in the local Khasi language.
The next couple of hours continued the pattern of waiting within the diesel fumes of slow-moving vehicles, then passing, then tailgate the next slow-moving truck.
There were a couple of traffic jams on the way, but fortunately, they weren't the disastrous types where an accident could easily jam traffic for several hours. If that was the case on this day, we would've missed our flight for sure!
Anyways, we finally made it back to the Guwahati airport at 11:15am. But upon looking at the departure monitors, we saw right away that our flight was delayed by 50 minutes. That would make things tight to catch our connecting flight in Kolkata for Mumbai at 3:35pm, but at least the two-hour layover was long enough to at least absorb some of this delay.
While waiting at the departure gate, I somehow managed to break the strap of my camera bag when I was getting up out of my chair with the camera bag strapped around my neck. I had to make a makeshift tie to keep the camera bag usable, but I certainly wasn't happy about the hook physically breaking in two.
At 1:05pm, our 60-minute flight finally took off.
We arrived in Kolkata airport at 2:20pm. From there, we grabbed ourselves a quick lunch time snack, and then waited at the departure gate. But that was when we learned that our flight would be delayed again from a 3:35pm departure time to somewhere around 40 minutes later.
Are any flights in India ever on time?
Anyways, as we were dealing with multiple examples of IST (Indian Stretchable Time) on this day, we'd finally board the crowded plane and take off at 4:30pm.
The captain announced that there's some cyclonic activity in and around Mumbai so it might be a bumpy ride plus there might be a few more delays due to the hectic travel conditions at the airport.
At 6:30pm, the plane was in a holding pattern. The captain announced that there was a thunderstorm in Mumbai (probably influenced by the cyclone), visibility was a 3km, and the runway was wet. The holding pattern was to take place until at least 7:20pm.
Throughout the flight, Julie was started to get the chills. I speculated whether it was the soot from the diesel exhaust in both Shillong and Guwahati that weakened her immune system. I also had black nostrils myself as my nose had boogers covered in black soot, and each time I blew my nose, I could see black specks on the tissue. So indeed this wasn't quite the anniversary day that I was hoping for. What else could go wrong?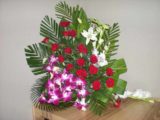 Finally at 7:30pm, our plane landed. It looked like the thundershowers subsided though it was still a little bit windy. Nonetheless and after collecting our bags, we were met by our tour operator representatives who surprised us with a large bouquet of roses and some chocolates. Apparently news got around that today was our 5th year wedding anniversary.
During the quick drive to our hotel for the night at the Taj Land's End Hotel, we made some small talk with the driver. We learned that cyclones in November were quite unusual, this year's monsoon was very weak and the timing was all messed up, our hotel was within a few paces from Bollywood actor Saif Ali Khan (I think he was the one who was detained in the Newark Airport not so long ago because he looked like a "terrorist" by our sometimes racist Department of Homeland Security).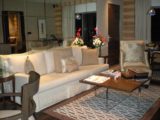 Anyways, we finally were checked into our room at 8:40pm. The receptionist upgraded us to a luxury suite, which looked like it was as big as our rental house! I suspected this might have something to do with our wedding anniversary.
At 9pm, we had ourselves a pretty expensive dinner at the Masala Bay. And after a delicious dinner of some kind of prawn in spicy curry sauce along with Bombay Duck (which is really a battered fish) over some rose water martini as well as an apple-cinnamon martini, the staff once again surprised us with a large chocolate cake with a candle. The writing on the cake said "Happy Anniversary."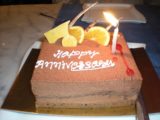 There was certainly too much cake so we urged the waiter to bring back the rest of the cake into the kitchen so everyone else can finish it.
We were also paid a visit by the chef, which we thought was a nice touch. Even though she asked if we enjoyed the dinner, I think the empty plates probably could've replaced our "yes" replies.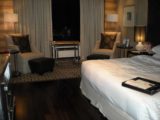 Indeed, what was turning out to be a rather forgettable day ended up being unforgettable. The nice touches that were made to ensure people knew about our wedding anniversary was certainly welcome. And they certainly helped to offset some of the disappointments of the Shillong part of the trip as well as the delays that conspired to keep us from seeing Mumbai. Moreover, Julie said she was starting to feel better from her chills as perhaps we were getting further away from that black nostril syndrome…
Visitor Comments:
Got something you'd like to share or say to keep the conversation going? Feel free to leave a comment below...
No users have replied to the content on this page