Day 9: DELAYED
The day began with a becoming-normal wake-up at 5:45am. With a real quick morning breakfast, we left the hotel at 7:15am and were at the Delhi airport shortly thereafter.
When we got to check in at 7:50am, we suddenly learned that our flight was delayed by two hours!
Well this really sucks. I guess there are going to be a lot of waterfalls today that we won't get to see.
So far, we have yet to see a waterfall on this trip due to unforseen circumstances. Now, it seems a few more waterfalls will elude us.
Will we ever be able to see some of India's waterfalls?
At 8:35am, I looked up at the monitor again and saw that the new estimated departure time was now 11am!
By 9:30am, the EDT was holding steady at 11am. I can't help but to keep glancing at the monitor just so I can catch that moment when the monitor status changes (for better or worse, though I kept fearing the worst).
So with all this free time, I did some reading on LP. And perhaps the lack of waterfalls on this trip so far has fueled my delusion because I started fantasizing about a return trip to India focusing on the waterfalls of the more politically unstable Eastern India states of Chhattisgarh, Orissa, and Jharkhand. Perhaps even adding in Sikkim to get close to the Himalayas would also be in order as well…
Well, back to reality…
It wasn't until around 10:50am when we finally went to gate 15 to start boarding. And it wasn't until 11:50am before the flight finally took off.
The three-hour delay was sure to ruin the waterfalling today. So mentally, I'm thinking we have to just go for the real big important waterfalls and be prepared for some waterfall casualties.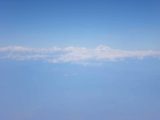 At 1pm, the pilot announced that Mt Everest (the dark, steep-faced mountain in the distance) could be seen from out our window. I didn't expect to see the world's tallest mountain, but I guess this is somewhat of a consolation for not being able to see waterfalls today.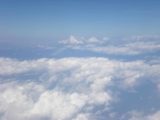 One thing that kind of amazed me was that the Himalayas were at eye-level with us even though we were cruising at around 30,000 feet! That just goes to show you that the Himalayas are almost as tall as cruising altitude of commercial jet airplanes!
At 1:45pm, we finally arrived at Guwahati Airport, and at 2:05pm, we met up with our guide and driver and proceeded to start heading for Shillong. The SUV we sat in was pretty basic as the windows were manual (didn't mind that), there wasn't a lot of leg room (could tolerate that), and there were no seat belts in the back seat (that was worrisome).
Anyways, as we were driving southbound, I learned from our guide (who wasnamed Imran) that the separatist organization ALPHA caused a work-stoppage strike in Guwahati. So a lot of the town was quiet as no one was out to work on this Monday.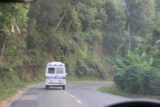 At 3:10pm, Imran was hungry and got us to stop at some roadside restaurant.
And about half-hour later, we were back on the road again.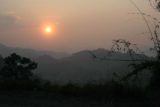 Even though Shillong was only around 90km from this restaurant, we were warned that it was a 3.5-hour drive between Guwahati and Shillong. And from looking at the road we were driving on, it was all curvy, mountainous, and uphill with the familiar chaotic Indian driving etiquette.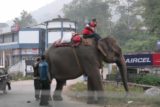 Adding to the drive was the seemingly everpresent smell of diesel exhaust. When we climbed high enough into the mountains of Meghalaya state, the driver and Imran rolled down their windows to let the "fresh" air in. Unfortunately, that air also included the diesel exhaust from our own vehicle as well as the dark sooty clouds belched by lorries and trucks plodding along in front or opposite us.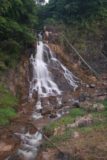 At 4:45pm, the driver noticed a waterfall and pulled over for us. With the fading light of the day, we quickly got out of the car and snapped what photos we could from the bridge in front of it. The guide talked to some locals there and told me that this was called the Dumdam Falls (near the village Umium). And while it was a pretty small and humble waterfall, it was noteworthy in that we ended up seeing our first waterfall on this trip on this day, and it was this one!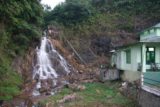 Onwards we drove as the light of the day quickly faded. Now we had to proceed in the darkness, and there was a surprising amount of traffic and pedestrians even under these dangerous conditions.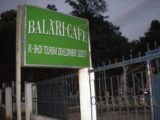 By the time we reached Shillong at some time well after 5:30pm, we were surprised at how crowded and how modern the city was. After all, it wasn't an easy drive to get over here and the road seemed to go all uphill throughout the drive. We weren't sure if we were in high altitude or not, but it sure was chilly up here.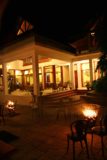 At 6:20pm we finally made it to our guest house called the Royal Heritage Tripura Castle somewhere in Shillong. After having a dinner, we tried to stay warm as the room seemed like it was almost as cold as the outside air. It felt like it was less than 5 deg C (easily in the 30 deg F range) so the provided heater and hot bucket shower felt real good. But when Julie blew her nose, she showed me the black stains on the tissue, which we were both sure were from the soot embedded in the everpresent diesel fumes.
And so ended this day. But on tap for tomorrow was to go straight to Cherrapunjee and the major waterfalls there. Then work our way slowly back to Shillong seeing the rest of the waterfalls we were supposed to have seen today…
Visitor Comments:
Got something you'd like to share or say to keep the conversation going? Feel free to leave a comment below...
No users have replied to the content on this page