Day 11: FROM THE FORGETTABLE TO THE UNFORGETTABLE
Knowing that we had a 3.5-hour drive to Guwahati with a pending 12pm flight to Kolkata (Calcutta), we didn't waste any time with a 6:30am breakfast as we were already packed and ready to leave at 7:30am sharp. Unfortunately, with today being our five-year wedding anniversary, this travel day that would start in Shillong and end up in Mumbai wasn't exactly the way wanted to spend this special day. Moreover, Julie complained that she wasn't feeling well. We weren't sure if she was coming down with something or if she had a case of food poisoning. Not good.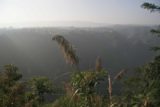 So we left the hotel and in less than 20 minutes, we returned to the overlook for Beadon and Bishop Falls. But the sun's suboptimal position and the morning haze made photography worse than yesterday's twilight conditions. So we didn't spend much more time here taking more photos before we resumed our long drive back to Guwahati at 8am.
The drive back was basically an endless repetition of tailgating slow moving, diesel-belching lorries and trucks while looking for opportunities to pass them on the narrow 2-lane winding mountainous roads. With all the blind corners, it was hard not to be concerned about any oncoming traffic whenever we would pass one of these vehicles.
And of course, the diesel exhaust fumes were ever present.
At 9am, we made another quick restroom stop at the familiar Dumdam Falls. The driver told us that the neighboring village named Umium meant "water" in the local Khasi language.
The next couple of hours continued the pattern of waiting within the diesel fumes of slow-moving vehicles, then passing, then tailgate the next slow-moving truck.
There were a couple of traffic jams on the way, but fortunately, they weren't the disastrous types where an accident could easily jam traffic for several hours. If that was the case on this day, we would've missed our flight for sure!
Anyways, we finally made it back to the Guwahati airport at 11:15am. But upon looking at the departure monitors, we saw right away that our flight was delayed by 50 minutes. That would make things tight to catch our connecting flight in Kolkata for Mumbai at 3:35pm, but at least the two-hour layover was long enough to at least absorb some of this delay.
While waiting at the departure gate, I somehow managed to break the strap of my camera bag when I was getting up out of my chair with the camera bag strapped around my neck. I had to make a makeshift tie to keep the camera bag usable, but I certainly wasn't happy about the hook physically breaking in two.
At 1:05pm, our 60-minute flight finally took off.
We arrived in Kolkata airport at 2:20pm. From there, we grabbed ourselves a quick lunch time snack, and then waited at the departure gate. But that was when we learned that our flight would be delayed again from a 3:35pm departure time to somewhere around 40 minutes later.
Are any flights in India ever on time?
Anyways, as we were dealing with multiple examples of IST (Indian Stretchable Time) on this day, we'd finally board the crowded plane and take off at 4:30pm.
The captain announced that there's some cyclonic activity in and around Mumbai so it might be a bumpy ride plus there might be a few more delays due to the hectic travel conditions at the airport.
At 6:30pm, the plane was in a holding pattern. The captain announced that there was a thunderstorm in Mumbai (probably influenced by the cyclone), visibility was a 3km, and the runway was wet. The holding pattern was to take place until at least 7:20pm.
Throughout the flight, Julie was started to get the chills. I speculated whether it was the soot from the diesel exhaust in both Shillong and Guwahati that weakened her immune system. I also had black nostrils myself as my nose had boogers covered in black soot, and each time I blew my nose, I could see black specks on the tissue. So indeed this wasn't quite the anniversary day that I was hoping for. What else could go wrong?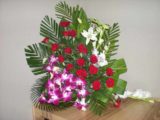 Finally at 7:30pm, our plane landed. It looked like the thundershowers subsided though it was still a little bit windy. Nonetheless and after collecting our bags, we were met by our tour operator representatives who surprised us with a large bouquet of roses and some chocolates. Apparently news got around that today was our 5th year wedding anniversary.
During the quick drive to our hotel for the night at the Taj Land's End Hotel, we made some small talk with the driver. We learned that cyclones in November were quite unusual, this year's monsoon was very weak and the timing was all messed up, our hotel was within a few paces from Bollywood actor Saif Ali Khan (I think he was the one who was detained in the Newark Airport not so long ago because he looked like a "terrorist" by our sometimes racist Department of Homeland Security).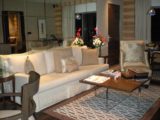 Anyways, we finally were checked into our room at 8:40pm. The receptionist upgraded us to a luxury suite, which looked like it was as big as our rental house! I suspected this might have something to do with our wedding anniversary.
At 9pm, we had ourselves a pretty expensive dinner at the Masala Bay. And after a delicious dinner of some kind of prawn in spicy curry sauce along with Bombay Duck (which is really a battered fish) over some rose water martini as well as an apple-cinnamon martini, the staff once again surprised us with a large chocolate cake with a candle. The writing on the cake said "Happy Anniversary."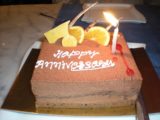 There was certainly too much cake so we urged the waiter to bring back the rest of the cake into the kitchen so everyone else can finish it.
We were also paid a visit by the chef, which we thought was a nice touch. Even though she asked if we enjoyed the dinner, I think the empty plates probably could've replaced our "yes" replies.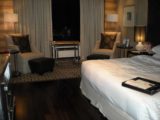 Indeed, what was turning out to be a rather forgettable day ended up being unforgettable. The nice touches that were made to ensure people knew about our wedding anniversary was certainly welcome. And they certainly helped to offset some of the disappointments of the Shillong part of the trip as well as the delays that conspired to keep us from seeing Mumbai. Moreover, Julie said she was starting to feel better from her chills as perhaps we were getting further away from that black nostril syndrome…
Visitor Comments:
Got something you'd like to share or say to keep the conversation going? Feel free to leave a comment below...
No users have replied to the content on this page